During this season of stuffy noses and sore throats, I created these Elderberry Popsicles for sore throats. This naturally sweetened popsicle recipe is full of cold and flu-fighting ingredients. This natural remedy in popsicle form maximizes its relief-giving potential and makes it fun for kids to enjoy as well. 
These are the best popsicles for a sore throat that I've found and I can't wait for you to make some, too!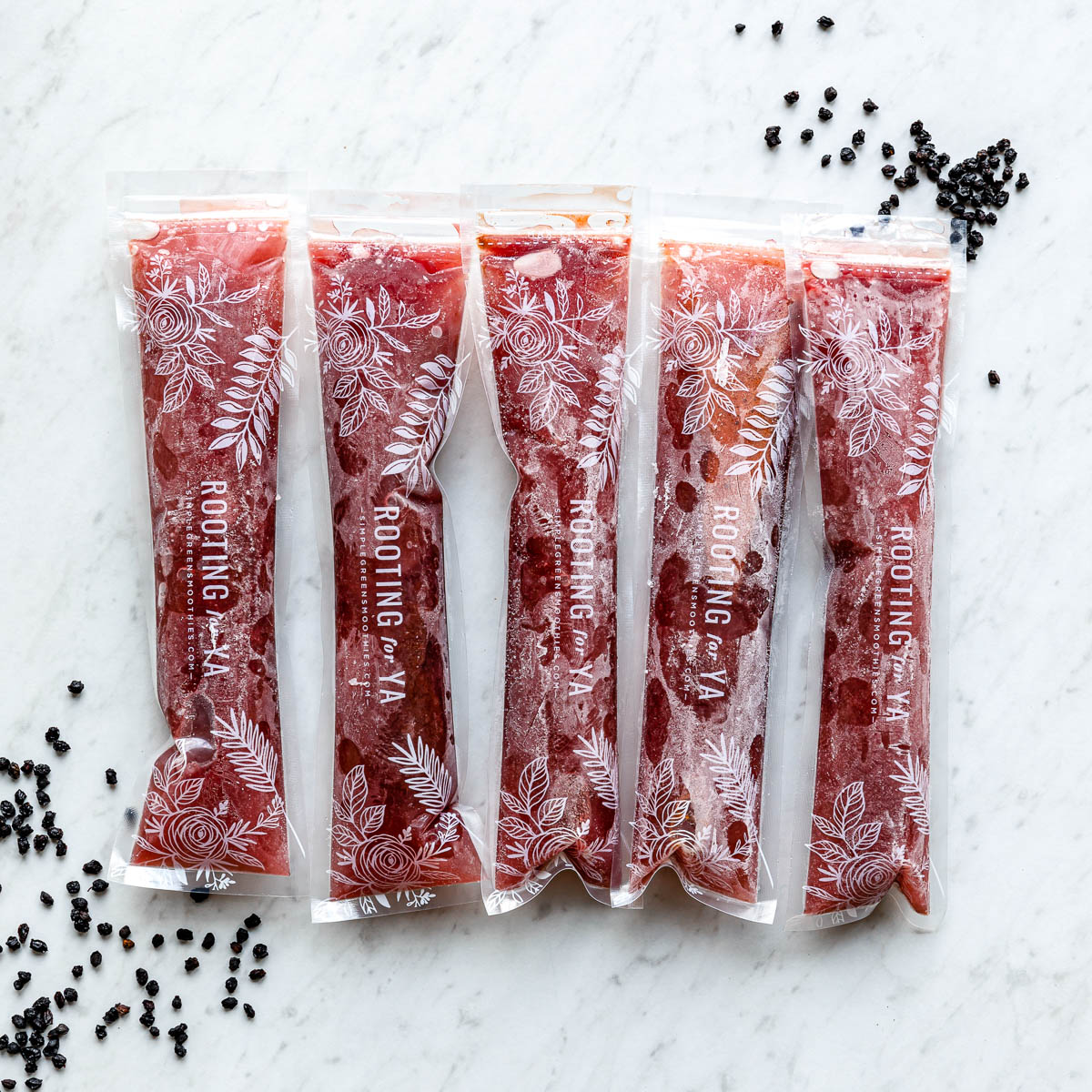 Table of Contents
Ingredients for Elderberry Popsicles
This Elderberry popsicle recipe has a varsity list of ingredients, each chosen specifically for its cough and cold-fighting powers. Drum roll, please.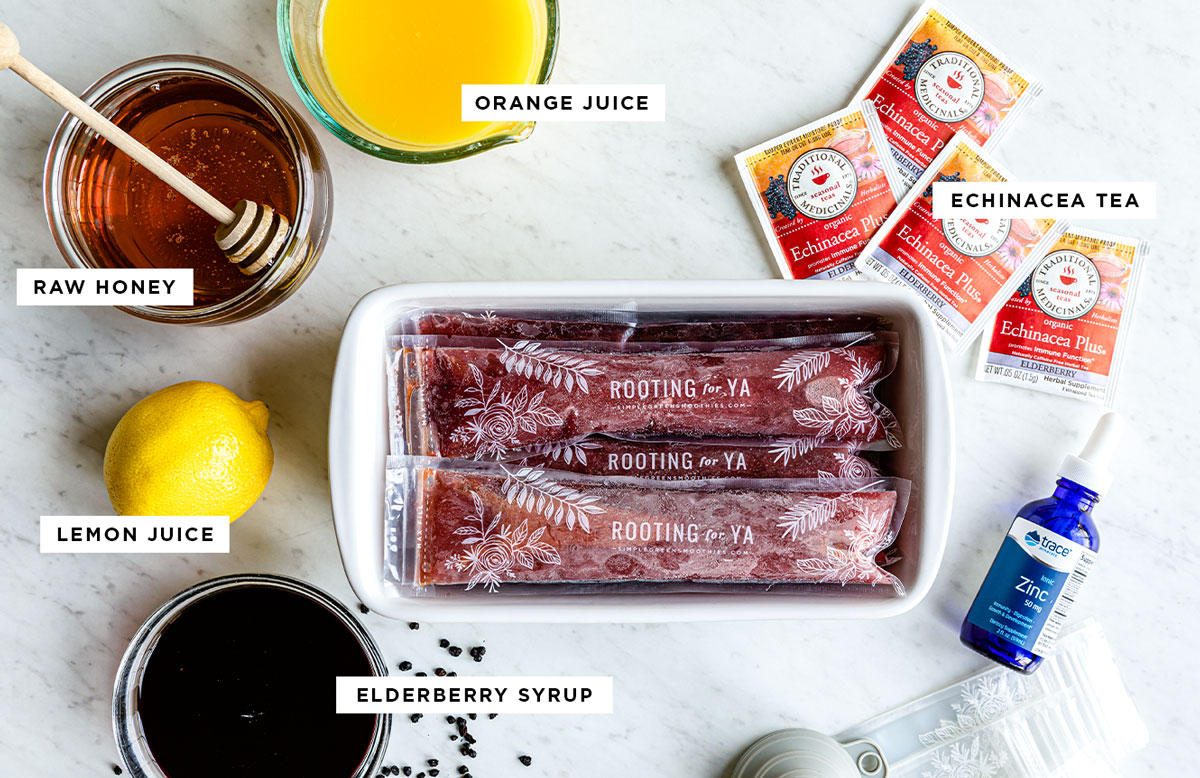 Just like with any other natural remedy I use, I wanted these to both taste lovely as well as work… and they do!
How to Make Popsicles for Sore Throats
These purple beauties take a bit of prep work yet you can make them whenever you have time, then store them in the freezer for future colds or sore throats. Here's how I make mine:
Steep tea bags in boiling water for 3-5 minutes (the longer the steep, the stronger the tea flavor and medicinal properties). When removing the tea bags from the water, I like to gently squeeze the bags to release any extra liquid. Allow the tea to cool to lukewarm before moving forward.
Stir in raw honey until it's completely dissolved. Add the remaining ingredients and stir well to incorporate.
Refrigerate this mixture for 1 hour or until completely cold. Stir again to reincorporate the ingredients then split the mixture evenly between the popsicle molds. Freeze 3-4 hours or overnight, until firm.
Enjoy one popsicle per day during cold and cough season or at the first onset of symptoms.
Pro Tips
I like using my homemade elderberry recipe since I know exactly what's in it. Yet if store-bought is your avenue, then look for one without additives or non-natural sweeteners.
Feel free to use the medicinal tea of your choice. One with honey, lemon or ginger works great too. I avoid teas with caffeine in them while sick since my body needs rest, not extra stimulation.
Ionic zinc isn't necessary for this recipe, yet you see it in a lot of cold or flu remedies for a reason. It helps keep your immune system running on all cylinders. Don't skimp on it if you can!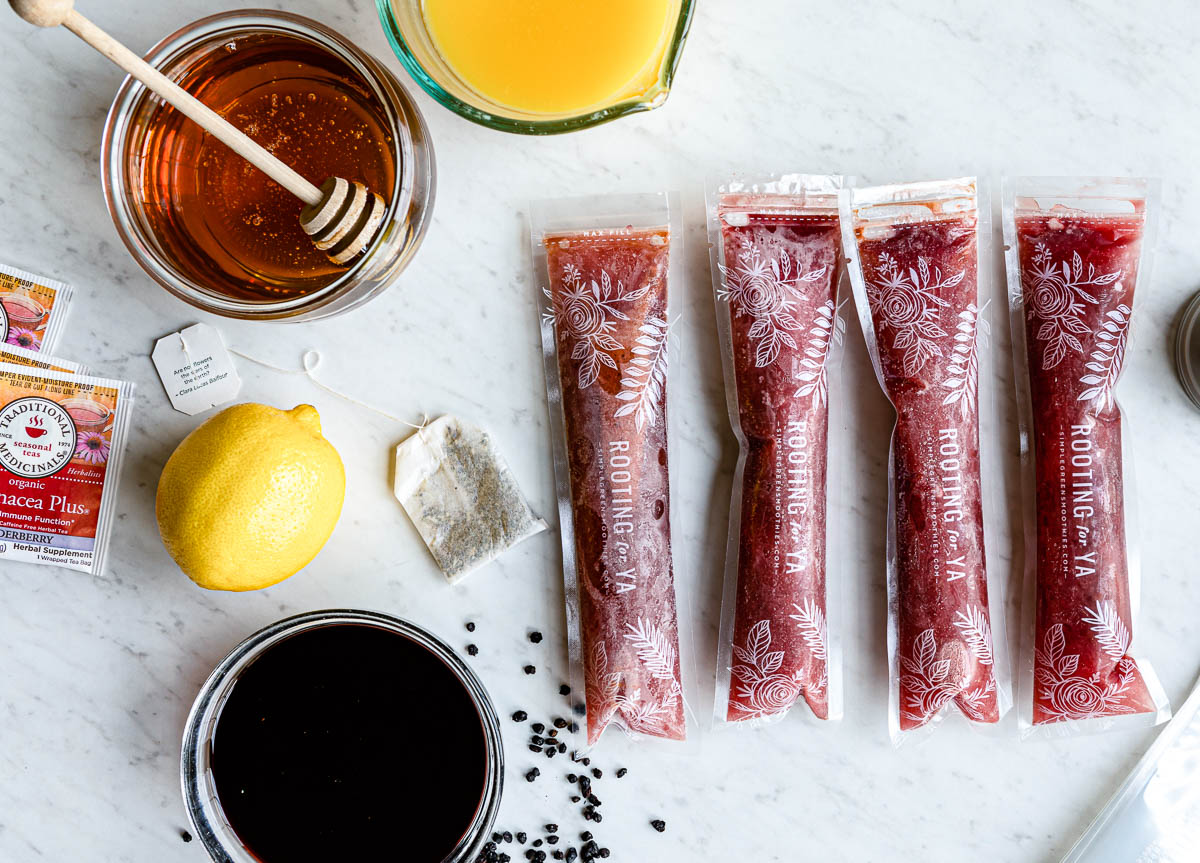 Best Popsicle Molds + Sleeves
You can use a variety of methods to freeze and store these elderberry popsicles. Here are three great options:
Popsicle sleeves: I love using popsicle sleeves to freeze smoothies, popsicles and more! They are easy to carry with me or satisfy a crowd. Use plastic popsicle sleeves or silicone reusable popsicle holders, depending on your preference. I like using these for my sore throat pops as they are less messy and lay flat in the freezer for easy storage.
Paper cups and popsicle sticks: You can use small paper cups and wooden popsicle sticks to make your own molds. Pour the pureed fruit into the cups then set them in the freezer (flat) and put a wooden stick into each cup. Once frozen, tear away the paper cups and store them in a freezer-safe container or eat immediately.
Popsicle molds: This is a fun, sustainable way to mold and store popsicles. They are fairly easy to clean and reuse and they don't take up too much freezer space. You can search for super fun shapes too!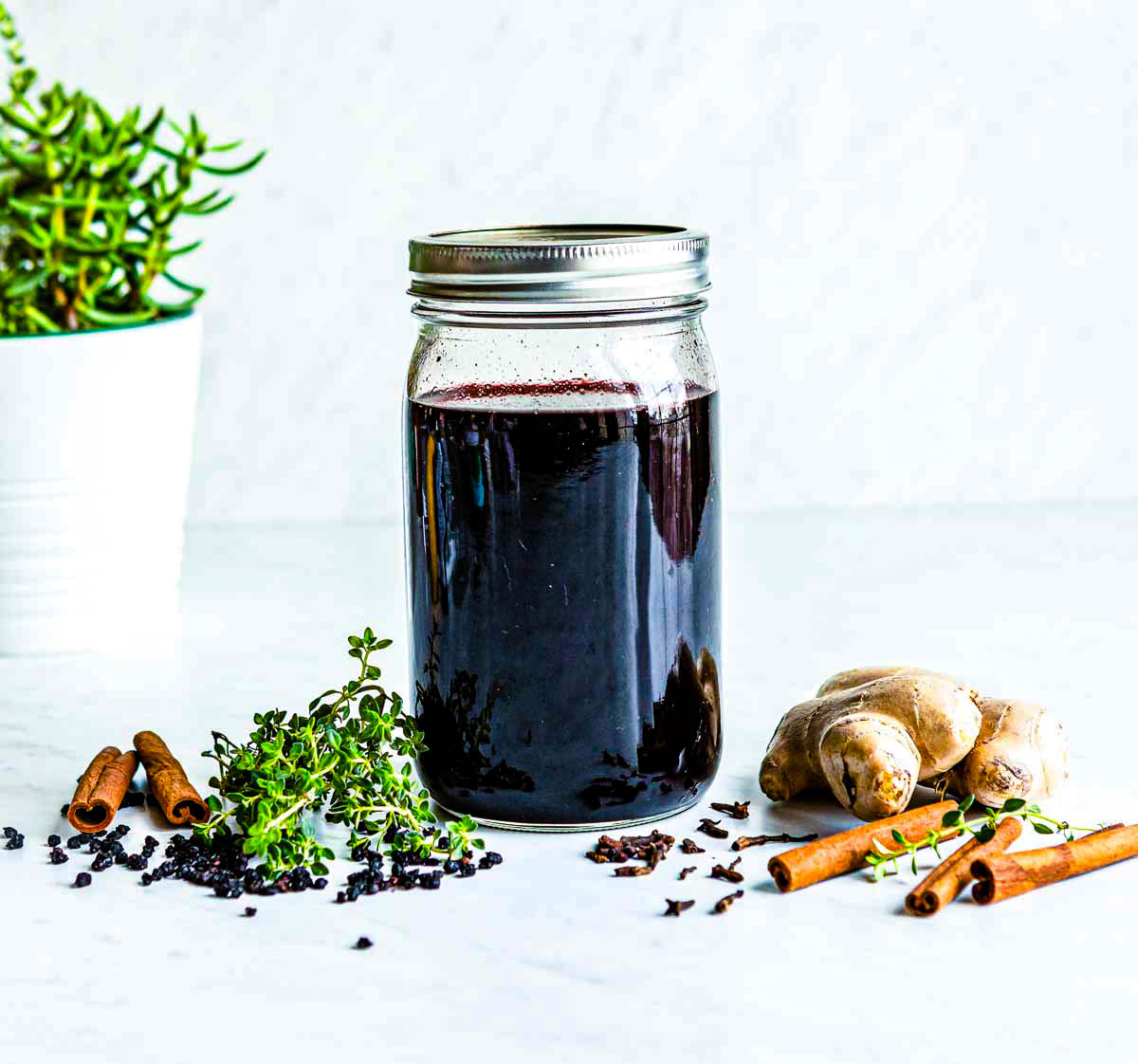 Sore Throat Popsicle FAQs
Are popsicles good for sore throats?
Yes! They can naturally soothe a raw and uncomfortable throat to help ease inflammation. My elderberry popsicles are specifically designed with ingredients to help soothe a cough or a sore throat, fight inflammation and help ease cold symptoms faster using real ingredients.
What flavor popsicle is good for a sore throat?
I use juice from oranges and lemons as well as honey, echinacea and elderberry syrup to create a powerhouse popsicle that will naturally soothe.
Is a popsicle good for strep throat?
Yes, just like with the sore throat from a cold, popsicles can help calm down the inflammation and numb your throat to ease symptoms.
More Sore Throat Remedies
Because I believe that plants can heal, I've curated an arsenal of natural remedies. I will shout about them from the rooftops because my family uses them and they work, plain and simple.
Once you've made these fun popsicles, let me know how they turned out! Just leave a rating + review with any tips, tricks or taste ratings you have.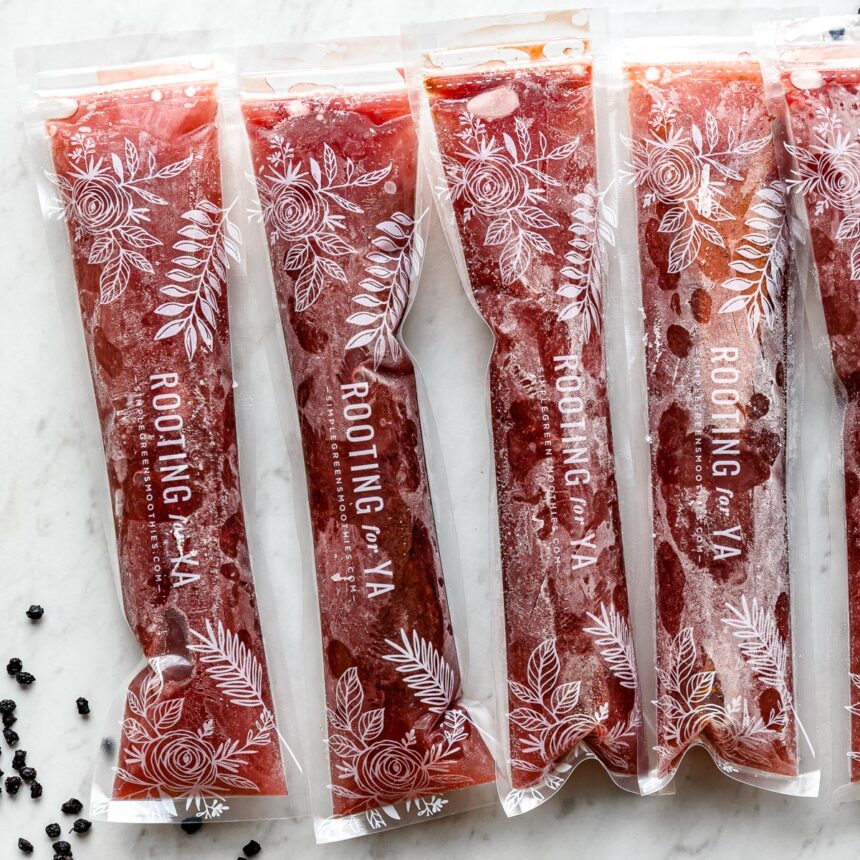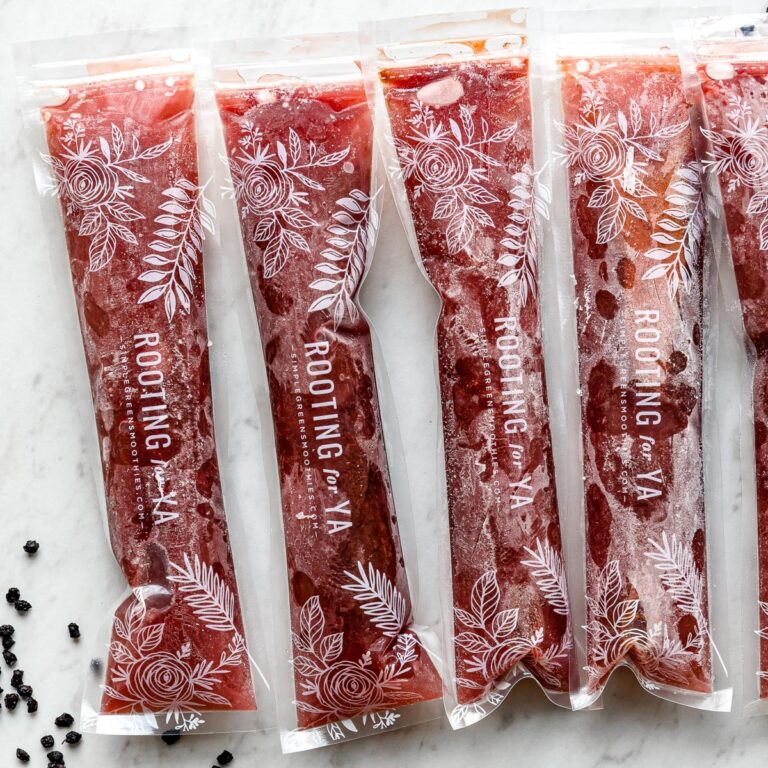 Elderberry Popsicles for Sore Throats
We've taken our natural remedies a step further by adding black elderberry syrup to a soothing, vitamin C-rich mixture to make tasty popsicles for sore throats. Make these ahead of time so they are ready to grab at the first day of a sore throat.
Instructions
Place tea bags in a large glass measuring cup or bowl. Pour boiling water over the bags. Allow to steep for 3-5 minutes, or as directed on package. Remove tea bags and gently press any liquid from the bags back into the cup or bowl. Allow to cool until it is still hot to the touch, but not too hot.

Stir in the raw honey and allow to dissolve. Add remaining ingredients and stir well.

Refrigerate until very cold. Stir again, then fill popsicle molds evenly. Freeze until firm, 3 to 4 hours or overnight.

Enjoy one popsicle per day to boost immune system to prevent or soothe a cold or sore throat.
Notes
If you are new to elderberry or echinacea, consult your physician before consuming.
If you don't have a popsicle mold, you can make these with paper cups and popsicle sticks as well. 
Juice whole lemons and oranges for the most nutrition + no added sugar. 
You may use another herbal or medicinal tea for your popsicles, yet I like to use echinacea as it is an ancient remedy for cold like symptoms. 
Nutrition
Calories:
47
kcal
,
Carbohydrates:
13
g
,
Protein:
0.4
g
,
Fat:
0.2
g
,
Saturated Fat:
0.1
g
,
Polyunsaturated Fat:
0.1
g
,
Monounsaturated Fat:
0.1
g
,
Sodium:
6
mg
,
Potassium:
50
mg
,
Fiber:
1
g
,
Sugar:
12
g
,
Vitamin A:
52
IU
,
Vitamin C:
13
mg
,
Calcium:
14
mg
,
Iron:
0.2
mg