Step aside weird energy drinks and room temp afternoon coffee! I've got a green energy smoothie that serves as a natural pick-me-up and give you all the afternoon energy vibes you need to get through your day.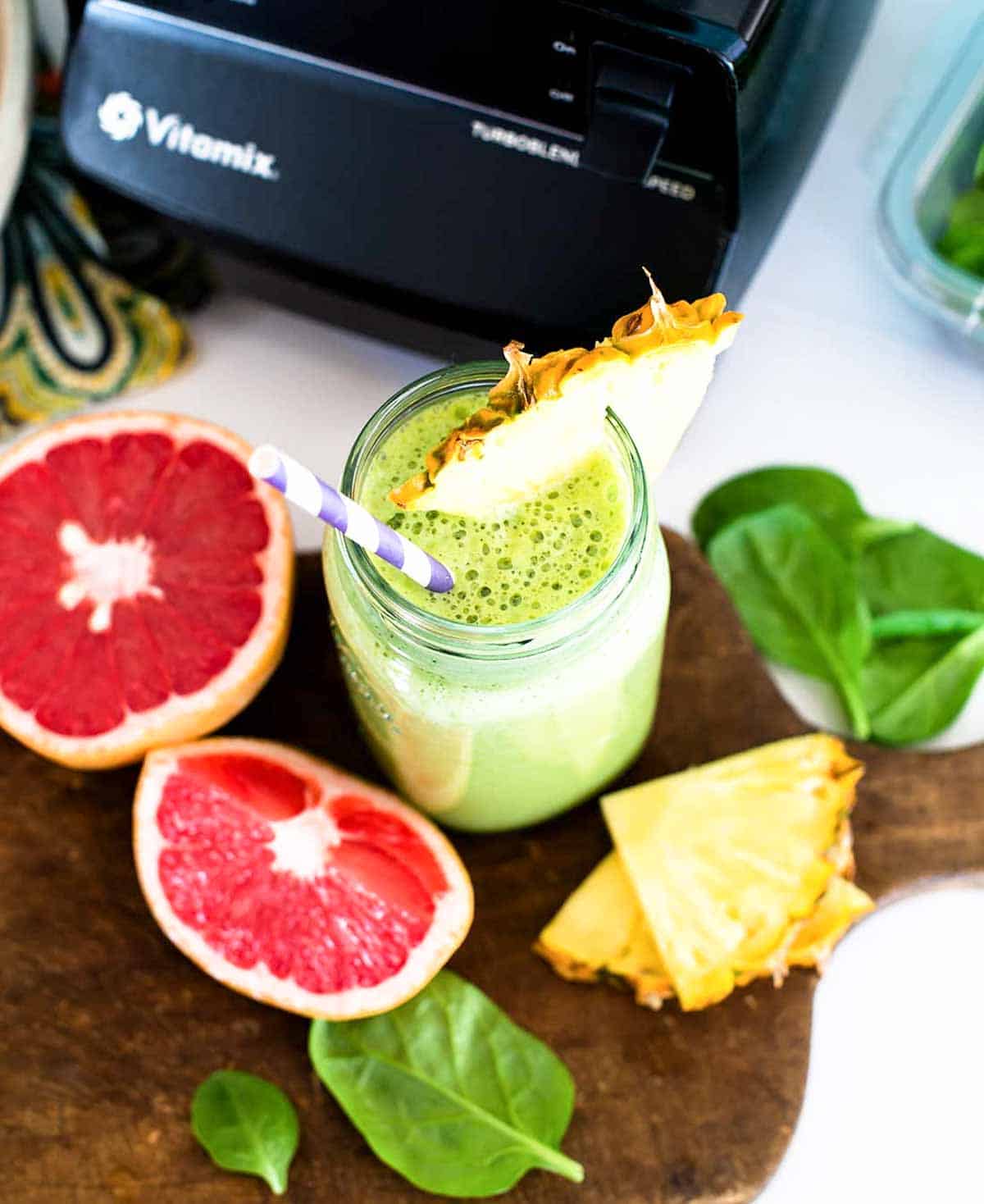 It's 2pm and you're nodding off. Time to get the next pot of coffee goin', right? NO! Instead, give my energy smoothie a try. It's part of my arsenal of natural energy boosters, full of whole food ingredients meant to give the body energy. And that's energy without the jitters or the crash.
In fact, I'm giving you a whole list of great natural energy drinks to help you feel your best and chase your passions all day long.
Table of Contents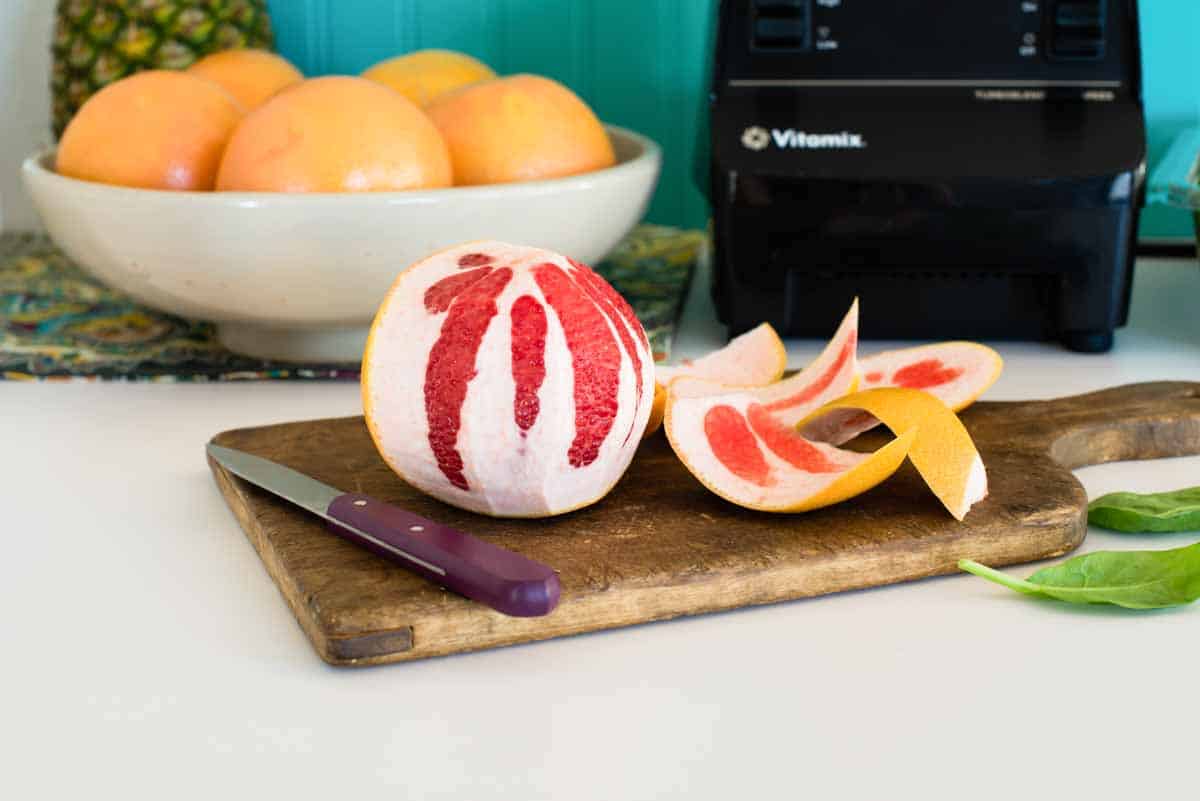 Natural Energy Boosters
While plants natural provide our bodies what they need to thrive, specific plants are super charged to boost our energy.
| | |
| --- | --- |
| ginger | broccoli |
| kale | goji berries |
| green tea* | yogurt |
| sweet potato | pumpkin seeds |
| maca | avocado |
| salmon | yerba mate* |
| quinoa | honey |
| hemp seeds and oil | beans + lentils |
| spinach | brown rice |
| coffee* | banana |
| almonds and other nuts | asparagus |
| eggs | oranges + citrus fruit |
| water | apples |
| blueberries | coconut – water, butter, oil, flesh |
| spirulina | flaxseeds and oil |
| dark chocolate* | |
*These foods naturally contain caffeine or other naturally occurring stimulants. Be sure to use them in moderation
So what's the criteria for a naturally energizing food? The foods on this list often contain lots of fiber, which helps the body break down food slowly as well as use more of it for energy. The energy smoothie below has 3 grams of fiber along with 16 grams of natural sugar.
Many of the above foods are also loaded with vitamins + nutrients, like B vitamins and amino acids. These help the body stay awake and alert as well as focused. Toss one of these delicious foods (maybe not the fish) into your next green smoothie and turn it into a natural energy drink.
Smoothie Boosters
If you've already started drinking green smoothies, and you're looking to supercharge the energy they give you, then I've got some tips.
First, I boost all my smoothies (including this energy smoothie) with plant based protein powder. Because I couldn't find a clean + delicious one on the market, I made my own. My protein powder recipe adds 10 grams of pure, clean protein as well as 4 grams of healthy fat and 7 grams of fiber.
Then I open up my freezer. Depending on what my body needs (energy, immunity, help with inflammation), I also have a freezer full of smoothie cubes on hand to help. Just toss a few of these cubes into your next smoothie for an instant boost.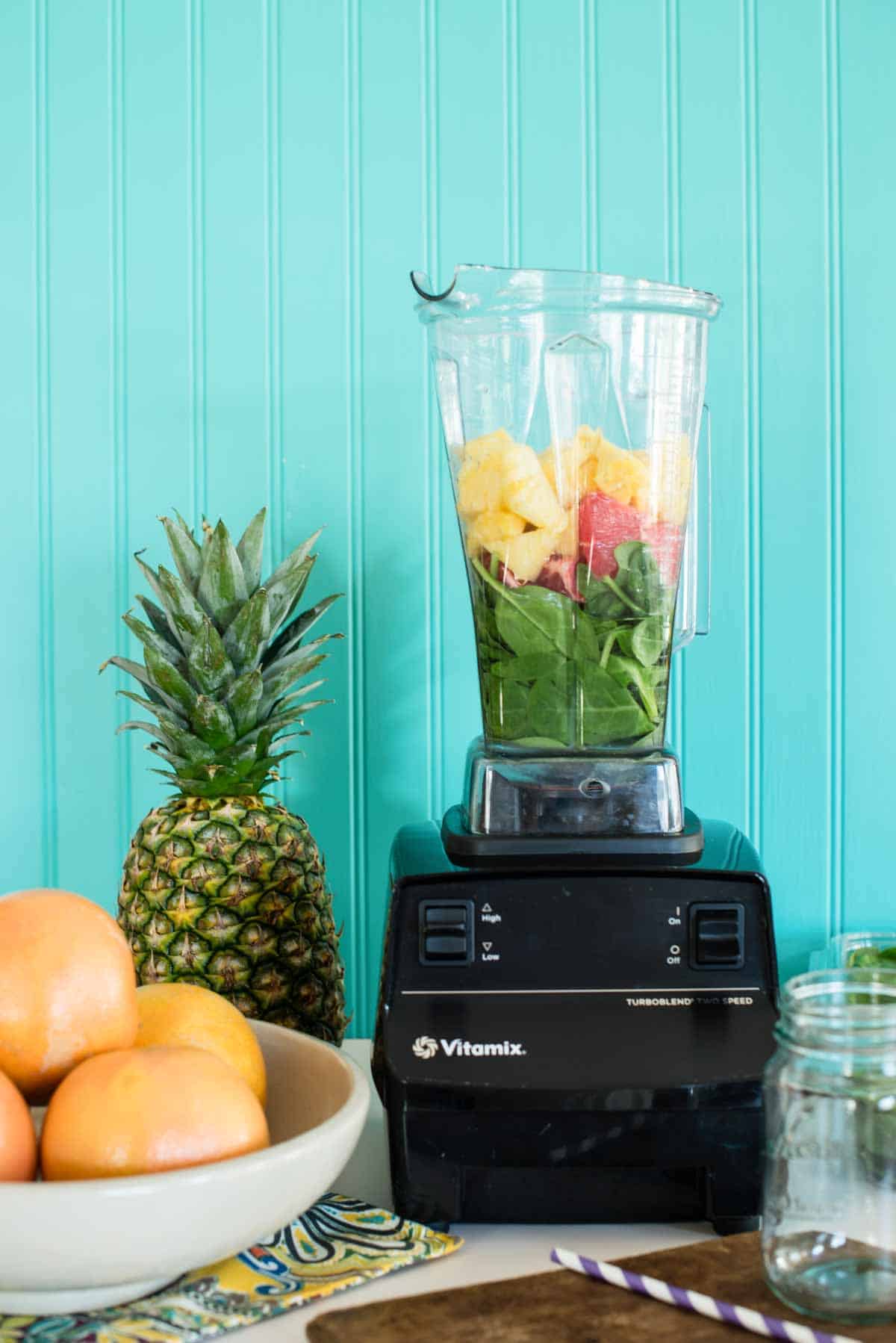 Natural Energy Drinks
Along with green smoothies, I also have a few fav drinks to keep my energy up in a way that works for my body and not against it.
Chia Fresca– This is my go-to drink after a long run or hard workout. Because it's full of natural electrolytes, this refreshing beverage helps me recover quickly. I recommend this to any athlete I know; it's got some serious energy boosting power! Drink the energy smoothie below before a workout, then use this chia fresca for recovery.
Healthy coffee– When I'm not on a seasonal cleanse, I do enjoy a daily cup of coffee. What used to be a whole pot of coffee has turned into an intentional 1 cup per day. I buy quality coffee beans then use grass-fed butter + collagen powder. This is as much of an energy boost as it is a ritual. This cup of coffee lets my body know it's time to wake up, then conquer the day.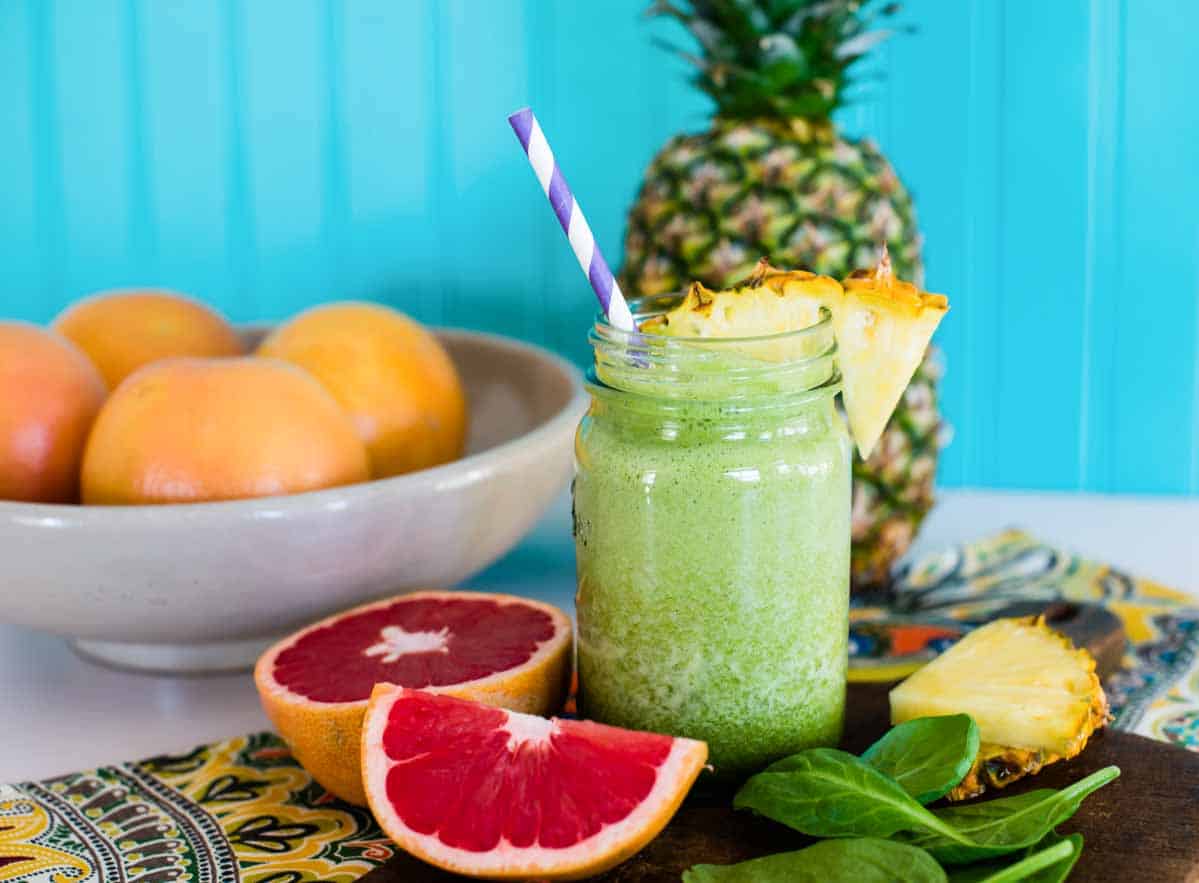 Make an Energy Smoothie
Are you ready to switch up your afternoon pick me up? If so, then start gathering ingredients. Because it's energy boosting abilities are so efficient, we often call this recipe the "Quick Pick Me Up" in honor of its superpower.
If you want a bigger energy boost, then swap in 1/2 cup green tea or coconut water for the 1/2 cup water. Green tea is naturally caffeinated, while coconut water is nature's gatorade.
So grab your ingredients and let's get blending this energy smoothie!
More Energy Smoothie Recipes
If you're looking for more natural energy boosters, then I've got you covered with a few more smoothie recipes:
Be prepared to win the day after drinking one of these energy smoothies, because they're going to pump you up!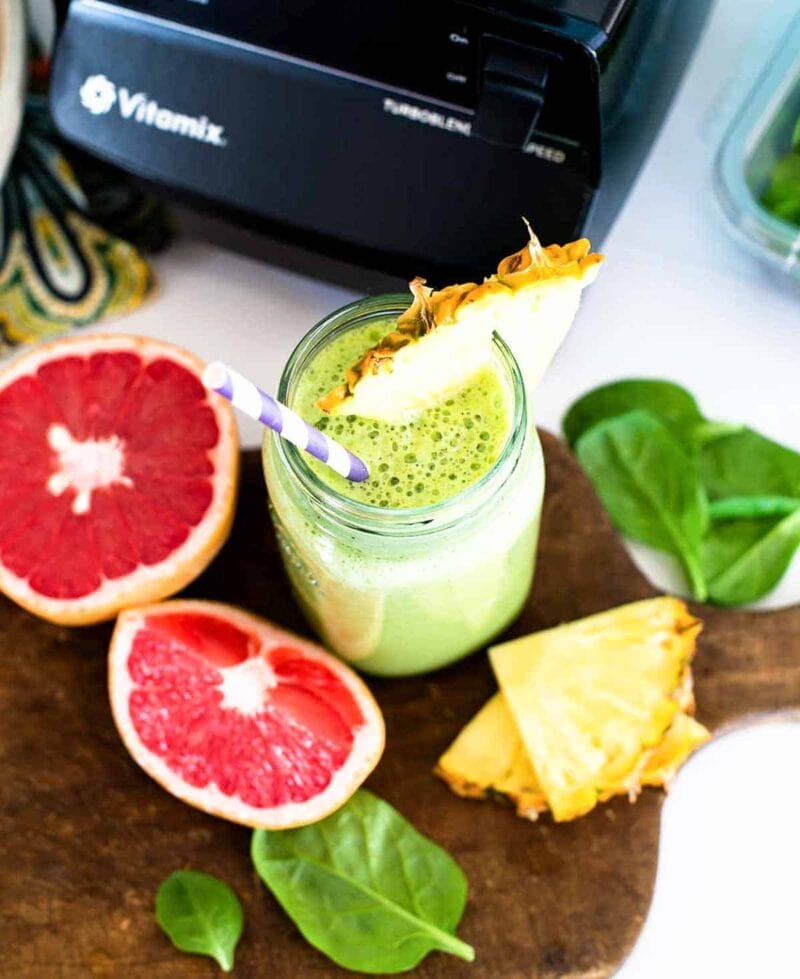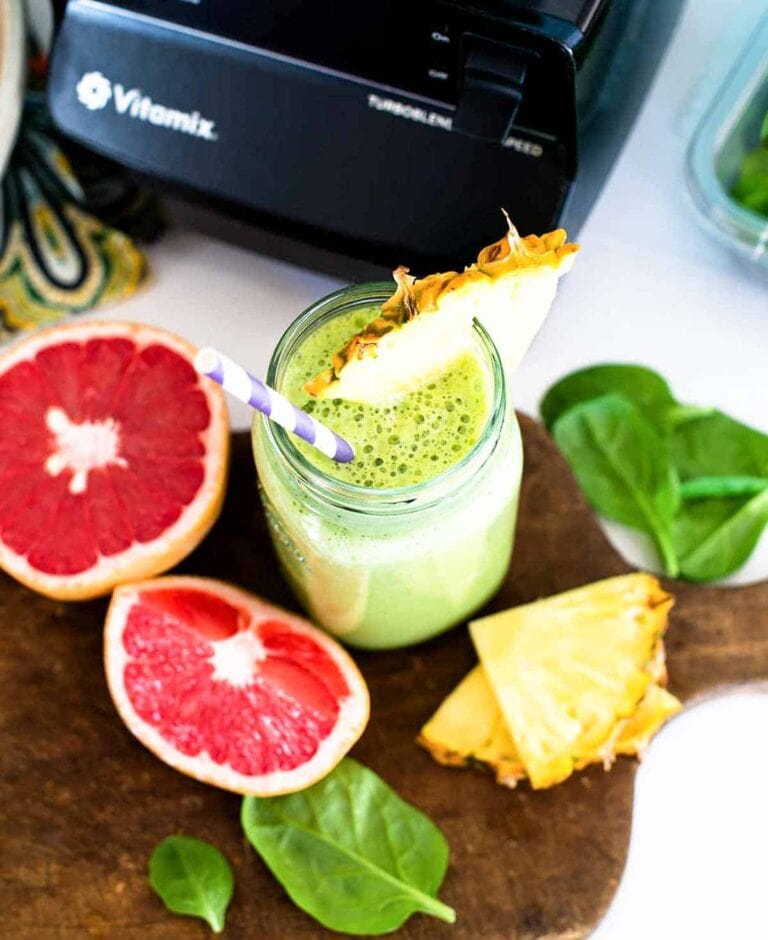 Green Energy Smoothie
This energy smoothie is a delicious way to boost your energy levels, naturally. Grapefruit and pineapple combine to bring you natural sugar, vitamin c, and nootkatone, the secret weapon of grapefruit. 
Instructions
Blend spinach, water, and grapefruit together until smooth.

Add remaining ingredients and blend again.
Notes
Use at least one frozen fruit to make smoothie cold
Swap spinach for the leafy greens of your choice
Swap pineapple with mango
Nutrition
Calories:
143
kcal
,
Carbohydrates:
36
g
,
Protein:
3
g
,
Fat:
1
g
,
Saturated Fat:
1
g
,
Polyunsaturated Fat:
1
g
,
Monounsaturated Fat:
1
g
,
Sodium:
31
mg
,
Potassium:
520
mg
,
Fiber:
5
g
,
Sugar:
25
g
,
Vitamin A:
4381
IU
,
Vitamin C:
127
mg
,
Calcium:
83
mg
,
Iron:
1
mg