Looking for a healthy fruit leather recipe that's also easy to make? Well, I wanna share my recipe with you today. It's only 4 ingredients, all pronounceable, and it's super fun to make. Ask the kids to join in, then chow down on this delicious, nutritious snack. So, let's talk about how to make fruit leather, then get ready to make your own!
I'm partnering with Sambucol for this fun recipe, to help give your snacks deliciously healthy support.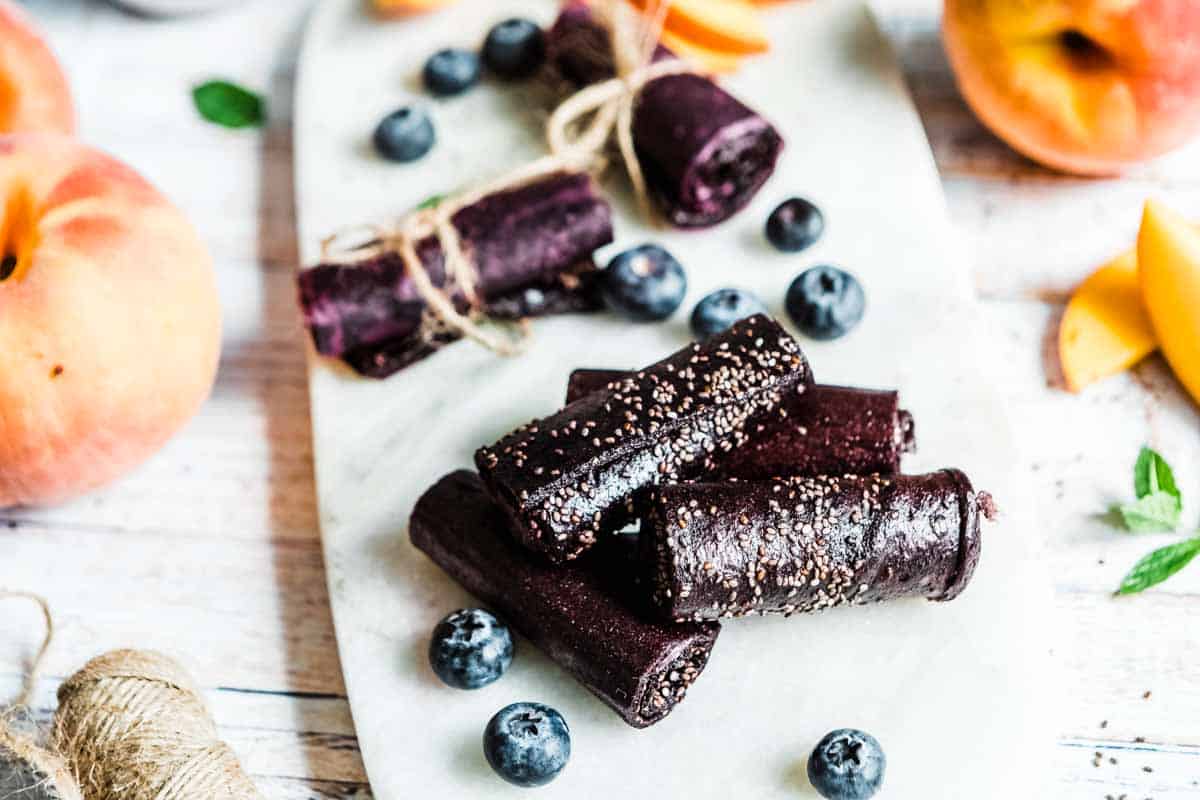 Table of Contents
How to Make Fruit Leather
School is starting all over the country, and parents everywhere are once again on the search for healthy foods that their kids will actually eat. Whether your kids are schooling at home, online, or in person, my homemade fruit leather recipe checks off all the boxes. It's a fun recipe that the kids can help make.
Using real fruit as well as nutrients through Sambucol Elderberry Syrup, this recipe is easily customizable for differing taste preferences. Most importantly, it's surprisingly simple to make!
Real Fruit
The recipe below uses peaches and blueberries, yet almost any fruit works great in homemade fruit leather. Here are a few of my fav variations (and why!):
Mixed berries: Really, berries of all kinds can be added to this snack as their antioxidant powers keep the body healthy and happy.
Just make sure you use 3 cups of fruit. If using frozen fruit in this fruit leather recipe, then thaw + drain the excess water before blending.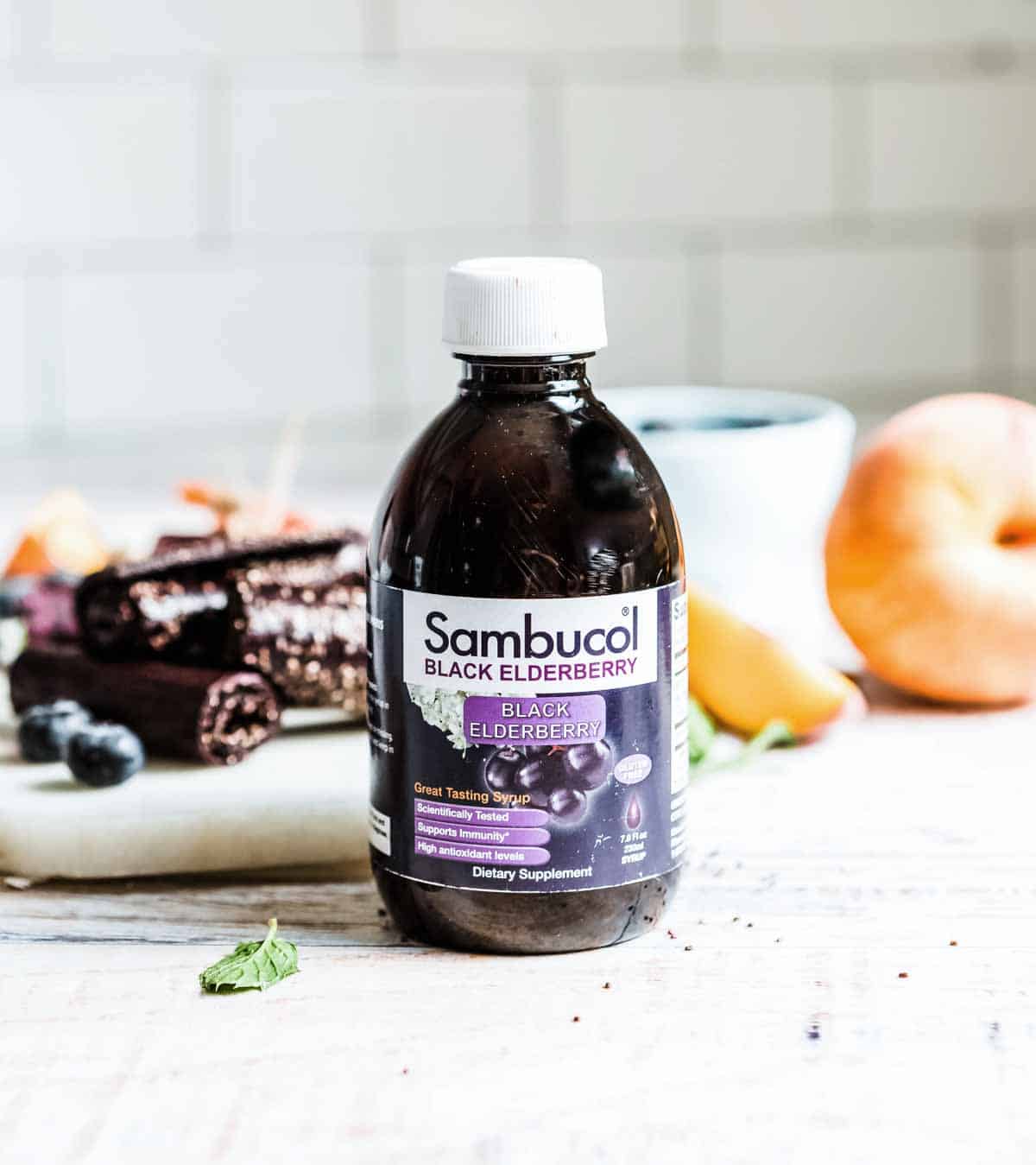 Immune support
If you can make a snack that tastes delicious AND loads you up on vitamins, what could be better!? My recipe contains real fruit + Sambucol elderberry syrup, which provides strong immune system support to help you and your family stay healthy throughout the year. Combined, these ingredients offer a ton vitamins A, B, and C.
Elderberries have been used for centuries to support wellness, so I def keep this syrup on hand throughout the school year for myself and my kids. It works deliciously in this fruit leather recipe too!
If you need a sub for the elderberry syrup then use honey, which in its raw, organic, local form can help fight against allergies and provide extra immune support as well.
Chia seeds
Chia seeds are listed as optional in this fruit leather recipe, but you don't wanna leave 'em out. The word chia is Mayan for strength, and I think that's a great descriptor. 1 ounce of this tiny seed provides 11 grams of fiber, 5 grams of omega-3s, and 18% of the daily recommended intake of calcium.
The nutrient power of chia seeds are part of dozens of recipes here at Simple Green Smoothies. I've even put it in my protein powder recipe. This seed provides a protein + healthy fat superfood punch. It is a great addition to pretty much any recipe from smoothies to salads and beyond.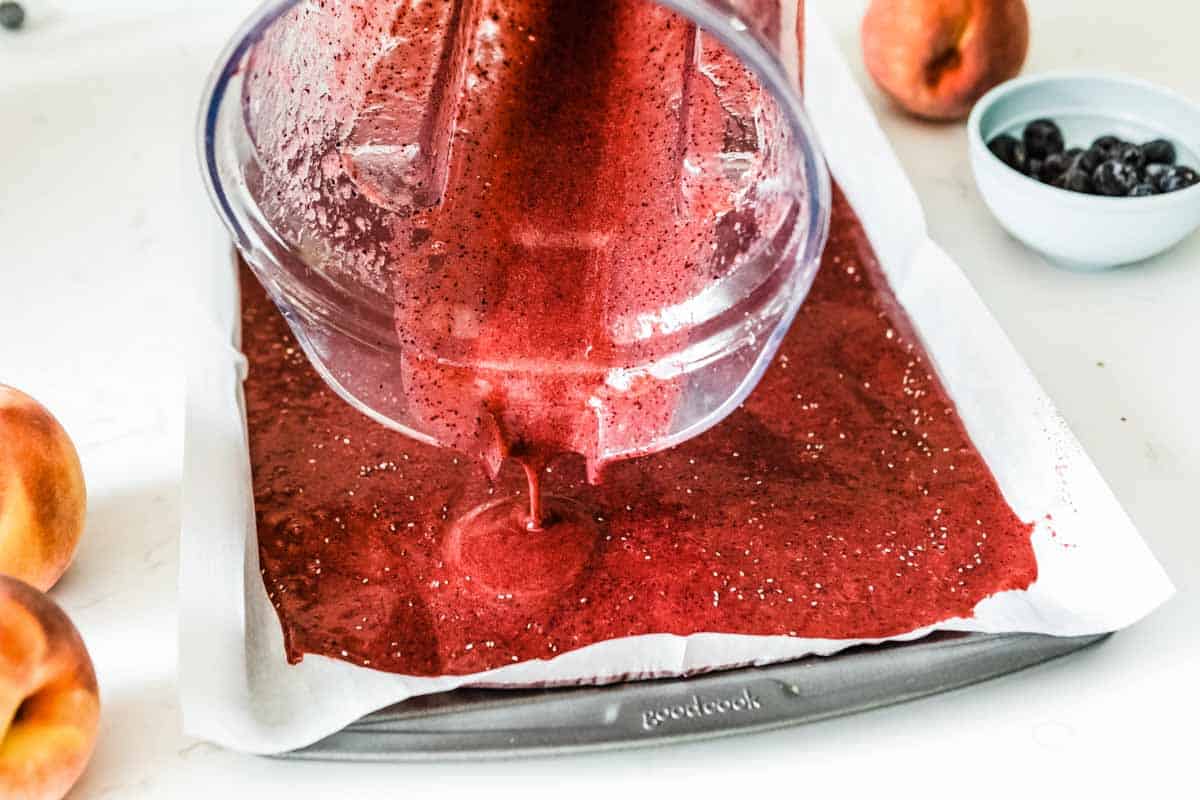 Tips For Making Fruit Leather
Along with a simple ingredient list, I love how easy this recipe is to make. Simply preheat your oven to its lowest setting, between 150 degrees Fahrenheit and 170 degrees F. This low temp dehydrates the fruit as well as makes it 'leathery.'
I recommend pureeing the fruit yourself instead of using a canned puree or concentrate for this fruit leather recipe. You can use either fresh or frozen fruit. Yet make sure to thaw the frozen fruit, then drain the excess water for ease of pureeing + baking.
Once the fruit is pureed, combine it with the maple syrup and chia seeds. Then, evenly spread the mixture over your parchment paper on a baking sheet. I like using a rimmed baking sheet for this recipe, just in case the mixture spreads out slightly. I don't want to end up with burnt food at the bottom of my oven after baking!
This low and slow (3-4 hours) of baking allows the fruit to turn into a leather-like material, that once cooled, can be easily sliced into thin strips. I cut my fruit leather in 1.5 inch strips, then roll the strips up with the parchment and store in an air-tight container.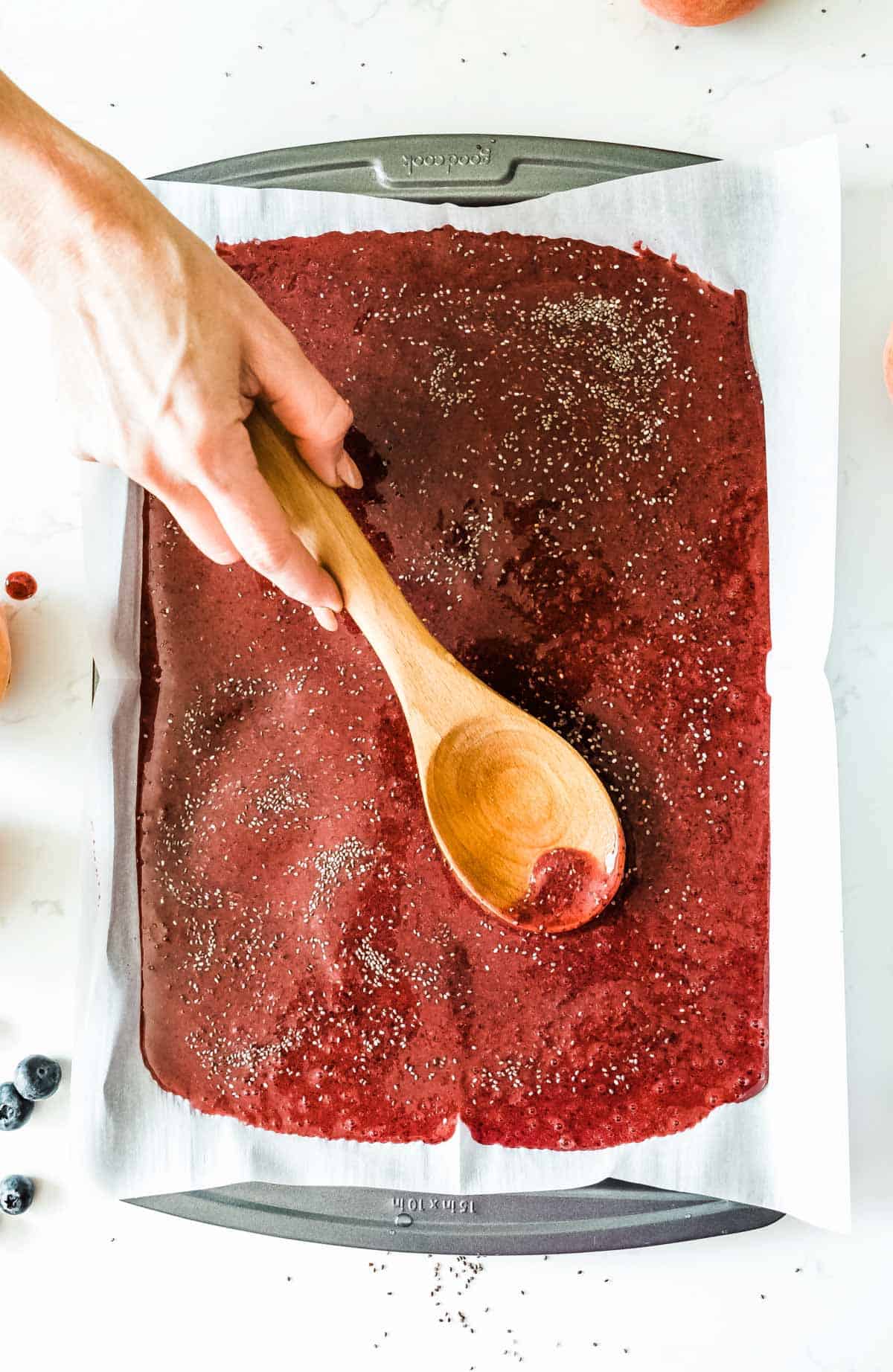 FAQs For Homemade Fruit Leather
How long does homemade fruit leather last?
Fruit leather can be stored at room temp for up to 1 month. If you'd like to store it longer, then freeze it in rolls separated with parchment, so that they can easily thaw.
What fruits can be made into fruit leather?
Almost any fruit can be made into fruit leather, seriously! My favorite flavor combos include mixed berries, mango + strawberry, and peaches + blueberries.
Is homemade fruit leather healthy?
Yes! This recipe includes chia seeds (great healthy fat + protein superfood). Store bought fruit leathers often have added sugar as well as food dye. Homemade fruit leather is just real fruit, natural sweetener, and still insanely delicious.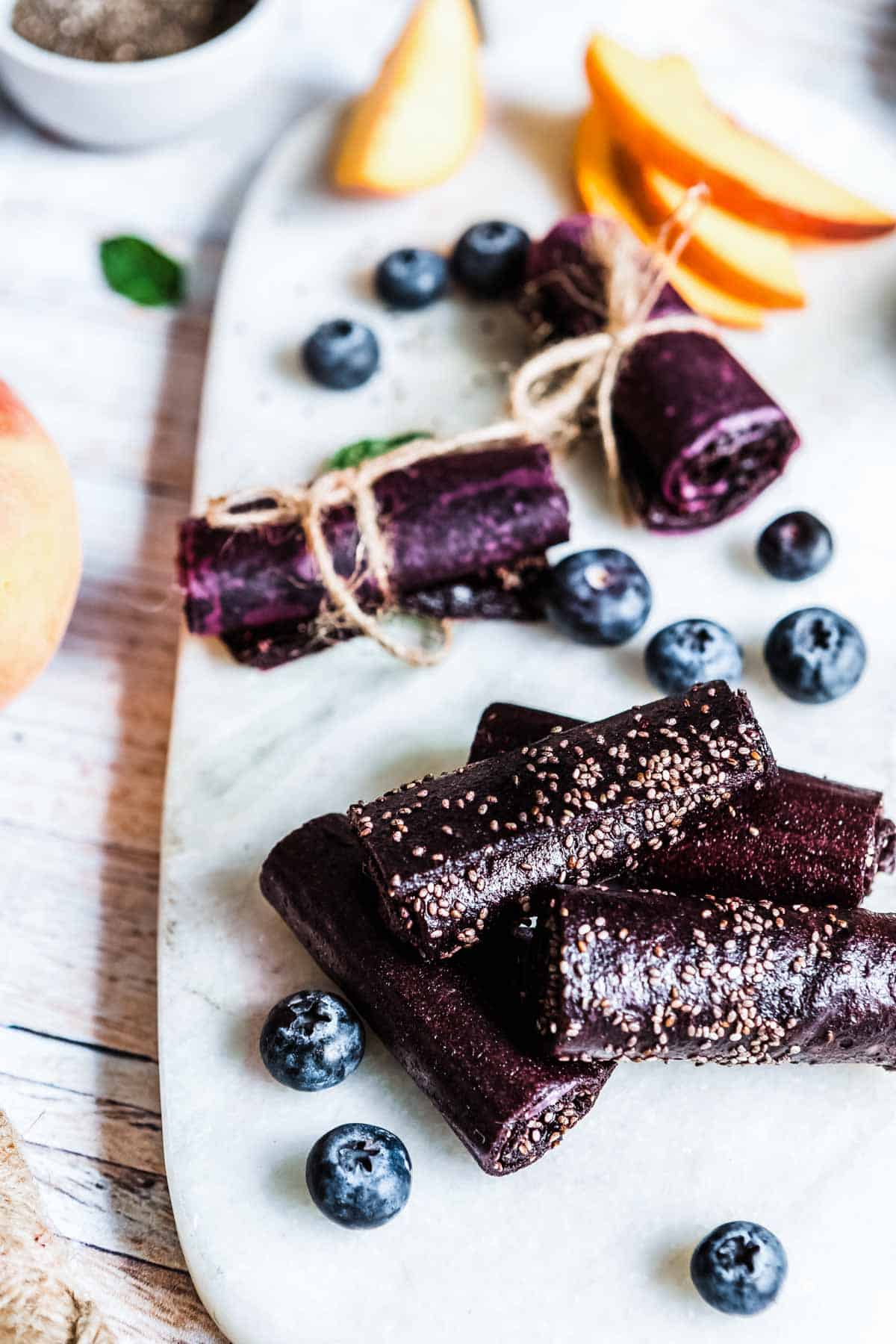 Healthy Snacks for Young Eaters
If you haven't already noticed, I like creating snacks/meals that are easily customizable. Just like with this fruit leather recipe, I want ideas that my kids can turn into their own creations. They're more likely to eat what we make if they get to pick the flavors and help with the creation… and I love watching Jackson turn into quite the foodie + aspiring chef all on his own!
I also include swap guides in all of my cleanses + resets, because even adults can be picky sometimes. If we like what we're eating, it takes a lot of the guesswork out of eating healthy!
Here are a few of my go-to healthy snacks for kids… and me:
What are your go-to healthy snacks for yourself/your kids? Leave a comment below with  your favs, I'd love to get some new ideas!
Because I wanna share my Elderberry syrup love with the world (aka, you!) Sambucol has agreed to give you all 15% off their site. Just use code SGS2021 at checkout and try some great new products + provide a little pizzaz to your fruit leather recipe.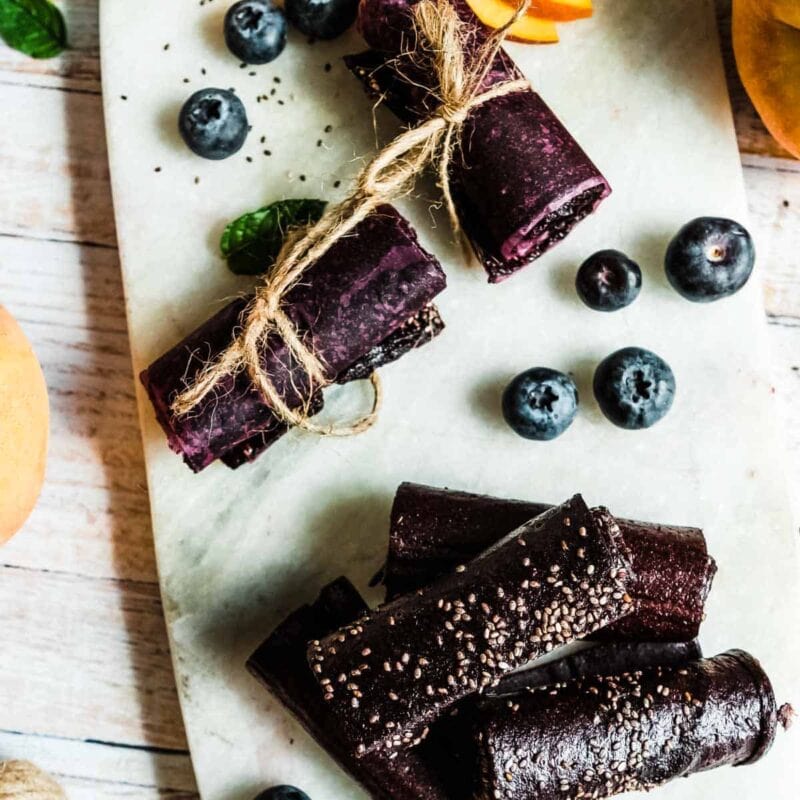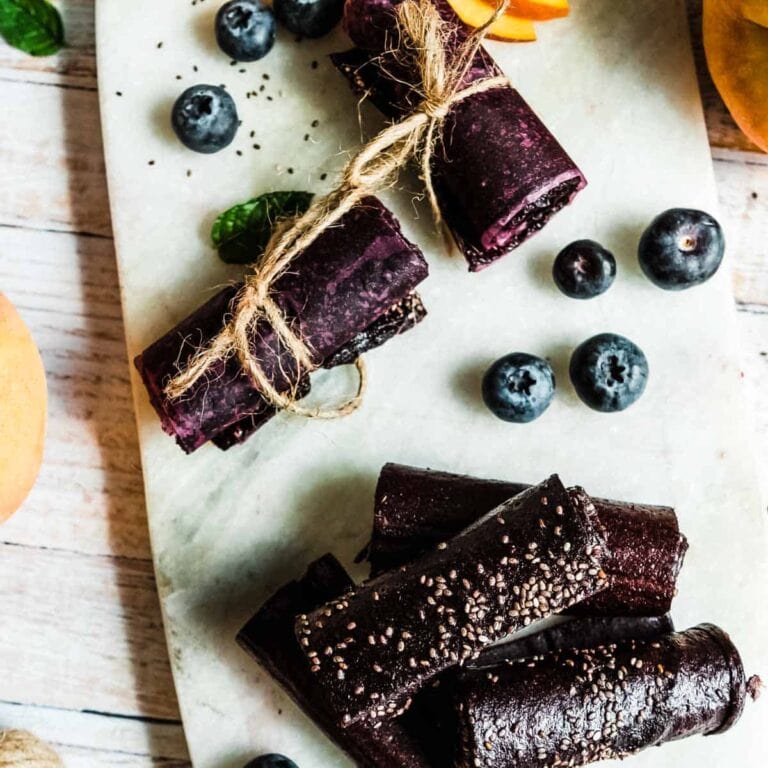 Homemade Fruit Leather
This fruit leather recipe is loved by kids and adults alike! Just 4 simple, whole food ingredients, make this fun, kid-approved treat. Follow my how to steps for the perfect weekend at home or school snack.
Instructions
Preheat oven to lowest setting (150-175 degrees F). Line a baking sheet with parchment paper, allowing it to come up the sides a bit.

Blend fruit and elderberry syrup together on high speed until smooth. Pour evenly over the parchment lined tray. Sprinkle chia seeds evenly over top.

Transfer tray to oven and bake for 3 hours. Check every so often until center isn't sticky when touched. In my electric convection oven, the lowest temp is 175 degrees F and it took about 4.5 hours total. If it cooks too long, it will become dry and brittle, so keep an eye on it.

Remove from oven and allow to cool once completely baked.

Once cooled, transfer fruit leather on parchment to a cutting board and cut into strips using a pizza cutter. The edge pieces may be crisper than the inside pieces. 

Use the parchment to roll the strips up. 

Store in an air-tight container until ready to eat.
Notes
If you have a convection oven, I suggest using it to speed up the drying time.
Fresh fruit works best. If you use frozen, use 3 cups total and make sure to defrost first, then drain some excess fluid before blending.
You can use a silpat instead of parchment.
I leave the skin on my peaches for extra fiber + nutrients
Elderberry syrup is used as natural immunity support + sweetener. Swap out for honey or maple syrup, to taste.
Nutrition
Calories:
64
kcal
,
Carbohydrates:
12
g
,
Protein:
1
g
,
Fat:
2
g
,
Saturated Fat:
1
g
,
Polyunsaturated Fat:
1
g
,
Monounsaturated Fat:
1
g
,
Trans Fat:
1
g
,
Sodium:
2
mg
,
Potassium:
144
mg
,
Fiber:
4
g
,
Sugar:
6
g
,
Vitamin A:
204
IU
,
Vitamin C:
9
mg
,
Calcium:
41
mg
,
Iron:
1
mg
*These statements have not been evaluated by the Food and Drug Administration. These products are not intended to diagnose, treat, cure or prevent any disease.