Lately, I've been craving salty, crunchy snacks. These easy garlic-baked chickpeas hit the spot in so many ways. My oven-roasted chickpeas are bursting with spicy flavor and contain 19 grams of protein. That's the ultimate snack win in my opinion.
Looking for the best spice combo, this recipe and my Curry Roasted Chickpeas have been made on repeat… they're both so good!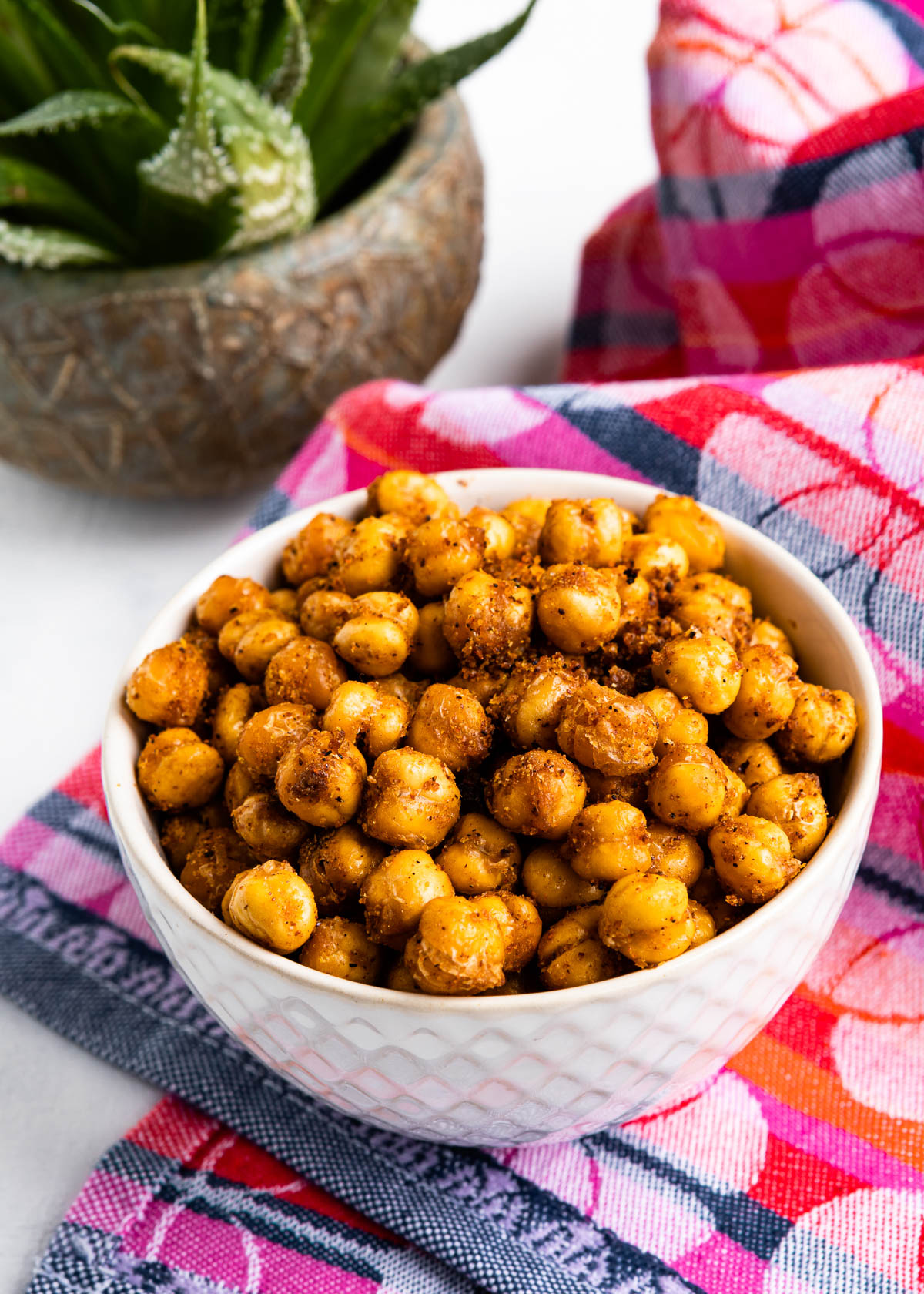 Whether you're looking for a great healthy snack for work or a way to add more protein to your lunch salad, these crunchy gems are the way to do it. It's a snack that's easy to make and so satisfying to munch on. I'm here for it!
Chickpeas are a lot more inexpensive than nuts. I often top salads with some of these instead of almonds or pecans. They also make a great filling. You've probably seen my recipes for Creamy Potato Curry and BBQ Vegetarian Pizza.
Table of Contents
Ingredients for Oven-Roasted Chickpeas
Let's start with this super simple ingredient list. It's full of spices you probably have on hand! Then we can dive into the goodness that is in this power snack.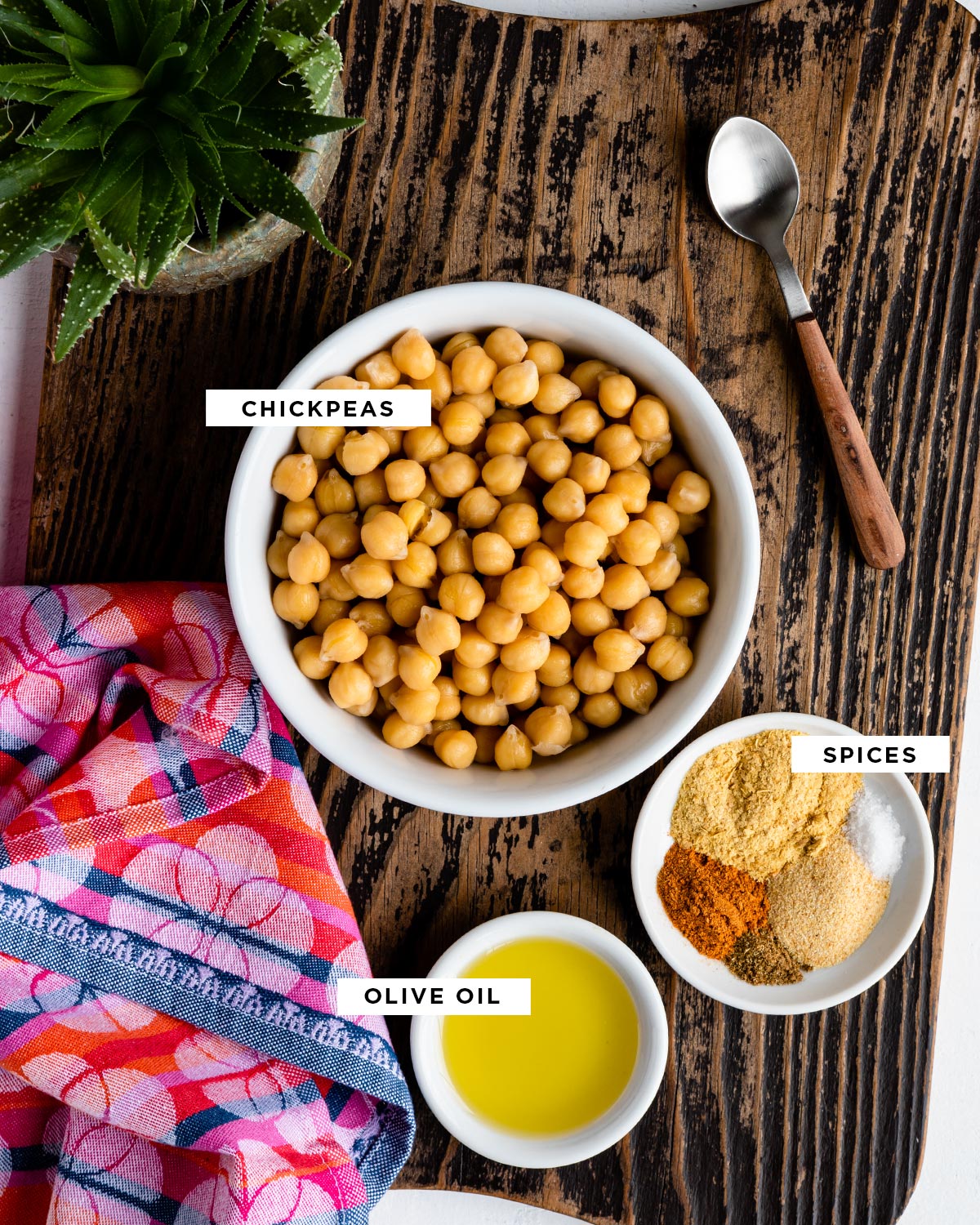 Chickpeas: These funny-looking things are part of the bean family, so you know they are full of protein and carbs. Yet that's not all! Chickpeas also have manganese, folate, iron and fiber, to highlight a few of their key nutrients. I use them for protein in a variety of dishes like chickpea tacos and to top my kale caesar salad.
Olive Oil: I chose this oil as it has a milder flavor than avocado. Feel free to use the healthy oil of your choice. You will taste the oil on this snack, so I recommend using a high-quality one.
Spices: My snack uses cayenne pepper, garlic powder, nutritional yeast, sea salt and cumin for the perfect flavor combination. The nutritional yeast gives it a slightly cheesy finish while the other spices combine for a spicy, garlicky result.
Since this recipe is so simple, don't sweat if your spice drawer is missing one of the seasonings. You really can season this how you want to. Let me know any winning combinations you come up with so I can try too!
How to Make Baked Chickpeas
One reason I love this recipe is how easy it is to make a batch. With one can of chickpeas (which you can find for under $2 per can) and some oil and spices, you've got a versatile dish for snacks or meals.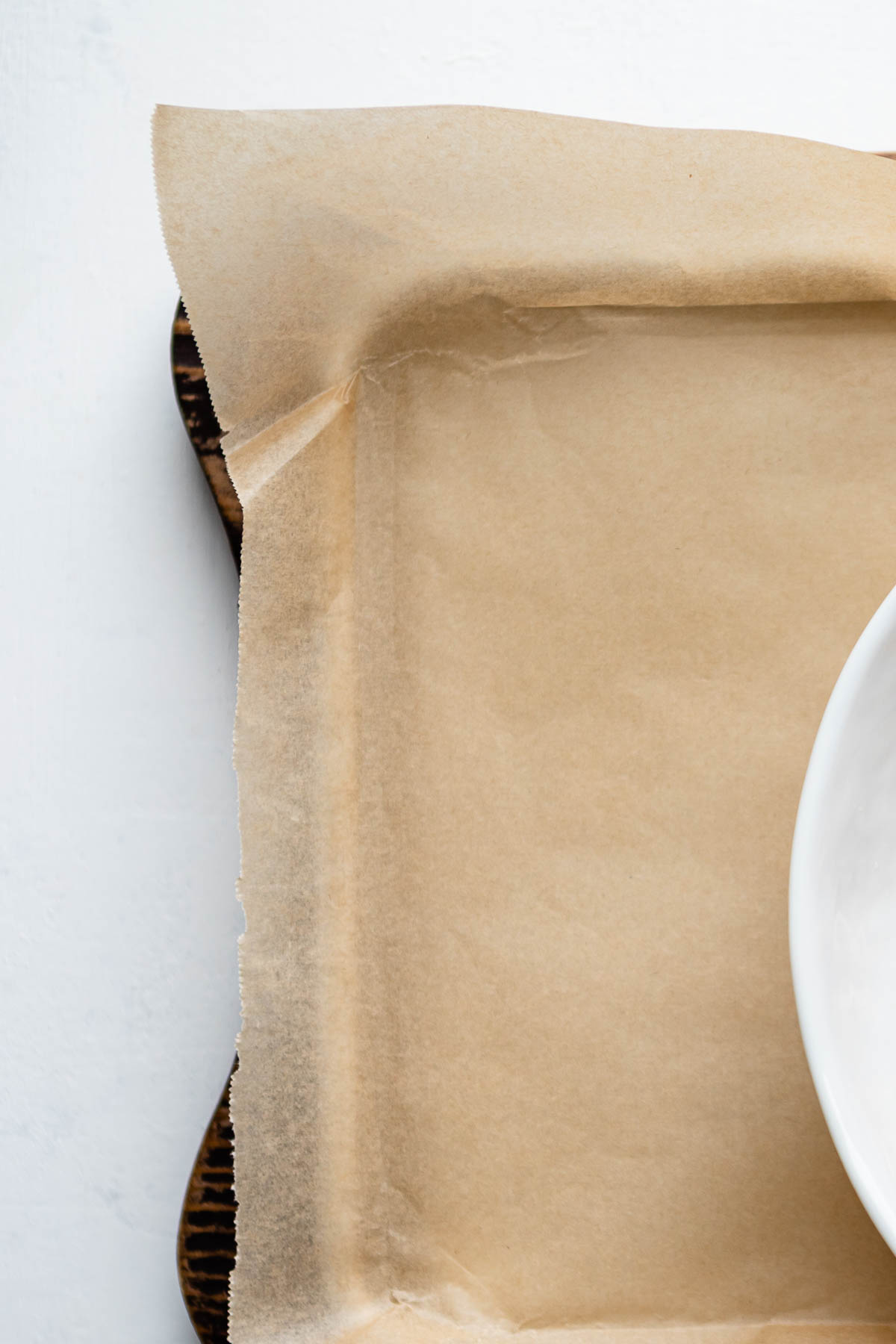 Step 1: Start by preheating your oven to 425°F and lining a rimmed baking sheet with parchment paper.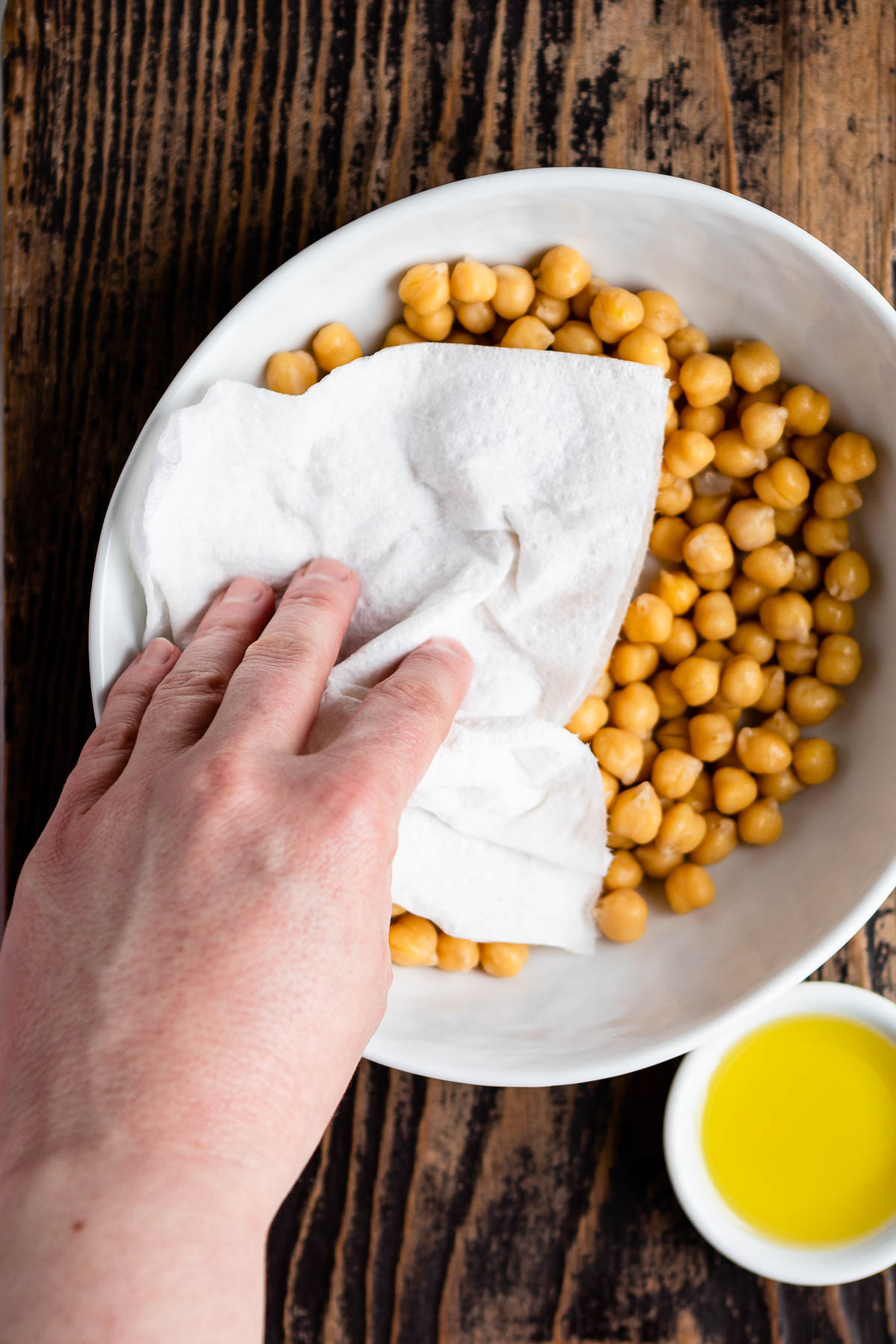 Step 2: Make sure your canned chickpeas are drained and rinsed well. Then spread out and gently pat with a paper towel to remove any moisture.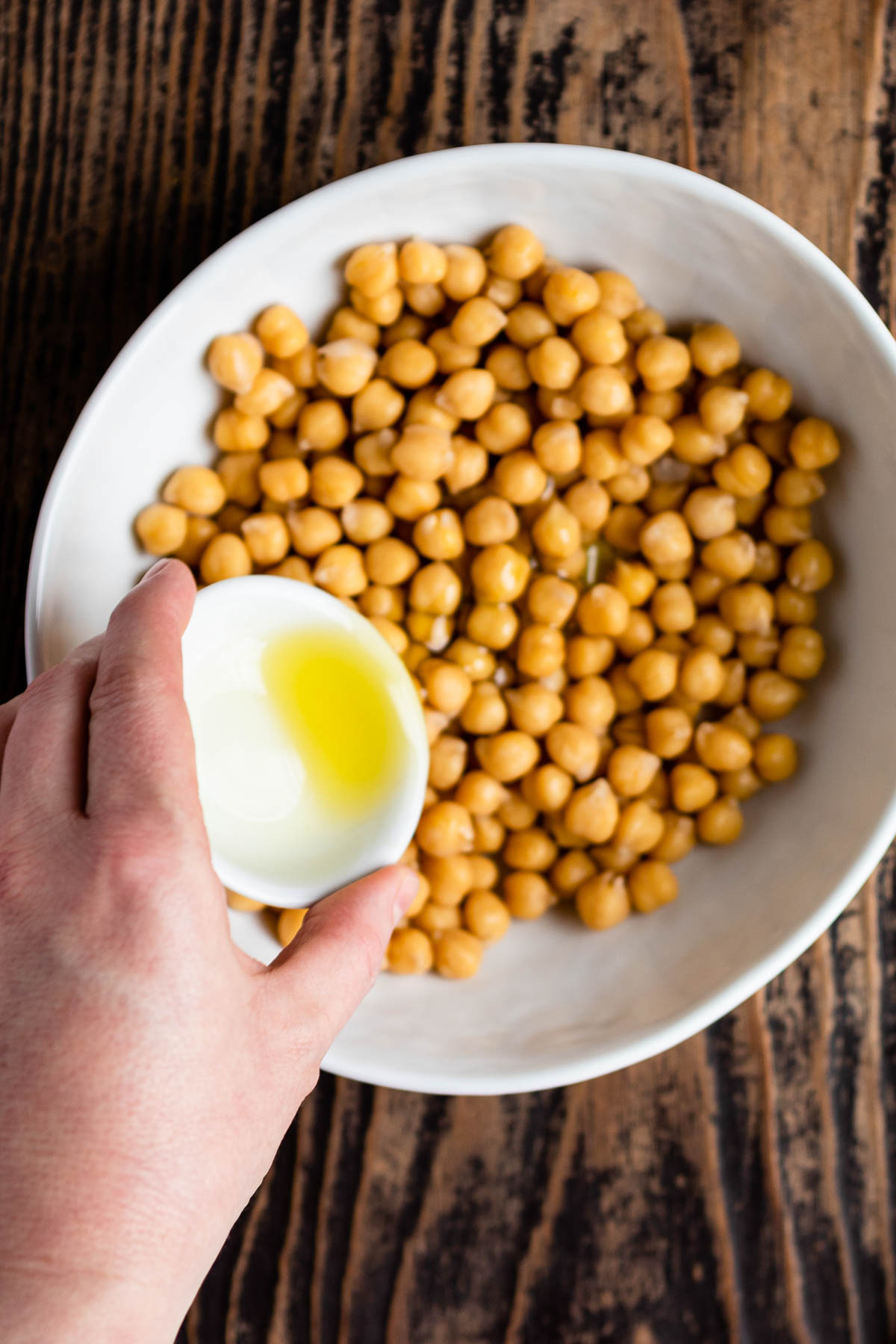 Step 3: Grab a medium-sized bowl and toss those chickpeas with oil until they are well-coated.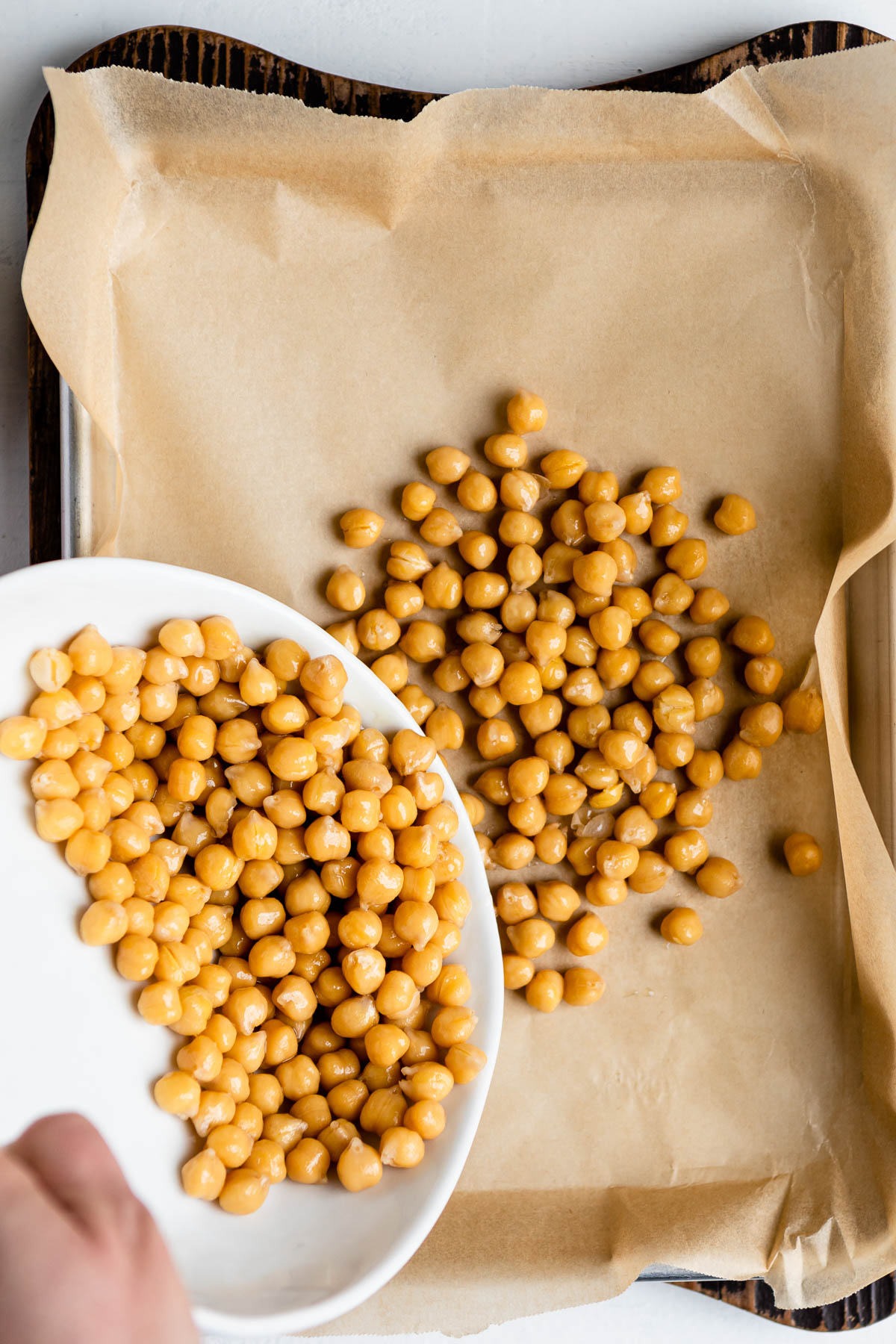 Step 4: Spread them out on the prepped baking sheet and bake for 15 minutes.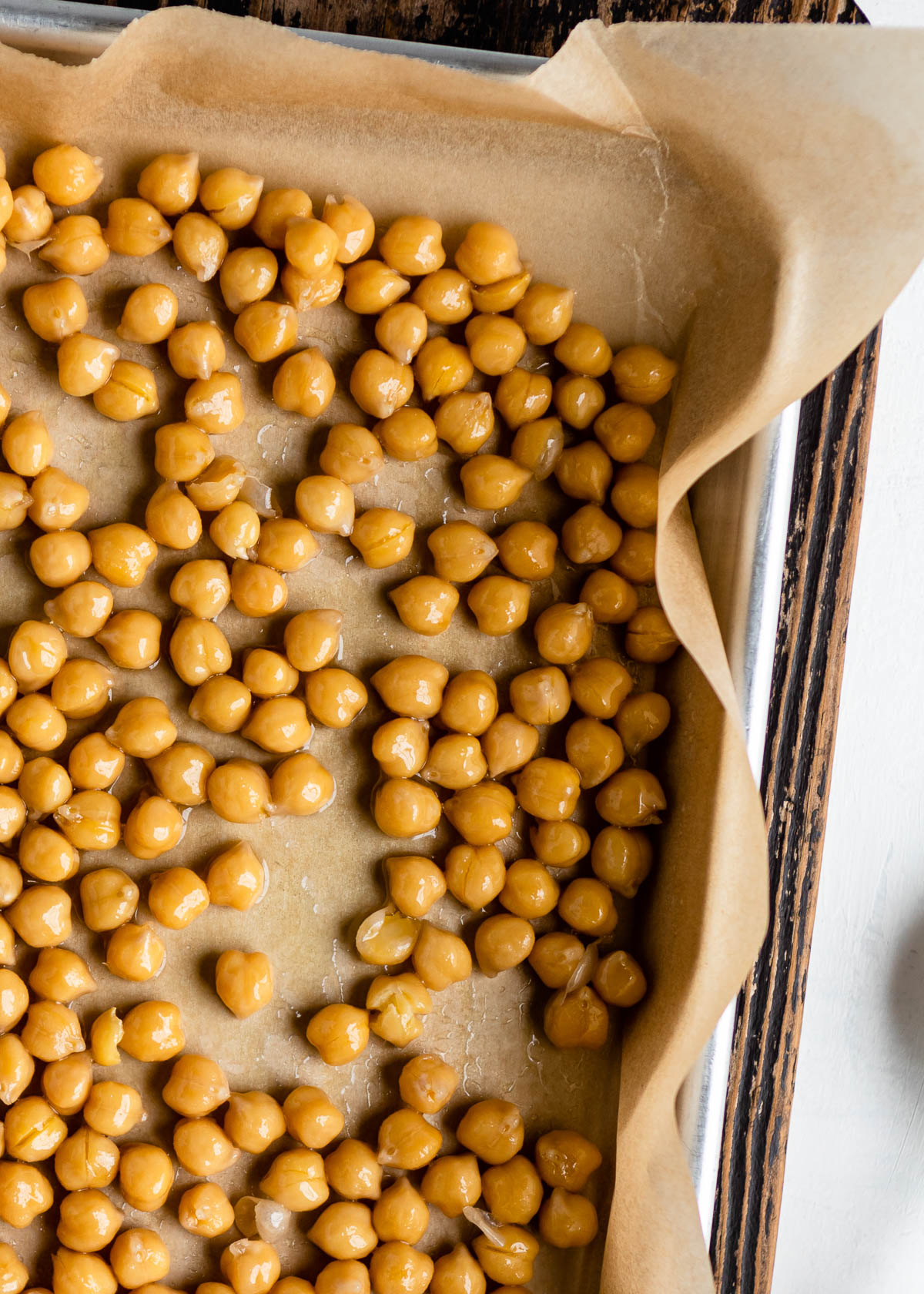 Step 5: Remove from the oven and sprinkle with the spices, gently tossing to coat again. Return to the oven for 10 more minutes or until desired crispiness is reached.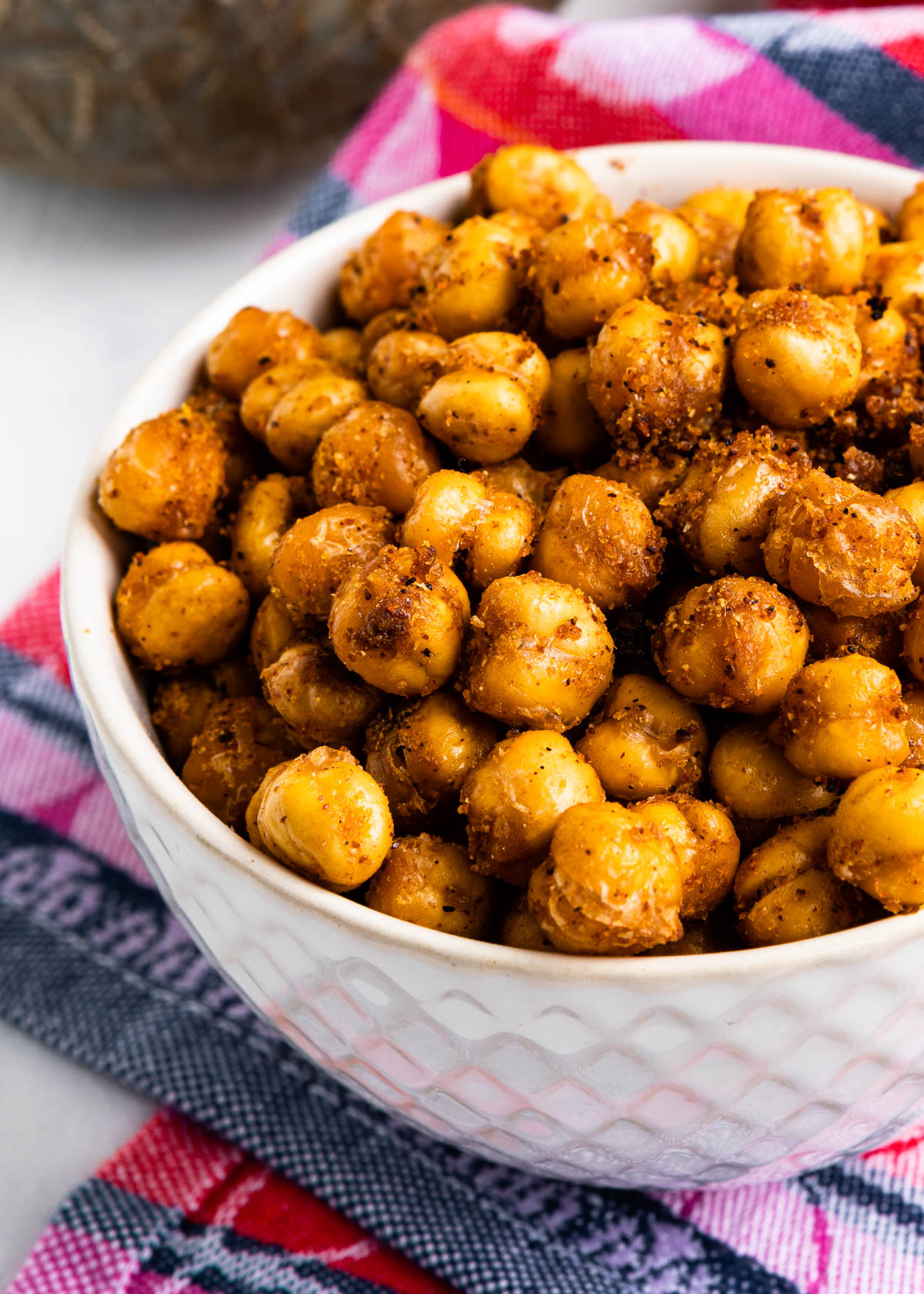 Step 6: Remove from oven and allow to cool slightly before enjoying.
Recipe Tips and Tricks
Make sure the chickpeas are completely coated in the oil for the crispiest result.
If you are sensitive to spice, omit the cayenne pepper.
Swap olive oil with avocado oil.
These are best enjoyed right after baking. You can store them for later, but they will lose some of their crispiness.
Since moisture softens, store your oven-roasted chickpeas in an open bowl lightly covered with a paper towel or tea towel instead of an air-tight container.
Baked Chickpeas FAQs
Are baked chickpeas good for you?
They can be. If you are comparing them to other potential, processed food snacks then yes! They have 19 grams of protein per serving, which is awesome in a snack. They are not low calorie or low carb, yet they keep you full between meals or make an excellent plant-based protein addition to a salad.
Why are my roasted chickpeas not crunchy?
There are a few things to follow closely when making oven-roasted chickpeas. First, make sure the chickpeas are well-coated in the oil. Whether you use olive or avocado oil, make sure each chickpea is well coated for more even and crispy baking. Second, your oven may not bake as quickly as mine. Be sure to watch so nothing burns, but feel free to keep them in the oven longer to get a crispier result. Make a note for next time of how long the bake time was for you.
Are roasted chickpeas good for weight loss?
They can be. My recipe has 19 grams of protein per serving. It is not a low-calorie snack, but it is a filling one that will help you get from lunch to dinner. It has protein, healthy fat and carbs so your body will feel full longer, has usable energy and will not get sluggish.
Do you have to soak chickpeas before roasting them?
No. In fact, I recommend draining and rinsing the chickpeas from the can, then patting them dry with a paper towel before coating them in oil so that they aren't wet prior to cooking.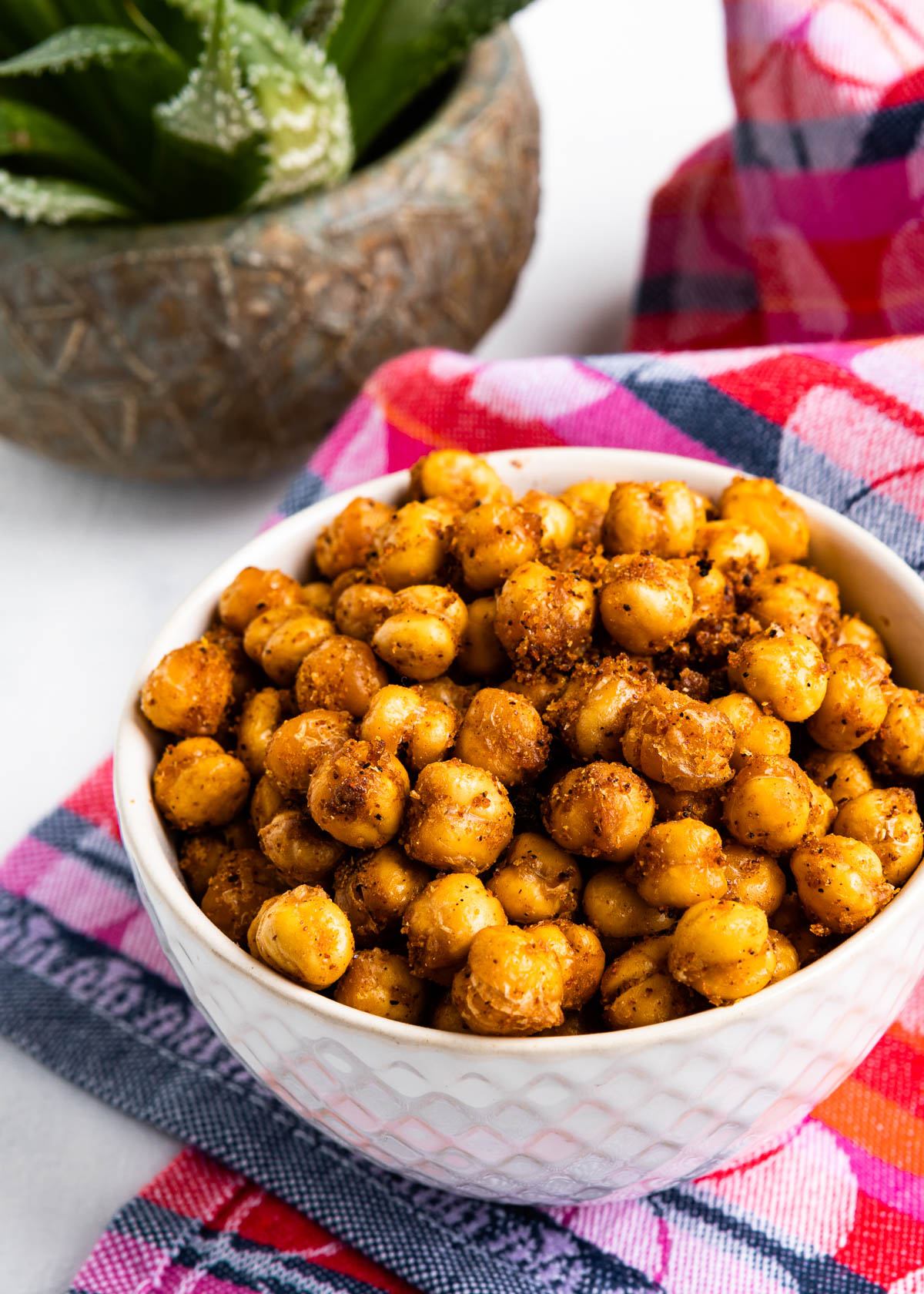 More Plant-Powered Snack Options
I believe in snacking smarter, not harder. You'll often see me trying a variety of snacks throughout the day, based on what my body needs. I love using this recipe after long runs for renewed energy. It also works as a mid-afternoon pick-me-up if I eat a light lunch. Here are some more great plant-based snack options:
Would you please rate + review this recipe once you've made it? I love getting your feedback and am here to answer any questions you have while making this!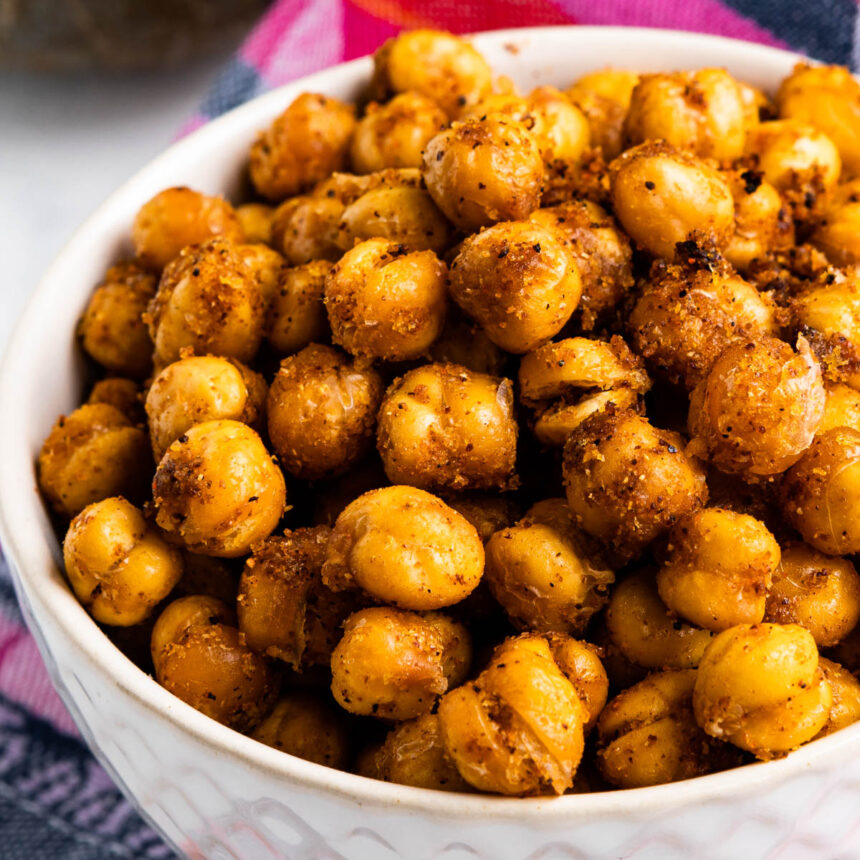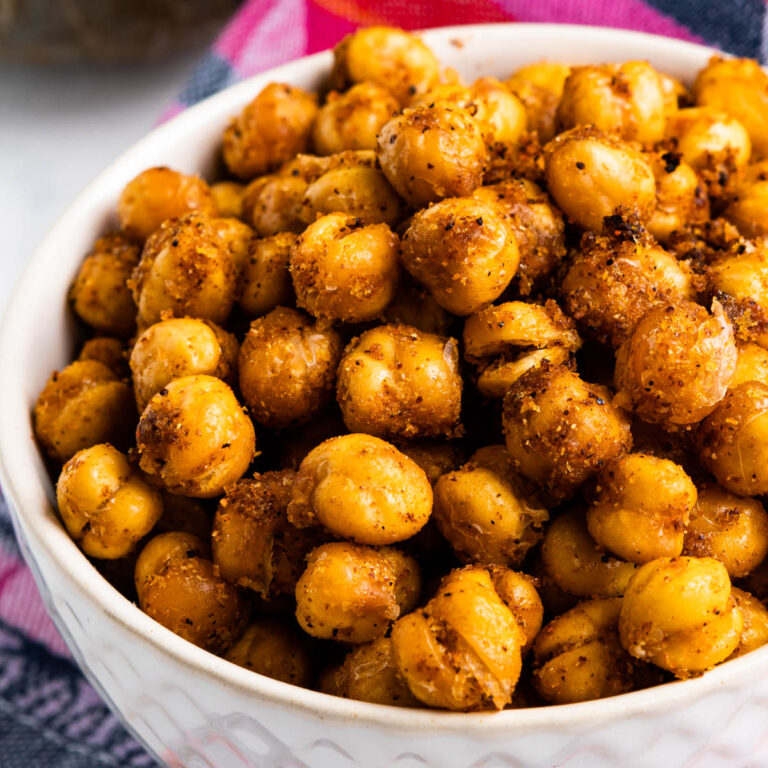 Garlic Baked Chickpeas
Crispy, crunchy, savory. These garlic-baked chickpeas are a serious snacking experience. They are surprisingly light and perfectly seasoned for that garlicky explosion you want. Eat them right away for the crispiest result!
Equipment
oven

rimmed baking sheet

mixing bowl
Ingredients
13.5

oz

chickpeas

rinsed and drained

2

tsp

olive oil

½

tsp

cayenne pepper

1 ½

tsp

garlic powder

1

tbsp

nutritional yeast

⅛

tsp

sea salt

⅛

tsp

cumin

ground
Instructions
Preheat oven to 425°F. Line a rimmed baking sheet with parchment paper.

Toss rinsed and dried chickpeas with olive oil until well coated.

Place chickpeas on a baking sheet and bake 15 minutes.

Remove chickpeas from oven and sprinkle with spices. Return to oven for an additional 10 minutes, or until desired crispiness is reached.

Remove from oven and allow to cool slightly before eating.
Notes
Baked chickpeas are best when they are fresh from the oven. They can be made ahead of time but will lose some of their crispiness as they sit.
Omit the cayenne pepper for a less-spicy snack.
Swap olive oil with avocado oil.
For the crispiest result, make sure the chickpeas are completely covered in the oil before baking, so they evenly crisp throughout.
Nutrition
Calories:
261
kcal
,
Carbohydrates:
37
g
,
Protein:
13
g
,
Fat:
7
g
,
Saturated Fat:
1
g
,
Polyunsaturated Fat:
2
g
,
Monounsaturated Fat:
4
g
,
Sodium:
156
mg
,
Potassium:
472
mg
,
Fiber:
11
g
,
Sugar:
6
g
,
Vitamin A:
243
IU
,
Vitamin C:
2
mg
,
Calcium:
64
mg
,
Iron:
4
mg