A savory smoothie bowl with the taste and texture of gazpacho soup. Serve in a bowl or a sip out of a fun glass! This easy gazpacho recipe is bursting with flavor and can be spiced to perfection.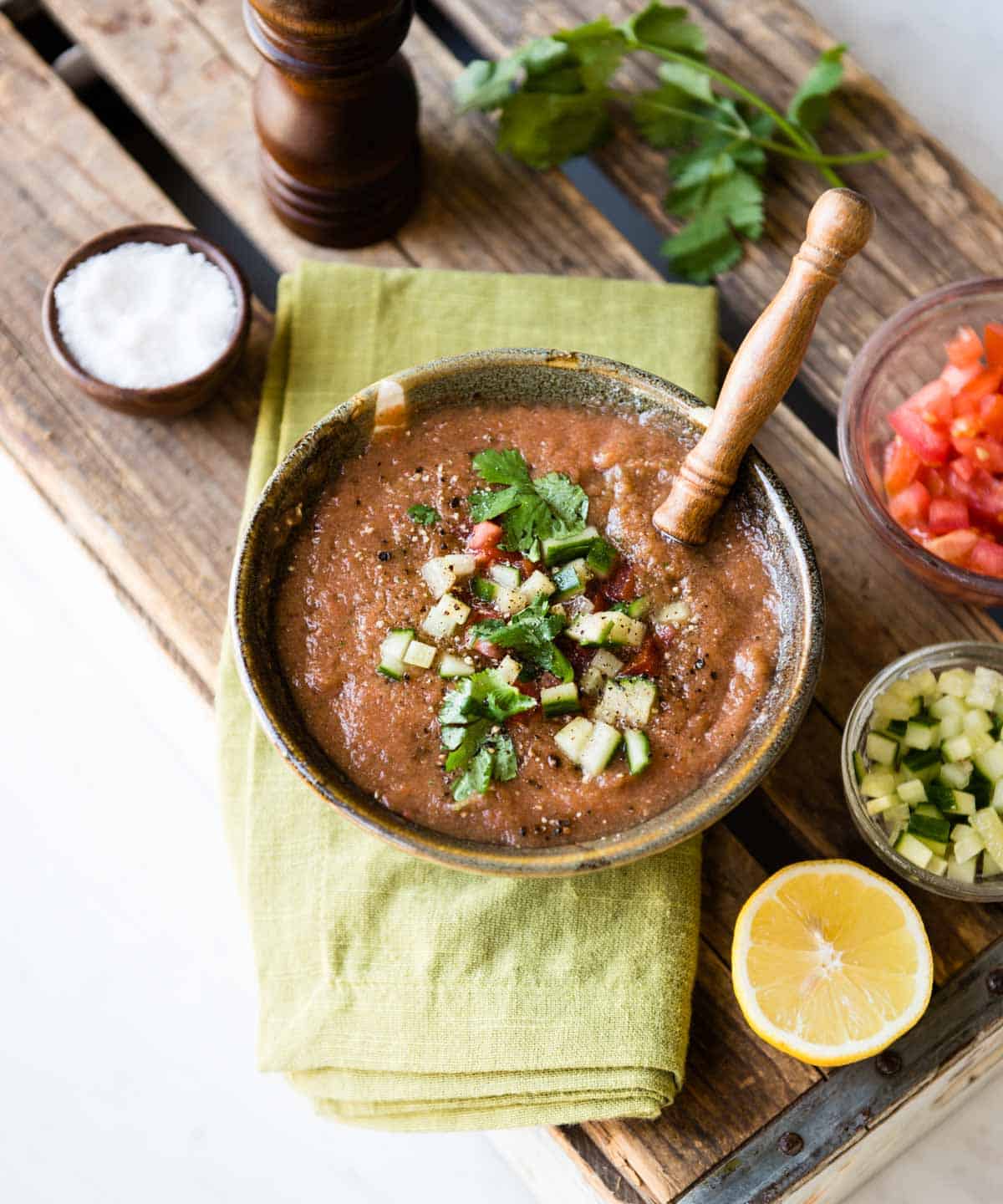 This gazpacho soup recipe is like many of my smoothie bowls… just with a veggie twist!
So get out your blender to make this 1-pot meal!
Gazpacho is a cold soup made entirely of raw vegetables. But, of course, I had to add a leafy green to our gazpacho recipe, because… it's me! I love how quickly I can get this soup ready to go as well as how easy it is to clean up. Make ahead and store in the fridge for your next get-together with friends. They'll be so impressed!
Health Benefits of Gazpacho
For this recipe, I focused on romaine as the leafy green, which is something I don't often use in blended recipes. Here's why I chose to use it in this gazpacho soup recipe:
Packed with vitamin A: powerful antioxidant that's influential to your brain function, skin, heart, kidney, lungs, and vision as well as immune health.
Loads of vitamin K: Great for bone health by helping with calcium absorption.
High amounts of folate: This is a b-vitamin that's needed to create blood cells in bone marrow, and convert carbohydrates into energy.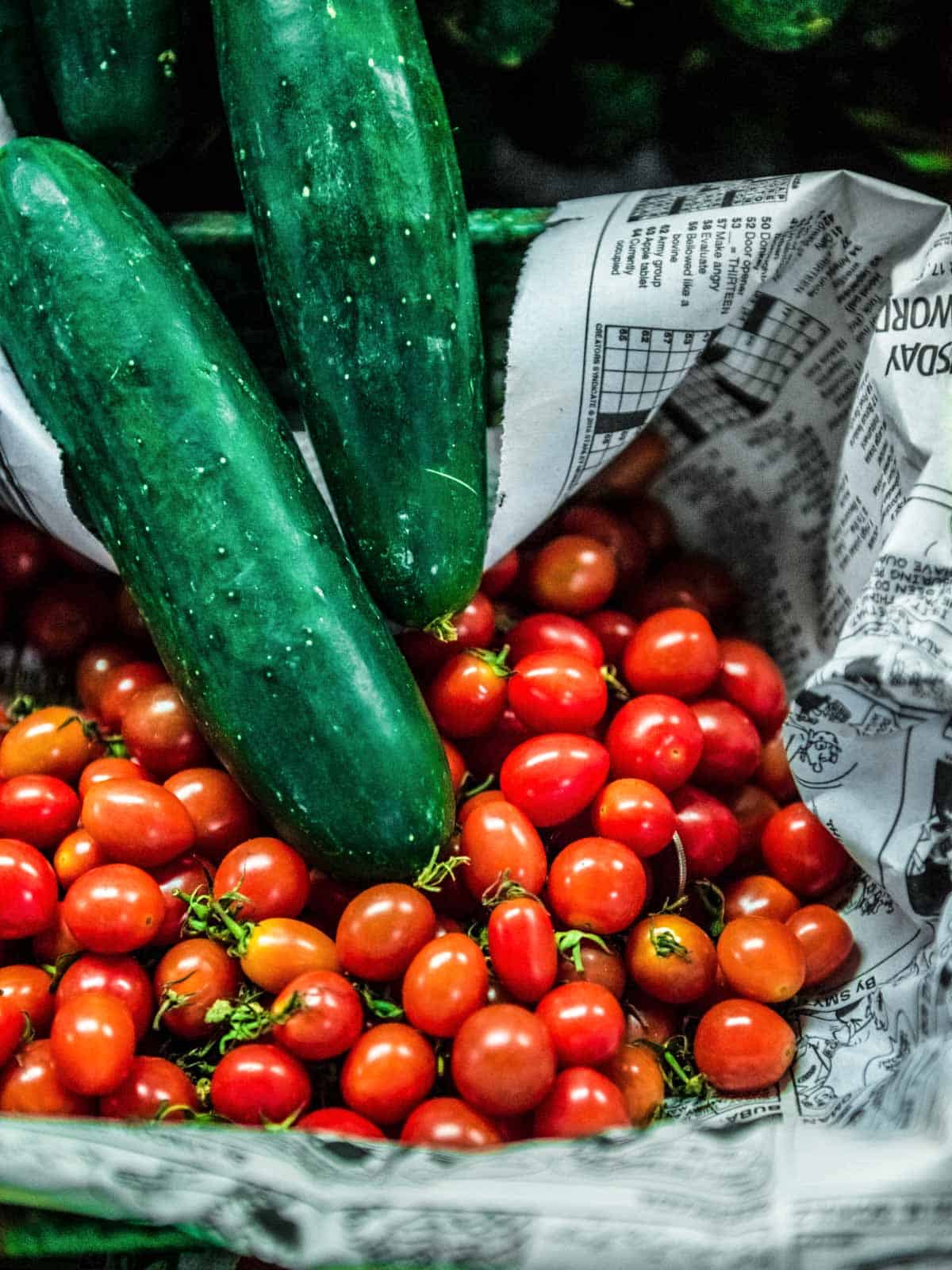 Where did gazpacho originate?
If I did an Ancestry DNA test on gazpacho, you'd discover it's from the southern regions of Spain. According to the L.A. Times, the addition of tomatoes – making it the modern gazpacho soup recipe we know and love today – came when Columbus first brought tomatoes back to Spain in the 15th century.
Over the years, different world cuisines have adopted this chilled soup, adding different ingredients and toppings. In Spain where it originated, they add croutons and hard boiled eggs.
This easy gazpacho recipe adds a leafy green of course! Romaine is great for your heart and lower in calories, making it the perfect addition to this blended beauty.
Raw Vegetable Health Boost
You might be wondering: "Why make a gazpacho recipe (cold soup) instead of a warm soup?"
Cooking food isn't bad at all! But sometimes our body needs an extra boost of nutrients that you get from raw vegetables. The cooking process can reduce the efficacy of some ingredients. In fact the National Institutes of Health is continuing to research the effects of different types of cooking vegetables and whether it affects the vitamin content of those veggies.
Plus, without the extra step of cooking – making a gazpacho soup recipe is quick and easy!
If you're feeling like you want even more vegetables and fruits in your diet, I'd love for you to check out our Seasonal Cleanse.
FAQs
Why is gazpacho served cold?
Traditionally, gazpacho is a summer dish. So with temps soaring, a cool meal is def the best option! Summers in Spain can be super hot, so gazpacho was invented as a way to be refreshed during those hotter months.
What does gazpacho consist of?
There are many versions of this classic soup recipe. Most often you'll find it made with tomatoes, garlic, olive oil, water, vinegar, onions, cucumbers, and green peppers + thickened with bread crumbs. My version opts to keep it gluten free without using bread crumbs, plus adds the healthy green leafy twist you come to expect from Simple Green Smoothies with the addition of romaine.
Is gazpacho really healthy?
That's a big kale yeah! With fresh raw veggies and an added leafy green, this gazpacho soup recipe is super healthy. With fresh vegetables bringing in lots of minerals, vitamins – like C, A + E – and antioxidants, what's not to love here?! Blending gazpacho regularly this summer with the best produce of the season is a sure fire way to boost your immune system.
Should gazpacho be smooth or chunky?
The answer here is smooth. Using your stand alone or stick blender will help you achieve that perfect creamy smoothness this gazpacho soup recipe was made for. Looking for a bit more texture? Top with sunflower seeds for that extra pop of crunchiness, flavor plus Vitamin B5, Vitamin C + protein in your dish.
More Savory Vegetable Recipes
I hope you enjoy this Italian treat and how it makes you feel. For more veggie-based blended recipes, check out these:
Fire up that blender and get tasting! Let me know if you make my refreshing gazpacho soup recipe or one of the other blended flavors above and tell me in the comments below.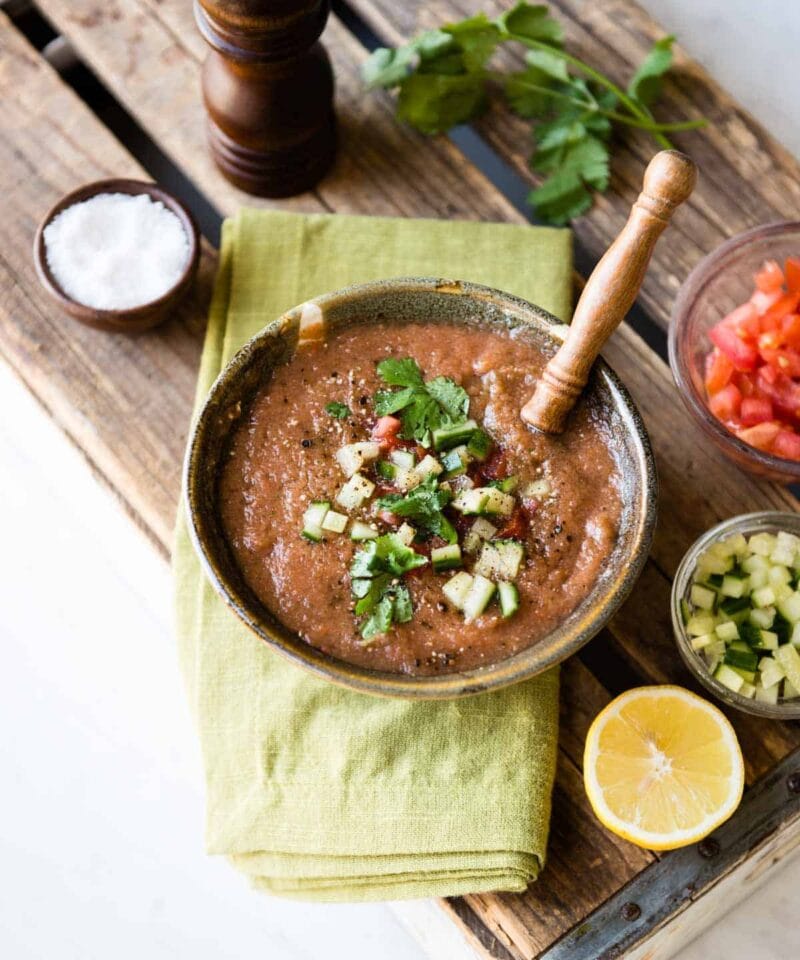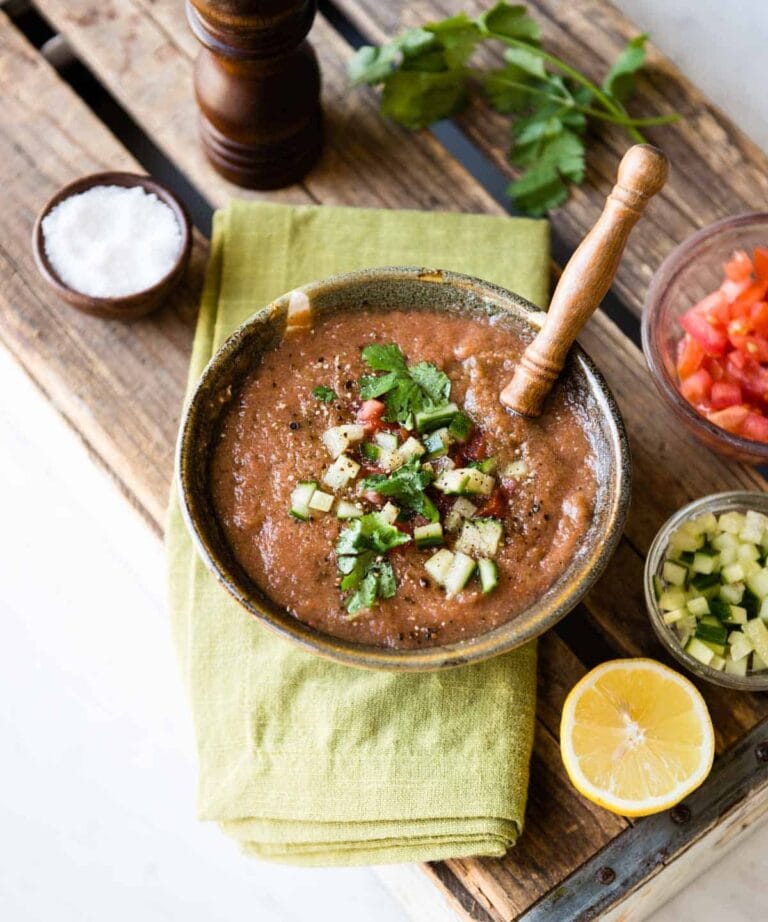 Gazpacho Soup
This gazpacho soup recipe is made entirely of raw vegetables. And, of course, we had to add 2 cups of leafy greens—in this case, romaine, which is packed with vitamins A and K. These 2 vitamins are great for heart health.
Ingredients
2

cups

romaine

chopped

½

cup

fresh cilantro

stems removed

2

tomatoes

chopped

2

cups

cucumber

peeled and chopped

½

cup

red bell pepper

sliced

2

tbsp

lemon

juice

pinch

sea salt
Instructions
Blend the romaine, cilantro, and tomatoes until smooth.

Add the cucumber, bell pepper, lemon juice, and salt and pulse until reached your desired consistency. I like it with a few chunks.
Notes
Serve at room temperature and top with chopped cucumber, tomatoes, cilantro, and avocado, plus a lemon wedge and a drizzle of olive oil.
Nutrition
Calories:
62
kcal
,
Carbohydrates:
13
g
,
Protein:
3
g
,
Fat:
1
g
,
Saturated Fat:
1
g
,
Polyunsaturated Fat:
1
g
,
Monounsaturated Fat:
1
g
,
Sodium:
16
mg
,
Potassium:
703
mg
,
Fiber:
4
g
,
Sugar:
8
g
,
Vitamin A:
6651
IU
,
Vitamin C:
77
mg
,
Calcium:
53
mg
,
Iron:
1
mg