This iconic glowing green smoothie nourishes your skin from the inside out. Packed with beneficial ingredients, this smoothie will make your skin positively glow. Drink up a glass of this plant-based recipe every morning for radiant, rejuvenated skin.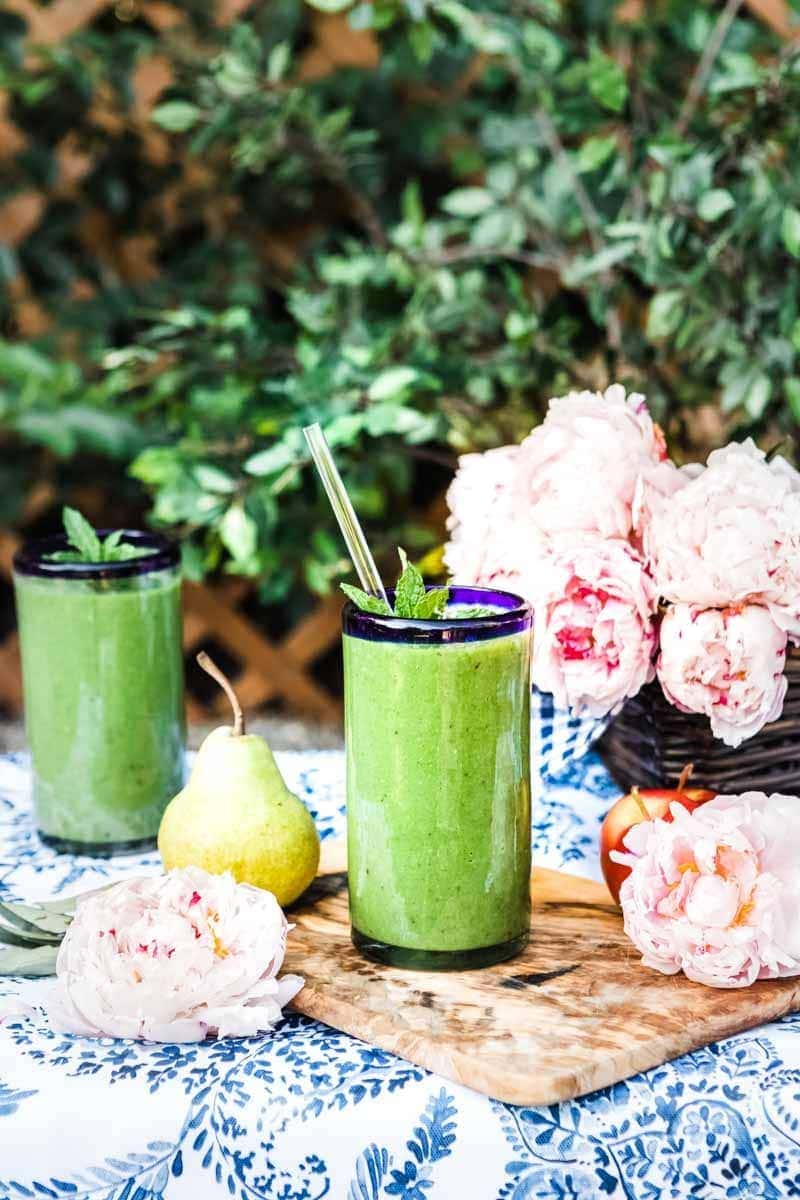 What makes this supercharged smoothie so special? It has the perfect ratio of greens to fruit, so you'll get all the benefits of nutrient-dense leafy greens with a touch of sweetness and soluble fiber from the fruit. This energizing smoothie is the perfect way to get your morning started.
Clear skin and a youthful glow? Count us in! Let's look at all the health benefits you'll get from drinking this glowing green smoothie every morning.
Table of Contents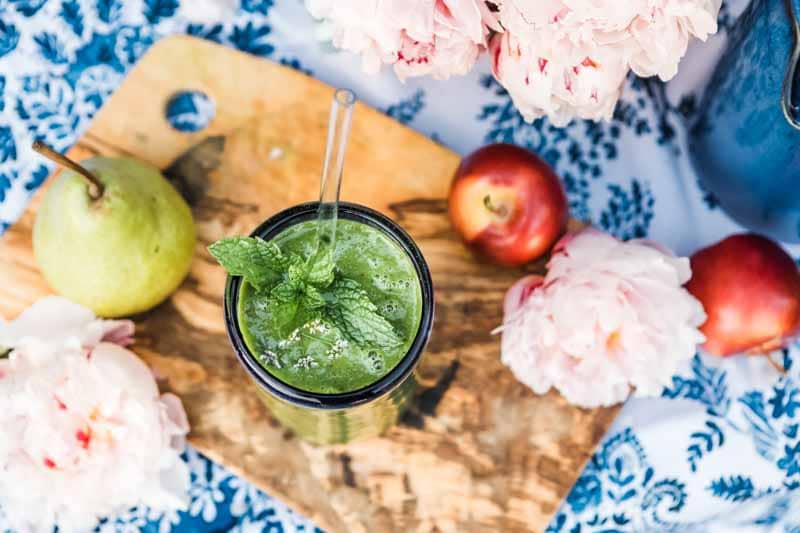 Health Benefits of a Glowing Green Smoothie
Romaine Lettuce– This lettuce has a neutral taste, so it doesn't overpower this smoothie. It's a surprisingly good source of beta carotene, a powerful antioxidant that's been found to protect against aging.
Also, romaine's packed with vitamin C, an antioxidant that aids in building collagen, the structural protein that is needed in creating firm and healthy skin. Along with vitamin C, vitamins A and the B vitamins promote skin health and protect against signs of aging. Bonus—Romaine lettuce has a high water content for skin hydration!
Spinach– Spinach is an iron powerhouse (and doesn't alter the taste of the glowing green smoothie). It's one of the richest sources of iron among the leafy greens. Iron helps transport oxygen around the body and aids in energy production. If you're feeling tired and low-energy, try adding more iron to your diet.
Lemon– Lemons have a high vitamin C content. Vitamin C neutralizes the free radicals that cause oxidative damage and skin aging. Vitamin C is also crucial for collagen production, as it's necessary for growth and development of tissues. The alkalizing power of lemons also help neutralize toxins, expedite the disposal of waste, and stimulate digestion.
Apples and pears– Apples and pears help to balance out the bitterness of the greens with some natural sweetness. Apples and pears are also high in vitamin C, and this powerful antioxidant promotes the growth of new and healthy cells, including skin cells and collagen. Plus, you'll get a healthy dose of dietary fiber and pectin.
Plant-Based Protein Powder- I recommend adding some homemade protein powder. This gives you 10 additional grams of protein, omega 3's and healthy fats to keep you full and nourished. You can make this nutritious glowing green smoothie every morning for radiant skin!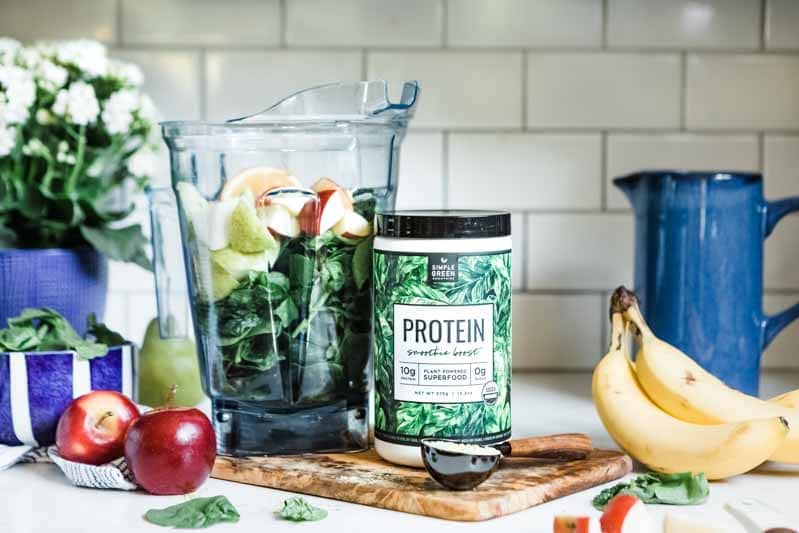 Kimberly Snyder's Smoothie
Kimberly Snyder is a celebrity nutritionist (Drew Barrymore and Reese Witherspoon are among her smoothie-drinking disciples) and author of The Beauty Detox Solution. Yet I stumbled across this glowing green smoothie recipe on Reese's Instagram account and loved her personal twist for it.
Reese has gorgeous skin and happens to star in one of my fav movies: Sweet Home Alabama. So I was excited to make her smoothie recipe that was inspired by Snyder's.
According to Kimberly Snyder, "As it cleanses and detoxifies your system, the Glowing Green Smoothie (GGS) will give you sustained energy, glowing skin, and optimal digestion. It also fosters a focused, clear mind. The GGS is here to support us daily on our life's journey and is an integral part of my morning practice."
In addition, Snyder's morning routine starts with a cleansing cup of hot water with lemon followed by her signature smoothie.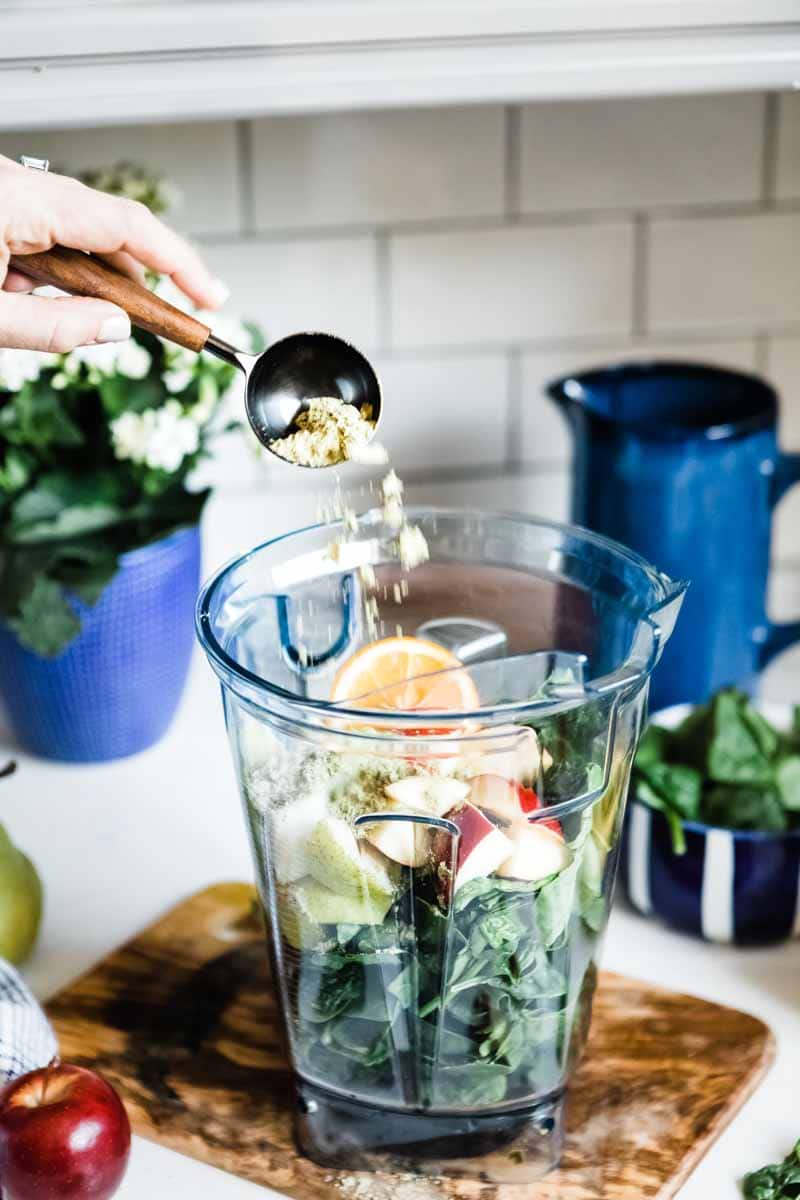 How To Make A Glowing Green Smoothie
Now, the great part of this recipe is that you don't have to spend hours chopping and preparing. Simply cut all of the ingredients into large chunks and add them to your blender. You'll need a high-powered blender to get a really smooth consistency. Add more coconut water or filtered water for a thinner smoothie.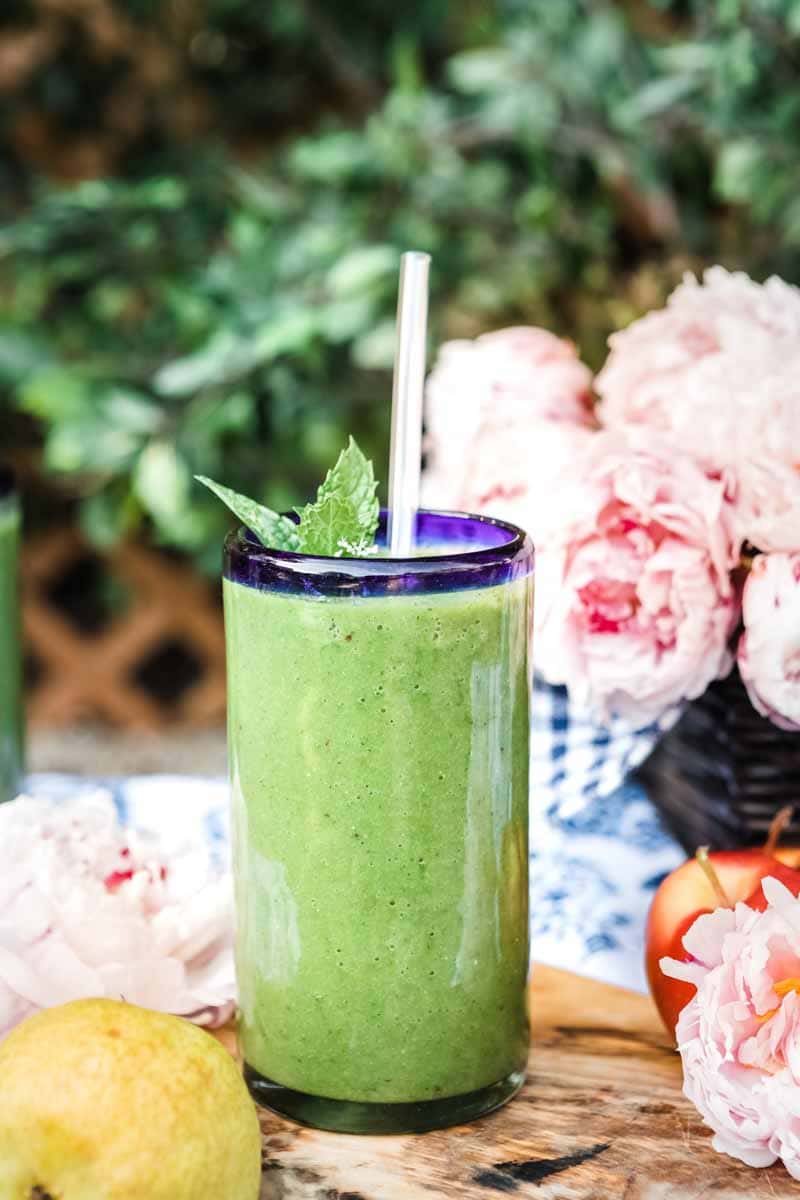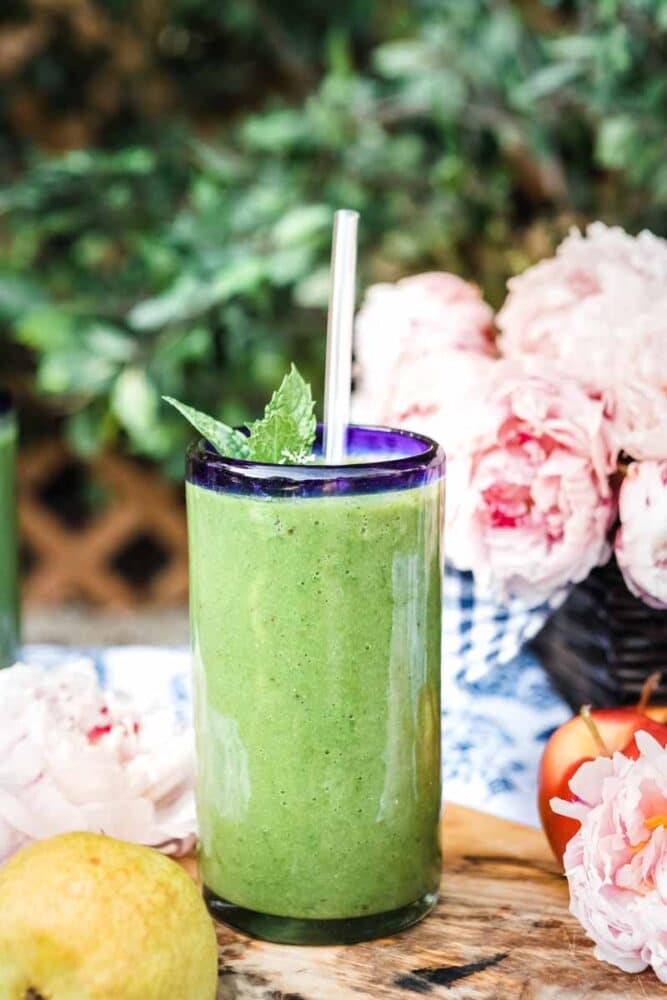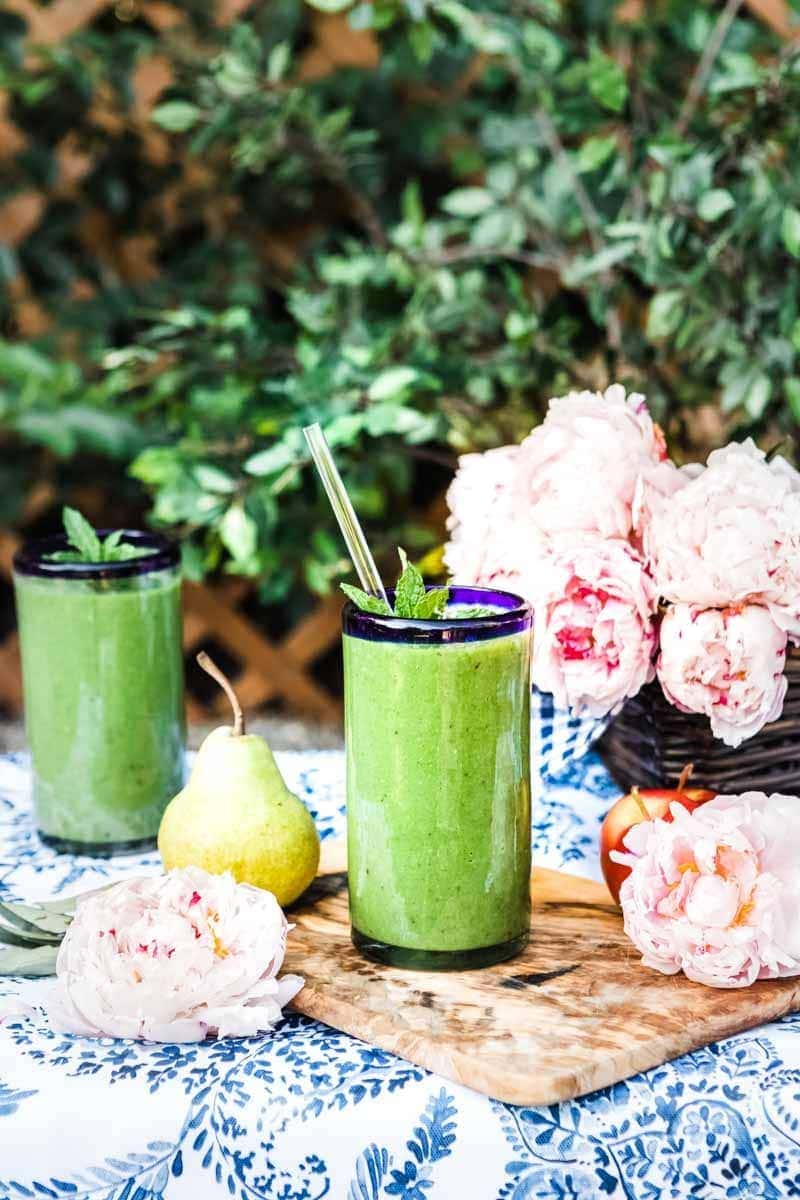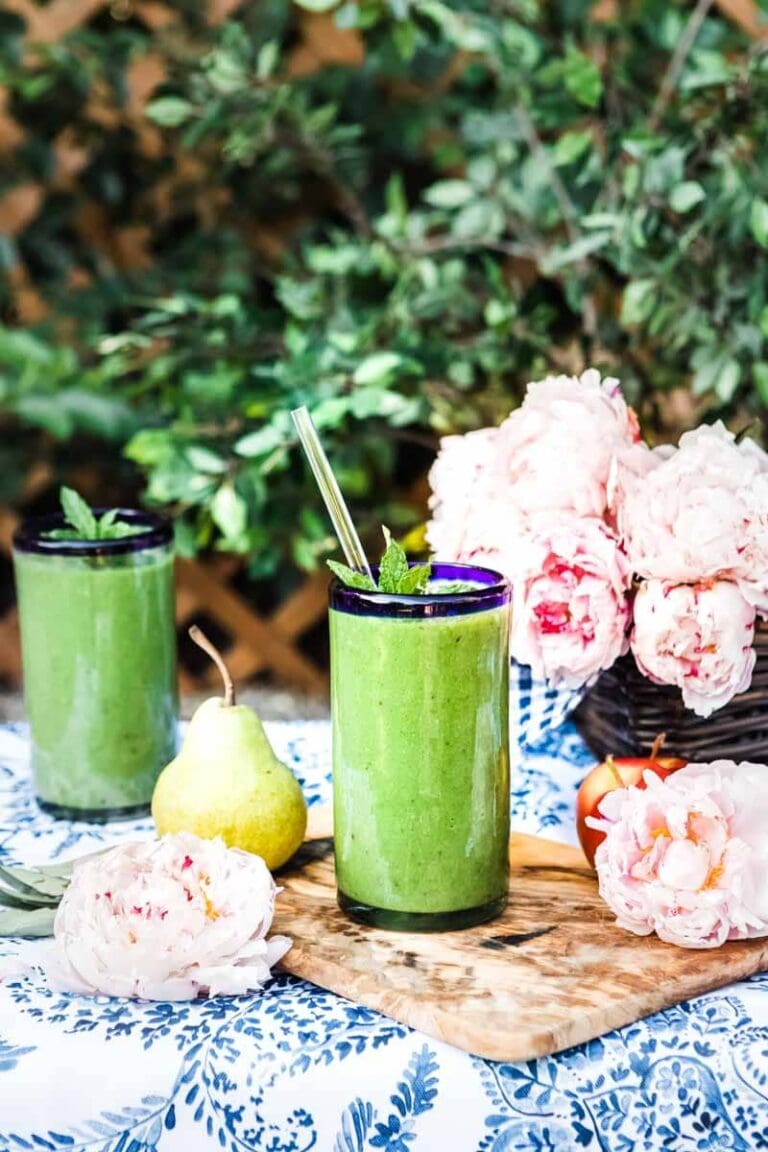 Glowing Green Smoothie
This iconic glowing green smoothie nourishes your skin from the inside out. It's packed with beneficial ingredients that will make your skin positively glow. Drink up a glass of this plant-based goodness every morning for radiant, rejuvenated skin.
Ingredients
1 ½

cup

spinach

2

heads

romaine lettuce

1

pear

1

apple

1

banana

1

lemon

remove peel, but leave as much white pith as possible

½

cup

coconut water

1

serving

homemade protein powder

optional
Instructions
Add spinach, lettuce, lemon and coconut water to blender.

Blend until no leafy chunks. Add more water if needed to blend. 

Add pear, apple, banana and homemade protein powder.

Blend again and enjoy the green goodness!
Notes
This recipe is inspired by the lovely Reese Witherspoon's morning smoothie. 
Use at least 1 frozen fruit for a refreshingly cool smoothie.
Swap in the leafy greens of your choice.
Swap coconut water for regular water.
Nutrition
Calories:
289
kcal
,
Carbohydrates:
68
g
,
Protein:
11
g
,
Fat:
3
g
,
Saturated Fat:
1
g
,
Polyunsaturated Fat:
1
g
,
Monounsaturated Fat:
1
g
,
Sodium:
134
mg
,
Potassium:
2308
mg
,
Fiber:
22
g
,
Sugar:
36
g
,
Vitamin A:
56755
IU
,
Vitamin C:
75
mg
,
Calcium:
274
mg
,
Iron:
8
mg