I can't wait to share this decadent, gluten-free crepe recipe with you today! Whether you want a vacation-like brunch option, or a beautiful dessert to feature at your next dinner party, these are the perfect option. The naturally sweet, fresh berries pair so well with the homemade chocolate hazelnut spread. The quinoa crepes add just the right amount of substance while still delicate and crepe-y.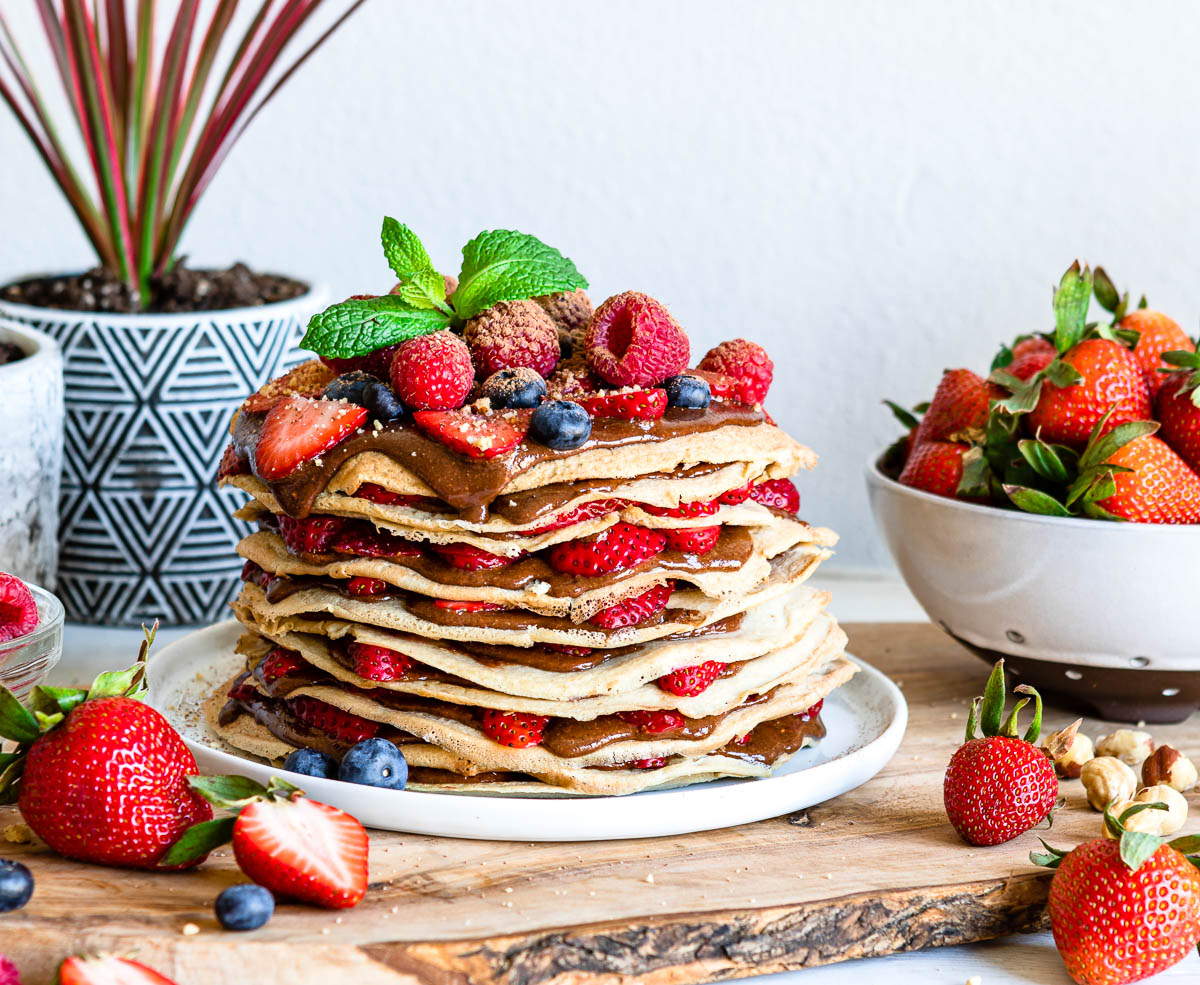 Table of Contents
Ingredients for Gluten-Free Crepes
This recipe has two parts, the homemade hazelnut spread and the crepes. Here's what I'm using for both:
Chocolate Hazelnut Spread
Quinoa Crepes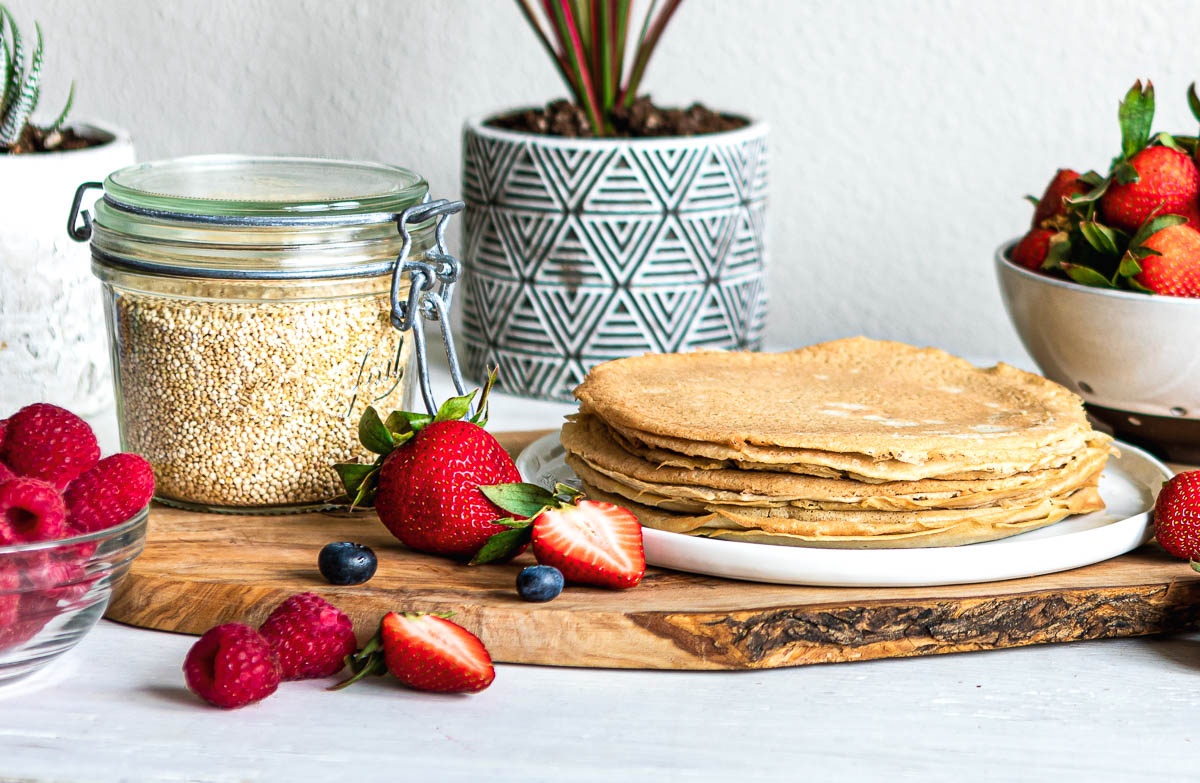 Quinoa Crepes
Over the years, I've found that limiting my intake of gluten helps keep down inflammation in my body. While there are many gluten-free flours on the market, some of them contain gums and fillers that aren't really healthy options.
I discovered the fun and ease of blending quinoa into a crust in my plant-based pizza recipe. It wasn't hard to turn that crust into a lighter, more pliable dough for this gluten-free crepe recipe. Quinoa has a whole host of health benefits, too:
I'm not claiming these gluten-free crepes to be a completely balanced meal, yet I love knowing that even my sweet treats are fueling my body and aren't just 'empty calories.'
Food can be fun and nourishing at the same time!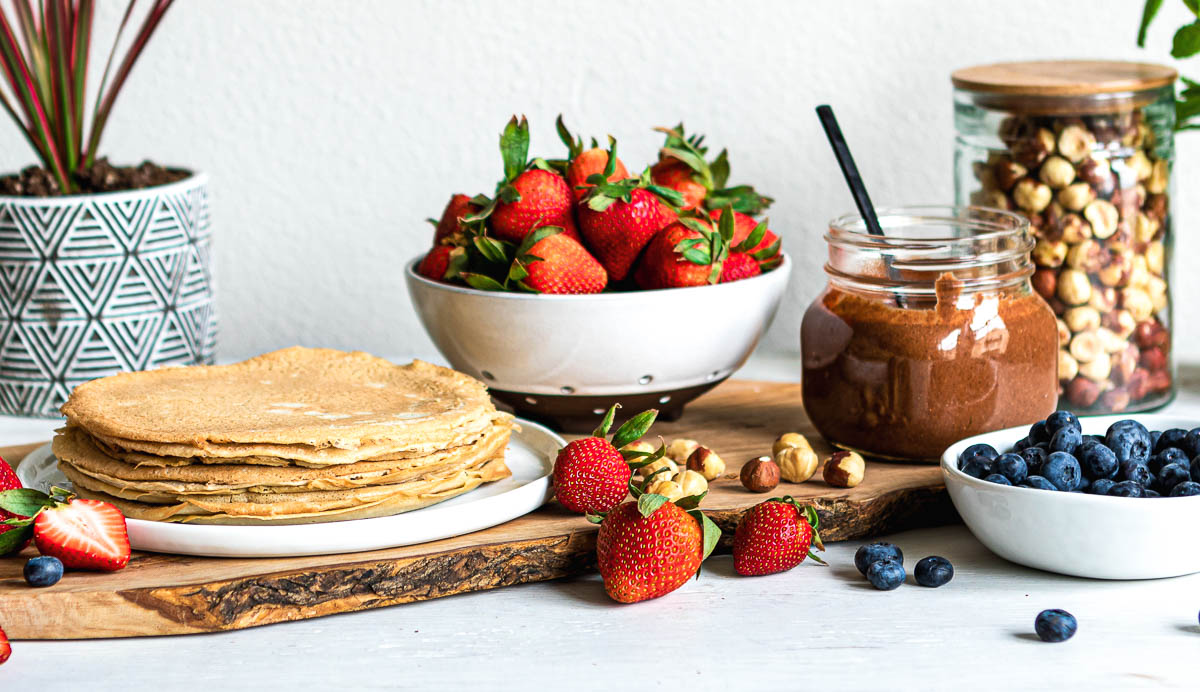 How to Make Gluten-Free Crepes
Since this recipe has two main components, I'll share them both here. If you use store-bought hazelnut spread then skip ahead to the crepes!
Chocolate Hazelnut Spread
Pour toasted hazelnuts into a food processor or blender and pulse until the hazelnuts are finely chopped. Chopping these before adding the other ingredients will help them process better and give you a smoother result.
Add remaining ingredients and process/blend until smooth. You'll have to stop and scrape down the sides a few times to make sure there is no grittiness in the end.
Transfer the spread to an air-tight container and store at room temp until you're ready to enjoy it.
Quinoa Gluten-Free Crepes
Place dry quinoa into a blender or food processor. Blend on high speed until finely ground and powdery. If you have access to quinoa flour, you can use this instead!
Add remaining ingredients and blend again until smooth. You'll end up with a batter that is slightly grainy but should be smooth overall. Keep the batter in the blender and let sit for 5-10 minutes so the quinoa can absorb the liquid. This will help the crepes bind together successfully.
Heat a small skillet over medium-high heat. Use a small skillet (like 8 inches) as the crepes will spread out over the whole surface. Add a small amount of coconut oil to the pan and tilt to coat. Pour about 2 tablespoons of batter into the prepped pan and cook 1-2 minutes. Carefully flip over and repeat on the other side until completely cooked. Transfer to a plate and cover to keep warm while you continue to cook the remaining batter. Repeat until all the batter has been used; my gluten-free crepe recipe yields between 9 and 12 crepes.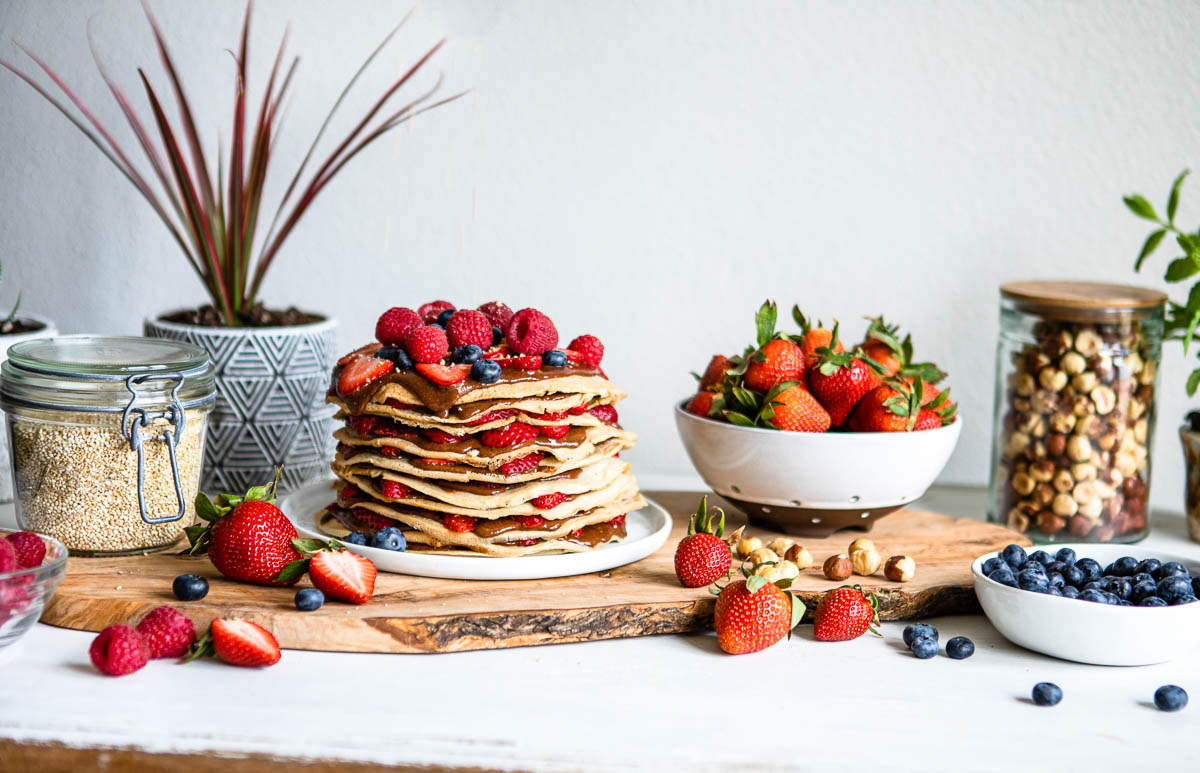 Tips for Successful Crepes
Some people shy away from crepes because they are much more delicate than pancakes, yet I encourage you to give these a try! Here are a few helpful tips to make sure your gluten-free crepes are successful:
You can totally buy a store-bought chocolate hazelnut spread, to cut down on the prep time. I know hazelnuts aren't always easy to find!
Check the quinoa packaging to find out if the quinoa is rinsed. Rinsing quinoa takes away that biting flavor, so make sure to rinse before using (or buy pre-rinsed quinoa).
No special pan is needed to make crepes, a well-oiled cast iron skillet works great. These aren't 'fried,' so no need to use a ton of oil, yet make sure to add a bit of oil in between each new crepe (instead of a lot of oil just at the beginning), so they don't stick to the pan.
If savory gluten-free crepes are more your style, omit the coconut sugar and vanilla extract from the crepes, and instead add a bit more salt, and your favorite diced herbs—chives are an excellent addition. Then stuff with a delicious egg, or potato hash.
Love a whipped topping? I've got a great Coconut Whipped Cream that works great on these!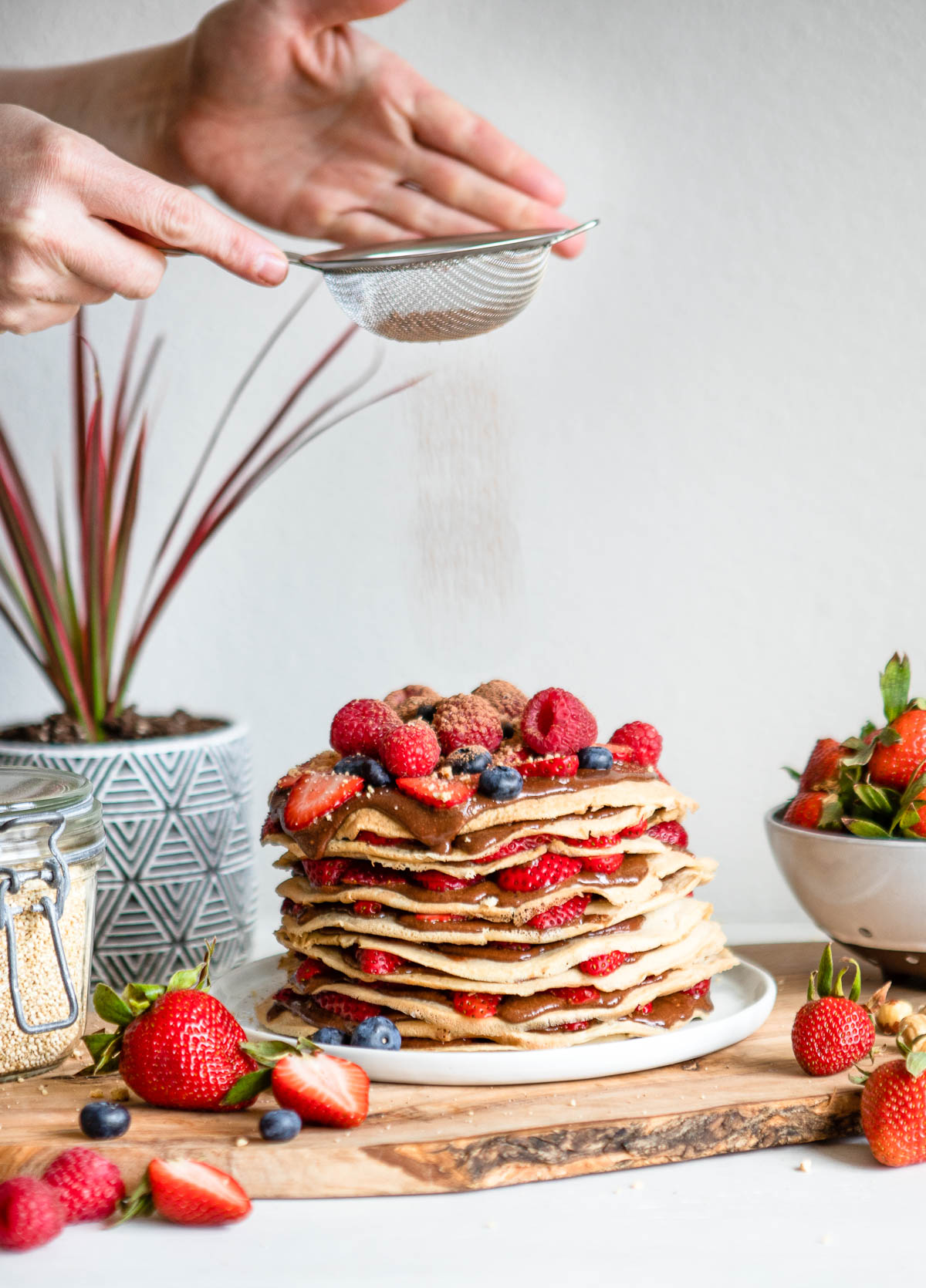 FAQs
What's in gluten-free crepes?
I use quinoa in my crepe recipe. It is a gluten-free grain that is hearty and provides a bit more protein to this rich recipe. You turn it into flour by blending it until fine and powdery, and it works great!
How many carbs are in a gluten-free crepe?
My crepes are not a low-carb food; yet they contain 100% whole food, plant-based ingredients with protein as well as healthy fat. One serving (with hazelnut spread) is about 255 calories. While crepes might not be a daily breakfast, they make a great, healthier option for weekend brunch.
How do you serve crepes?
I stacked my crepes up with layers of chocolate hazelnut spread in between each crepe. Feel free to spread the chocolate hazelnut recipe over an individual crepe, then add sliced strawberries and fold the crepe in half. This way might be easier if serving these to a crowd.
More Breakfast Recipes
If you loved this plant-based recipe then I've got some more for you to try!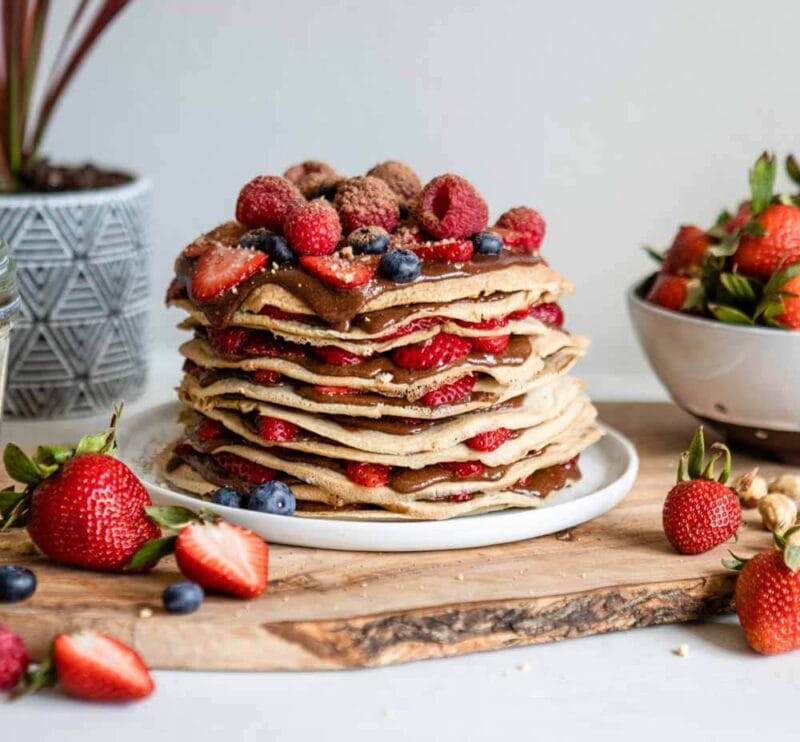 Ultimate Gluten-Free Crepes
Get ready to experience the best gluten-free crepe recipe. The nutty, earthy taste of the quinoa marries well with the homemade chocolate hazelnut spread (hello, healthy nutella!), and fresh fruit. Feel free to use pre-made chocolate hazelnut spread from the store to save time.
Ingredients
For Chocolate Hazelnut Spread:
2

cups

hazelnuts

toasted and skins removed

2-4

tbsp

coconut sugar

2

tbsp

cacao powder

¼

tsp

sea salt
For Quinoa Crepes:
1

cup

quinoa

rinsed

2

cups

almond milk

1

tbsp

coconut sugar

3

eggs

room temperature

1

tsp

vanilla extract

½

tsp

sea salt

coconut oil

as needed

2

cups

chocolate hazelnut spread

2

cups

fresh berries

any variety
Instructions
For Chocolate Hazelnut Spread:
Place toasted hazelnuts into a food processor or blender. Pulse/process until hazelnuts are finely chopped.

Add remaining spread ingredients and process or blend, stopping periodically to scrape down the sides, until smooth. This could take up to 10 minutes depending on the appliance you're using. If the motor becomes too hot, turn off and cool a few minutes before starting again.

Transfer spread to an airtight jar or container. It will keep at room temperature for several weeks, or several months if kept refrigerated. Bring spread to room temperature for easier spreading.
For Quinoa Crepes:
Place dry quinoa into the jar of a blender or food processor. Blend on high speed until finely ground and powdery.

Add remaining crepe ingredients. Blend again until smooth. The batter may be a tiny bit grainy, but should be fairly smooth. Let sit for 5-10 minutes as the quinoa absorbs the liquid.

To cook, heat a crepe pan or small non stick skillet (an 8-inch works well) over medium high heat. Add a small amount of coconut oil to the pan and gently tilt to coat. Cook for 1-2 minutes, or until the crepe looks set, then carefully flip over using a thin spatula. Cook for another 1-2 minutes, then transfer to a plate to keep warm. Repeat until all the batter has been used. Should yield 9-12 crepes.

Spread a small amount of chocolate hazelnut spread on the plate to help the crepes stick. Lay down one crepe, and apply the spread again. Add a layer of berries. Repeat until the stack is the desired height. 

Eat crepes immediately, or store tightly wrapped in the refrigerator for up to 2 days. To reheat, place in a warm skillet to make them pliable again.
Notes
Some quinoa hasn't been rinsed before packaging. Check the package to be sure. If quinoa is not pre-rinsed, place quinoa in a fine-mesh sieve and wash under cool water. Allow as much water as possible to drain off by setting sieve over a large measuring cup or bowl for 15-20 minutes. Then proceed with the recipe.
If using raw hazelnuts, definitely toast them before making the spread. Preheat oven to 375° F. Arrange raw hazelnuts in a single layer on a rimmed baking sheet. Toast hazelnuts 10-12 minutes, giving a shake/roll to the nuts midway through. Remove from oven and allow them to cool for a few minutes. Transfer hazelnuts to a clean dish towel, form a "pouch" with the towel, and rub the hazelnuts together to remove paper skins. Continue until the skins are mostly removed. 
You can also use store-bought chocolate hazelnut spread for the crepes. 
Swap cacao powder for unsweetened cocoa powder. 
Not a fan of chocolate? No problem! Use my strawberry chia jam as a filling.
Nutrition
Calories:
255
kcal
,
Carbohydrates:
19
g
,
Protein:
8
g
,
Fat:
18
g
,
Saturated Fat:
2
g
,
Polyunsaturated Fat:
3
g
,
Monounsaturated Fat:
12
g
,
Trans Fat:
0.01
g
,
Cholesterol:
49
mg
,
Sodium:
267
mg
,
Potassium:
293
mg
,
Fiber:
4
g
,
Sugar:
4
g
,
Vitamin A:
78
IU
,
Vitamin C:
2
mg
,
Calcium:
104
mg
,
Iron:
2
mg