Grapefruit is a gorgeous fruit that can be hard to fit into a recipe. Unlike other citrus, it's not super sweet. Yet I hit the flavor jackpot with this strawberry grapefruit smoothie recipe. It's a super fun light pink (thanks grapefruit + strawberries) and is just the right level of sweet.
Drink this smoothie for a quick energy boost or a bright start to your day.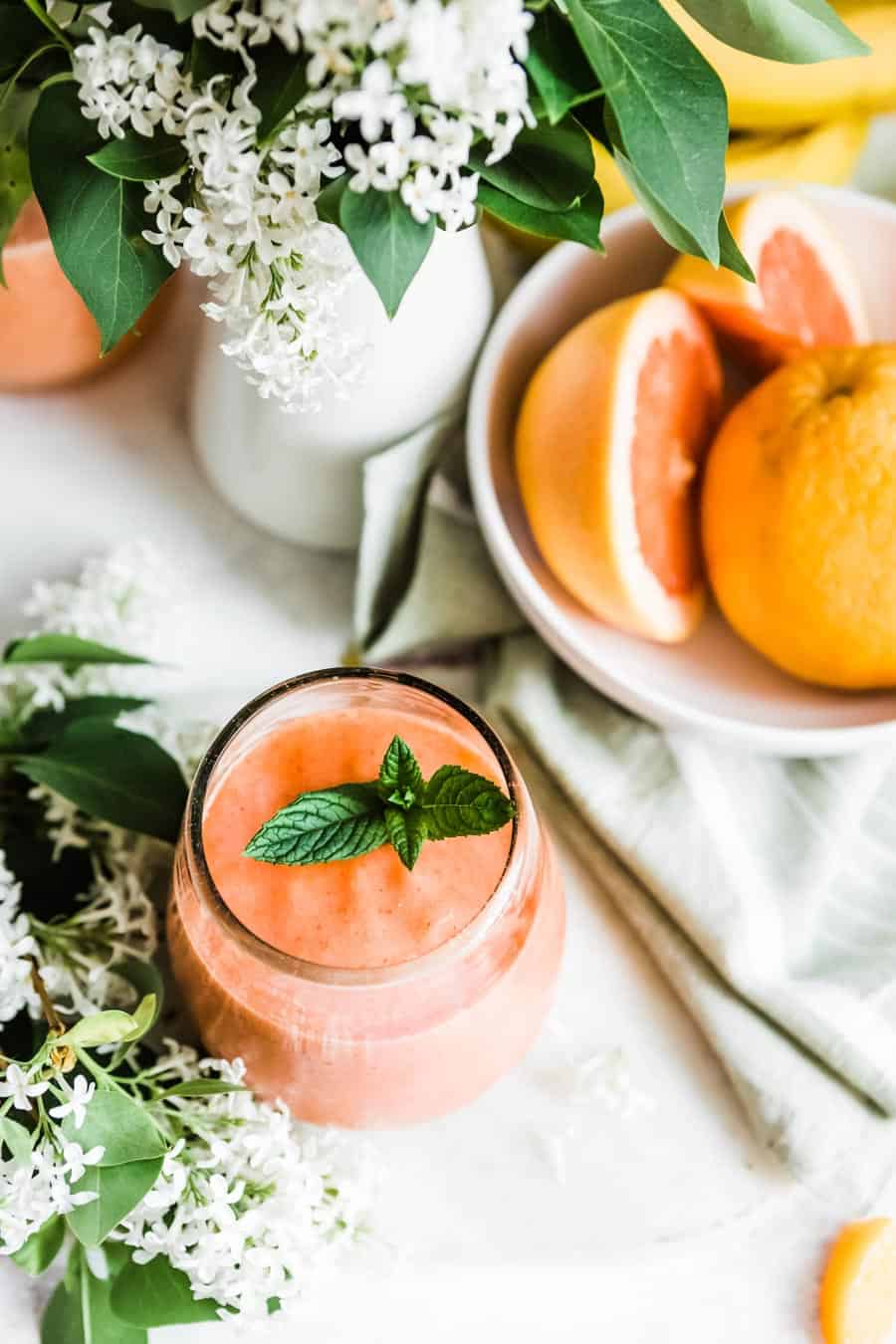 Table of Contents
How to Blend a Grapefruit Smoothie
Now, if you checked the ingredient list before reading this, then I promise I didn't forget the liquid! Grapefruit is 88% water and therefore acts as both a fruit and a liquid in this recipe. No need to add extra water. Since this smoothie recipe doesn't have leafy greens, you can also eliminate 1 step of the blending process.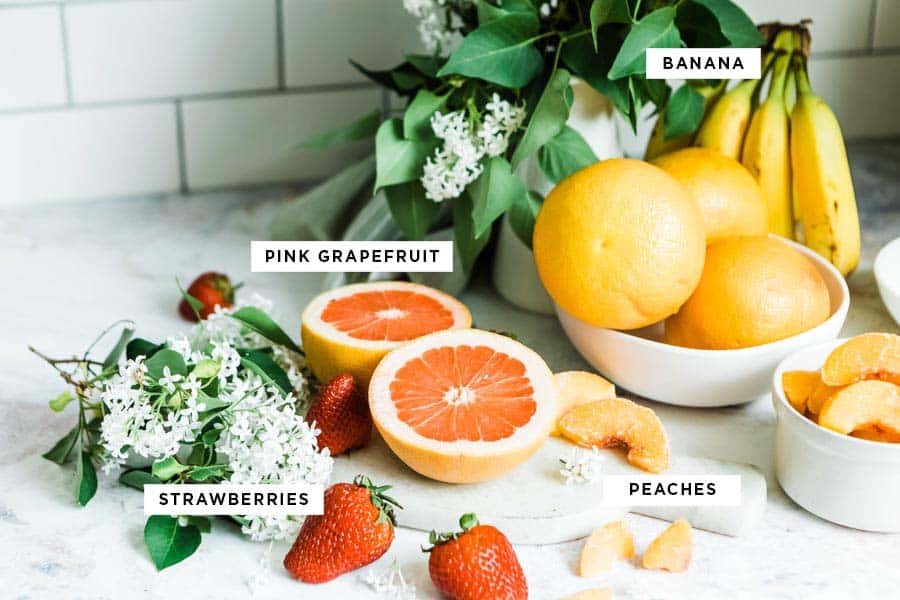 After peeling and de-seeding the grapefruit, add all ingredients to your blender and blend until smooth.
Pour into your fav glass and enjoy!
I like to 'lightly' peel grapefruit, to keep as much white pith as I can. This pith is full of nutrients. If you like to smoothie prep, then remember that freezing grapefruit also freezes the smoothie liquid. No worries, just make sure you add in a little liquid once blending to help break up the fruits.
This time of year I often find peaches in the freezer section. Feel free to swap in nectarines, mango, apricots or pineapple for the peaches.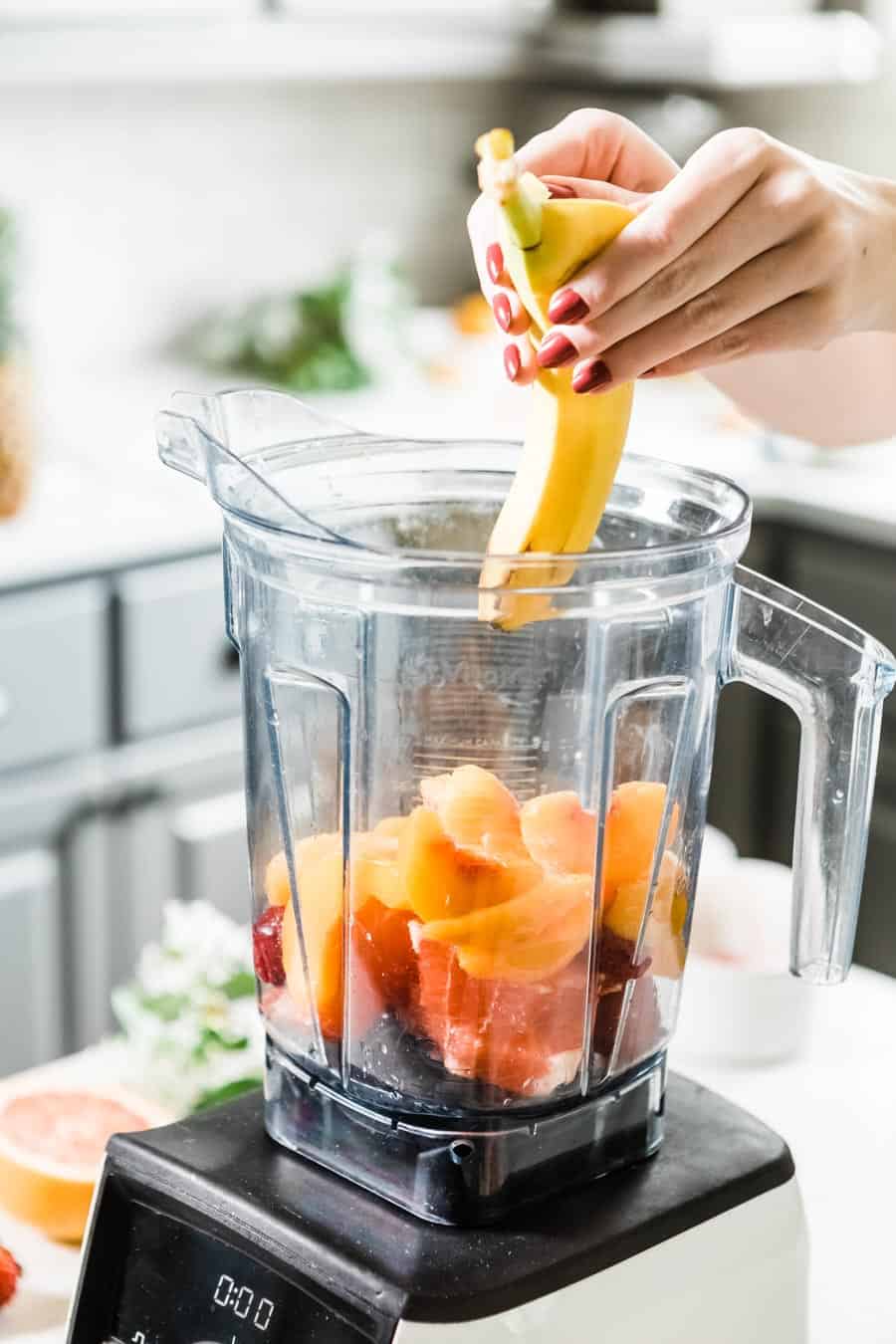 Tips for controlling natural sugar
I know this grapefruit smoothie has more natural sugar in it than some of my smoothie recipes. Yet don't let that keep you from blending it! Here are a few ways to lower the natural sugar:
Swap the banana with avocado or cauliflower. The smoothie will be slightly less sweet, yet still super creamy (and delicious).
Add in a plant-based protein powder. The protein + healthy fat in a protein powder will help the body process the natural sugar from the fruit and turn it into energy as well as keep you from experiencing a sugar crash.
Add a handful of leafy greens. Leafy greens are loaded with fiber, which also help breakdown sugar. Add in a handful to this grapefruit smoothie recipe and enjoy even more nutrients!
So blend your smoothie and drink it too, without worrying about a spike in blood sugar. Thankfully smoothies are loaded with 100% whole food ingredients, so you can easily modify them to meet your needs.
FAQs
What fruit mixes well with grapefruit?
Grapefruit is a bit sour, unlike an orange. Pairing it sweeter fruits like berries (strawberries or raspberries), or banana can help balance it out and bring out the flavor.
What does grapefruit do to the body?
Grapefruit is high in vitamins A and C, low in sugar, and can aid in weight loss. It contains flavonoids which may help lower the risk of stroke in women. Grapefruit also helps with constipation and promotes the formation of collagen.
Why is there no liquid added to this grapefruit smoothie?
Grapefruit is loaded with water. So when you add it to your smoothie, there is no need to add extra liquid! It pulls double duty as the liquid and fruit in a smoothie, which is a win-win!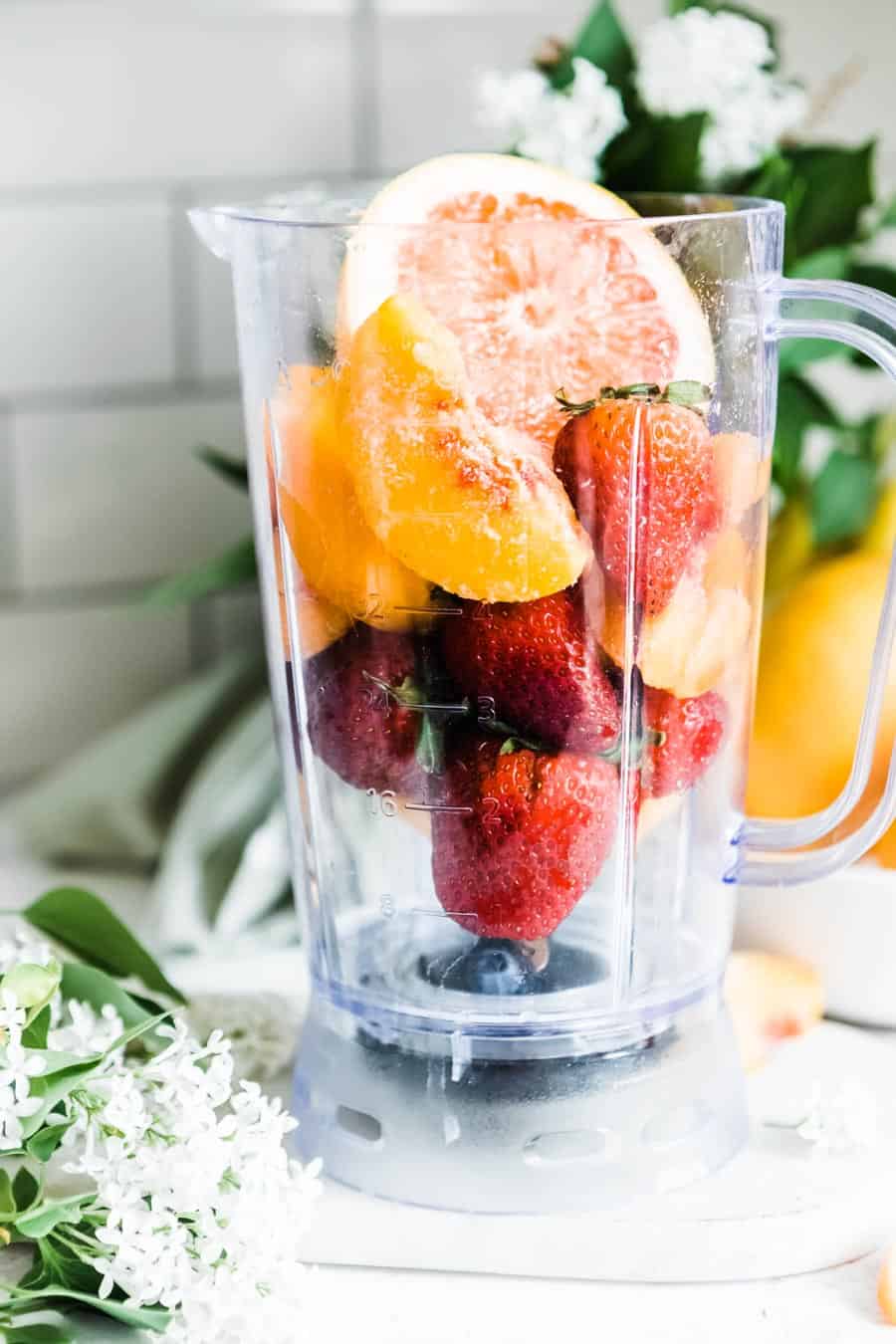 More Great Ideas for Grapefruit
While I like eating grapefruit as is, it's not as widely popular as an orange. Yet grapefruits are just as versatile! Add it to a salad or smoothie. Here are 4 ways I use this pretty pink fruit:
Grab this citrus fruit on your next grocery run and try it out in a new recipe! You may just fall in love. And don't forget to rate + review this recipe to let me know how it turned out!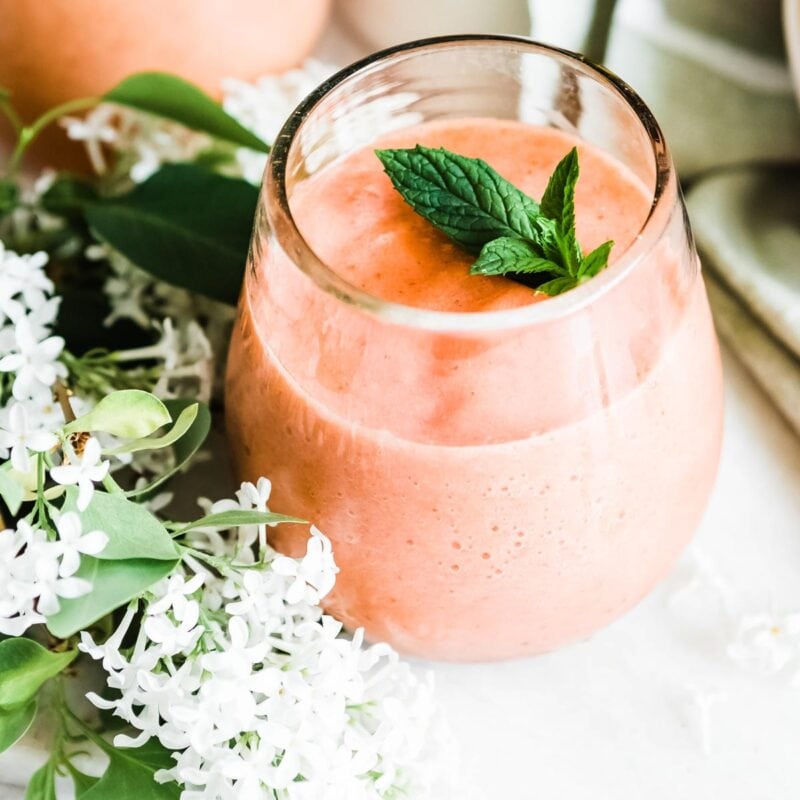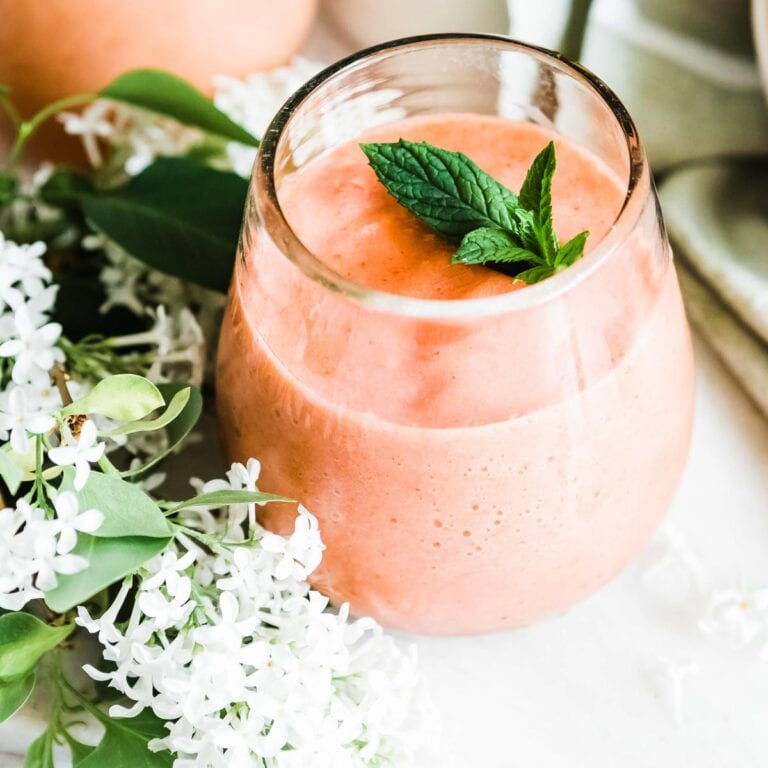 Grapefruit Smoothie
Try my strawberry grapefruit smoothie for a vitamin loaded smoothie to start your day. Full of vitamins A and C, this immunity boosting smoothie is delightfully sweet and a great energy boost.
Ingredients
1

grapefruit

pink, peeled

½

cup

strawberries

frozen

1

banana

peeled

1

cup

peach

frozen

1

serving

homemade protein powder

optional
Instructions
Blend all ingredients until smooth.

Pour into a tall glass and enjoy!
Notes
No need to add extra liquid to this recipe; the grapefruit acts as a liquid and a fruit!
If you want to cut back on the sugar, use 1/2 banana and 1/4 avocado, or 1/4 cup cauliflower.
Swap any stone fruit in to replace the peaches.
Using frozen ingredients helps create a refreshing smoothie. If you have all fresh, that's fine! Just put in the fridge, or enjoy your smoothie at room temp.
Nutrition
Calories:
296
kcal
,
Carbohydrates:
74
g
,
Protein:
5
g
,
Fat:
1
g
,
Saturated Fat:
1
g
,
Polyunsaturated Fat:
1
g
,
Monounsaturated Fat:
1
g
,
Sodium:
2
mg
,
Potassium:
1171
mg
,
Fiber:
11
g
,
Sugar:
49
g
,
Vitamin A:
3530
IU
,
Vitamin C:
143
mg
,
Calcium:
83
mg
,
Iron:
1
mg