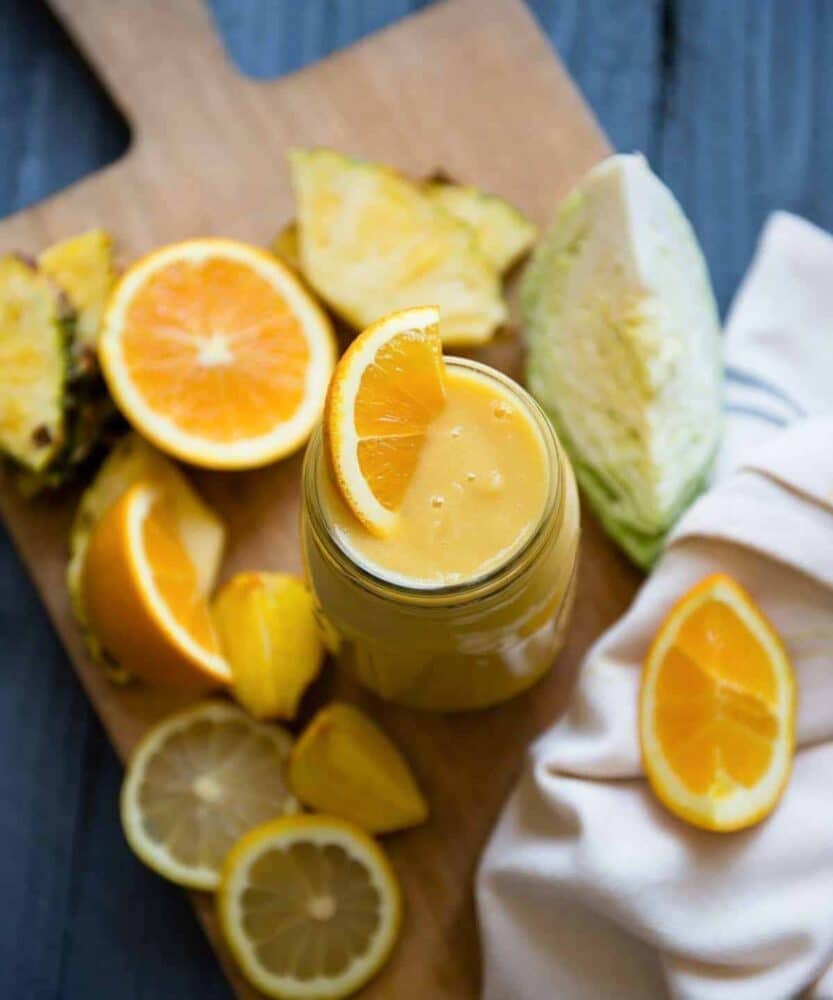 I don't know about you, but I've been getting a lot of cabbage from local farms + produce boxes lately. While I love cabbage, I don't always think to use it in a smoothie or meal... and then it ends up going bad. Well, not anymore! Check out my list of amazing, healthy cabbage recipes that utilize this leafy veggie in delicious ways. These raw cabbage recipes will have you seeking this fun vegetable out next time you produce shop.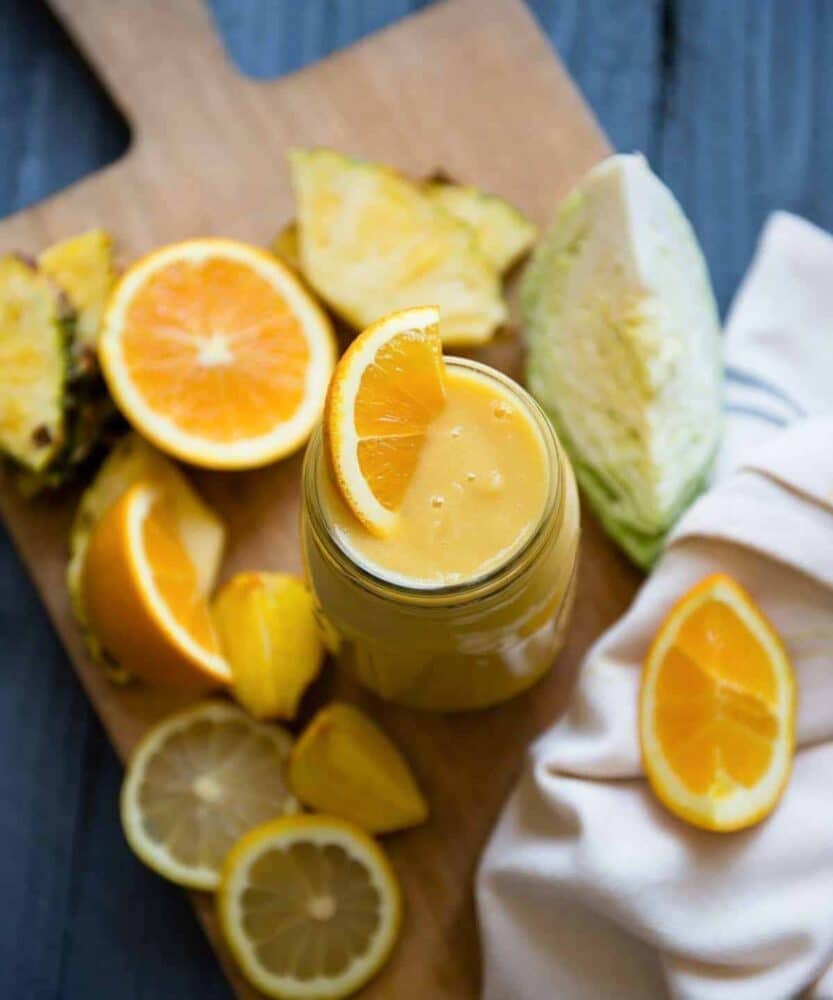 Cabbage in a Green Smoothie
I'm a HUGE fan of putting leafy greens in smoothies... if you haven't caught on to that by now. Leafy greens aid in digestion with added fiber, as well as add a great host of nutrients + protein to any recipe.
Cabbage is no different, but its extra amounts of vitamin C and K + antioxidants make it truly unique. I know when most of us think of cabbage recipes (healthy or not), we go straight to sauerkraut or boiled cabbage, yet that's NOT what I'm going for here (though I am working on a sauerkraut smoothie recipe!). Raw cabbage can be mild in flavor, and comes in 4 different colors... what more can you want in a vegetable?
Being a cruciferous leafy green, cabbage has been linked with being able to reduce inflammation—even chronic inflammation. It's loaded with antioxidants that help to fight for the good of your body!
Healthy Cabbage Smoothies
Green smoothies are super versatile, and when rotating your greens, cabbage is a great option. Simply swap out whatever leafy green a recipe calls for, and add in cabbage. Since this vegetable is a bit more dense than some, try adding in ¼ of a head first, then upping the amount if you wish.
Adding Cabbage to Meals
Now that I know adding cabbage to smoothies is super simple, how do I incorporate it into more meals?! Honestly, if a recipe calls for shredded kale or lettuce, swap with cabbage once in a while.
You'll see in the cabbage recipe round up below that this ingredient is versatile. Use it in place of a tortilla shell, a salad topping, a vegetarian slaw, or to brighten up a veggie bowl. The possibilities are endless!
Healthy Cabbage Recipes
Here are my fav raw cabbage recipes. If you weren't the biggest cabbage fan before this post, then I dare you to tell me your love for cabbage hasn't grown since trying out a few of these awesome recipes.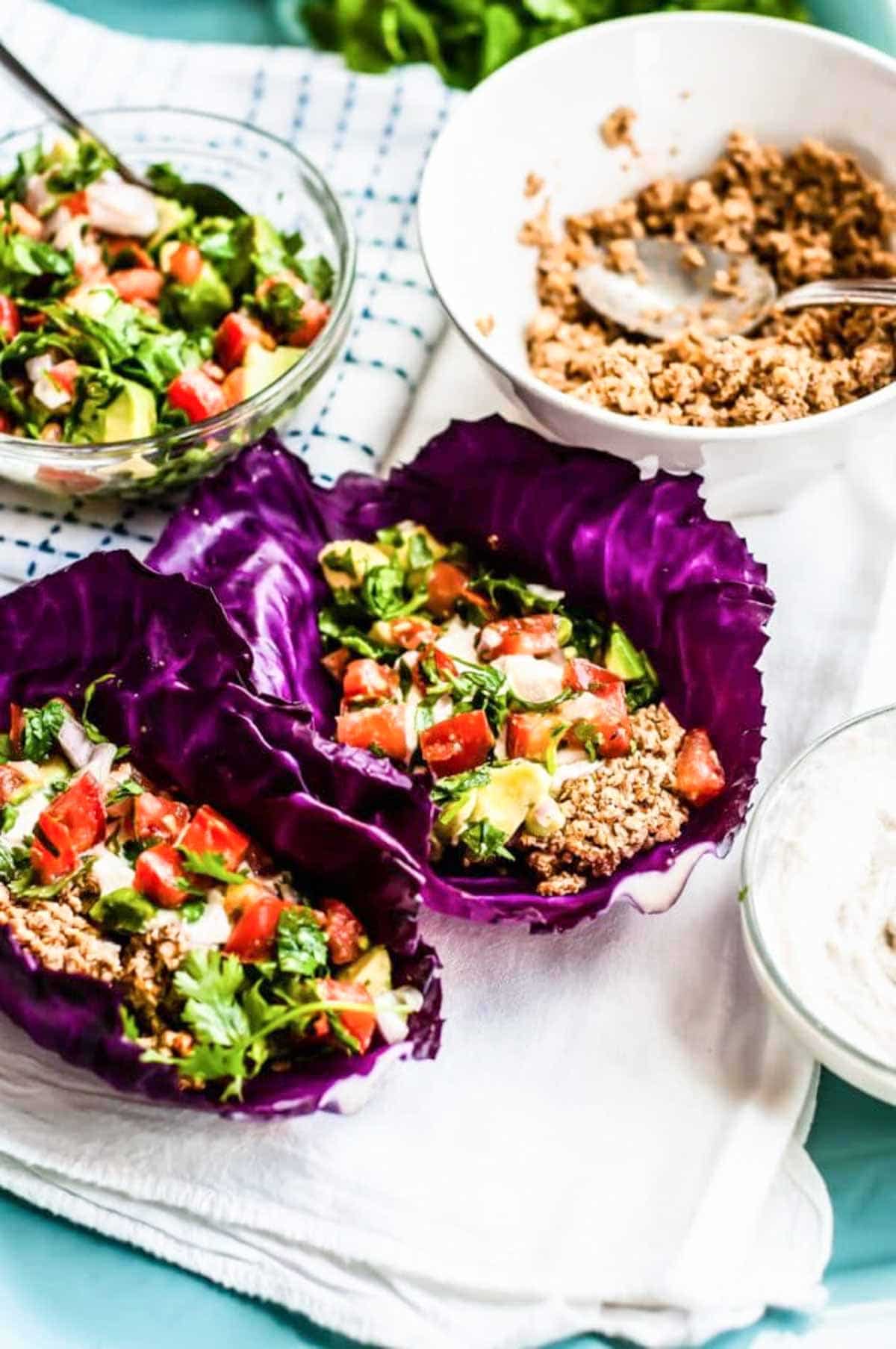 Plant based tacos- Whether you make this recipe as-is, or swap in your fav taco meat, these cabbage 'taco shells' are so good! First, they really do make for a hearty shell that is still bendable. Second, they bring the flavors together while also adding a bit of deliciousness all their own. Healthy cabbage meals shouldn't be boring... and this one certainly isn't!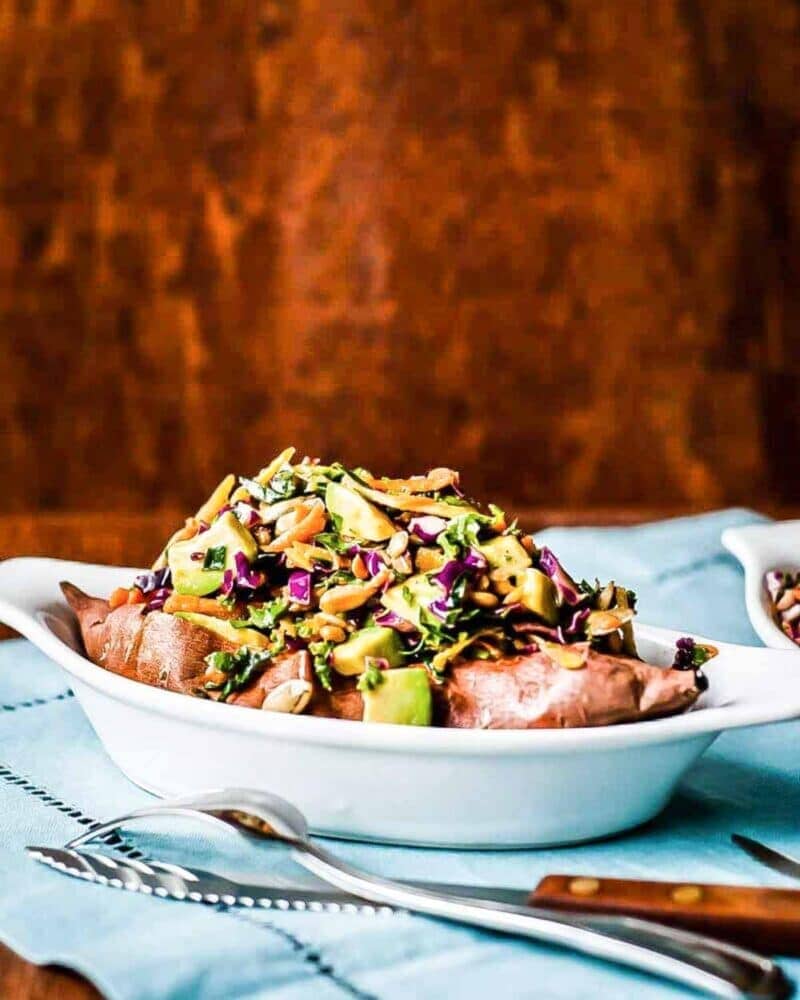 Loaded sweet potato- This recipe is from my Seasonal Cleanse, and is a serious fan favorite. Feel free to swap in green or white cabbage if you don't have purple on hand, it will still provide the crunch you need! This healthy cabbage recipe is loaded with plant based protein + healthy fat for an energizing meal.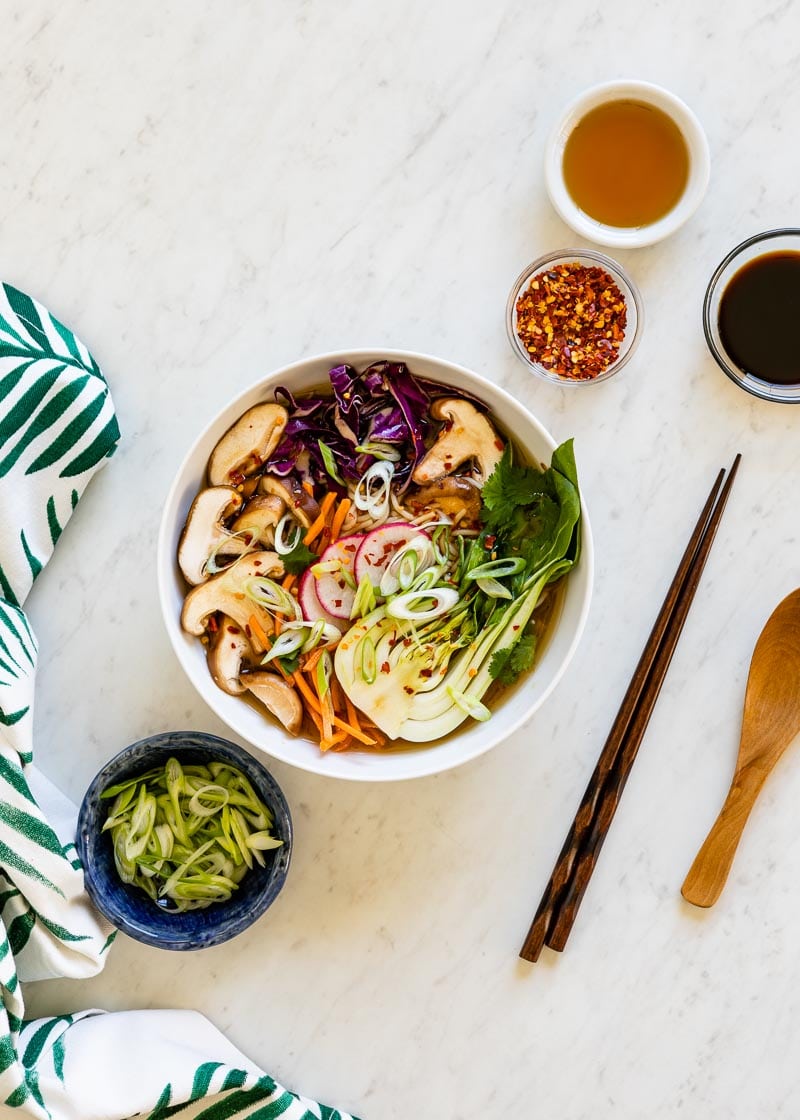 Vegetarian ramen- This bowl has been my go-to recipe in this season of life. I can grab whatever fresh veggies my garden has ready, then whip this up in no time. I love adding raw cabbage to this recipe at the last minute. That way it doesn't completely wilt in the warm broth.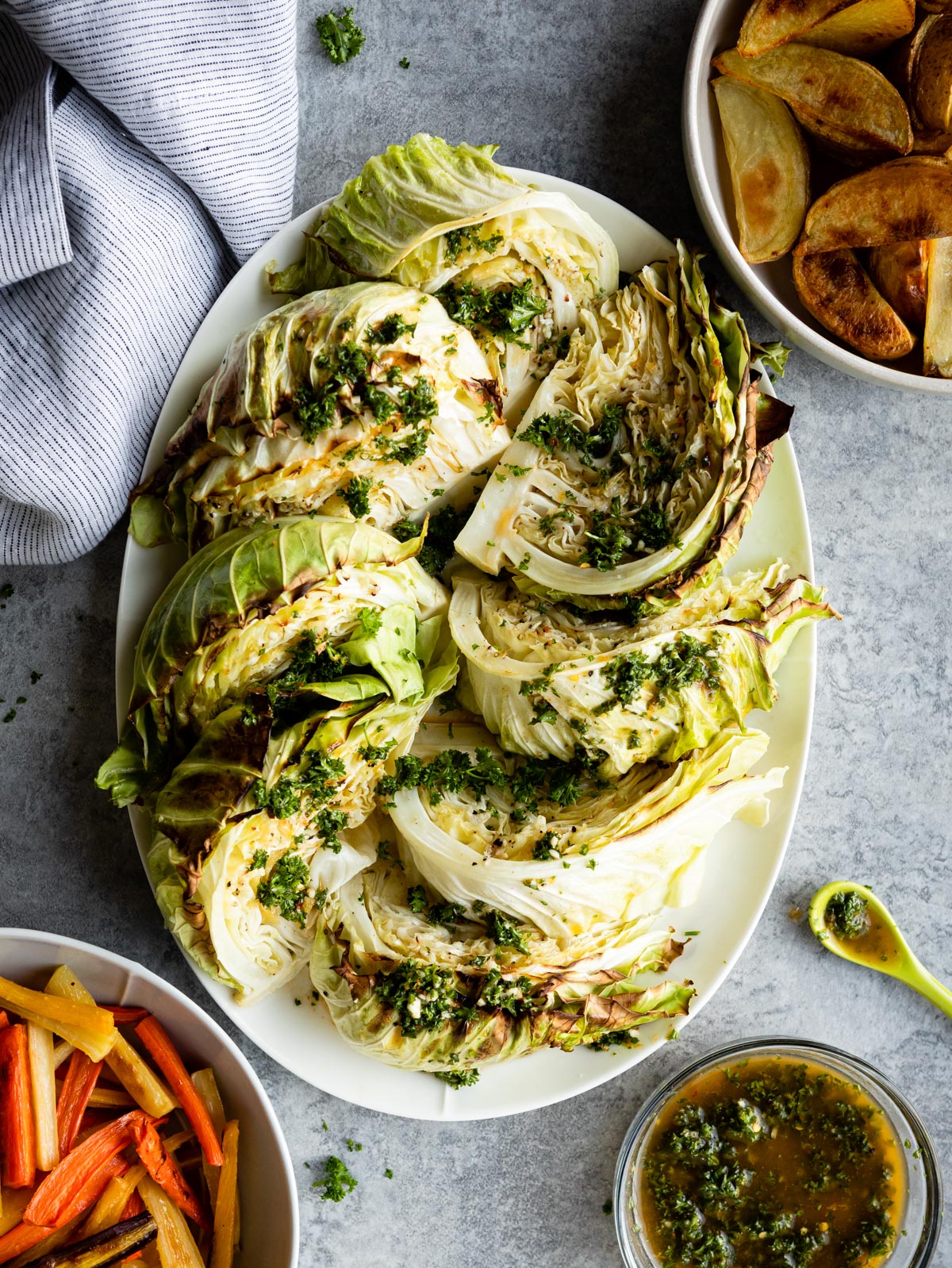 Roasted cabbage wedges- This recipe is a Hansard family staple around St. Patrick's Day. I make it every year (and grew up on roasted cabbage!) and love sharing it with friends. Super easy to make with a lovely simple herb topping.
Cabbage smoothie- The recipe below might sound odd, but give it a try! It has helped me many a time when I felt cold symptoms coming on. Plus, it's just a refreshing smoothie in general. Love this cabbage smoothie? Then I've got another delicious option for you to check out here.
Healthy cabbage recipes don't have to be weird or boring. All of these recipes are tasty, nutrient dense, and fun to make!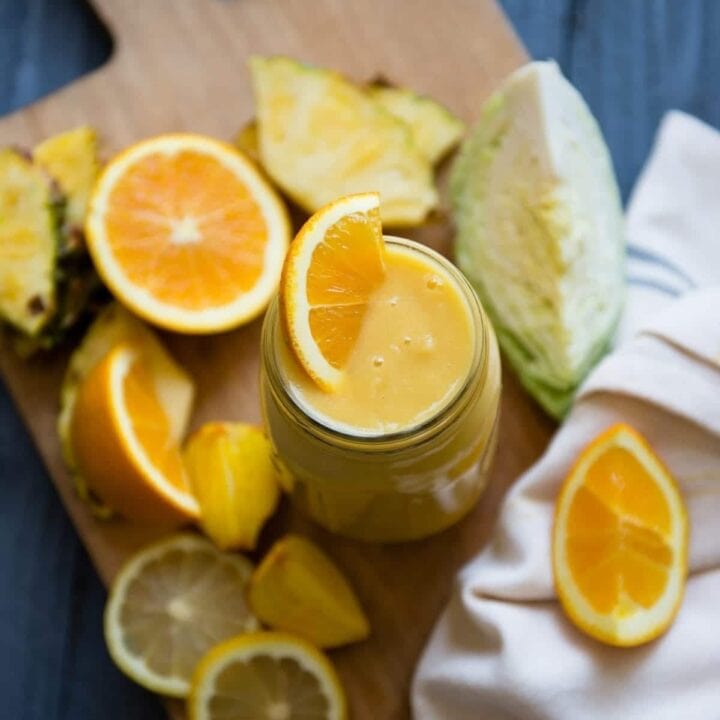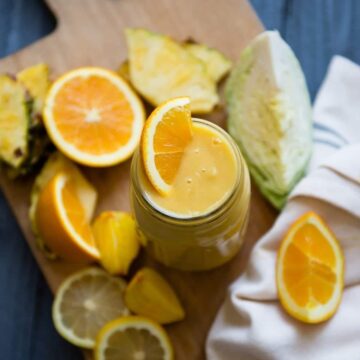 Healthy Cabbage Smoothie
Rate this Recipe
Print Recipe
Catch a cold? Try this green smoothie to help nurse yourself back to health! Beets are loaded with antioxidants like vitamin C, which can help boost your immune system. Flaxseed oil contains both omega-3 and omega-6 fatty acids; having a proper balance of these fatty acids is important for brain function and heart health.
Ingredients
1

cup

green cabbage

½

cup

water

1

orange

(peeled)

1

cup

pineapple

(frozen)

⅛

cup

golden beet

(peeled and cubed)

1

tablespoon

lemon

(juice)

1

tablespoon

flaxseed oil

1

serving

Protein Smoothie Boost

(optional)
Instructions
Blend the cabbage, water, and orange until smooth.

Add the pineapple, beet, lemon juice, and flaxseed oil and blend again.
Nutrition (estimated)
Calories:
303
kcal
(15%)
Carbohydrates:
44
g
(15%)
Protein:
3
g
(6%)
Fat:
15
g
(23%)
Saturated Fat:
1
g
(6%)
Polyunsaturated Fat:
10
g
Monounsaturated Fat:
3
g
Sodium:
34
mg
(1%)
Potassium:
607
mg
(17%)
Fiber:
8
g
(33%)
Sugar:
32
g
(36%)
Vitamin A:
466
IU
(9%)
Vitamin C:
181
mg
(219%)
Calcium:
109
mg
(11%)
Iron:
1
mg
(6%)
More smoothies with vegetables
If you loved this veggie-packed smoothie, then you might be looking for some like these:
Don't forget to leave a rating + review below to let me know how you liked this smoothie, as well as the other healthy cabbage recipes I shared.