Pizza is great for bringing the family together. Why not make it truly great with one of my healthy pizza recipes? Flavorful and healthy homemade pizza is a win-win!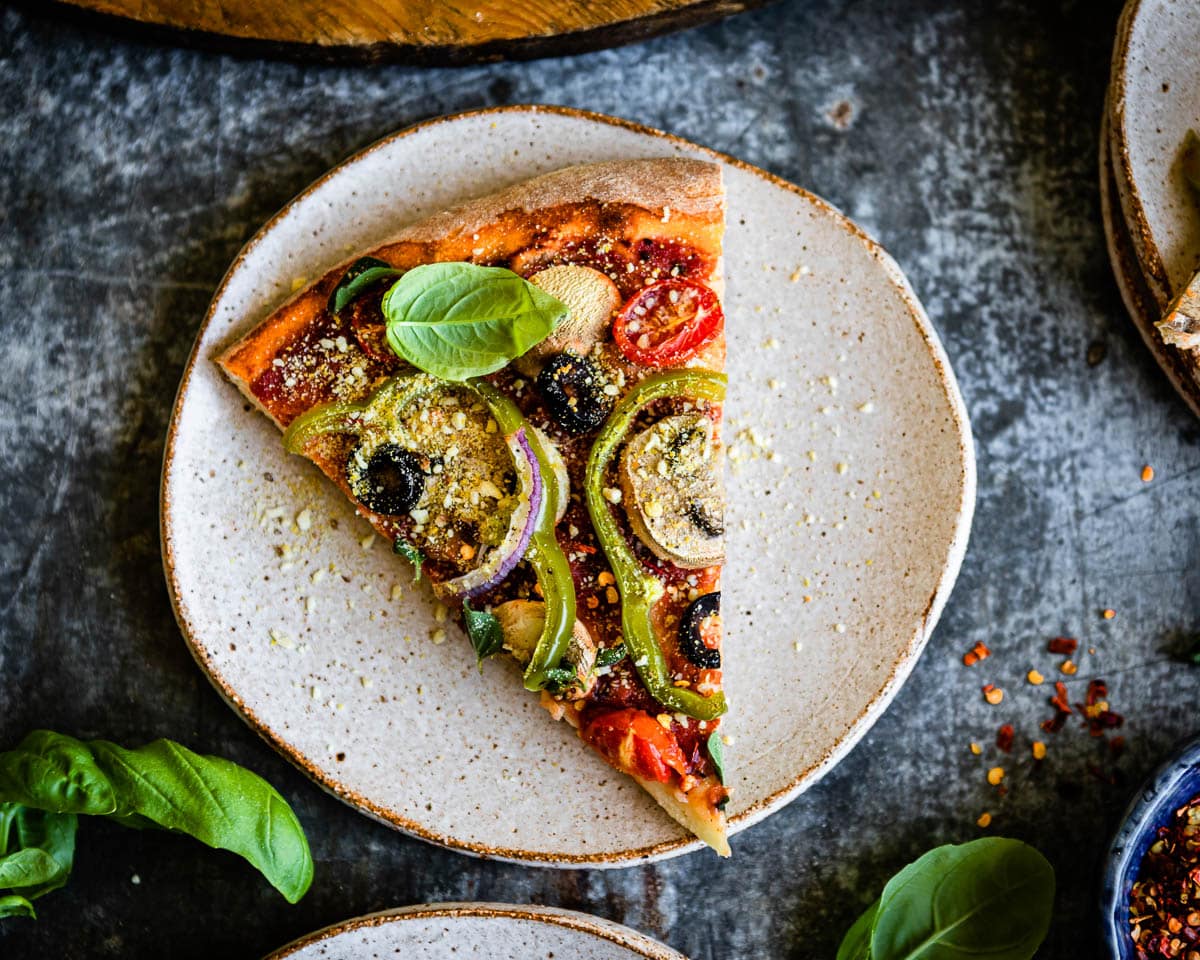 Friday night pizza is a pretty regular thing at my house. It's an easy way to end the week, but I don't always feel great after consuming a lot of cheese and gluten. So I decided to start incorporating some of my own healthy pizza recipes, like a classic vegan pizza, into the mix, and it's turned into a super fun make-your-own pizza time! Here are my four favorite ways to rock out with pizza at home.
Table of Contents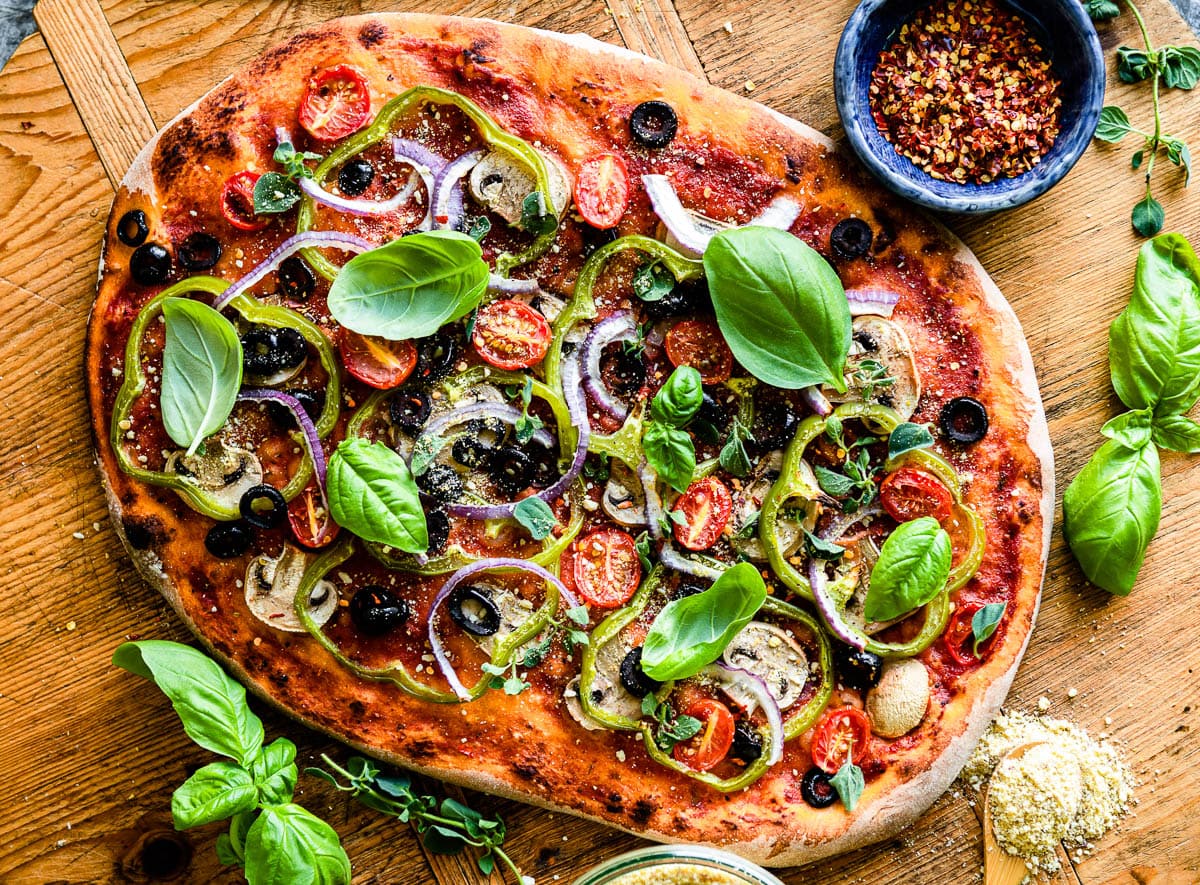 4 Healthy Pizza Recipes
Whether you like a classic pizza or you've got an adventurous palate, I've got a homemade pizza recipe for you. Playing with flavors and sauces is my superpower, so get ready for an adventure in pizza making with these delectable recipes!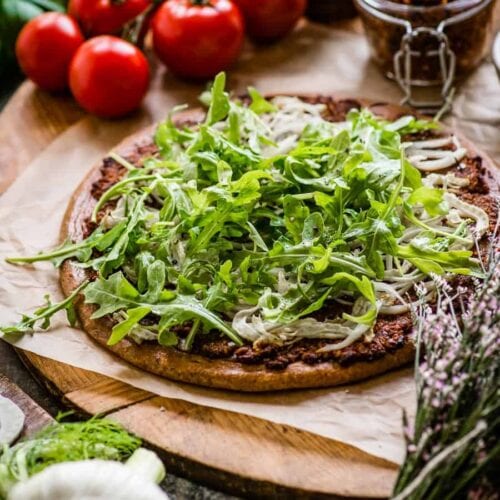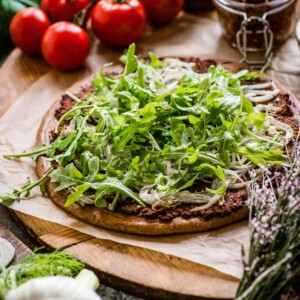 Savory Plant-Based Pizza
A simple quinoa batter makes for a crispy-edged, tender, gluten-free pizza crust that takes almost no effort to make. These toppings are some of my favorites—especially the pesto— but feel free to top with whatever your heart (or tummy) desires.
Make Recipe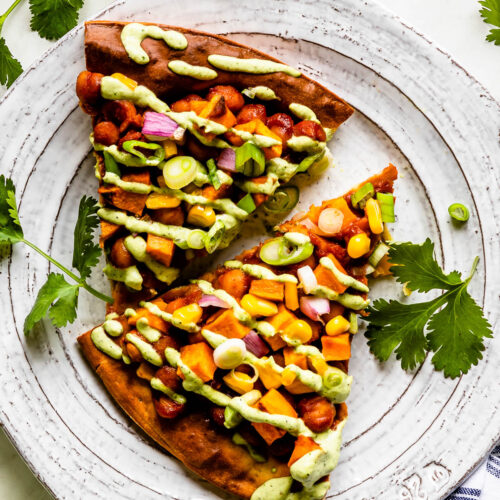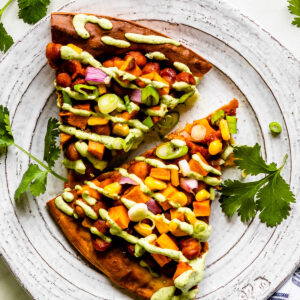 BBQ Vegetarian Pizza
Enjoy the BBQ vegetarian pizza recipe that's loaded with protein and flavor. This recipe is also gluten-free thanks to the homemade quinoa crust. A bit time-consuming to make, yet no one ever regrets it. Bon appetite!
Make Recipe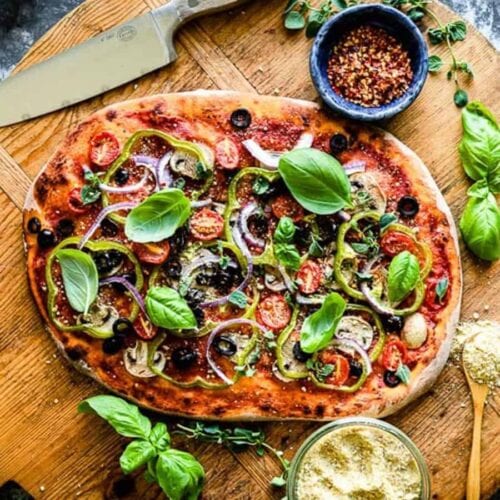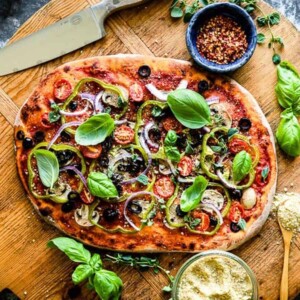 Classic Vegan Pizza
Bake up a Vegan Pizza Recipe for your next pizza party or Friday night. Loaded with the best pizza toppings and tons of flavor, it's sure to become a family favorite.
Make Recipe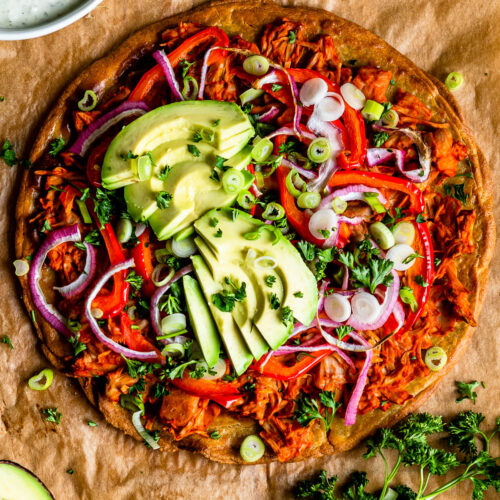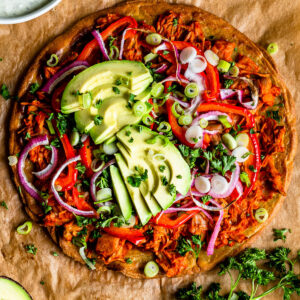 Buffalo Jackfruit Pizza
Pulled jackfruit cloaked in tangy, spicy buffalo sauce makes for a fantastic pizza topping. Add a few veggies and serve with vegan ranch on the side for a tasty, unique, buffalo jackfruit pizza.
Make Recipe
Homemade Pizza Tips
While pizza often tastes better when made at home, it is often a labor-intensive process. To make this easier on myself (and more fun for the family), I've got a few no-fail tips to share for these healthy pizza recipes:
Make the dough ahead of time. This is a great time saver! Many grocery stores like Publix or Trader Joe's even have fresh pizza dough, so if you are fine with not making yours from scratch, go that route. If you do make it from scratch, double or triple the batch so you have some on hand for future pizza-making endeavors.
Buy pre-chopped ingredients. I am all for not spending 30 minutes washing and chopping vegetables for pizza. Head to the fresh produce section and look for the containers of pre-cut onions, peppers and more.
Don't go overboard on the sauce. I've learned that the best pizzas have less sauce. You can always add the sauce as a side dip for those that want more, but a little really goes a long way on pizza. Feel free to add a thin (I'm talking THIN) layer of sauce to start, so it doesn't overwhelm the other components.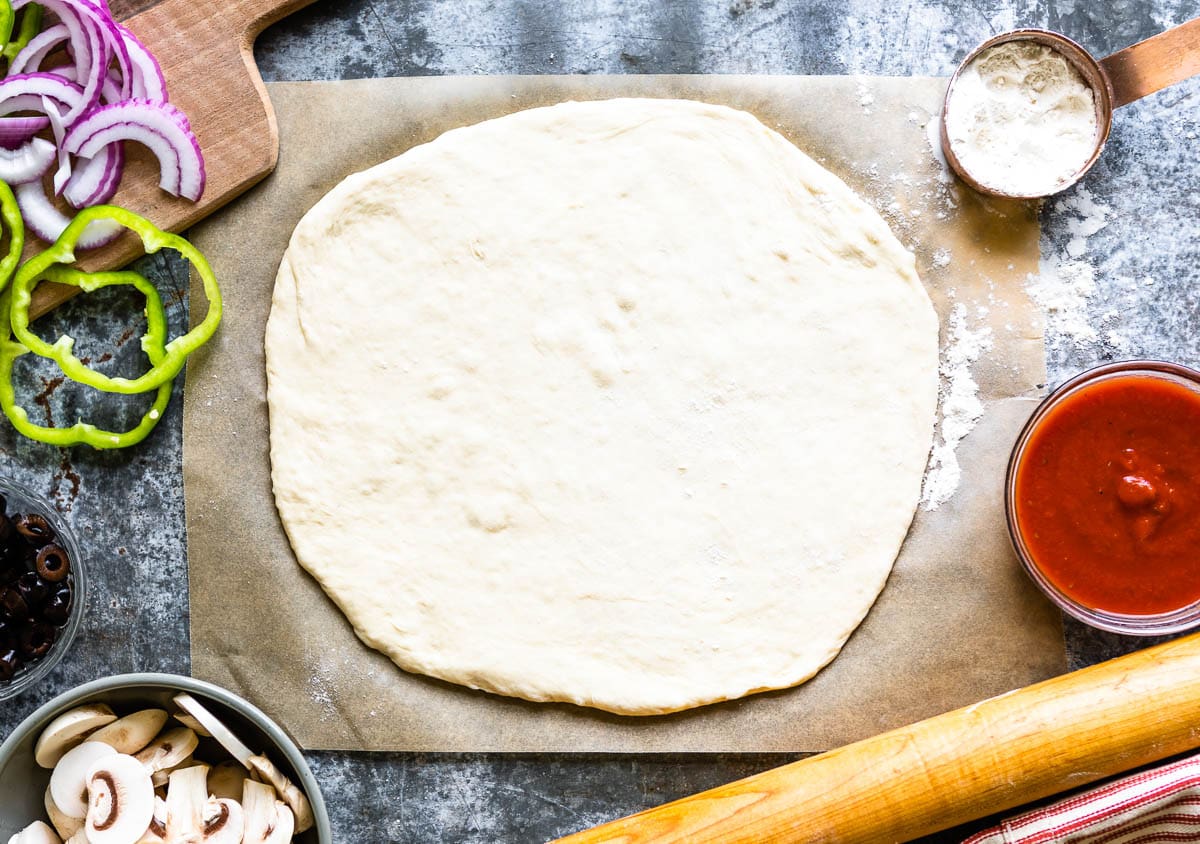 Pizza Crust Options
If gluten doesn't bother you then go for it! Yet quite a few people struggle with inflammation, and gluten can be a big contributor to that (without us even knowing it!). So I often go for the gluten-free option for pizza. I haven't found a restaurant with a gluten-free crust that I love. I make my own and it's amazing.
This quinoa pizza crust has very few ingredients and the finished product has the texture of a hand-tossed pizza crust. The flavor is excellent as well! Since it does take a few steps to make, I often make more than one and then freeze the leftovers.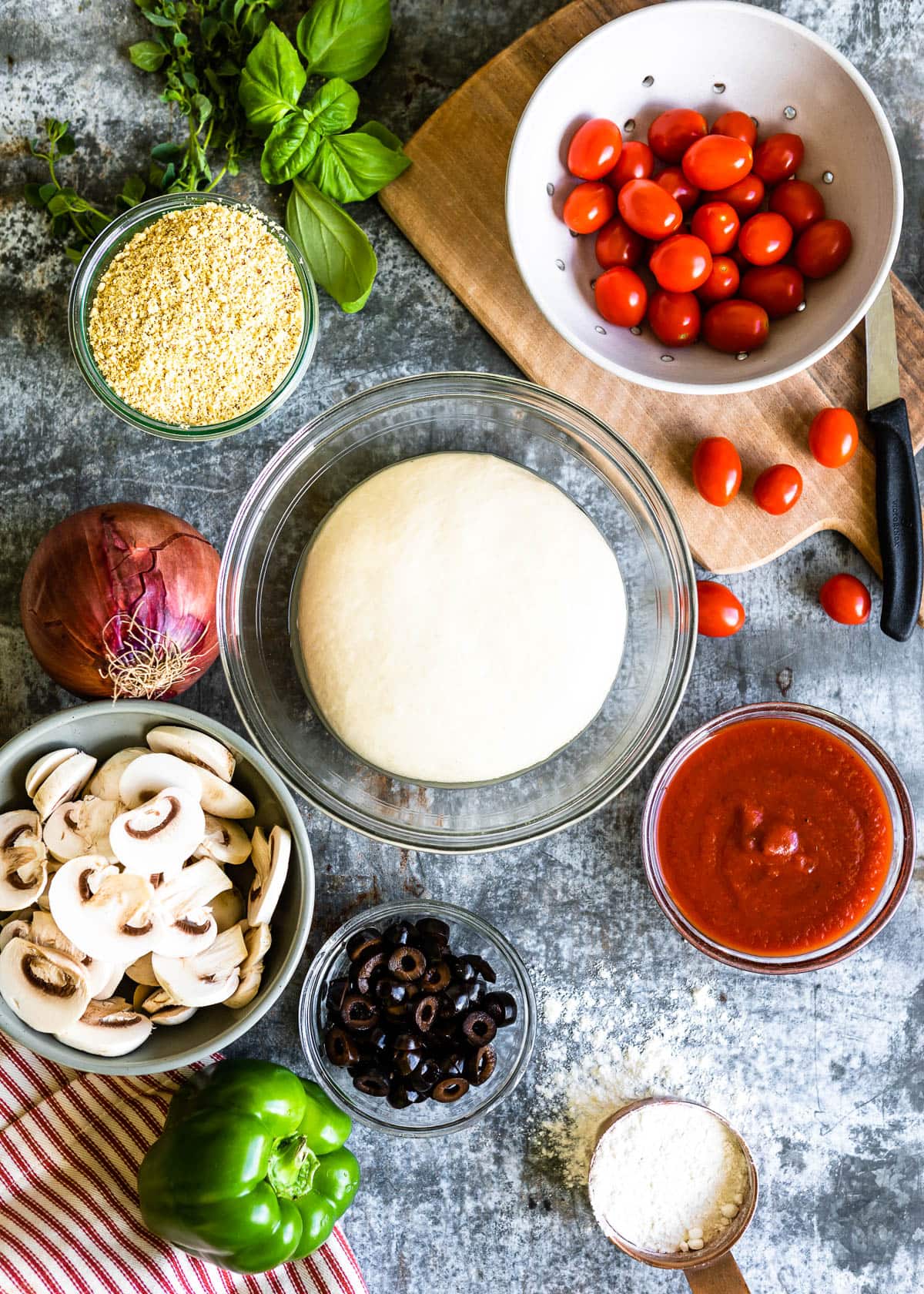 Best Pizza Toppings
Pizza toppings are often a hotly debated topic. Instead of saying that specific ingredients are the best, think about the best pizza toppings in terms of color. Adding a variety of colors to your healthy pizza recipes gives you balanced flavor and naturally more nutrients.
Red: Sweet potatoes, tomatoes, radishes, beets
Yellow: Yellow onion, chickpeas, corn, yellow peppers (spicy or mild), summer squash
Green: Leafy greens like spinach or arugula, green peppers (spicy or mild), green olives, green onions, herbs like basil, rosemary, oregano, fennel, jackfruit, avocado
Purple: Purple onions, cabbage, purple carrots, eggplant, cauliflower
Black: Olives, black beans
What are your favorite pizza toppings? Drop them in the comments below. I love to get new homemade pizza ideas!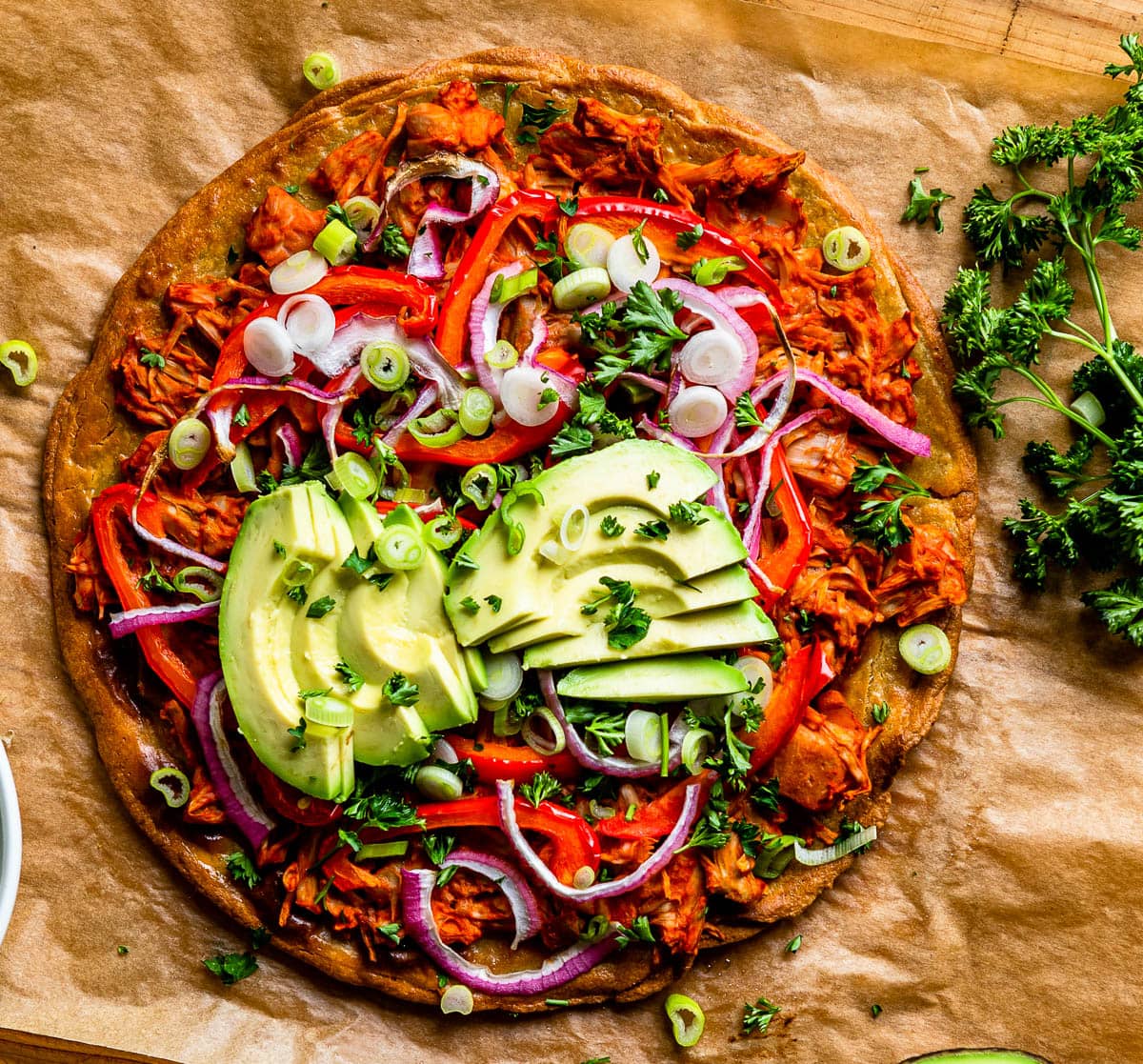 Healthy Pizza FAQs
What is the healthiest option for pizza?
While pizza tastes delicious, it's also full of inflammatory, hard-to-digest ingredients. Finding a gluten-free crust, limiting the dairy and loading up with fresh vegetables is a great healthier pizza option.
Is it healthier to make your own pizza?
Yes! When making homemade pizza, you know exactly what ingredients are on your pizza and can limit things like dairy and gluten if needed. You can even make a homemade sauce full of real food ingredients and load it up with fresh produce for a delightful and tasty dinner.
How do you make healthy pizza?
I use a no-fail gluten-free crust made from quinoa, skip the cheese and opt instead for a dairy-free pesto or homemade pizza sauce and load up with fresh produce. For a cheesy finish, I top it with vegan parmesan cheese that's both insanely delicious as well as dairy free.
Which pizza do you want to whip up first? Drop and comment and let me know what you're including in your next pizza night.