Healthy snacks for weight loss are a priority for me— because once I'm hungry, it's over. Today I'm arming you with a TON of easy + delicious weight loss snacks that will fill you up and fuel you throughout the day. These are the best snacks for weight loss and are just dang tasty too.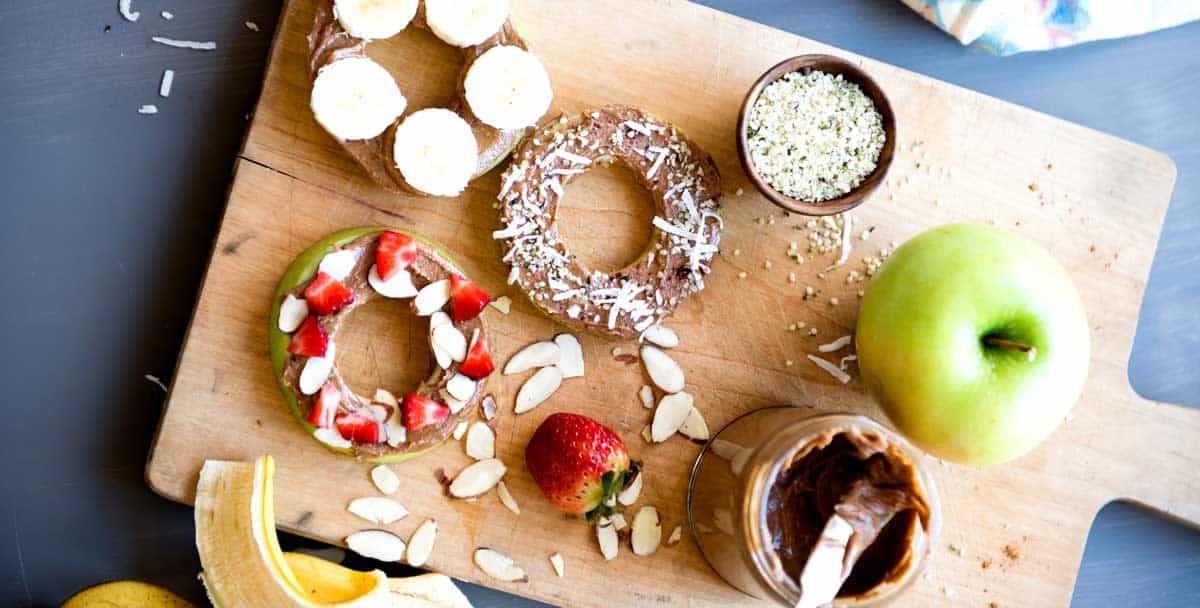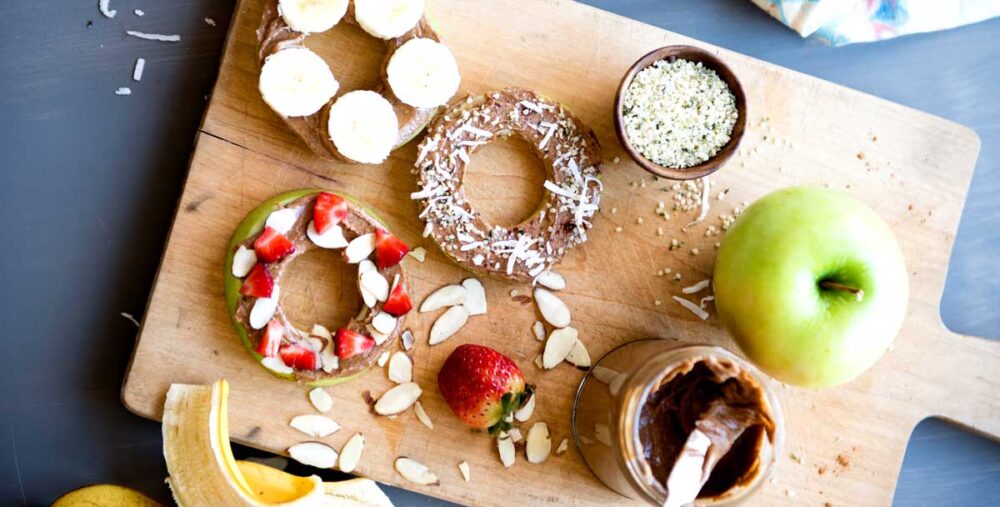 Hunger usually hits me around 10:30am while grocery shopping or doing a Lowe's run. After running around the store, I catch a glimpse of the junk food by the register. My stomach immediately starts to ache, then my tastebuds salivate and it's SUPER hard to turn down a cheap, tasty snack at that moment.
Table of Contents
Then there's bedtime— when I realize I didn't eat enough for dinner and I don't wanna go to bed hungry. The easy choice is something quick and dish-free…. which usually isn't very healthy.
Can you relate?
This is how we've been trained to fuel up our body in a busy world — last minute and convenient. Yet it's not gonna get us the body we want. A strong, energetic body takes nutrient rich snack fuel. I make a snack plan that I can switch up as needed day to day.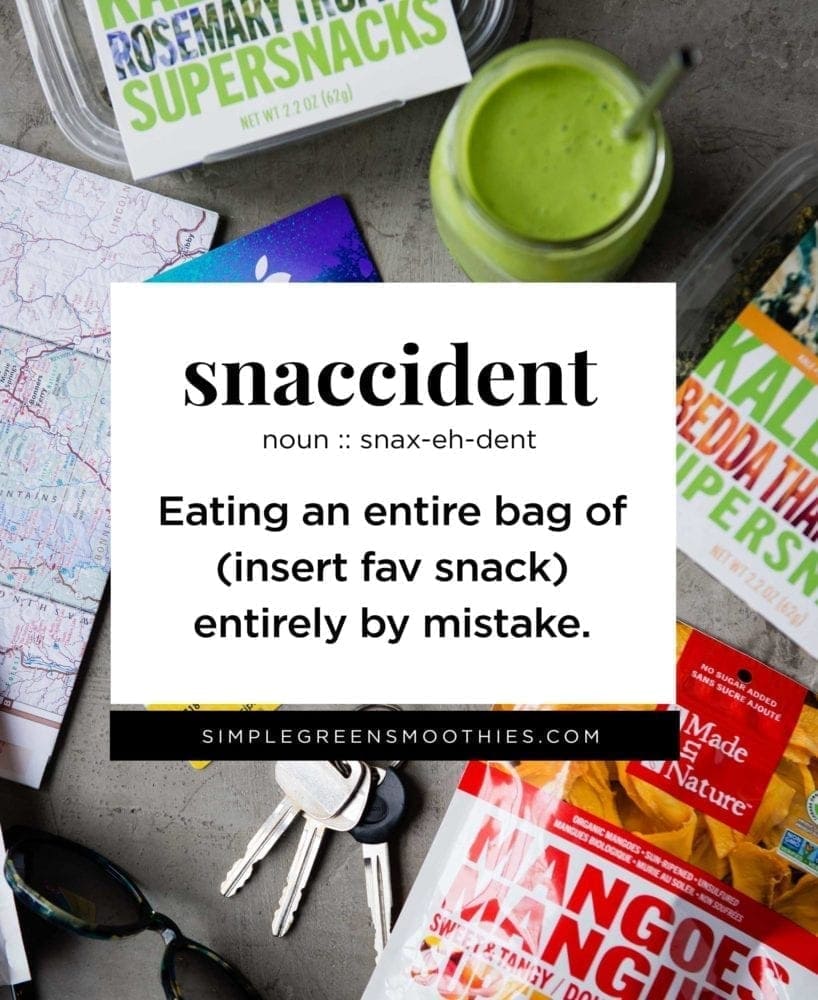 What makes a snack healthy?
With the help of a holistic nutritionist back in 2011, I learned the secret to a wholesome snack to keep my health goals on track. A snack should keep you full until your next meal, and to do that it needs 2 important ingredients:
Healthy Fats: This will help satisfy your hunger cravings and help your body absorb the nutrients in the snack.
Protein: This will fuel your body and help build muscle. I prefer plant-based protein found in nuts and seeds, yet it's totally up to you.
If a snack meets those two requirements, then I move onto what sorta craving I have. Do I want something salty? Tart? Sweet? That's when the "flavors" come into play. The below snack list covers a variety of taste preferences, so dive in and find a new fav!
Best Healthy Snacks for Weight Loss
Below is my list of plant-based snack recipes that are packed with protein, healthy fats and flavor explosions. Some take 5 minutes or less, others can be made in advance and enjoyed throughout the week. I hope you enjoy some of these snack recipes and reach your weight loss goals.
Homemade granola bars
If you're looking for a snack that will give you sustained energy + leave you feeling full, these homemade granola bars are for you! Why homemade? Many store brands contain additives that I don't want in my body. Making homemade bars allows me to control exactly what's in them.
Chocolate covered banana bites
The best snacks for weight loss don't have to be dull and these energy bites are simply delicious. Double this recipe and keep in the freezer for an easy grab-n-go treat.
Hearty Parfaits
This fun, easy vegan yogurt is great on its own, or turned into a parfait with the fruit compote and granola. You can also toss this yogurt into your next smoothie for even more plant power.
Homemade hummus
Chickpeas are a great plant protein source, and hummus with veggies is a weight loss snack that will fill you up. I often turn to hummus when I need a quick lunch/snack while working… munching veggies in a delicious dip is a lot more filling than chips, yet just as good + quick!
Lemon Fat Bombs
A simple Lemon Fat Bomb has replaced my craving for sugary candy in the afternoon. This plant-based recipe is keto-friendly as well as refreshing. While I can eat Meyer lemons on their own, I love turning them into this melt-in-your-mouth recipe.
Homemade Breakfast Bars
The classic fruit-filled snack is transformed into a healthy breakfast bar recipe. The oat-studded dough is filled with lightly sweetened fruit jam and baked until golden.
Homemade Fruit Leather
Immune support, protein boost, AND a way to use up aging fruit? I'm all in. Your kids aren't the only ones that can have fun with their snacks; you can make this fruit leather recipe then enjoy it too!
Strawberry-filled muffins
These vegan muffins are almond butter + jam flavored, and the perfect grab and go in the morning. Full of flavor as well as nutrition for the day.
Protein-rich meal replacement smoothie
I believe that any time is a great time for a smoothie, especially when you're trying to lose weight. Turn any smoothie into a meal or filling weight loss snack by adding plant based protein powder.
Coconut lime popsicles
Smoothies aren't the only way to get in your leafy greens. This popsicle recipe contains both healthy fat and spinach yet tastes like key lime pie. The best snacks for weight loss should taste good in my opinion, and these definitely do.
Healthy Caramel Apple Dip
This caramel apple dip is a great healthy snack that'll keep you full for hours. I use dates and cashew butter to create a thick sweet dip. While I pair this with apples, it goes great with pears, celery… get creative!
Mocha Coffee Smoothie
Rise and shine with this energizing coffee smoothie – packed with protein, fiber and caffeine to enjoy as a complete breakfast on the go. Don't need the caffeine? Then just use decaf coffee.
Overnight Oats
This is such a versatile recipe. Make a few different kinds, then stash in your fridge until you're ready for a snack. Easy to take on the go (just remember a spoon!), and a great source of protein as well as healthy fat. You can also control the sweetness in these oats, which is a helpful bonus.
Apple Donuts
This quick and fun snack uses apples as the base and the toppings are endless. Healthy snacks for weight loss don't need to be carb free (and shouldn't!). Fruit and vegetables are great whole food carbs that provide fiber. Pair them with a healthy fat like almond butter and then a yummy apple instantly turns into a filling snack.
Homemade pesto + veggies
Just like hummus, pesto provides protein as well as healthy fat in a way that tastes great and encourages you to eat more veggies. Just choose your fav pesto recipe (I've got 5 to choose from!) then pair with fresh carrots, celery, broccoli, cauliflower, bell peppers, snap peas… any vegetables of your choice.
Your healthy snack questions answered
The key to weight loss success is having the right kind of snacks on hand that'll satisfy your cravings, encourage weight loss, and pretty much put the HANGRY beast to bed. Oftentimes, we think we are hungry when we are not. Thirsty and hungry are two signals the body tends to mix up. So if I'm feeling hungry, I reach for a glass of water before I even toy with the idea of a snack. If I'm still hungry 20 minutes later, then it's time to fuel up.