Grab one of these homemade granola bars for a healthy snack for work and avoid a hangry moment in your day. My chewy granola bar recipe creates a pan of perfectly flavored oatmeal raisin bars that are perfect for kids and adults alike.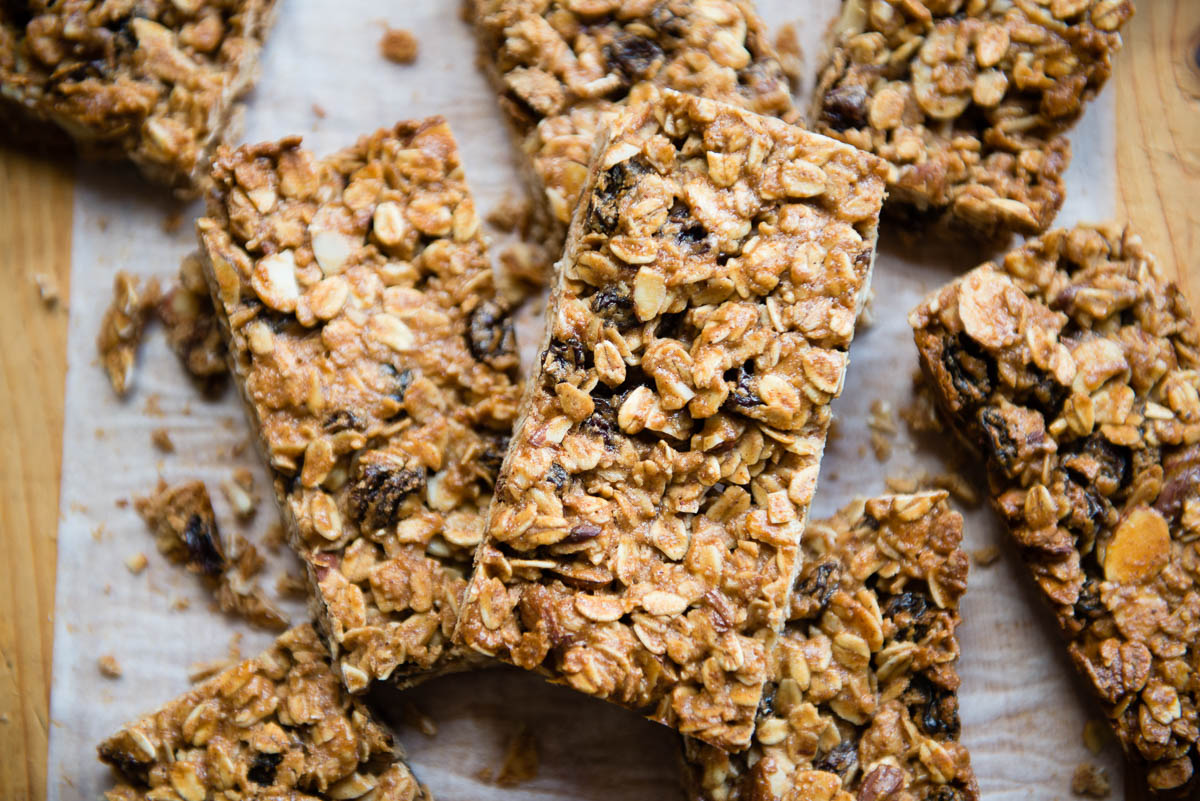 If you're looking for a snack that will give you sustained energy and leave you feeling full, then these homemade granola bars are for you!
I grew up on Nature's Valley bars thanks to my dad, but I wanted to make my own version using my favorite plant-based ingredients. Now this, my friend, is a "rawkstar" healthy granola bar recipe that is the best healthy snack for kids.
Table of Contents
Oatmeal Raisin Bar Ingredients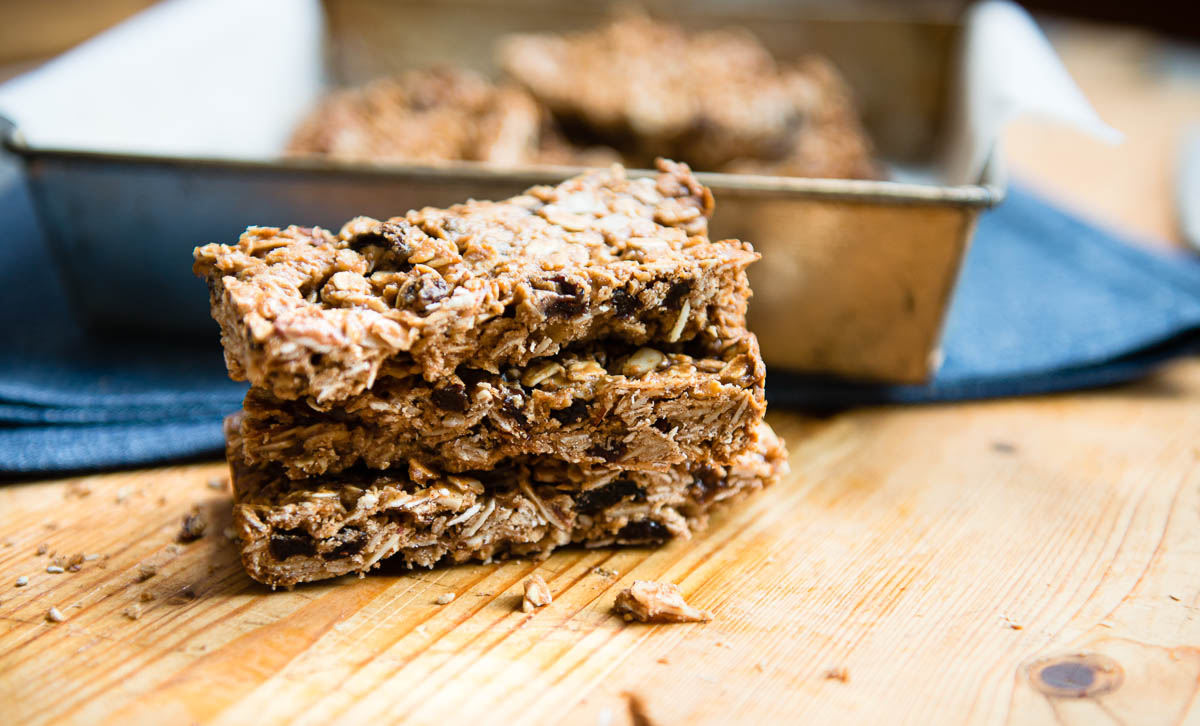 This chewy granola bar recipe has a longer ingredient list, yet you should have all of these items on hand or at your local grocery store. Here's what I'm baking into mine:
Rolled oats: The base of this recipe. You can taste them so you use the ones you like! Make sure your bag says certified gluten-free if you want that.
Almond flour: I'm keeping this recipe gluten-free by using almond flour over regular flour. It also keeps the bars from puffing up too much when baked.
Sliced almonds: I don't want large chunks of anything in these bars, to keep them bonded, so I take sliced almonds and chop them a little further before mixing in.
Maple syrup: I love using this natural sweetener as it brings a warm and nutty flavor to any dish.
Raisins: I wanted to give these bars the classic "oatmeal raisin" flavor so they need, well, raisins!
Almond butter: If you don't want to make some homemade almond butter then look for a store brand that is just almonds, nothing else.
Chia seeds: This superfood gives the bars healthy fat and protein to help balance the natural sugars in them.
Coconut oil: This is my favorite healthy fat to use, especially in a sweet recipe. It has a faint coconut taste and can easily be melted in the microwave or on the stove before using.
Vanilla extract: Another way to bring warmth to sweet recipes is vanilla extract. It's not sweet by itself, yet adds a lovely vanilla flavor.
Spices: Cinnamon and nutmeg are the spices of choice for my homemade granola bars. They pair nicely with the almond butter.
Read on for any swaps you need.
Easy Ingredient Swaps
I chose almonds in a few different forms, yet you can easily swap those out if you need to. Replace the almond flour with oat flour or gluten-free flour. Swap the almond butter with the nut butter of your choice, like peanut butter, or go with a seed butter like sun butter.
Finally, switch out the sliced almonds with the nuts or seeds of your choice like chopped peanuts, walnuts, sunflower seeds or pumpkin seeds.
Swap maple syrup with another natural sweetener like honey or agave. Make sure to stick with a vegan option to keep these bars vegan.
Raisins can be swapped with another dried fruit like cranberries, or go a different flavor route with some mini chocolate chips.
How to Make Healthy Granola Bars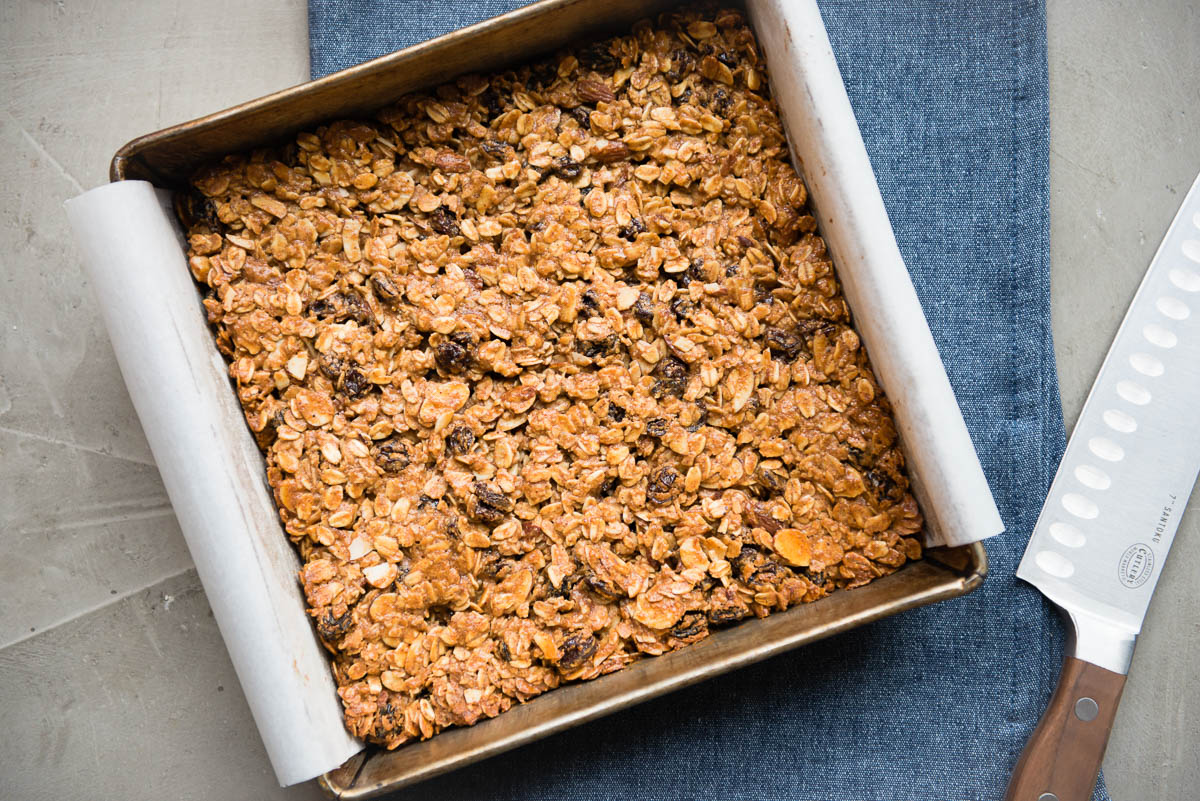 This recipe makes eight bars and needs an 8×8-sized pan (like what you use for brownies). You also need a bit of parchment, an oven and a mixing bowl. Ready? Set. Bake!
Preheat the oven to 325°F. Line the bottom of an 8×8 pan with parchment paper. You can grease the pan instead, but I find parchment works better.
In a large mixing bowl, combine all the ingredients. You can either mix them well with a spatula or use the beater attachment of a standing mixer to combine them.
Press the mixture into the prepared pan. Bake 25 to 30 minutes, or until the edges are lightly golden. Let the bars cool completely in the pan before removing them, as they will be crumbly if still warm.
Cut into eight rectangles and wrap in parchment paper or enjoy immediately.
Storage Options
Once cooled, you can store this chewy granola bar recipe can be stored in the fridge or freezer. If storing in the fridge, place them in an airtight container with parchment between the bars to keep them from sticking together. They will last up to one week.
If you want to freeze them to have on hand for future snacking then store them in a silicone freezer bag for up to six months. I toss them into my hiking pack frozen then enjoy after they thaw to room temperature.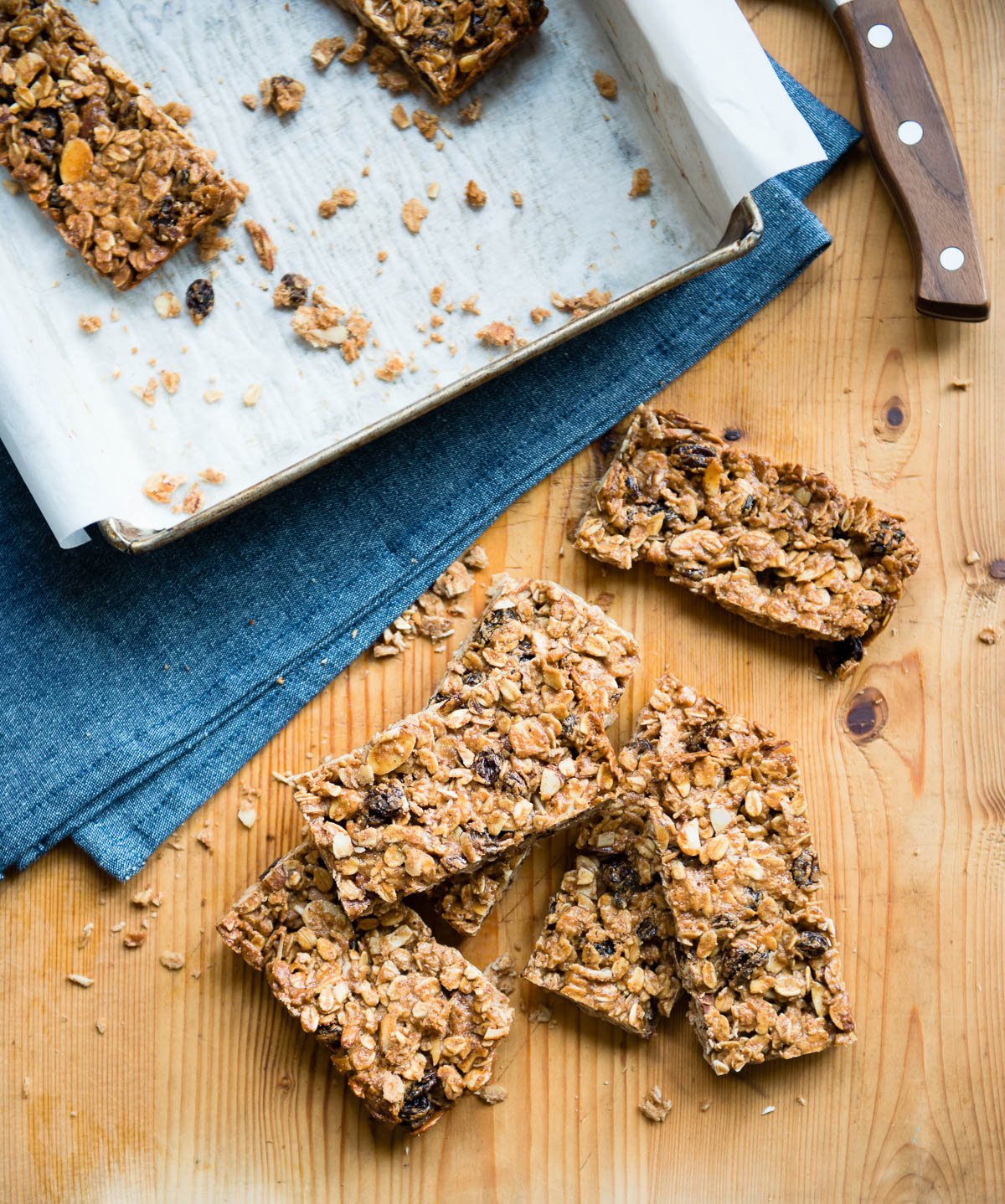 FAQs
Is it worth it to make your own granola bars?
I think it's worth it to make homemade granola bars since they are super easy to make and then I know exactly what's in them. It's not easy to find good snack options with ingredients I love, so I make my own to get the taste and texture I want with ingredients I can feel good about giving to my kids.
Are homemade granola bars healthier?
My chewy granola bars recipe uses all real, plant-based ingredients. I'm sure you could find some store-bought ones with even fewer ingredients, yet this is a pretty affordable option and easy for me to make.
What is the best binder for granola bars?
My granola bars use almond butter as the main binder. Stir them together well and make sure any mix-ins are chopped up so that they aren't too large and cause the bars to crumble.
More Healthy Snack Options
I snack better when I am prepared, so here are a few of my go-to options. They are easy to prep ahead for the week or make as you go.
Don't forget to rate + review this recipe once you've made it. I'd love to hear how you customized your oatmeal raisin bars!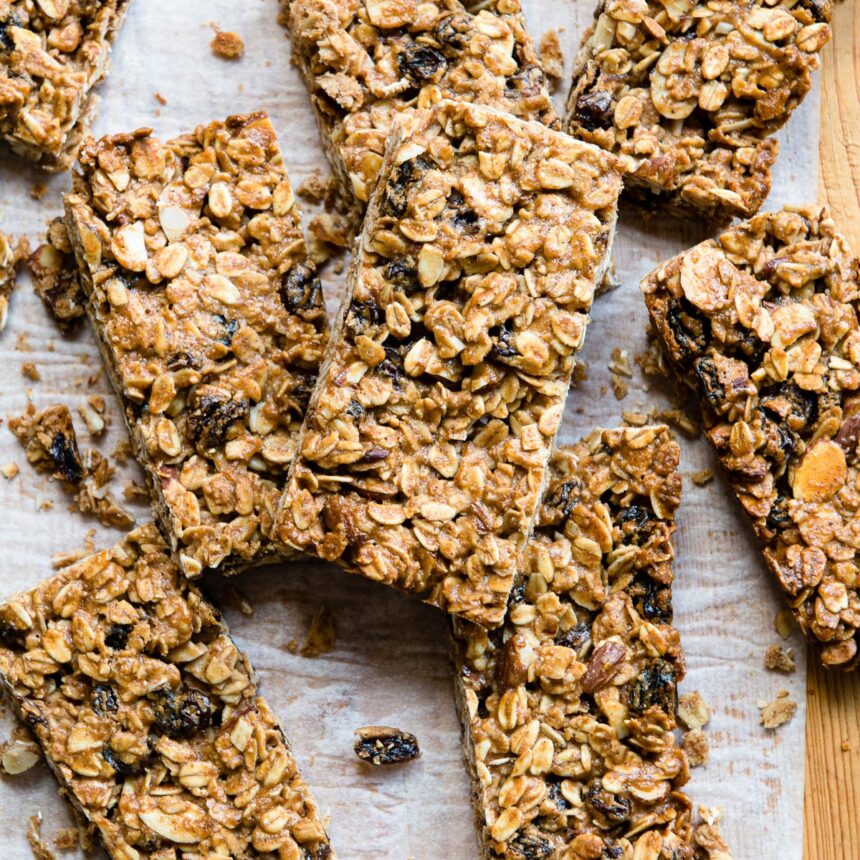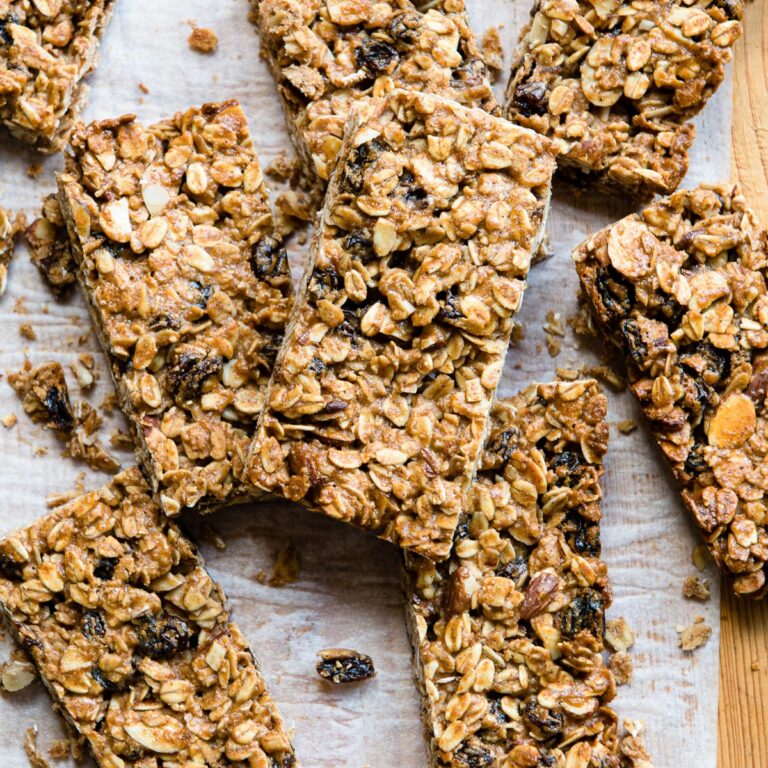 Homemade Granola Bars
When you need to go the extra mile, homemade granola bars are your BFF. I grew up on Nature's Valley bars thanks to my dad, but I wanted to make my own version using my favorite plant-based ingredients.
Ingredients
1 ½

cups

rolled oats

½

cup

almond flour

½

cup

sliced almonds

½

cup

maple syrup

½

cup

raisins

¼

cup

almond butter

2

tbsp

chia seeds

1

tbsp

coconut oil

melted

1

tsp

vanilla extract

½

tsp

cinnamon

ground

¼

tsp

sea salt

⅛

tsp

nutmeg

ground
Instructions
Preheat the oven to 325°F. Grease an 8×8-inch baking pan or line the bottom with parchment paper.

In a large bowl, combine the oats, almond flour, almonds, maple syrup, raisins, almond butter, chia seeds, oil, vanilla, cinnamon, salt and nutmeg.

Press the mixture into the prepared pan. Bake for 25 to 30 minutes, or until lightly golden on the edges. Let cool completely in the pan.

Cut into 8 rectangles. Enjoy!
Notes
Gluten-free if using gluten-free oats.
Swap maple syrup with honey or the natural sweetener of your choice.
Nut-free: Remove almonds, increase oats to 2 cups, and replace almond butter with sunflower butter).
They will keep for about 1 week if wrapped well and stored in a cool place.
Use the dried fruit of your choice, just chop it up to raisin size before adding. 
Swap sliced almonds with chopped cashews.
Nutrition
Calories:
343
kcal
,
Carbohydrates:
39
g
,
Protein:
9
g
,
Fat:
19
g
,
Saturated Fat:
3
g
,
Polyunsaturated Fat:
4
g
,
Monounsaturated Fat:
8
g
,
Trans Fat:
1
g
,
Sodium:
79
mg
,
Potassium:
351
mg
,
Fiber:
7
g
,
Sugar:
13
g
,
Vitamin A:
2
IU
,
Vitamin C:
1
mg
,
Calcium:
134
mg
,
Iron:
2
mg