Nothing warms me up better when winter strikes than a steaming mug of hot cocoa. This homemade hot chocolate recipe is dairy-free so you can enjoy it without the unwelcome side effects!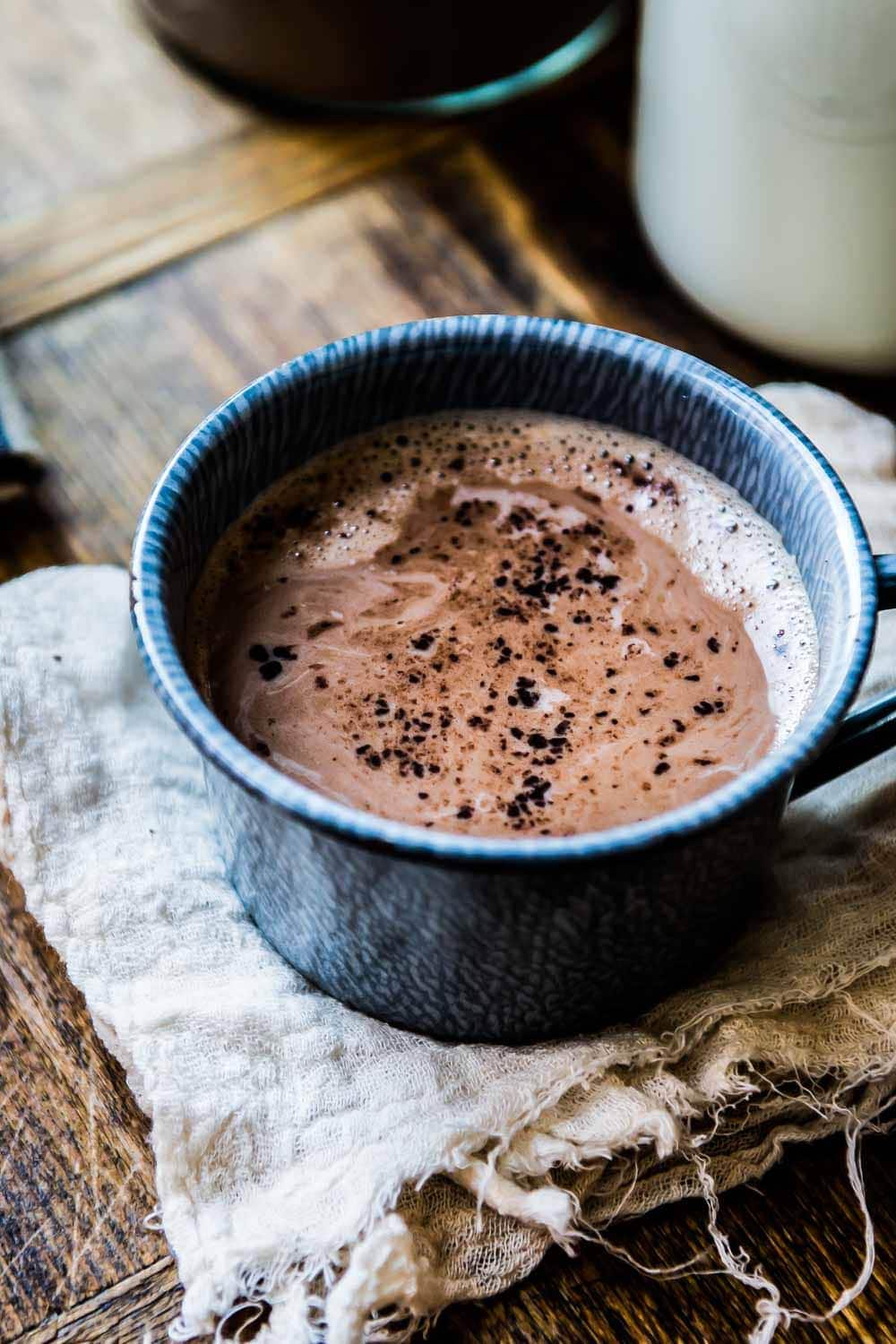 Homemade hot chocolate hits all the cold night cravings using only whole food ingredients. Designed to be mixed right in the blender, then poured into a favorite mug. This recipe from my Simple Green Meals book is a favorite for both my family and our friends all season long.
Table of Contents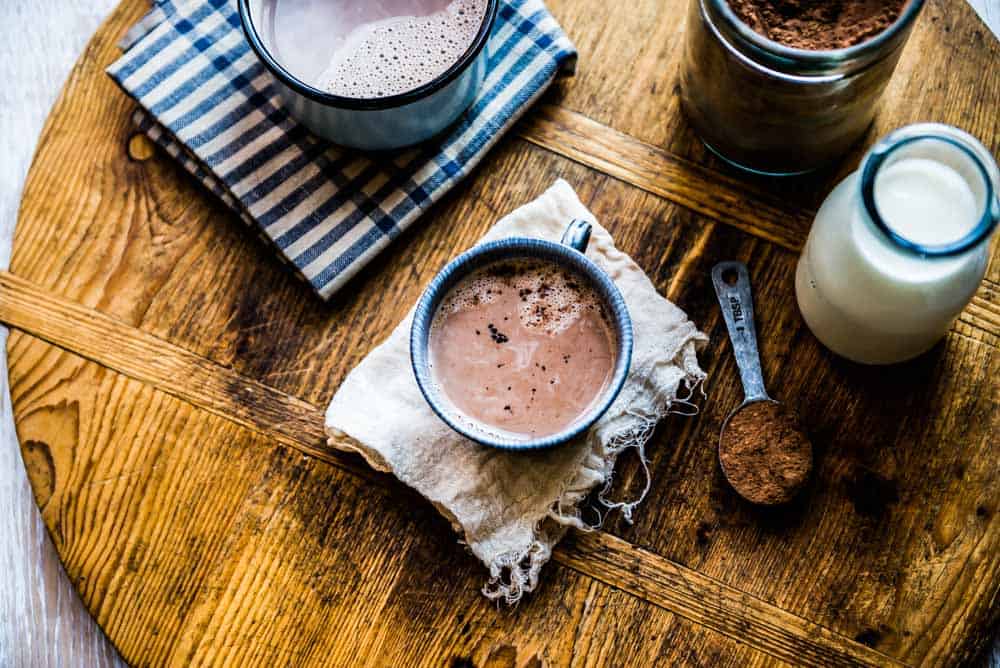 How to Make Hot Chocolate Dairy-Free
While the star of any good hot chocolate recipe is the powder, the liquid base is also important, especially if you're looking for a dairy free option. Dairy milk is creamy and rich, which helps bring out the flavor in the cocoa. Yet did you know that dairy-free milks can also offer that same creamy richness?
According to the US Department of Health and Human Services, approximately 68% of the world's population is lactose intolerant. So I created a hot chocolate recipe that eliminates the need for dairy, as well as any gut issues after enjoying a cup or two.
Homemade Vegan Milk Bases
When searching for a good plant milk base for this vegan hot chocolate, I recommend making your own. It's super easy, simple, and really just better than store bought. In making my own plant milk, I control what ingredients are added, so there are no processed surprises. Here are my fav plant-based milks to make:
Homemade coconut milk: This light dairy free milk is great for smoothies, cereal, hot chocolate and more!
DIY oat milk: When you just need an ultra creamy base, oat milk is a winner. It's my preferred base for my homemade hot chocolate.
Homemade almond milk: I actually just finished a seasonal 21 day cleanse, and used homemade almond milk throughout the whole cleanse.
DIY cashew milk: A super creamy option just as easy to make as the rest!
Hemp milk: There are so many nuts/seeds/etc. that can be turned into milk, so don't limit yourself to the first three choices! Change it up every time you make this vegan hot chocolate, until you find the perfect blend for you.
Store-Bought Bases
There isn't always time to make your own plant milk, so my team of rawkstars and I did our own research to discover the very best options for almond milk, oat milk, and coconut milk in stores now. We update this list annually (and no one pays us to do this!), so keep checking back for new brands, or current brands that might be cleaning up their ingredient lists.
I recommend using an unsweetened vegan milk for this dairy-free hot chocolate recipe, as you're adding in some pretty epic sweeteners already.
This is our homemade hot chocolate and I can't wait for you to try it!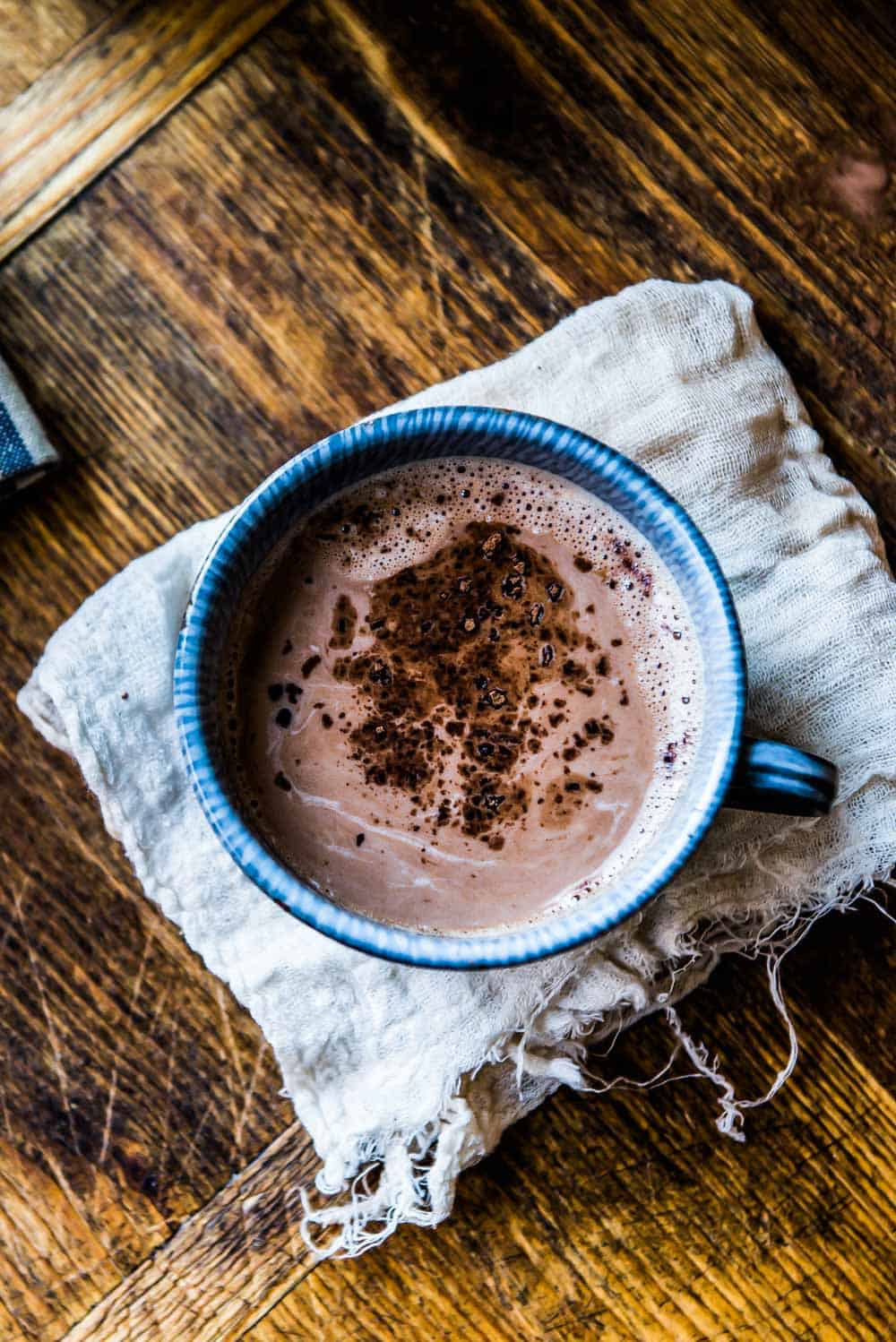 Why use Cacao Over Pre-Made Hot Chocolate Mixes
Store bought hot chocolate mixes often contain dairy in some form, as well as a host of processed ingredients. For example, a leading brand's ingredient list is as follows: sugar, corn syrup, modified whey, cocoa, hydrogenated coconut oil, nonfat milk, salt, dipotassium phosphate, mono- and diglycerides, natural flavor. Cocoa is 4th on the list!
Meanwhile, the ingredient list for my homemade mix includes: cacao powder, maple syrup, vanilla extract, and salt. 4 easy, recognizable, minimally-processed ingredients. I dare you to do a test comparison of both versions and let me know which one you like the best.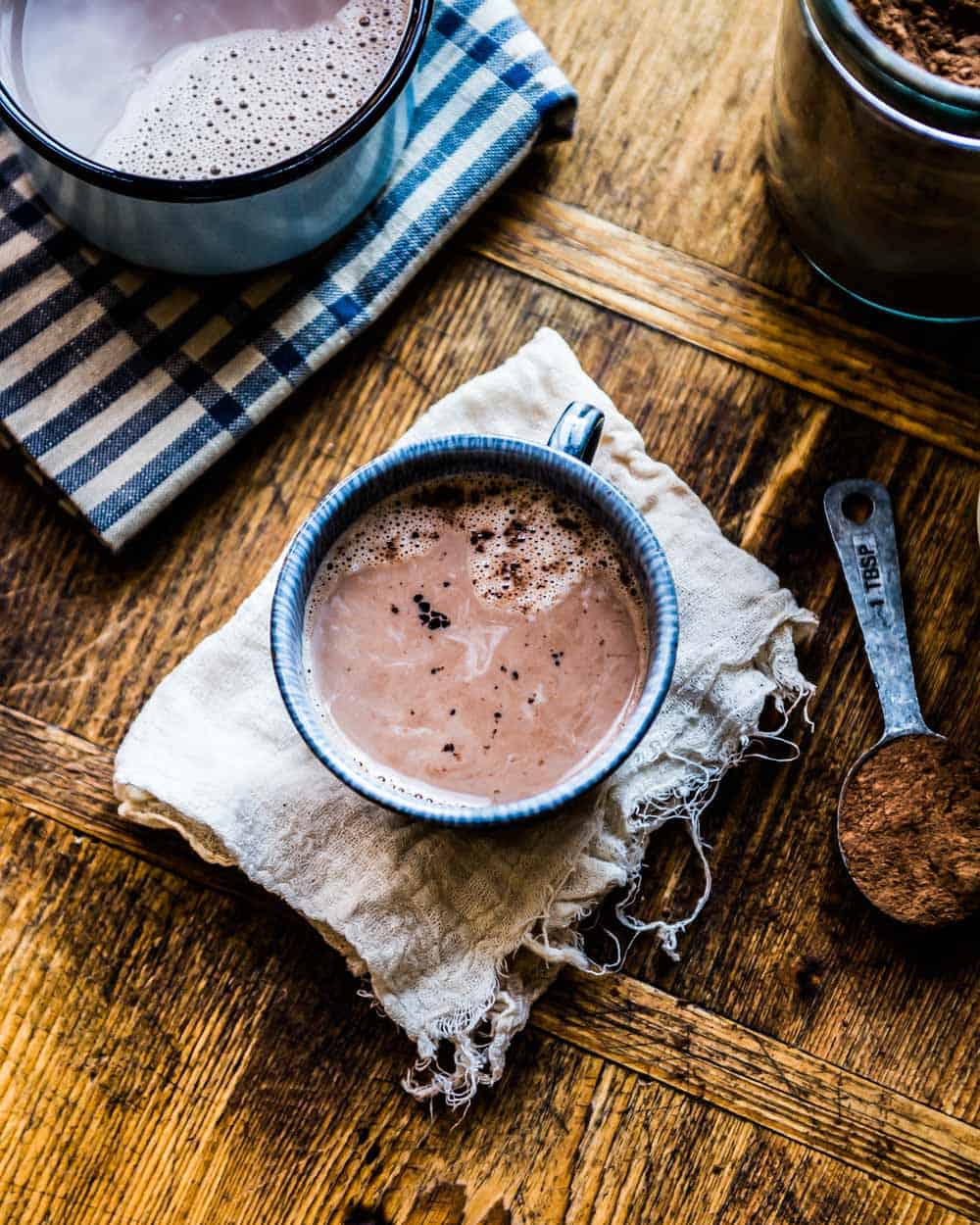 Other Chocolate-y, Dairy-Free Drinks
This recipe might have you searching for other decadent + healthy chocolate drink recipes. Not to worry, I've got you covered:
If cold drinks are hard for you during cold weather, I've done a roundup of 6 warms smoothie recipes to keep you warm and energized as the weather changes. Will you leave a comment letting me know your hot chocolate must-have toppings? I'd love to share them!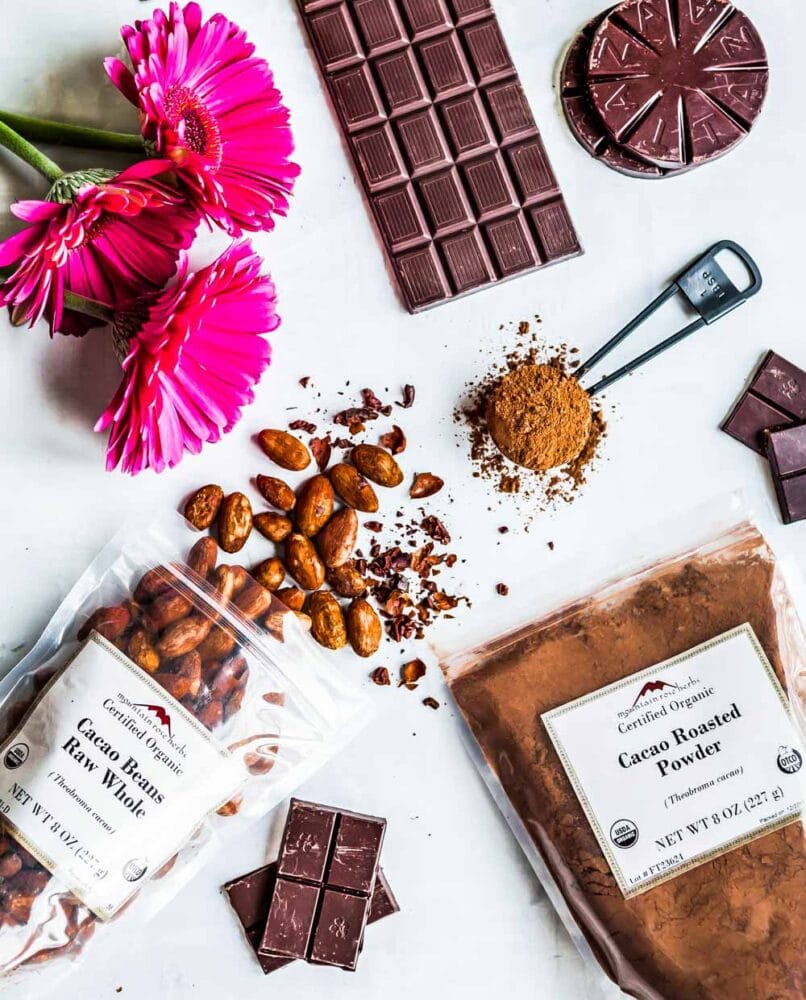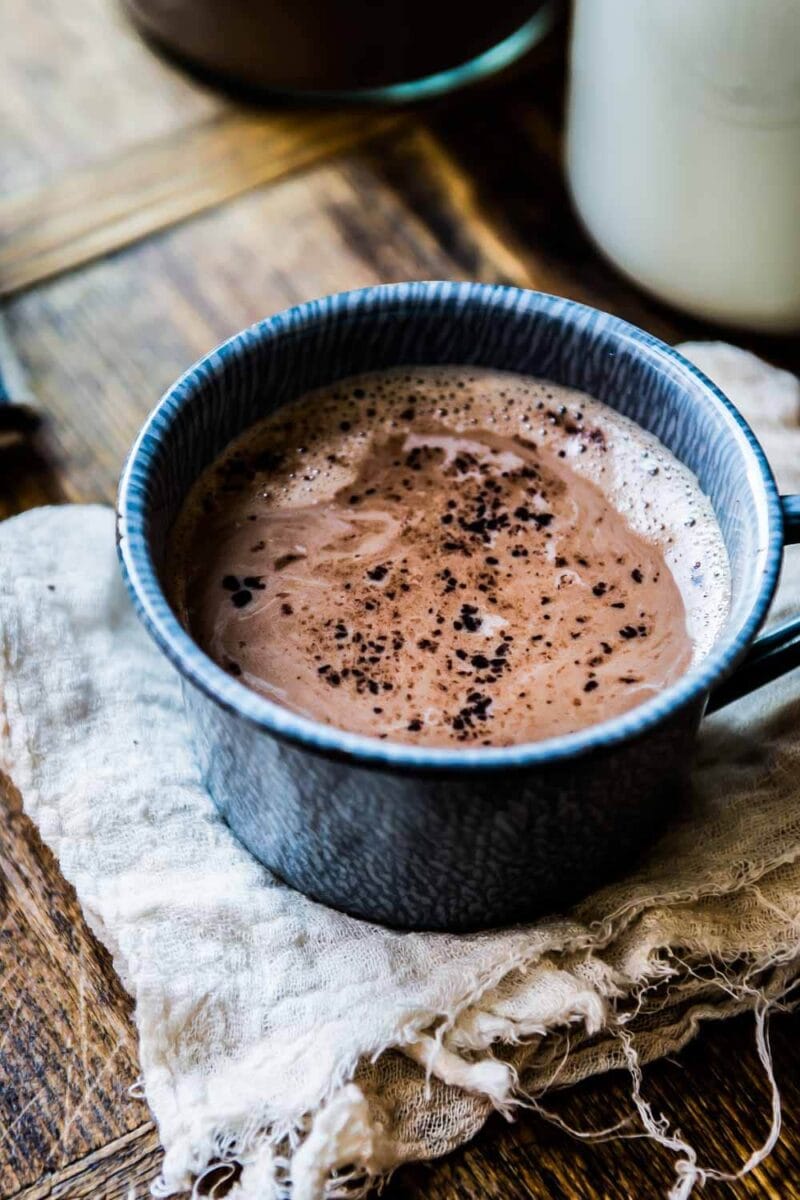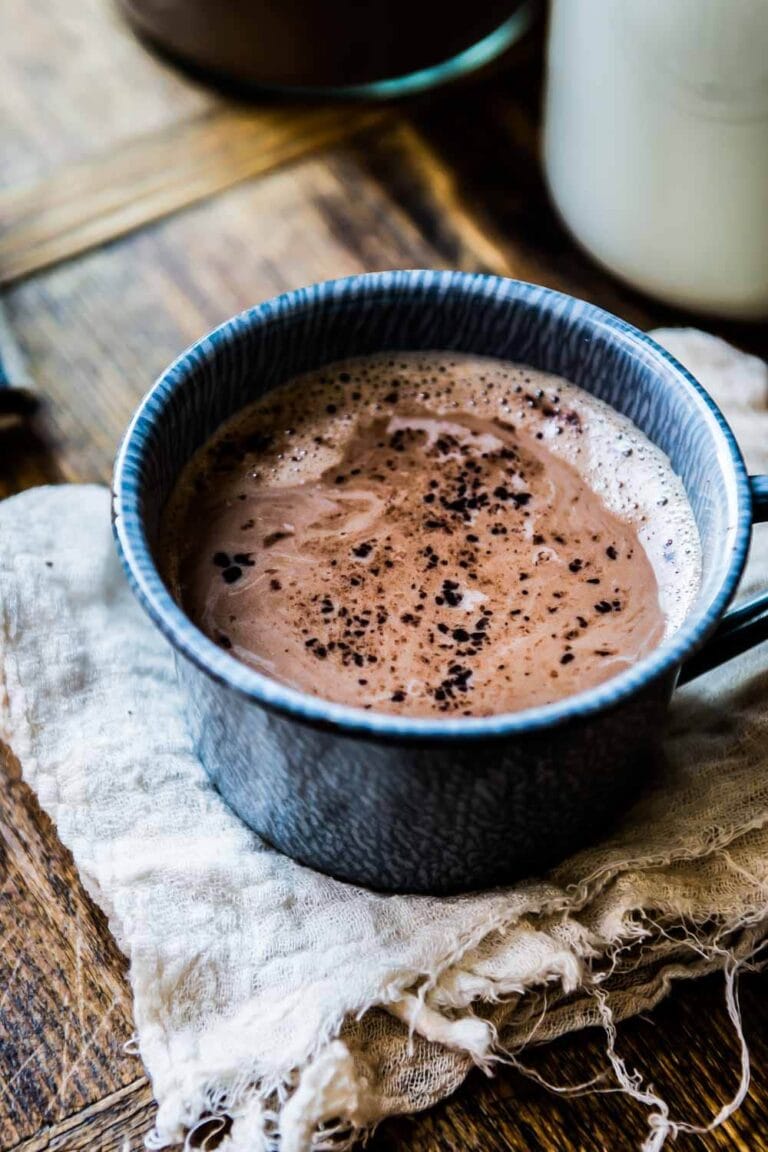 Homemade Hot Chocolate
Take a spin on the classic hot chocolate recipe and not even miss a beat with this homemade hot chocolate recipe. This one is even better tasting AND twice as good for you. Let's cheers to that!
Instructions
Place the hot "milk" and other ingredients in blender.

Puree until combined.

Serve this frothy chocolatey goodness immediately.
Notes
Use caution when blending hot liquids. Start on lowest speed and don't use boiling hot liquid. If using a high speed blender, cold milk can be added along with the other ingredients and blended on high (or soup function) to heat the hot chocolate. I also like to put a towel on top of the blender container when blending hot liquids.
This recipe can also be made in a pan on the stove. Heat the milk of choice in a small pan over medium heat, then whisk in the other ingredients.
Top with cacao nibs for a richer chocolate flavor, sprinkles, coconut whipped cream or marshmallows. 
Nutrition
Calories:
106
kcal
,
Carbohydrates:
18
g
,
Protein:
2
g
,
Fat:
4
g
,
Saturated Fat:
1
g
,
Polyunsaturated Fat:
2
g
,
Monounsaturated Fat:
2
g
,
Sodium:
328
mg
,
Potassium:
124
mg
,
Fiber:
2
g
,
Sugar:
13
g
,
Calcium:
328
mg
,
Iron:
1
mg