Create healthy homemade popsicles pop with super fun popsicle sleeves. I think they're perfect for busy days, birthday parties, post gym, work & school lunches, or team sports snacks. Our family uses them all the time and it's helped us stay healthy on busy days.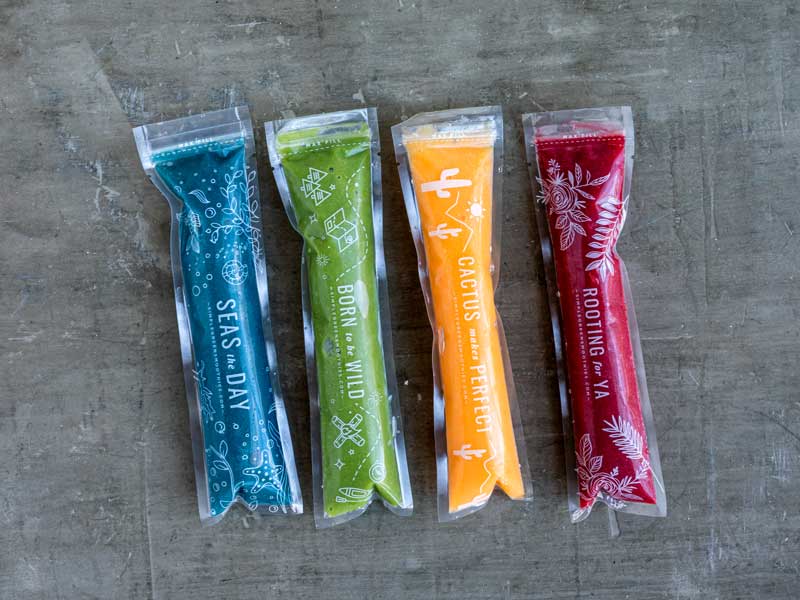 Last week on Instagram I shared the homemade popsicles we made as a fundraiser for my daughter's gymnastics program. I've never been a fan of the chocolate bar fundraisers, so I decided to create my own healthy fundraiser and see what happens.
Well, it was super simple to do and a lot of people from the SGS community were asking how to do it, so I put together a step-by-step tutorial here.
Table of Contents
How to make Homemade Popsicles
These rawkstar pops are made with healthy smoothie recipe. The only extra goods you'll need are a silicone funnel (or any funnel, really) and resealable bags in the shape of long skinny popsicles.
I created my own line of BPA-free popsicle sleeves for my kids and sell them here. I highly recommend them, but there are other versions out there on Amazon too. They remind me of OtterPops from when I was a kid (and that makes me happy).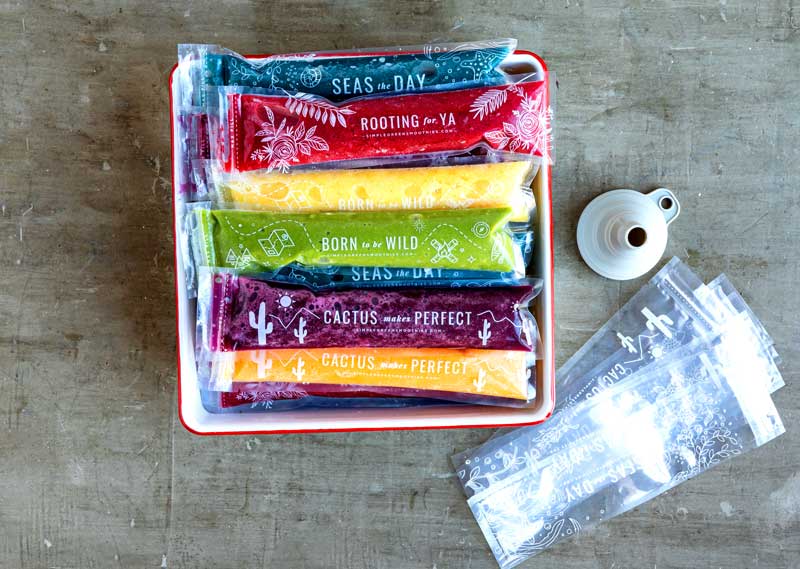 Pick a smoothie recipe
Choose your favorite smoothie recipe, and blend it like normal. I often use Best Green Smoothie since it's a community favorite and my personal go-to recipe. When I do green smoothies samples in schools, kids always love this recipe too. So it's a classic tried and true winner. Since these pops are going to aspiring gymnasts, I want to make sure I give them a winner.
Yet to get all the fun colors above, I have included those recipes below.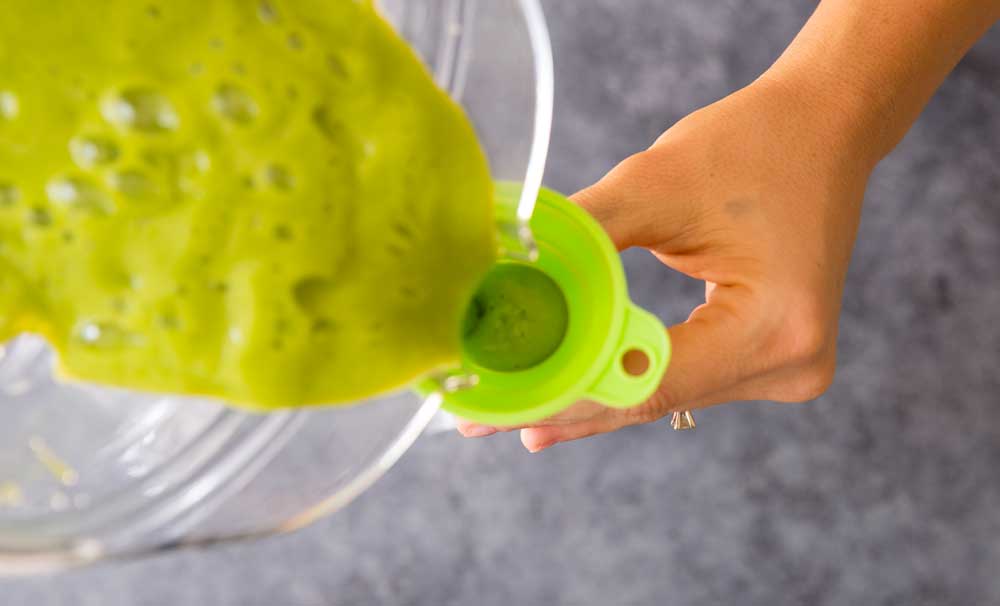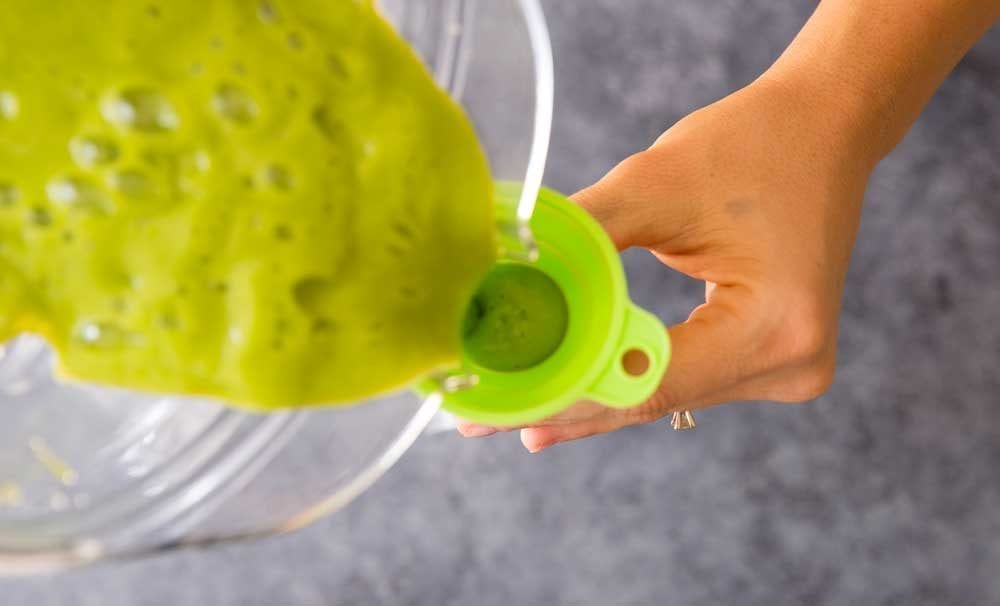 Fill the Homemade Popsicle Sleeve
I used a small funnel to help pour into the popsicle mold bags. You prob could pour directly from the blender, just focus on pouring slowly. If you pour too fast, there's a good chance that the bag will overflow and you'll have a mess on your hands (literally). Most of our recipes fill around 10 popsicle mold bags IF there are no casualties.
Freeze popsicles until solid
After the bags are filled, stick them in the freezer for an hour or two (or until frozen) and enjoy! Pack them in your kids lunches, eat them as a snack, take them on road trips… it's up to you. These rawkstar pops will take you back to your childhood!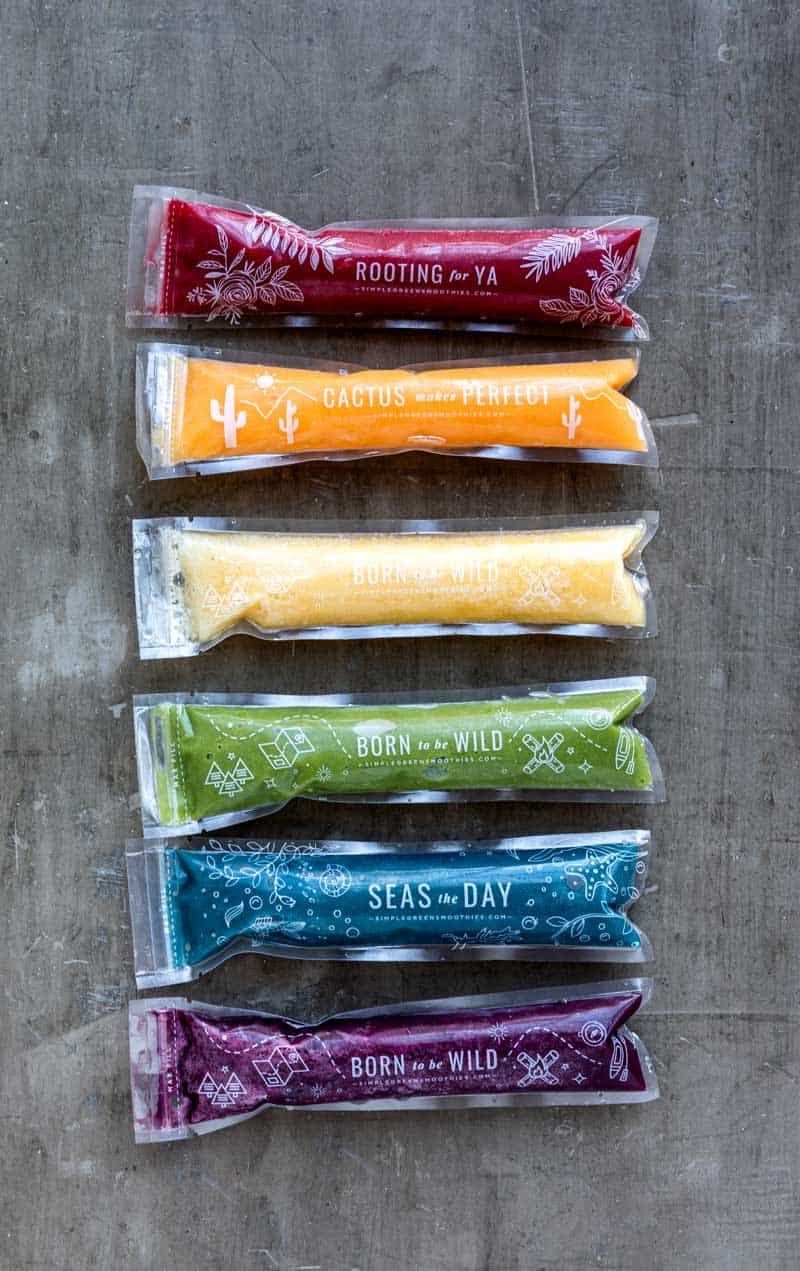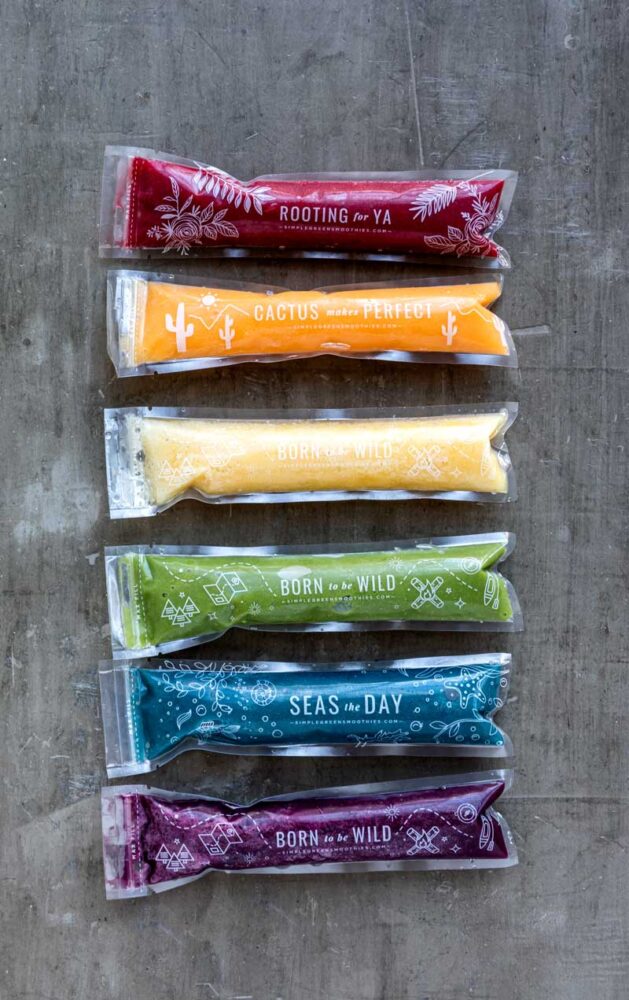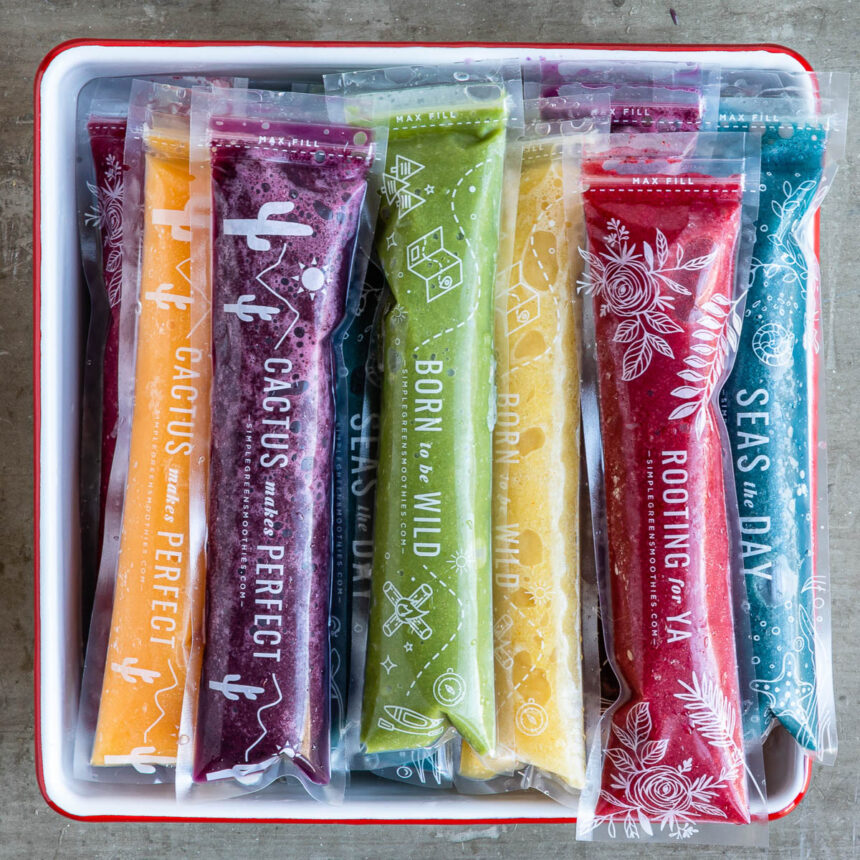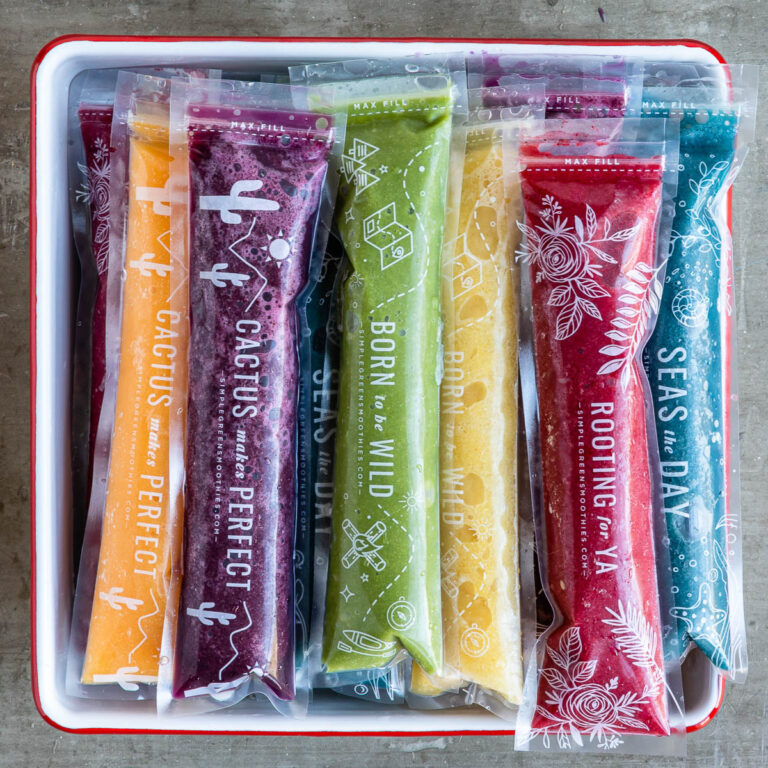 Healthy Homemade Popsicles
Making homemade popsicles can be easy, healthy and convenient. These recipes all use plant-based natural ingredients to nourish your body. Pick which colors you'd like to make from the recipe below. 
Ingredients
Yellow Popsicles
1

orange

peeled

2

cups

mango

peeled, core removed

½

cup

pineapple

sliced into chunks

½

cup

water
Red Popsicles
1

cup

cherries

pitted

1

cup

strawberries

1

banana

peeled

1

cup

pomegranate juice
Green Popsicles
1

cup

spinach

fresh

½

cup

pineapple

sliced into chunks

½

cup

mango

peeled, core removed

1

banana

peeled

1

cup

water
Instructions
Pick the color you want to make first. Then blend all ingredients listed under that color together until smooth.

Fill popsicle sleeves using a small funnel.

Freeze the molds flat for at least 4 hours. Enjoy!
Notes
The nutrition facts are for the Green Popsicles. 

Yellow Popsicles: 30 calories, 8 carbs, .4g protein, .2g fat, 7g sugar
Red Popsicles: 37 cals, 9 carbs, .4g protein, .2g fat, 7g sugar
Blue Popsicles: 39 cals, 9 carbs, 1g protein, .5g fat, 6g sugar

If making more than 1 color, rinse the blender well between blends to ensure the colors don't mix. 
You can use frozen ingredients for these yet no need! You'll freeze them inside the molds anyway. 
For the Red Popsicles: swap the pomegranate juice for red grape juice or cranberry juice. Look for 100% juice with no additives.
For the Green Popsicles: swap the spinach with the leafy greens of your choice.
For the Blue Popsicles: swap peaches for the stone fruit of your choice or for mango.
Nutrition
Calories:
20
kcal
,
Carbohydrates:
5
g
,
Protein:
0.3
g
,
Fat:
0.1
g
,
Saturated Fat:
0.02
g
,
Polyunsaturated Fat:
0.02
g
,
Monounsaturated Fat:
0.02
g
,
Sodium:
4
mg
,
Potassium:
82
mg
,
Fiber:
1
g
,
Sugar:
3
g
,
Vitamin A:
383
IU
,
Vitamin C:
9
mg
,
Calcium:
6
mg
,
Iron:
0.1
mg
Have you made homemade popsicles?
What ingredients do you use to make a healthy snack for your family? Here are a few more of my fav popsicle recipes: