How to Make a Smoothie
If you have questions about smoothies, you've come to the right place. Follow this guide to learn how to make a smoothie that's creamy, tasty and filling every single time. We'll cover the best blenders for smoothies, go-to ingredients to blend, tips to prep and even walk you through the perfect smoothie formula.
Drinking a daily smoothie is the best habit to transform your health. I went from exhausted to energized in days just by drinking a daily smoothie. You can learn more about my story on our About Me page. Now, let's dive into how to make a smoothie that's tasty, easy and healthy.
Not all smoothies are created equal. Some are packed with sugars, dairy and artificial ingredients that taste like candy (and do more harm than good). Others are blended with so many strange superfoods you have to gag them down. Around here, you don't have to worry about either of those extremes.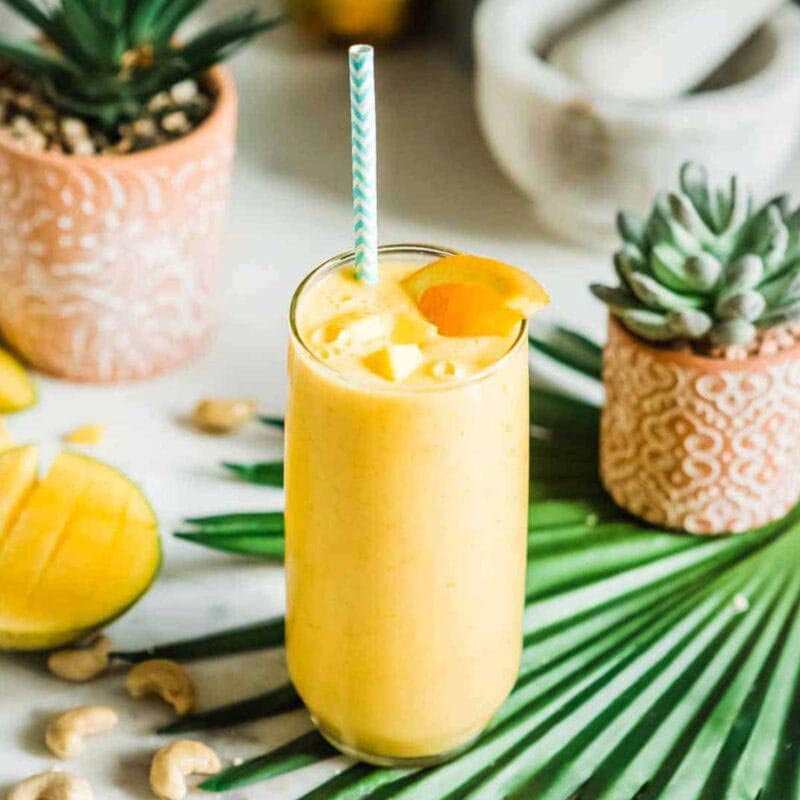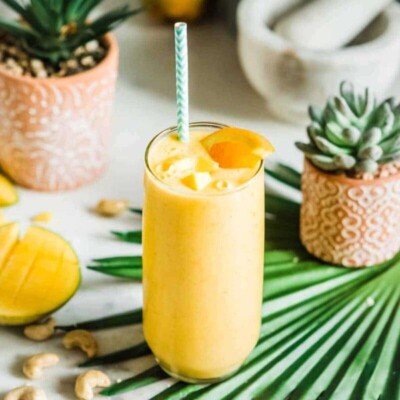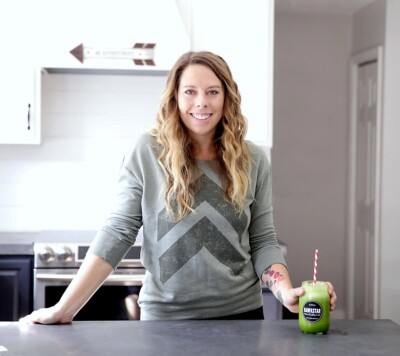 What Should I Put in a Smoothie?
Making a tasty and healthy smoothie isn't rocket science (yet it can feel like it at first!). This is exactly why I created this simple formula to help you make your own smoothie recipe. As you blend more often, feel free to customize the formula. If you're craving super healthy smoothies, add more leafy greens to your recipe. Smoothie too sweet? Decrease the amount of fruit you put in them. Maybe you prefer your smoothies thinner? Just add more liquid.
---
Best Fruits to blend in a Smoothie
We suggest using 1 1/2 cups of fruit per serving of smoothie. This can be a combination of any of the fruits below depending on what you have available seasonally and also based on your lifestyle. If you're super active, go for the higher sugar fruits like pineapple and bananas. If you're more sedentary or diabetic, go for the lower sugar fruits like green apples, berries and lemons. You can use fresh and frozen fruit in any smoothie recipe.
Apples contain a powerful antioxidant called quercetin, whose main role in the body is to deliver more oxygen to the lungs. When you get more oxygen to your lungs, you have greater endurance. This makes it so much easier to get through that hour-long spin class!
Avocados are a great natural sweetener, plus they are packed with potassium and make a smoothie super creamy. When a smoothie is just a little "off", toss in a banana and it'll usually perk it right up. This Avocado Smoothie uses frozen avocado, which is getting easy to find in most grocery stores lately (and is often more affordable).
Bananas are a great natural sweetener, plus they are packed with potassium and make a smoothie super creamy. When a smoothie is just a little "off", toss in a banana and it'll usually perk it right up. Bananas contain good carbohydrates, which the body quickly and easily converts into energy after a workout. By eating a banana after a workout, you help your body recover quickly and rebuild muscle faster. Plus, you can freeze bananas to have them on hand for smoothies all the time.
Blueberries are a great way to boost the antioxidant content and add additional fiber without adding much sugar.
Cherries are easy to find frozen and pack a lot of flavor without a lot of sugar. Try pairing cherries with cacao or strawberries to create a lovely taste.
Lemon + Lime go a long way in a smoothie. Squeeze some juice on top or blend the whole thing depending how much vitamin C you want to enjoy.
Mango is one of my go-to frozen fruits to use in smoothies. It saves tons of time when you buy frozen and also chills down your smoothie.
Oranges have a lot of vitamin C and potassium, which are really important nutrients to replenish after a workout. They also are packed with hydration, allowing you to use less liquid and still create the perfect blend.
Peaches are high in beta-carotene (just like carrots!) and vitamin C, making them one of the most awesome free-radical fighters in the produce section. Peach power all the way! So what does this really mean for you? Well, vitamin C is essential for the production of healthy collagen, which keeps your skin smooth and youthful.
Pineapple is loaded with antioxidants that help you recover from your workout quicker and build muscles faster. Add in the bonus of bromelain, an enzyme that helps keep injury inflammation in check, and you can see why we use pineapple often!
Strawberries are a low-sugar fruit that I love to add to smoothies. I use frozen strawberries since they chill the smoothie and aren't harsh on the blender blades. If you're curious about how to make a smoothie with strawberries, check out this Strawberry Banana Smoothie.
Are Fruit Smoothies Good for You?
Fruit gets a bad rap because of its sugar content, known as fructose. The sad thing is, Americans don't consume enough fruits and veggies as it is. Yes, we want you to be mindful of what you put in your body (especially if you're monitoring your blood sugar levels), yet the nutrients and fiber in fruit is wonderful! FIber act's as your body's internal broom by sweeping out the gunk in your gut, which is vital for keeping your body in tip-top shape.
Types of Smoothies
Enjoy the hundreds of smoothie recipes we have on our blog from watermelon smoothies to strawberry banana smoothies. We've got the top smoothie recipes that nourish your body and taste good too.
Leafy Greens for Smoothies
Add 1 cup of leafy greens per serving of smoothie to boost the fiber, phytonutrients and minerals your body needs when trying to get healthier. To measure one cup of spinach, just grab a handful from the bag or bin and consider it a cup. Start with less if you're intimidated by the "green", yet I promise you'll eventually be adding more because the results are worth it.
Bok choy
Cabbage
Celery
Herbs
Kale
Microgreens
Romaine
Spinach
Swiss chard
Watercress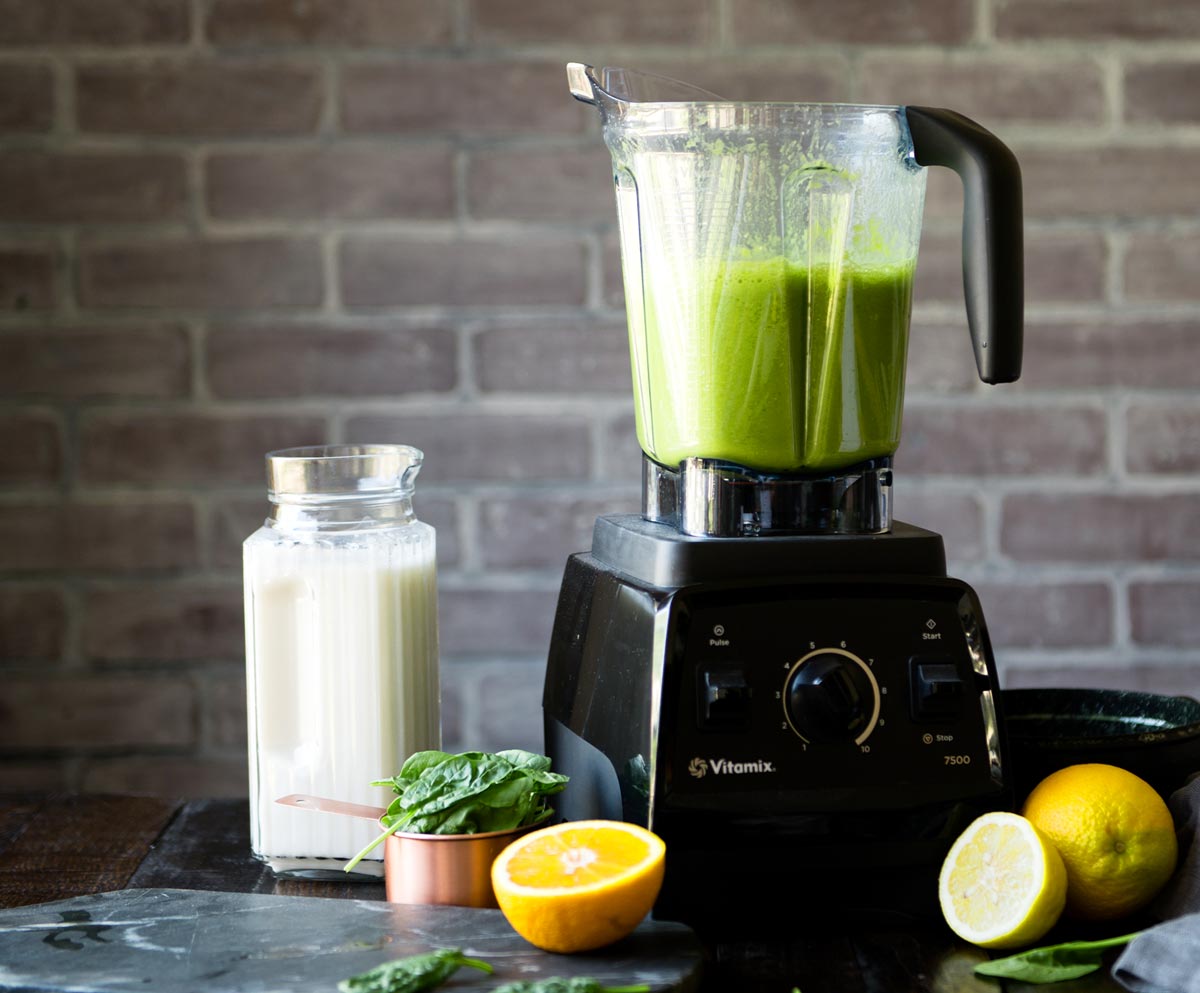 Smoothie shopping
Top Blenders for Smoothies
Upgrade your blender with our top 10 recommend blenders for smoothie lovers including Vitamix, Breville and Ninja.
Liquid Base for Smoothies
Add 1 cup of any of the liquid bases below to hydrate your body and create a creamy smoothie. The type of liquid used in a smoothie can change the consistency, flavor and nutrients by a lot. Liquids like water, green tea, and coconut water tend to blend thinner smoothies, while liquids like almond milk, hemp milk, coconut milk, oat milk, and rice milk create creamier smoothies.
Water is great at hydrating the body, has zero calories and doesn't alter the taste of a smoothie.
Almond Milk is one of the most popular non-dairy alternatives on the market. It's affordable, has a mild taste and is widely available in most grocery stores.
Coconut Water is loaded with electrolytes and is terrific for replenishing electrolytes lost during your workout. It can be a strange taste, so if you're new to coconut water, try doing half coconut water and half regular water in your next smoothie, then increase your ratio as you fall in love.
Oat Milk is super creamy and has a naturally sweet taste. It goes well with berries and bananas and is commonly fortified with vitamins and minerals.
Chilled Tea, like green tea, is great for a natural energy boost as well as a fat-burning ingredient. Try herbal teas to soothe the stomach and calm the body.
Non-Dairy Milk is growing in popularity for those on a dairy-free diet. Aside from the two mentioned above, you can also use hemp milk, macadamia nut milk, and coconut milk as a wonderful smoothie base.
What About Using Juice in Smoothies?
We suggest avoiding fruit juice (ex: orange juice or apple juice) as a smoothie base. These are high in sugar and low in nutrients. We suggest blending a whole apple or orange to get the same flavor, yet with additional fiber and nutrients found in whole fruit.
Smoothie Add-Ins
You can boost any smoothie with add-ins like the ones below to meet your needs. I like to use smoothies as meal replacements, and often use a scoop of my homemade protein powder to turn any smoothie recipe into a healthy meal on the go.
Almond butter
Chia seeds
Flax seeds
Ginger root
Granola
Peanut butter
Raw honey
Rolled oats
Spices (cinnamon, cayenne, ginger)
Plain yogurt (non-dairy or greek yogurt)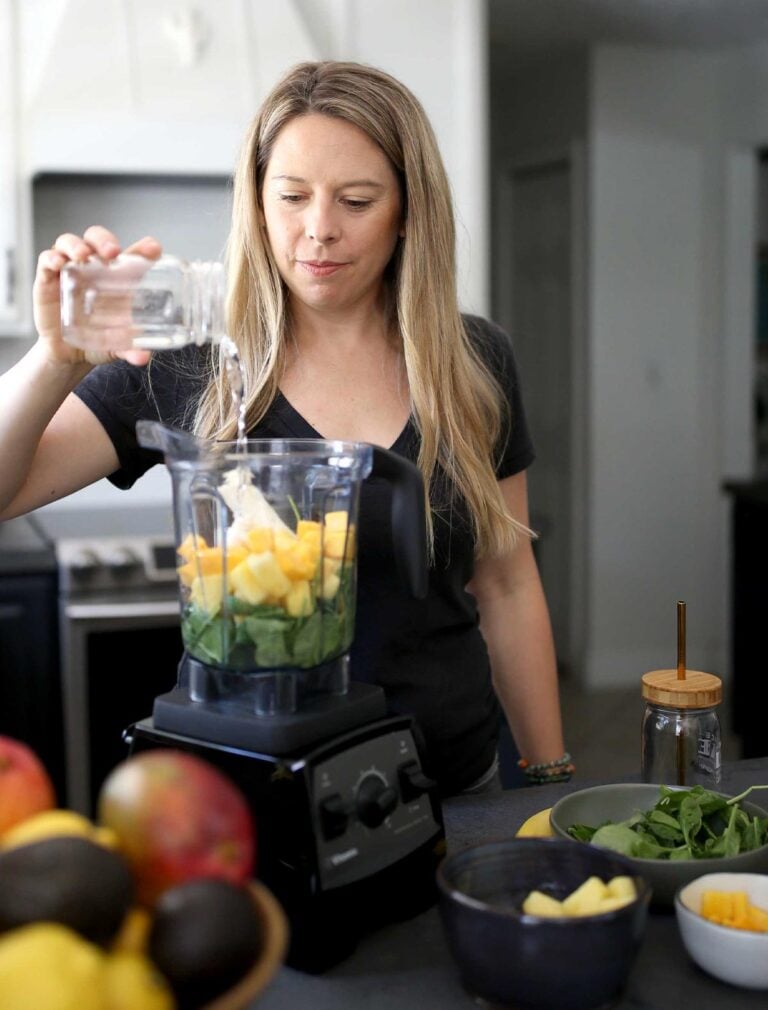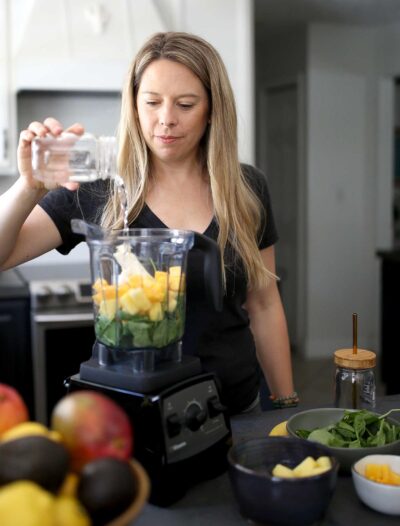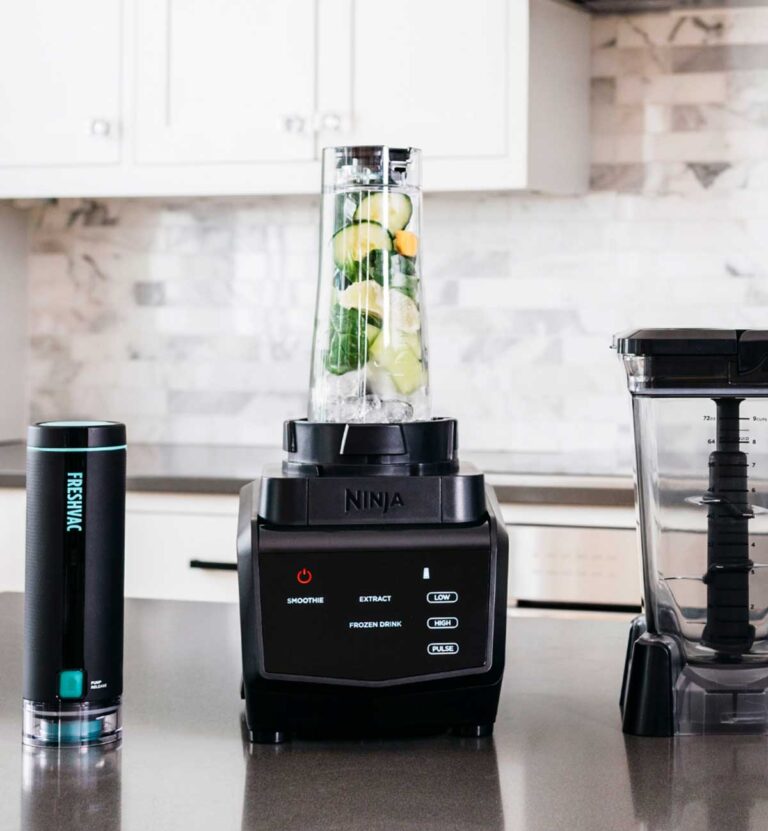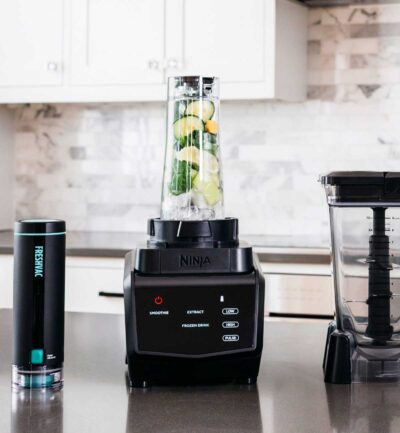 How to Blend a Smoothie
With over a decade of blending at least one smoothie a day, we've determined how to make a smoothie that's amazing every time. It all depends on the order in which you place your ingredients in the blender affects your overall blend. Every blender is a little different, but the steps we share below are a great plan for most standard blenders.
---
Tightly pack any leafy greens in a measuring cup and then toss into a blender.
Pour liquid on top of the leafy greens to help create more space in the blender.
Blend together until all leafy chunks are gone. If using citrus fruit, add to blender now.
Add fresh fruit, frozen fruit and any veggies. (Cut into 1-inch pieces or smaller if using a blender under 300 watts). If using dry ingredients, like superfoods, protein powder, add to the blender as well. Blend on medium-low for 10 seconds and increase to high speed for about 30 seconds. If it's not creating a vortex, add additional 1⁄4 cup of liquid to pull the ingredients toward the blade.
Pour into a glass and enjoy a homemade smoothie!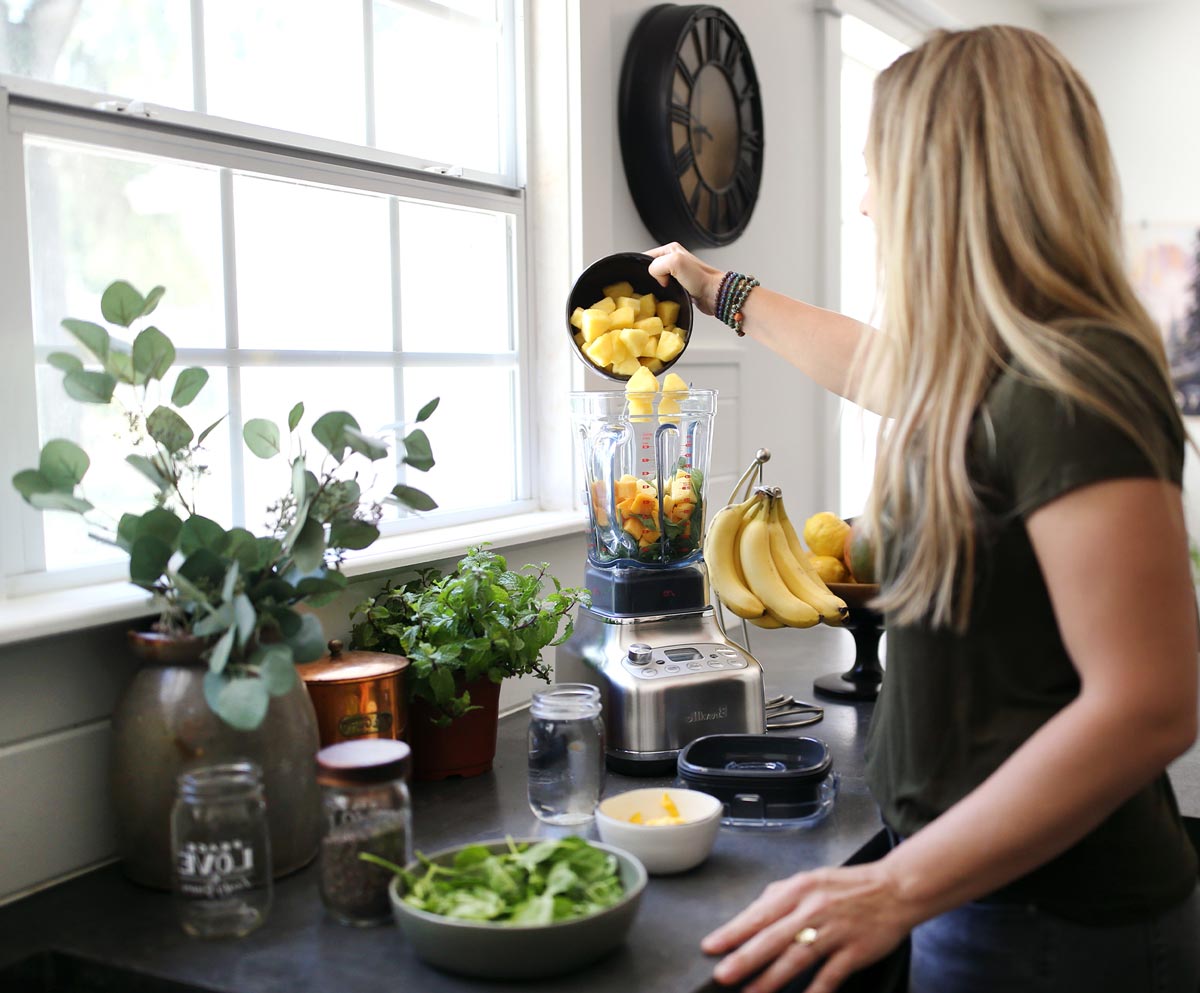 Smoothie Blending Demo
Join me as I make my favorite smoothie recipe of all time and walk you through my go-to technique.
Are smoothies healthy for you?
When you drink a daily smoothie, you're giving your body permission to transform naturally and happily. This is not a short-term program or a diet where you're counting down the days until it's over. There's no endgame with smoothies, just a starting point to a life of health and wellness. Ready to enjoy these awesome health benefits?
---
Strengthened Immune system
Blending fruits and veggies that are high in vitamins A and C boosts the immune system, which is your body's natural defense system against infections and viruses.
Regular bowel movements
The fiber found in smoothies acts as an internal broom to help digested food inside your body "move along." Over time, regular bowel movements can help with bloating, acne, and weight loss.
Weight loss
Smoothies are loaded with nutrients and packed with fiber, which all aid in weight loss. Plus, fiber and healthy fats keep you full and energized, making working out even more doable. Oftentimes, our smoothie challenge rawkstars to lose weight without even trying.
Glowing skin
A diet high in leafy greens means you are loading up on chlorophyll, which helps purge toxins from the inside out, replenishes cells, and restores the skin quickly. Get your glow on with healthy, happy skin when you toss in a handful of spinach or kale to your smoothie.
Sharper clarity and focus
The combination of high-fiber plants gives you steady, stable, consistent energy. Say adios to brain fog and hello to quick wit and focus!
Foods to Avoid in Smoothies
Not all smoothies are created equal. Some are packed with sugars, dairy and artificial ingredients that do more harm than good. When making (or buying) a smoothie, we suggest you avoid a few items to get you the best long-term results.
We're intentional about avoiding the ingredients below in our recipes because we know many people are highly sensitive to them and they can trigger allergies and upset tummies. You may not even know you have a sensitivity to any of these foods until you remove them from your diet. If you're wondering if this could be you, I suggest trying a 7-Day Cleanse which has an elimination phase to help you determine food sensitivities.
Refined sugar is extracted from sugar cane or sugar beet in a process that leaves you with a nutritionally-void sweetener. It's acidic and leaches nutrients from our bodies, is highly addictive and can contribute to mood problems, weight gain and tooth decay. It also leads to spikes in our blood sugar, giving us false "highs," followed by crashes in energy that leave us more tired than we were to begin with. If you need something to sweeten your smoothie, opt for natural sweeteners.
Dairy is highly acidic and can be quite difficult to digest. It can also contribute to excess mucus formation in the body. Replace dairy with unsweetened almond milk, rice milk, oat milk or any other nut or seed milk.
Additives (gums, natural flavors, zero-calorie sweeteners) often contain damaging chemicals and artificial substances that wreak havoc on the gut. Artificial sweeteners can suck nutrients from our bones, our cells and our entire system due to their acidity. They also place a huge burden on our liver and kidneys (which are responsible for breaking down chemicals), making it harder for our bodies to function properly.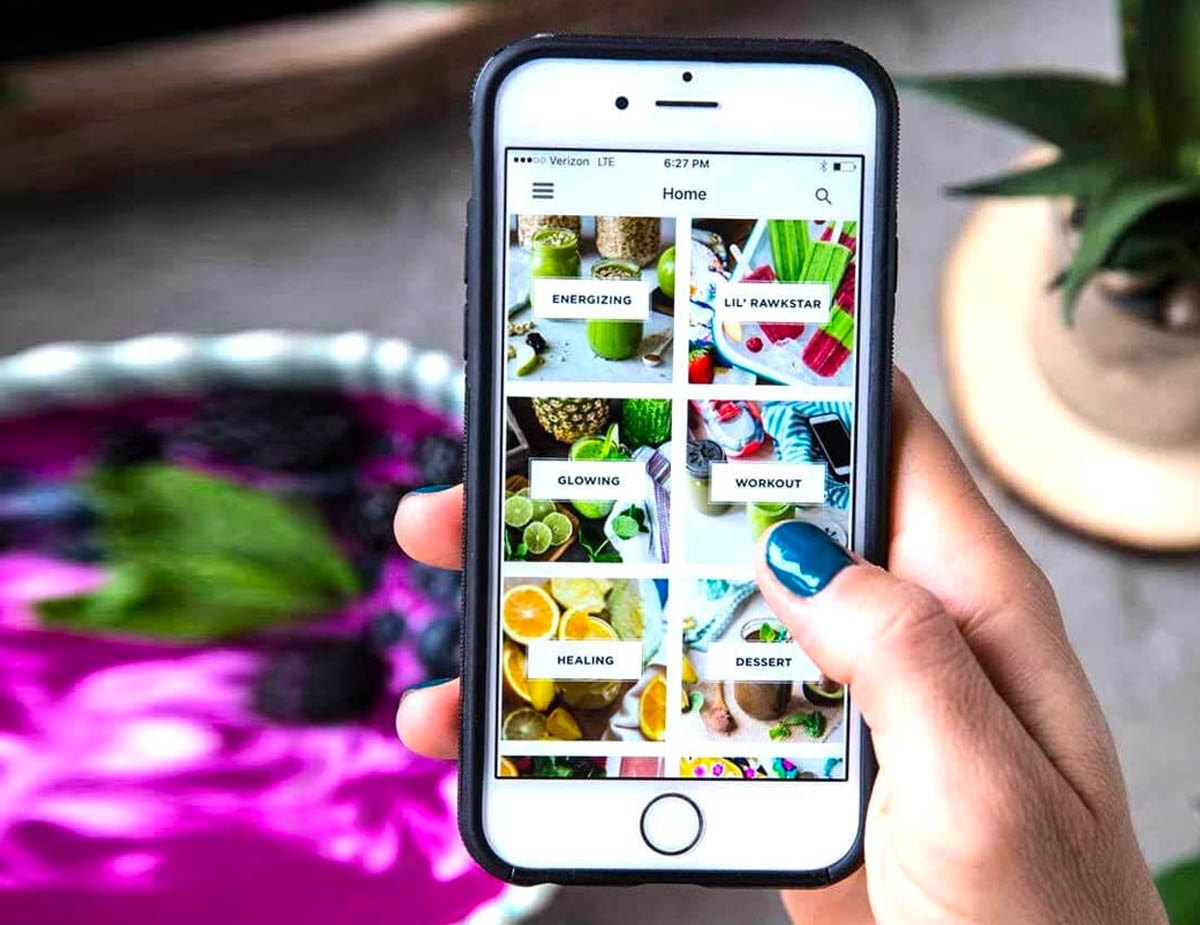 DAILY BLENDS
Smoothie Recipe App
Never run out of smoothie ideas with 200+ recipes packed into our best-selling app.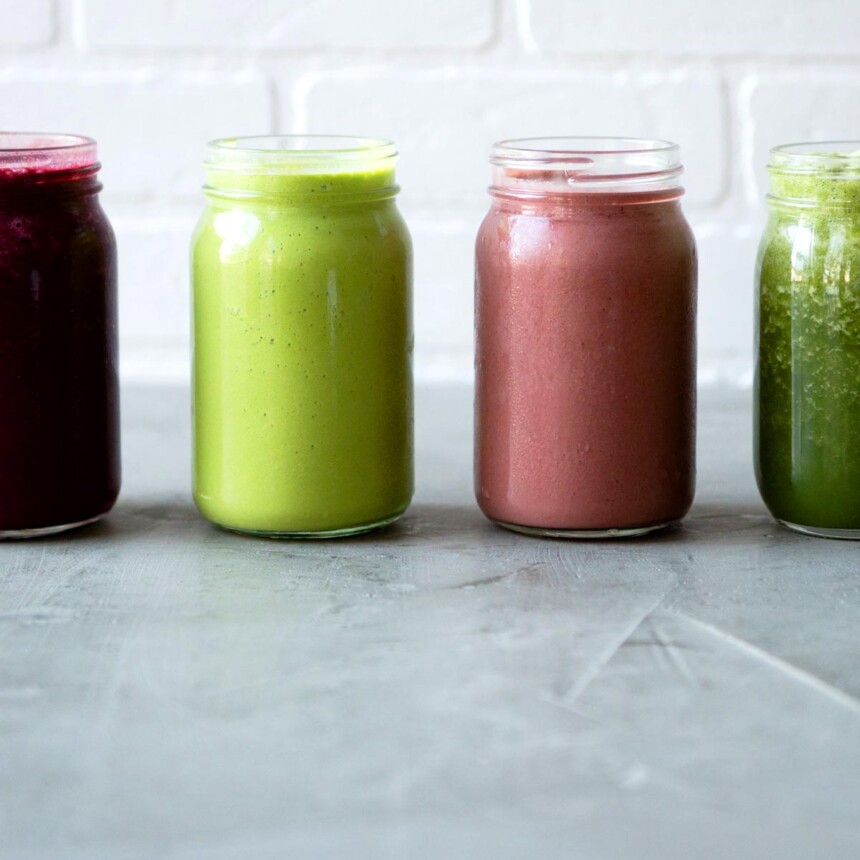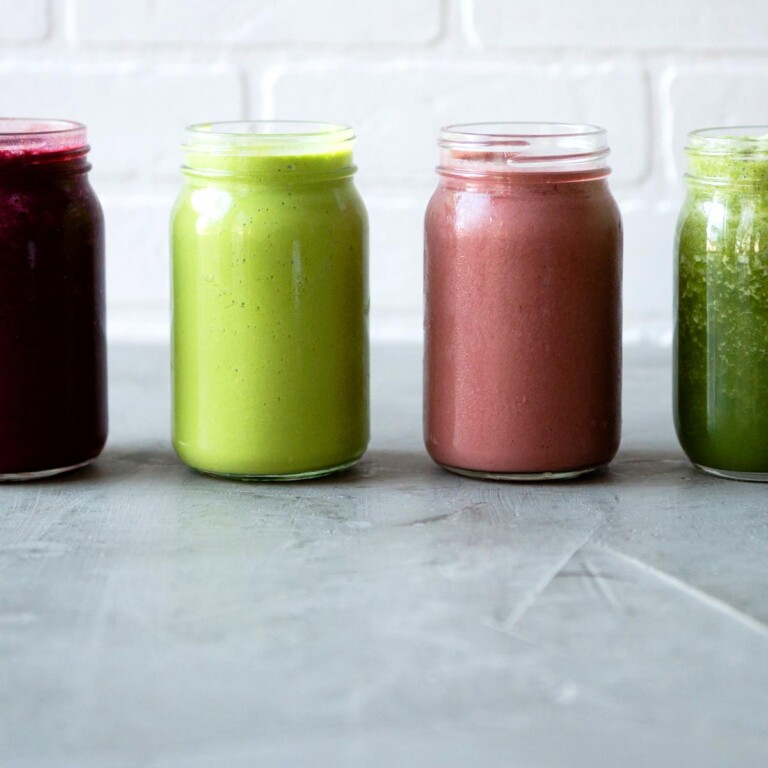 How to Make a Smoothie
Follow this recipe tutorial to learn how to make incredible smoothies at home every single time.
Ingredients
1.5

cups

fruit

banana, frozen pineapple

1

cup

leafy greens

spinach, baby kale, etc

1

cup

liquid

water, nut milk, etc

2

tbsp

superfoods

chia, hemp, flax, etc
Instructions
Toss leafy greens and liquid into blender.

Blend on high speed until all leafy chunks are gone.

Add fruit and superfoods and blend on medium-low for 10 seconds and increase to high speed for about 30 seconds.
Notes
If blender isn't creating a vortex when blending on high, add additional 1⁄4 cup of liquid to pull the ingredients toward the blade.
Nutrition
Calories:
326
kcal
,
Carbohydrates:
63
g
,
Protein:
6
g
,
Fat:
8
g
,
Saturated Fat:
1
g
,
Polyunsaturated Fat:
6
g
,
Monounsaturated Fat:
1
g
,
Trans Fat:
0.03
g
,
Sodium:
44
mg
,
Potassium:
483
mg
,
Fiber:
14
g
,
Sugar:
40
g
,
Vitamin A:
1541
IU
,
Vitamin C:
17
mg
,
Calcium:
182
mg
,
Iron:
3
mg