I LOVE how many options there are for dairy-free milk today. The most popular substitutes are soy and almond, which not everyone can have! So I'm showing you how to make hemp milk. It's a nut-free option that's incredibly creamy and nutritious!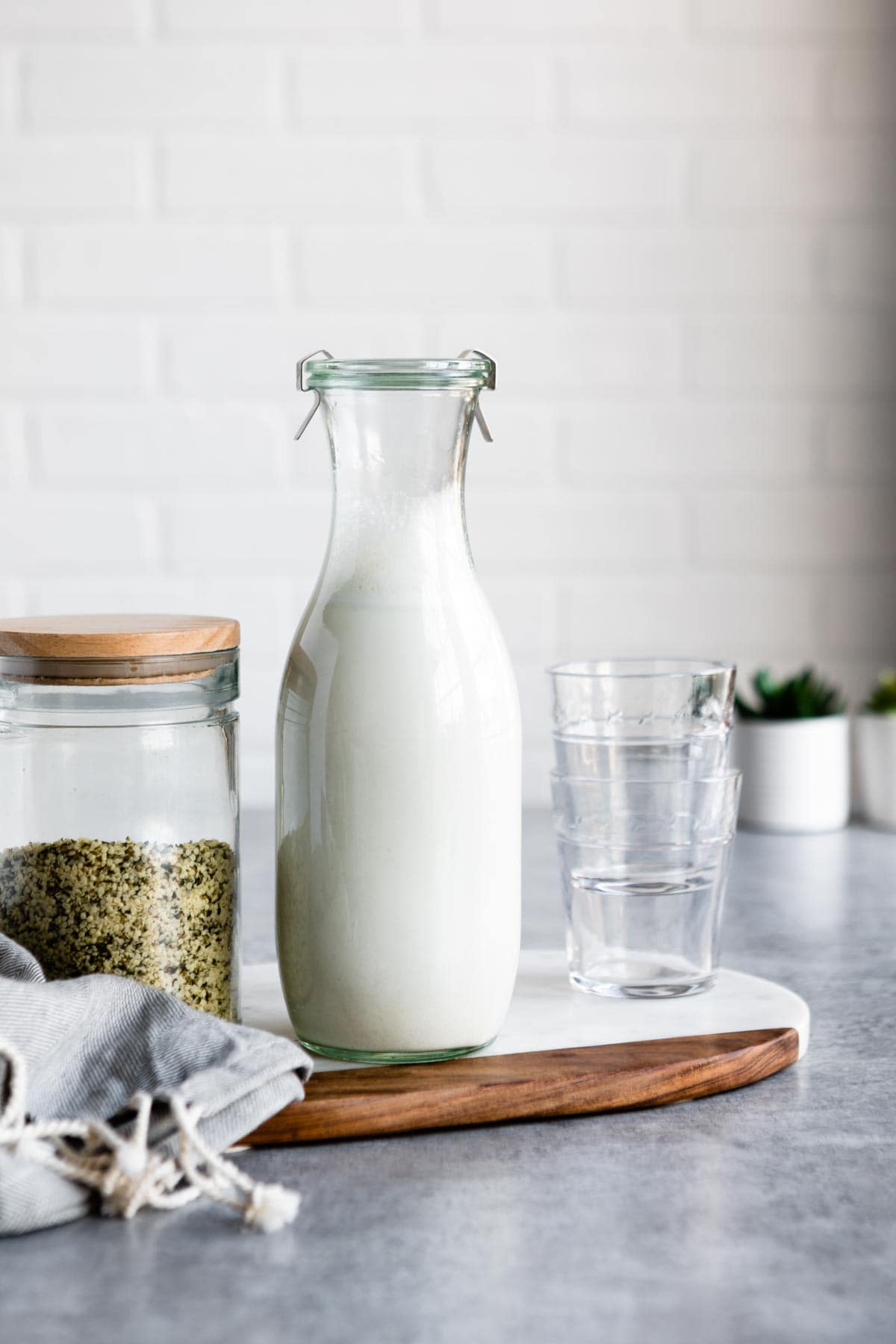 This easy recipe is a great one for those that want a plant-based option yet can't have nuts. It's super creamy, simple ingredients and quite delicious.
Table of Contents
Nut-Free Milk Options
While oat milk, soy and rice milk are the big nut-free milk in stores, did you know that you can make 'milk' out of seeds? Flaxseed, hemp hearts, sesame, pumpkin seeds… the list is endless of seeds that can be turned into milk.
Once you learn how to make hemp milk, you can apply the same process to just about any seed you want to try. I want to know your results! Different kinds of milk act differently in recipes, so don't be afraid to experiment until your smoothies and baked goods are just how you want them.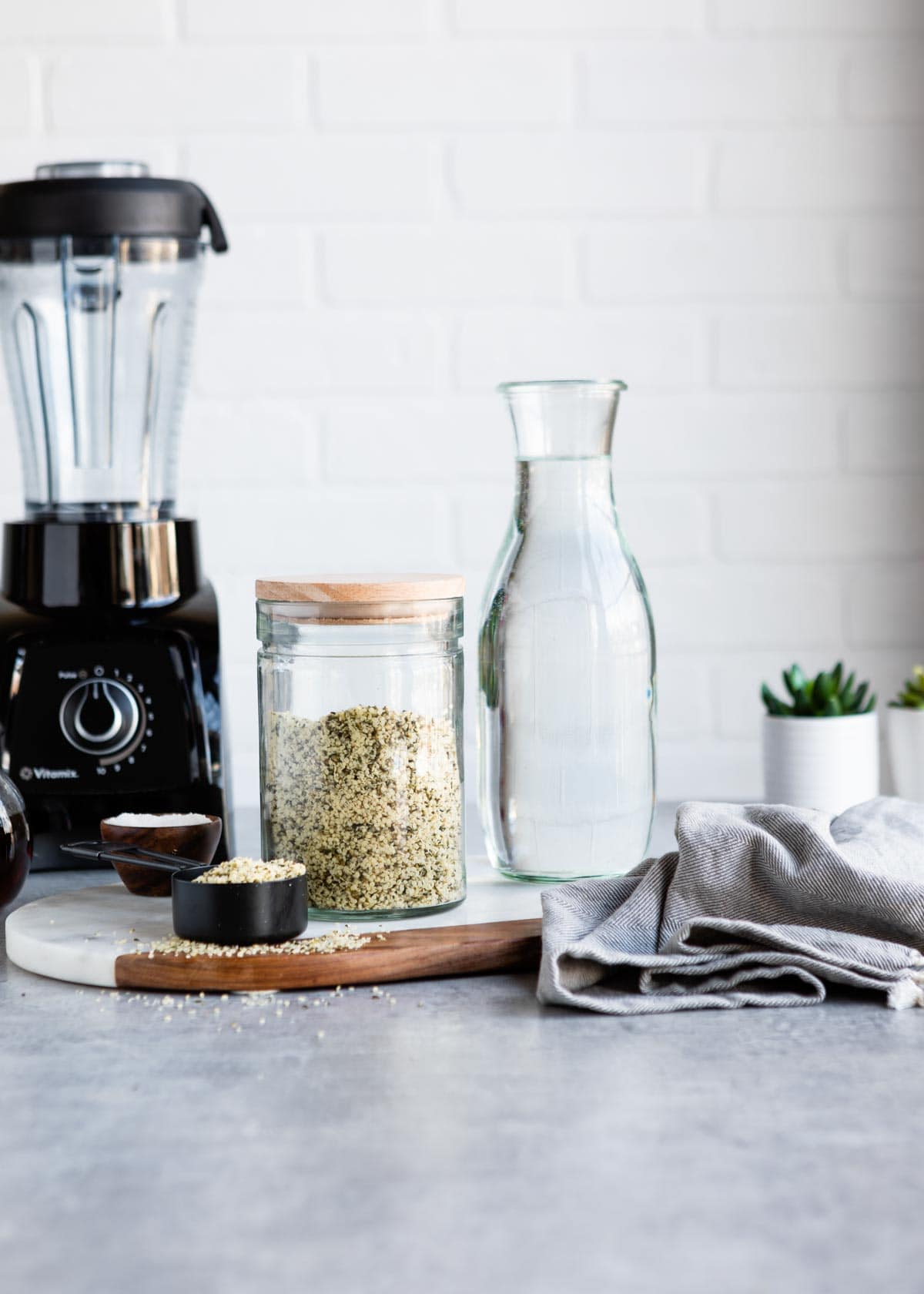 How to Make Hemp Milk
Unlike homemade almond milk, there's no need to soak hemp hearts before you blend them. So you can measure your 1 cup of hemp hearts and 3 cups of water straight into that blender.

Blend on high speed for about 2 minutes or until the seeds are completely liquified. This may take longer depending on how high powered your blender is. I know some blenders have a milk function, so you can try that out too!

Strain the blender contents through a nut milk bag or cheesecloth into a glass bowl.
Squeeze the pulp until you get all the liquid out. You just worked hard for that milk, get all that you can!
Tada! You've got gorgeous, creamy milk that you can now use for smoothies, baking, cooking, drinking and more.
Supplies Needed
To successfully make this recipe you need a few items you might not already have on hand. They should be easy to find though, so don't turn away just yet!
Blender– You don't need a high-powered blender, though it will make this easier! Check out my guide on the best blenders for your budget.
Cheesecloth– Any time you make plant-based milk, you need a way to strain it. Whether you use a nut milk bag, a clean tea towel or cheesecloth, you want a way to remove the pulp from your gorgeous new milk.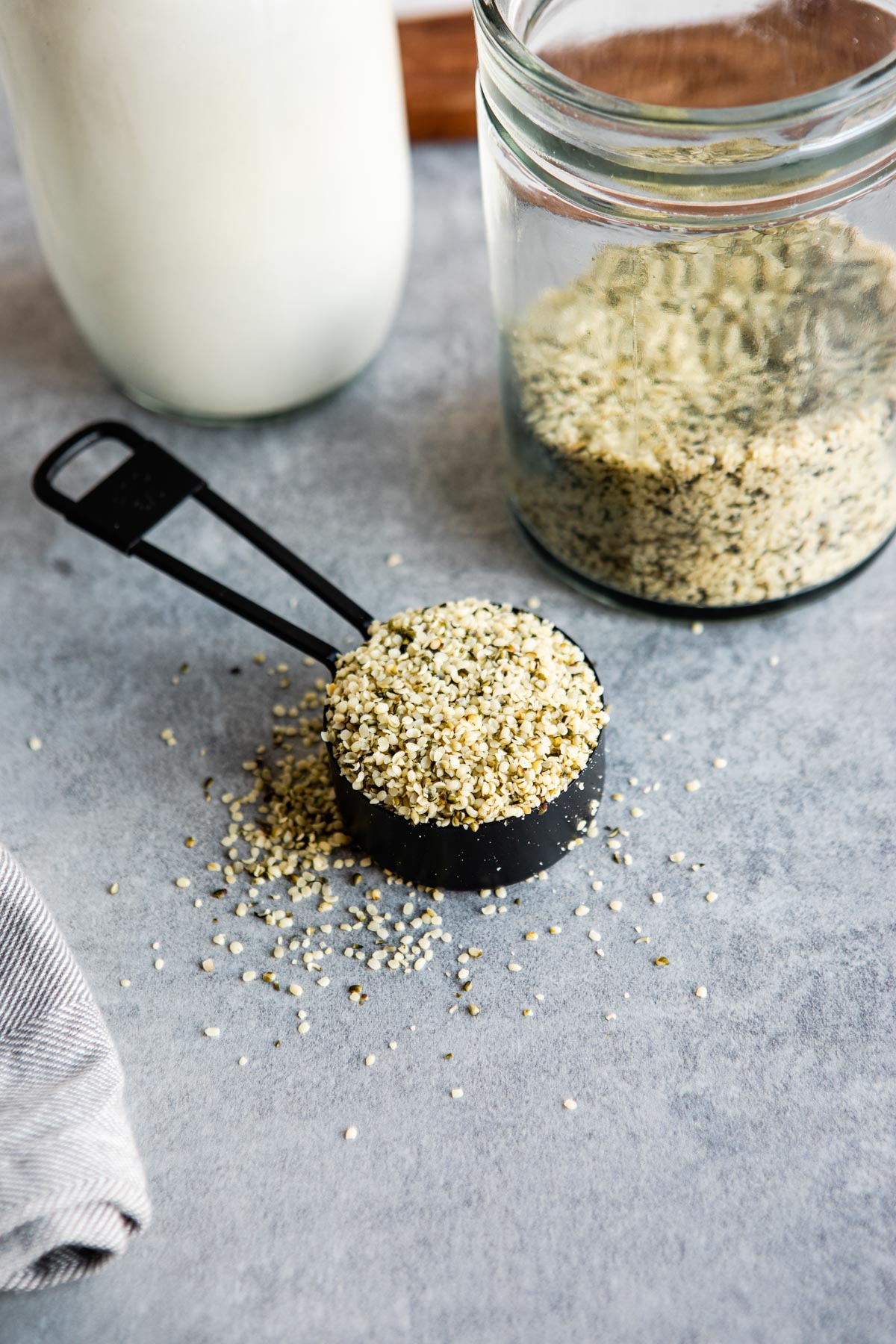 Benefits of Hemp Milk
One major benefit of hemp milk is it is a worthy alternative for those with nut allergies. More than that, hemp seeds contain healthy fat and protein. It contains more protein than almond or rice milk.
1 cup of this superfood milk contains 4.7 grams of protein and over 7 grams of healthy fat. Def use it in your next chocolate protein shake or vanilla protein shake!
Hemp Milk FAQs
Is hemp milk good for you?
Yes! Hemp seeds are full of healthy fat and protein. It's a great nut-free option for those needing plant-based milk without nuts. If you make your own hemp milk, it will be free of any weird fillers and gums often found in store-bought milk.
Does hemp milk contain CBD?
No! Hemp milk is made from hemp seeds, which do not contain CBD or THC. So no weird effects from incorporating this into your routine, just great superfood benefits!
What does hemp milk taste like?
This is a super creamy, nutty option. Hemp hearts are seeds, not nuts, yet this milk gives off a nutty flavor.
More Plant-Based Milk Recipes
Once I learned how to make dairy-free milk at home, I stopped buying it from the store. And now I've got several plant based milk recipes to share with you!
Dairy-Free Smoothies
If you're looking for some smoothie recipes to make with your fresh batch of homemade hemp milk, then check out this list:
Smoothies are great because you really can use whatever's on hand. So no matter the milk listed, just swap it for hemp and enjoy! I can't wait to hear how this recipe turned out for you. Would you please rate + review it so I can get your feedback? Thank you!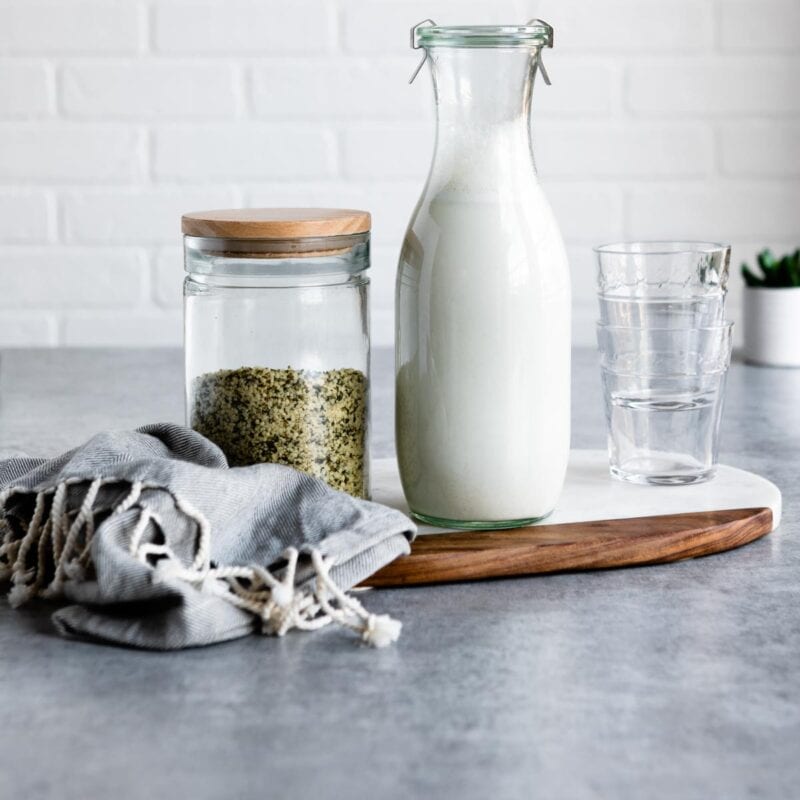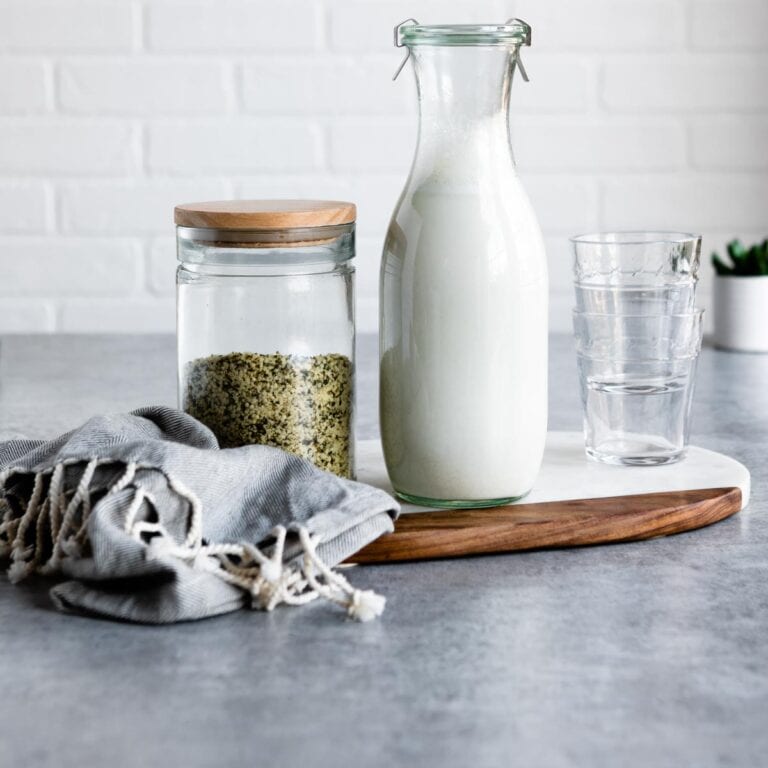 How to Make Hemp Milk
This recipe is two ingredients and a super simple way to make your own hemp milk. Apply this method to sesame milk, flaxseed milk, pumpkin seed milk and more!
Equipment
cheesecloth (or nut milk bag)
Instructions
Place hemp hearts and water into a high speed blender container. Blend 2 minutes or until completely liquified.

Pour blender contents through a cheesecloth or nut milk bag into a large glass bowl. Squeeze the cheesecloth until you get all the liquid out.

Transfer your newly made hemp milk into pitcher with a sealing lid. Discard the pulp from the cheesecloth.
Notes
Fresh hemp milk should last 4-5 days in the refrigerator. It will separate while sitting, so be sure to shake it up before using. 
You can replace milk in almost any recipe with hemp milk, so don't be afraid to try it in smoothies, baking and more. 
This recipe yields about 4 cups of milk. 
I like to freeze the hemp pulp in an ice cube tray to add to smoothies for an extra boost.
Nutrition
Calories:
60
kcal
,
Protein:
3
g
,
Fat:
5
g
,
Polyunsaturated Fat:
4
g
,
Monounsaturated Fat:
1
g
,
Sodium:
119
mg
,
Potassium:
100
mg
,
Calcium:
265
mg
,
Iron:
2
mg