Once I learned how to make almond milk, I was hooked on what other dairy-free milks I could make in my own kitchen. So let's learn how to make oat milk with this super simple oat milk recipe and enjoy the rich creaminess of yet another dairy-free recipe!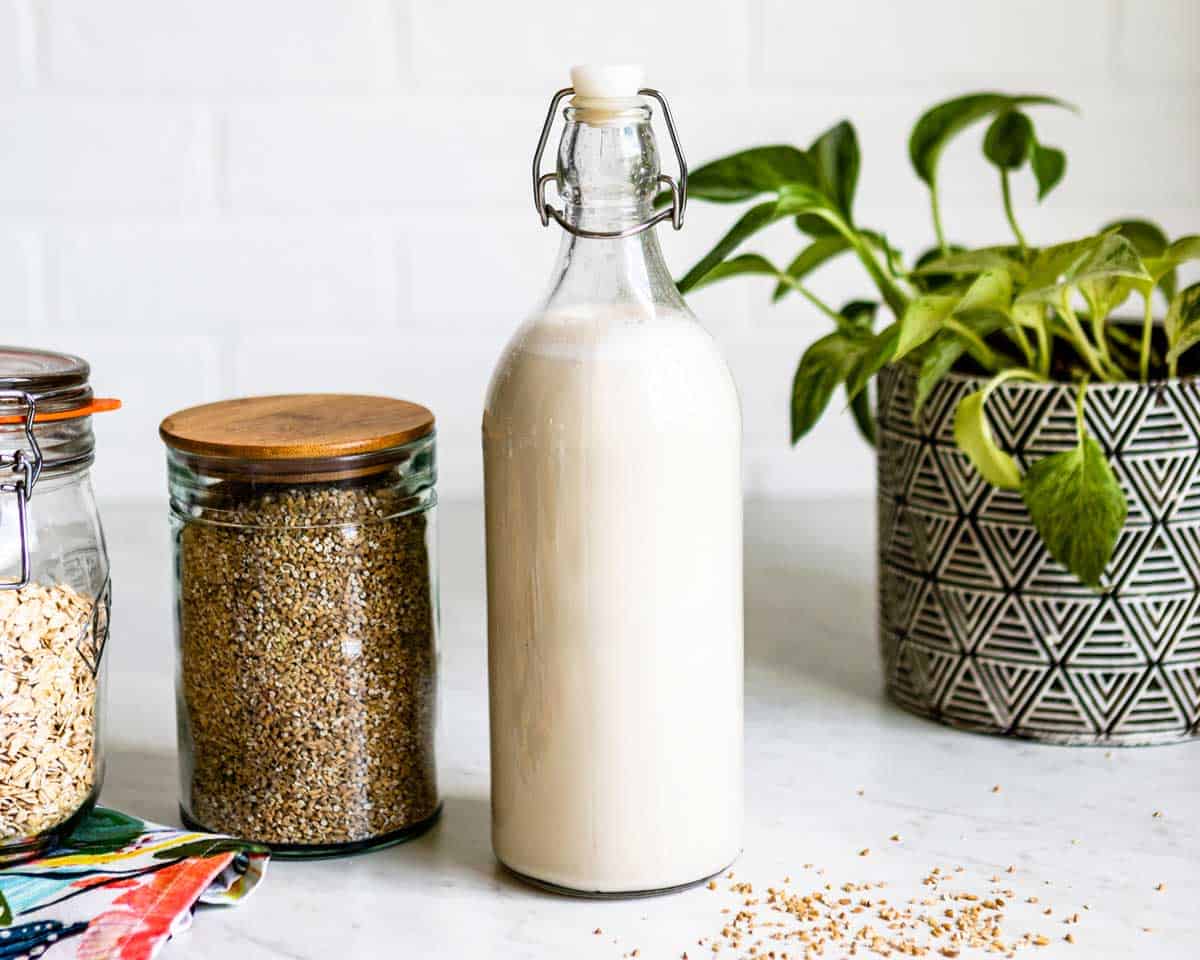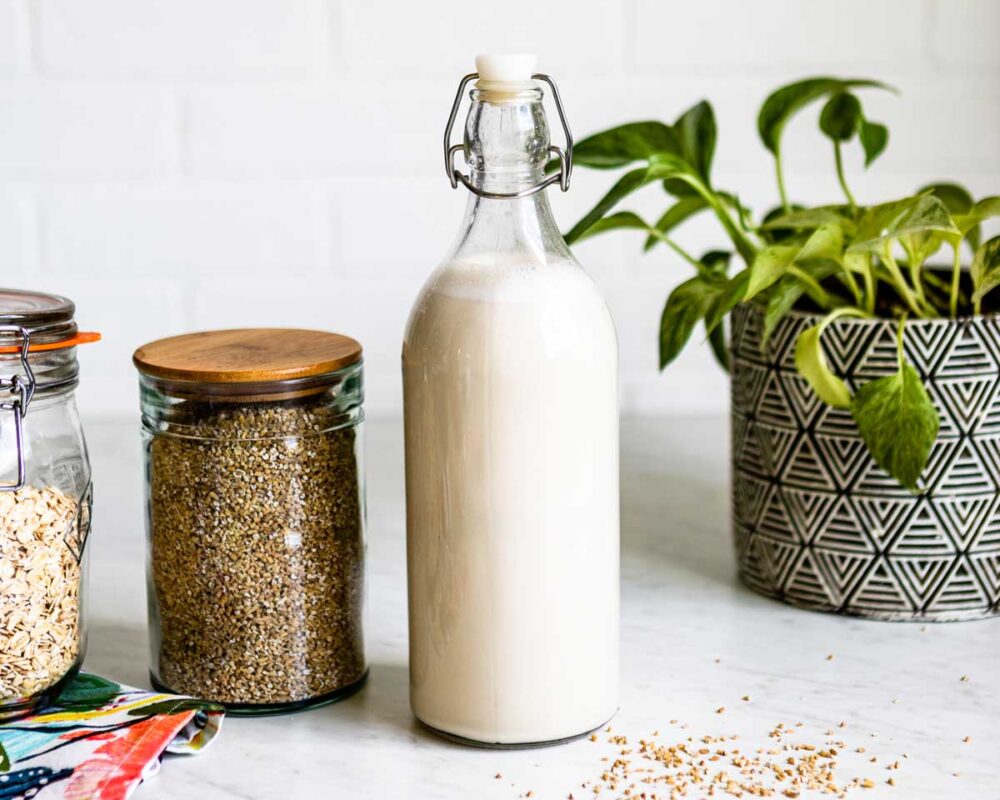 Table of Contents
What is Oat Milk?
What is oat milk, you ask? In fact, it's literally 'milked oats.' Oats soaked in water, then blended and squeezed through cheesecloth. Commercially sold, this milk often contains fillers and gums, yet a plant-based recipe can be achieved without these extras.
Many people like this alternative plant-based milk because it is gluten, nut and dairy-free. This provides an option for those suffering from many common allergies. Not all brands are certified gluten-free, so make sure to look for this label when purchasing.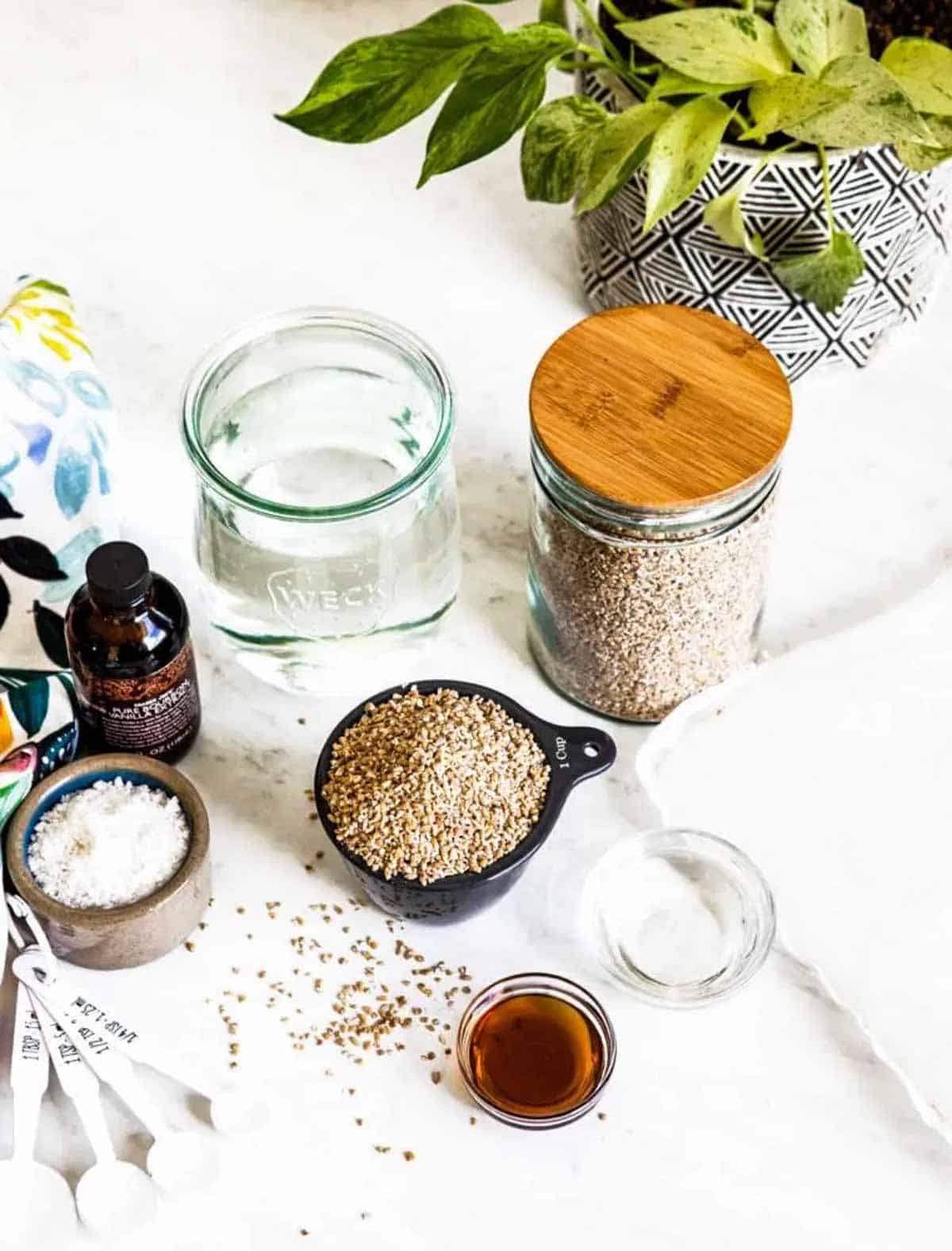 It's Simple, Plant-Based Milk
This time I'm sharing a clean + simple recipe. Grocery stores are becoming inundated with plant-based milk options, yet this doesn't equal clean. It can be frustrating to read label after label in search of a whole food option, so I decided to create my own. This recipe is super simple, and is definitely less expensive than anything I've found at the store. Plus, it tastes great!
Which Oats Are Best?
Rolled, quick cook, gluten free, steel cut…Which one is the best for milking? You can really use any oats you have on hand. However, in my opinion, rolled oats are best for making this plant-based beverages. Steel cut oats (like the ones pictured here) are often too raw and can lead to a result that's less creamy.
If you use quick cook oats, then that will take you in the opposite direction, as they are much more processed and can lead to a thinner, slimier beverage. And who wants a slimy drink?! Rolled oats (whether traditional or gluten free) seem to be the happy medium here to create the perfect creamy non-moo juice.
Benefits from Homemade Milk
While this porridge grain turned beverage doesn't quite pack the nutritious punch that whole oats do, there are still many benefits from sipping this cold, creamy drink. These include:
Lower cholesterol levels: A study conducted by the US National Library of Medicine showed this result through the regular consumption of oat milk for 5 weeks.
Fiber boost: 1 cup of my recipe below contains 3.3 grams of fiber, 13.2% of the recommended daily intake. Use this as a base for a green smoothie, and your gut will be thanking you for helping to keep it regular.
Promotes heart health: The soluble fiber in this easy blender based recipe is also excellent (and necessary) to keep hearts healthy
Reduced greenhouse gas emissions: not only does oat milk promote human health, it also promotes environmental health. It takes hundreds fewer square miles to produce than dairy milk, and uses 1/8th of the water consumption used in the production of almond milk.
Fortified with B vitamins: most commercially available milk is fortified (as are other dairy and non-dairy milk products). Oat milk specifically is loaded with B vitamins, which helps the body stay energized, and also promotes heart health.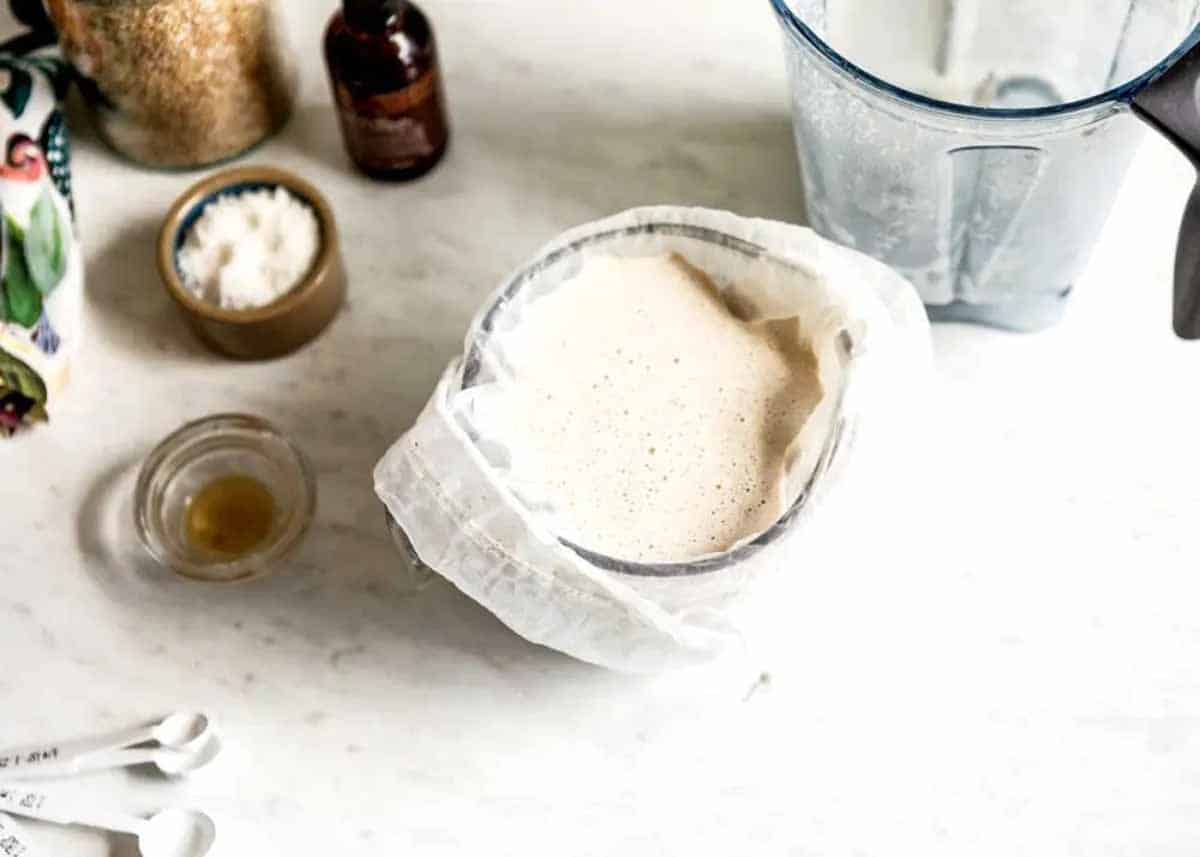 Ways to Use Plant-Based Beverages
Another reason I love blending my own like this is for the creaminess. I've noticed many coffee shops starting to use this beverage in specialty coffee drinks. This is due to its ability to foam and nicely thicken beverages. I've even created my own Cinnamon Dolce Latte recipe, which capitalizes on the cream factor.
Now that I know how to make my own milk, I like using the leftover pulp in the cheesecloth from this homemade recipe, as extra fiber in some homemade granola bars, a smoothie boost, or dried and added to vegan yogurt with berries. Zero waste and a whole host of extra health benefits!
I use it all the time when blending, cooking or baking recipes from my two cookbooks – Simple Green Smoothies and Simple Green Meals.
How to Make Oat MilkFAQs
Is it cheaper to make your own oat milk?
Good news! Yes! Making your own oat milk will save you a minimum of several dollars per week vs. store bought, depending on how much you use. Yet if you choose to buy your oat milk, then check out my master guide to the best oat milk brands.
How healthy is oat milk?
Oat milk is higher in fiber than traditional dairy milk. It also contains extra B vitamins. Both fiber and B vitamins help lower cholesterol levels and promote heart health.
Do you have to refrigerate oat milk?
Oat milk is considered perishable and should be refrigerated. If kept well sealed in your fridge, it can last up to 10 days.
What's better oat milk or almond milk?
The answer is both! If you're looking for additional B vitamins and are dealing with a nut allergy, then this oat milk recipe is for you. On the other hand, if you're looking to lose weight, then almond milk is lower in calories and fat. There's a right plant-based milk for everyone!
More Plant-Based Milk Recipes
Looking for other great + clean plant-based milk recipes? Check out some of our other great creations, or leave a comment below with your favorite homemade milk creation:
Don't forget to rate + review this recipe once you've made it. Your feedback is so helpful!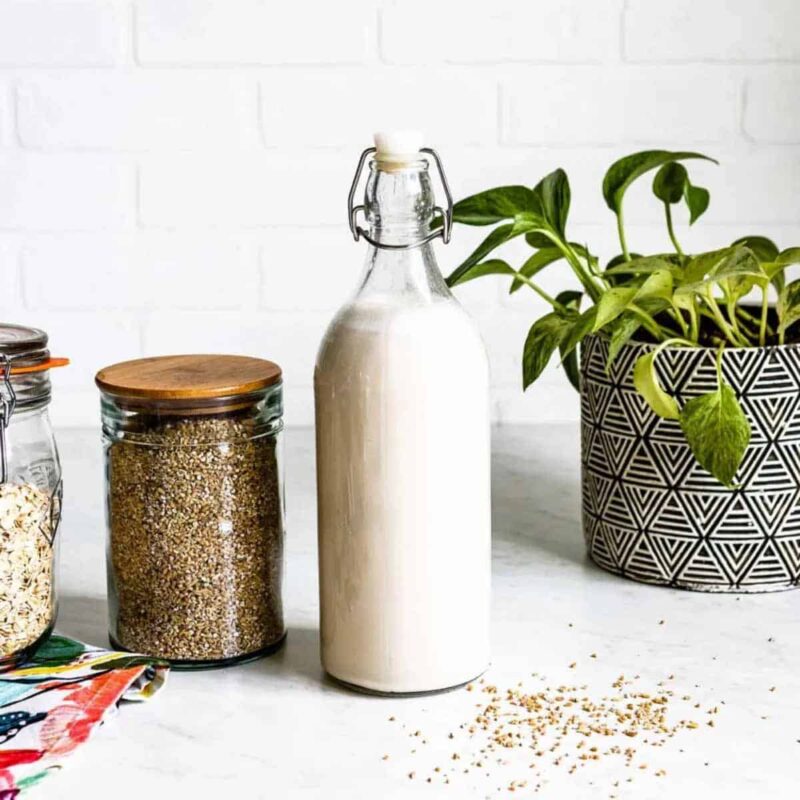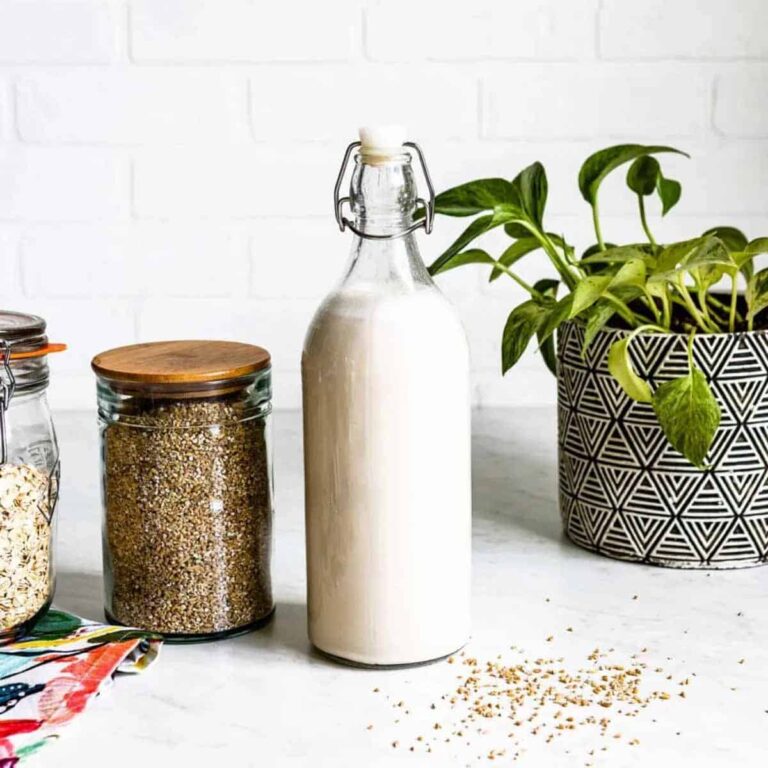 How to Make Oat Milk
This versatile oat milk recipe can be used in cooking, baking or with chocolate chip cookies. Deliciously creamy and free of gums and fillers.
Ingredients
1

cup

steel-cut oats

or whichever kind you prefer

3

cups

water

+ enough water to soak oats

1

tbsp

coconut oil

optional

2

tbsp

maple syrup

optional

½

tsp

vanilla extract

optional

Pinch

sea salt

optional
Instructions
Soak steel-cut oats in bowl of water (just enough water to completely cover the oats) for 20 minutes prior to blending. Drain excess water.

Place soaked oats and 3 cups water in high-speed blender.

Strain through a nut milk bag or cheesecloth into a wide glass bowl.

Discard pulp from bag or cheesecloth.

Rinse the blender and pour the milk back into the blender from the bowl.

Add the coconut oil, maple syrup, and vanilla (if using), and salt. Blend for 10 seconds.
Notes
Save pulp for using in smoothies, baked goods or overnight oats.
As an alternative to maple syrup, use fresh pitted dates to sweeten instead.
Alternate flavoring options include 2 Tbsps cacao powder for a chocolate option, or 1/2 cup berries for a berry flavored oat milk.
Nutrition
Calories:
170
kcal
,
Carbohydrates:
27
g
,
Protein:
5
g
,
Fat:
5
g
,
Saturated Fat:
3
g
,
Polyunsaturated Fat:
1
g
,
Monounsaturated Fat:
1
g
,
Sodium:
8
mg
,
Potassium:
19
mg
,
Fiber:
4
g
,
Sugar:
5
g
,
Calcium:
29
mg
,
Iron:
1
mg