Learning how to make vegetable stock at home sounds daunting. Yet I'm here to tell you that it's easy and eco-friendly! You can use what you already have on hand to make it, and it turns out slightly different every time. Let's talk about what vegetable stock is, as well as solve the question of vegetable stock vs broth (is there one?).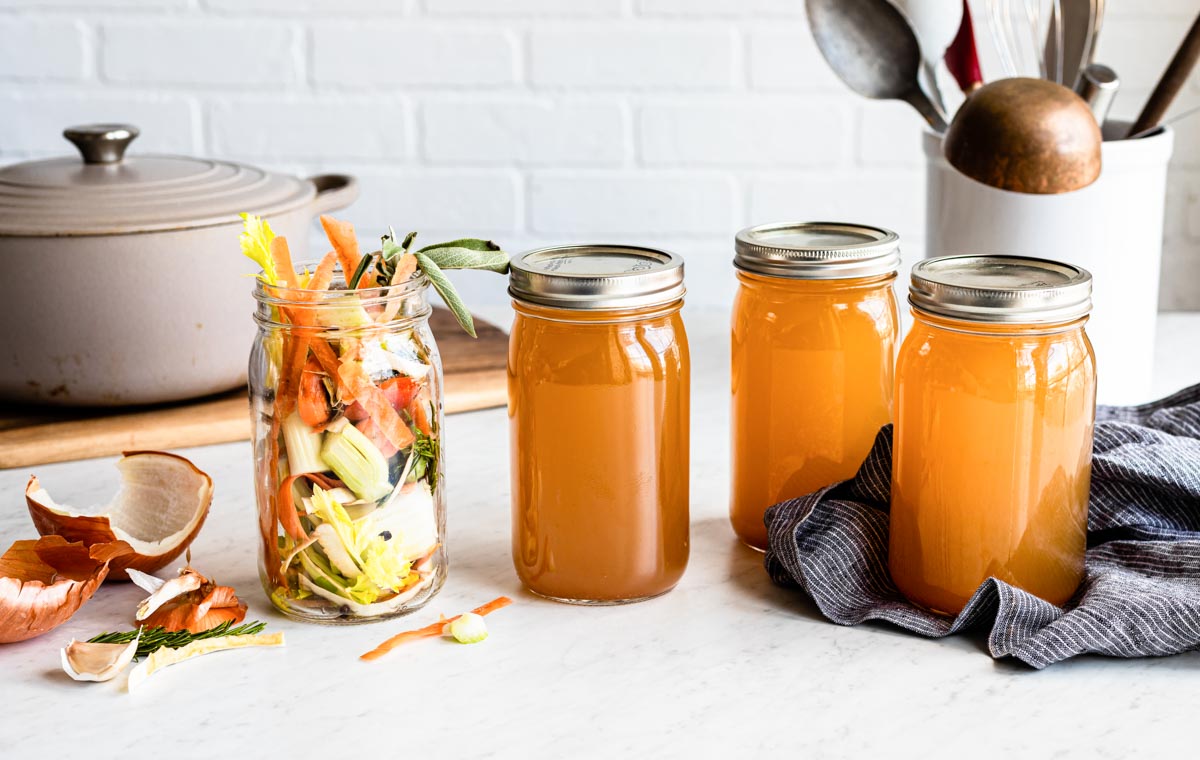 When I first made my very own, it opened my eyes to the world of food waste and how different vegetables work together. I quickly realized just a few extra steps turned my kitchen scraps into a nourishing base for ramen and soup. This is definitely a fun recipe to make!
Table of Contents
Tips for Making Vegetable Stock
This recipe might be a little hard to follow for those that like precise measurements. Why? Well, it's all about what kind and how many scraps you have on hand! Here are tips for success success: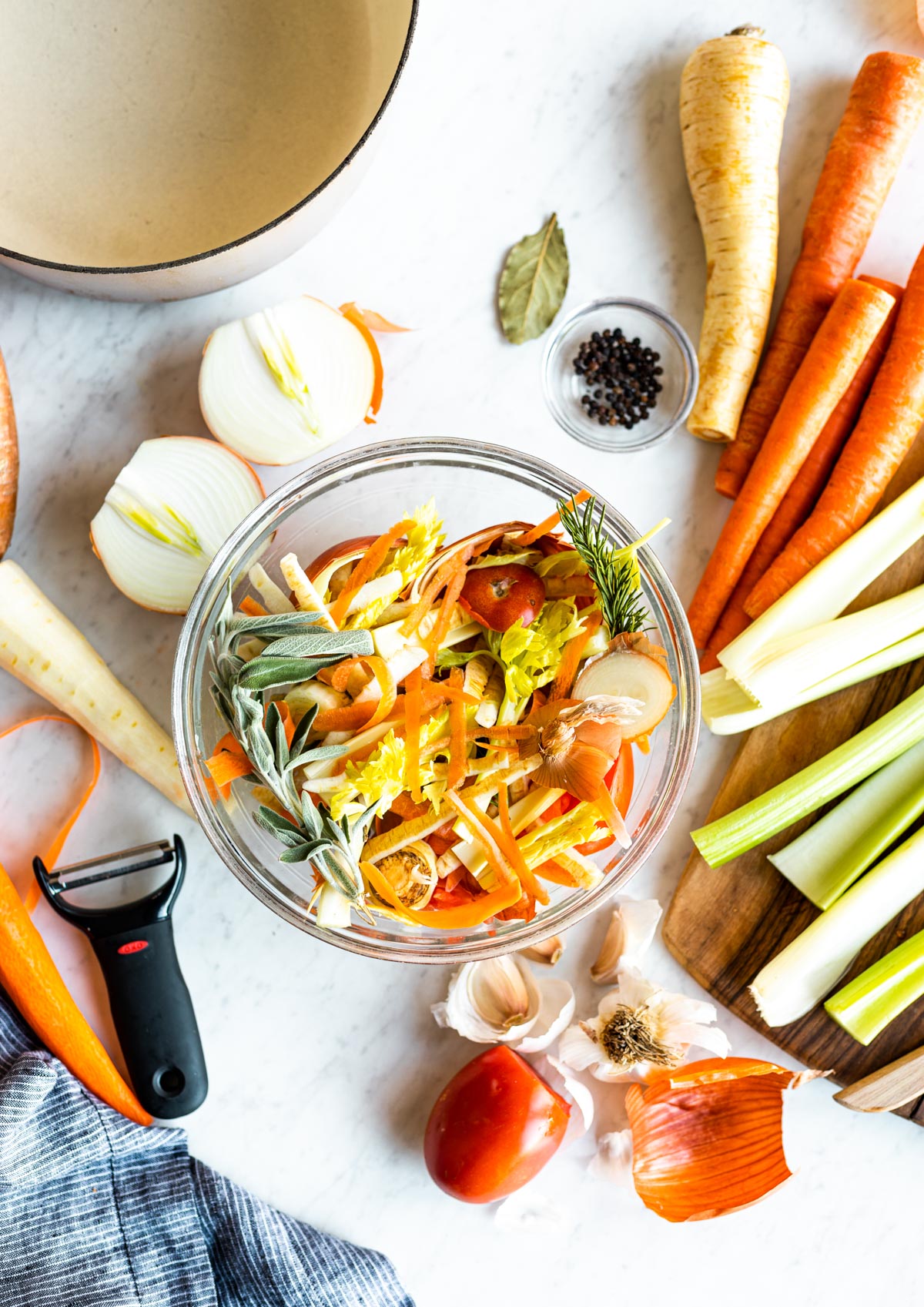 Use what you have on hand. No need to buy vegetables just for this stock since the goal is to use what you'd toss into the compost or trash.
Use a variety! The best stock has a variety of flavors contributing to the final product. If you don't want yours to be onion-heavy, then make sure you eat some celery and arugula that week too.
Avoid adding cruciferous veggies. Ingredients like broccoli, cabbage and kale can make a bitter broth, so avoid them. Feel free to make a delicious soup out of this stock and toss some kale in right before serving!
Add in some anti-inflammatory ingredients. Feel free to toss in some fresh ginger or fresh turmeric and up to a tablespoon of apple cider vinegar. A little goes a long way.
Spice it up! Don't forget to add in a few herbs and spices to nicely flavor your stock.
How to Store Homemade Broth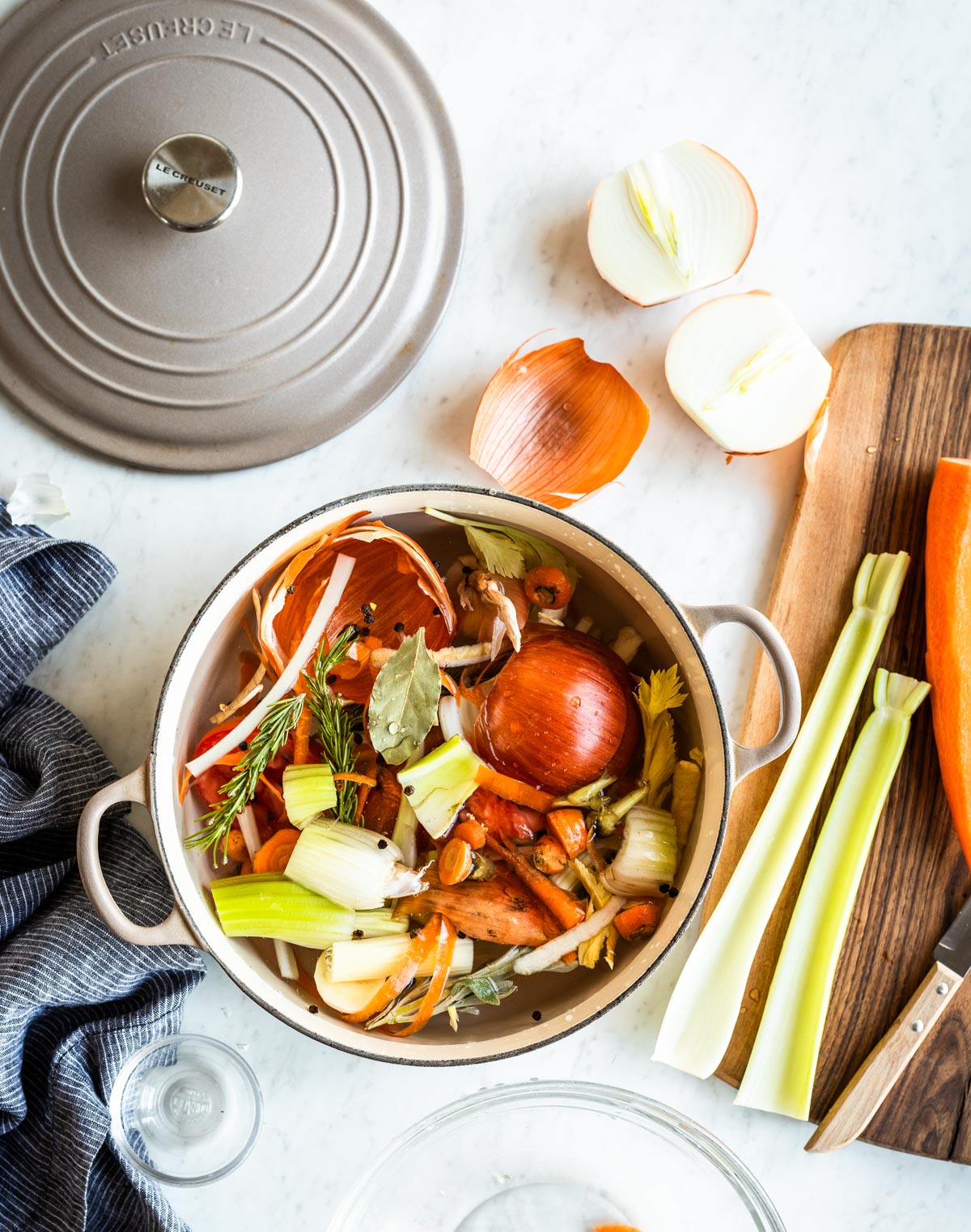 Now that you know the recipe, where do you put all that golden goodness? I store mine in quart-size, wide-mouth mason jars. They are the perfect size for four cups of broth (so use three jars to make a 12-cup batch like the below recipe). They also fit nicely in my freezer.

Be sure to leave space in the jars for expansion. No one needs exploding vegetable stock or broth in their freezer!
Make sure your stock has cooled off completely before storing it in the freezer. I like to put mine in the fridge overnight just to be sure, then move it to the freezer the next day. Yet if you plan to use this within five days, keep it in the fridge.
What is Vegetable Stock?
Whether you call it stock or broth, this recipe is literally seasoned water with veggie scraps. No need for a precisely measured plan, or even the same vegetables every time you make it. Just put your vegetable scraps in a freezer-safe bag and keep adding to it until the bag is full.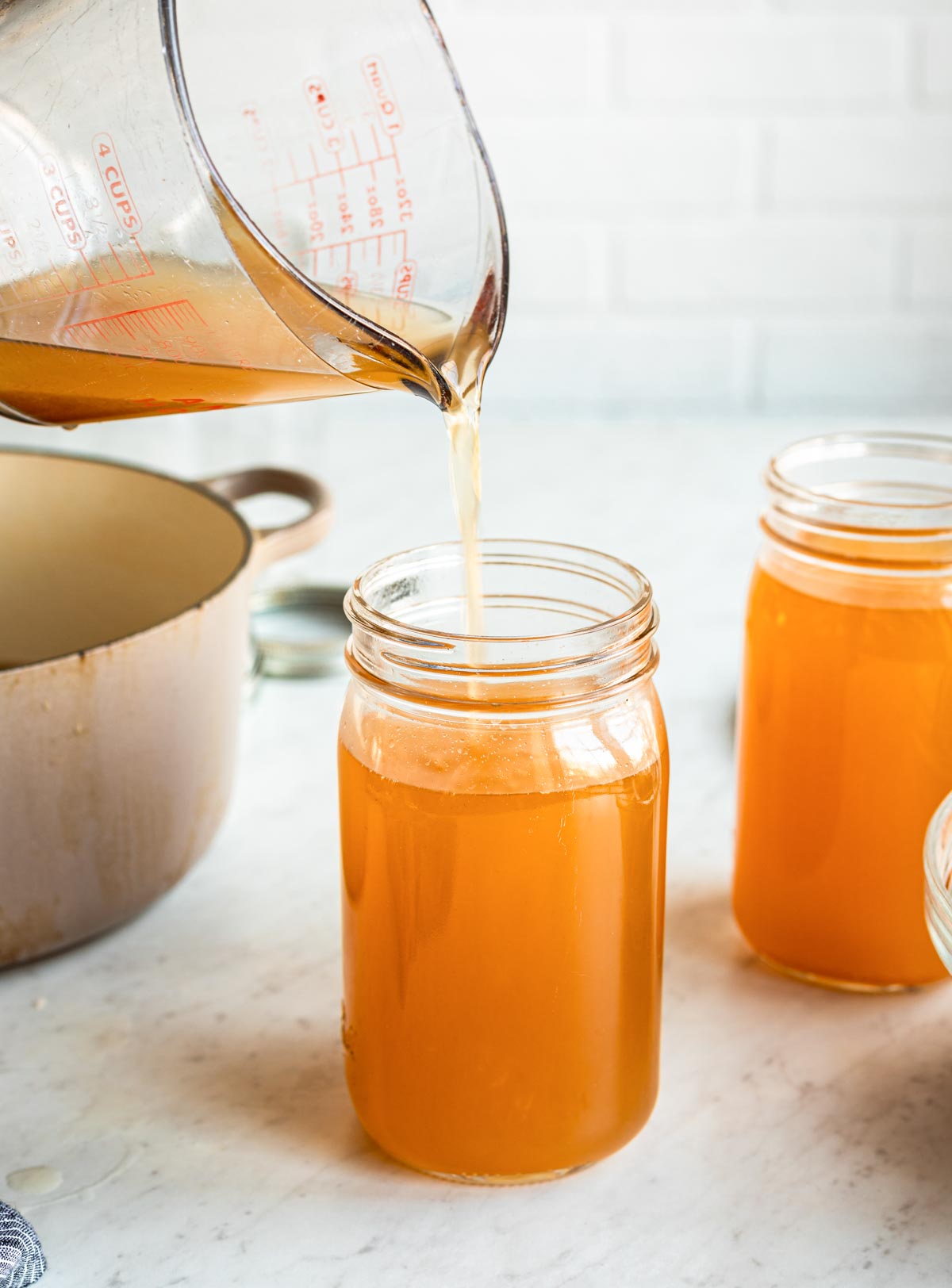 Then, simmer those lovely scraps in water with some spices for at least two hours. I like making my own so that I control the sodium and flavor.
No weird additives here, just delicious odds and ends that make the broth of your dreams. Your soups and savory dishes will thank you for using this homemade stock in them!
Vegetable Stock vs Broth
Honestly, when you talk about stock vs broth, you're really talking about meat-based liquids. Meat broth is made from meat and vegetables while meat stock is made with bones.
Vegetable broth and stock are used interchangeably, so feel free to swap whatever you have on hand in a recipe! It's really up to your taste buds if there is a certain veggie broth brand you like better, as well as a glance at the sodium content (since it can be high in some store-bought broths).
This is easy to control when making your own.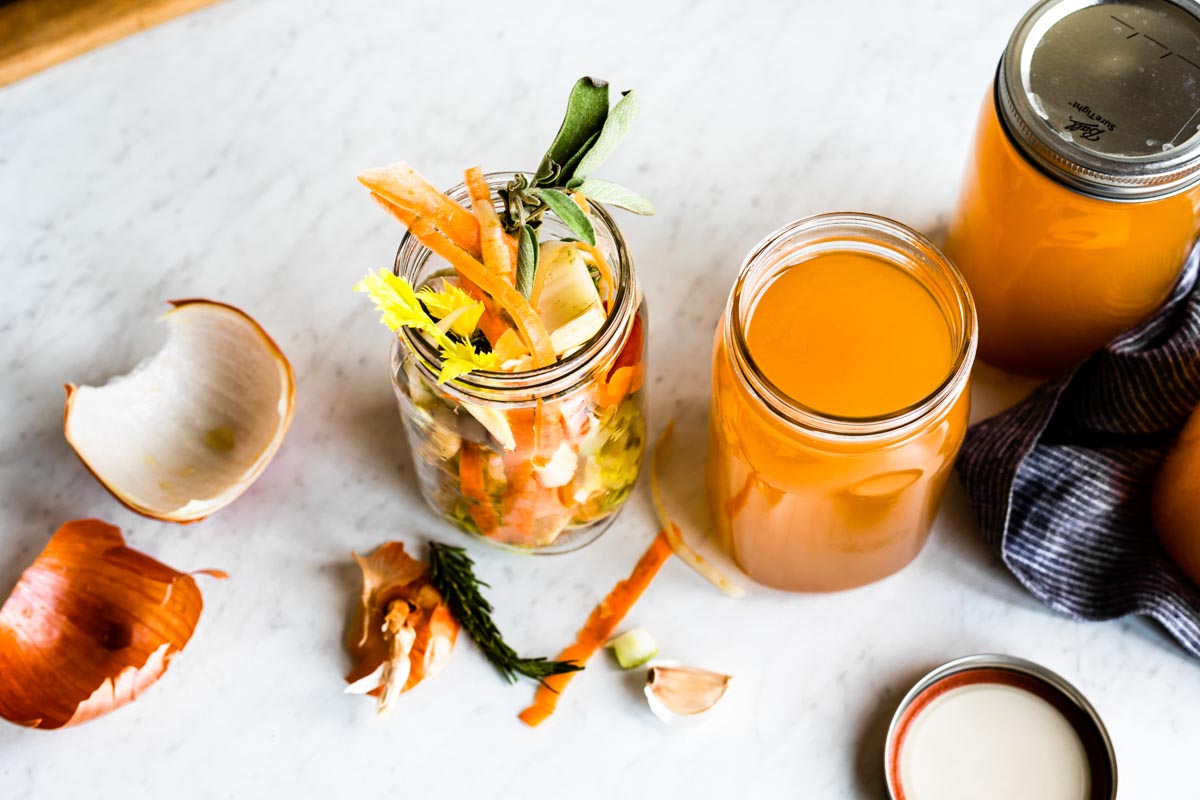 Vegetable Stock FAQs
What should you not put into vegetable stock?
My least favorite vegetables to use in homemade stock are cruciferous foods like kale, broccoli, turnips, which are potent in the wrong way. I also avoid putting squash and green beans because they don't add any great flavor. Stock is all about the flavor. After all, it's the base of many soups, rice dishes and so much more.
What vegetables are best for the stock?
Flavorful stocks typically include celery and onions, yet you don't need these to make a basic stock. Use what you have on hand then season to taste!
Is it cheaper to make your own vegetable stock?
Yes! You're using the vegetables you already have on hand and spices that you likely already have as well. You can adjust to your taste preferences. All it takes is a bit of your time.
Recipes Using Stock or Broth
Rock your new, homemade stock in any recipe that calls for vegetable broth/stock to bump up the flavor. You'll never want to buy stock from the store again after you experience the joy of cooking with this homemade version. Here's how I like to use mine:
I'd love to hear how your stock turns out. Please rate + review this recipe once you've made it. Your feedback is so helpful.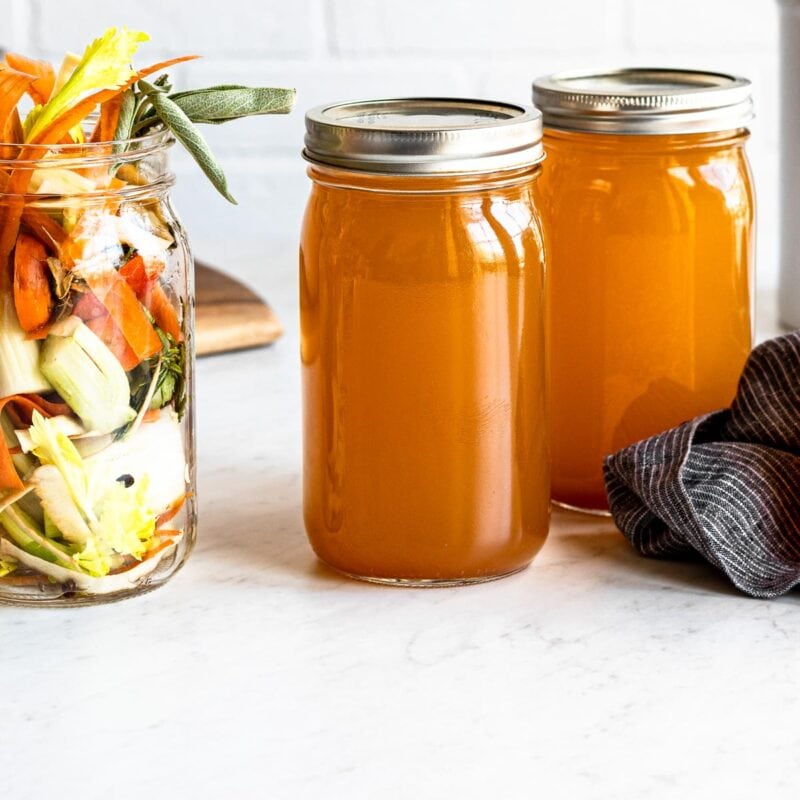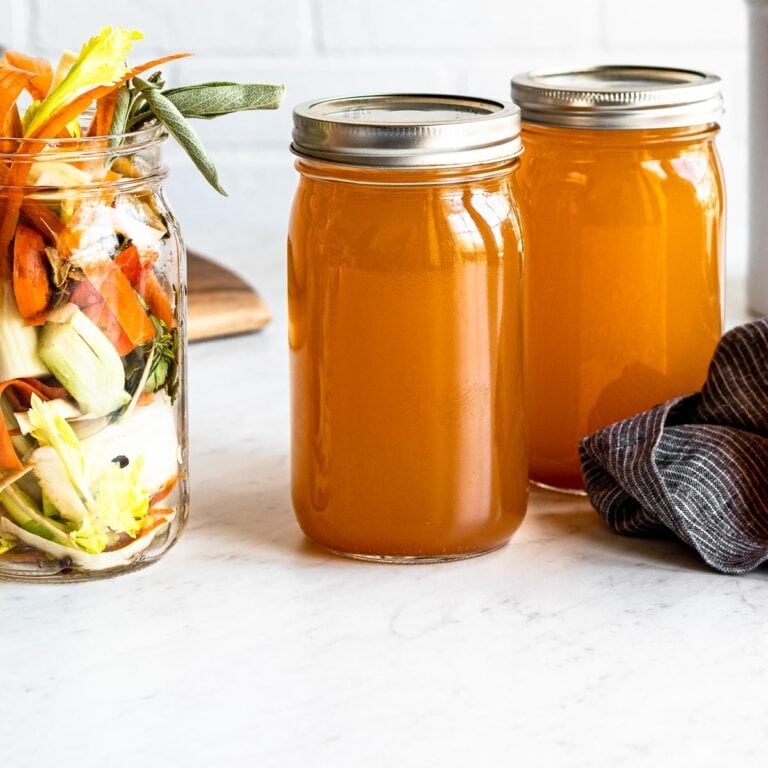 How to Make Vegetable Stock
Grab your kitchen scraps and get ready to make some epic vegetable stock. My stock changes every time I make it since it depends on what scraps I've been storing and the season, and I love it!
Equipment
6-quart pot

fine-mesh strainer

freezer-safe glass jars
Ingredients
onion scraps

tops, bottoms, and skins

celery scraps

tops and bottoms

carrot scraps

tops and skins

garlic cloves

tops, bottoms, and skins

tomatoes

tops and bottoms

potato

tops, bottoms, and skins

mushroom stems

herbs

parsley, rosemary, thyme

1

tsp

whole black peppercorns

1

bay leaf

1

tsp

salt

optional

12

cups

water

or as needed
Instructions
Add all ingredients to a 6-quart pot. Cover with water by 2 inches, leaving an inch or two below the top of the pot so it doesn't boil over. Cover, bring to a boil at high heat, and then reduce to a rolling simmer for 2+ hours.

Strain the stock through a fine-mesh strainer and discard scraps.

Use broth immediately, or refrigerate for up to 5 days. You can also freeze the broth for up to 5 months in freezer-safe containers.
Notes
To make this in a crockpot, add all ingredients to the crockpot. Cover with water by 2 inches then cover and set to low for 8-10 hours. Follow steps 2-3 above.
The nutritional info is based on my sample recipe; yours will vary depending on the types of vegetables you use.
I just make a batch of stock whenever I get a full-gallon bag of veggies. No need to thaw them in advance!
Don't be afraid to use onion shells, garlic skins, really ALL the scraps you have. 
Feel free to boost your broth with fresh turmeric, fresh ginger, or a tbsp of apple cider vinegar. 
I listed the vegetable scraps I typically have on hand yet the sky's the limit (almost) with what you can add to your own batch. 
Nutrition
Calories:
54
kcal
,
Carbohydrates:
12
g
,
Protein:
2
g
,
Fat:
0.3
g
,
Saturated Fat:
0.05
g
,
Polyunsaturated Fat:
0.1
g
,
Monounsaturated Fat:
0.03
g
,
Sodium:
237
mg
,
Potassium:
342
mg
,
Fiber:
2
g
,
Sugar:
2
g
,
Vitamin A:
2378
IU
,
Vitamin C:
17
mg
,
Calcium:
54
mg
,
Iron:
1
mg