Get ready to start drooling over these delicious Juneteenth food recipes. When many Americans think of independence and freedom, we think of July 4th. Yet not all Americans were free in 1776. In fact, not all Americans were free until almost a century later. June 19th, or Juneteenth is the annual celebration of freedom for ALL people in the United States, including those who were enslaved even after we declared freedom from England.
I think June 19th is a very special day for all— and I'm excited to celebrate it and teach my kids about it too.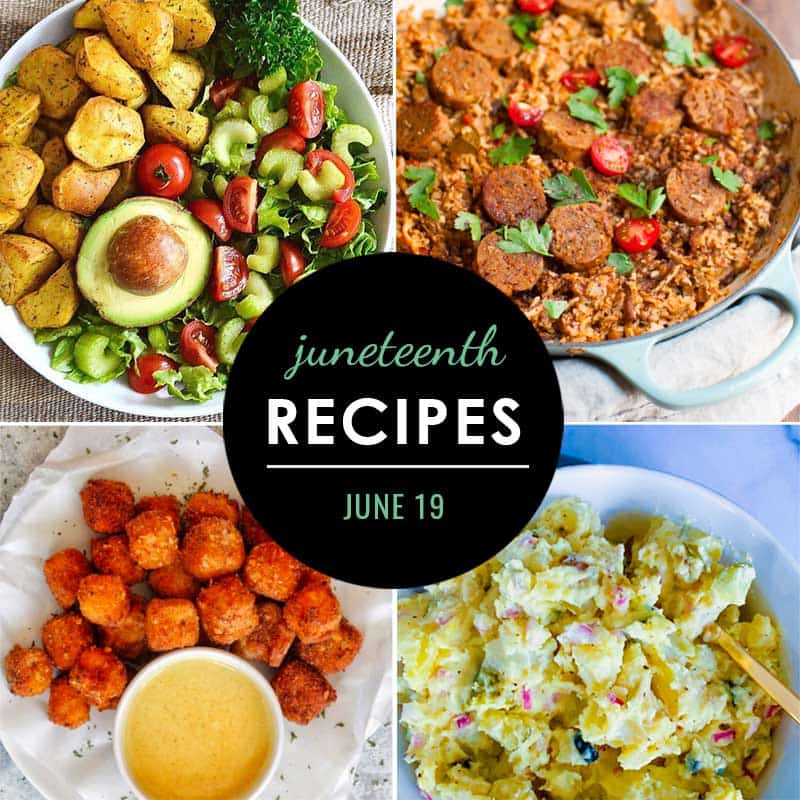 Let's learn a bit more about this holiday through the lens I know best, and that's talking about some Juneteenth food. I had my friend Erin Mottayaw help me with this blog post because she has spent the past year diving deep into racial inequality. We've had many discussions on this as white women, moms, friends and pastor's wives— and I couldn't have done this Juneteenth blog post without her help.
Table of Contents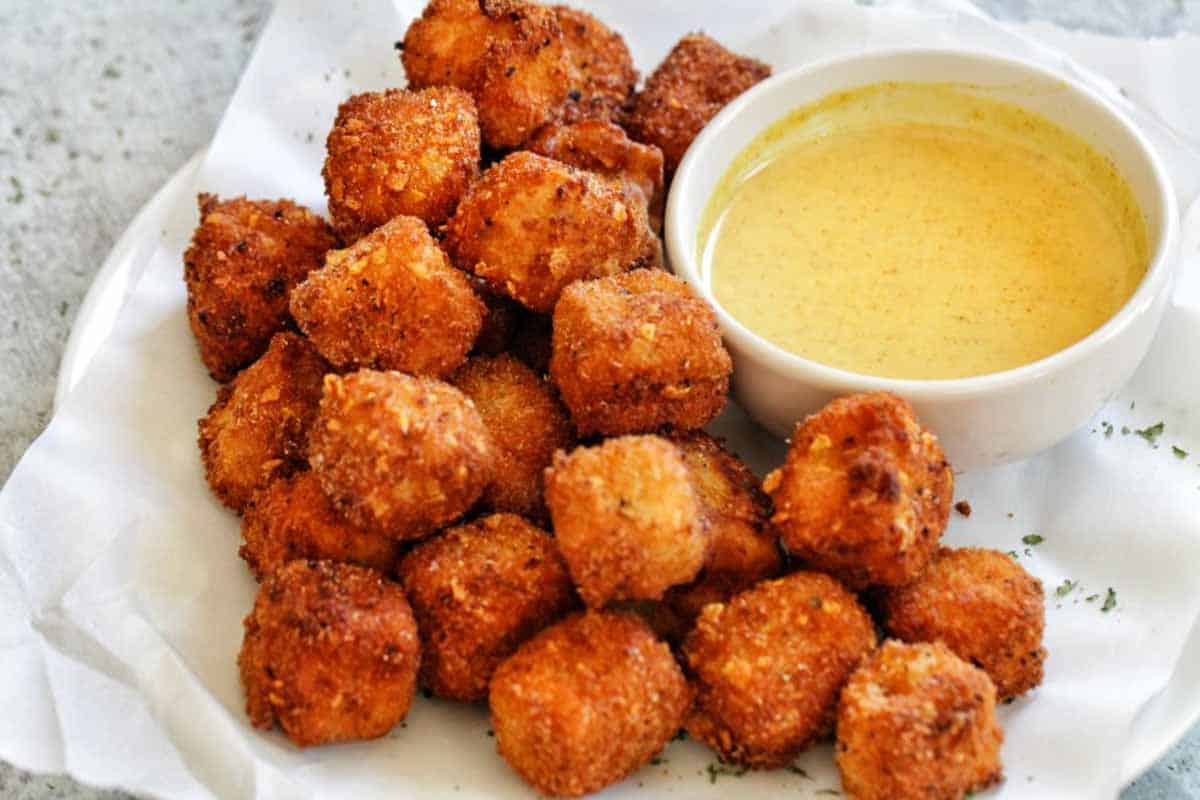 What is Juneteenth?
Even though the Emancipation Proclamation was passed in 1862, it wasn't until June 19th (Juneteenth, get it??) 1865 that all enslaved people through the United States were actually freed. Crazy, right?! THREE YEARS LATER! This important date just gained national holiday status… and it's 2021.
If you wanna go deep into the history of Juneteenth Day and the outcome, NPR news did a great in-depth article, "Slavery Didn't End On Juneteenth."
Like many holidays today, Juneteenth food is an important part of the celebration. Red foods (watermelon, red velvet cake, hibiscus tea) signify the blood that was shed by enslaved people as well as their resilience. BBQ-style food can often be found at celebrations, including ribs, chicken, and sausage.
Prosperity foods are found at many celebrations as well. These include: dishes with corn, collard greens, cabbage, Black-Eyed peas, pork, potatoes, yams, and sweet potatoes. When searching for Juneteenth food, keep these ingredients in mind.
More ways to learn about Emancipation Day
I love to learn as a family. Juneteenth for Mazie is a fun children's book (from which adults can learn too!). My friend Erin has also learned a lot from reading The Underground Railroad Records. Knowledge is important, and learning helps us to understand and respect one another more. If you've got a fav book about the history and celebration of Juneteenth, tell me about it!
How to acknowledge Juneteenth as a white person
Learn! You don't know what you don't know, until you do. If you're wondering why I'm choosing to highlight this holiday, then learn more about it. Tons of great literature is out there, written by people of color. Learn from them, and don't just support them with your follow; support them with your wallet.
Share with your family. Normalize talking about the nitty gritty history of the United States. Talk to your kids about what they're learning in school. Read books as a family to learn more about topics that interest you, or that are talked a lot about in the news. Charnaie created Here Wee Read as a resource to connect families with diverse + inclusive books. I've grabbed many great book recommendations from this site.
Seek out ways to serve your local community. Find organizations working within your community to create equal spaces for all. I bet you could find a Juneteenth festival near you. So make one of the recipes below and join in with Juneteenth food and celebration.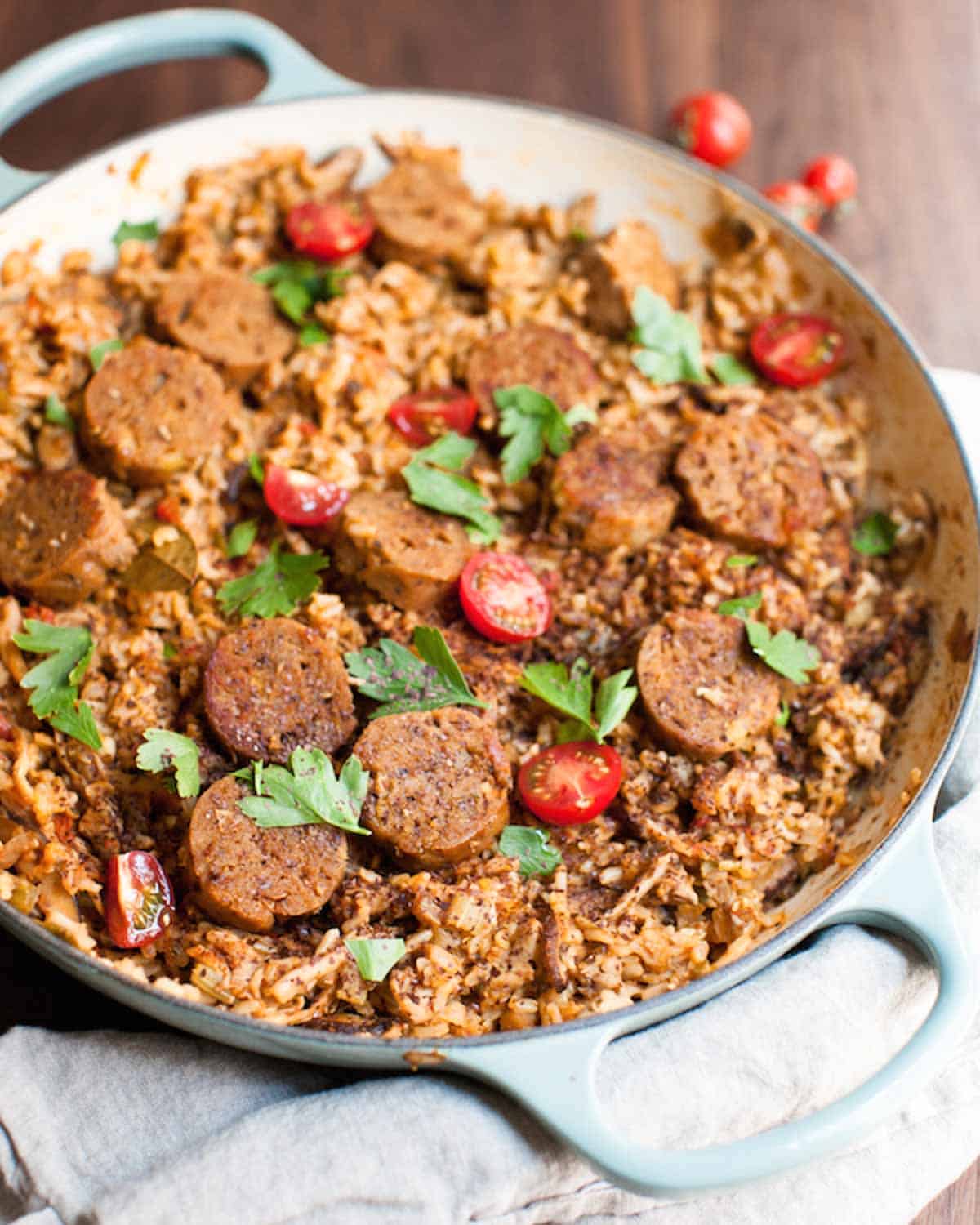 Plant-Based Juneteenth Food Recipes
While Juneteenth is known for it's soul food style recipes, that doesn't mean a plant based enthusiast can't enjoy it too! Here are some of my fav Juneteenth food recipes from some brilliantly creative people:
Vegan Mushroom Jambalaya
Jenné's Instagram (@sweetpotatosoul) is full of mouthwatering recipes as well as her bright personality. And her blog has a delicious vegan and mushroom jambalaya that, let's be honest, had me at mushrooms!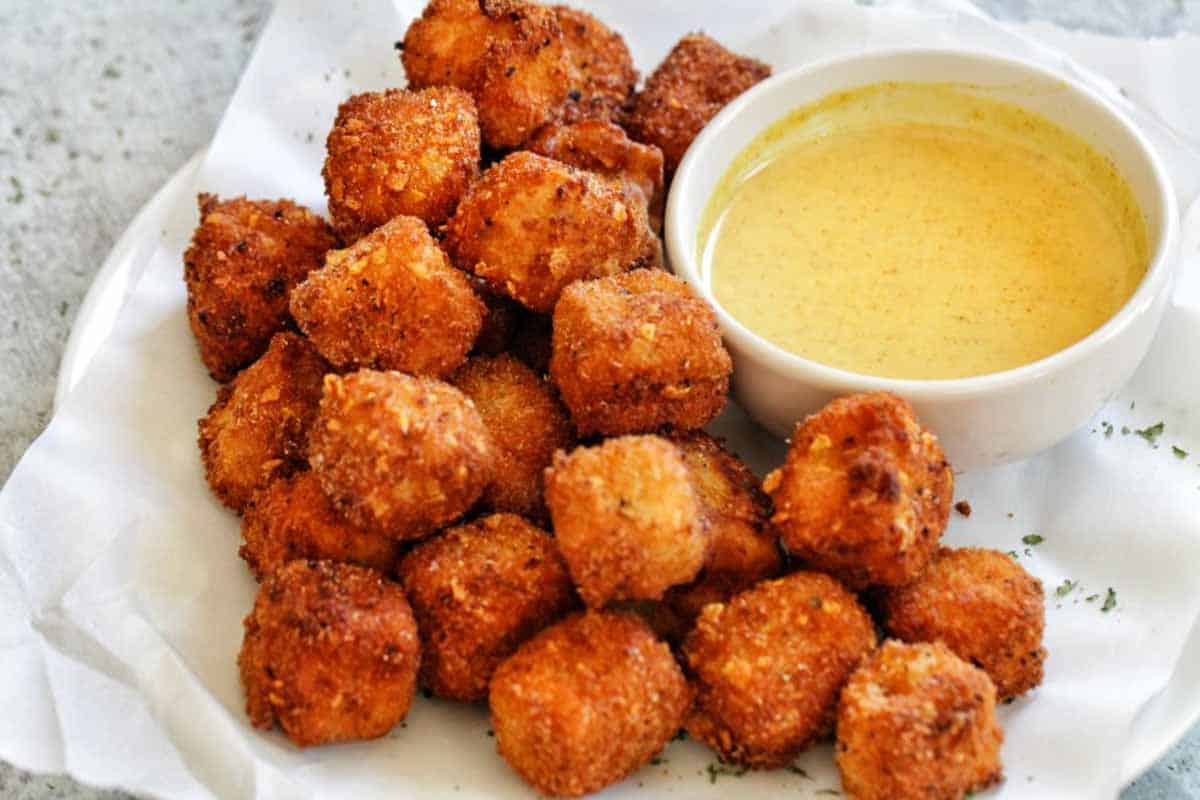 Cunchy Tofu Nuggets
While I'm still exploring (and learning to like) the world of tofu, I'm always impressed by the way Stephanie (@veganwhat) uses it in her recipes. These crunchy tofu nuggets have me ready to give tofu another try!
Cornbread w/ Jalapeno Pepper Jelly
Bryant Terry (@bryantterry) is an incredibly creative chef as well as sustainable food activist. I love a good cornbread muffin, and his recipe includes a Jalapeño Pepper Jelly that brings the sweet heat.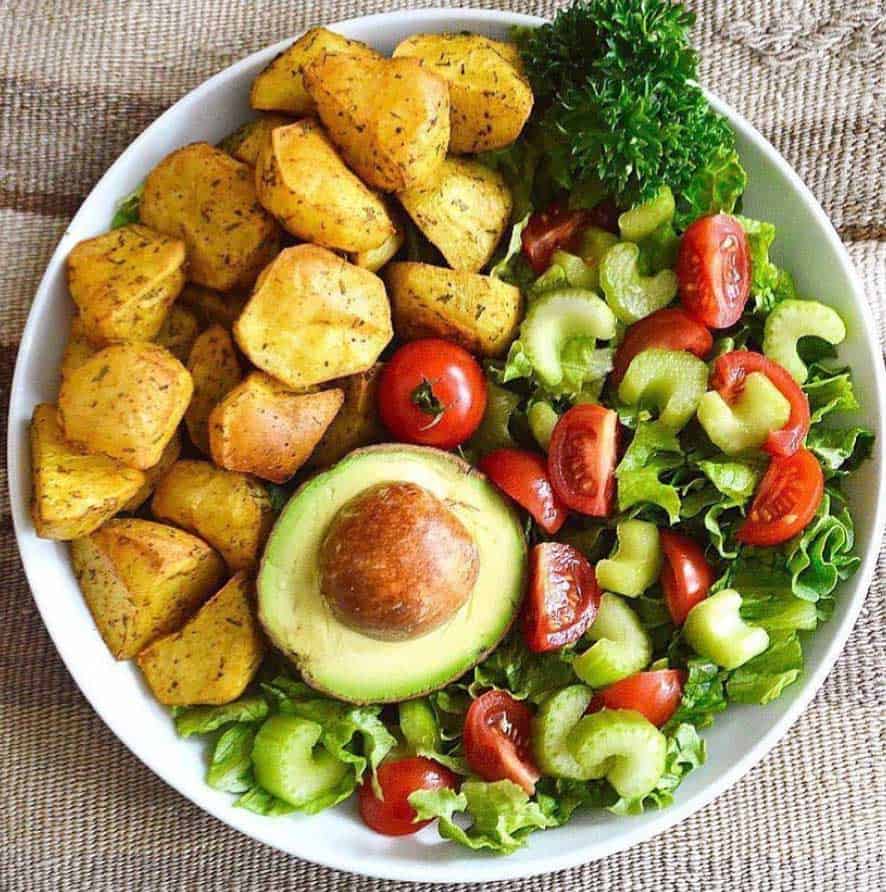 Summer Salad Remix
If you love juicing and smoothies, then you need to follow Fabiola (@shinewithplants). Her impressive recipes are appearing in my kitchen more and more. Like this simple summer salad! And not only does she make great beverages, she also has great recipes. I love mac and cheese, and this vegan recipe def hits the spot for Juneteenth food.
Raspberry Cheesecake Tartlets
Tracye Mcquirter (@byanygreens) co-authored the delicious cookbook, Ageless Vegan, to celebrate 30 years of eating plants. Her recipe for Raspberry Cheesecake Tartlets is super simple and the perfect Junteenth food dessert.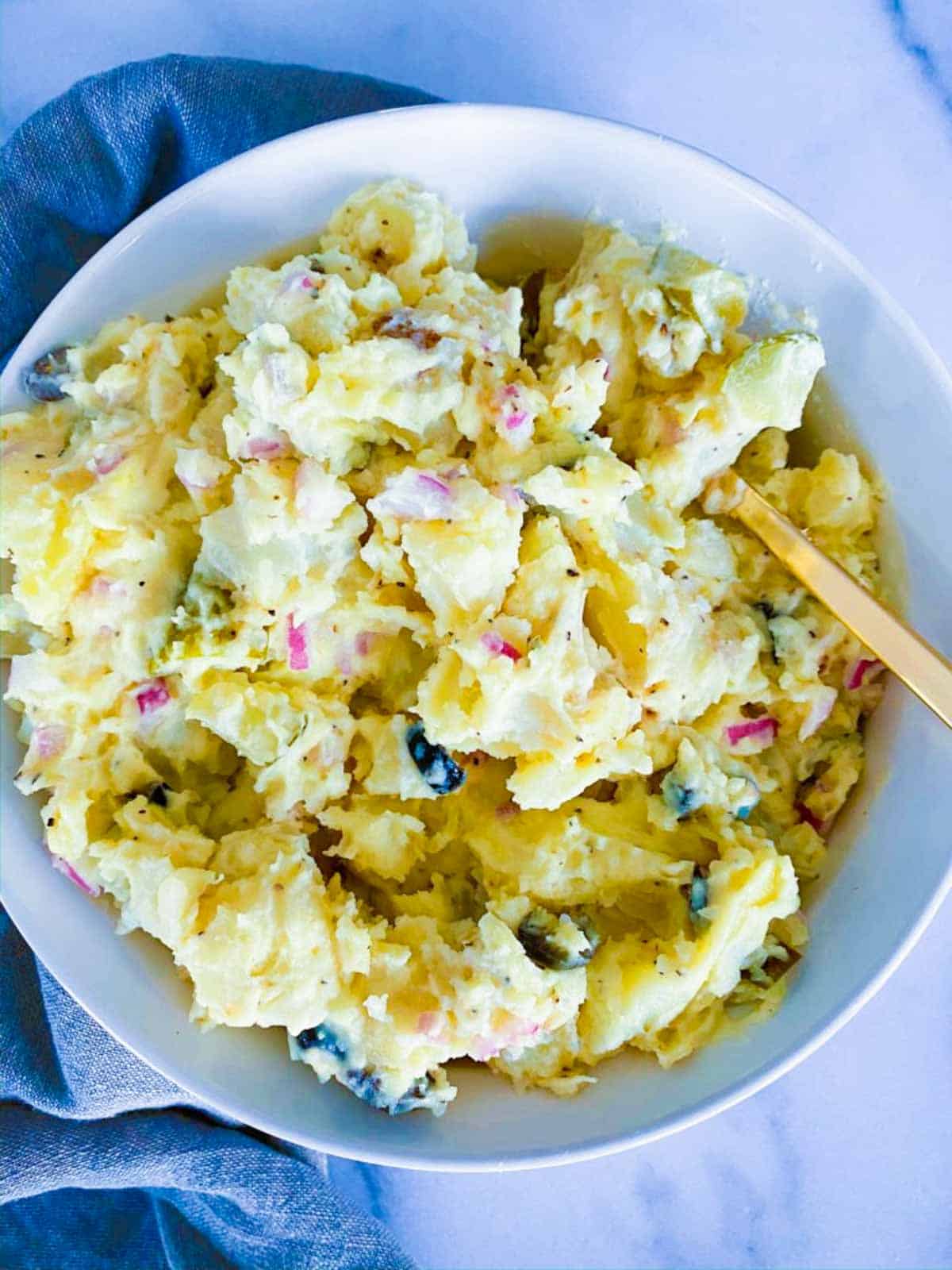 Vegan Potato Salad Recipe
Tannyr (@thedelicious antidote) helps me find recipes for myself and my meat loving family that are healthy + whole food based. She also reminds me daily to move my body! This potato salad recipe is a side that shines at any Juneteenth food fest.
Who's ready to start cooking some Juneteenth food?! I can't wait to make these recipes with my family, and learn better ways to make whole food plant-based recipes accessible for everyone.
More Black Creators to Inspire You
While food is arguably key to any holiday, I wanna dig a little deeper. I've learned so much about life, plants, access to food for all, and more from the following people. Now you get to know about them and learn from them too:
Anna Mae Groves– Fellow pastor's wife, runner and mom, Anna is someone I feel like I know (though I've never met her!). She not only shares clothes, running tips, and DIY creations, she also shares her heart, her life, and her honesty.
The Mocha Gardener– on top of having an insanely gorgeous garden + greenhouse, Ashlie has been teaching me about food security as well as access to nutrient-dense food. I love taking her knowledge and figuring out how to apply it to my local community for better food for all.
Black Girls with Gardens– Jasmine is a fellow Floridian with a great knowledge of growing plants (both edible and beautiful ones). She also uses her account to highlight + normalize gardening for people of color, and links out to great companies I can support when it comes to buying seeds, fertilizer, and more.
Patchwork City Farms– Jamila is an urban farmer in Atlanta, GA teaching her community about how to gain health through fresh food and movement. If you're an Atlanta local, grab some of her fresh produce and make any of the above Juneteenth food recipes!