One thing I never regret prepping for the busy week ahead is snacks. I know if I can snack right then I am much more likely to choose other nourishing options throughout the day. My prep almost always includes this strawberry lemon chia pudding.
It's just six ingredients, I can top it how I want and I can make multiple servings in the same amount of time it takes to make one serving. Chia seed pudding is the perfect make-ahead recipe.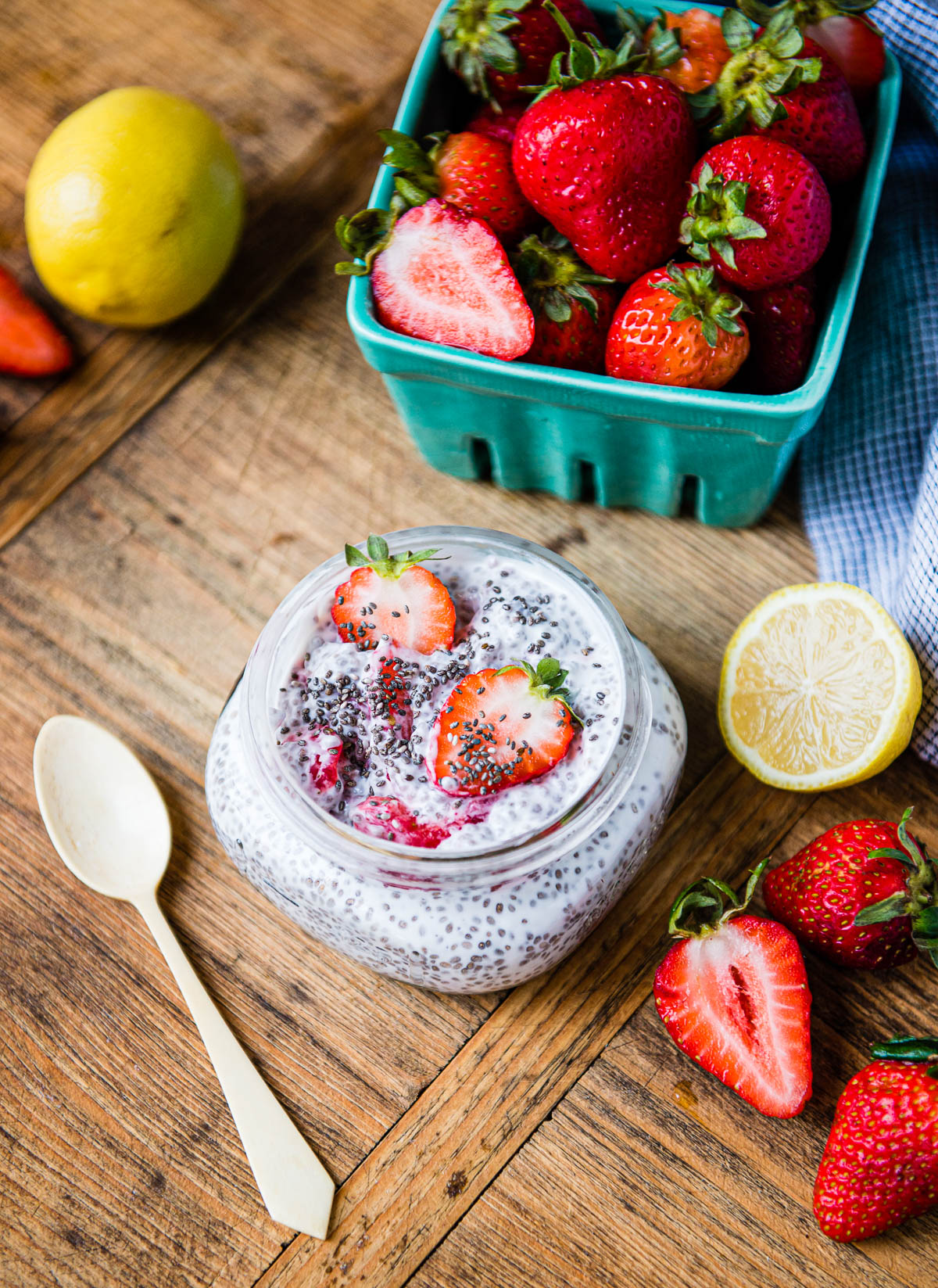 Use this gluten-free strawberry chia pudding as a healthy snack for work or a great snack for kids (it's so easy to add to a lunchbox!). Any snack that both I and my kids can enjoy is a major #momwin.
Table of Contents
Essential Lemon Chia Pudding Recipe Ingredients
This is an easy recipe to put together and a filling snack to enjoy. Here's the base of my lemon chia seed pudding:
Coconut milk: Unsweetened canned coconut milk provides a good, healthy fat base for this recipe. I love that it's almost tasteless a gives this a pudding-like consistency.
Chia seeds: This superfood ingredient has some crazy nutrients. Just one serving of chia seeds contains 5 grams of protein and 10 grams of fiber!
Fresh lemon juice: I love lemon, so I often double the amount of fresh juice I add. Start with a little it is not your favorite.
Maple syrup: This is a natural sweetener that nicely balances out the tartness of the lemon juice.
Vanilla extract: Just a bit of vanilla extract provides a lovely flavor that is enhanced when paired with the fresh strawberry topping.
Strawberries: Fresh, juicy flavor-packed strawberries are the perfect partner to all things lemon. Agreed?
Six ingredients create a unique and completely satisfying snack that I turn to again and again. Now let's talk about what toppings to use!
Healthy Ingredient Swaps
Feel free to use the dairy-free milk of your choice. Both cashew milk and oat milk make great, creamy options, yet you can easily use almond milk as well. Choosing a non-dairy milk can help cut down on bloating issues you may have with dairy options like regular or greek yogurt.
Swap the maple syrup with the natural sweetener of your choice, or omit completely for a sugar-free option.
Strawberries can be fresh or frozen, or swapped with the berry option of your choice.
Chia Seed Pudding Topping Ideas
I keep it simple with this easy strawberry lemon chia pudding by adding fresh sliced strawberries on top. They provide sweetness and crunch without adding a lot of unnecessary sugar. Here are some other great topping combos:
Blueberries + pecans: Blueberries and lemon are a classic pairing and would work great in this recipe as well.
Raspberries + sliced almonds: Raspberries will pick up on the tartness of the lemon and provide a bright finish. I love sliced almonds yet use the nuts of your choice.
Healthy granola: You can veer away from fresh fruit and try this easy granola mix for an even more filling snack or breakfast option.
Lemon zest + lemon curd: If you want to turn this into a refreshing dessert then mix in some lemon zest and curd for a sharp tasting treat.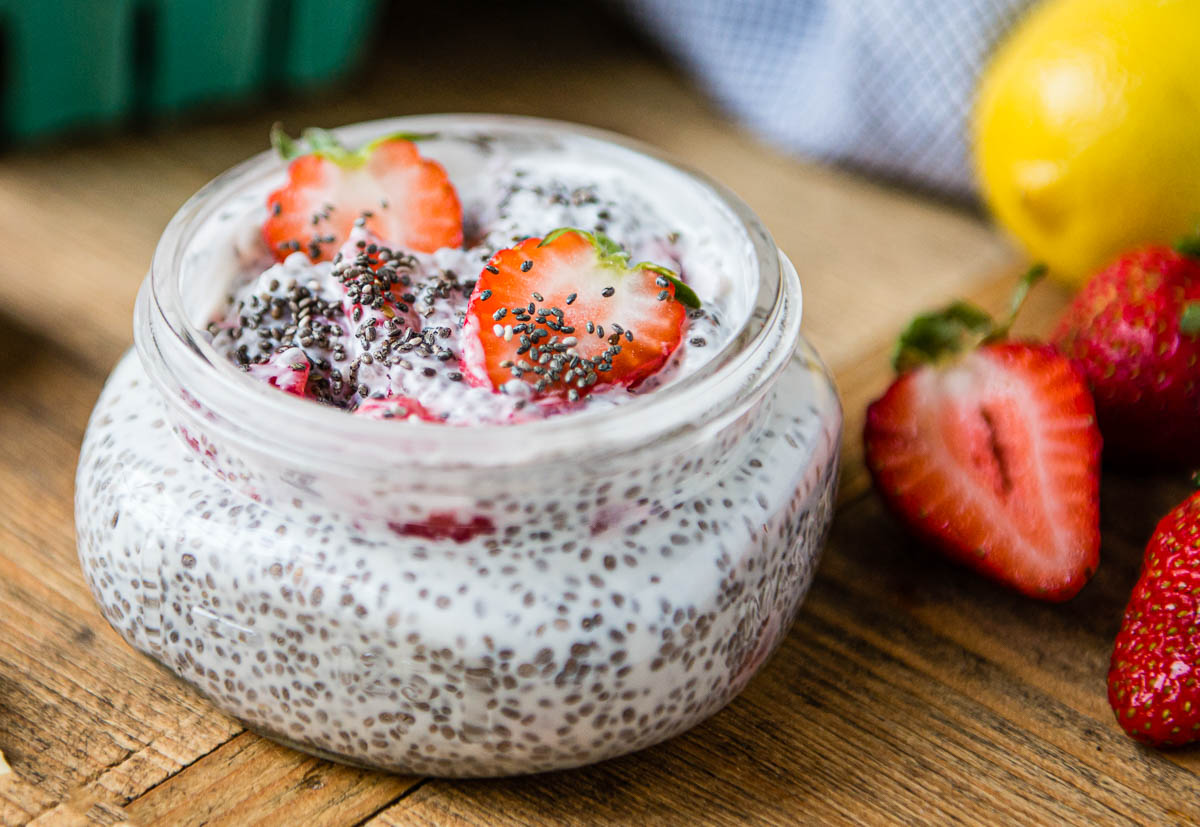 Instructions for Strawberry Lemon Chia Pudding
One of the reasons I like making a big batch of this snack and keeping it on hand is the ease of making it. It takes about the same amount of time to make one serving or five servings!
Decide on the kind of jar you want to store your strawberry chia pudding in then whisk together all the ingredients except for the strawberries and almonds. Cover and refrigerate for 15-30 minutes to allow thickening.
When you're ready to eat, remove from the refrigerator and add in fresh-sliced strawberries and sliced almonds. Enjoy!
This snack will last up to five days in the fridge in an air-tight container. If it's a bit too thick when you are ready to eat, add just a bit more liquid (either plant-based milk or water) and stir to loosen it all up.
Have you shied away from chia seed pudding in the past due to it's texture? No worries! Try combining the ingredients in the blender and blitz until smooth. Still refrigerate the same way, yet now you have a smooth texture that is a bit more like yogurt.
Fridge Storage Tips
How you store your pudding depends on how you want to use it. If you are meal prepping then use a large quart-sized mason jar (wide mouth) and make enough servings for a week of chia seed pudding for the whole family. When you're ready for a snack, scoop some out into a bowl and add toppings.
If you need individual servings for a quick grab n' go, then place each serving in smaller 8-oz jelly jars. You can even prep berries ahead of time and place them in small containers to grab when needed.
Strawberry Lemon Chia Pudding FAQs
Is it okay to mix lemon and chia seeds?
Yes! Chia seeds contain iron and iron needs vitamin C to help your body absorb it. Since lemon juice is naturally high in vitamin C, it pairs perfectly with chia seeds.
Is chia pudding good for weight loss?
There are no "miracle foods." If you can fuel your body with snacks and meals made with real, whole-food ingredients, eat a lot of plants and snack conscientiously then you will definitely be doing your body favors. Chia pudding is a great, filling snack that provides nutrients, protein and healthy fat to help you get full and stay full, as well as provide energy that won't fade in 30 minutes.
Is chia pudding actually good for you?
Chia pudding made with only whole food ingredients is a great, healthy snack that provides both healthy fat and protein. Use simple ingredients, no weird artificial sweeteners and stick with just the basics: coconut milk, chia seeds, maple syrup and vanilla extract.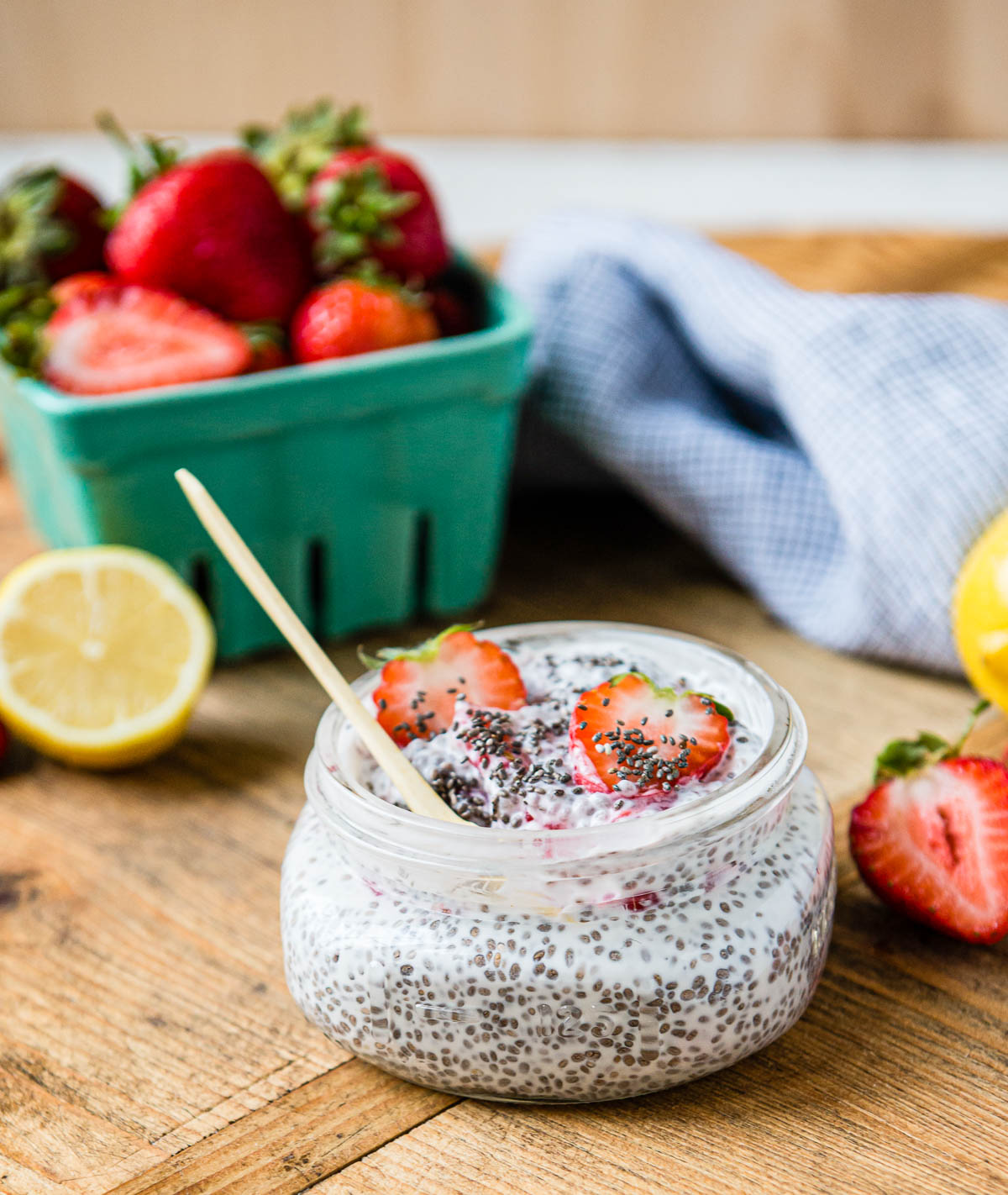 More Chia Snack Recipes
I love a good snack yet I love it even more when it can give me lasting energy and not just act like empty carbs. Here are some options that will do just that, and give you the power to chase after your day:
Would you please rate & review this recipe once you make it? I want to know how it turns out for you!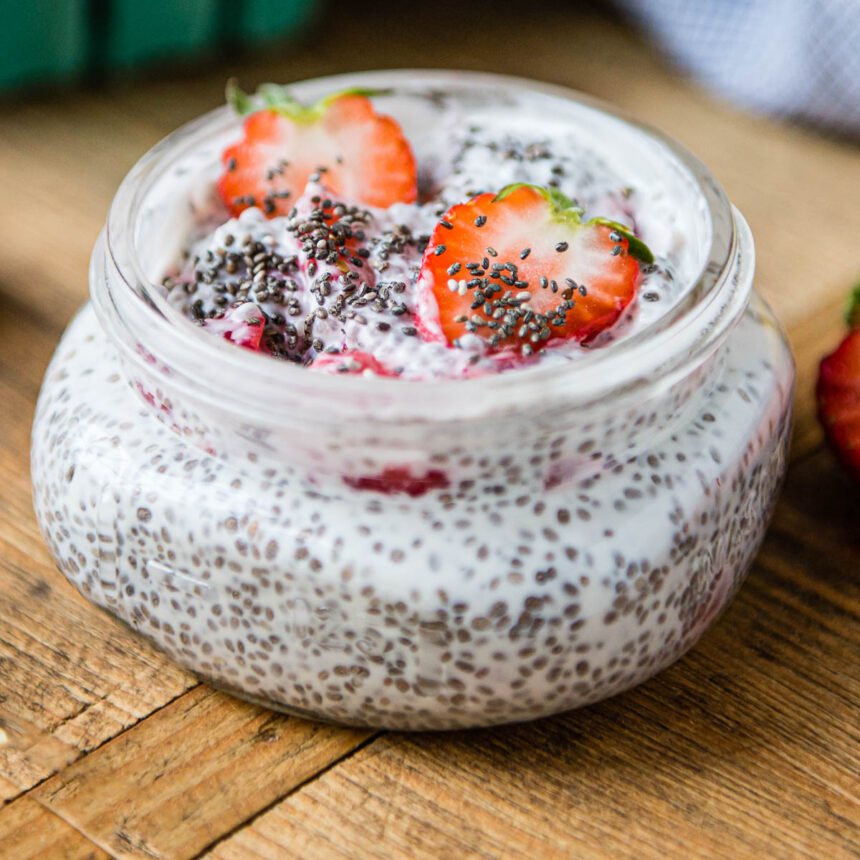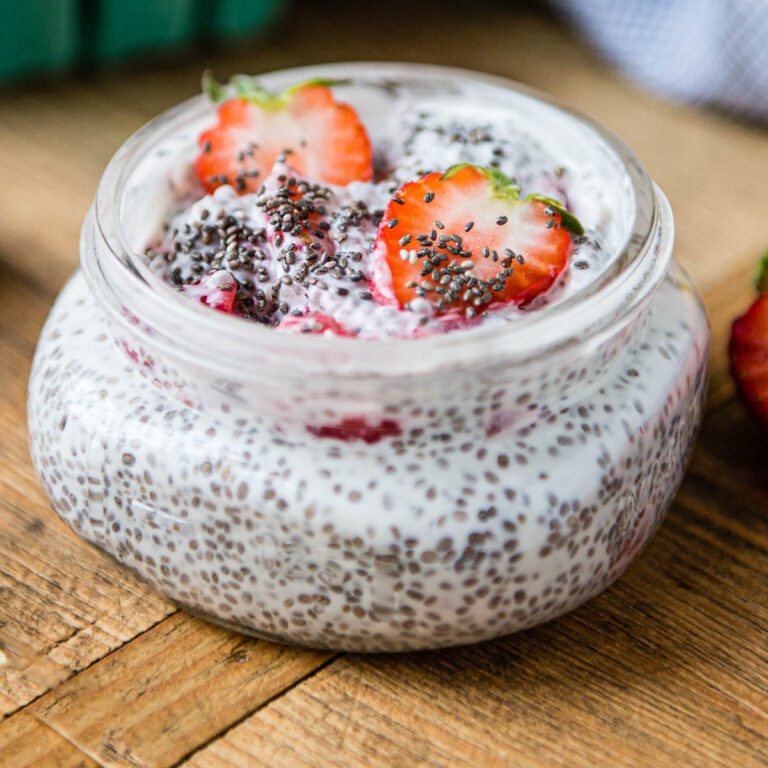 Strawberry Lemon Chia Pudding
Snack in luxury with this strawberry lemon chia pudding. It's incredibly delicious and nutritious with 4 grams of protein, 8 grams of fiber and only 5 grams of sugar. Double or triple the recipe to prep once, yet have snacks for the week!
Ingredients
½

cup

coconut milk

2

tbsp

chia seeds

1

tsp

lemon

juiced

1

tsp

maple syrup

½

tsp

vanilla extract

¼

cup

strawberries

sliced
Instructions
Stir together all ingredients except strawberries and almonds. Refrigerate for 15-30 minutes to allow pudding to thicken.

Remove from fridge and add strawberries before serving.
Notes
You can make this pudding ahead of time and refrigerate for up to 5 days. I often double (or triple) the recipe to have several on hand for snacks. 
Use any berries in place of strawberries.
Canned coconut milk usually comes with a thick layer of cream on top and a watery layer on bottom. Either shake the can well before opening, or open and stir well to combine before measuring out the serving.
You can use lite coconut milk or another dairy-free milk, just know that full-fat canned coconut milk will provide the thickest result.
Nutrition
Calories:
226
kcal
,
Carbohydrates:
19
g
,
Protein:
4
g
,
Fat:
14
g
,
Saturated Fat:
7
g
,
Polyunsaturated Fat:
6
g
,
Monounsaturated Fat:
1
g
,
Trans Fat:
0.03
g
,
Sodium:
88
mg
,
Potassium:
122
mg
,
Fiber:
8
g
,
Sugar:
5
g
,
Vitamin A:
13
IU
,
Vitamin C:
2
mg
,
Calcium:
160
mg
,
Iron:
2
mg