My kids go crazy for this Mango Spinach Smoothie thanks to the citrus tropical flavors. Yep, my kids happily drink their spinach right alongside me! Yet it wasn't always the case. But I promise you… when you blend spinach into a fruit smoothie, you honestly won't even taste it and you'll reap the nutritional benefits such as fiber, phytonutrients and calcium.
Try it once and be hooked on the simple green smoothie life, just like me!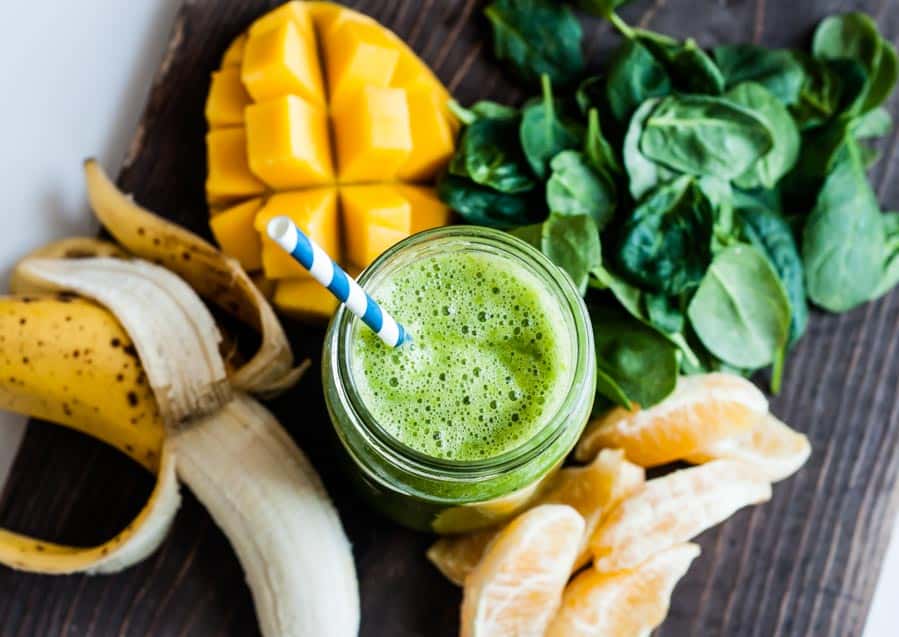 If you like oranges, mango and bananas, you'll love the taste of this recipe. Sure, the spinach and bright green color might be a little intimidating. yet if you are trying to make healthy changes in your diet, this is the BEST (and simplest) habit I've embraced.
Table of Contents
Making a Healthy Smoothie
I recently did a survey on Instagram and had you vote on your favorite tropical fruit. Mango beat out pineapple by a smidge. To celebrate the winner, I'm sharing this mango spinach smoothie recipe that I created for my book, Simple Green Smoothies.
I call smoothies the best fast food for a reason: they're easy to make, easy to take with you on-the-go, and they're super tasty. So, grab your blender and let's get blending!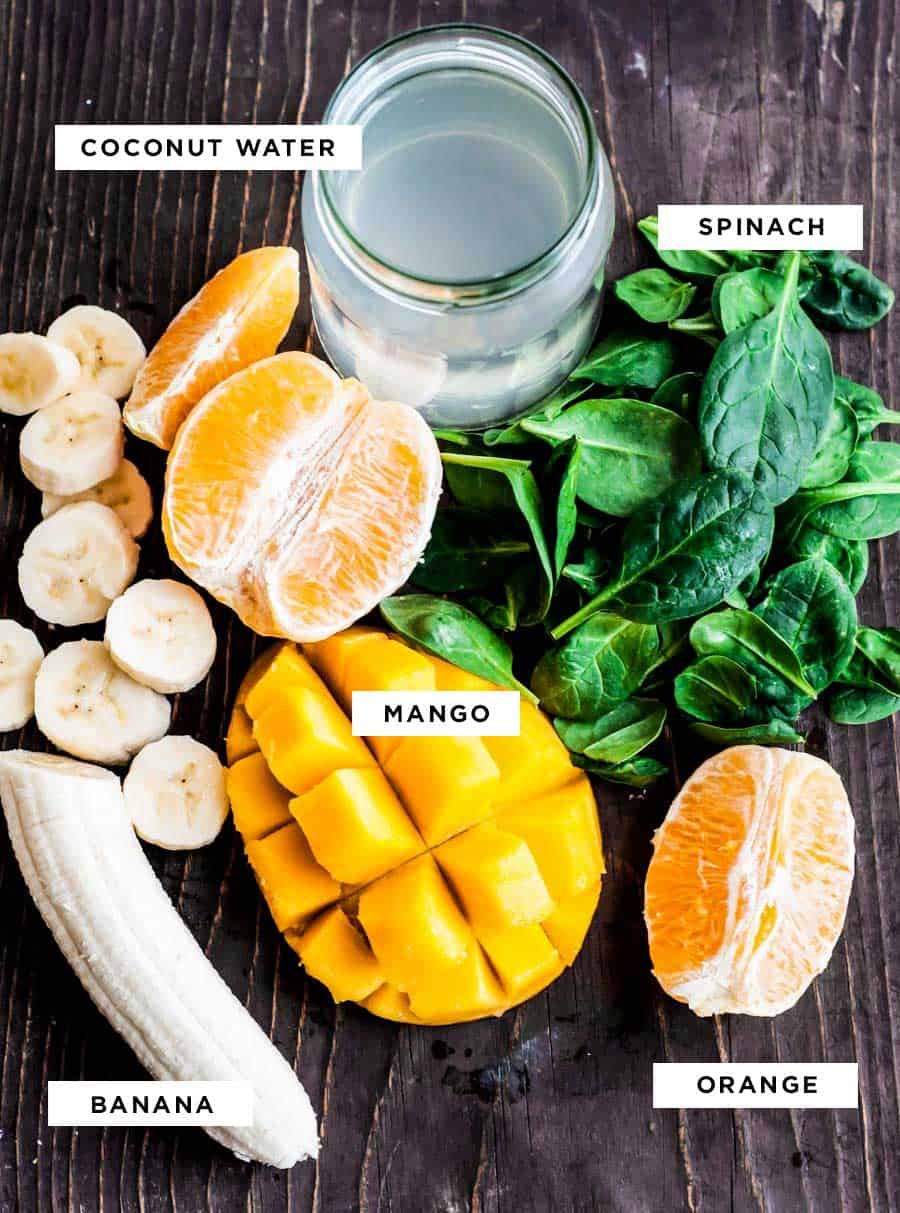 Cut up any fresh ingredients you have. I like to keep the white pith on my oranges because they hold a lot of nutrients. If you've got a high-powered blender then you won't even notice the pith in your smoothie.
Blend together the spinach, orange, and coconut water until smooth. I blend smoothies in 2 steps to ensure the leafy greens blend well. The orange is included in this step since it acts as both a liquid and a fruit.
Add the remaining ingredients and blend again until smooth. If all your ingredients are frozen then thaw slightly before blending. This way your blender won't work as hard to create a creamy result.
If you like adding boosters to your mango spinach smoothie (chia seeds, hemp hearts, coconut oil/MCT oil, plant-based protein powder) then add them in step 3.
Fresh vs Frozen Ingredients
Depending where you live, fresh + affordable smoothie ingredients may or may not be easily accessible. Plus, fresh ingredients have a relatively short shelf life. To ensure I'm not wasting fresh fruit (aka sending it to my compost bin) I often buy bulk frozen fruit from Costco.
While it may be true that 'fresh is best', frozen is a suuuuper close second. Here's why:
Frozen fruit is picked at the height of ripeness then flash frozen to preserve nutrients. It may travel a LOT of miles to get to your grocery store (a lot of frozen fruit in my Florida stores comes from California, Chile and Mexico).
Fresh fruit in the grocery store is often picked before it's ripe to ensure it doesn't go bad before making it to the store. Alternatively, fresh fruit from the farmer's market or a CSA is picked when ripe, then sold almost immediately.
Since there are pros and cons to both options, choose the best one for you! I like to pick up my fresh fruit from a farmer's market when I can. Smoothie ingredient staples are bought frozen. I also have friends with super green thumbs and giant home gardens, so I supplement where I can with fresh greens from them. So for this mango spinach smoothie, I buy frozen mango then use fresh bananas, spinach and oranges.
Where do you like to buy your ingredients? Leave a comment and let me know!
How to cut a mango
While most of these mango spinach smoothie ingredients seem straight forward, have you ever tried cutting up a fresh mango? First, there's a core that's the same color as the flesh. Second, that peel is slippery. Third… how do I even know when my mango is ripe?!
I learned a few easy tips on slicing and dicing mangos, and put them together so you can learn how to cut a mango too. Enjoy… then share with all your friends. No more fresh mango frustrations!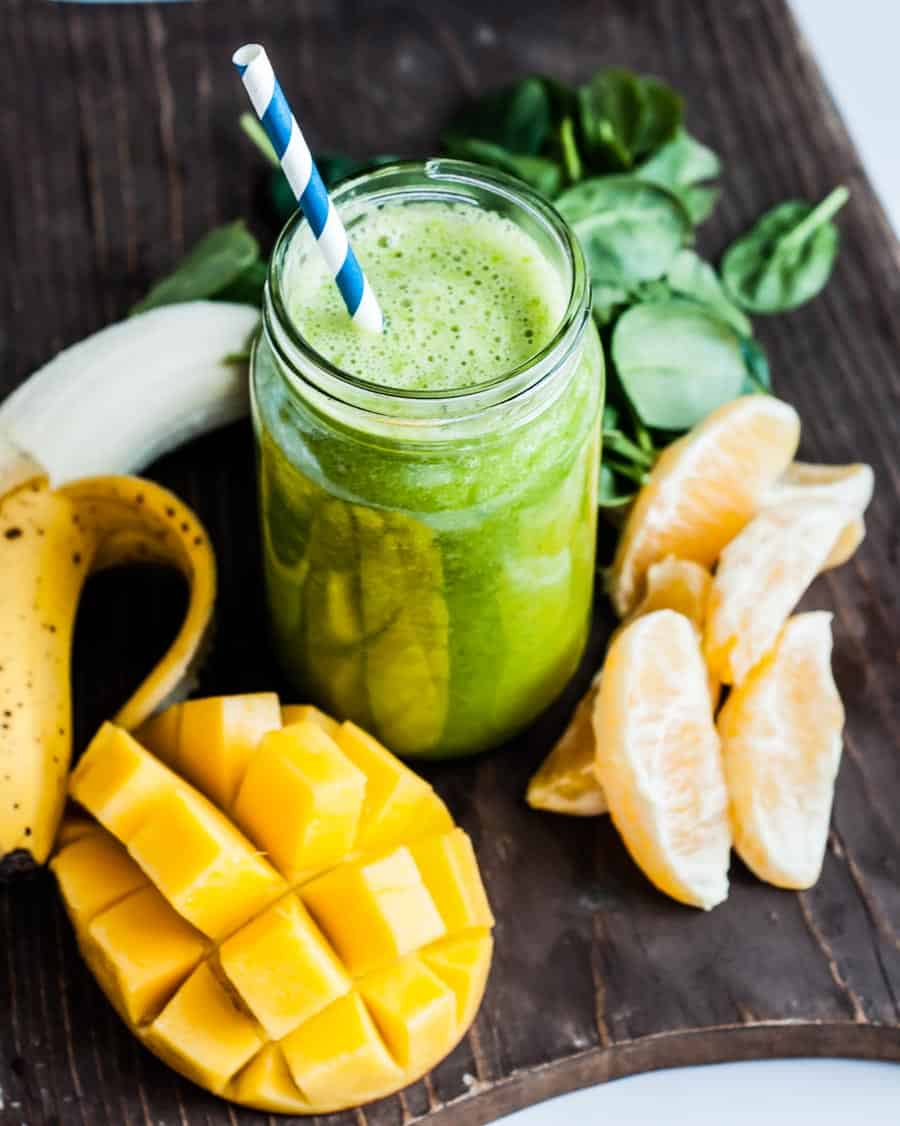 Mango Spinach Smoothie FAQs
Are spinach and fruit smoothies good for you?
Yes! Fruits provide great whole food carbs + fiber that your body turns into energy. Spinach is a superfood that provides added fiber and nutrients to help your body thrive. Put them together and you've got a winning combination loaded with essential vitamins and minerals.
What happens when you drink a spinach smoothie every day?
You feel great, live your best life, and easily chase your passions…. oh and you're fueling your body with tons of vitamins and minerals. Don't forget to change up those leafy greens every so often because you CAN get too much of a good thing.
Does a spinach smoothie make you poop?
Green smoothies contain fiber, which many Americans lack in their diet. Fiber keeps things moving through the body, so it should definitely keep you regular. If you're new to drinking smoothies, know that it might take your body a bit to adjust the added intake of fiber.
More Green Smoothie Recipes
Once this mango spinach smoothie gets you hooked on drinking your greens on the daily, you'll probably want some more recipes to try. Here are a few of my go-to smoothie recipes; let me know if you find a new fav too!
Don't forget to rate + review this recipe once you take a few sips! I'd love to hear how it turned out for you.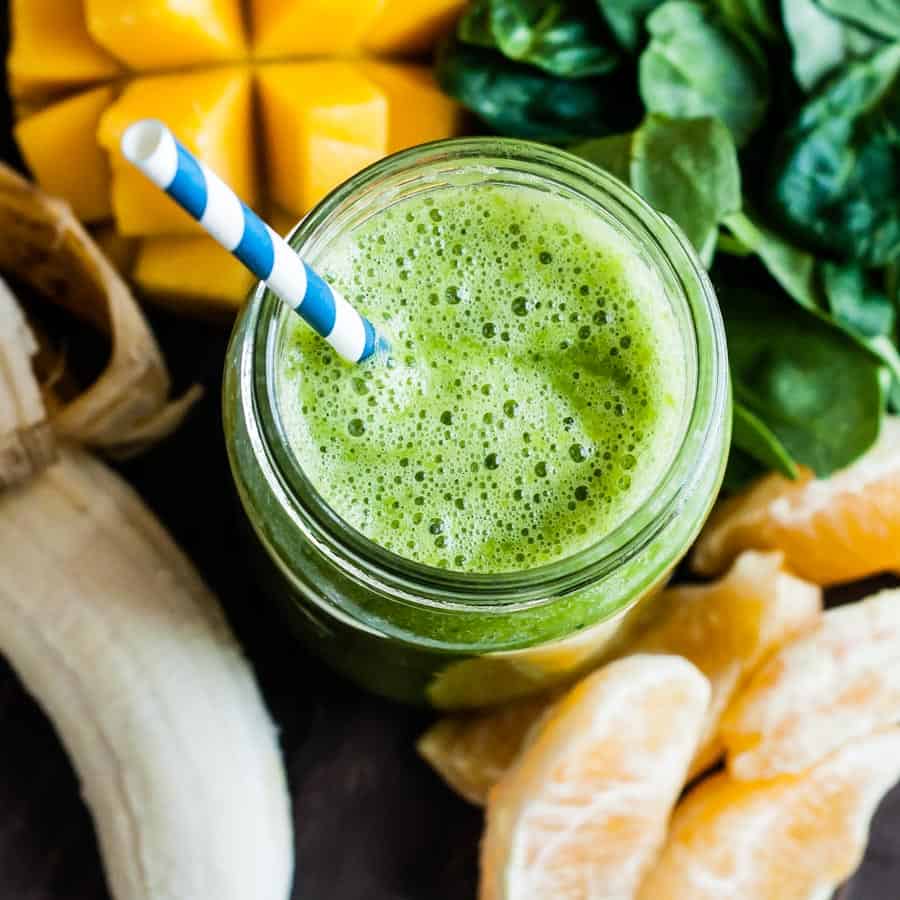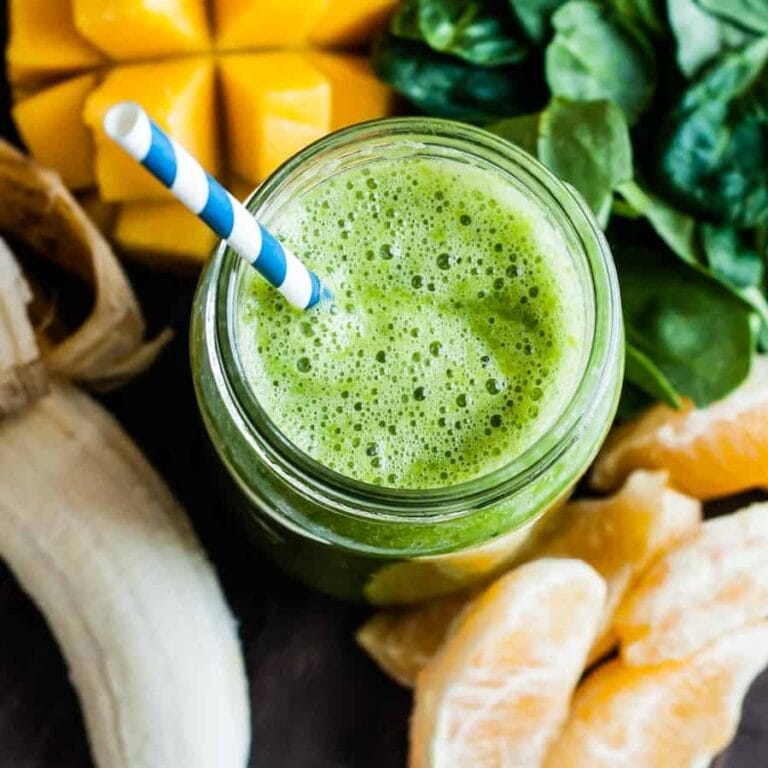 Mango Spinach Smoothie
This mango spinach smoothie recipe is packed with vitamins A and C to give your body essential vitamins to thrive. The addition of coconut water makes it a great post workout drink as it replenishes your electrolytes.
Ingredients
1

cup

spinach

½

cup

coconut water

½

orange

peeled

½

cup

mango

frozen

½

banana

1

serving

homemade protein powder

optional
Instructions
Blend spinach, coconut water and orange together until leafy chunks are gone.

Add in the banana and mango, blend until smooth.

Pour into a glass and enjoy!
Notes
If banana isn't your thing, then a handful of cashews or 1/4 an avocado will keep this smoothie creamy
Swap coconut water with regular water or the plant milk of your choice
Swap spinach with the leafy green of your choice; swiss chard is also a great option here
Nutrition
Calories:
163
kcal
,
Carbohydrates:
39
g
,
Protein:
4
g
,
Fat:
1
g
,
Saturated Fat:
1
g
,
Polyunsaturated Fat:
1
g
,
Monounsaturated Fat:
1
g
,
Sodium:
151
mg
,
Potassium:
936
mg
,
Fiber:
6
g
,
Sugar:
28
g
,
Vitamin A:
3891
IU
,
Vitamin C:
81
mg
,
Calcium:
97
mg
,
Iron:
2
mg