Fall is here and with it, my vehicle turns into a taxi getting my kids to school, practice, dances and more. You better believe I'll be blending my smoothies to-go this season! Along with packing in some Healthy Granola and Vegan Protein Bars for the long car rides to and from volleyball tournaments, I'm bringing this delicious Maple Pumpkin Fall Smoothie, too.
Do you realize just how wonderful pumpkins are for your health? Seriously, pumpkins are full of nutrients like other orange vegetables that will make you love and crave them all the more this season.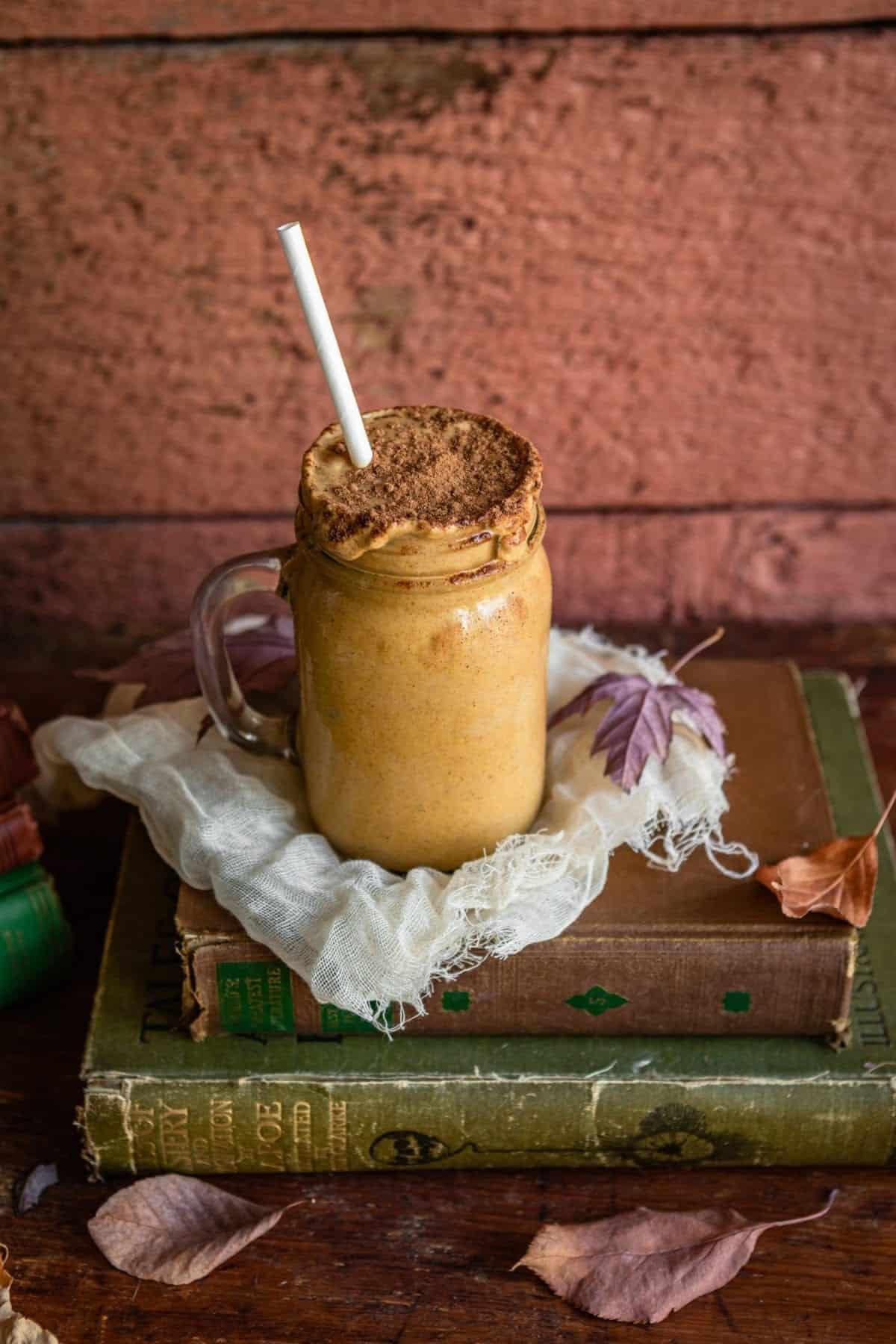 I just love it when seasonal eating lines up with exactly what I'm craving, and you'll be craving this festive smoothie over and over again. It's so good! Pumpkin might seem like an odd smoothie ingredient, yet it's super easy to blend and enjoy as the weather turns a bit cooler.
Table of Contents
Recipe Ingredients for a Fall Smoothie
This fall smoothie gets its incredible color from, you guessed it, the pumpkin! And that's not the only ingredient making it super creamy as well. I've actually added another vegetable into my blender to make this a creamy creation. Here's what I'm blending:
Almond milk: You can make your own almond milk for smoothies, or stick to your favorite store-bought brand. I like Elmhurst Milked Almonds for a treat, but it's pretty pricey so I usually make my own.
Frozen cauliflower florets: Say what? You read that right. I like adding frozen cauliflower to smoothies to reap all the great benefits as well as adding another creamy ingredient. You really don't taste it as long as you use frozen, so be brave and toss it in.
Pecans: I like blending these into my smoothie for flavor as well as sprinkling some pieces on top for a bit of crunch.
Pumpkin purée: You can find this in the baking section of your grocery store. Make sure to read your labels! Some forms of canned pumpkin include a variety of other ingredients like additives, other squash and even sweet potato! Find one where pumpkin is the only ingredient.
Maple syrup: This natural sweetener brings out the warm nuttiness of almond milk and pecans. If you are fine with a non-vegan version then swap it with honey.
Spices: I want this to taste like pumpkin yet not pumpkin pie, so I'm adding in vanilla extract, cinnamon, nutmeg and a pinch of sea salt to enhance that classic Autumn flavor but keep it from veering into a Thanksgiving beverage.
What Are Some Pumpkin Benefits?
Why do I like using pumpkin in smoothies? It's loaded with healthy benefits, that's why!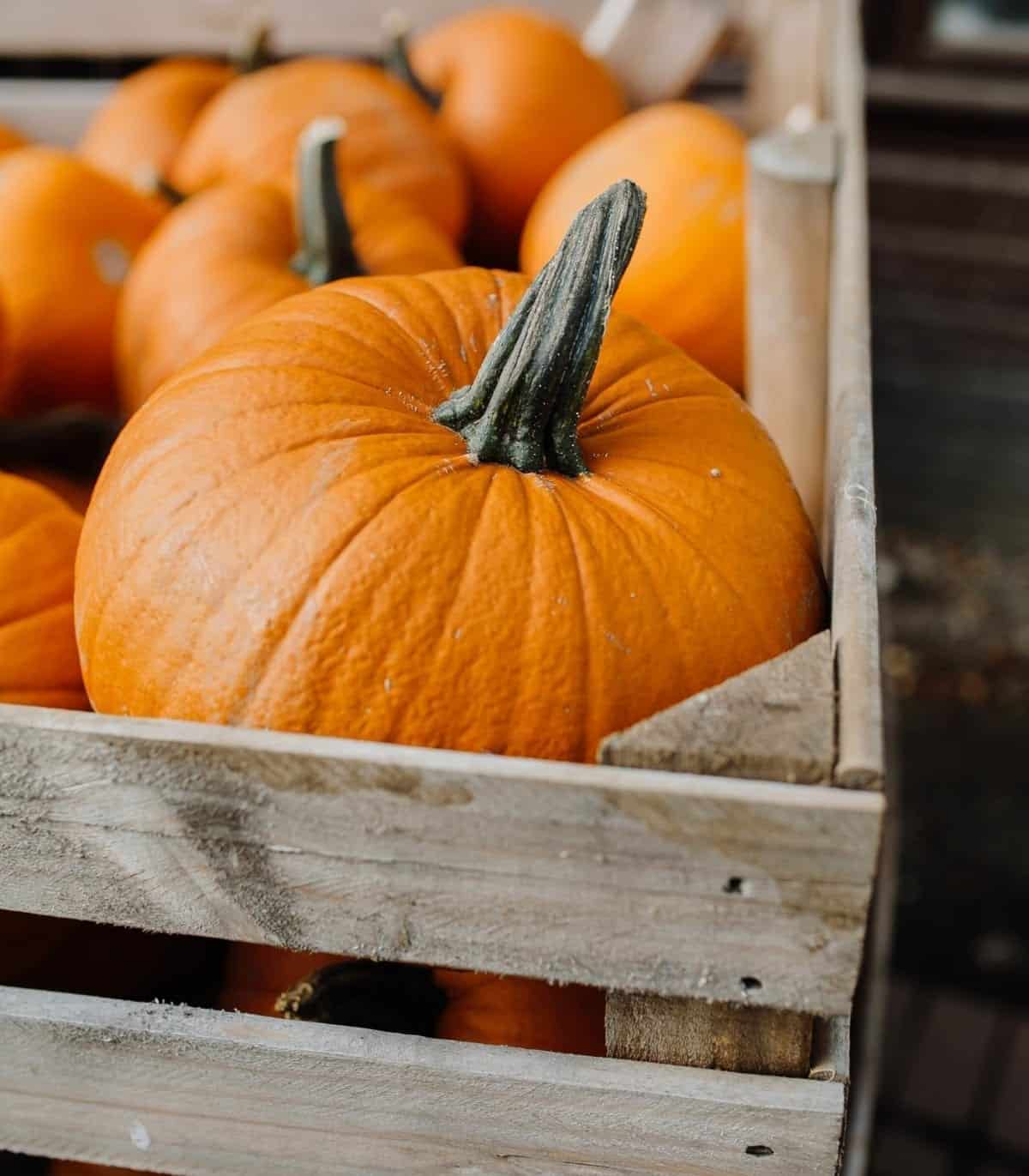 High in vitamin A. Just one cup contains over 200 percent of the recommended daily intake, which is super important for your eye health and night vision.
Packed with vitamin C. Strengthen your immune system all winter (and flu season!) long by adding this veggie to smoothies, soups, baked goods and more. One cup of pumpkin contains 19 percent of the recommended daily intake.
More potassium than a banana. There are over 500 milligrams of potassium in a cup of canned pumpkin. That's more than a large banana!
Fiber! Pumpkin will fill you up fast with 7 grams in one cup. The fiber also helps your digestion and can help lower your cholesterol.
A Nutrition Research Review study done by Cambridge University showed that when pumpkin was used on diabetic patients, it caused a drop in blood sugar levels. The study concluded that pumpkin may be used to naturally help regulate the blood sugar in Type 2 Diabetics instead of using chemical insulin.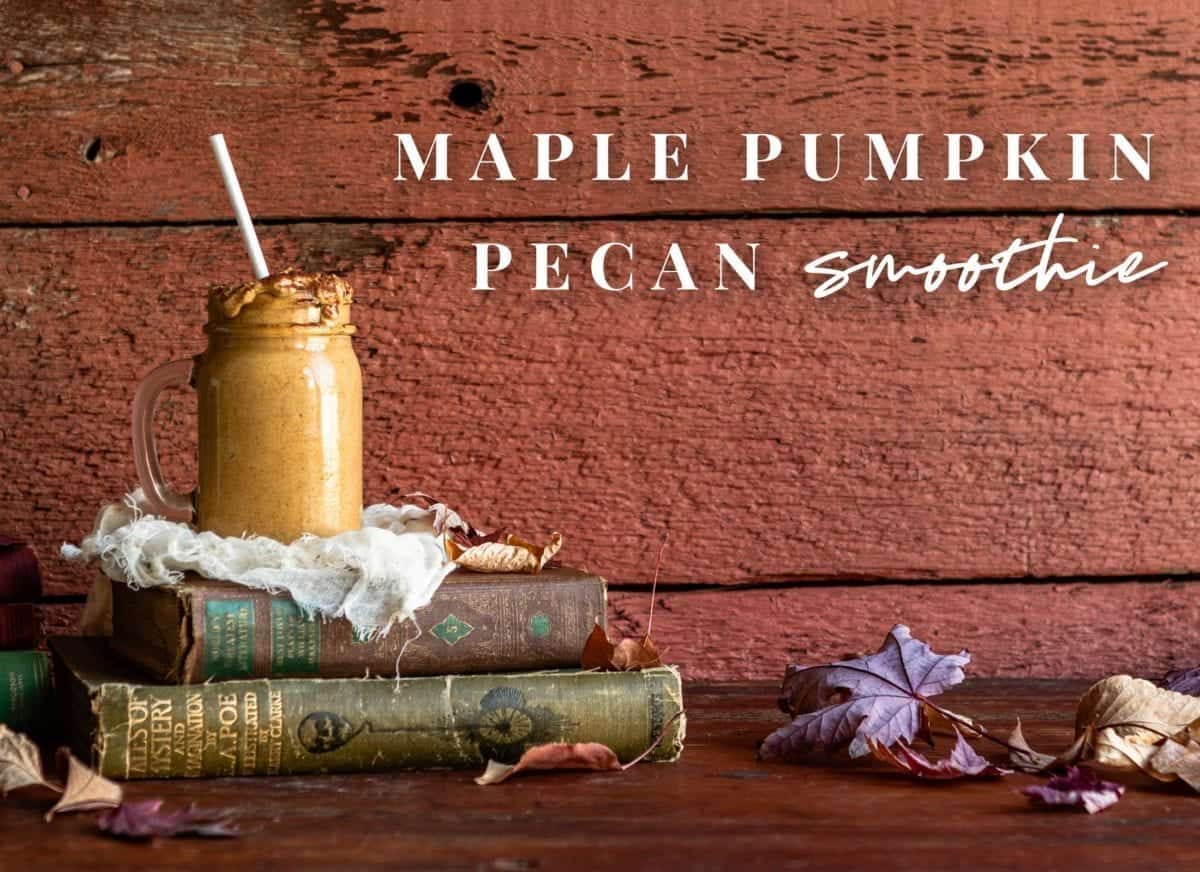 How to Blend a Fall Smoothie
Since this isn't a green smoothie (though feel free to add leafy greens if you want), the two-step blend method will change slightly.
Blend the almond milk, pecans and frozen cauliflower until smooth. Stop and scrape down the sides as needed to get all the nuts.
Add the remaining ingredients and blend again until smooth. The pumpkin puree is obviously already smooth yet it is pretty thick so you may need to add a bit more liquid if your blender needs a little help.
Pro tip: If you add any boosters like almond butter, greek yogurt or chia seeds then make sure you add more liquid in to offset the thickness.
Fall Smoothie Ingredient Swaps
To make this fall smoothie nut-free, swap the pecans for oats or hemp hearts and swap the almond milk with the nut-free milk of your choice (hemp milk is a great option!).
If pumpkin pie spice is your thing then go all out and use a pre-made spice mix or add in some ground ginger and cloves along with the spices I already mentioned.
Swap the maple syrup with honey or another natural sweetener. Pumpkin isn't super sweet on its own so I find this smoothie does need some added sweetness.
FAQs for a Fall Smoothie
What can I add instead of yogurt to a smoothie?
You can easily swap yogurt with a variety of ingredients. If you need creaminess then swap it with vegan yogurt, frozen cauliflower or cashews. If you need protein then swap it with a plant-based protein powder. If you want healthy fat then use coconut oil, MCT oil, chia seeds or hemp hearts.
Do weight loss smoothies help?
There is no food that will magically help you lose weight. Yet if you want to fuel your body with more plants and replace a meal with a smoothie then you can! It may help you lose weight to choose whole food, plant-based ingredients and make sure that your smoothies contain protein, healthy fats and fiber so that your body can use that fuel for energy.
Are smoothies good for a head cold?
Smoothies can help with cold symptoms as well as help your body fight that cold better. Make sure to blend whole food that is high in vitamin C and fiber. Leafy greens can give you protein and energy when you aren't feeling well, and smoothies in general can help you stay hydrated.
More Fall Recipes
If you dive into Fall the way I do then you'll need some fun seasonal recipes to take with you. I've got you covered with dishes that will take you from breakfast to dinner in Autumn fashion:
I can't wait for you to give this smoothie a try. Will you leave a rating + review when you do so I can know how yours turned out?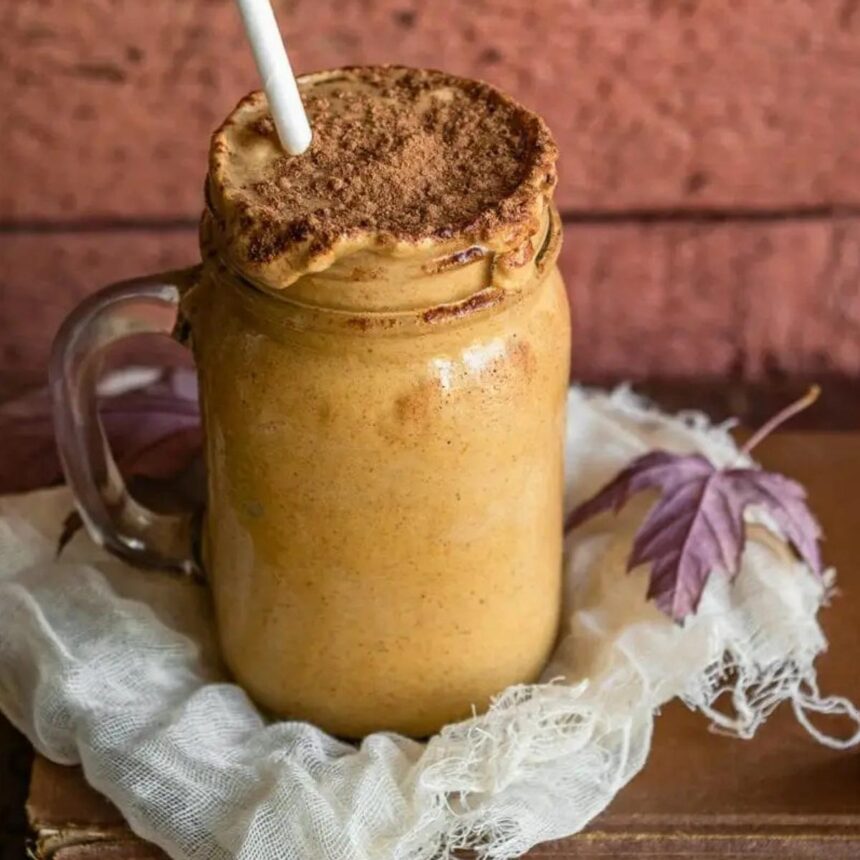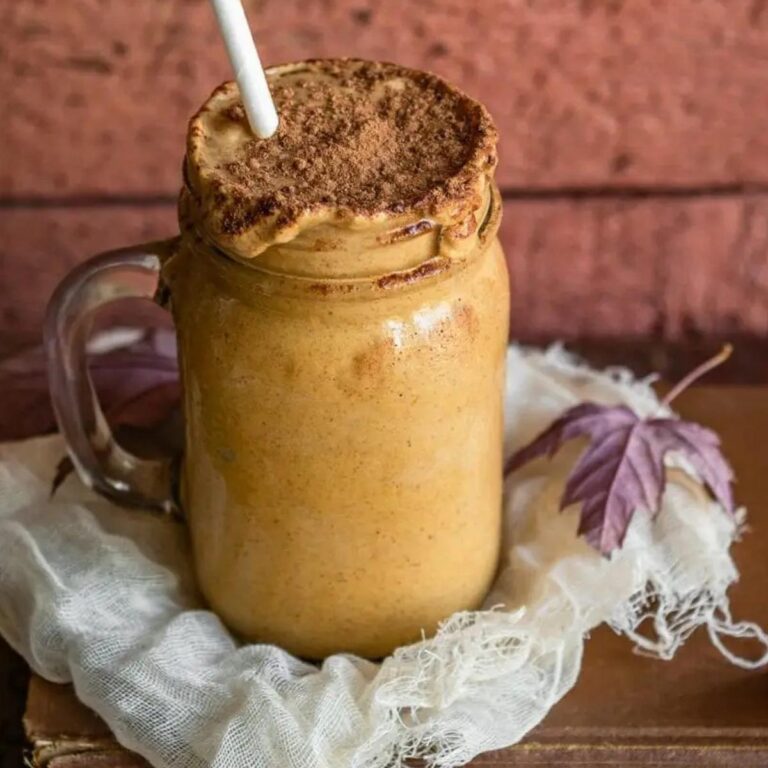 Maple Pumpkin Fall Smoothie
Give this perfectly spiced, ultra creamy Fall smoothie a blend. With warming spices, creamy cauliflower and pumpkin purée you're sure to be in an Autumn state-of-mind at first sip.
Ingredients
2

tbsp

raw pecans

plus more for sprinkling

1

cup

almond milk

½

cup

cauliflower

frozen flourets

⅓

cup

pumpkin puree

canned

1-2

tbsp

maple syrup

½

teaspoon

vanilla extract

pinch

cinnamon

ground

pinch

nutmeg

ground

pinch

sea salt

1

serving

homemade protein powder

optional
Instructions
Place pecans, almond milk and cauliflower florets into a blender and blend until smooth.

Add remaining ingredients and blend again until smooth.

Pour into a glass, add any extra chopped pecans on top, and sprinkle a few more dashes of cinnamon and ground nutmeg.
Notes
It's best to use unsweetened, dairy-free milk. If you are using a sweetened version, then cut the amount of maple syrup in half.
Frozen cauliflower (instead of fresh) has a few benefits when blending smoothies. First, it doesn't pack the same sulfury odor and taste as its raw or cooked counterparts, making it almost undetectable in smoothie form. Second, using frozen cauliflower helps make this a cold smoothie with a creamy, milkshake-like consistency. You can use fresh cauliflower if you prefer, but try frozen if possible!
If you want to turn your smoothie into a meal replacement drink then make sure to add a bit more liquid as the homemade protein powder will make it even thicker.
Swap the maple syrup for the natural sweetener of your choice.
Nutrition
Calories:
273
kcal
,
Carbohydrates:
27
g
,
Protein:
5
g
,
Fat:
18
g
,
Saturated Fat:
1
g
,
Polyunsaturated Fat:
6
g
,
Monounsaturated Fat:
10
g
,
Sodium:
346
mg
,
Potassium:
448
mg
,
Fiber:
6
g
,
Sugar:
17
g
,
Vitamin A:
12721
IU
,
Vitamin C:
28
mg
,
Calcium:
368
mg
,
Iron:
2
mg