I'm sure by now you've probably heard someone you know or follow talk about Meatless Mondays. Whether they are showing a recipe they made, or an intention to start their week, this is a buzzword making the rounds. What is this and how can we find Meatless Monday recipes? I've got you covered for the whole day and the next several Mondays as well.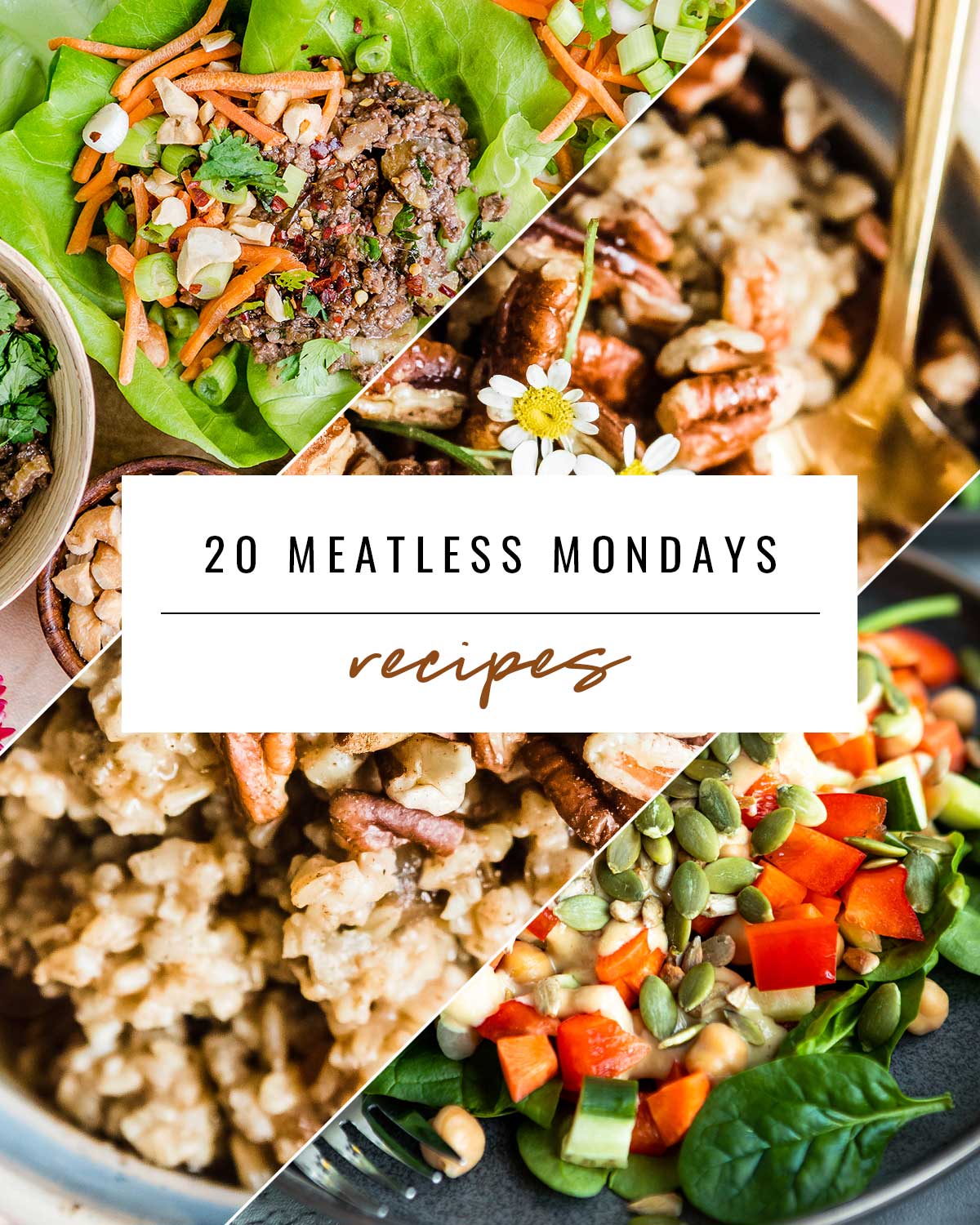 This movement was started by Sid Lerner, the Founder of The Monday Campaigns as a way to eat more plants as well as combat climate change. I am all for sharing about a plant-based diet and why it matters so of course I'm on board! Plus, Mondays are an easy day to pick to try something new, since many of us can shop and prep for it over the weekend.
If the start of the week doesn't work for you then pick the day that does and join us!
I've chosen whole food plant-based recipes loaded with plant-based protein. Why? Because I want you to see how easy it is to incorporate meat-free meals and still be full and satisfied.
Table of Contents
Breakfast Options
I call smoothies the healthiest fast food because they are super fast to make and are packed with nutrients. The smoothies below are great examples of how simple it is to get in a whole lot of protein, healthy fats and fiber to start your day off right. Or choose a non-smoothie recipe for a chewable way to get those nutrients in. Both are great options!
Bottom line: I don't want to be hangry an hour after breakfast and I know these recipes will tide me over all morning long!
Lunch Options
Oh lunch. This is probably the hardest time for me to make great choices. I work. I mom. I live life. Lunch often gets forgotten between morning meetings and afternoon pickups, or becomes a convenience food snuck in on the road.
Not anymore! These seven Meatless Monday recipes are too good to miss. They are easy, can be made ahead of time and can use leftovers from dinners or remnants from the fridge so your produce doesn't go bad. Make this meal easy on yourself and focus on the things in your day that take priority.
Dinner Options
Now that we've covered breakfast and lunch, let's talk Meatless Monday recipes for dinner. Depending on your schedule, you may be trying to squeeze dinner in between events or be famished once you get home from a long day. Never fear!
Even these meat-free dishes are packed with protein. Super flavorful, bright and ready to be enjoyed by you or your whole family. Pick the one that sounds the tastiest then dive in!
Pro tip: I enjoy eating seasonally not just for fun but for the least expensive yet fresh meals possible. If this is you then check out my Spring Meals guide, Healthy Winter Recipes, Easy Summer Dinners or Soup Recipes for Fall to target your season.
More Plant-Based Meal Plans
If you're ready to take plant-based eating to the next level and incorporate meat-free meals into other days of the week then read on. I found my family relying on convenience foods more and more throughout the week and knew there had to be another way so I started my very own meal planner with breakfasts, lunches, dinners, snacks, holiday recipes, desserts and more.
This awesome planner does all the work for me. It has a highly customizable weekly menu, shopping list I can check right on my phone and recipes for the week. It's a win-win, and you can try it for yourself for 14 days free. I'd love it to work for your family, too!
Want some samples to get you started? Check out the free menus below:
Which one of these recipes do you want to try first? Drop a comment and let me know!