Summer brings the long, hot days and also the best fruit. Watermelon is the #1 fruit I think about when I'm out on a long run, especially during summers in Florida. Low in sugar, high in antioxidants + flavor, this melon smoothie is the perfect addition to your adventures.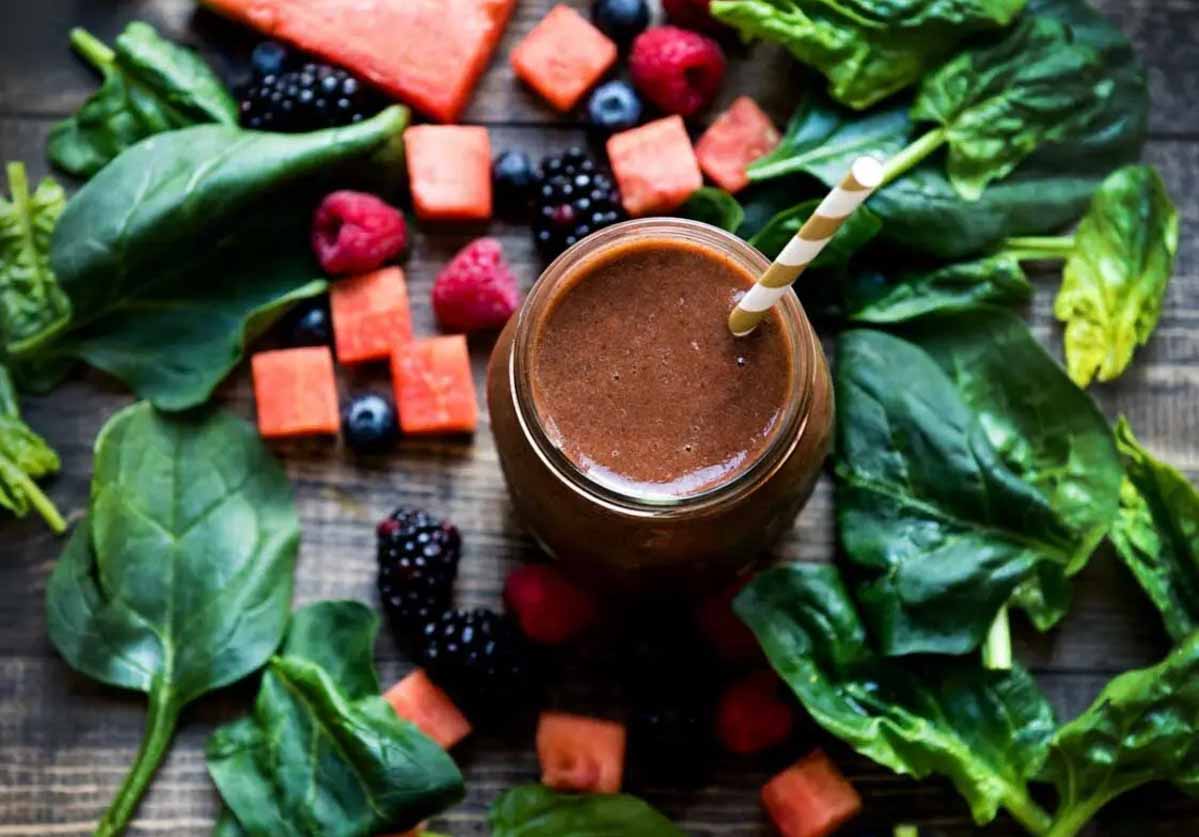 Table of Contents
Melon Smoothie Recipes
Simple smoothies are my jam, and the melon smoothie below hits all the marks! It's just 4 ingredients, mix + match the berries, melon, and leafy greens with whatever you've got on hand. It's super easy to blend, and can really take the edge off a hot day.
Ruby red watermelon smoothie
If you're looking for a smoothie without the greens, then try my summer watermelon smoothie. It's incredibly gorgeous for those of you that choose recipes based on looks.
Melon smoothie popsicles
Need something a little more frozen? Then try these super simple watermelon popsicles. Only 2 ingredients, but oh so yummy! You could even turn the melon smoothie below into popsicles by pouring it into molds then freezing, after blending.
Classic melon smoothie
Try a strawberry watermelon smoothie with a ginger kick for an immunity boost. Even though it's summer, germs always seem to find their way into my household for the summer cold + flu. This is a great natural defense against any unwanted bugs, and still tastes great!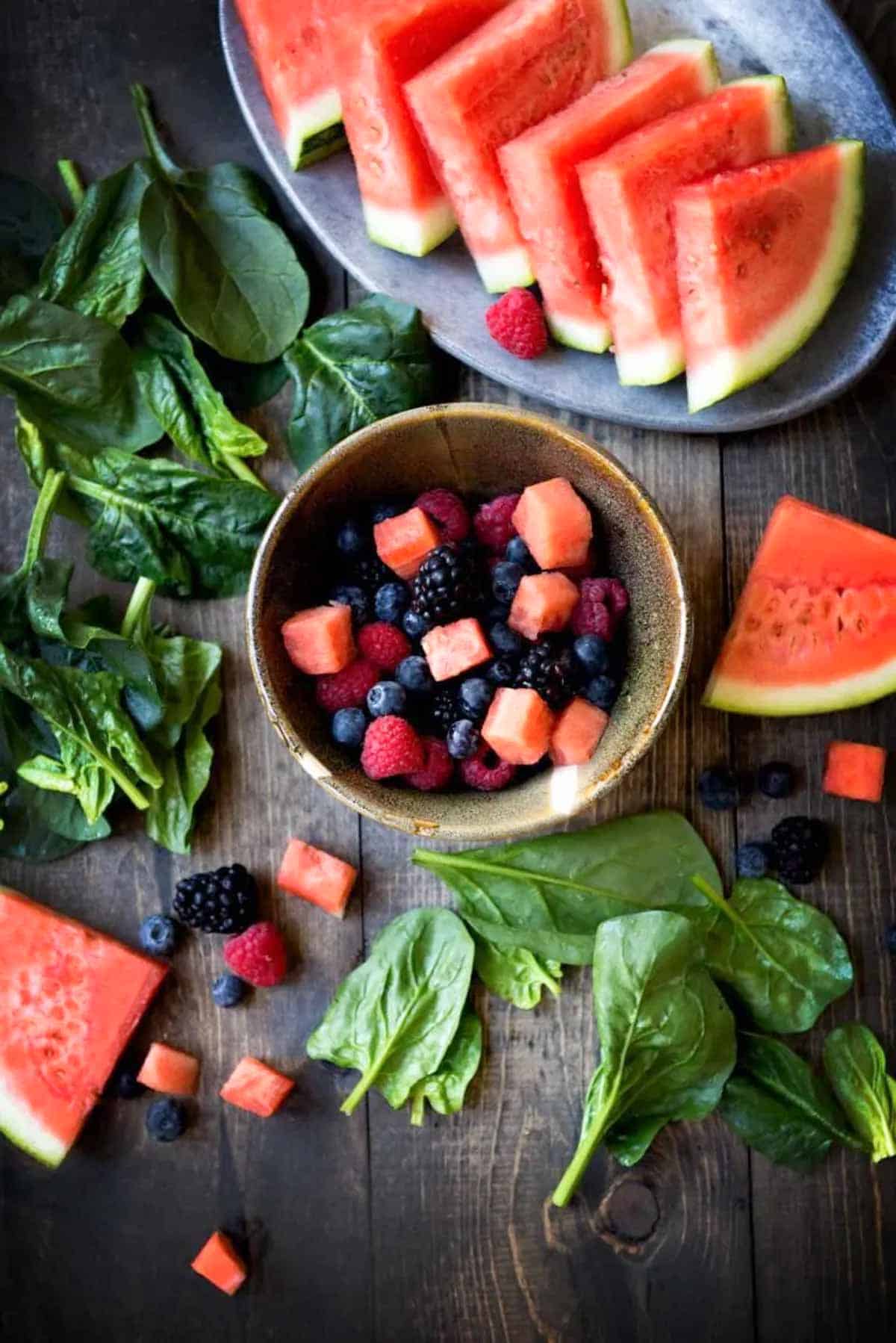 How to Pick a Ripe Melon
I've spent a lot of time at the market picking up watermelons to try and find the perfectly ripe one. Yet, I have no idea what I'm doing. I want to blend this melon smoothie ASAP! So I Googled 'how to pick a watermelon' and got some great tips from The Pioneer Woman:
It should be heavy (small or large)
There should be a side that's more yellow, from it sitting on the ground
Once you find the yellow spot, knock on it. If it sounds hollow, then you've got a winner!
Take it home, cut it up, and blend this melon smoothie before anyone else gobbles up all the watermelon!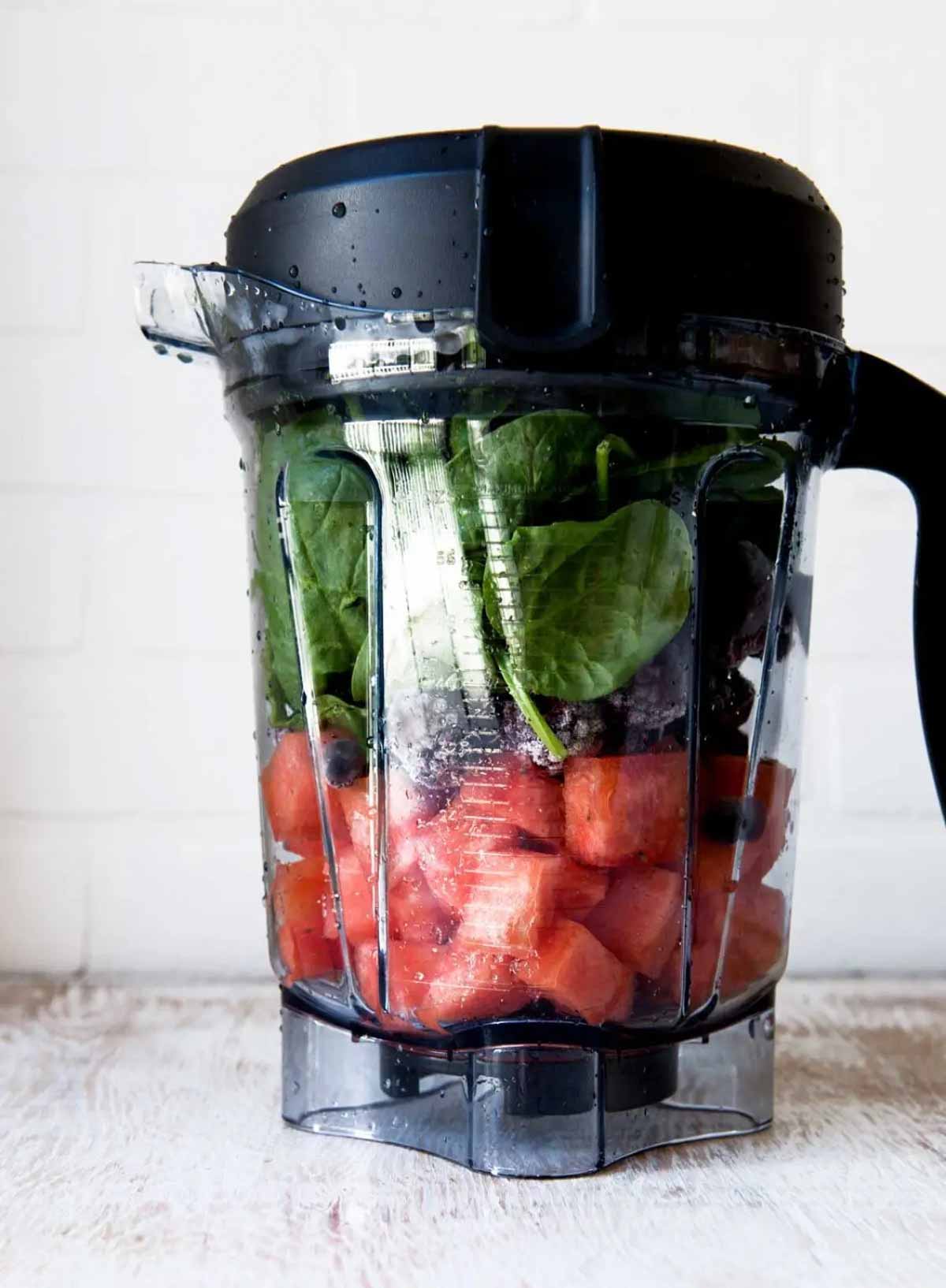 Smoothie Swaps
Watermelon is a unique fruit for smoothies, because it has 2 purposes: fruit + liquid. I recommend adding 1 cup of liquid to most smoothie recipes, yet when it comes to watermelon, I lower the amount of actual liquid to compensate for the load of water inside the melon.
In fact, this melon smoothie has NO LIQUID… and that's on purpose. I want my smoothie to be drinkable, yet not juice. The 1 1/2 cups of juicy watermelon gives me all the water I need for this beverage.
If you're needing to swap out the watermelon, I suggest swapping for another fruit in the family: cantaloupe, zucchini, or muskmelon. Swaps will change the taste, so you might need to add a bit of maple syrup to keep this melon smoothie sweet with any substitutions you make.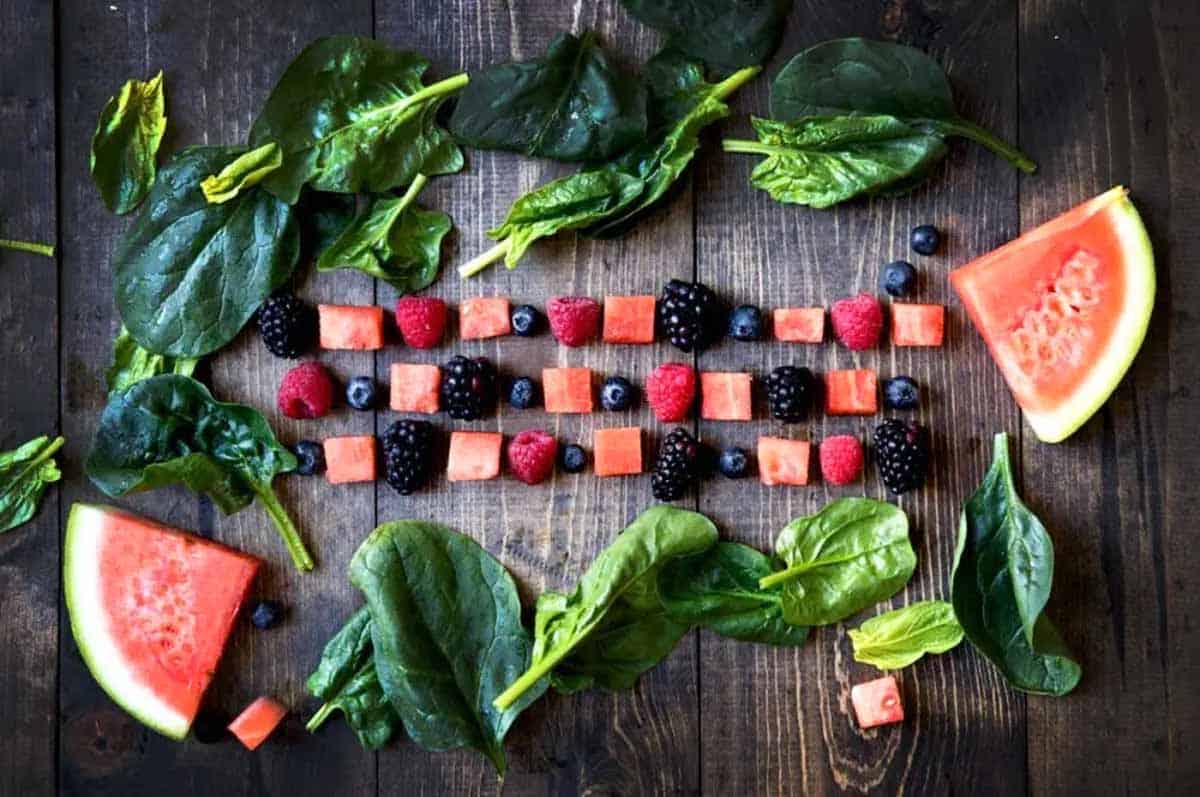 FAQs
What fruit goes well with melon?
Berries! Herbs! Leafy Greens! Oh… but for real. All of these are great additions to this summertime fruit. I like pairing it with berries because they add sweetness + tartness to the mix, all while keeping the natural sugar content low.
What are the best fruits to put in a smoothie?
What's your fav fruit? Answer, then toss that into your blender! I add at least 1 frozen fruit to ensure a refreshing smoothie, yet all kinds of fruits go great in smoothies.
How do you make a smoothie with watermelon?
The biggest key is not adding too much liquid. Watermelon is already full of water, so try leaving out any extra liquid first, then add a bit of water if needed after your first blend. This melon smoothie should have plenty of liquid without adding any extra.
More summer smoothie recipes
Blending seasonal smoothies helps me get the most bang for my buck at the grocery store as well as ensure the best tasting + most nutritious ingredients. First try the melon smoothie recipe below, then check out these cooling summer time smoothie recipes:
Don't forget to leave a comment + rating once you've blended up this melon smoothie. I'd love to know how you liked it!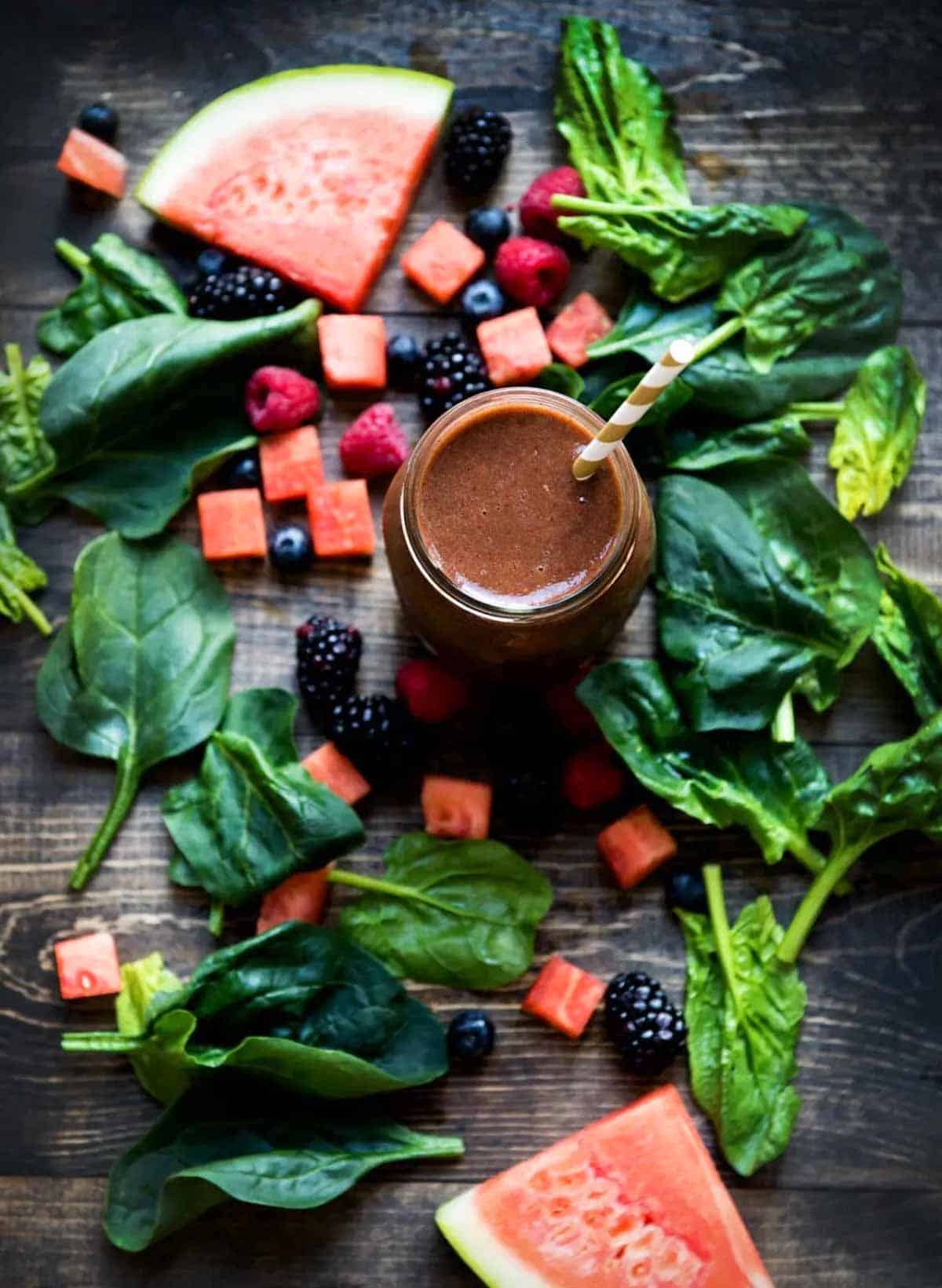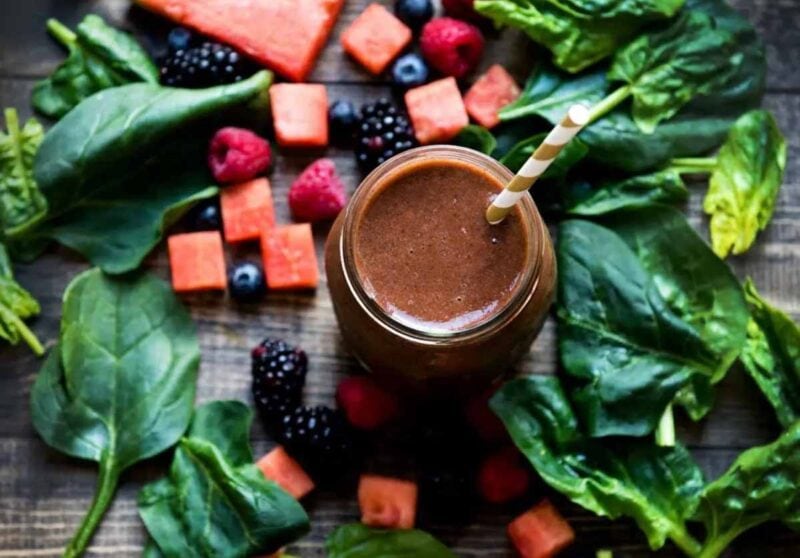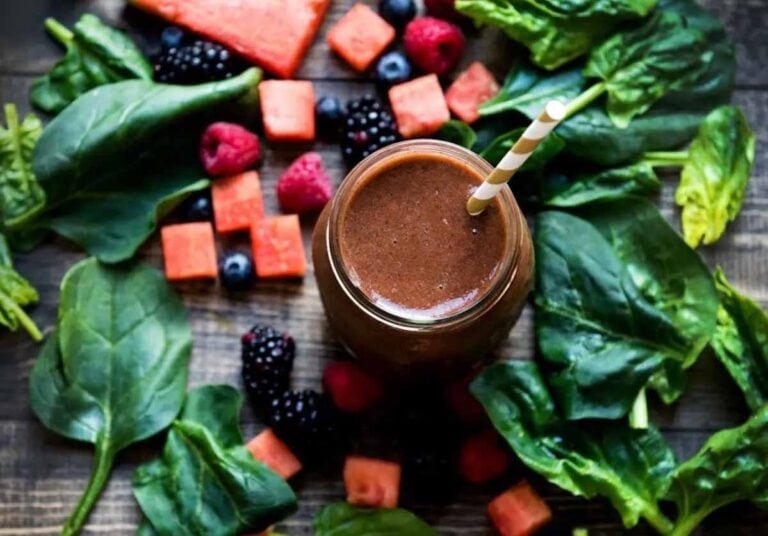 Summer Melon Smoothie
Summer brings the long, hot days and also the best fruit. This summer melon smoothie is sweet and packed with antioxidant rich plants.
Ingredients
1

cup

spinach

1 ½

cups

watermelon

chilled

¼

cup

strawberries

frozen

¼

cup

blackberries

1

serving

homemade protein powder

optional
Instructions
Blend spinach and watermelon together first (until all leafy chunks are gone)

Add strawberries and blackberries and blend again.

Pour into a glass and enjoy immediately.
Notes
Can also use other berries such as raspberries and blueberries.
Use at least 1 frozen fruit for a refreshingly cool smoothie.
Swap spinach with the leafy greens of your choice.
Nutrition
Calories:
102
kcal
,
Carbohydrates:
25
g
,
Protein:
3
g
,
Fat:
1
g
,
Saturated Fat:
1
g
,
Polyunsaturated Fat:
1
g
,
Monounsaturated Fat:
1
g
,
Sodium:
27
mg
,
Potassium:
536
mg
,
Fiber:
4
g
,
Sugar:
18
g
,
Vitamin A:
4192
IU
,
Vitamin C:
56
mg
,
Calcium:
62
mg
,
Iron:
2
mg