Sometimes I get into a smoothie rut, or I just want something I can scoop versus sip. That's where this pineapple smoothie bowl comes in. An incredibly creamy, sweet bowl with both fruit and vegetables creates the ultimate snacking experience.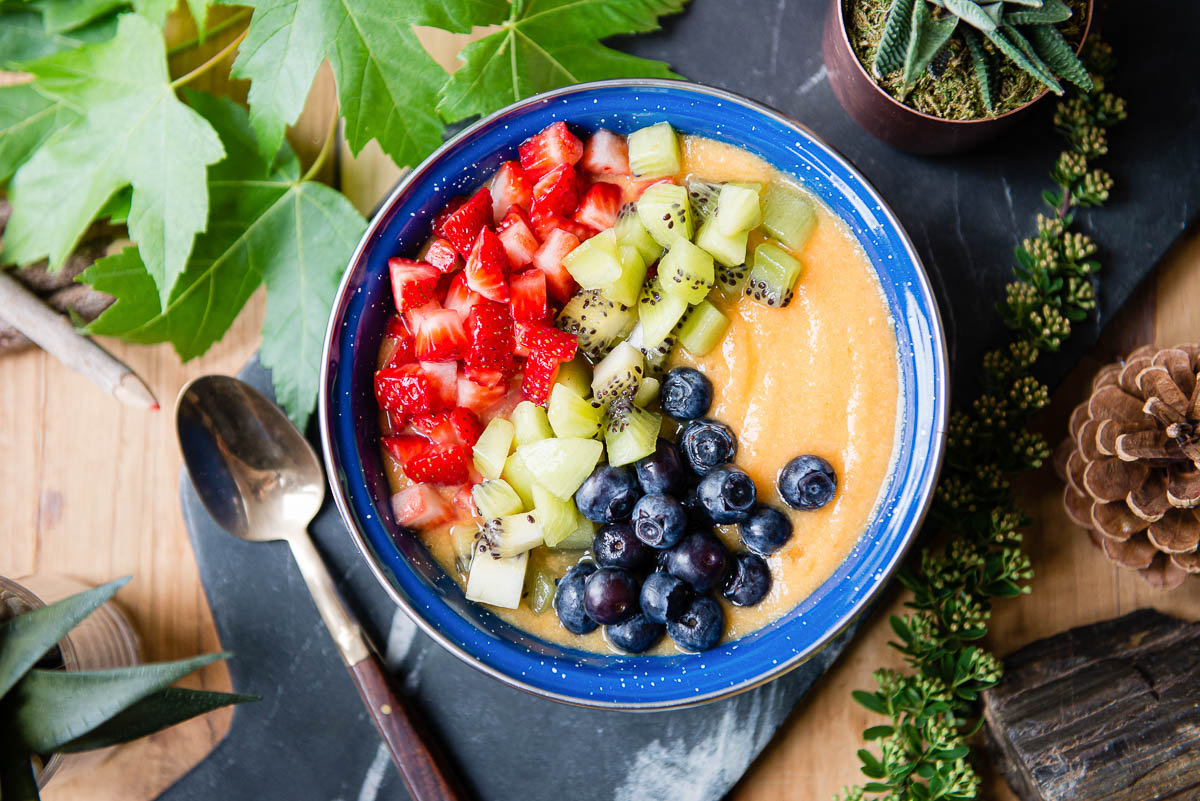 Once blended, it's a vessel for a variety of toppings from healthy granola and nut butter to sprinkles and coconut whipped cream. It's a way to give my kids a sweeter treat after school without turning to ice cream or popsicles loaded with refined sugar. That's a definite win in my book!
Table of Contents
Recipe Ingredients
This is a recipe with both fruit and vegetables and oh so delightful. It's the perfect blend of sweet n' creamy and here's what I'm blending:
Carrot: Carrots are full of fiber and slightly sweet, making them great a great smoothie ingredient.
Frozen cauliflower: This might sound like an odd ingredient yet hear me out. Frozen, it provides creaminess without changing the taste, plus another veggie!
Orange: This acts as both a liquid and fruit in this recipe. No extra liquid is needed!
Banana: Provides natural sweetness and helps with the creaminess. Learn how to freeze bananas to have some on hand at all times.
Pineapple: A little tang and the most prominent flavor in this recipe.
Since you want a thick result, use as many frozen ingredients as you can. They will help get the ice cream-level thickness. If you freeze the orange, you will need a little extra liquid to get the blender going, which is fine!
To cut down on the natural sugar in this recipe, swap 1 banana with 1/2 an avocado (though this will change the color).
Topping Options
I topped this pineapple smoothie bowl with blueberries, kiwi and strawberries. Want more options? The sky's the limit! Healthy granola for a bit of crunch, superfoods like cacao nibs, hemp hearts and chia seeds are fun and nutritious. If you really want some fun, top it with coconut whipped cream.
When my kids bring their friends over, I like to toss together a blender full of fruits, scoop them into bowls then grab as many toppings as I can find in my kitchen. Sprinkles? Yes! Coconut flakes? Of course. Chopped nuts, cereal, nut butter? I am all for it.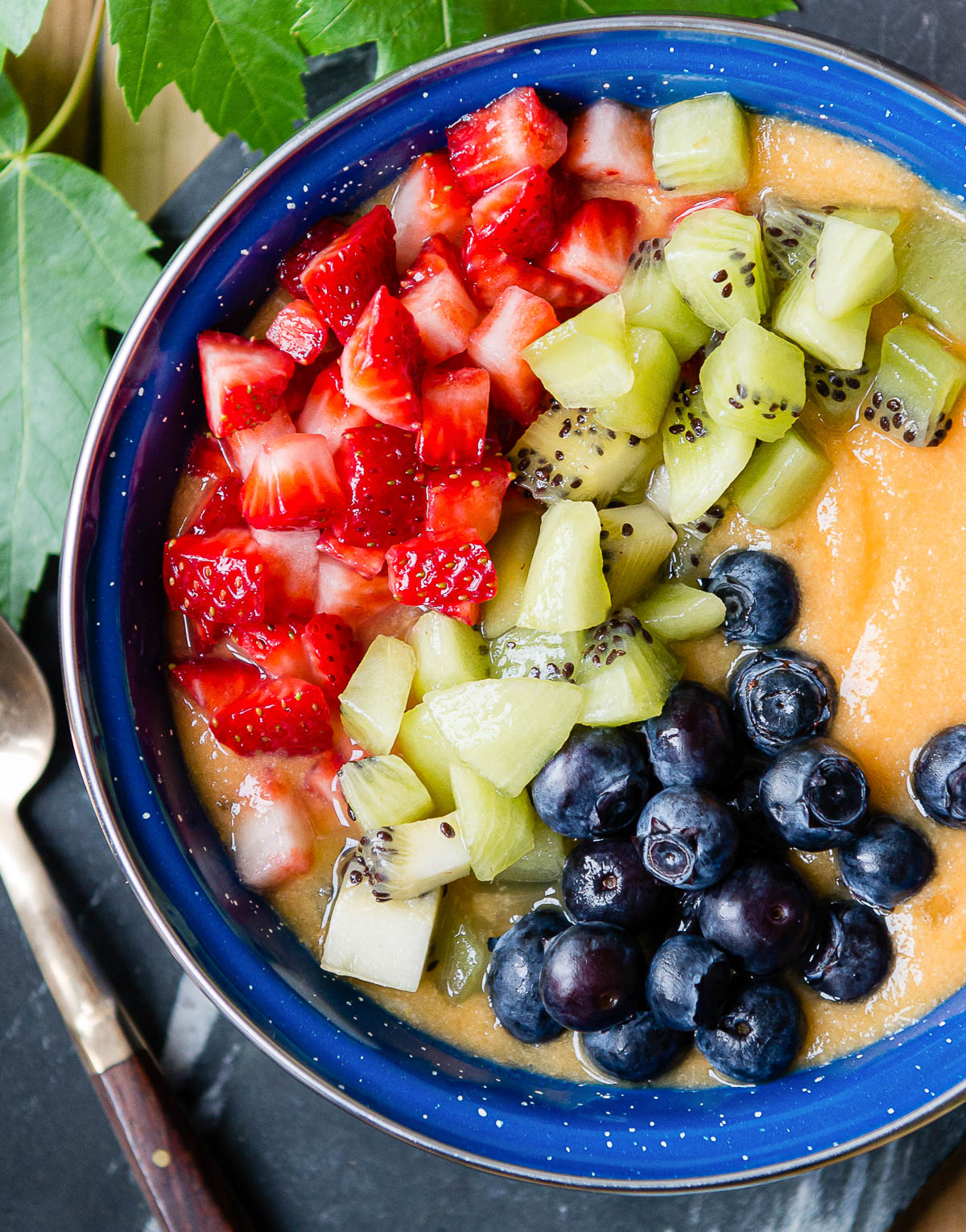 How to Blend a Pineapple Smoothie Bowl
Blending smoothie bowls takes a bit longer than smoothies due to their consistency, yet they are just as easy to make. Since this one doesn't have leafy greens or liquid outside the orange, there is no need for two blends. Here are some tips to blend the perfect bowl:
Add all the fruit to your blender, secure the lid, and start it. The blades should start turning initially and will probably stop pretty quickly. If you have a high-powered blender with a tamper, use that to keep pushing the ingredients down until the blades move on their own. If your blender doesn't have this tool then stop it and scrape down the sides as needed. If the blades still won't move, add 1/4 cup of water to help get things started.
Once the blender is blending on its own, blend until smooth. As I said earlier, this will take a little longer than a drinkable smoothie. It's so worth it. Once there are no chunks left, you should be ready to stop and scoop.
Scoop the contents into a bowl and top however you want. Then enjoy! It's best to eat a smoothie bowl right away as the ingredients will get more liquidy the more they thaw.
To turn this bowl into a meal replacement, add my protein powder recipe to boost the protein, healthy fat and fiber. This will help you stay full longer and also help your body better process the natural sugar in this recipe.
FAQs
How do you thicken a smoothie bowl?
Smoothie bowls should have the thickness of ice cream and be more scoopable compared to pourable. Start with as little liquid as possible and make sure you use as many frozen ingredients as possible. This will make it harder for your blender to start blending, yet will create the thickest result. Using ingredients like frozen cauliflower, mango, banana and produce that is naturally creamy will help create a thick smoothie bowl as well.
Is it okay to have a smoothie bowl every day?
I drink a green smoothie every day. If you want to turn that into a bowl then go for it! Yet there are a few things I keep in mind with my daily smoothie. First, I make sure to swap up my leafy greens to get in different nutrients. Second, I always switch up my other ingredients so I'm not just filling my body with the same thing every day. Third, I like to use my smoothie as a meal replacement so I ensure there is always added protein and healthy fat to keep me full and satisfied.
Is eating a pineapple smoothie bowl good for you?
It can be! Use only whole-food plant-based ingredients. Focus on a variety of fruits and vegetables in your blend. Make sure to add healthy fat and protein if you are using this bowl as a meal or filling snack.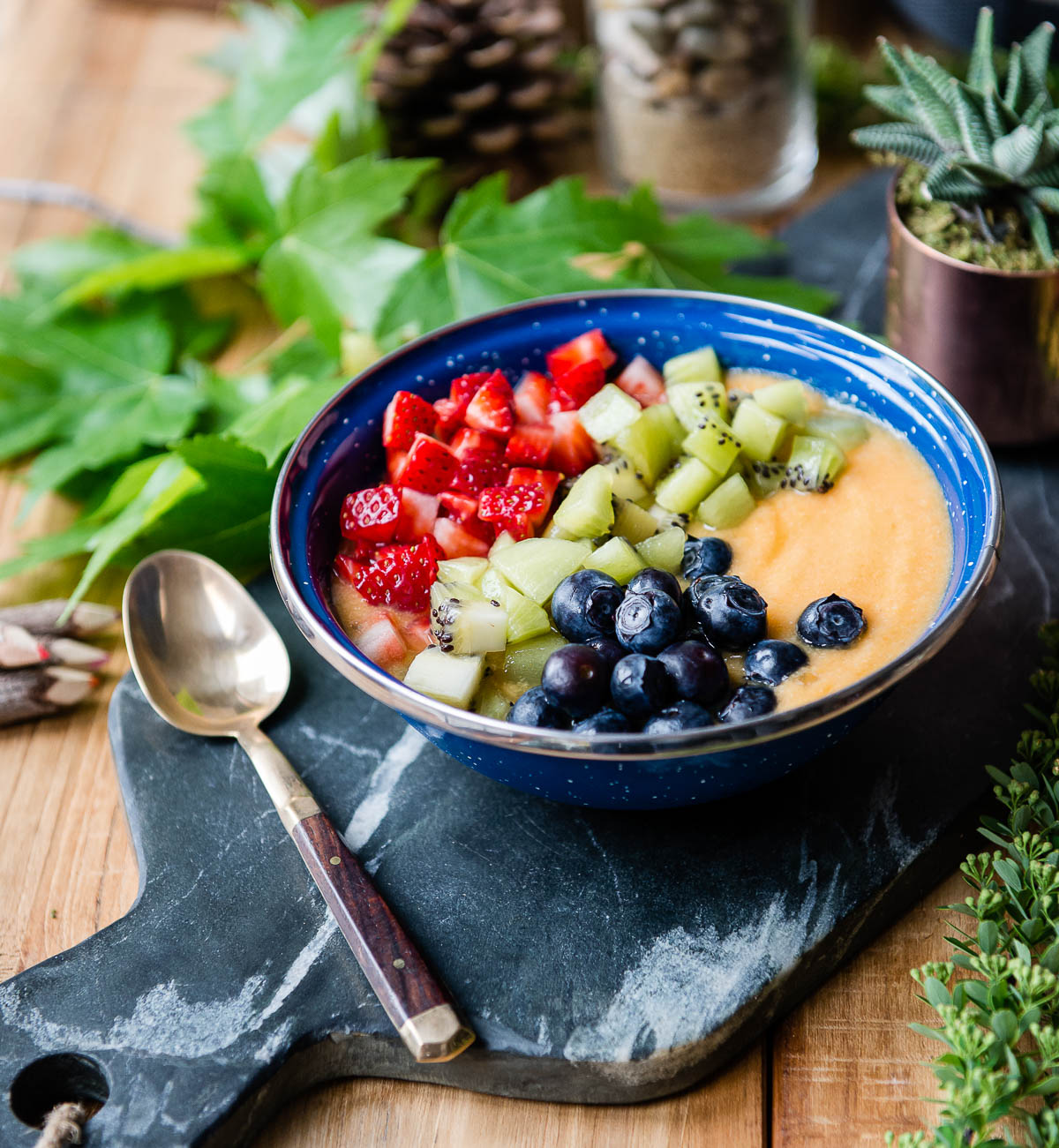 More Smoothie Bowl Recipes
I love getting creative with my bowls in both the blended part and the toppings. Here are my favorite ones to blend:
I'd love if you would rate + review this recipe once you make it; I want to know how it turned out for you!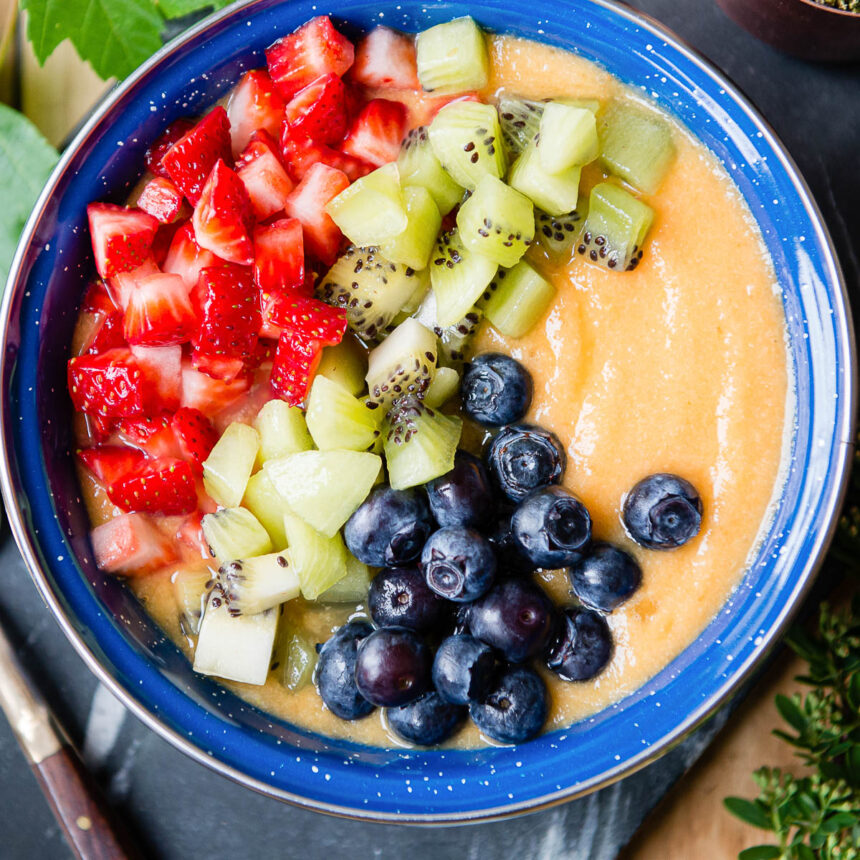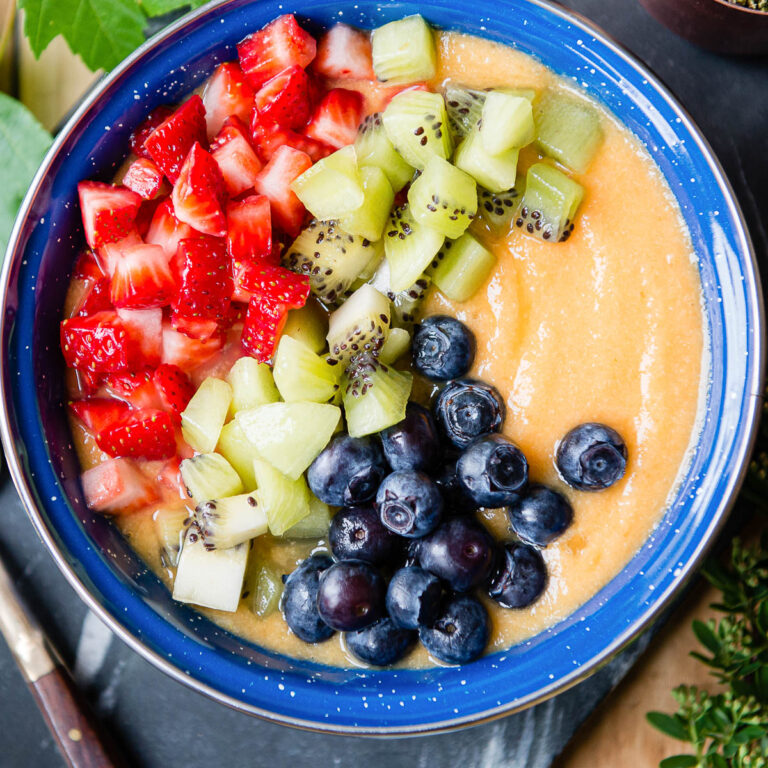 Pineapple Smoothie Bowl
This is a favorite for both of my kids. It's fun to blend, pour into bowls and then go crazy with toppings. It turns out a bit different every time we make it and we love it! Share this with your little ones today and create a great snack option.
Ingredients
¼

cup

carrot

¼

cup

cauliflower florets

frozen

1

orange

peeled

1

banana

frozen

½

cup

pineapple

frozen

1

serving

Homemade Protein Powder

optional
Topping Ideas:
blueberries

strawberries

kiwi
Instructions
Blend all ingredients together until smooth. This is supposed to be thick, so stop and scrape down the sides as needed or use the blender tamper to push down the ingredients until the blades can move on their own.

Scoop blended ingredients into a bowl.

Top with your fav fresh fruits, granola, hemp hearts and more. Enjoy!
Notes
If your blender can't blend this recipe as-is, try adding a few tablespoons of water, just until the blades get going. You still want this to be thick and scoopable.
Feel free to add homemade protein powder while blending to boost the protein and healthy fat in this recipe.
Using frozen ingredients helps to create a chilly product. If you're using a non-high-powered blender, let the frozen ingredients thaw on the counter for about 15 minutes before blending. 
Toppings can include fresh fruit, healthy granola, chia pudding, superfoods like chia seeds, hemp hearts or cacao nibs and more.
You can add up to 1 cup of leafy greens like spinach if you want to add more fiber and nutrients.
Nutrition
Calories:
227
kcal
,
Carbohydrates:
57
g
,
Protein:
4
g
,
Fat:
1
g
,
Saturated Fat:
0.2
g
,
Polyunsaturated Fat:
0.2
g
,
Monounsaturated Fat:
0.1
g
,
Sodium:
32
mg
,
Potassium:
927
mg
,
Fiber:
9
g
,
Sugar:
37
g
,
Vitamin A:
5764
IU
,
Vitamin C:
133
mg
,
Calcium:
85
mg
,
Iron:
1
mg