This is the perfectly creamy, warming vegan pumpkin soup recipe you've been waiting for. My pumpkin soup recipe is dairy-free and such a comforting way to spend a cool evening in front of the fire for dinner.
Pair this delightful creation with other Vegetarian Mediterranean Recipes like my Greek Salad or some Layered Greek Dip for a truly lovely meal.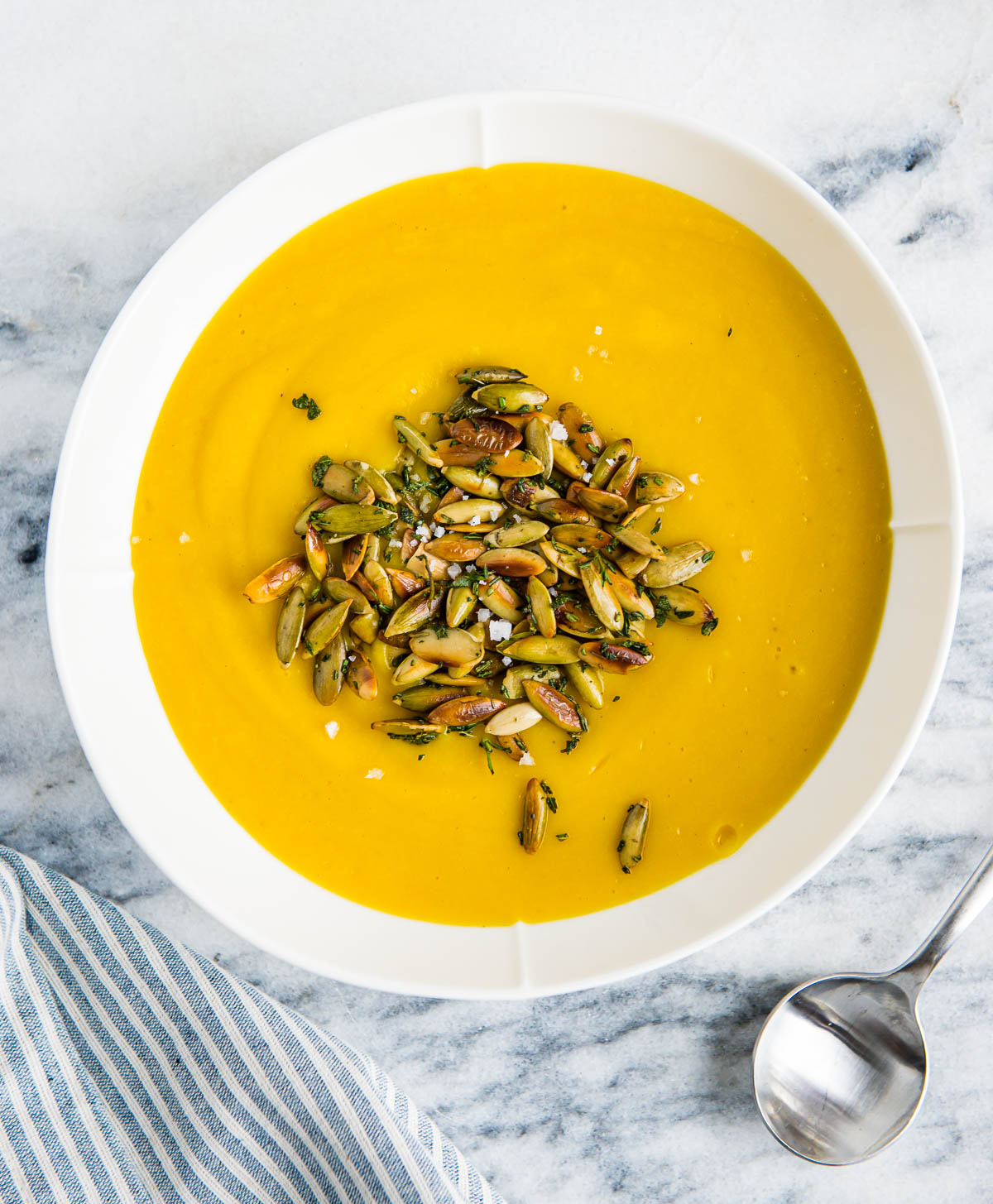 I must admit, I'm not a huge pumpkin spice fan. Don't get me wrong. I love pumpkin and Fall flavors and spices, yet most foods containing pumpkin spice are overly sweet and just not great. I do love how versatile pumpkin is in both sweet and savory dishes.
The moment pumpkins hit the farmers market, I'm there grabbing just as many for my kitchen as to decorate the front entry. Along with making creamy Pumpkin Smoothies and Vegan Pumpkin Pancakes, I'm roasting them for this creamy, comforting soup.
It's healthy, filling, comforting and warms you up when the weather is chilly.
Table of Contents
Recipe Ingredients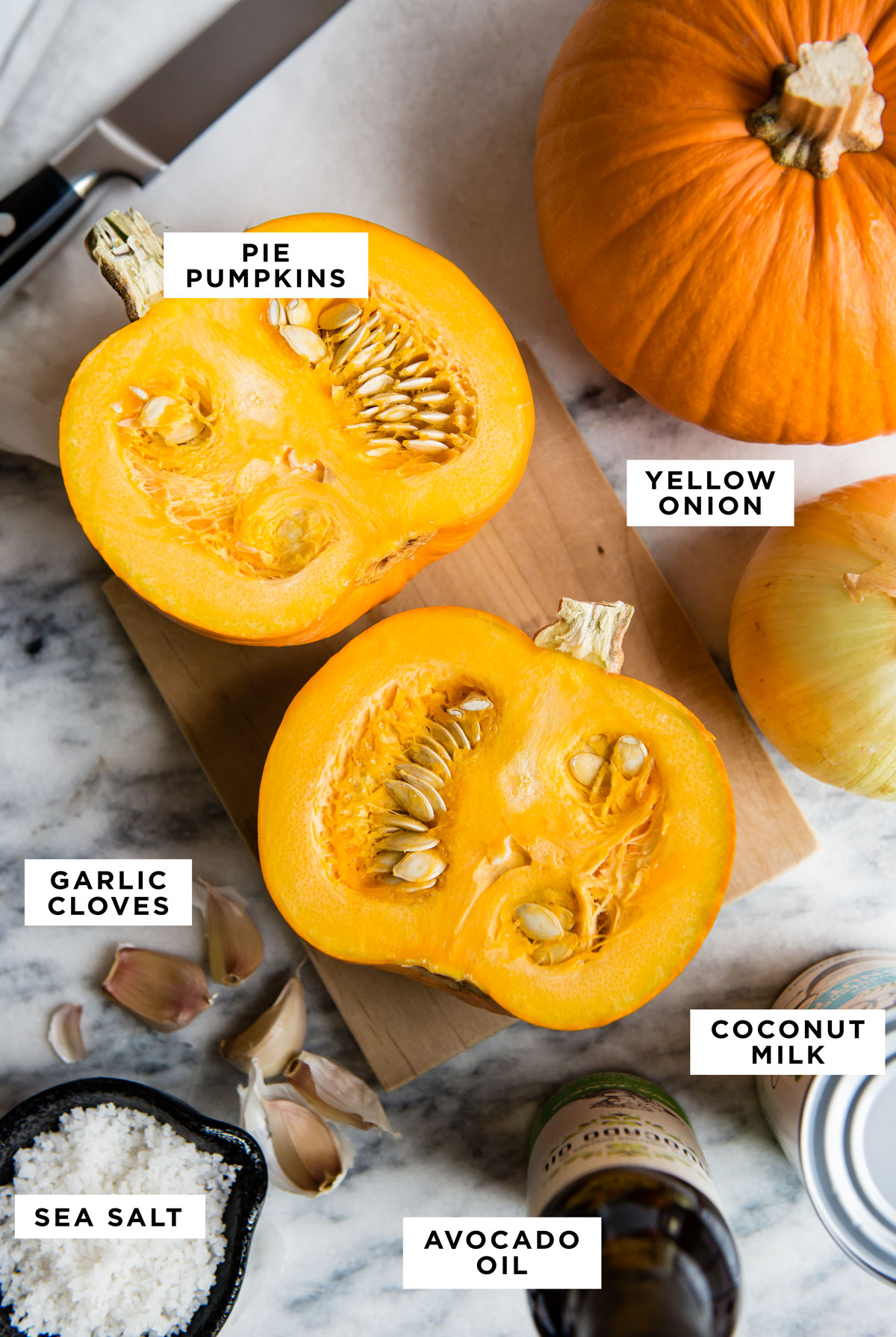 Most of the pumpkin we consume at this time of year comes from cans. Am I right? It's one of the easiest ways to add pumpkin to a recipe, and what I use in my Pumpkin Fall Smoothie and Pumpkin Chia Pudding.
I implore you to try roasting fresh pumpkin. It's inexpensive as well as superior tasting to canned. Did you know that most canned pumpkins may not even contain real pumpkins? Crazy!
This pumpkin soup recipe is actually really simple. A few ingredients magically turn into a fabulous meal. And it can be the base for a variety of flavor combinations, so it can taste different every time you enjoy some! Here's how I start mine:
Pie Pumpkins: These have the best "pumpkin" flavor and are easy to roast, a.k.a. they fit in your oven. You can find them in the produce section of the grocery store starting in mid-September in the US. Look for ones that are heavy and the bottom isn't mushy.
Avocado oil: Feel free to use the cooking oil of your choice. I like avocado oil for its higher smoking point. Other healthy fat oils you can use include extra virgin olive oil or coconut oil.
Yellow onion: The flavor of sautéed yellow onion is unmatched, in my opinion. It is warm with just a small bite and comes through even when layered with other ingredients.
Garlic cloves: Use fresh garlic cloves since you are going to roast them. If you try and roast minced garlic, it will burn.
Canned coconut milk: Since this recipe is dairy-free, I needed to find a super creamy alternative. Canned coconut milk (lite or full-fat) offers a delightfully thick liquid base with just a hint of that coconut taste.
Sea salt and ground black pepper: As always, seasoning food should be easy and to taste. Yet please don't skip it altogether! Salt helps to bring out the flavors of the other ingredients.
Flavor Variations
As you may have noticed above, I didn't add a myriad of spices. That's because I wanted to give you some options! Here are the best combinations for vegan pumpkin soup:
Toasted pepita + herb garnish: Heat one teaspoon of olive oil in a skillet and add 1/2 cup pepitas (or pumpkin seeds) and one tablespoon of finely minced fresh herbs (rosemary, sage and thyme are great together). Toast lightly and remove from heat. Add to finished soup before serving.
Coconut curry: Mix one tablespoon of curry paste (I recommend using green or yellow) in the soup before blending. Serve with a scoop of rice on top and a sprinkling of toasted coconut flakes.
Immune booster soup: Add one tablespoon of grated fresh ginger root, two teaspoons of dried turmeric and a pinch of cayenne either to the soup before blending or as a garnish.
Mexican-inspired spice: Add one teaspoon of dried oregano, ground cumin and chili powder. Top with fresh cilantro before serving.
Sweet + savory: Add one medium diced green apple or pear to pan when roasting pumpkin. Before serving, garnish with two tablespoons each, minced sage, rosemary and thyme.
How to Make Pumpkin Soup
This is a unique vegan pumpkin soup recipe in that you aren't simmering ingredients in a pot on the stove. Instead, these ingredients get roasted in the oven and then blended into a velvety puree. I can't wait for you to taste this savory creation!
This recipe is dairy-free, gluten-free and doesn't need to simmer, boil or even use a stovetop.
Step 1: Preheat the oven to 425° F. Line a large, rimmed baking sheet with parchment paper. Depending on the size of the pumpkins, you may need to split the ingredients between two baking sheets and bake in batches.
Step 2: Using a large chef's knife, cut the pumpkins in half on a steady cutting board. Scoop out the seeds and discard or save to make roasted seeds.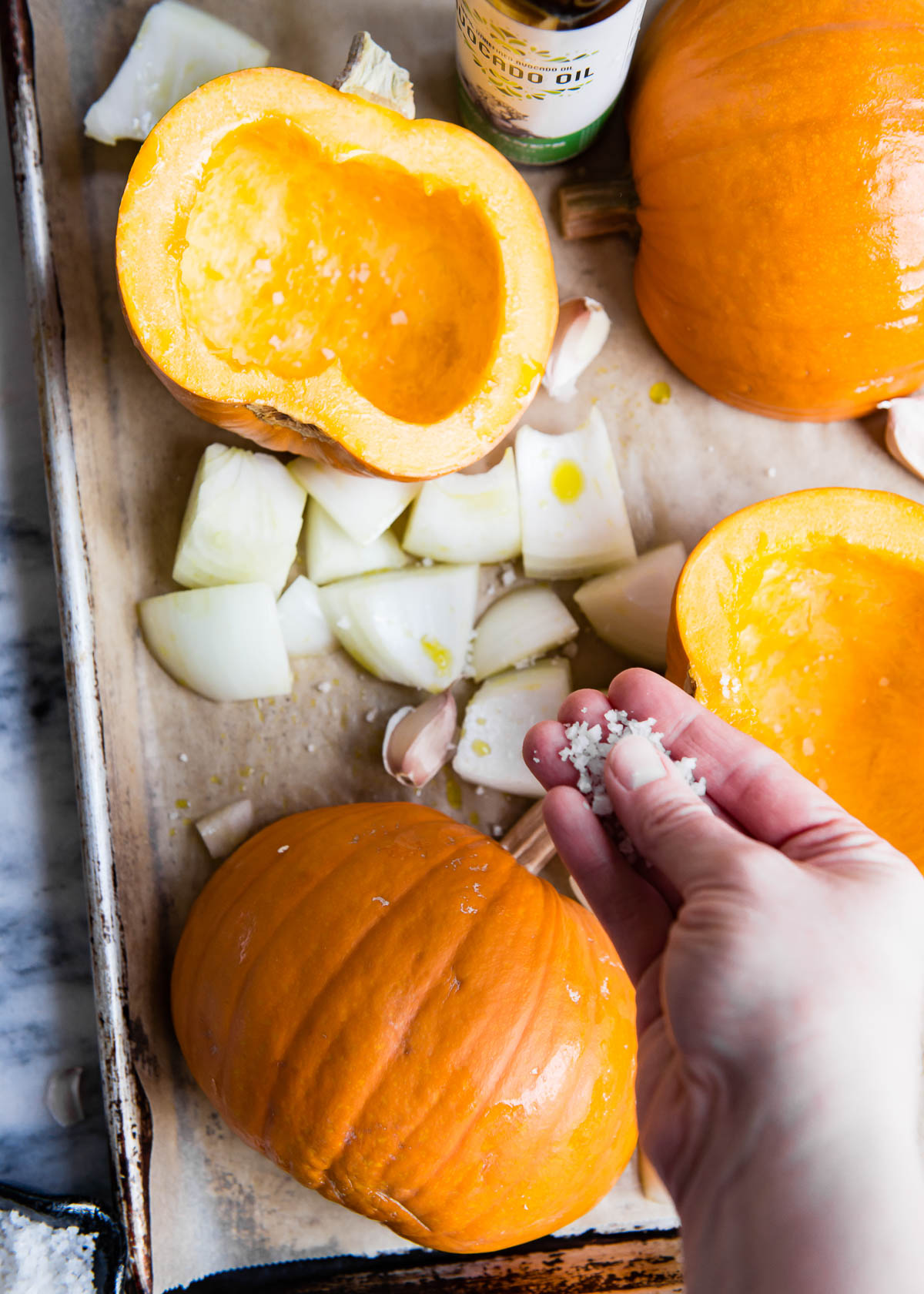 Step 3: Brush or rub the cut side of the pumpkins with avocado oil then place them face down on the prepared sheet. Add the onion chunks and unpeeled garlic after coating them with oil then sprinkle coarse sea salt over everything.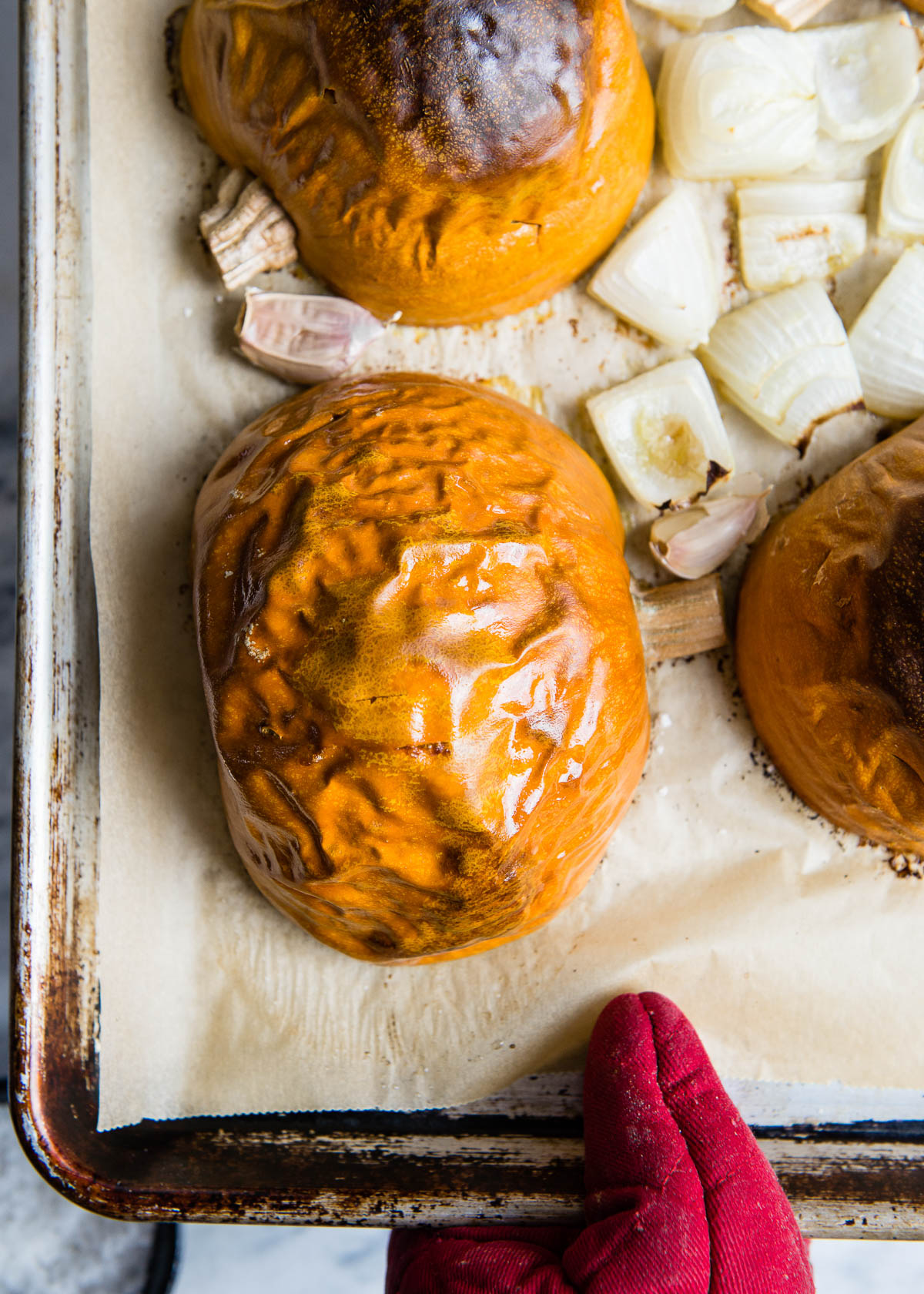 Step 4: Roast for 30-35 minutes or until the pumpkin is tender. You can test for softness by pushing down on the pumpkin skin or taking a sharp knife and piercing through one of the pieces. Remove from oven and let the pieces cool slightly.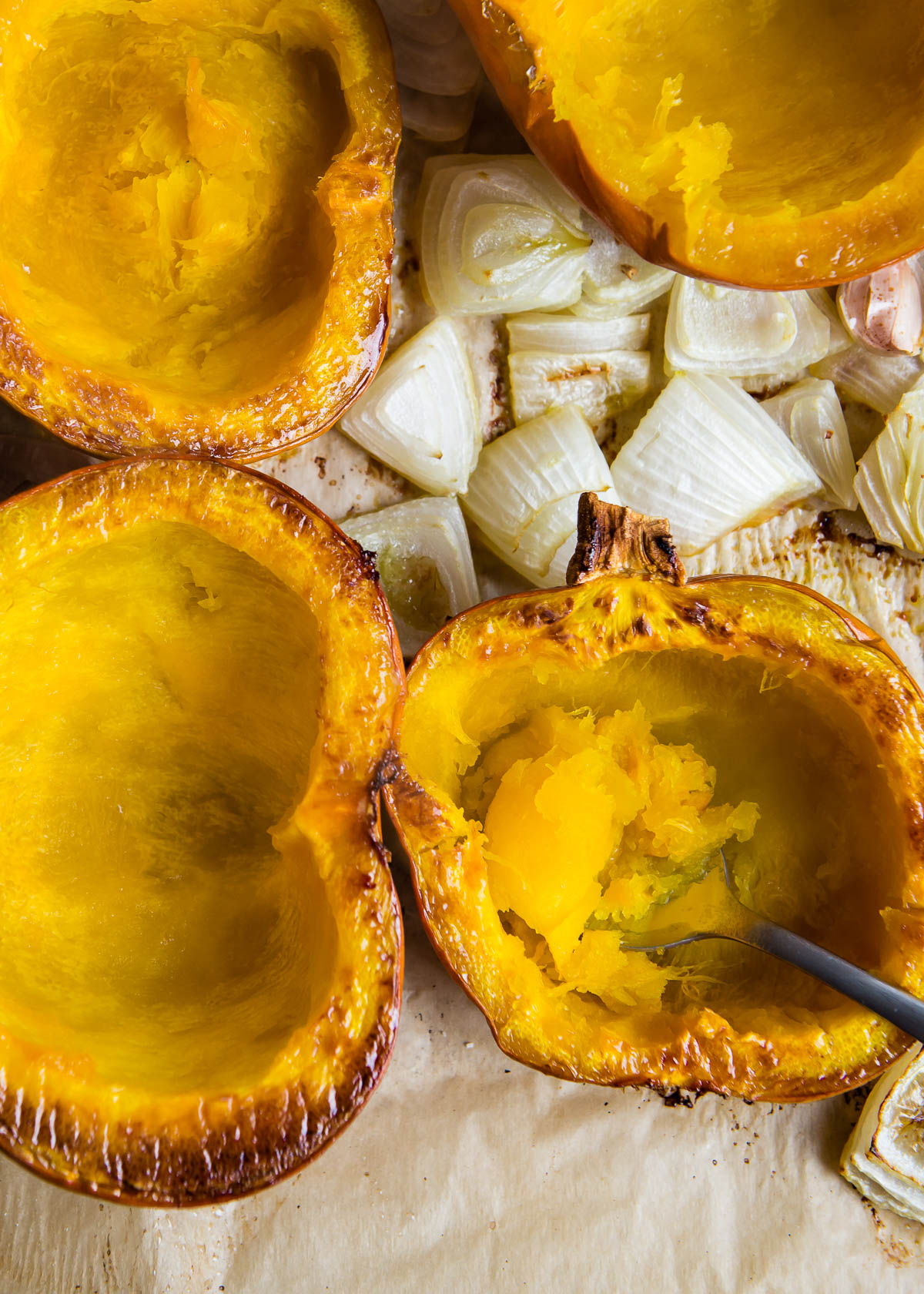 Step 5: Scoop out the cooked pumpkin from the skins and place in a blender container. Peel the garlic cloves then add those and the onions to the blender. Add ground pepper and canned coconut milk then puree until smooth. Depending on the size of your blender container, you can blend in batches. If the blades are having a hard time add 1/4 cup vegetable stock to facilitate blending.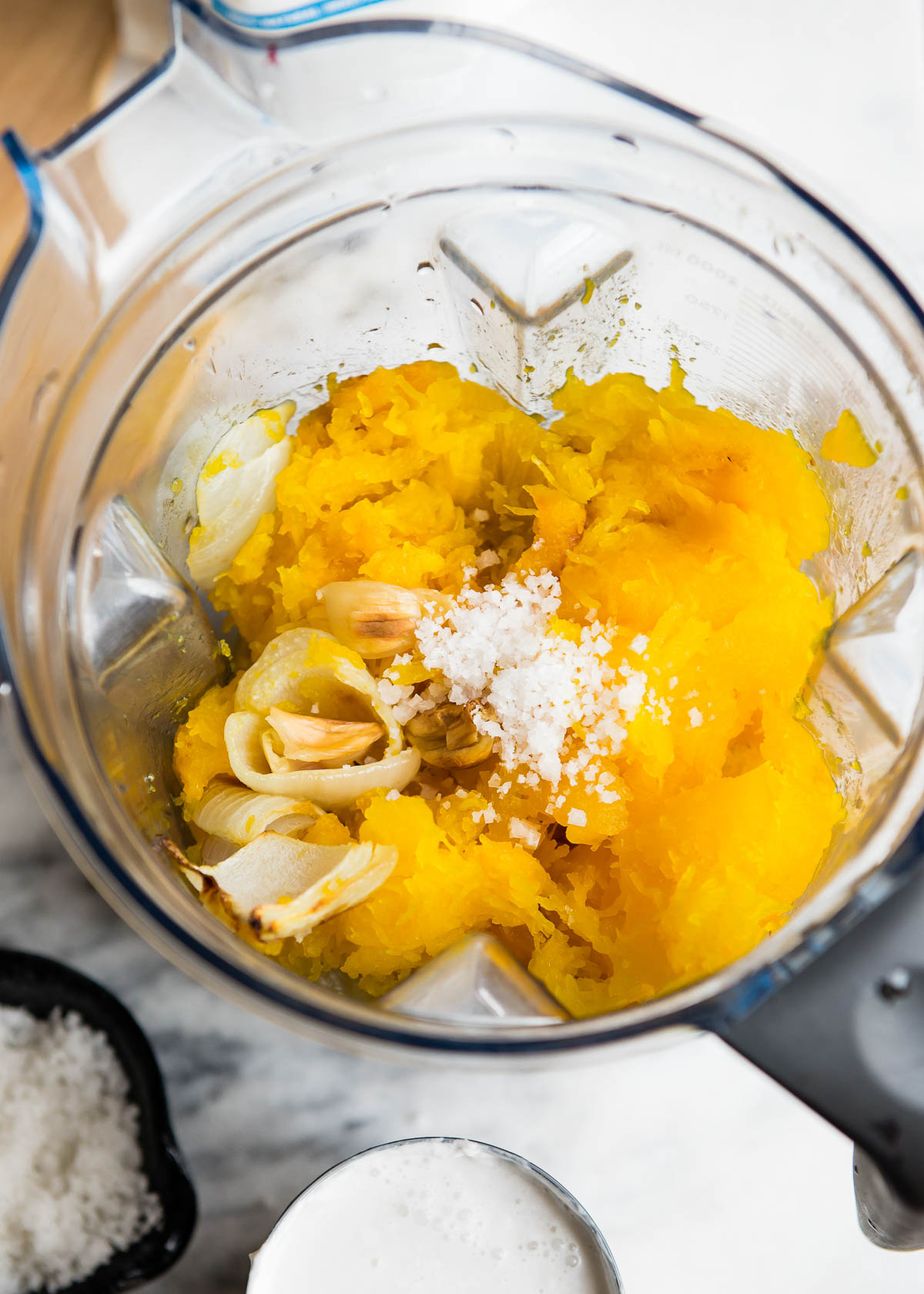 Step 6: Mix in any seasoning you want (check out the great options above!) then pour into bowls to serve.
This vegan pumpkin soup can be made ahead and stored in the refrigerator for up to one week. Reheat on the stovetop until warm. You can also put it into a freezer-safe container and keep in the freezer for up to 6 months.
You can also use an immersion blender to puree this soup into a thick cream. Still use some vegetable broth/stock to thin, if needed.
FAQs
What thickens pumpkin soup?
It is not hard to end up with a thick pumpkin soup. I use roasted pumpkin and canned coconut milk along with onion, garlic and spices to create a thick, beautiful puree. You don't need much vegetable stock in this recipe.
Why does my pumpkin soup taste bland?
Pumpkin is a very mild-tasting vegetable. For a well-seasoned soup, you can roast it with yellow onions and garlic cloves, and use a good amount of salt to help bring out the flavors. You can also add a variety of warming spices to help flavor this recipe as well.
Why is my pumpkin soup so watery?
If your pumpkin soup turns out watery, you probably used too much liquid. I highly recommend using canned coconut milk instead of carton. If you want to use another liquid like vegetable stock, almond milk or oat milk, start with just 1/4 cup. If more is needed to facilitate blending, then add just a bit at a time.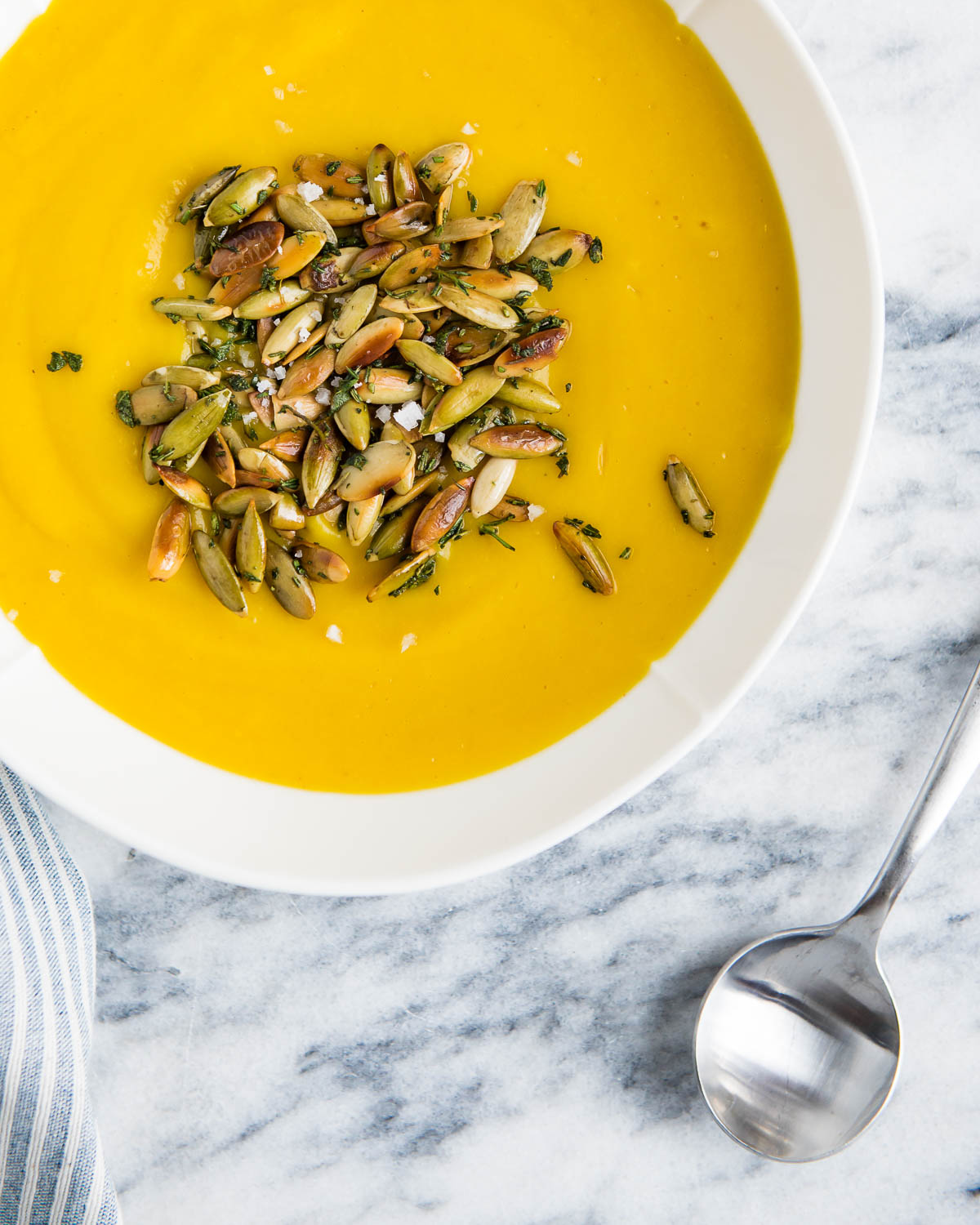 Other Vegan Soup Recipes
Love the idea of not having dairy as the base for your next soup? I agree! You can make an incredibly creamy Vegan Tomato Soup without a bit of dairy and a thick, flavorful Roasted Red Pepper Soup without cream.
Instead, use canned coconut milk or another dairy-free milk as the base of your next Carrot Ginger Soup. It might take a little getting used to, yet you will be a vegan soup-making maven in no time.
Leave any questions you have in the comments and don't forget to rate this recipe once you've tried it.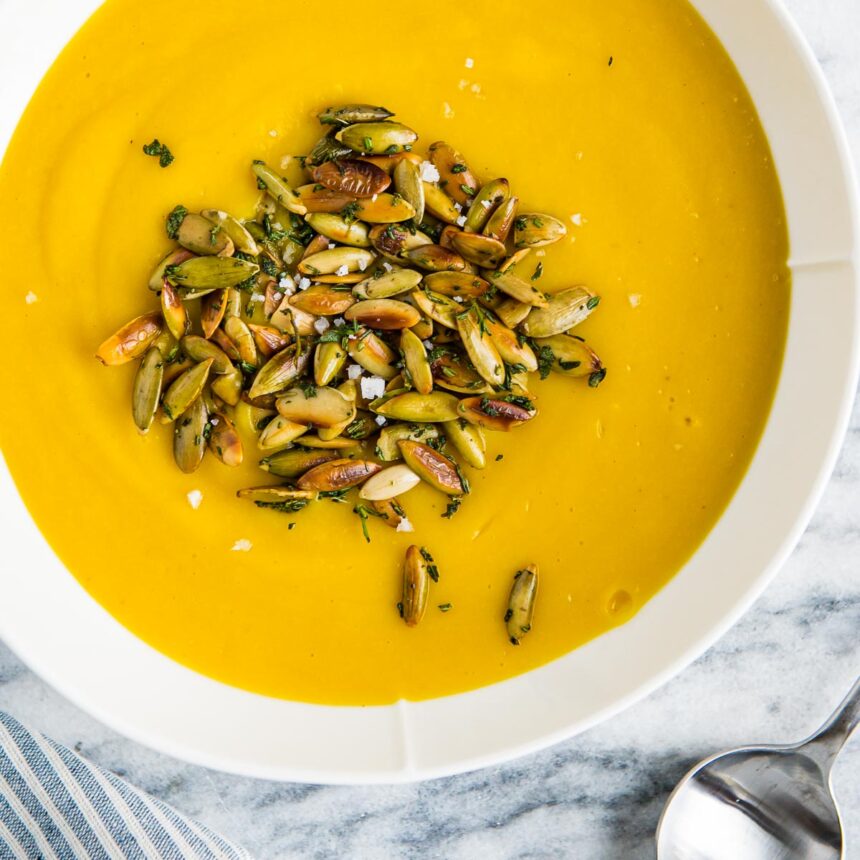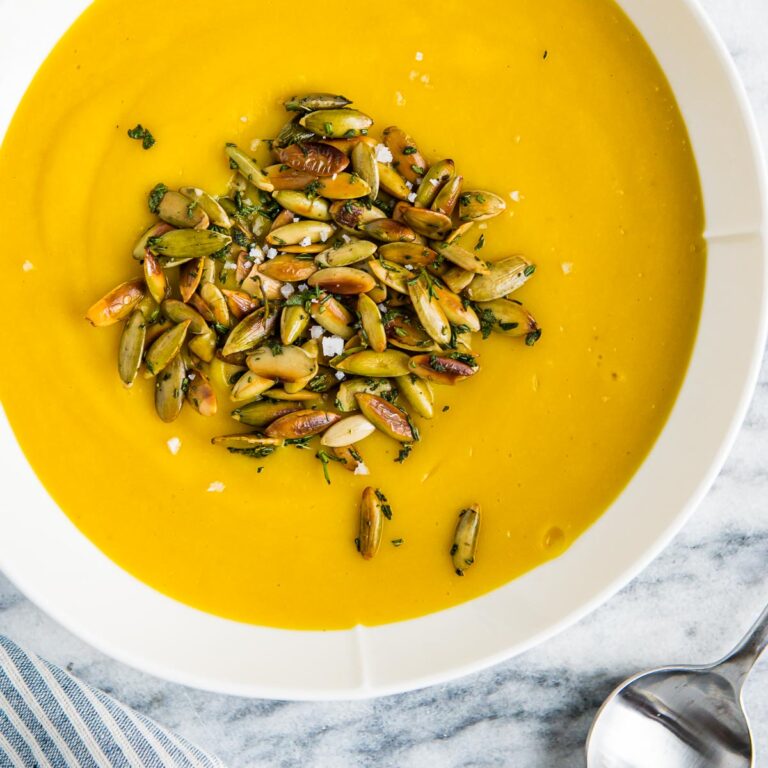 Vegan Pumpkin Soup
This vegan pumpkin soup is healthy, filling, comforting and warms you up when the weather is chilly. It uses pie pumpkins, onion, garlic and spices along with dairy-free coconut milk. Double the recipe to save some to enjoy all season long.
Ingredients
2

pumpkins

sugar pie pumpkin or another winter squash, about 4-4.5 pounds

2

tbsp

avocado oil

divided

1

yellow onion

peeled and cut into thick slices

5

garlic cloves

unpeeled

13.5

oz

coconut milk

canned

½

cup

vegetable stock

if needed

Sea salt

to taste

black pepper

ground

spices or herbs

optional, see notes
Instructions
Preheat oven to 425°F. Line a rimmed baking sheet with parchment paper.

Carefully cut open the pumpkins with a sharp chef's knife and a steady cutting board. Scoop out the seeds and discard or save for another use.

Rub the fleshy part of the pumpkin halves with a little of the avocado oil. This keeps them from drying out during roasting. Toss a little more avocado oil with the onion and garlic. Arrange everything on the baking sheet. Sprinkle with the sea salt. (The pumpkins do better being set cut-side down on the baking sheet.)

Place in oven to roast for 30-35 minutes, or until pumpkin is tender. The tip of a sharp paring knife should pierce through the pumpkin easily. Remove from oven and let cool slightly before handling.

Scoop the cooked pumpkin flesh from the skins. Place into the jar of a blender. It should measure about 4 1/2 to 5 cups of pumpkin along with the onion, peeled garlic and can of coconut milk. Puree until smooth. If the soup is too thick, add a little vegetable stock until desired texture is reached.

Stir in seasoning (spice mixes below).

If the soup isn't hot enough, pour into a saucepan and heat gently before serving.

Garnish and serve immediately. Store leftovers in an airtight container in the fridge for up to one week.
Notes
Variations:
Toasted Pepita + Herb Garnish: heat 1 teaspoon olive oil in a skillet and add 1/2 cup pepitas plus 1 tablespoon finely minced fresh herbs (rosemary, sage, and thyme), toast lightly and remove from heat. Garnish soup.
Curry Coconut: 1 tablespoon Thai or Indian curry paste/powder (to taste), serve with a scoop of brown rice on top, and a sprinkling of toasted coconut
Immune Booster: add 1 tablespoon fresh grated ginger, 2 teaspoons ground turmeric, 1/2 teaspoon freshly ground black pepper, and pinch of cayenne
Mexican-spiced: add 1 teaspoon each – dried oregano, ground cumin, and chili powder; top with chopped fresh cilantro
Savory + Sweet: add 1 medium diced green apple or pear to pan when roasting pumpkin; add 2 tablespoons fresh herbs, finely minced (sage, rosemary, and thyme)
Maple Spice: roast everything tossed with maple syrup, add 1 teaspoon pumpkin pie spice, and top with maple candied pecans
More notes: 
If you aren't able to find pumpkins or squash to roast, you can swap with canned pumpkin. Just make sure it is 100% pumpkin. It can be heated up on the stove with 1/2 cup vegetable stock while the onions and garlic roast in the oven.
This soup can be frozen in freezer-safe containers for up to 6 months. Just make sure to follow safe freezing instructions as it will expand and if the container is too full, it will burst when frozen. 
Nutrition
Calories:
224
kcal
,
Carbohydrates:
34
g
,
Protein:
5
g
,
Fat:
9
g
,
Saturated Fat:
5
g
,
Polyunsaturated Fat:
1
g
,
Monounsaturated Fat:
3
g
,
Sodium:
137
mg
,
Potassium:
1578
mg
,
Fiber:
3
g
,
Sugar:
13
g
,
Vitamin A:
38635
IU
,
Vitamin C:
43
mg
,
Calcium:
104
mg
,
Iron:
4
mg