Cauliflower is a truly unique vegetable, though it's pretty boring on its own. The uniqueness comes in its versatility. Did you know that tossing this veggie in some oil with spices and roasting turns it into a popcorn-like texture and a super savory snack? My ranch cauliflower popcorn is easy to make and incredibly delicious!
Crunchy snacks like my Curry Roasted Chickpeas are my jam, so this fun new recipe fits right in!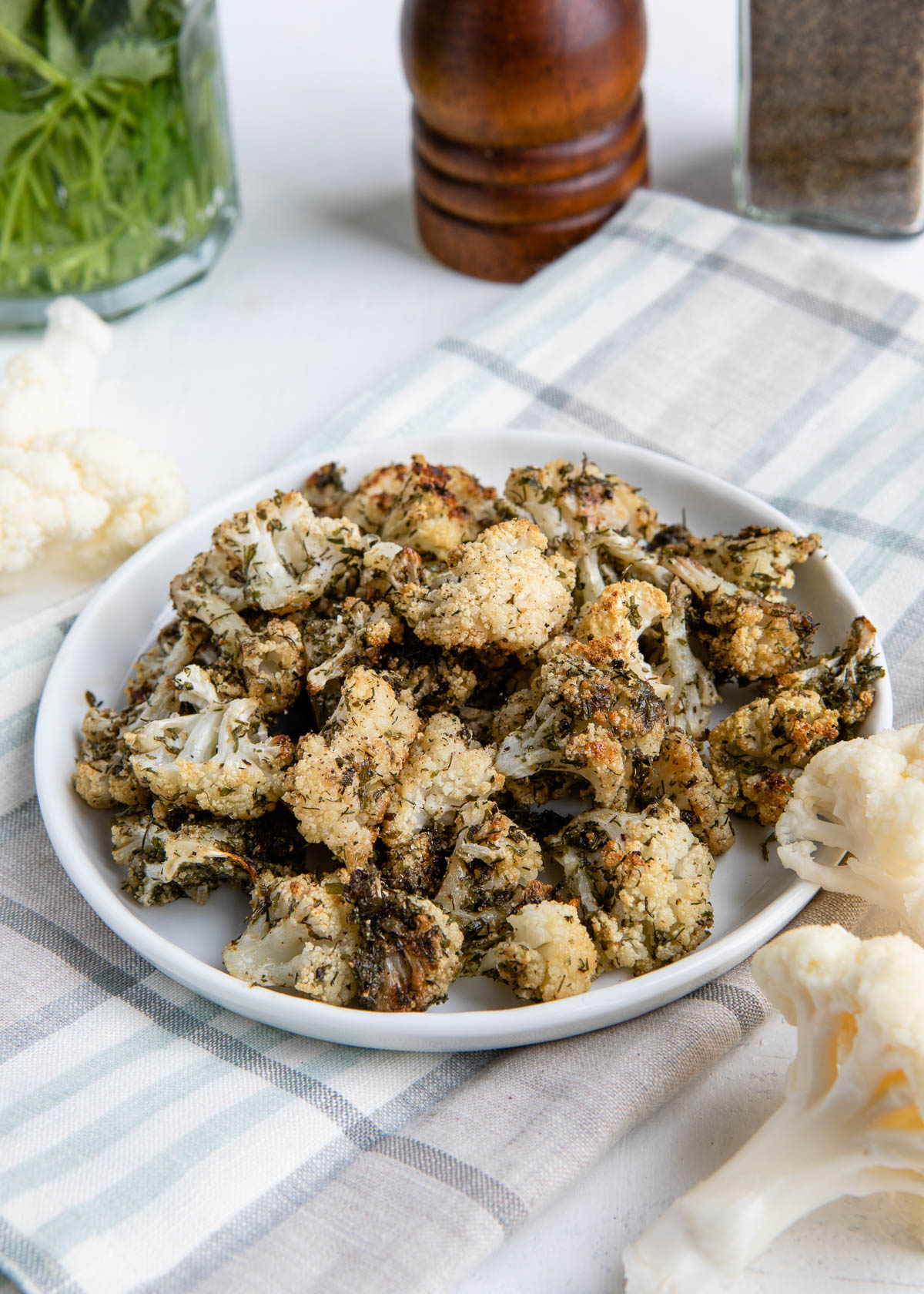 Since cauliflower is so mild, it can easily be dressed up into a drool-worthy cauliflower snack and I am all about it. Plus, it's a fairly inexpensive veggie to buy and available in stores pretty much year-round so you don't need to hunt it down.
Table of Contents
Recipe Ingredients
Did you know that this vegetable comes in more colors than just white? Yes! I've used yellow, orange, purple and green depending on what I find. What could be more fun than a vibrant purple veggie?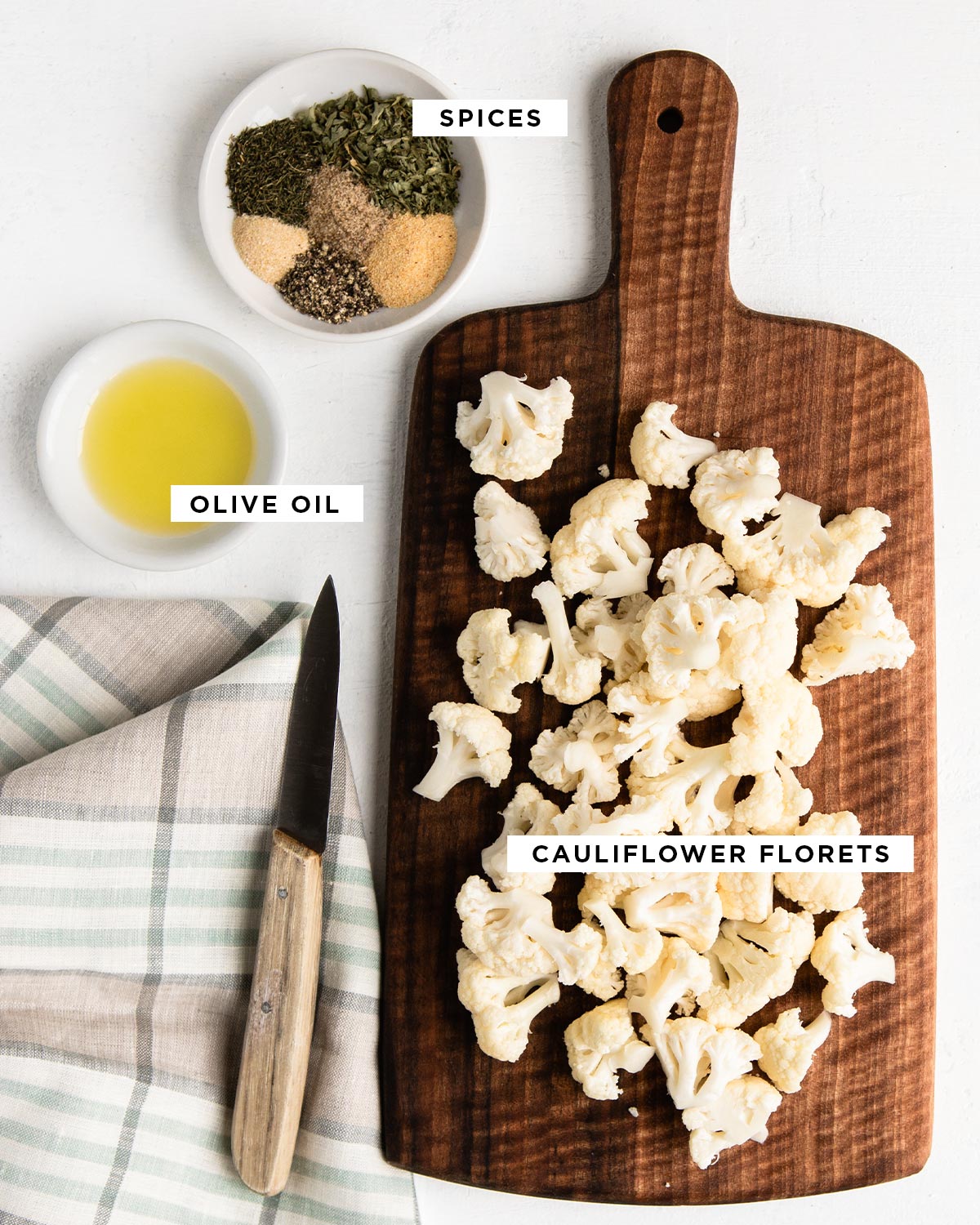 Alright, back to the recipe. This is easy to make and you should have most of the spices on hand, so let's dive in:
Cauliflower florets: Cauliflower contains fiber, vitamin C, vitamin K and folate. It's antioxidant-rich and important to include in your diet. Plus, it has a mild flavor making it easy to season, dip and munch on in different ways.
Olive oil: Coating the florets with just a bit of oil helps the seasoning stick as well as the florets to crisp up nicely. You can use avocado oil if you prefer.
Spices: I use a blend of dried parsley, dried dill, garlic powder, onion powder, celery salt and black pepper to produce a ranch-like seasoning and it works!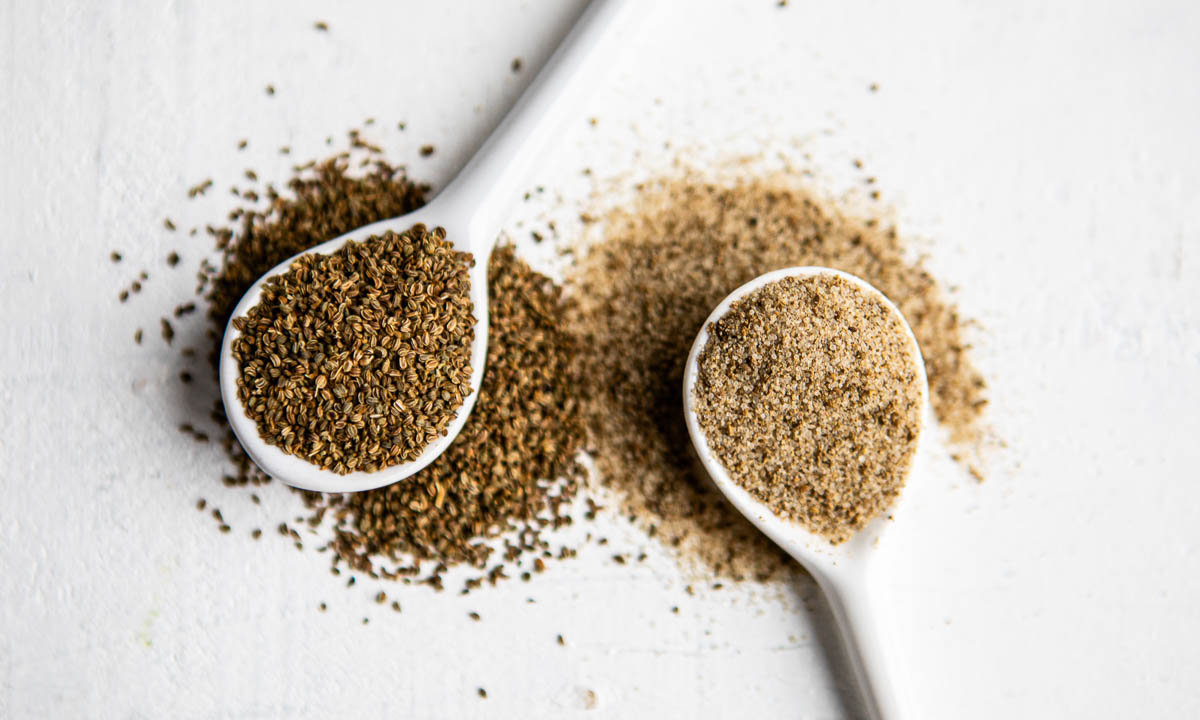 A note on celery salt. This unique spice can be found in most grocery stores or you can make your own celery salt. It has a strong, grassy taste that can help season food. It pairs well with the dried dill and parsley in this mix to create that ranch-like flavor.
Dipping Sauces
I know it's not normal to dip popcorn in a sauce. I won't judge if you want to dip this version! It would be hard for me to find a dip I didn't like and there are quite a few that would go great with this cauliflower snack.
If you want some with a little kick then try my coconut sriracha sauce. My garlic lemon aioli or chipotle ranch dipping sauce would both be creamy options. I also think sun-dried tomato pesto or pistachio pesto would pair nicely with this ranch cauliflower recipe.
Sauces are the perfect time to add healthy fats and extra protein to a snack so don't be afraid to explore some options until you find the perfect one to help fill you up.
How to Make Cauliflower Popcorn
The best snacks are easy to make and this cauliflower snack is no exception! This is how I'm making my ranch cauliflower popcorn.
Step 1: Preheat the oven to 400°F and line a baking sheet with parchment paper. This recipe can easily stick to a baking sheet as well as to aluminum foil, so parchment is the best way to avoid that issue.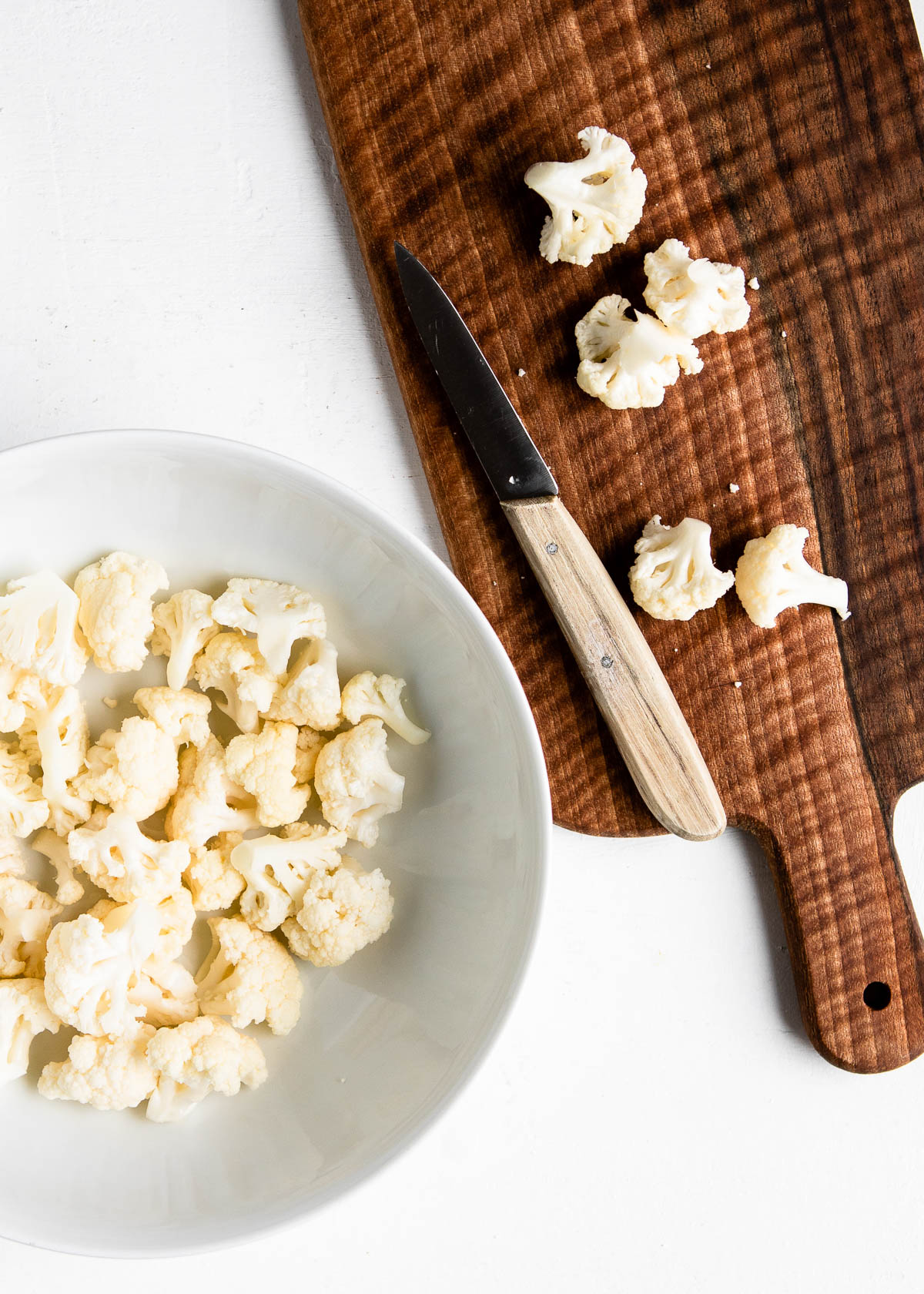 Step 2: Chop the cauliflower into popcorn-sized pieces. You can purchase florets instead of a whole head, yet you'll still want to divide them into smaller pieces for the crispiest result.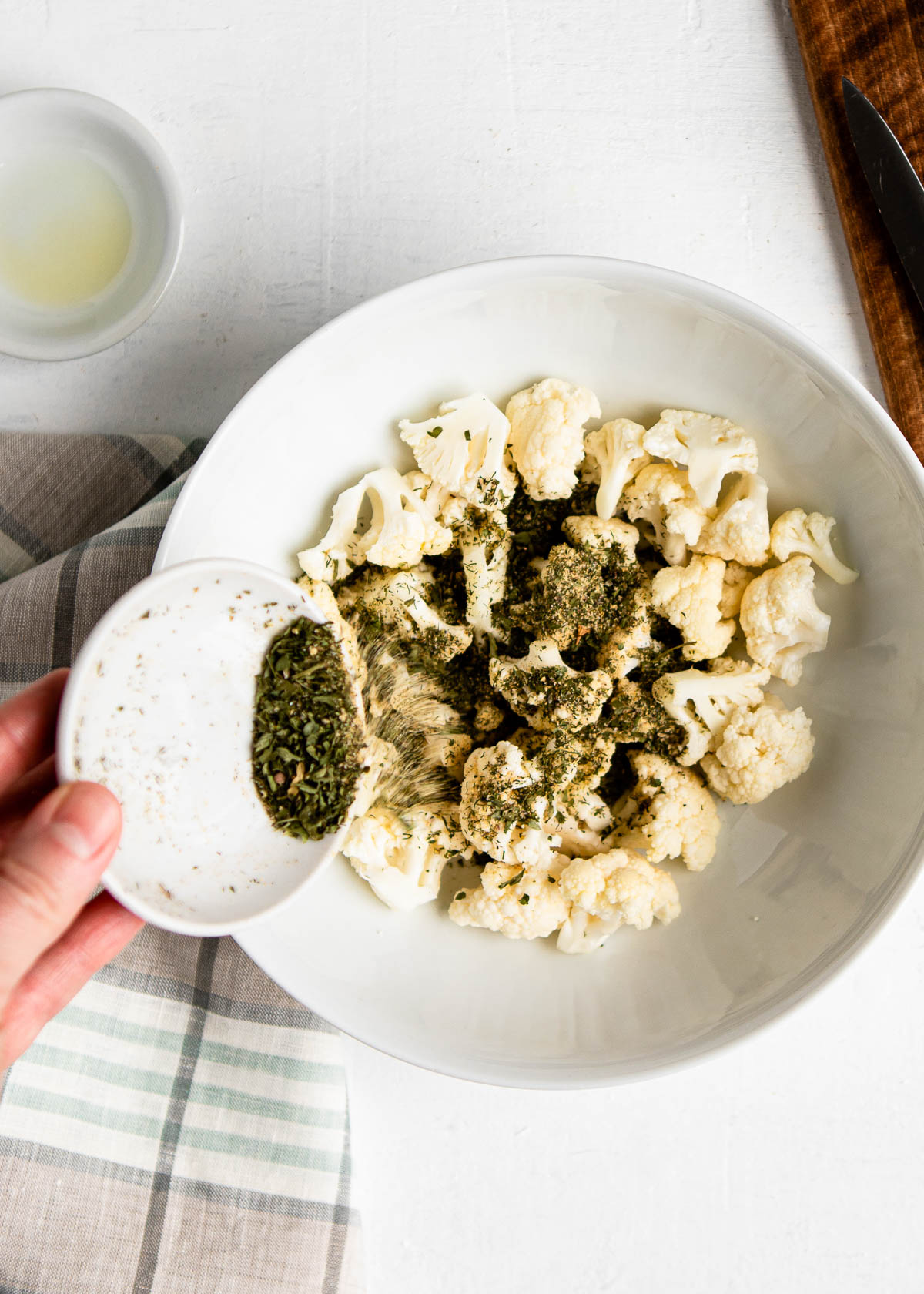 Step 3: Combine all ingredients in a mixing bowl and toss to coat well.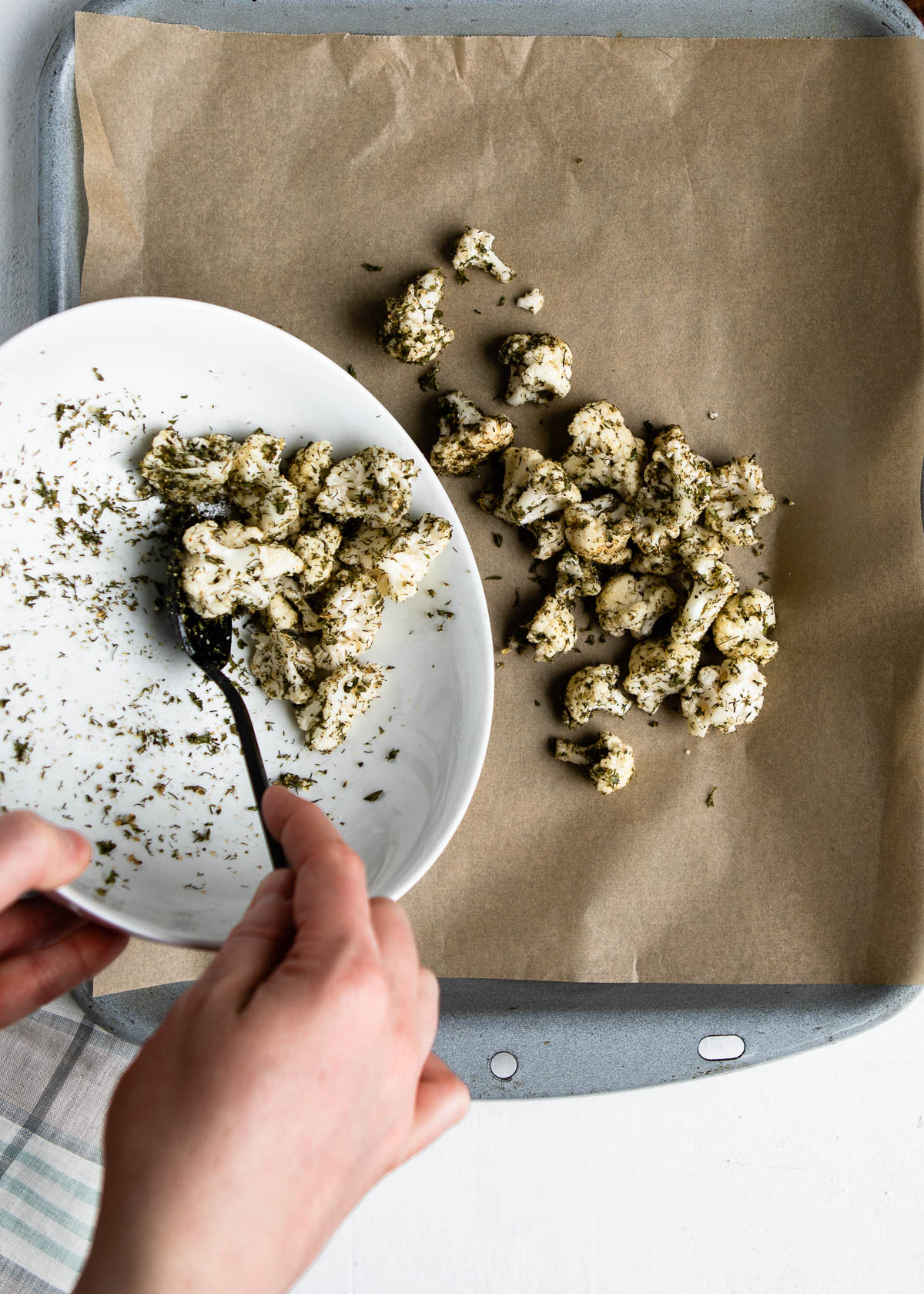 Step 4: Transfer to a baking sheet and roast for 25 minutes. Be sure to turn the cauliflower over halfway through baking so it can get crunchy on all sides.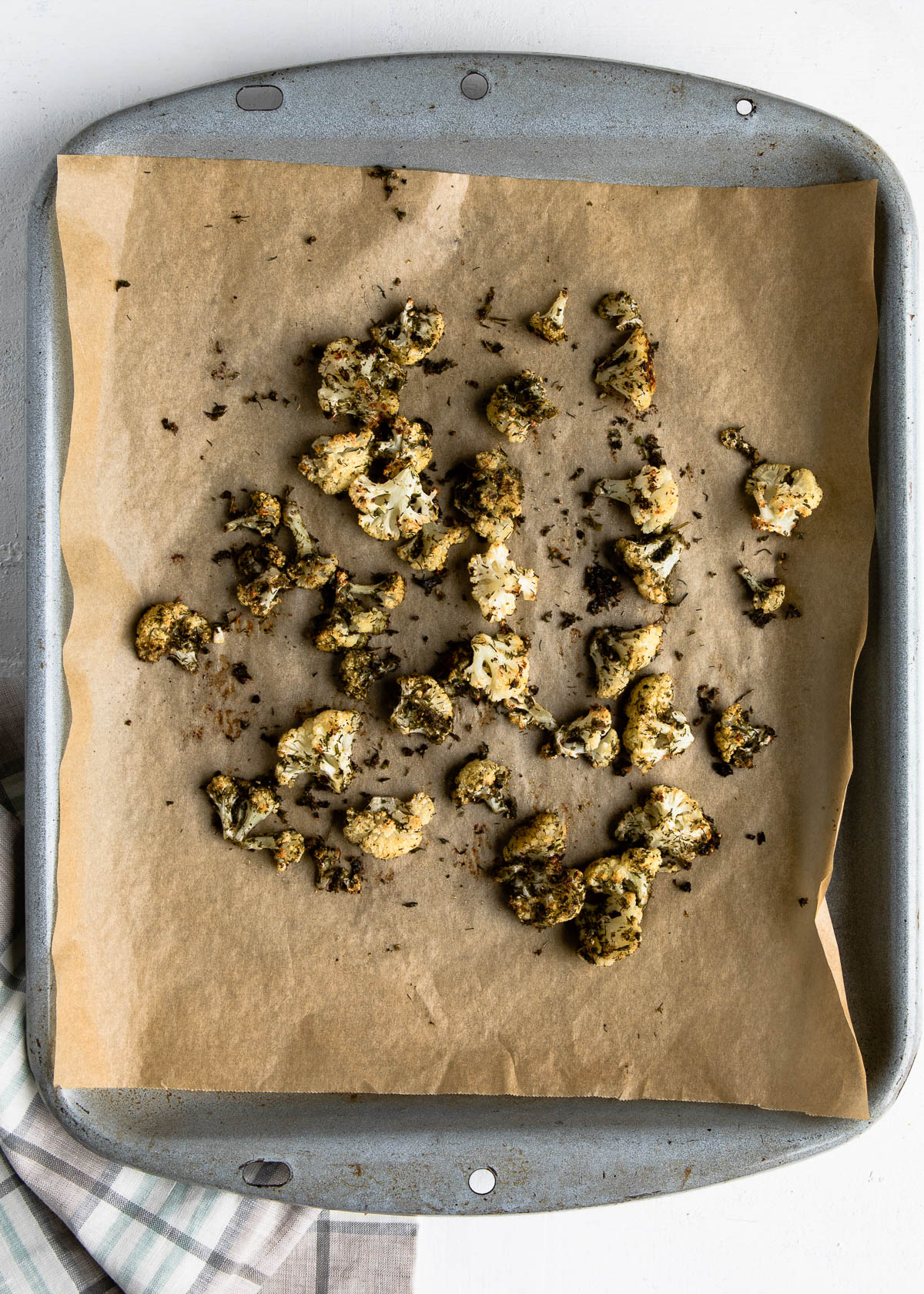 Step 5: Remove from oven and allow to cool slightly before eating. Ranch cauliflower is best enjoyed right away so that it stays crispy.
If you end up with leftovers, you can refrigerate overnight and heat up in the oven, air fryer or toaster oven the next day to crisp up again. Heating in the microwave will cause the florets to get soggy.
Air Fryer Option
Since many people have an air fryer or an oven with that function, let's talk about another way to make this snack extra crunchy. Preheat the air fryer to 370°F then add in the prepared florets.
Bake for 9-12 minutes, making sure to pull the basket out and toss well about halfway through to ensure the pieces crisp up on all sides.
All air fryers are different (just like ovens!). If you notice yours getting brown quickly when you take the basket out halfway through, adjust your time so they don't come out burnt.
Cauliflower Popcorn FAQs
How do you make crispy cauliflower?
There are a few things to keep in mind when trying to make crispy florets. First, ensure that you use oil (but not too much) and that all your pieces are well-coated. Second, don't make your oven too hot. It's better to cook on a slightly lower temp for longer than to try and go faster. Third, halfway through baking use a spatula and flip the pieces over to continue to brown on all sides.
What can I do with low-calorie cauliflower?
There are so many ways to enjoy cauliflower! My cauliflower popcorn is a quick and easy snack that tastes delicious. You can also add frozen cauliflower to smoothies for a tasteless way to make that smoothie ultra creamy and even more nutritious. I love sautéing cauliflower rice in a pan and adding it to any dish that typically uses traditional rice to avoid bloating but still fill my body up.
What goes with cauliflower bites?
Pair my cauliflower popcorn with garlic lemon aioli, coconut sriracha or chipotle ranch dip for a creamy finish. You can also toss cauliflower in gluten-free flour and buffalo sauce then roast it for some incredibly satisfying buffalo cauliflower bites.
More Recipes with Cauliflower
Cauliflower is probably one of my favorite vegetables. You can toss it into sweet and savory dishes, dress it up or down and still benefit from its many nutrients without knowing it's there. Here are some more ways I like to use cauliflower.
Be brave and branch out with your use of cauliflower! No more letting the rest of it sit in the fridge until it goes bad.
Don't forget to rate + review this recipe once you've made it. I love getting your feedback!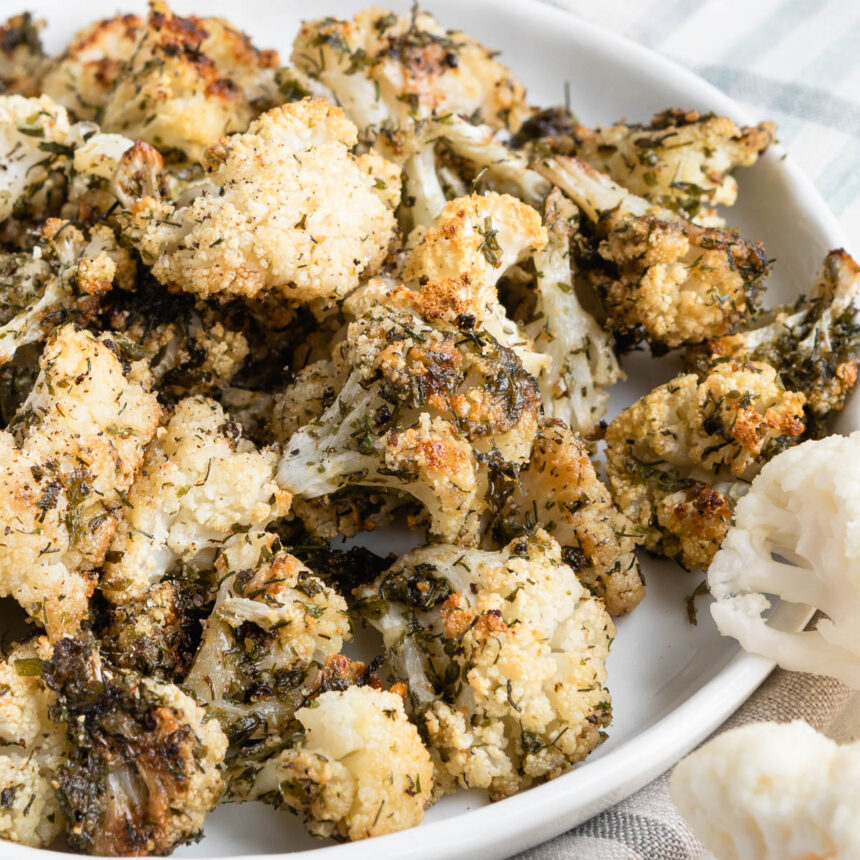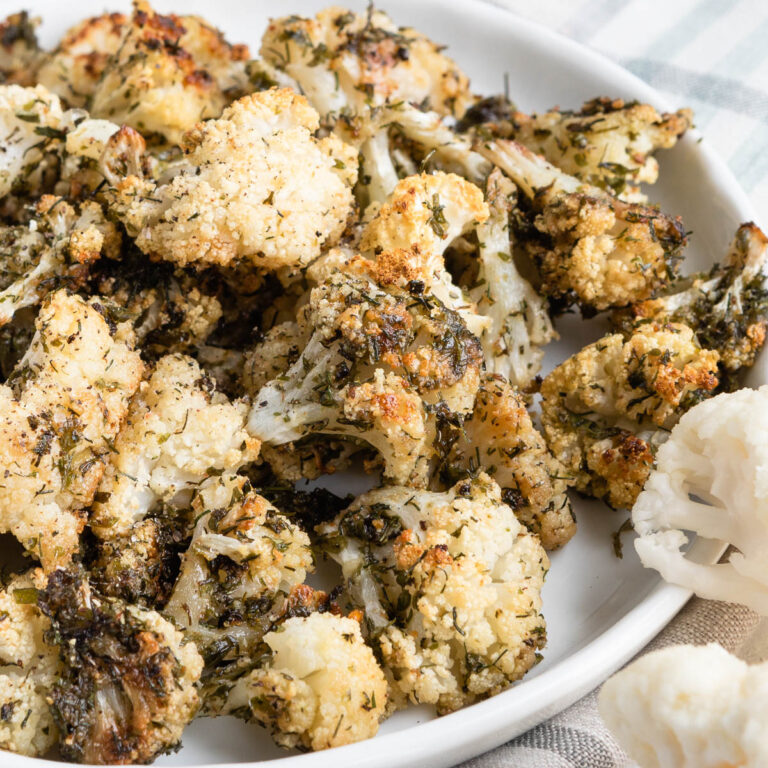 Ranch Cauliflower Popcorn
Don't sleep on this savory snack option. Ranch Cauliflower Popcorn is crispy, seasoned to perfection, and as easy to eat as a bowl of, well, popcorn! It's seriously delicious and the perfect snack for any time of day.
Equipment
oven

baking sheet

mixing bowl
Ingredients
1

cup

cauliflower florets

1

tsp

olive oil

1

tsp

dried parsley

½

tsp

dried dill

½

tsp

garlic powder

¼

tsp

onion powder

¼

tsp

celery salt

⅛

tsp

black pepper

ground
Instructions
Preheat oven to 400°F. Line baking sheet with parchment paper.

Chop cauliflower into small popcorn-sized pieces.

Combine all ingredients in a mixing bowl. Toss to coat well.

Transfer to a baking sheet and roast for 25 minutes, turning cauliflower over halfway through baking time.

Remove from oven and cool slightly before eating.
Notes
To increase the protein in this snack, sprinkle nutritional yeast in before baking. This will also give the cauliflower a cheesy flavor.
Alternately, you can bake these in an air fryer. Preheat fryer to 370°F and bake florets for 9-12 minutes, tossing in basket halfway through baking time to ensure they don't stick. 
This snack is best eaten right away so that the florets don't get soggy.
Swap olive oil with avocado oil.
Nutrition
Calories:
35
kcal
,
Carbohydrates:
3
g
,
Protein:
1
g
,
Fat:
2
g
,
Saturated Fat:
0.3
g
,
Polyunsaturated Fat:
0.2
g
,
Monounsaturated Fat:
1
g
,
Sodium:
307
mg
,
Potassium:
172
mg
,
Fiber:
1
g
,
Sugar:
1
g
,
Vitamin A:
16
IU
,
Vitamin C:
24
mg
,
Calcium:
18
mg
,
Iron:
0.4
mg