Our plant-based matcha latte can help boost metabolism, burn calories, calm the mind, enhance mood and concentration, and relax the body. Pretty awesome stuff, right? Thank you to Elmhurst for sponsoring this post!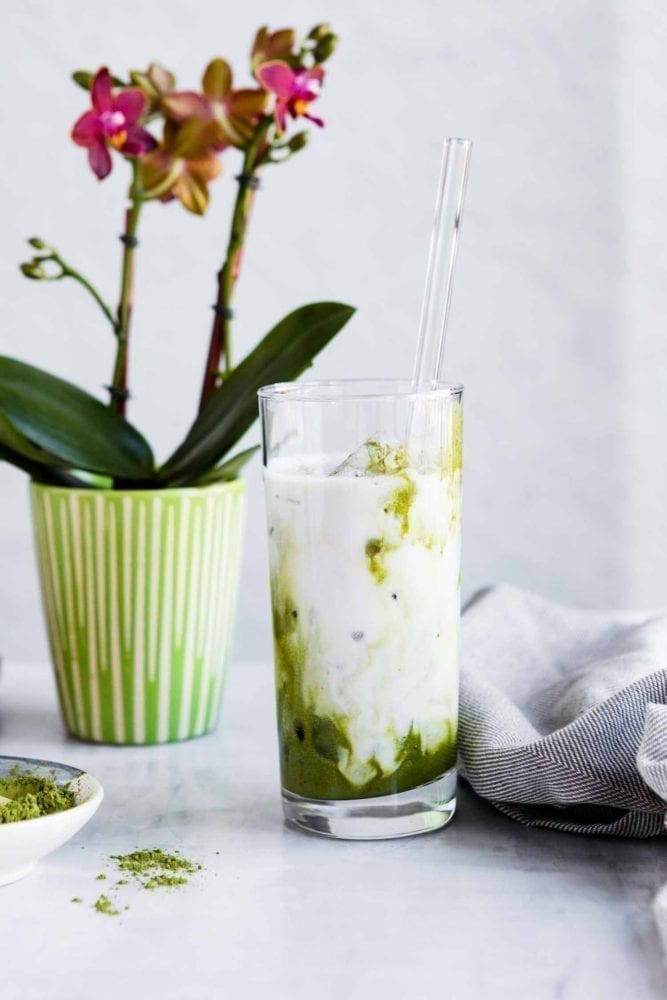 I'm all about plant power, which means I eat lots of fruits, vegetables, nuts and seeds. It also means I drink a lot of nut milks and use them in our recipe creations. Confession: I've been trying to decrease the amount of coffee and increase the amount of matcha lattes I drink. Why? More antioxidants, less adrenal stress and no dairy… all of which will do my body some extra good. I've tested a lot of recipes and learned that the type of milk I use makes a HUGE difference in how much I like it. Bottomline: Nut milks are where it's at!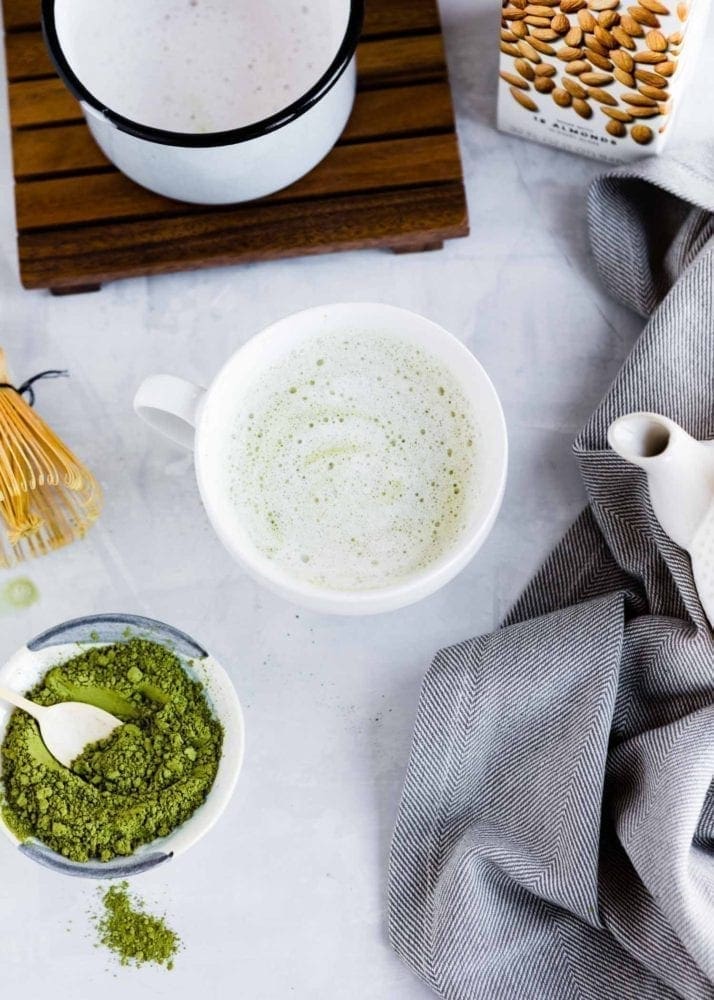 My journey with nut milks began in 2009 when I heard someone say "humans are the only mammal to drink milk into adulthood." That stuck with me in a weird way and I began looking into alternatives that would be creamy, protein rich and nutrient dense. Nut milks are where I landed and what I drink most often now. But just like dairy milk, I soon found out that plant-based milks aren't all created equally—and I'll share more on that later.
Lately, I bounce between cashew milk, walnut milk, coconut milk and almond milk, yet I would say almond milk is my go-to. Which brings up a question that I often get: what's the difference between almond and dairy (cow's) milk?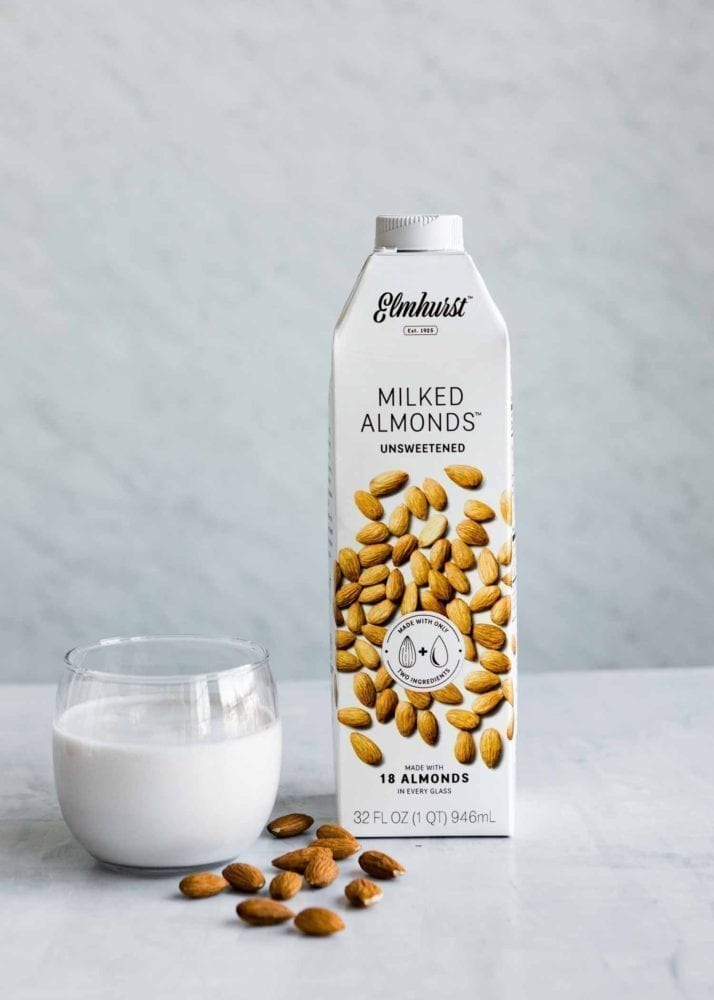 Almond Milk vs. Dairy Milk
Let's get to the obvious first: cow's milk is just that… milk from cows. Almond milk comes from (you guessed it) almonds. But let's take it a step further. If you're not vegetarian or lactose-intolerant, what's the purpose? Do they still provide adequate nutritional value? And just as important (if not more important), how is the taste?
Unsweetened almond milk is lower in calories than "regular" milk. It's free of cholesterol, saturated fat and lactose. On the flip side, cow's milk is rich in calcium, potassium and vitamin D. Though almonds are a great plant-based source of protein, almond milk is often not. However, both the unsweetened and regular almond milks from Elmhurst have some of the highest amounts of protein per serving out there because of the process they use to create it (read more about that here).
When it comes to taste, many almond milk manufacturers will add stabilizers, such as carrageenan, to thicken almond milk and give it a desirable texture. Carrageenan is a derivative of seaweed that can cause digestive issues in some people. I avoid it when I have the option.
Elmhurst has been a favorite brand of mine for quite some time, one of the reasons being that they have no additives in their nut milks. Their company's process provides an incredibly smooth and creamy end result that we're simply, well, nuts about. They have a really cool story behind the brand, too! (Which is why I reached out to them to see if they'd want to collaborate on this post.)
The History of Elmhurst
Elmhurst is no stranger to the dairy industry. In fact, they were the #1 dairy supplier on the East Coast for decades. But in 2016, CEO Henry Schwarz, son of co-founder Max Schwartz, saw an opportunity. At the age of 82, he closed Elmhurst Dairy and embraced a new model with a plan: to create clean label products that were just as delicious and nutritious as dairy milk. Fast forward just two years, and their version of "milked" dairy has become a huge hit.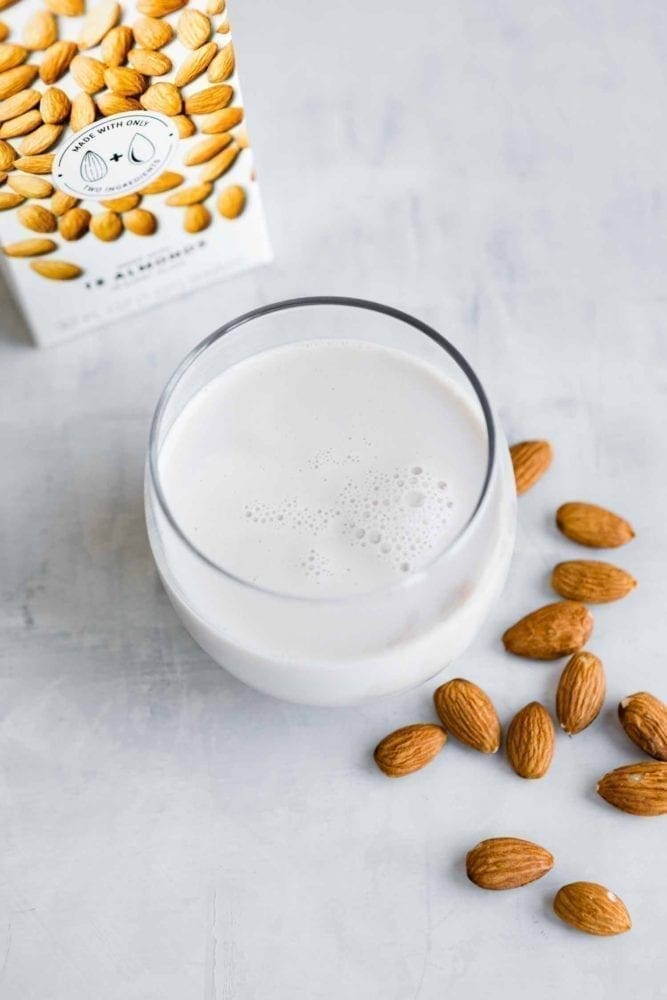 The really cool thing about Elmhurst, however, (aside from not including any non-necessary fillers), is that in addition to their nut milks, they've also created grain milks—including oats and brown rice milks—perfect for those who are sensitive to nuts and those looking for another plant-based option. My personal favorites are the Unsweetened Milked Almonds and Unsweetened Milked Hazelnuts—click on either link to shop those products you can check out all their varieties of plant-based milk here.
What are the benefits of plant-based milks?
Back to the million dollar question: is dairy milk or plant-based milk better?
It's really up to you and what you need. It's not a black or white answer' as much as some people try to make it seem. In my house, we still consume some organic whole milk and yogurt, yet nut milk is our main thing. Modern milk production practices are often questioned, and milk consumption has been affected by this. Drinking plant-based milks ensure that you are having a product that is free of antibiotics, hormones and any other unhealthy additives that come with dairy. Naturally, plant-based milks are also popular with those who are allergic or intolerant to dairy milk, in addition to those who question a potential sensitivity to the food. But all of these reasons aside, the taste and variety are also a huge draw to many, including me!
Now, I want to share the best plant-based matcha latte recipe with you: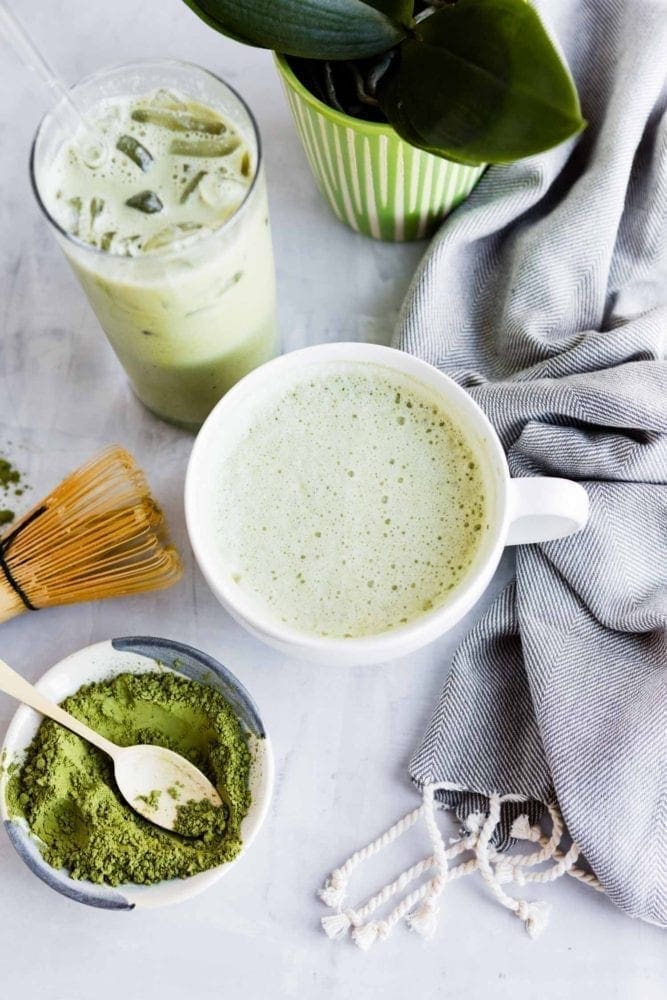 Print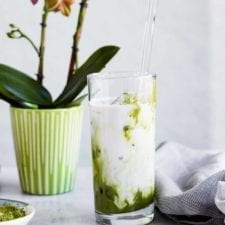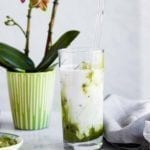 The Best Plant-Based Matcha Latte
---
Author:

Jen Hansard

Prep Time:

5 minutes

Cook Time:

3 minutes

Total Time:

8 minutes

Yield:

1

serving

1

x

Diet:

Vegan
Description
Enjoy the benefits of antioxidant matcha in a creamy almond milk latte made with Elmhurst Milked Almonds.
---
1 1/2 teaspoons

matcha powder

1/4 cup

boiling water

1/2 teaspoon

pure vanilla extract, optional
---
Instructions
Place Elmhurst Milked Almonds into a small saucepan and heat gently until very hot, but not boiling.
Meanwhile, place match powder into a mug and whisk in 1/4 cup boiling water to make a paste.
If using vanilla, stir into the hot Milked Almonds. For a frothy texture, place almond milk in blender and blend for 10-15 seconds on high. Or use the matcha whisk to froth the milk by hand.
Pour the almond milk into the mug with the matcha tea, adding any foam to the top. Drink immediately.
Notes
For an iced latte use the same ingredients and follow these instructions instead:
Whisk matcha powder with boiling water to make a paste. Let cool slightly. Stir in vanilla and 1-2 tablespoons of the Milked Almonds. The mixture should be pour-able.
Fill a tall glass with crushed ice and add the matcha mixture. Fill the glass to the top with remaining Milked Almonds. Drink immediately.
Category:

Beverage

Method:

Blending

Cuisine:

Asian
Keywords: matcha latte, almond milk beverage, almond milk recipe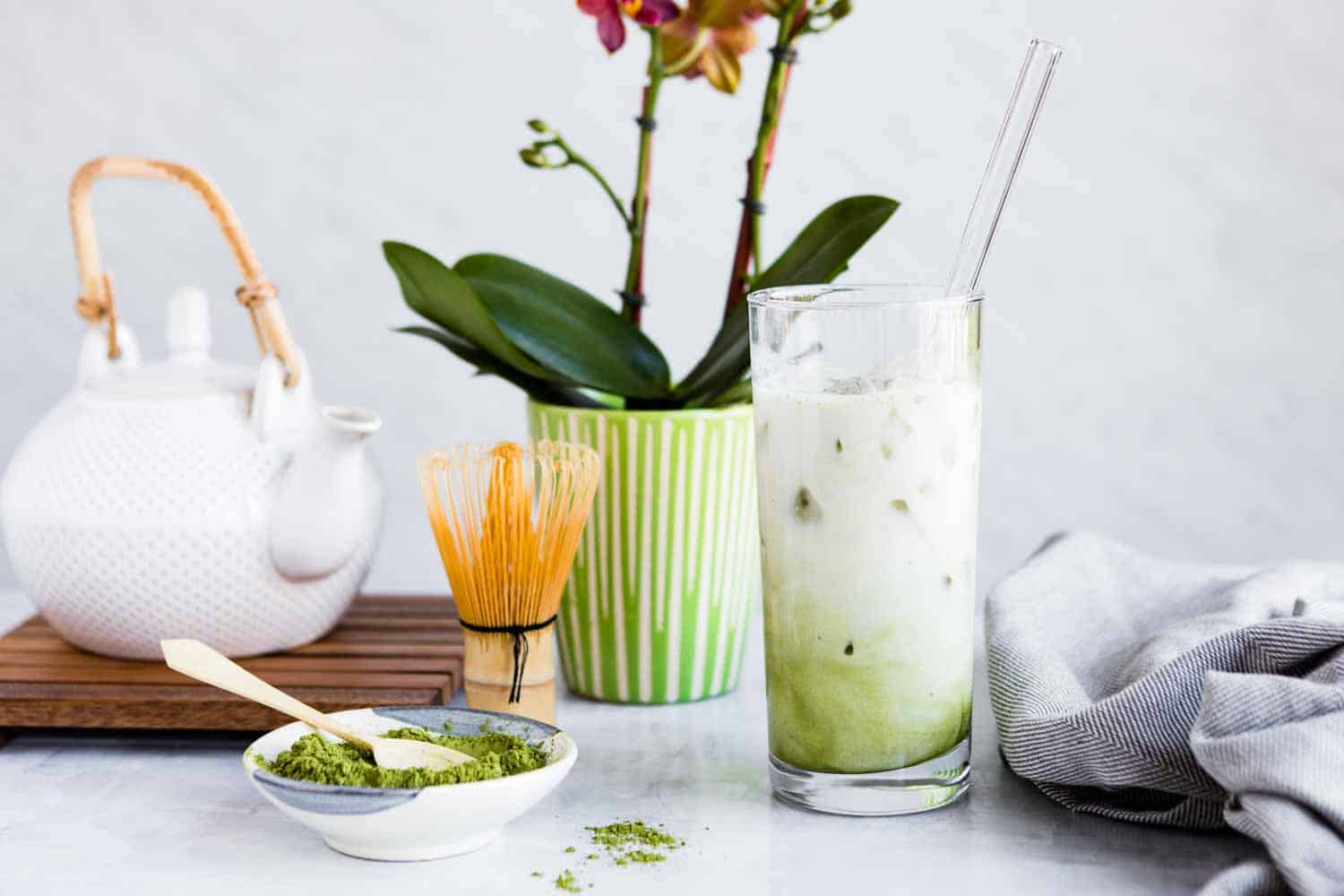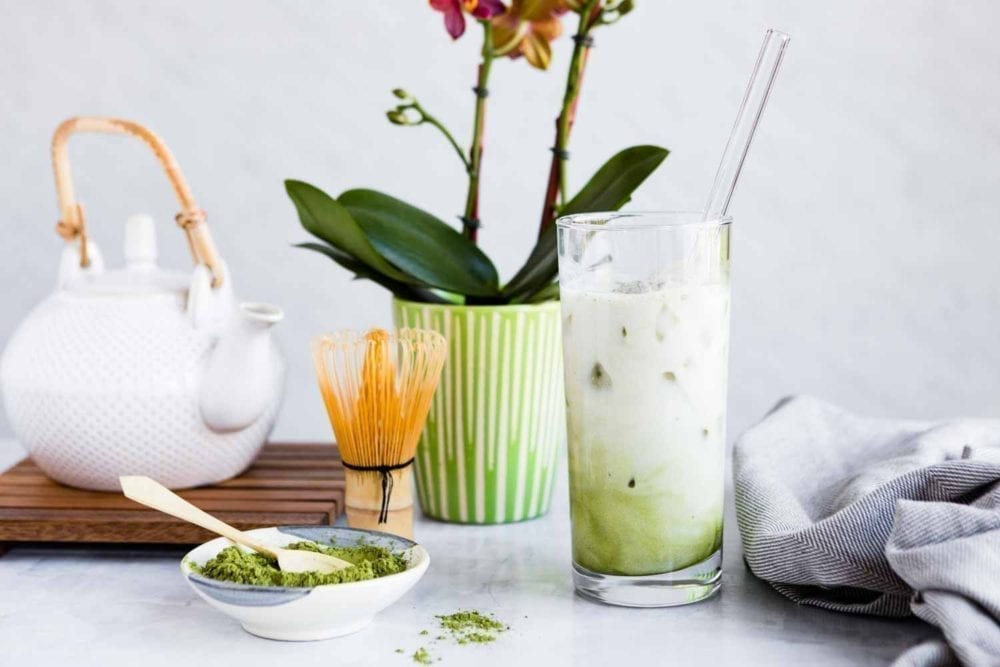 While I mentioned almond being a preferred flavor, I recently tried Elmhurst's unsweetened hazelnut flavor which was a great addition to my rotation. Made with just hazelnuts and filtered water, the ingredients definitely check out! You can see more of their varieties below*.
What to look for in a quality nut milk product:
With all the options out there, it can be hard to know what's best. Here's the main thing I look for in a nut milk:
No stabilizers or gums, like carrageenan, locust bean or xanthan

Unsweetened versions contain just two ingredients: filtered water + "milked" nuts

Rinsed upon arrival from the farm (the second washing) to ensure cleanliness

Cold-milling process separates the nuts into their essential components without ever heating them, helping maintain the nutritional value

Use packaging that is FSC Certified and recyclable
Elmhurst meets all these criteria, and then some. Plus, I think their packaging is super cool too. I love that they don't have salesy marketing claims all over the package— they keep it simple and that speaks volumes for their product. The product literally sells itself.
Your turn:
Do you prefer dairy or nut milk? Let me know below and share why.