Enjoy this red lentil soup for a filling meal full of flavor. I love a hearty soup and this one ticks all the boxes: perfectly spiced, creamy, diversely textured and warm. I love soups for Fall and this one is always at the top of my meal list.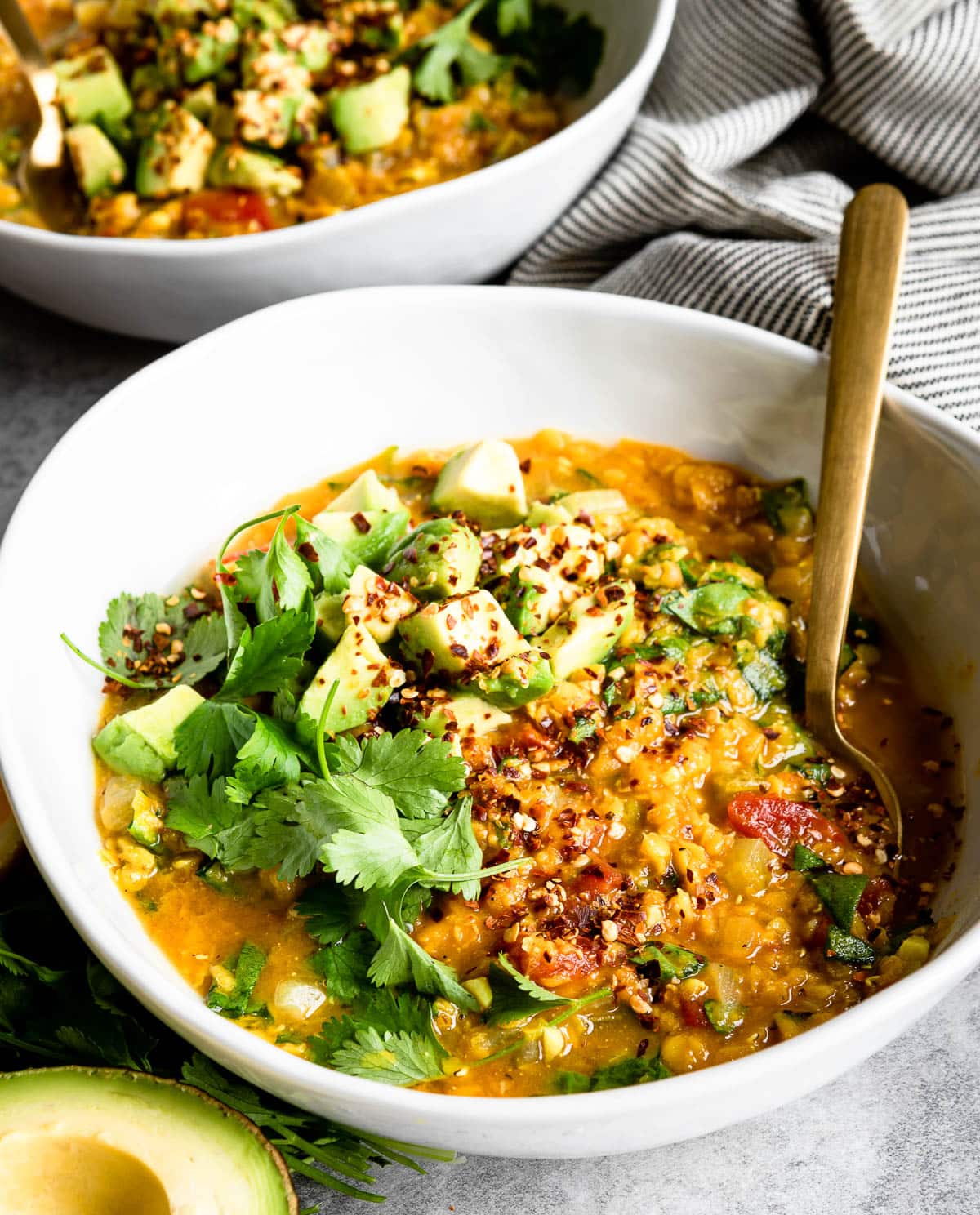 A spiced lentil soup full of warm, rich flavors might best be served in a sweater with a good book, over a dinner table with loved ones, or in a mug while taking in soccer practice.
Let's be honest, this soup can be enjoyed anywhere, anytime. It's a filling soup recipe that will leave you satisfied.
Whether you prefer a creamy, pureed soup like my Vegan Tomato Soup or something with hearty spoonfuls of flavor like this Wild Rice Soup, you can fill up on a good bowl of deliciousness.
Table of Contents
Red Lentil Soup Ingredients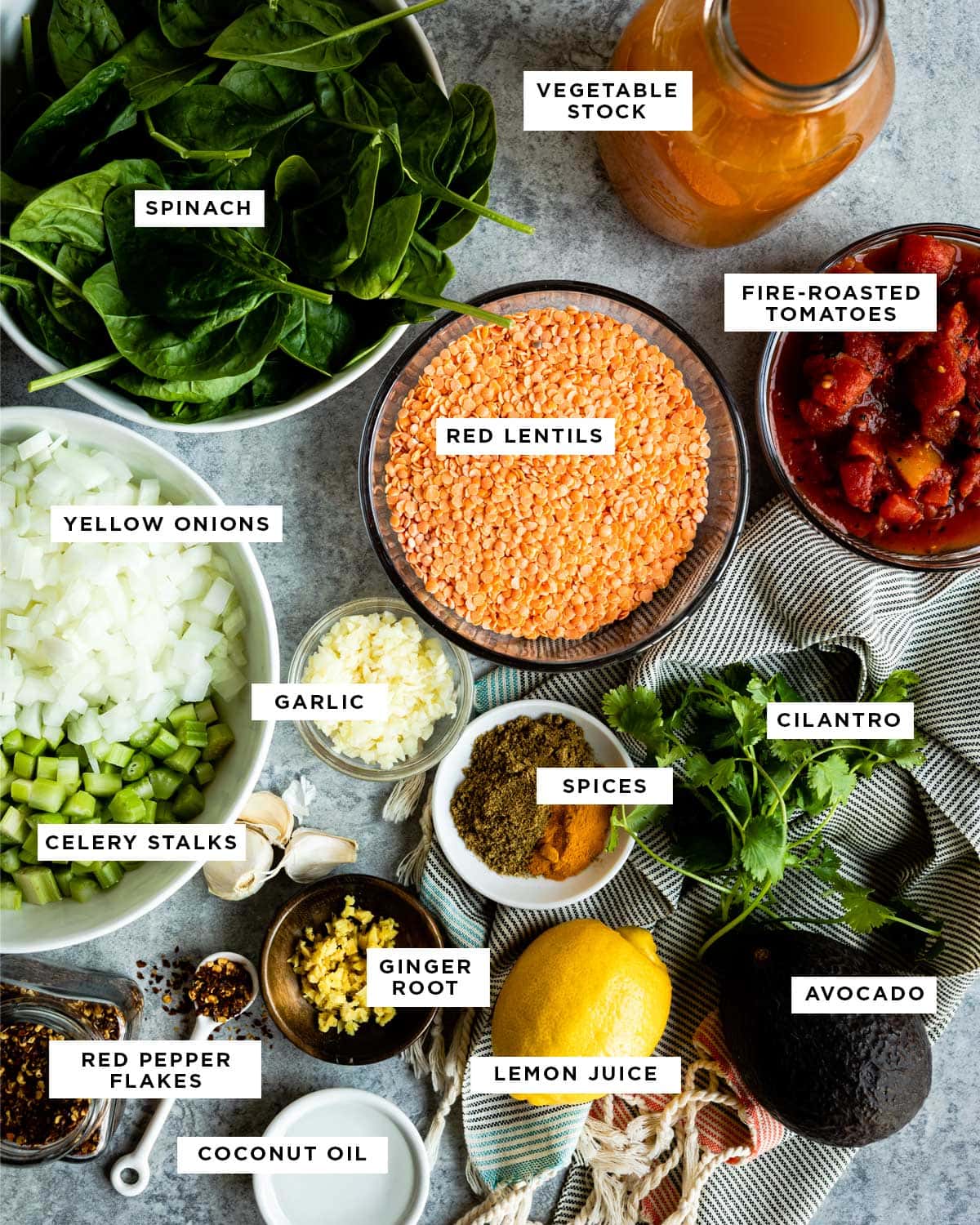 While this spiced lentil soup has a long-ish ingredient list, they all work together to produce a tasty result. Trust me, you won't want to miss out on these rawkin' fresh vegetables and vibrant spices.
Coconut Oil: My favorite healthy fat to help sauté a few of the ingredients.
Yellow Onions: My go-to onion for its buttery, mild flavor.
Celery Stalks: An often hidden, yet necessary ingredient to make any soup a success. Pro tip: use the leafy ends of the celery in the soup if you can! They bring even more flavor.
Garlic: I always mince fresh garlic for the most nutrition. Garlic is a powerful health booster.
Fresh Ginger Root: This anti-inflammatory root packs a powerful punch, so a little goes a long way!
Spices: I use a blend of cumin, turmeric and red pepper flakes to add warmth, earthiness and just a bit of heat.
Fire-Roasted Tomatoes: If you like heat then these are a no-brainer! Use regular diced tomatoes to tone my soup down a bit.
Vegetable Stock: Homemade or store-bought, look for a stock with real ingredients.
Red Lentils: These have a less-earthy flavor than green lentils do. Red lentils also get softer during cooking, which is what I wanted for this soup.
Spinach: I'll always add leafy greens, and this soup's no exception!
Lemon Juice: You'd be shocked at how much a squeeze of fresh lemon juice makes to bring out the brightness of this soup.
Cilantro: A detoxifying herb with a unique flavor.
Avocado: A creamy, healthy fat that helps your tastebuds absorb the spicier elements.
Red Pepper Flakes: Just a bit of flare to finish this spiced soup the right way!
Buying the Right Lentils
I always look for lentils in clear packaging so that I can see how vibrant the color is. The brighter the color, the fresher the lentils. Green lentils can be used in this spiced lentil soup, yet they don't get as soft as red lentils and have a much stronger flavor.
Look for lentils next to dried beans, or in the soup aisle. You can also look in the international aisle of most grocery stores. Skip over the ones in spices or other liquids, you want plain, dried lentils for this recipe.
How to Make Spiced Lentil Soup
This soup does have a few more components than some, yet it's 100% worth it at first bite. Here's how I make my Red Lentil Soup: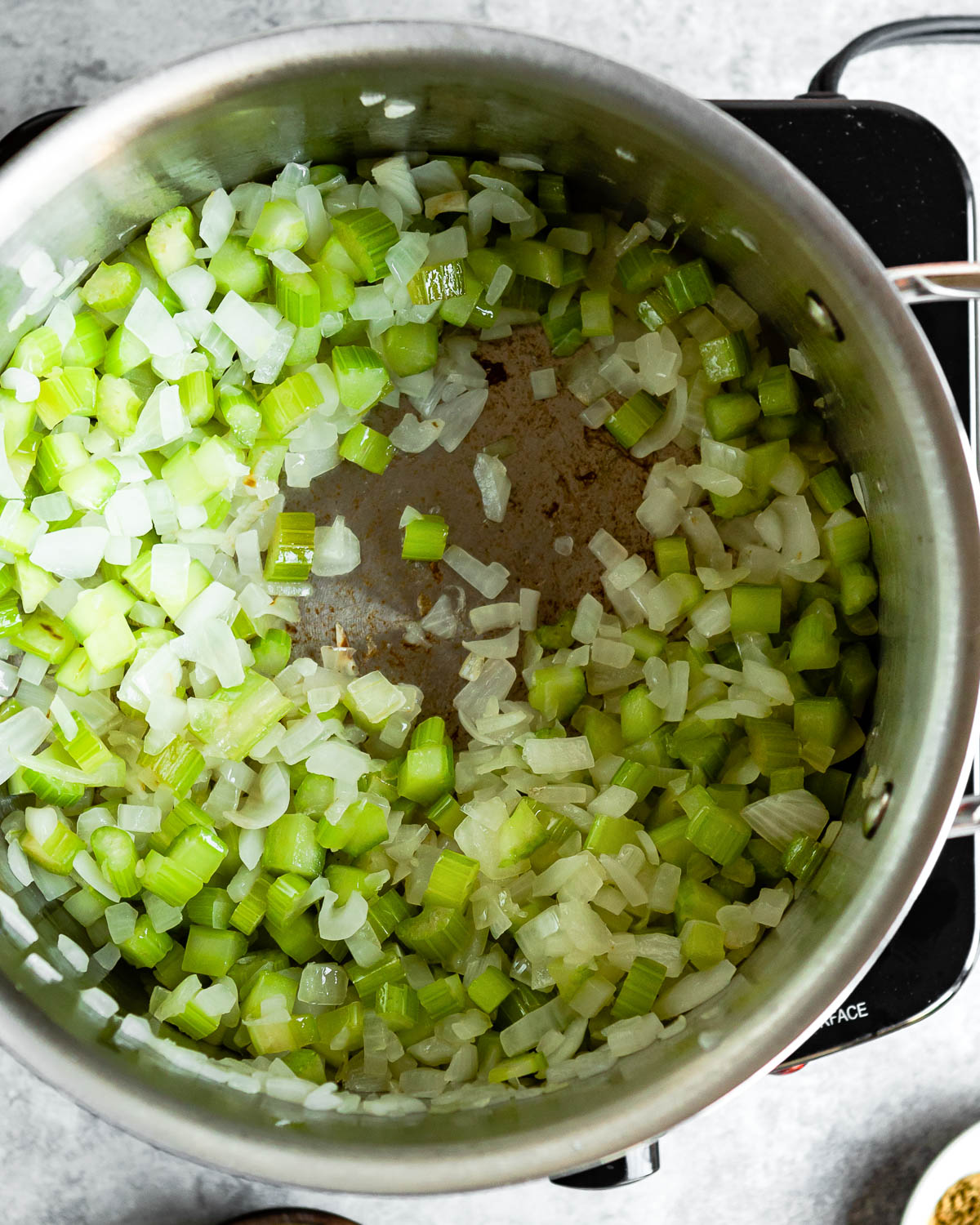 Step 1: Sauté the onion and celery in coconut oil (or the oil of your choice). This releases the flavors and adds a lovely warmth to your final product.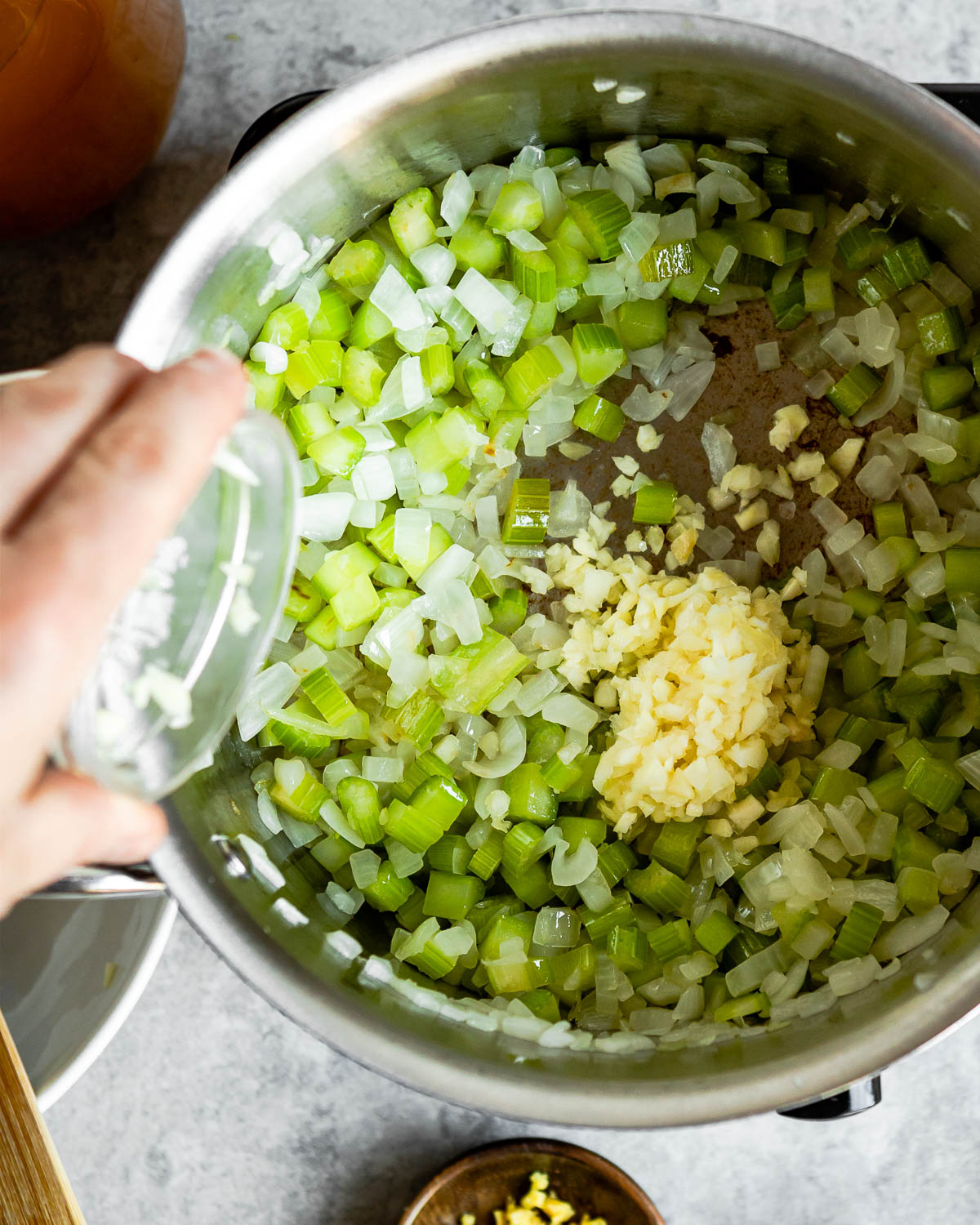 Step 2: Sauté the garlic and ginger, stirring constantly so the garlic doesn't burn (this can happen quickly!). Use fresh minced garlic for the best results.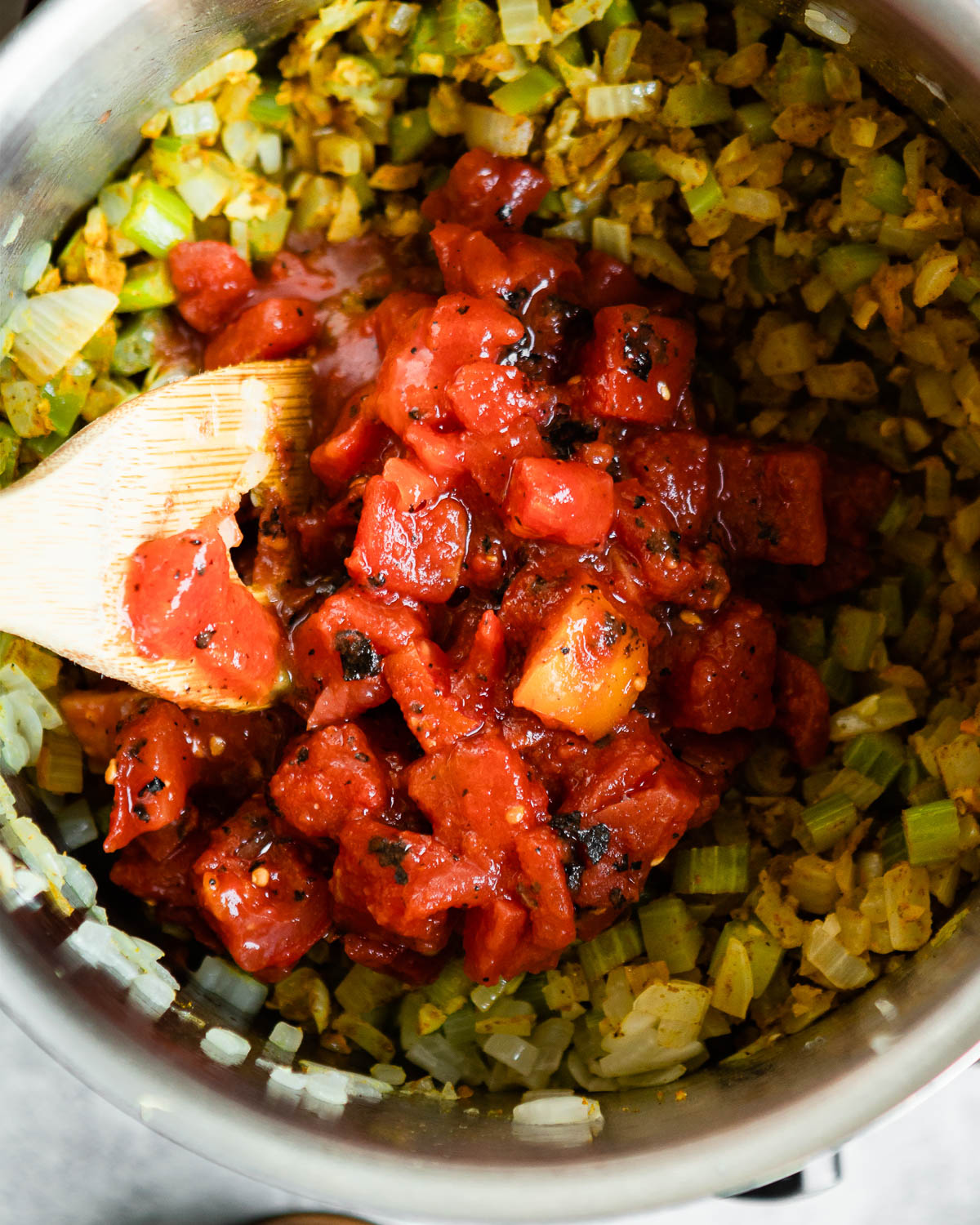 Step 3: Add spices and tomatoes, namely turmeric, cumin and fire-roasted tomatoes. Stir quickly to combine so that the spices don't stick to the bottom.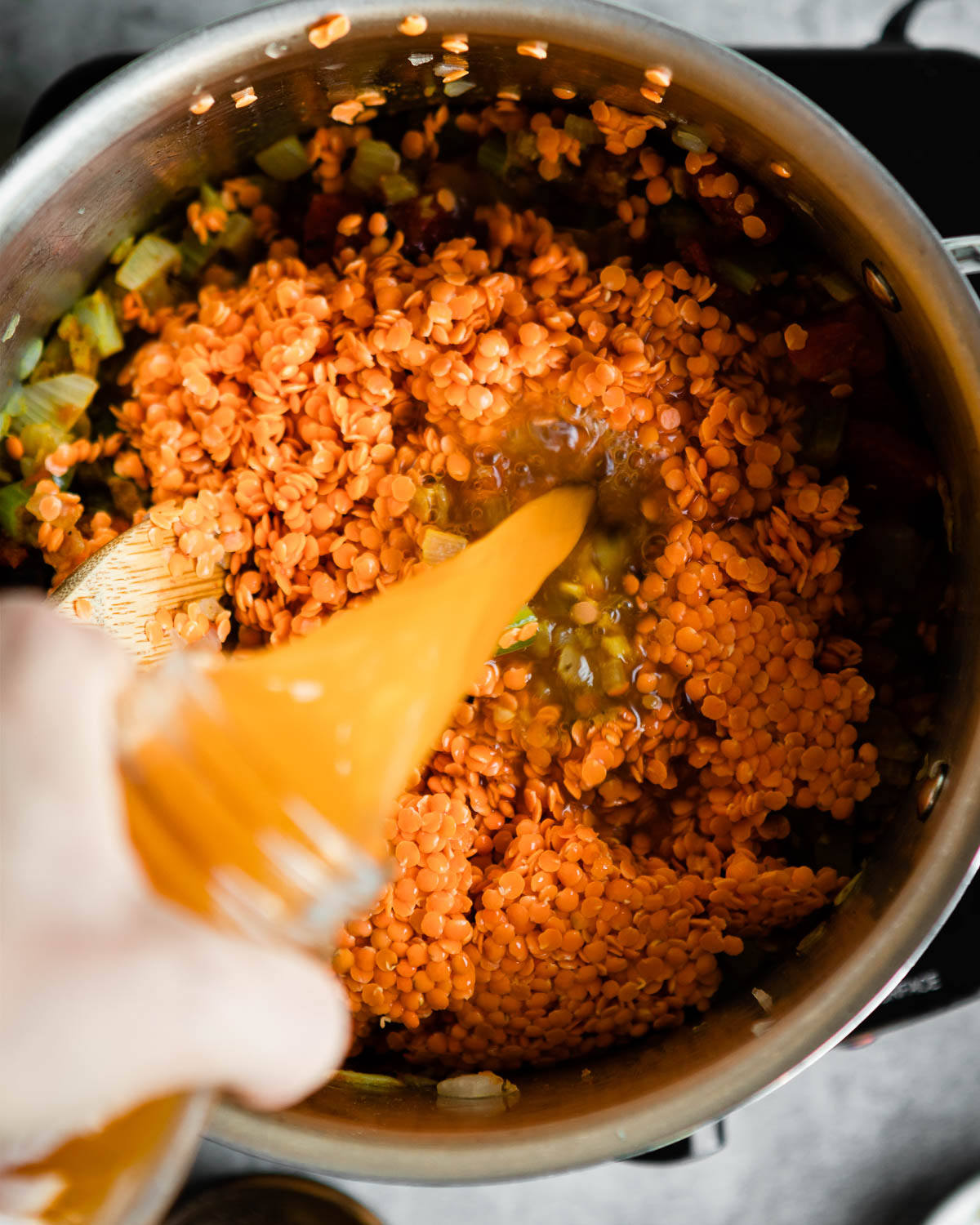 Step 4: Add vegetable stock and lentils and give the soup a few stirs to cover the lentils. Now all you need to do is allow the soup to simmer until the lentils are soft (no crunch!).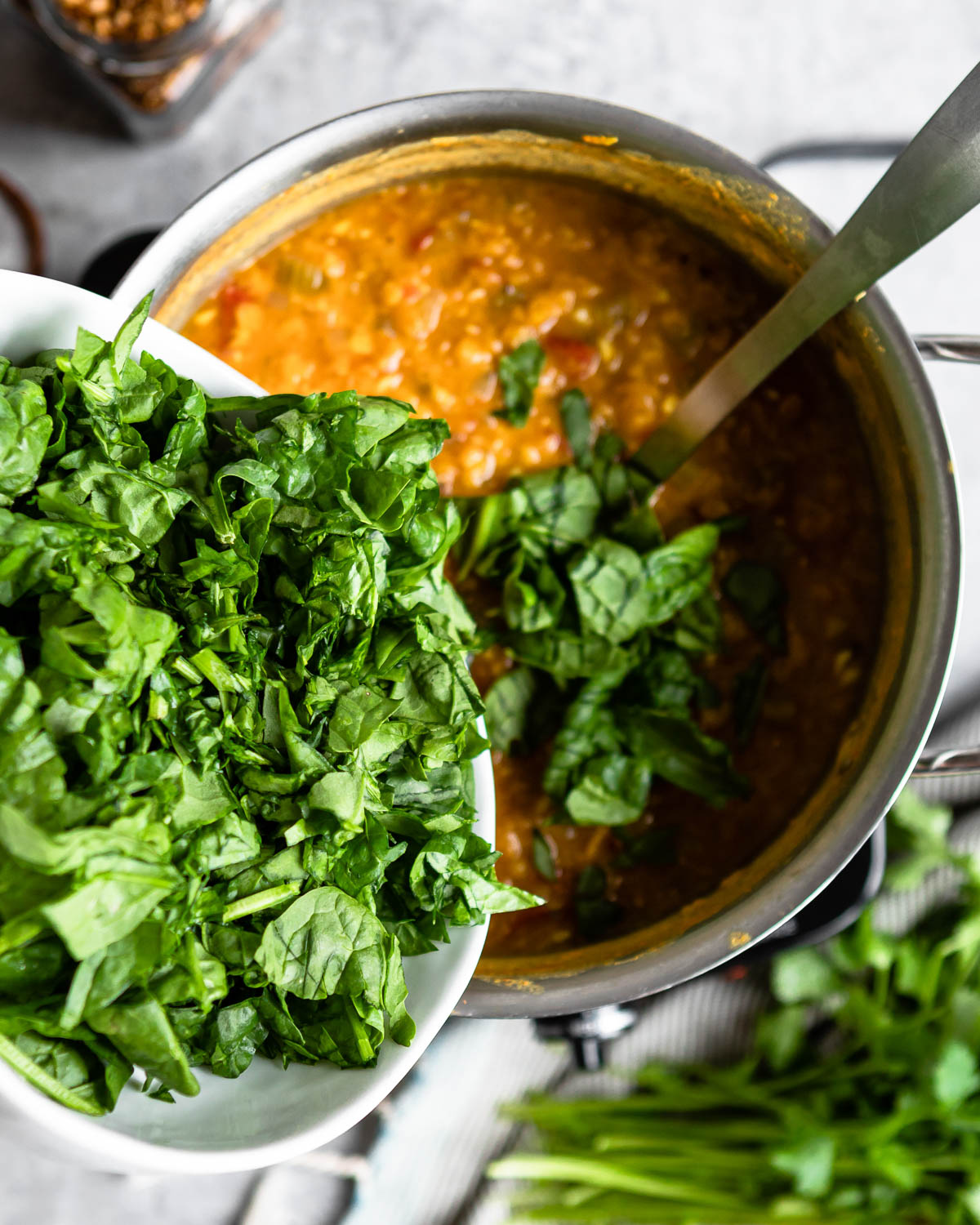 Step 5: Add spinach and lemon juice once the soup is ready. Lemon juice is a #gamechanger so don't forget it! Feel free to taste the spiced lentil soup and add in a bit of salt and pepper, or just let people add it to their own bowls after serving.
Boom! Soup is served. I like to top mine with cilantro, avocado and red pepper flakes for a bit of healthy fat and spice to finish up this masterpiece.
Tips on Cooking Soup
My number one tip for the best-tasting soup all the time is this sauté the aromatic ingredients. Whether you are slow-cooking your soup or just simmering on the stove top, taking a few minutes to sauté a few of the veggies first opens them up nicely. I want my soup to be as flavorful as possible and this is the way to do it.
My second tip is to make extra! Whether you're feeding one person or a family of five, make sure to have a few extra servings when you're finished. This way you can freeze or refrigerate them to enjoy later in the week for quick lunches or dinners. No need to chop all that produce more than once.
Finally, use what you have on hand. Soup often contains several ingredients, yet they can easily be swapped for something that's easier for you to find or less expensive to purchase in your town. Living in Florida gives me access to a wide variety of produce that I know isn't available all over the United States. If you ever need help with a swap, just drop a comment below and let me help!
Red Lentil Soup FAQs
What goes well with red lentils?
I'm pairing red lentils with a variety of produce including onions, celery, garlic, fresh ginger, cumin, turmeric, fire-roasted tomatoes, spinach, lemon, cilantro, avocado and red pepper flakes in this gorgeous soup recipe. It's got a bit of spice and the squeeze of lemon brings out a wonderful brightness that will have you grabbing seconds.
Is red lentil soup good for you?
Mine is! I use as many fresh, whole food ingredients as I can so that this soup nourishes and helps boost your immune system during cooler weather.
Do I need to soak lentils before adding them to soup?
Not in my soup. I do rinse my lentils before adding them to the soup pot, but they will soften nicely inside the simmering stock without the need to soak beforehand.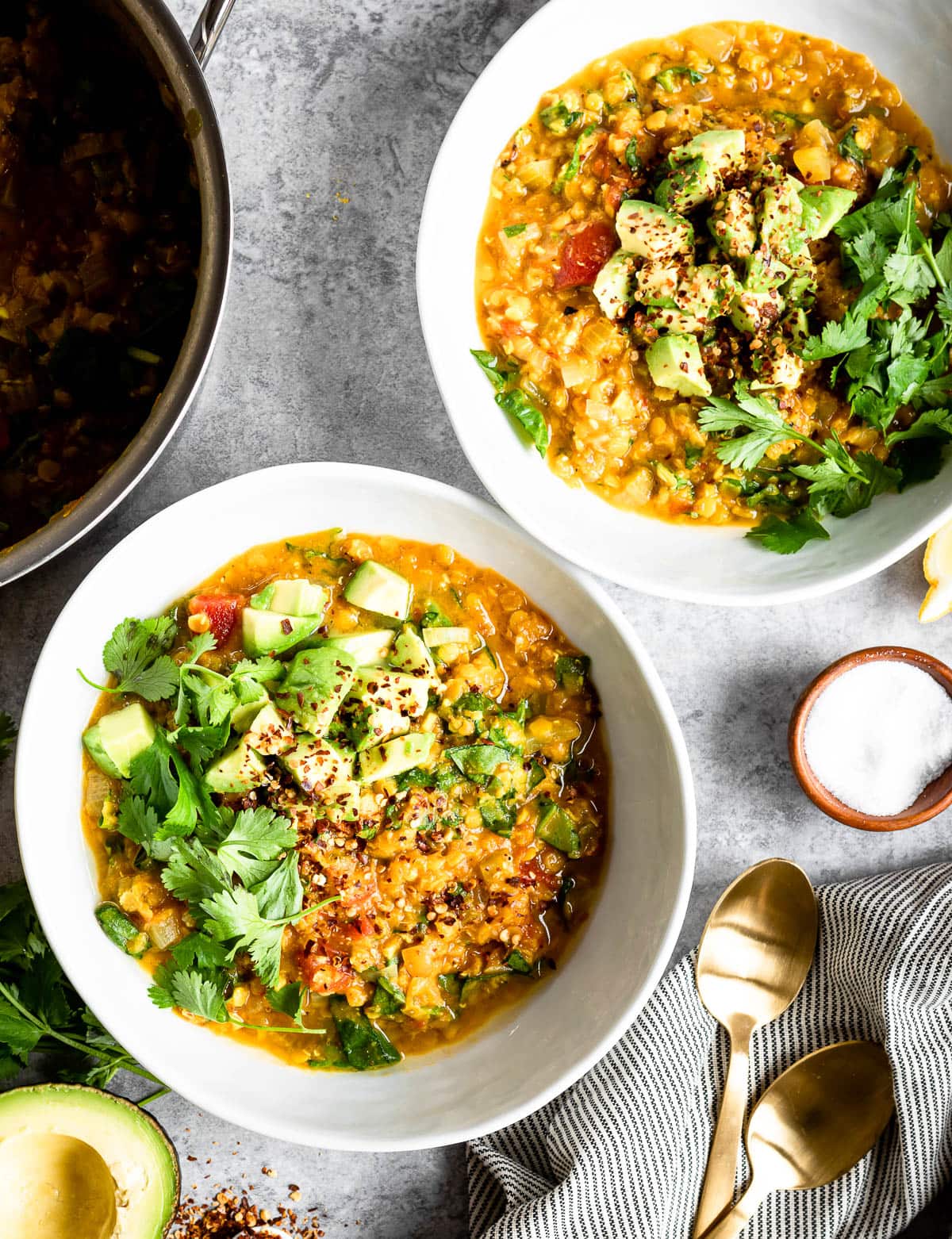 More Comforting Recipes
I love comfort food as much as the next person, yet I don't love how my body feels after filling it with many of the inflammatory ingredients that make up 'comfort food.' I get super stoked when I find a great plant-based version of my favorite foods. Enjoy the warm flavors and feelings without the tired bloat afterward! Here are a few of my family's go-to comfort food recipes:
Don't forget to rate + review this recipe once you've tried it. I can't wait for your feedback!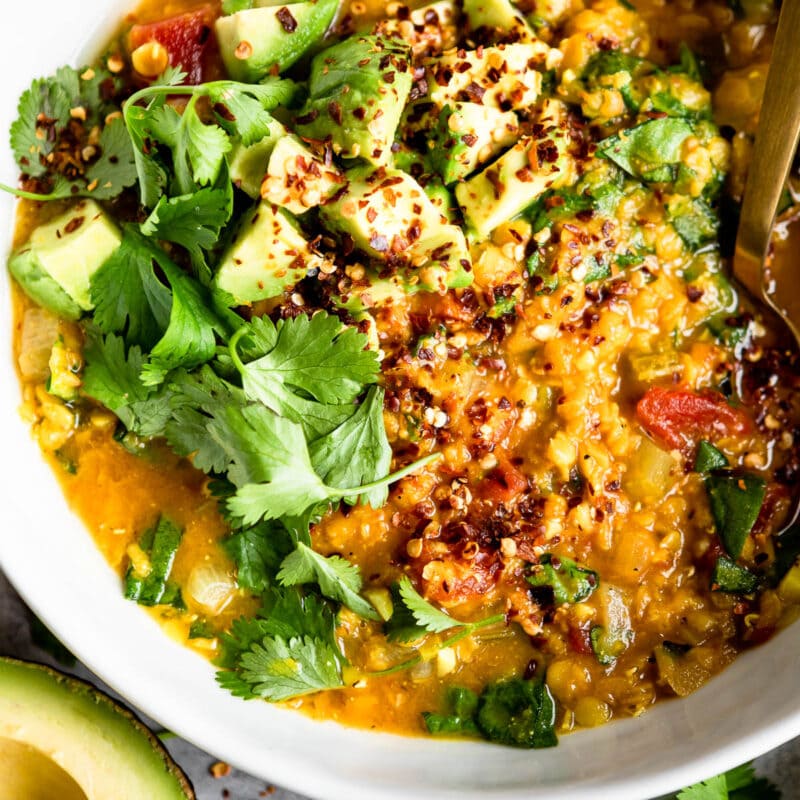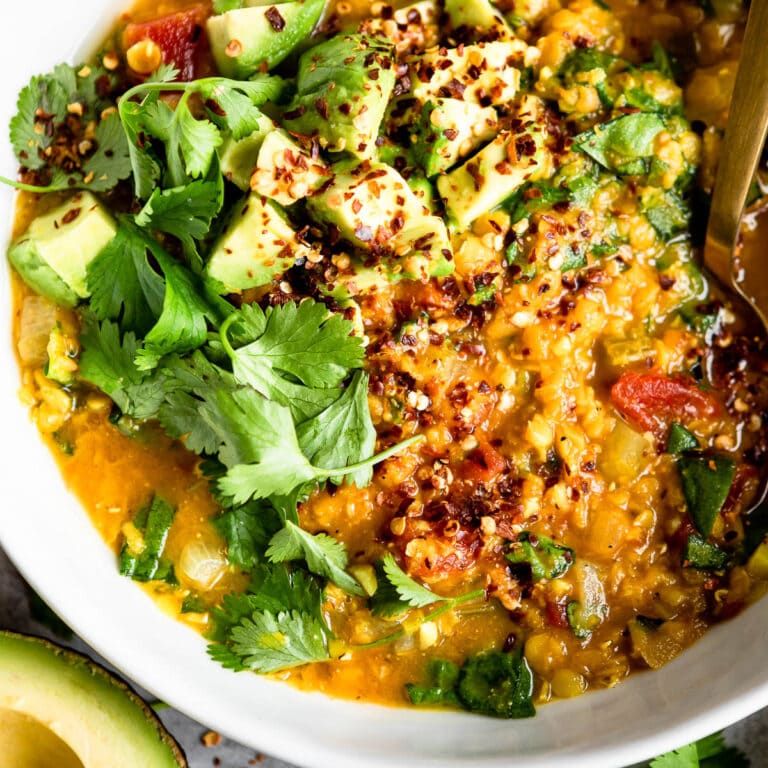 Red Lentil Soup
Dive into a nourishing and fulfilling soup recipe loaded with vegetables, hearty lentils and natural spices. This red lentil soup is the perfect cool weather delight and can be made once and frozen to serve again and again this season.
Ingredients
1

tbsp

coconut oil

2

yellow onions

diced

2

stalks

celery

diced

8

garlic cloves

minced

½

tsp

ginger root

finely minced

2 ½

tsp

cumin

ground

1

tsp

turmeric

ground

1

can

fire-roasted tomatoes

diced

4

cups

vegetable stock

1 ½

cups

red lentils

2

cups

spinach

roughly chopped

2

tbsps

lemon

juiced

¼

cup

cilantro

1

avocado

diced

½

tsp

red pepper flakes
Instructions
Heat the coconut oil in a large pot over medium-high heat. Add the onion and celery. Sauté for 5 minutes, or until the onion is translucent.

Add the garlic and ginger and sauté for 1 minute, stirring constantly.

Add the cumin and turmeric. Stir for 30 seconds, or until fragrant. Add the tomatoes and stir again.

Add the vegetable stock and lentils. Lower heat to a simmer and partially cover the pan. Cook for 25-30 minutes or until the lentils are soft.

Stir in the spinach and lemon juice. Add salt and pepper.

Top with cilantro avocado and red pepper flakes for serving.
Notes
Swap ground turmeric with fresh turmeric root for even more anti-inflammatory benefits.
Swap fresh ginger root with 1/8 tsp ground ginger, though this will eliminate some of the nutrition found in fresh ginger.
Omit the red pepper flakes and use regular diced tomatoes for a less spicy result.
Nutrition
Calories:
461
kcal
,
Carbohydrates:
70
g
,
Protein:
22
g
,
Fat:
12
g
,
Saturated Fat:
4
g
,
Polyunsaturated Fat:
1
g
,
Monounsaturated Fat:
5
g
,
Sodium:
1155
mg
,
Potassium:
1301
mg
,
Fiber:
28
g
,
Sugar:
15
g
,
Vitamin A:
2669
IU
,
Vitamin C:
29
mg
,
Calcium:
158
mg
,
Iron:
8
mg