With only four ingredients, you can make homemade applesauce that not only tastes good but also makes your house smell delicious. Try my slow cooker applesauce recipe with those gorgeous, fresh apples you just picked at the orchard and never go back store-bought again. This crockpot applesauce recipe is so easy!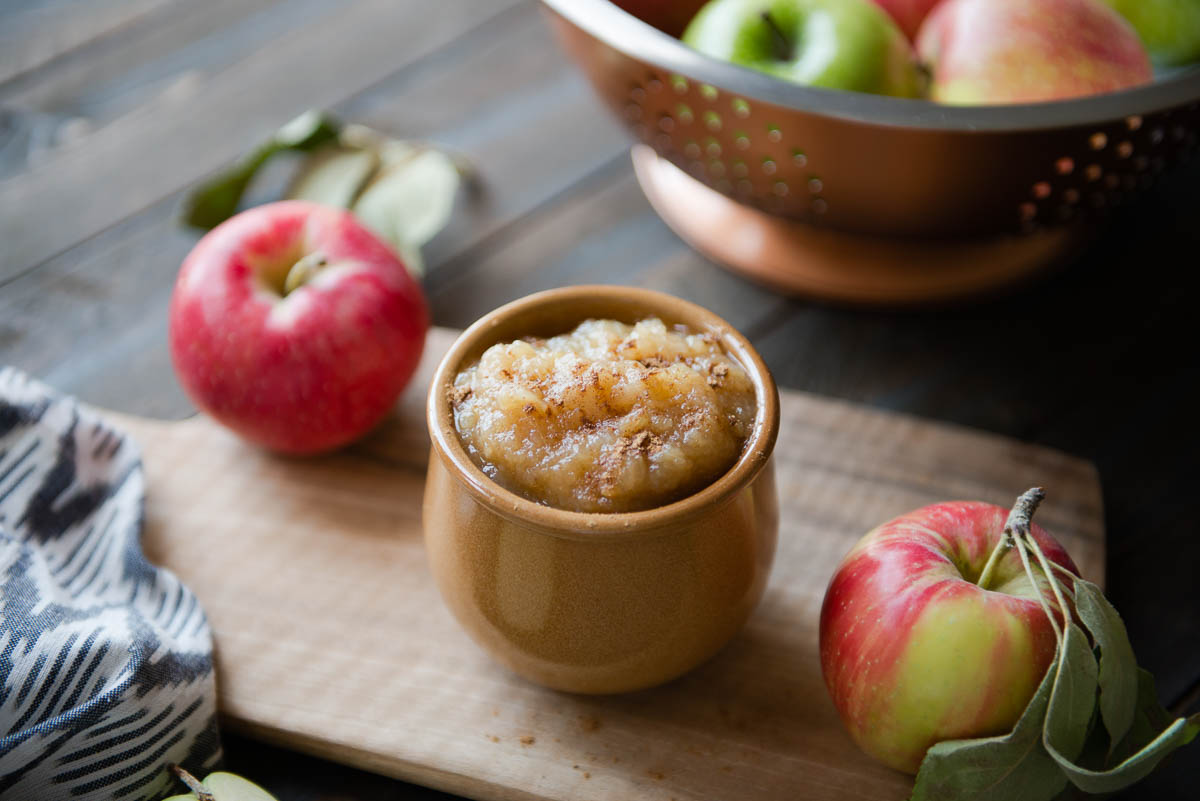 Apples are a great ingredient for cold smoothies like my Green Apple Smoothie and the Apple Celery Smoothie, as well as warm smoothies like the Apple Pie Smoothie. Yet, they aren't just for smoothies, teachers and keeping the doctor away.
Table of Contents
Applesauce was a staple in our household when my kids were little, and a great baking ingredient to replace eggs or oil depending on the recipe, like in my Healthy Zucchini Bread. I even mix it into my Baked Oatmeal recipe! No matter how you like to use it, having some on hand is helpful.
Recipe Ingredients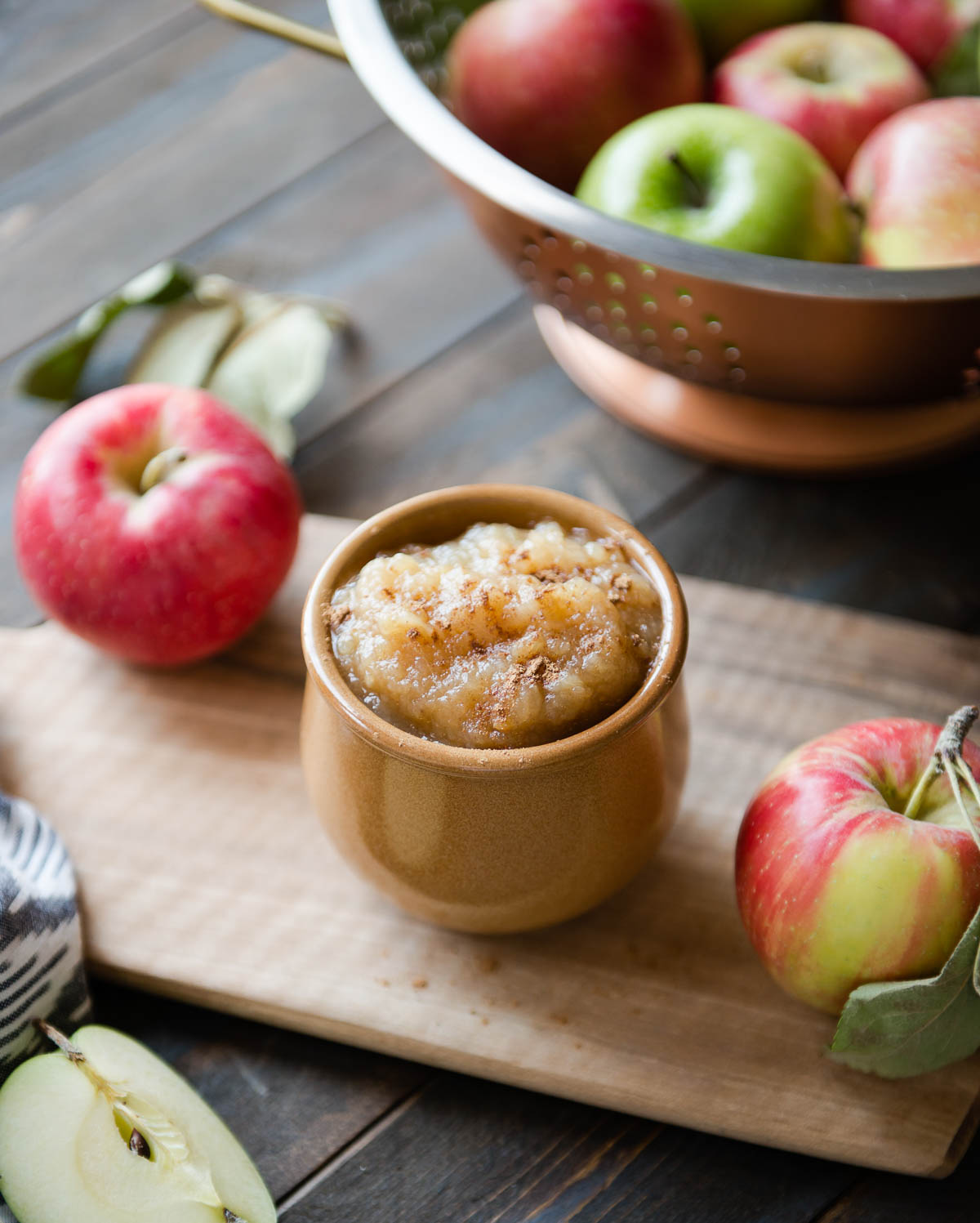 You only need four ingredients to create homemade slow cooker applesauce, and one of those ingredients is water. I don't add any sweetener to mine as the apples make it sweet enough! Depending on your taste preferences, use a variety of sweet and tart apples for the best flavor. Here's what I'm tossing into the crockpot:
Apples: I like to use Honeycrisp, Cortland, Granny Smith and Mcintosh. You really can use whichever ones you like best.
Water: While apples do hold a lot of liquid, cooking them for a long time reduces that quite a bit. I find that adding liquid keeps everything from sticking to the sides of the bowl.
Lemon juice: This acts like a preservative and also helps brighten up the flavors.
Cinnamon sticks: I love using whole sticks instead of ground cinnamon to keep the grittiness out yet get all the cinnamon flavor I can.
Add-Ins and Swaps
I like the sweetness of this recipe as-is, so I don't add any extra. Feel free to add a touch of the natural sweetener of your choice when serving.
You can use ground cinnamon instead of cinnamon sticks in this recipe if that works better for you. Start with two tablespoons in the slow cooker and then add more to taste once cooked.
Feel free to spice up your version with more than cinnamon, too! If you like the spices in apple butter then feel free to use them in this recipe! Adding a bit of nutmeg and cloves can really warm this up. Feel free to use that little container of apple pie spice as well.
How to Make Crockpot Applesauce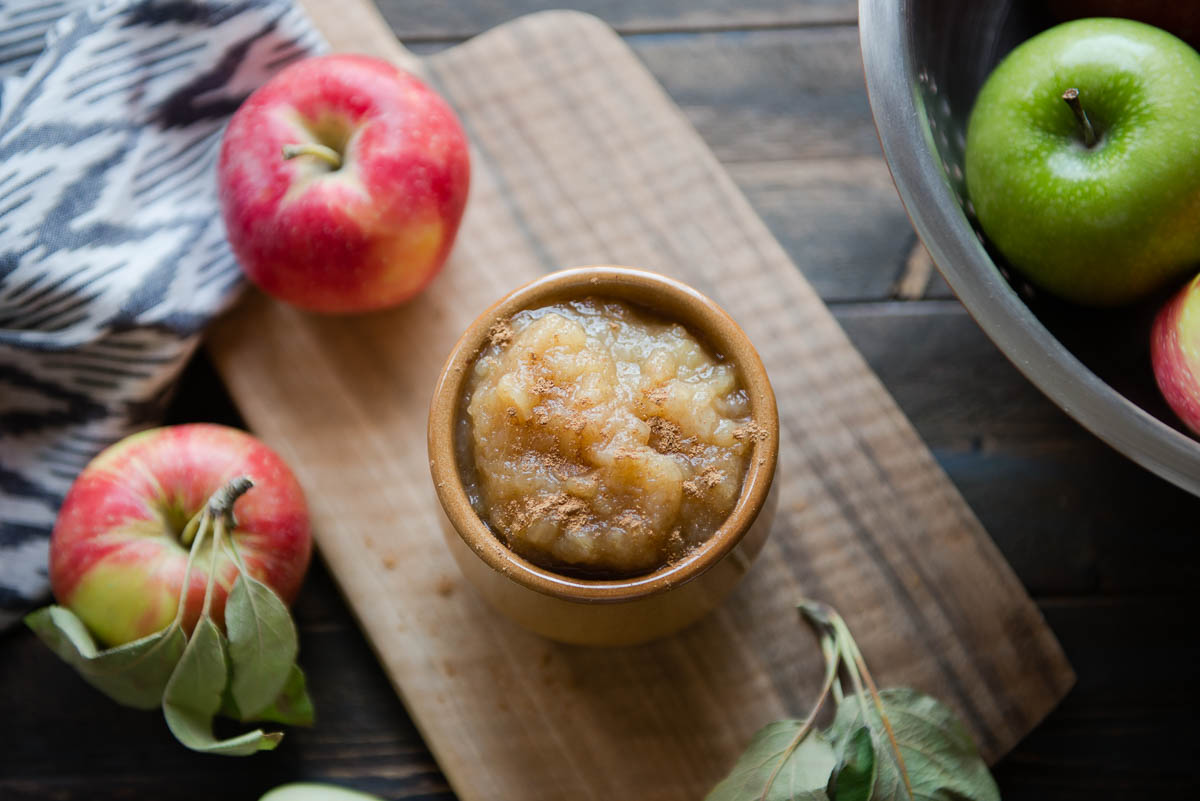 This doesn't take a lot of prep other than the apples, yet it does take a bit of time to cook.
Peel and core the apples and then roughly chop them.
Add all ingredients to the slow cooker and stir together.
Cook on low for 8-10 hours or high for 4-5 hours, until the apples are completely cooked through.
Remove from the heat and discard the cinnamon sticks. Use an immersion blender to puree the applesauce to your desired consistency. You don't need to do this step if you want it chunky!
Eat immediately to enjoy it warm or store it in air-tight containers in the refrigerator until you're ready to serve it. This will last up to one week in the fridge, or you can store it in the freezer for up to six months. If freezing, I recommend freezing in smaller portion sizes to make it easier to thaw and use when you're ready.
The ultimate secret to incredible slow cooker applesauce is time. I know that sounds odd, yet it's true! Turn on the slow cooker and forget about it until those apples are completely broken down.
Helpful Kitchen Tools
To be honest, I haven't gotten fully on the Instant Pot train yet. Many of my friends love theirs, so I get their advice when making a recipe for it, yet I almost always turn to my trusty Crockpot for cooking.
It is so easy, I've got my go-to recipes down pat. I can start it in the morning and forget about it until dinnertime.
I like a smoother consistency in my applesauce and use my Vitamix Immersion Blender to achieve this. I know this is a bit pricey (you can grab one through a great Vitamix Sales) so definitely start with a more affordable immersion blender if you want to give it a try.
FAQs
Why add lemon juice when making applesauce?
Fresh lemon juice acts as a natural preservative in the sauce as well as brightens up the flavors and adds a bit of tartness.
Can you overcook apple sauce?
Yes, though I haven't done it yet! Using the proper settings on your slow cooker and adding enough liquid before cooking so that there is still some left as the apple juices reduce will help you avoid this scenario.
What kind of apples should I use for applesauce?
You can use almost any kind of apple to make applesauce. I like using a variety of sweet and tart including Honeycrisp, Cortland, Granny Smith and Mctintosh. Feel free to toss in some Galas, Golden Delicious, Fuji or Jonagold in yours depending on what's available in your area. The main thing is to add a variety to get a deep flavor.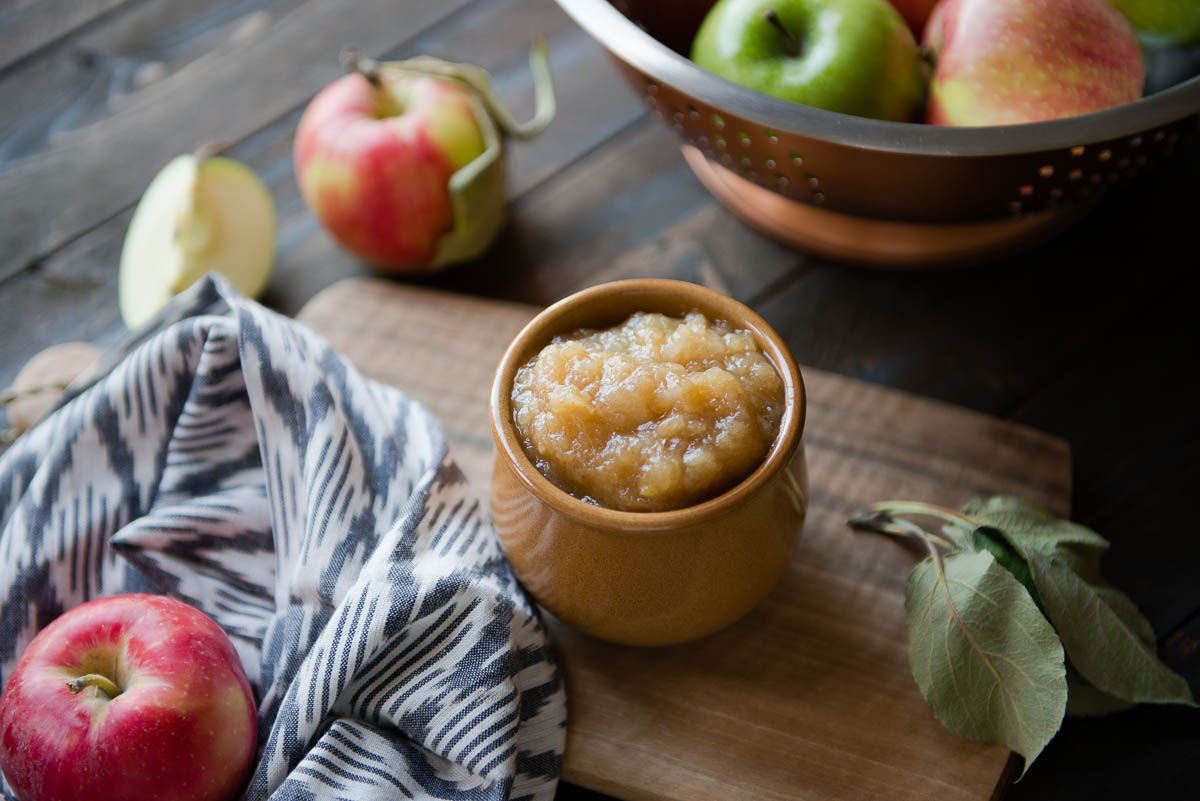 How to Serve
Eating store-bought applesauce at room temp or warm doesn't sound appetizing, but eating this homemade version just out of the Crockpot is perfection. It's equally delicious cold, so don't feel left out if you can't enjoy it while warm! Here are a few other ways to use it:
Will you please give this recipe a rating + review once you make it? Your honest reviews help me so much!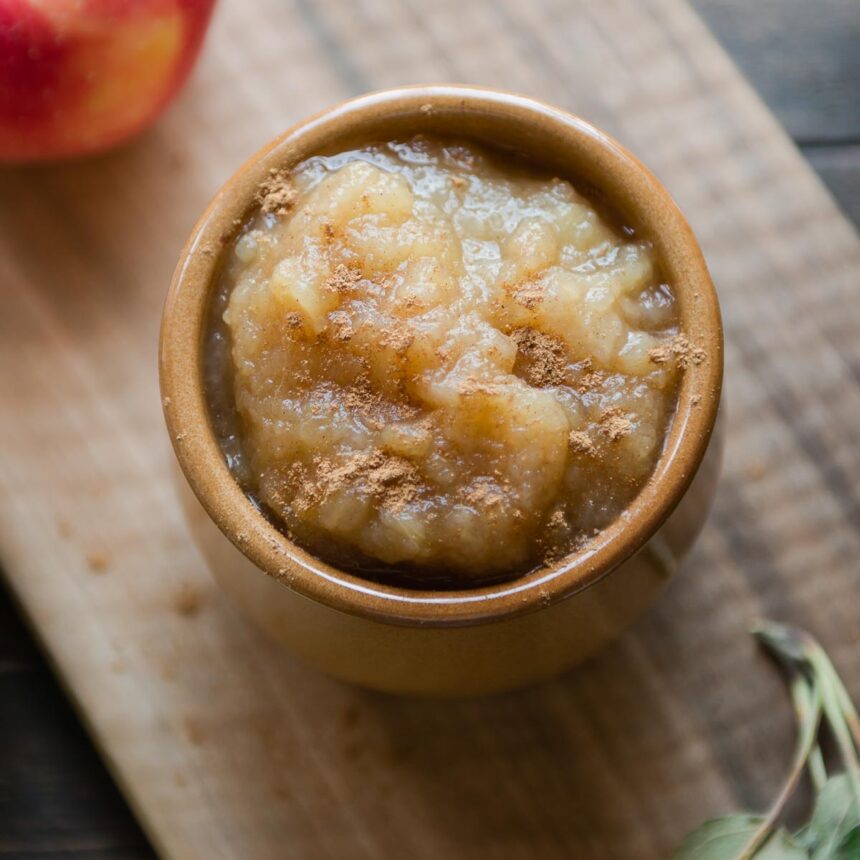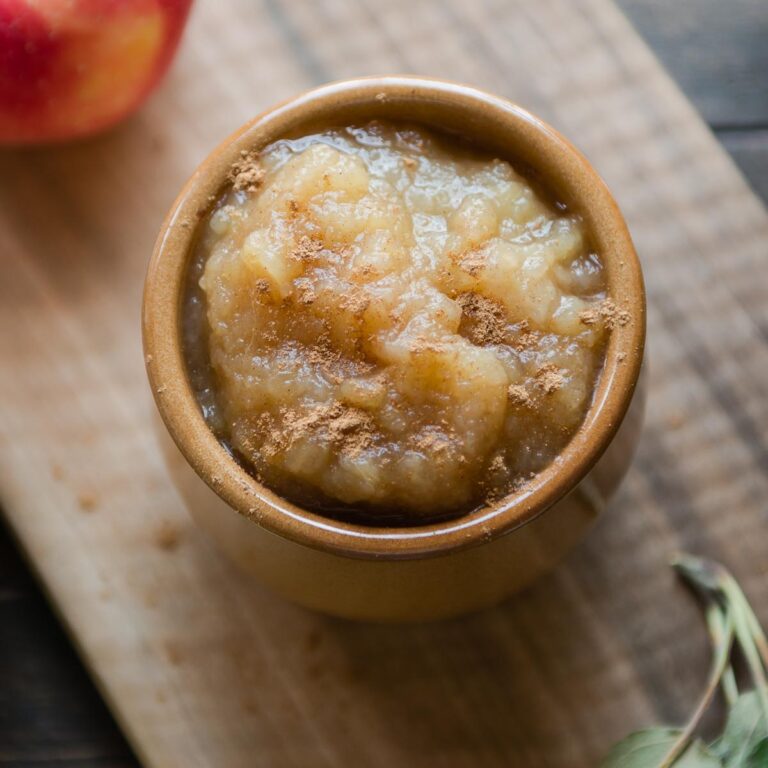 Slow Cooker Applesauce
This 4-ingredient recipe is so easy to put together and incredibly delicious to enjoy both warm and cold! You can make slow cooker applesauce with a wide variety of apples, and serve it on and in so many dishes.
Equipment
vegetable peeler

crockpot

immersion blender
Ingredients
20

apples

washed, about 5 lbs of apples

1

cup

water

3

tbsp

lemon

juiced

2

cinnamon sticks
Instructions
Peel and core all apples then roughly chop.

In a slow cooker, combine prepped apples, water, lemon juice and cinnamon sticks. Cook on low 8-10 hours or on high 4-5 hours, until the apples are completely cooked through.

Remove from the slow cooker and discard the cinnamon sticks.

Use an immersion blender to puree the applesauce to the desired consistency. Alternatively, mash the apples by hand using a potato masher.

Enjoy warm or store in air-tight containers in the refrigerator until ready to serve.
Notes
Store in the fridge up to 1 week. 
This recipe is fairly sweet on its own yet feel free to add in a touch of maple syrup when serving for added sweetness.
You don't have to stick to one kind of apple for this, use a variety for the best flavor.
Swap cinnamon sticks for ground cinnamon, start with 2 tablespoons then add more to taste once it is done cooking.
Nutrition
Calories:
113
kcal
,
Carbohydrates:
30
g
,
Protein:
1
g
,
Fat:
0.4
g
,
Saturated Fat:
0.1
g
,
Polyunsaturated Fat:
0.1
g
,
Monounsaturated Fat:
0.02
g
,
Sodium:
3
mg
,
Potassium:
234
mg
,
Fiber:
5
g
,
Sugar:
22
g
,
Vitamin A:
117
IU
,
Vitamin C:
11
mg
,
Calcium:
18
mg
,
Iron:
0.3
mg