Let me show you how to create a smoothie bowl that is thick, creamy and simple to make over and over. These 4 smoothie bowl recipes use plant-based ingredients. Next time you're in a smoothie rut, grab one of these smoothie bowl ideas and enjoy!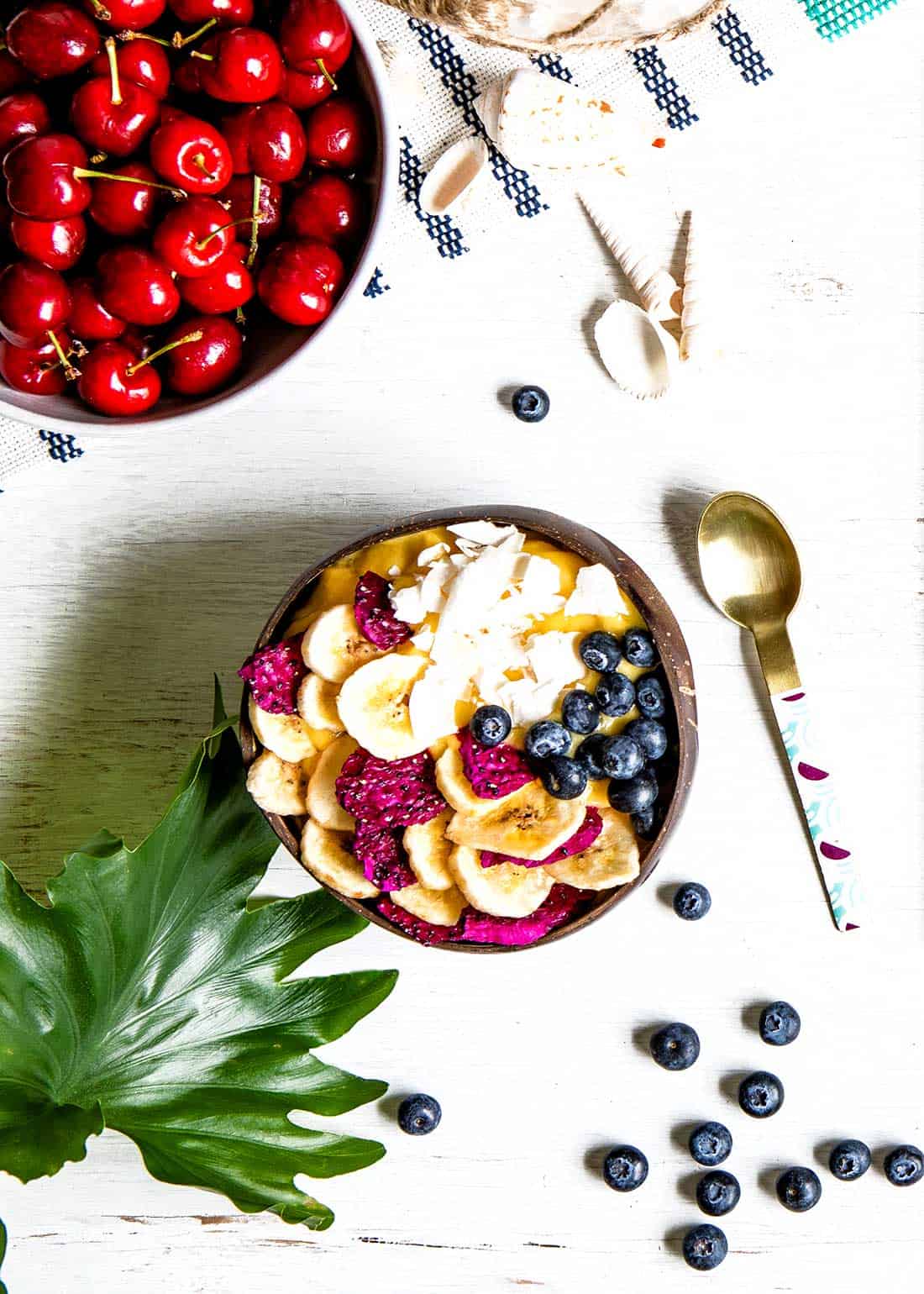 Smoothie bowls are a great way to nourish and hydrate your body quickly. I love smoothies, yet sometimes I like to eat my snack/breakfast with a spoon and a little crunch... and that's where smoothie bowls come in. As long as you get the consistency right, there's no wrong ingredient to toss in, just like with green smoothies! I'm sharing my fave smoothie bowl recipes, along with some pretty epic smoothie bowl ideas that will have you running for the kitchen today.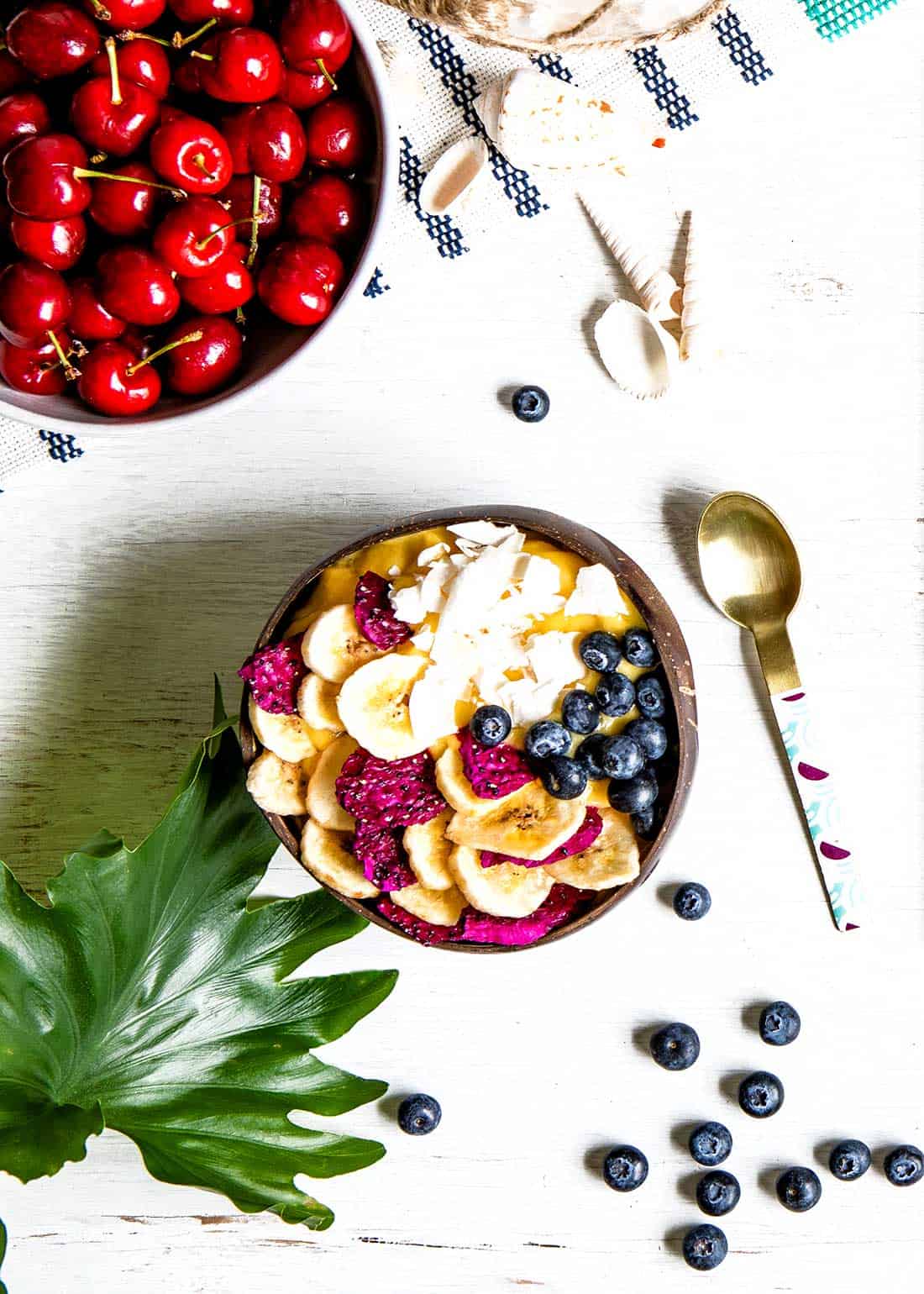 Tips for the perfect smoothie bowl
We've all seen the beautiful açai bowl creations at smoothie bars, with their vibrant colors, fascinating swirls, and fresh toppings. You can achieve this at home, I'm serious! Here are my tips to the smoothie bowl ideas of your dreams.
The perfect ingredients
The first key to making an amazing smoothie bowl is getting it thick. The consistency should be like sorbet. To do that, use frozen fruit, as well as a strong enough blender that allows you to push down the ingredients (aka: a tamper).
For this smoothie bowl recipe, I'm using:
frozen pineapple chunks: provides natural sweetness
frozen mango chunks: helps make it thick and creamy
coconut water: hydrating plus just enough liquid to blend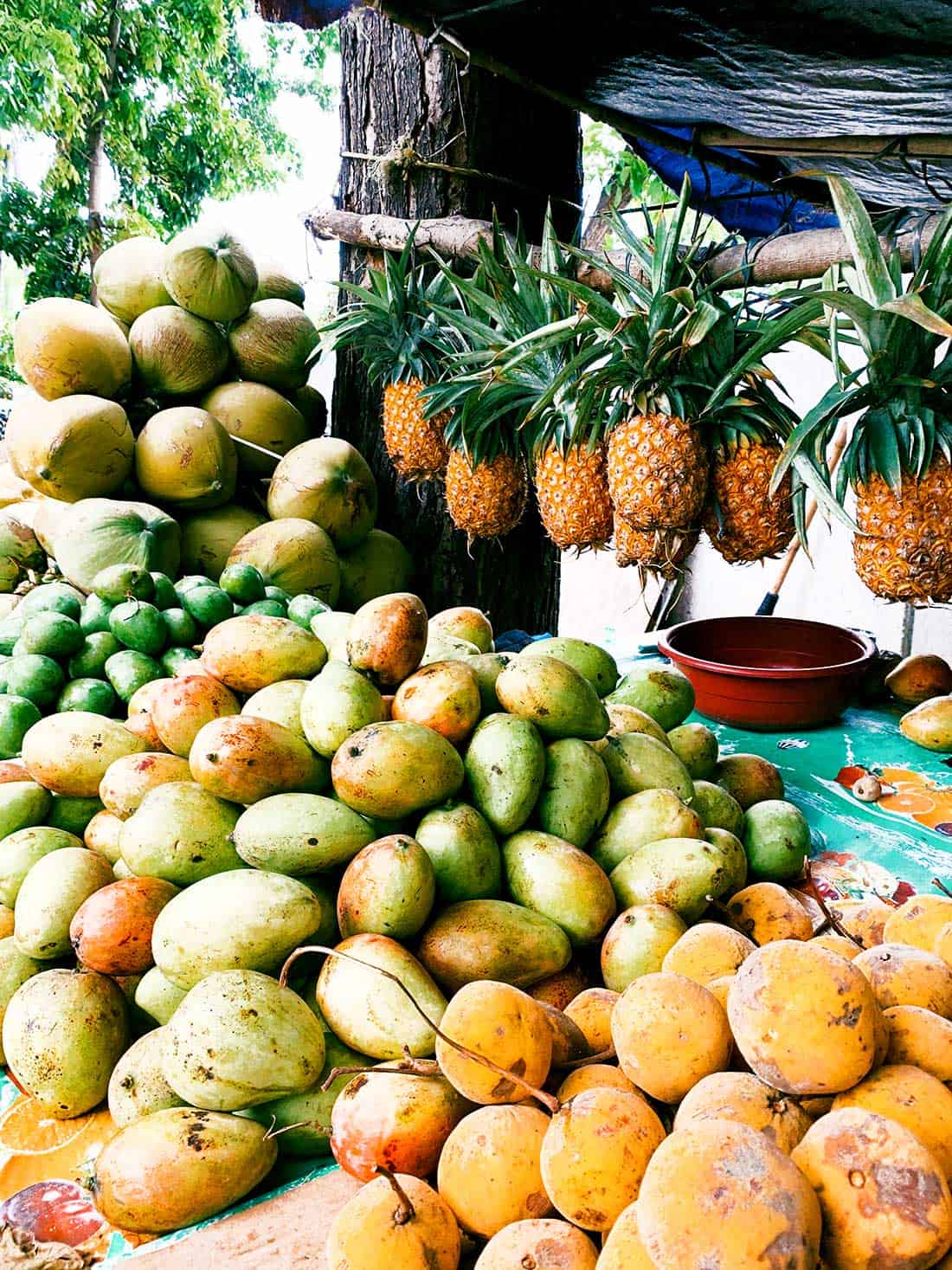 How to get the perfect blend
The second key is the blend. Unlike regular green smoothies that blend into a liquid fairly easily, smoothie bowls will remain thick in the blender, and might take a little muscle. This is my method for blending:
Add all the ingredients to the blender, then turn on high speed to start the blending process.
Once the ingredients stop moving on their own, use the tamper through the top to push down the fruit to engage the blade again. If you don't have a tamper, then stop the machine and use a spoon/spatula to push the fruit back towards the blade and blend again. Be patient— this can take a few minutes to get everything blended. Thick= good, so avoid adding extra liquid.
Once blended smoothly, scrape into bowls. Now, the fun part: adding the toppings.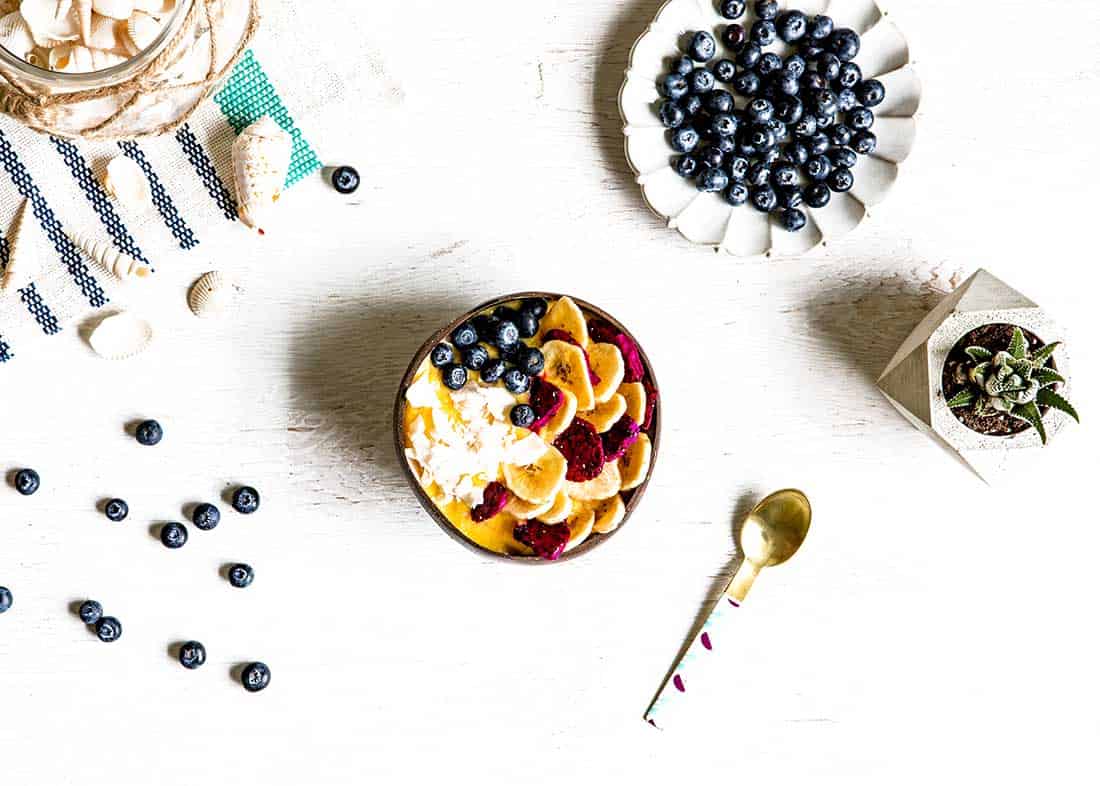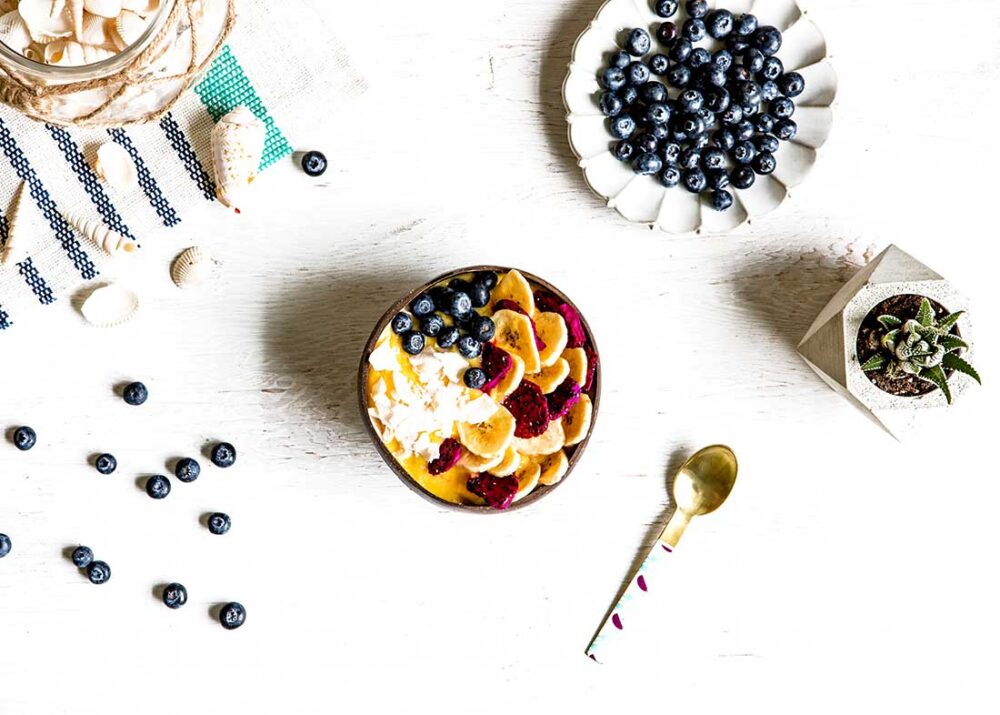 Best toppings for a smoothie bowl
While your smoothie bowl ideas can take you in any direction topping-wise, my favorite toppings are a combination of protein, healthy fats and juicy fruit. While you feel like you are spooning out ice cream, you can still add healthy ingredients to maximize the benefits of the natural fruits you just blended:
Protein: granola, sliced almonds, hemp hearts, chia seeds
Healthy fats: almond butter (or other nut butter), shredded coconut
Juicy fruits: kiwi, strawberries, blueberries, raspberries, pineapple
Extras: cacao, bananas, cinnamon, goji berries, freeze dried fruit, shaved chocolate
Now that you've learned all my best tips and tricks, let's get blending!
4 Smoothie Bowl Recipes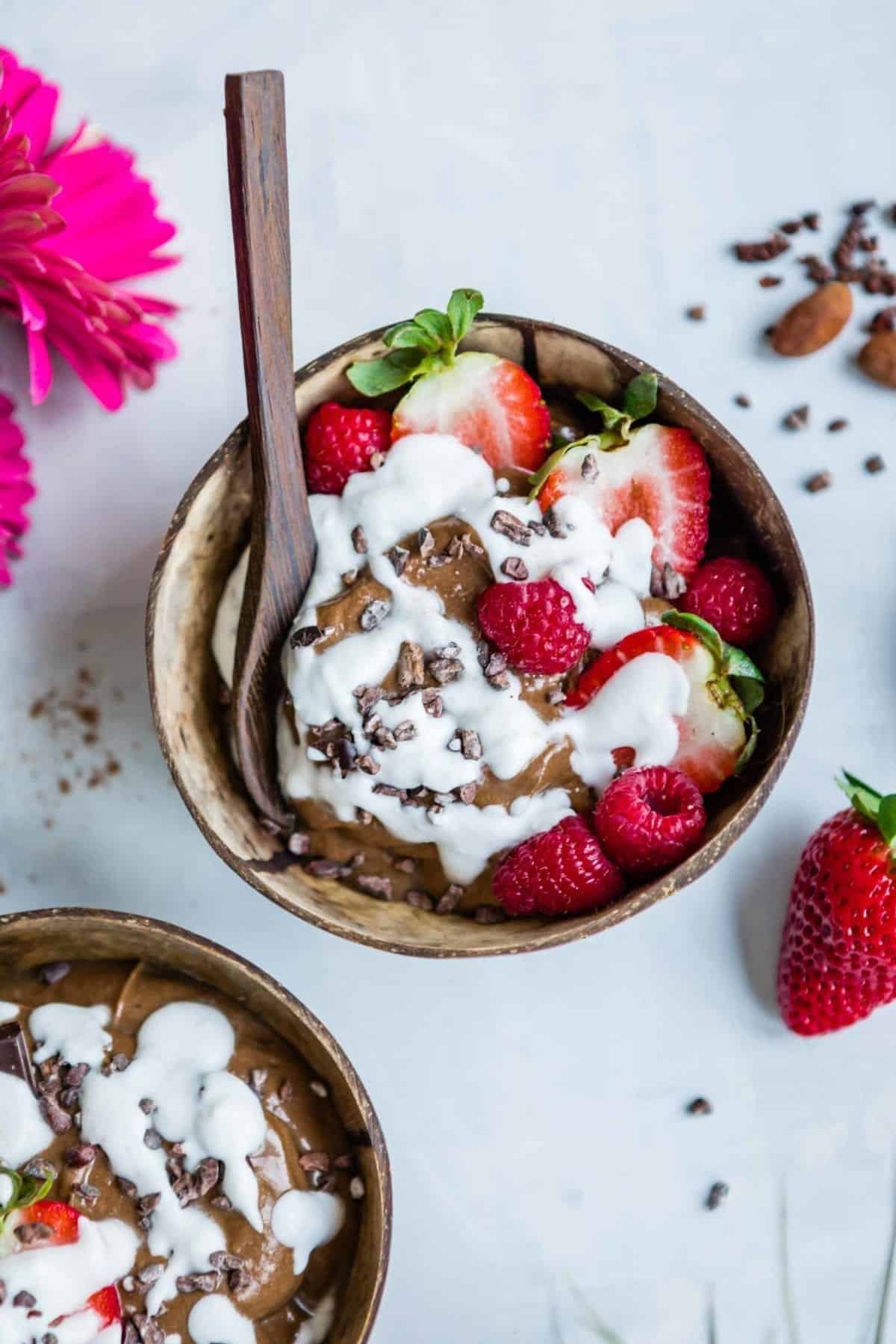 Cacao dessert bowl- This pudding-like bowl contains a few unique ingredients, yet trust me, this is a decadent dessert. Perfect for topping with berries and more chocolate, as well as coconut whipped cream.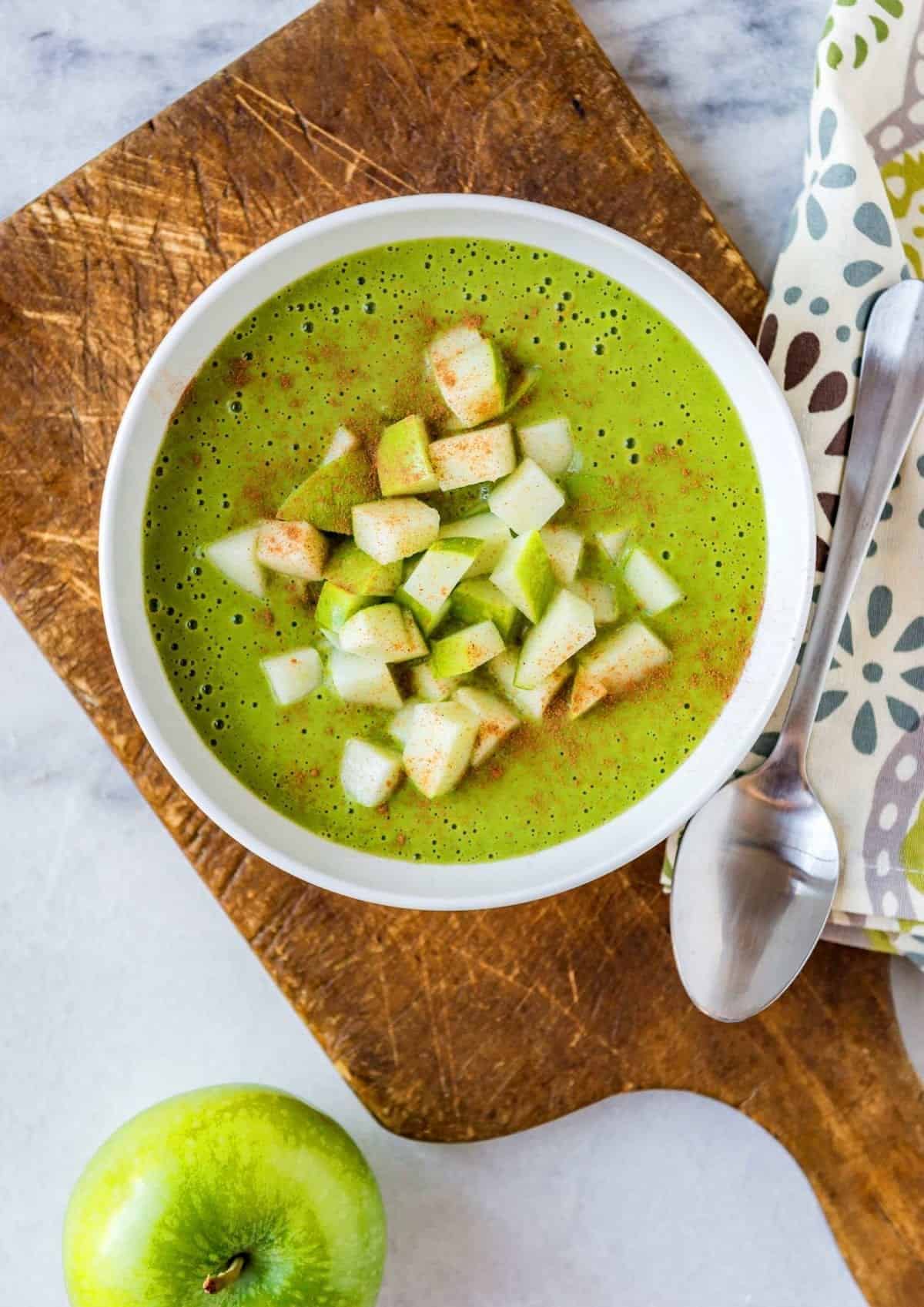 Apple maple bowl- This fun creation uses tart green apples and maple syrup for a delicious treat. I love adding diced apples to the top. My granola recipe from our Seasonal Cleanse is also a winner topping for this recipe.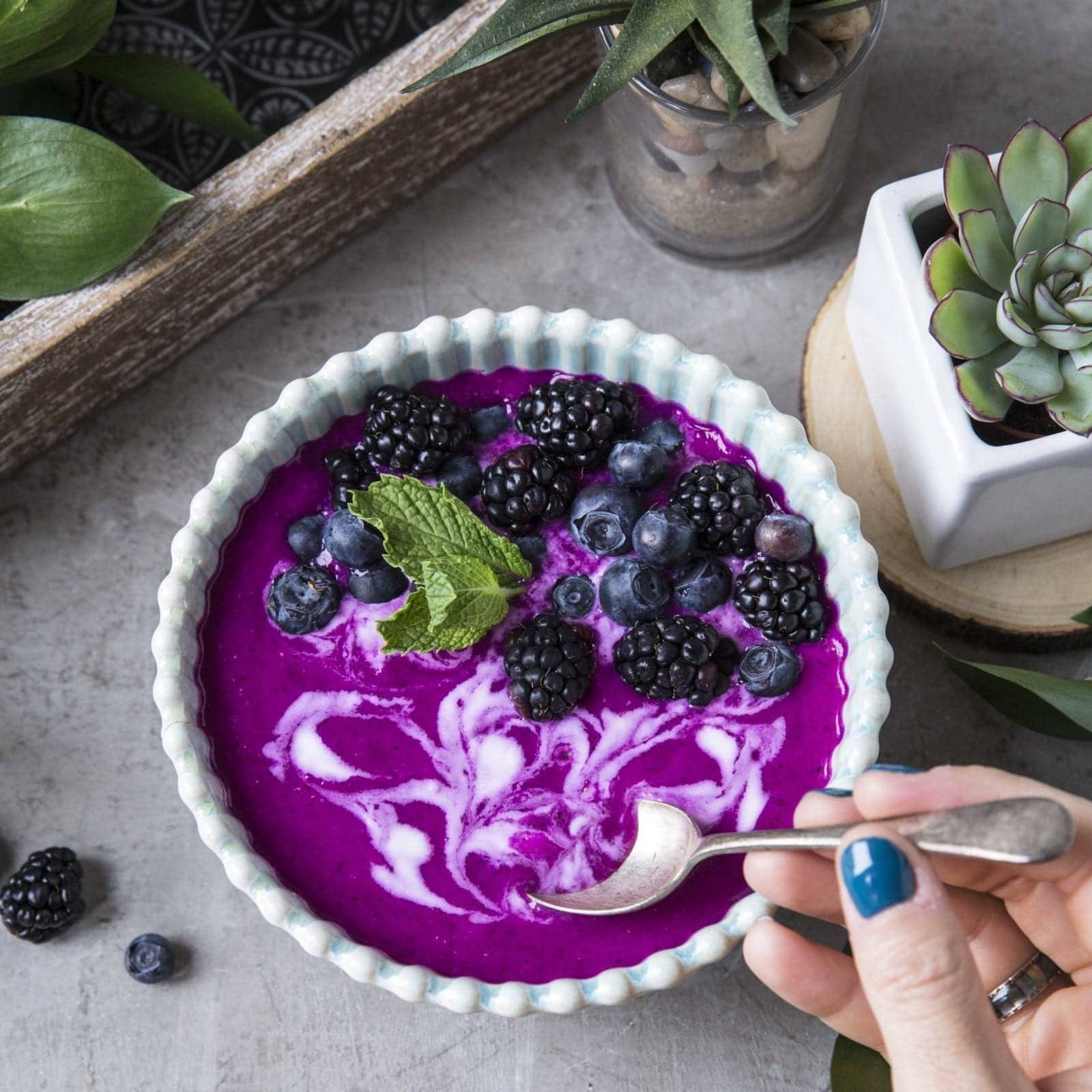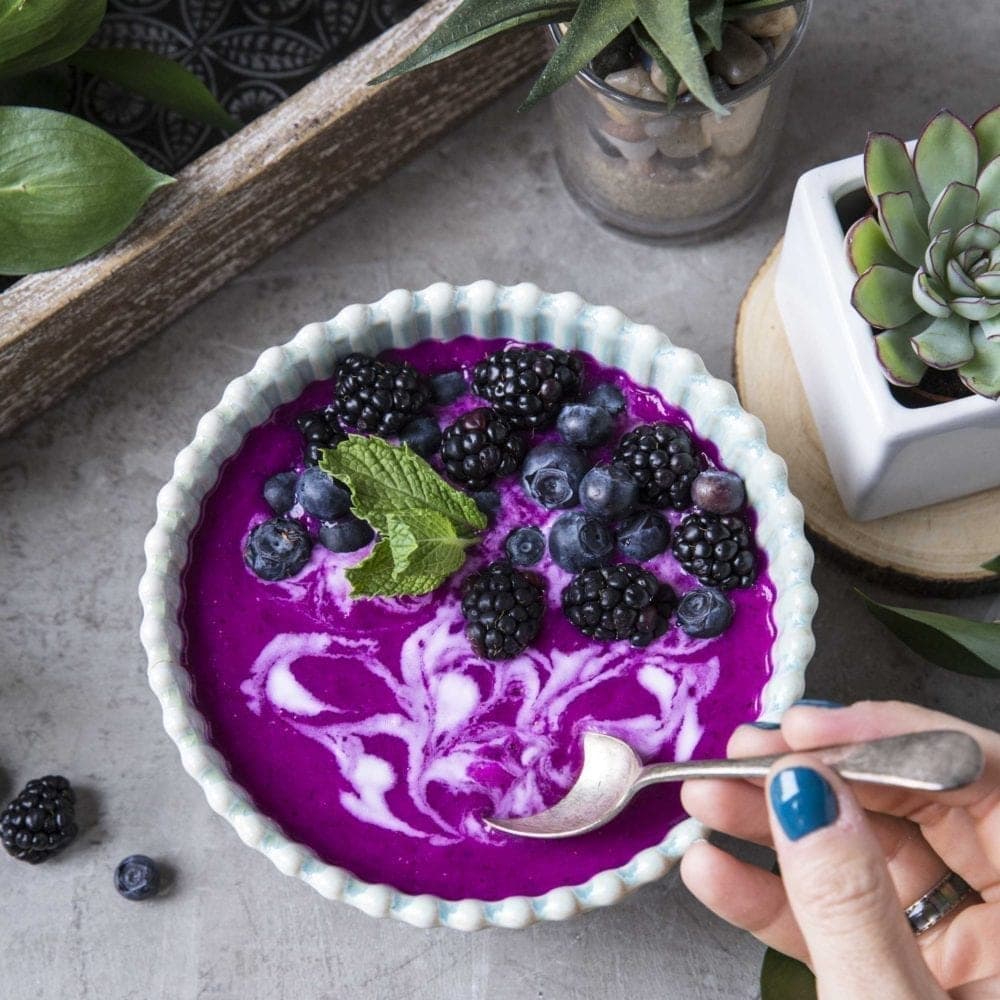 Dragon fruit smoothie bowl- If you're looking for a tropically vibrant bowl, then this dragon fruit recipe is for you! Don't let the cauliflower keep you from blending this... you don't taste it, and it takes creamy to another level.
Simple tropical bowl- The recipe below is my original creation. It's only 3 ingredients, because I want the freedom to play with all kinds of toppings. It's sweet and smooth, as well as the perfect blank canvas for a variety of fun toppings. If you want to give your body some help processing the natural sugar in this bowl, then add in a serving of Protein Smoothie Boost. The extra protein + healthy fat from this plant based protein powder will help cut down on any sugar rush.
Don't forget to leave a rating + review to let me know which smoothie bowl you made, as well as how it turned out. I love hearing your feedback!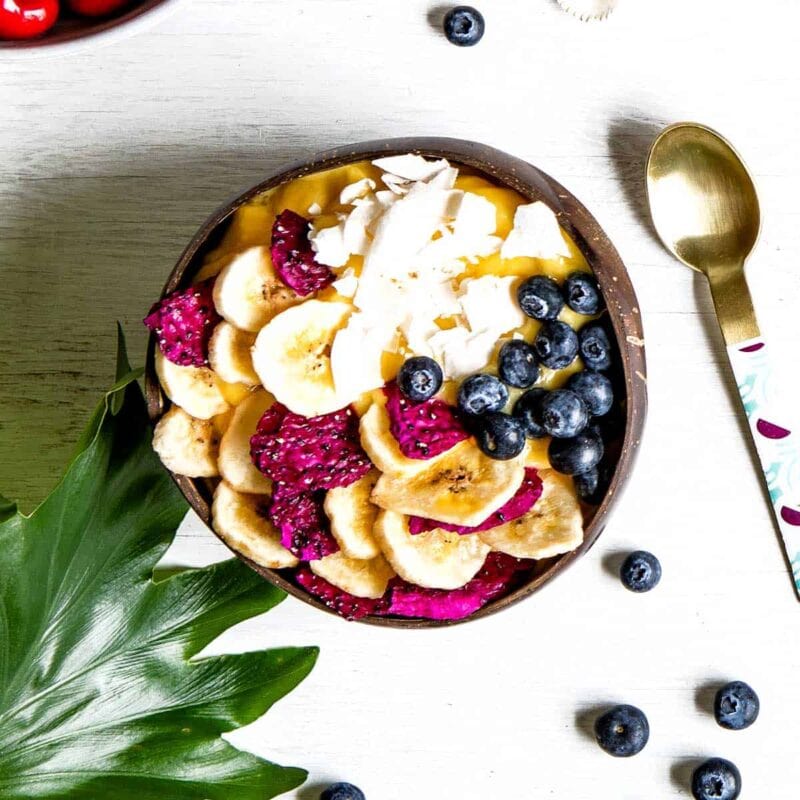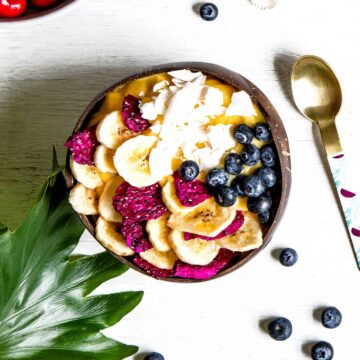 How to make a smoothie bowl
Rate this Recipe
Print Recipe
Follow this step-by-step demo to make a smoothie bowl using plant-based ingredients. It's a great way to nourish and hydrate on a hot summer day. 
Ingredients
Suggested Toppings:
strawberries

mango

banana

coconut flakes

granola

dried fruit
Instructions
Place frozen fruit and coconut water into a blender. Blend until it becomes a thick puree. Use more liquid to help blend, and a tamper as well.

Divide the smoothie between two bowls.

Add desired toppings.

Serve immediately. It'll melt fast!
Notes
Allow fruit to thaw slightly for easier blending; reduce the amount of coconut water for a thicker smoothie.
Swap the pineapple and/or coconut for other frozen fruit. A banana will help make the smoothie extra creamy.
Nutrition (estimated)
Calories:
204
kcal
(10%)
Carbohydrates:
51
g
(17%)
Protein:
3
g
(6%)
Fat:
1
g
(2%)
Saturated Fat:
1
g
(6%)
Polyunsaturated Fat:
1
g
Monounsaturated Fat:
1
g
Sodium:
129
mg
(6%)
Potassium:
757
mg
(22%)
Fiber:
6
g
(25%)
Sugar:
42
g
(47%)
Vitamin A:
1881
IU
(38%)
Vitamin C:
142
mg
(172%)
Calcium:
68
mg
(7%)
Iron:
1
mg
(6%)