I get asked all the time for low-carb smoothie recipes. I've got 'em! Browse this variety of smoothies for diabetics: all less than 20 grams of natural sugar with fiber, healthy fats and protein. These breakfast smoothies for diabetics deliver flavor and nutrition without a blood sugar spike.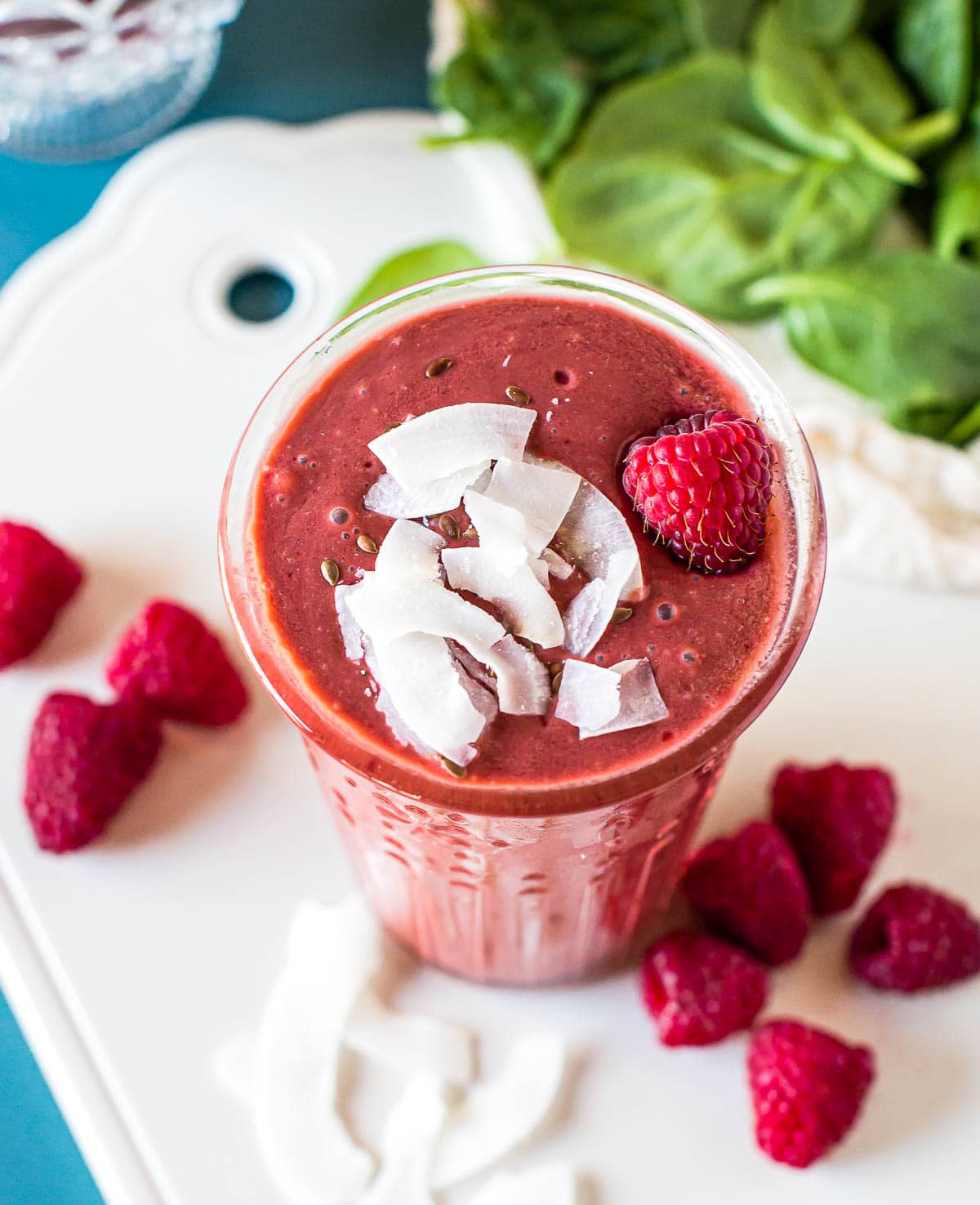 I love finding the perfect smoothie recipe for everyone. We all have needs and wants and preferences in our smoothies, so I've put together an epic collection of smoothies for diabetics. Even if you don't struggle with blood sugar spikes, you'll find these low-carb smoothies are the perfect way to start your day.
Table of Contents
Smoothies for Diabetics
Who said watching your blood sugar means no fruit? While I understand that all bodies work differently, I also know that whole food should be consumed by everyone. This includes fruits, vegetables and leafy greens. You can consume fruits in a way that doesn't cause a glucose spike but instead fuels you for the day ahead.
Click on any of the gorgeous recipes below to blend breakfast smoothies for diabetics that will launch your day the right way.
As you can see, these recipes have all kinds of fruit and veggies in them from spinach to kale, a variety of berries like strawberries, raspberries, blueberries and more. They use a variety of liquid bases, too!
No need to make the same old boring smoothie every day. Switch it up and have fun!
Low-Carb Smoothie Popsicles
Bonus! Smoothies are wonderful, but sometimes you just want a treat. That's where my smoothie popsicle recipes come in. Take smoothies for diabetics and turn them into frozen treats that are low in sugar, high in flavor and oh so fun!
You can easily customize these recipes to work for you in more than 1 way. Toss in some fresh herbs and spices like turmeric or ginger for their anti-inflammatory properties. Use a high-powered blender for the best creamy texture.
How to Build Breakfast Smoothies
There are three components your low sugar, low carb smoothie should have: fiber, protein and healthy fat. Make sure any smoothie you make has a good amount of these three components and get ready for a deliciously satisfying beverage that keeps your blood sugar levels steady.
Here's how I like to build mine:
Fiber
Fiber is underrated and often not fully present in the standard American diet. Since most of us could use more fiber, let's talk about easy ways to add it to your next smoothie.
Pith + skin on whole fruit: fruit naturally contains fiber yet did you know that there's also a lot of fiber in the skin of fruit? Leave the skin on fruits like apples, peaches and pears. Leave the white pith on citrus fruits as well.
Leafy greens: Green vegetables are loaded with fiber. That's why my smoothies typically contain leafy greens. If you're new to drinking your greens, then start small! Add 1/2 cup or less until you get used to the flavor and texture then work your way up to large handfuls.
Nuts/seeds: Try adding two tablespoons of raw almonds, cashews, flaxseed, hemp hearts or chia seeds to your next blend for a fiber boost.
Healthy Fat
Carbs need fat to digest, so it makes sense to add healthy fats to all your smoothies to break down the fruit carbs you're consuming. Toss in avocado, coconut oil or nut/seed butter to the blender for a delightful dose of healthy fat. This key ingredient will also help you feel full longer!
You can also get in healthy fat through the liquid base you use. Try an unsweetened coconut milk, unsweetened almond milk or hemp milk for a little extra boost.
If your body can handle dairy well, then greek yogurt is a great option as well. Just look for one that is full-fat and no added sugar to add to these diabetic smoothies. Feel free to swap for vegan yogurt as well.
Plant-Based Protein
Protein is a great way to add some depth to your smoothie to gain energy. Leafy greens are a great source of protein, yet if you want a quick way to boost your smoothie then I suggest using a plant-based protein powder. Find one with no sugar and a boost of fiber and healthy fat to get all the goodness in just one mix.
It's hard to find a protein powder without a bunch of weird ingredients, so I opted to make my own. My homemade protein powder works with any of the above diabetic smoothie recipes.
Smoothies for Diabetics FAQs
If you loved these recipes are are looking for some more great options to help manage your blood sugar through whole food then check out my free Diabetic Meal Plan. It's got 7 days of plant-powered recipes with a menu and shopping list.