If you're ready to chase adventure then you'd better take these vegan protein bars with you. They hold up to the elements on the trail, in the gym or at the office, wherever you need a filling snack. This protein bar recipe is easy to make and fun to customize with whatever nuts, seeds and dried fruit you have on hand.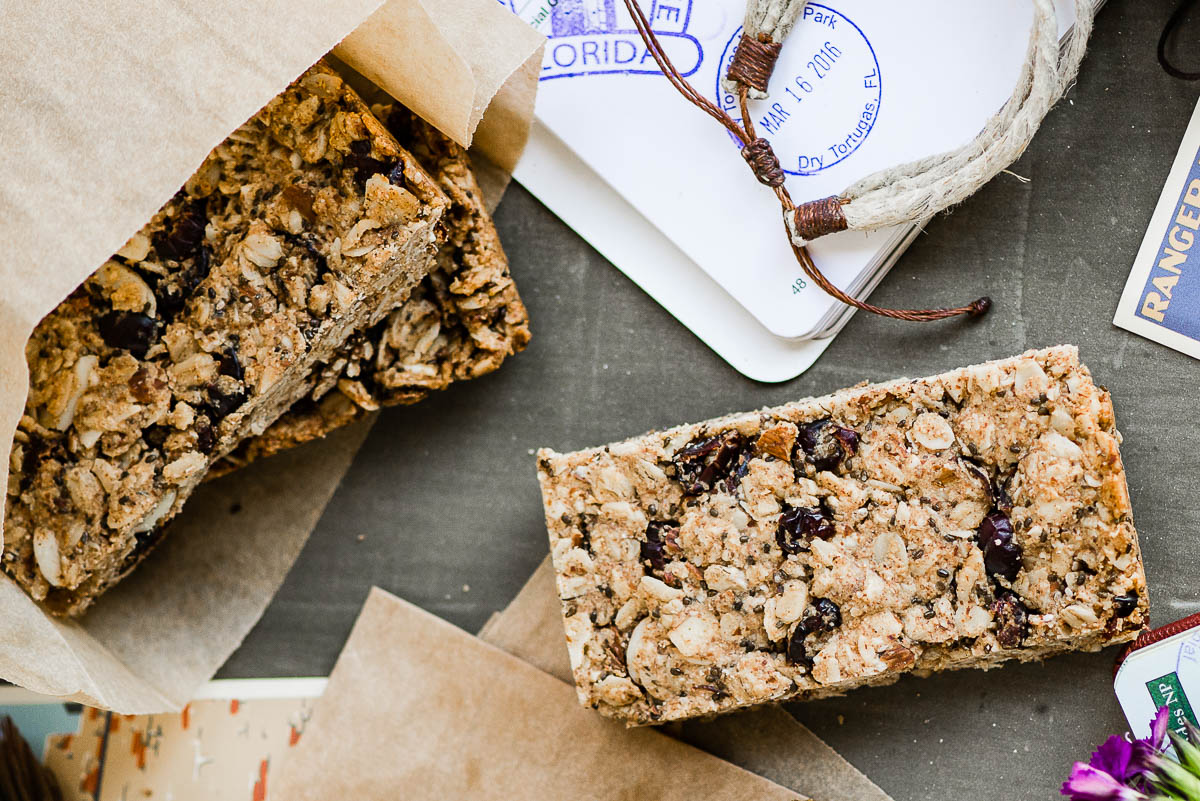 These are an easy staple in my home as a healthy snack for kids (that I eat myself!) since they are so filling and easy to make. I've even got a drawer full of nuts, seeds and dried fruit so I can pull out whatever I want when I'm ready to make a new batch.
I keep these sliced up and in the fridge, ready to grab when hunger strikes.
Table of Contents
Recipe Ingredients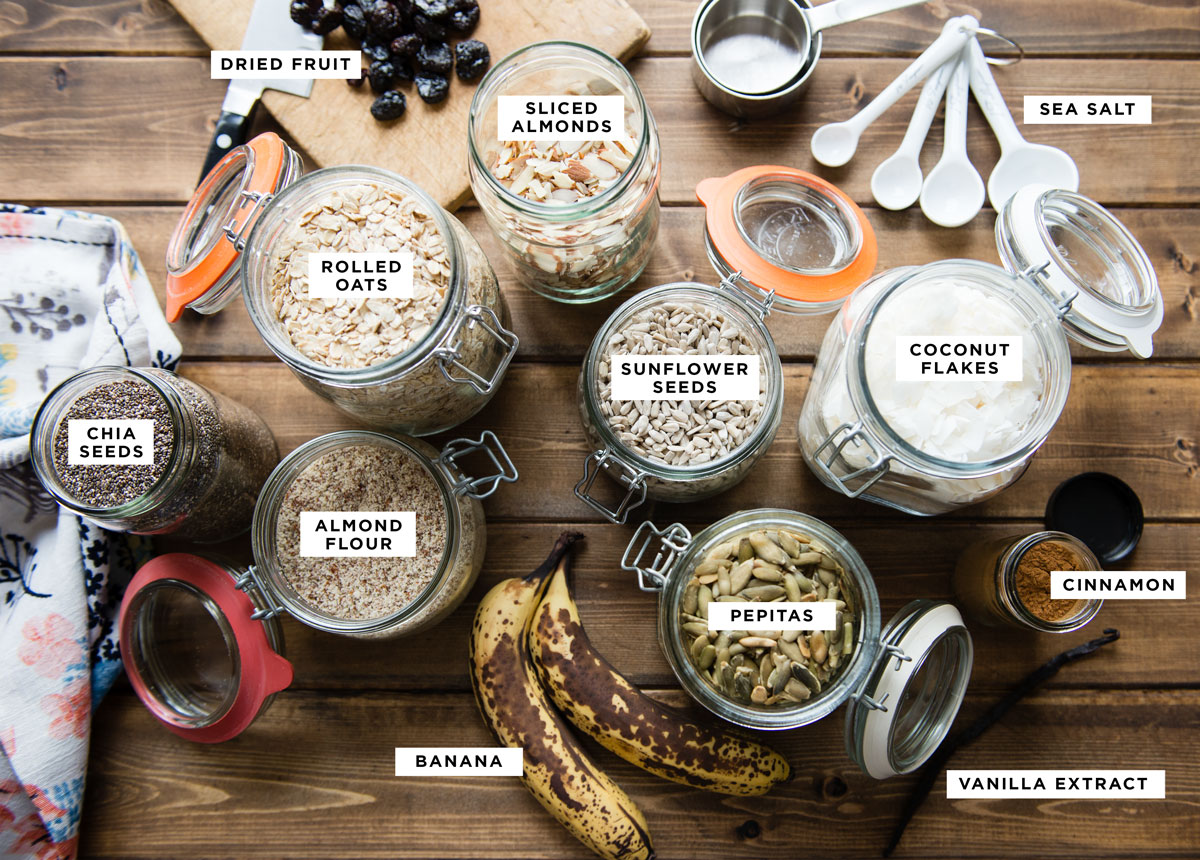 Most store-bought protein bars contain tons of sugar and stabilizers to make them last years. They may taste great, but they're essentially candy bars based on the amount of sugar and processed ingredients. Meanwhile, my protein bars are full of natural, minimally processed sweeteners, no fillers or gums and real protein.
Still not convinced? While I don't think there is a miracle food, I consider this a healthy snack for weight loss since it fills me up and keeps me full, aka, not snacking all day. Let's dive into what's in my recipe:
Chia seeds: I make "chia eggs" as the binder in this recipe to keep it vegan yet still packed with protein and omega-3s.
Almond flour: This is the base of my recipe and a great start to a hearty snack.
Coconut flakes: A slightly sweet addition that brings a lovely hint of coconut.
Rolled oats: These gluten-free oats work with almond flour as the base and provide natural energy.
Dried fruit: Naturally sweeten with your favorite dried fruit. Read your nutrition labels to find ones that don't have added refined sugar or find varieties that are sweetened with fruit juice instead.
Banana: This is another binder in this recipe and gives it a denser feel and acts as a natural sweetener.
Pepitas: Pumpkin seeds help manage blood sugar as well as provide antioxidants and fiber.
Sunflower seeds: These tiny seeds provide a host of nutrients as well as protein.
Sliced almonds: Almonds provide calories, healthy fat and protein. Plus they are crunchy and delicious!
Vanilla extract: A flavor booster that adds warmth to balance out the sweetness from the dried fruit.
Cinnamon: A little pinch of spice that pairs well with almost any nuts and seeds you add.
Sea salt: Helps balance and enhances the other flavors in this protein bar recipe.
Don't fret if one of these ingredients doesn't work for you. I've got easy swap options!
Simple Swaps
These bars have a lot in them, but you can easily change them up and make them something you'll enjoy over and over again.
Nut-Free Option: To avoid the nuts altogether, swap the almond flour with oat flour, omit the coconut flakes and swap the almonds for more seeds.
Protein-Powered: For even more protein, swap one quarter cup of almond flour with one serving of my homemade protein powder or the plant-based protein powders of your choice. Popular plant proteins include pea protein, soy protein or brown rice protein, yet mine uses hemp protein, flax seeds and chia seeds for a high-quality product.
Alternative Flavors
If you love the base of this recipe but want a different flavor then go for it! Here are a few great options that I've tried and love:
Dried blueberries + pecans for a blueberry muffin flavor
Walnuts + dried bananas for a banana nut version
Dried pineapple + dried mango for a tropical flair
Peanuts + dried strawberries for a little PB&J action!
Dark chocolate chunks and nut butter
Cacao powder + chocolate chips for a fudge brownie taste and texture
How to Make the Best Vegan Protein Bars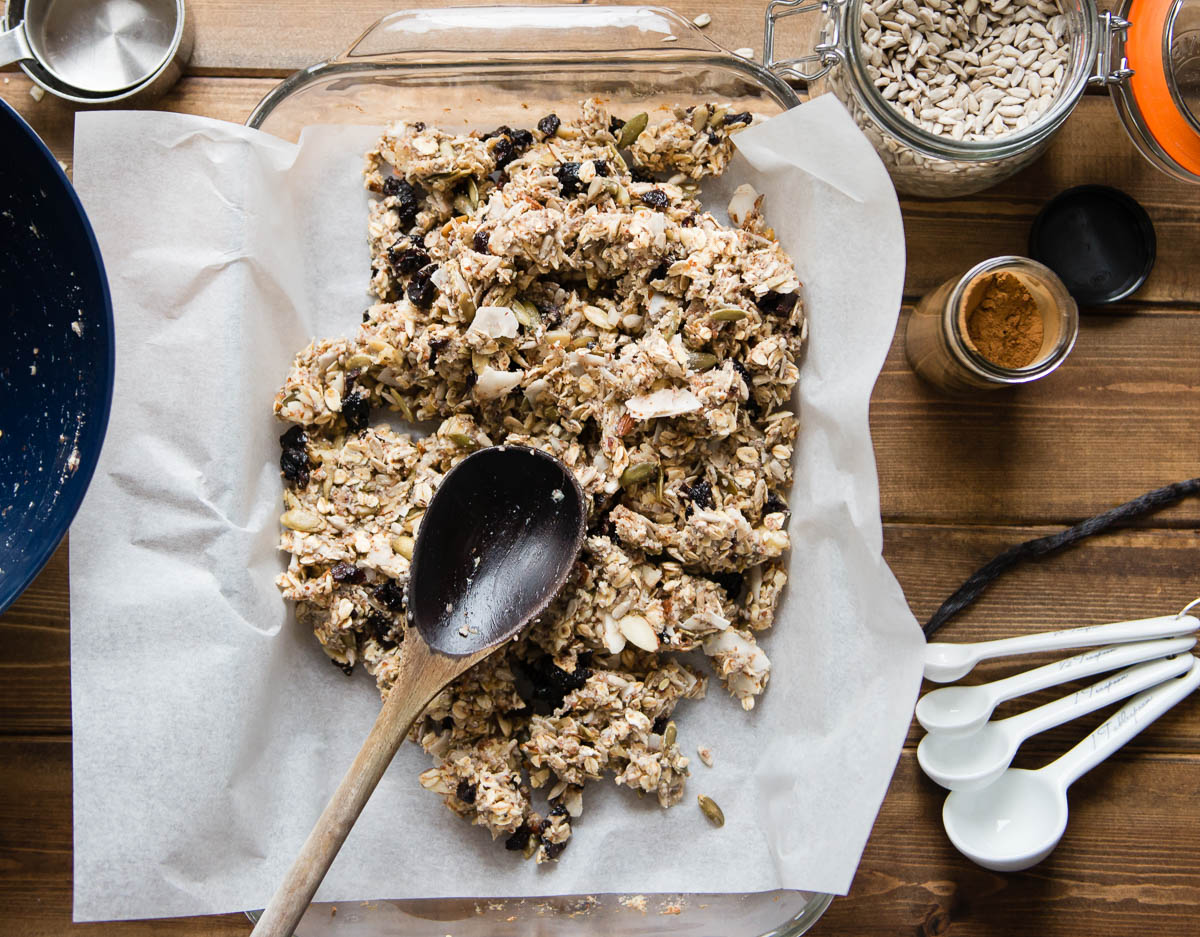 I love these bars. They're a plant-based protein bar that's a sustaining and yummy snack, super portable and full of nutrition (if you have a green smoothie for breakfast then this snack is perfect for holding you over until lunch).
Soak the chia seeds in 6 tablespoons of water (3 tbs of water per 1 tbs of chia seeds) for 5 minutes.
Preheat the oven to 350°F. Line an 8×8 pan with parchment paper.
Combine all the ingredients including the chia seed mixture in a big bowl and mix until well combined. I find a big wooden spoon or spatula works best. You can even mix with your hands to make sure all the ingredients are well combined.
Spread the mixture out in an 8×8 pan and press evenly into the parchment paper.
Bake for 25-35 minutes or until it is evenly golden brown on top. Remove from the oven and allow to cool before slicing into 8 bars.
Enjoy immediately or store in an air-tight container in the refrigerator for up to 5 days.
Now you've got a great snack or quick breakfast with 8 grams of protein, 7 grams of fiber and 7 grams of sugar (depending on the dried fruit you use). Plus, no artificial sweeteners. Amazing!
Pro Tips
– You can also freeze these bars for up to 6 months and defrost or toast them in the toaster oven when you are ready to enjoy them.
– Eat at room temperature or try them my favorite way: toast in the toaster oven then top with almond butter, cashew butter or peanut butter. Seriously good!
– For crispier protein bars, bake them in a 9×13 pan. You'll get a crispier, thinner snack that way.
Top Store-Bought Bars
While my homemade version is probably my favorite flavor, texture and set of ingredients, I don't always have access to them, especially when traveling. I also have my go-to store-bought versions that work in a pinch. This is what I snack on when I'm away from home:
Lärabar: These have a little less protein, but I love that they have limited ingredients and are actually tasty. The protein comes from nuts. My favorite flavor is the peanut butter chocolate chip.
Quantum Energy Squares: These have a few more ingredients and draw their protein from a blend of pumpkin seed protein and pea protein yet they are delicious, give me a little caffeine boost and are small. My favorite flavors are the peanut butter dark chocolate and the caramel almond sea salt.
Lenny & Larry's The Complete Cookie-fied Bar: I started taking these protein cookies with me while training for the Grand Canyon Rim to Rim to Rim and found they are a great "meal" option. While they probably have the most ingredients on this list, they are filling, plant-based and worth it when you have limited options. The protein is a blend of brown rice protein and pea protein.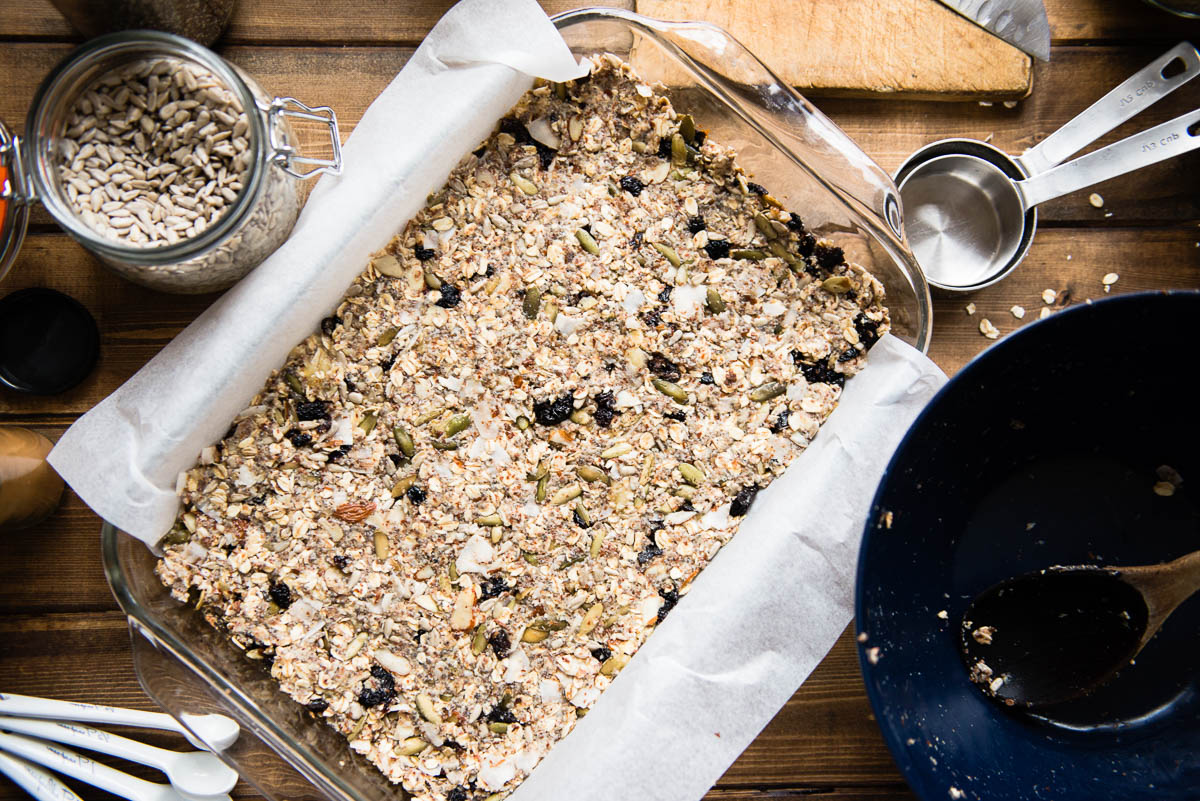 Protein Bar Recipe FAQs
Should vegans eat protein bars?
Yes! Protein bars can be a great source of energy and nutrition. Just look at the ingredients to make sure they are 100% vegan and contain real, whole-food ingredients. I like making my own vegan protein bars to ensure they have what I want and nothing extra.
What protein is best for vegans?
There are so many plants with protein, it really isn't hard to find! I recommend getting a variety of plant-based protein sources from foods like, nuts, seeds, legumes, leafy greens and more. Yes, spinach has a lot of protein! So does broccoli and a whole lot of other great veggies.
Are most protein bars vegan?
Honestly, no, most protein bars contain some sort of animal or animal bi-product in them (like whey protein). If you want to know exactly what is in your protein bars, then make your own! They are super easy to whip up and taste delicious.
More Protein-Packed Snacks
This vegan protein bar recipe is an excellent option for so many reasons, yet we can't just have one great snack on hand. We need more! I find options help me stay focused on fueling my body with foods that will help me, so you better believe I've got a few tried and true recipes to share.
Here's what you'll often find in my kitchen:
Would you please leave a rating + review once you make these? I'd love to hear what you added to yours!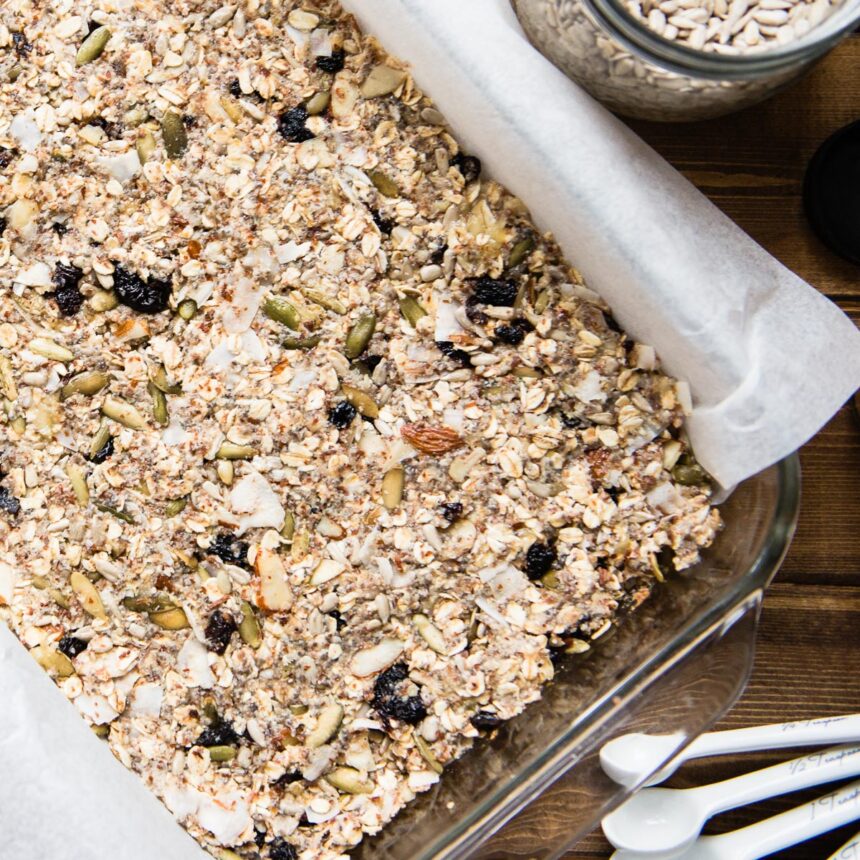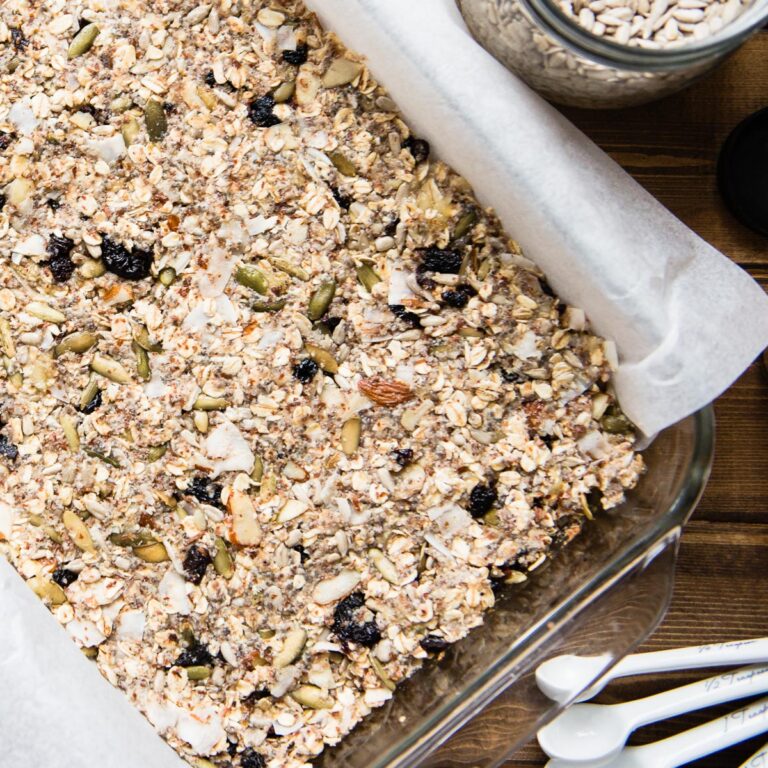 Vegan Protein Bars
These delicious, wholesome vegan protein bars will give you the energy to get stuff done while nourishing your body with plant-based protein such as good-for-you nuts and seeds.
Ingredients
2

tbsp

chia seeds

+ 6 tbs water

1

cup

almond flour

½

cup

coconut flakes

1

cup

rolled oats

½

cup

dried fruit

2

cups

banana

mashed

⅓

cup

raw pepitas

⅓

cup

raw sunflower seeds

⅓

cup

sliced almonds

½

tsp

vanilla extract

or 1/2 vanilla bean, scraped

⅛

tsp

cinnamon

ground

⅛

tsp

sea salt
Instructions
Preheat oven to 350°F (180°C).

Grease or line an 8-inch square baking dish with parchment (baking) paper.

Soak chia seeds in 6 tablespoons of water for 5 minutes.

Combine the chia seed mixture and remaining ingredients in a bowl until well mixed.

Press the mixture into the prepared baking dish and evenly spread out.

Bake for 25-35 minutes, or until golden on top. Remove from oven and let cool.

Slice into 8 bars.

Store in an airtight container in the fridge for up to 5 days.
Notes
You can enjoy these bars as is, or reheat them by toasting them in a toaster oven until the edges are crispy. 
Top with nut or seed butter for even more healthy fat and protein. 
If you want crispier bars, use a 9×13 pan and spread the mixture evenly throughout the pan. They will turn out thin and crispy as opposed to thicker, softer bars. 
Change up the dried fruit depending on your preferences and the season. 
Swap almond flour with oat flour. 
Swap the nuts and seeds with the chopped nuts and seeds of your choice.
Nutrition
Calories:
277
kcal
,
Carbohydrates:
25
g
,
Protein:
8
g
,
Fat:
18
g
,
Saturated Fat:
4
g
,
Polyunsaturated Fat:
3
g
,
Monounsaturated Fat:
3
g
,
Trans Fat:
0.01
g
,
Sodium:
41
mg
,
Potassium:
315
mg
,
Fiber:
7
g
,
Sugar:
7
g
,
Vitamin A:
29
IU
,
Vitamin C:
4
mg
,
Calcium:
77
mg
,
Iron:
2
mg