This vegan Pumpkin Pancake recipe is a favorite for my family, and hopefully will soon be a favorite for you too. They are fluffy, filling and oh so lovely. Top with your fav dairy-free whipped cream or some real maple syrup.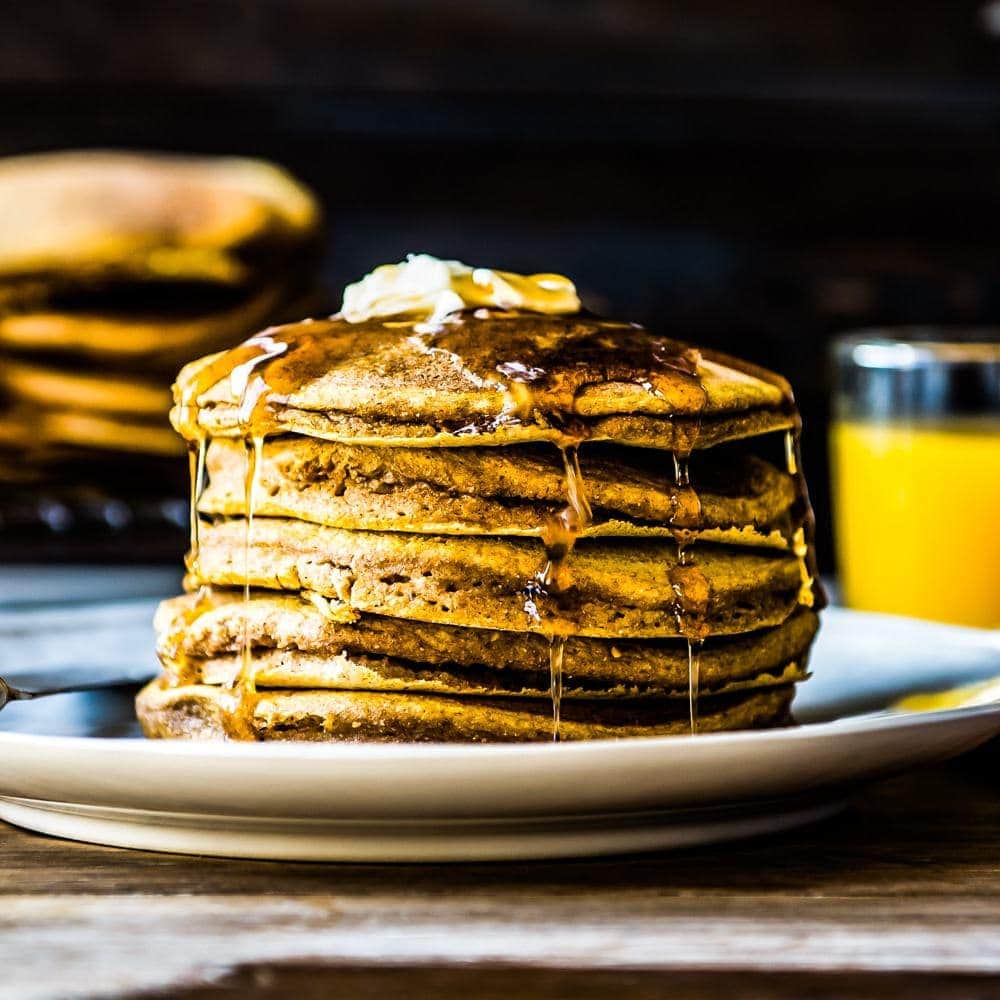 I've got an incredibly decadent recipe for vegan pumpkin pancakes to share with you today. While the ingredients boast some great health benefits, these pancakes don't compromise on fluff or taste.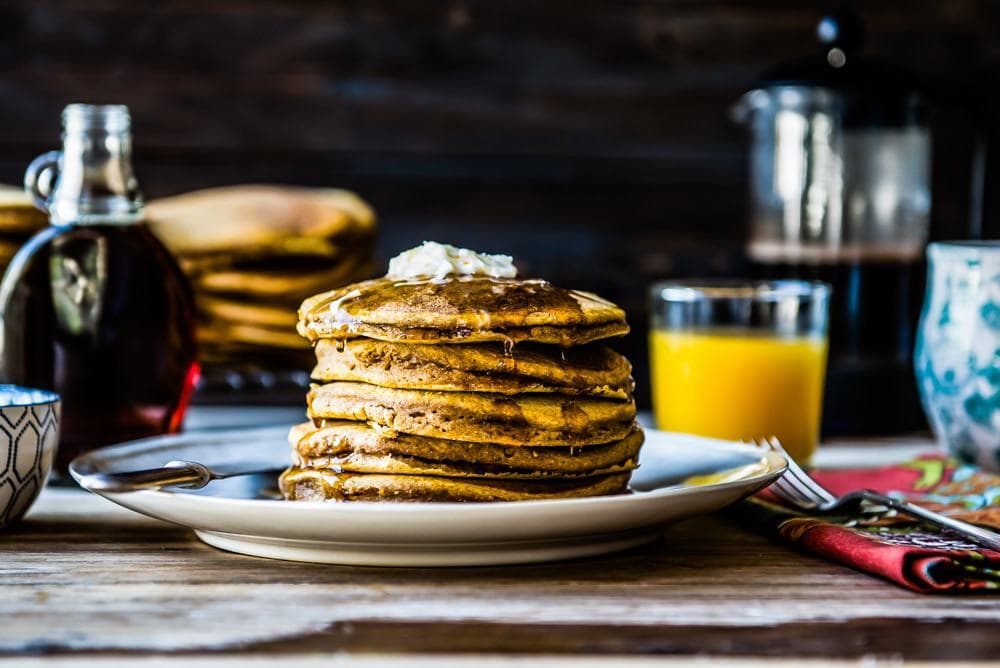 Ingredients in These Vegan Pancakes
Who said pancakes can't be nutritious?! My family loves a good Saturday morning pumpkin pancake breakfast, though I often get a sugar crash after eating a few. This recipe for vegan pumpkin pancakes doesn't have the same affect on me, and that's due to the rawkstar ingredient list.
Whole Wheat Flour
One serving of whole wheat flour contains 13.2 grams of protein and 10.7 grams of fiber. That alone gives this pancake recipe a powerful boost, and lowers the sugar intake.
Almond Milk
Most store-bought almond milk is fortified with vitamins, yet even a homemade recipe can bring benefits. If this milk isn't your fav, then any other plant milk can be substituted.
Pumpkin Puree
The star of this vegan pancake recipe, pumpkin, has a great deal of health benefits. It contains more potassium than a banana, 7 grams of fiber, and beta carotene, which is needed for both eyesight and skin health. It was even used in a study of diabetic patients, which showed its ability to lower blood sugar levels.
Flax Eggs for Vegan Pancakes
This healthy vegan substitute for eggs is a great baking trick. For 1 flax egg, simply add 1 tablespoon of ground flaxseed to 3 tablespoons of water. Mix, then allow to sit for a few minutes before adding to a baking mixture. Flaxseed is a versatile superfood ingredient that is packed with protein, fiber, and omega-3 fatty acids. The US National Library of Medicine states flaxseed is high in antioxidants and beta carotene.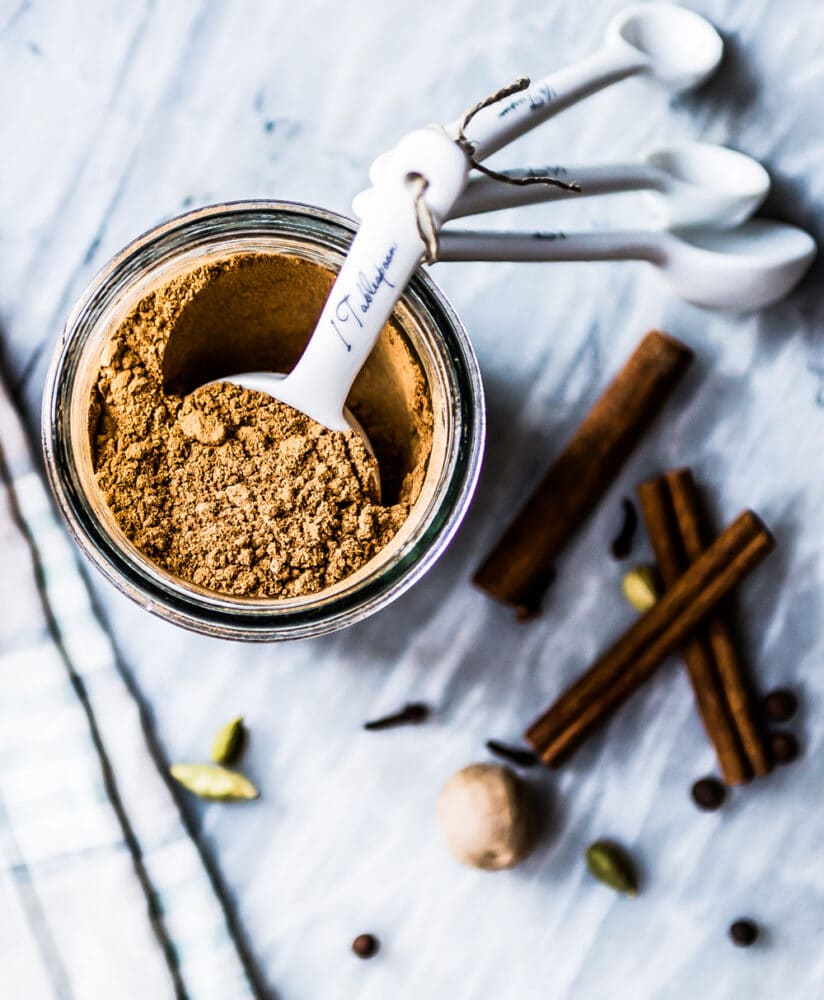 Homemade Pumpkin Spice Blend
This vegan pumpkin pancake recipe calls for 2 teaspoons of pumpkin pie spice. If you don't have any on hand, then you can easily make this blend at home! My simple recipe includes:
¼ cup ground cinnamon
3 tablespoons ground ginger
1 teaspoon ground nutmeg
½ teaspoon ground cloves
½ teaspoon ground allspice
¼ teaspoon ground cardamom (optional)
Just add these spices to a jar and shake, then it's ready to use. Don't be afraid to adjust the spice amounts based on taste preferences. The cardamom adds a bit of complexity to the flavor of the mix, which I like. You can make a large batch to have on hand for all things pumpkin spice this season, or toss it together just when needed. 2 teaspoons of this blend will take these vegan pumpkin pancakes to the next level.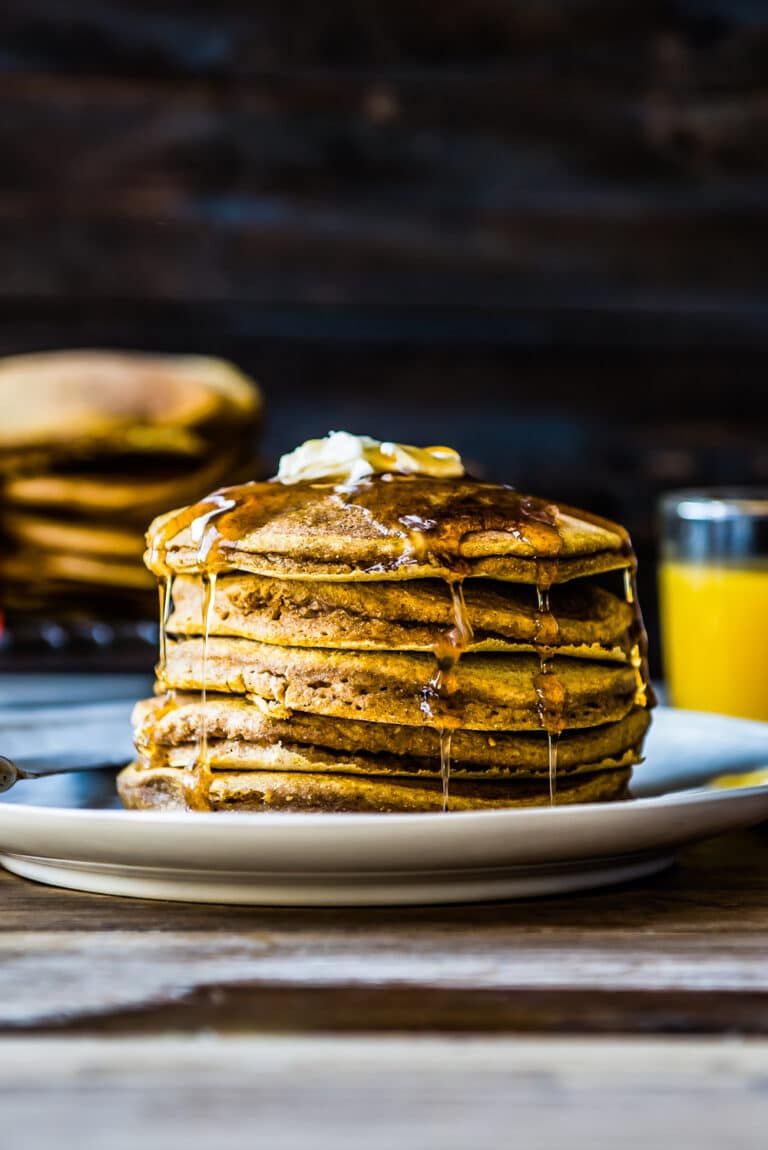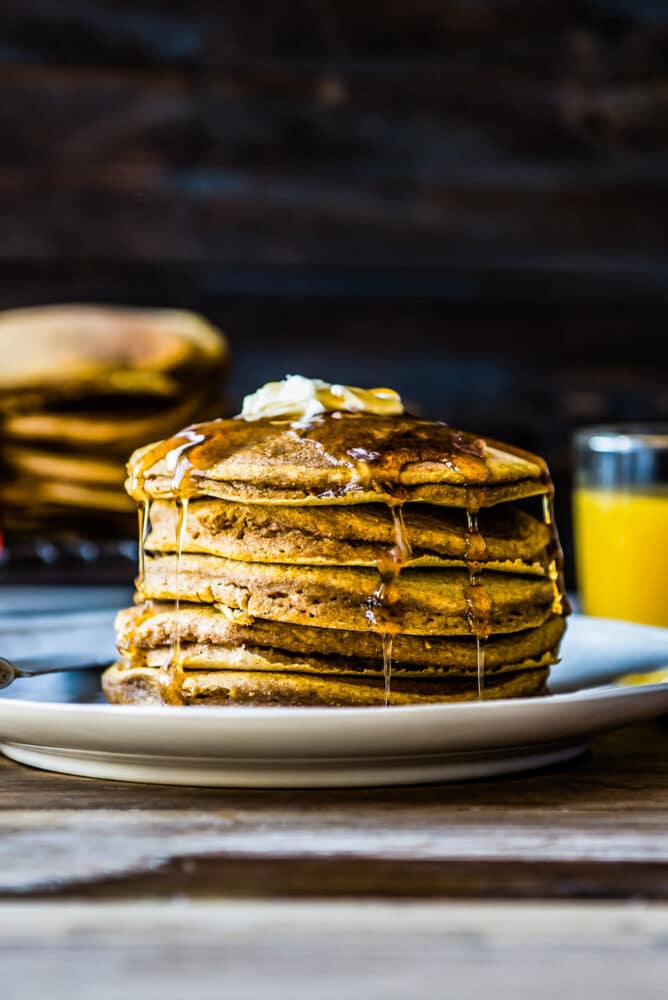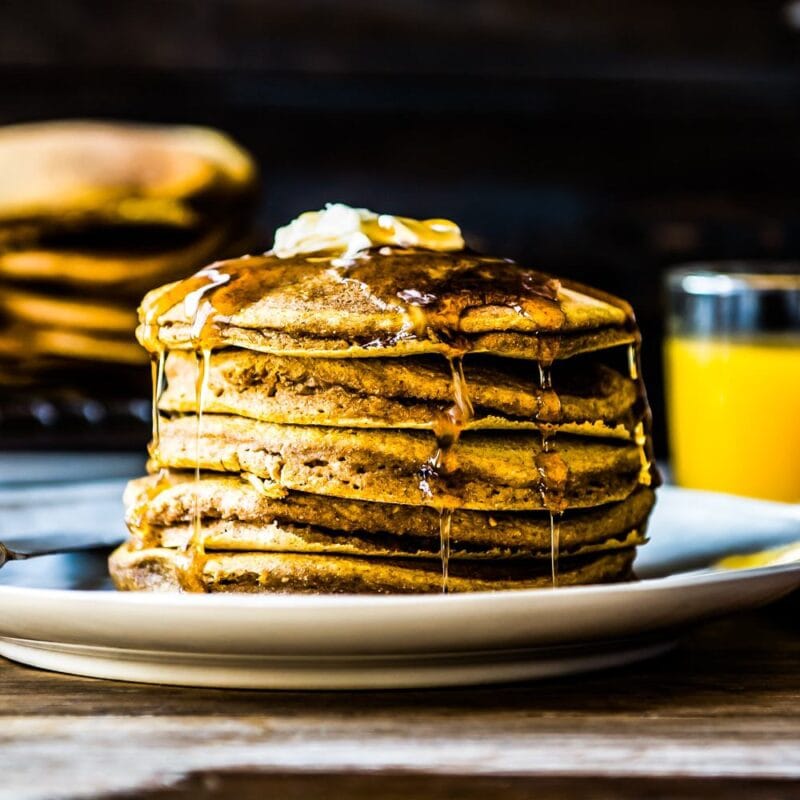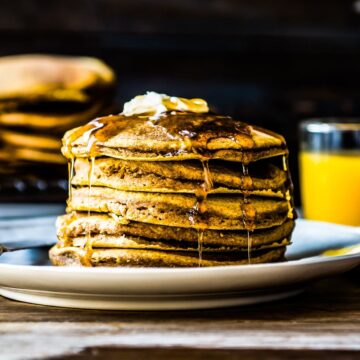 Vegan Pumpkin Pancakes
Rate this Recipe
Print Recipe
Looking for a fun, fall-inspired breakfast dish that your friends and family will love? These vegan pumpkin pancakes are sure to fit the bill! Not only are these whole grain pancakes absolutely scrumptious, but the pumpkin adds a healthy dose of fiber, vitamin A, and beta-carotene.
Ingredients
2

cups

whole wheat flour

1

tablespoon

baking powder

2

teaspoon

pumpkin pie spice

½

teaspoon

sea salt

2

cups

almond milk

1

cup

pumpkin puree

2

tablespoon

ground flaxseed

(soaked in 6 tablespoon water)

2

tablespoon

maple syrup

(plus more for serving)

1

tablespoon

melted vegan butter

(plus more for cooking and serving)

¼

cup

Protein Smoothie Boost

(optional)
Instructions
Whisk flour, baking powder, Pumpkin Pie Spice, and sea salt together in a large mixing bowl and set aside.

In a separate mixing bowl, whisk milk, pumpkin puree, flaxseed mixture, 2 tablespoons maple syrup, and 1 tablespoon melted butter until combined. Pour the wet ingredients into the dry ingredients and stir just until combined. The mixture should have a few lumps and not be completely smooth. If the batter is too thick, thin out with a little more milk.

Heat a nonstick griddle or skillet over medium-high heat. Add a little butter to the pan or griddle and spread it evenly. Ladle about ⅓ cup of the batter onto the heated, butter griddle or pan, working in batches as needed.

Serve with maple syrup or jam. 
Nutrition (estimated)
Calories:
293
kcal
(15%)
Carbohydrates:
58
g
(19%)
Protein:
10
g
(20%)
Fat:
5
g
(8%)
Saturated Fat:
1
g
(6%)
Polyunsaturated Fat:
2
g
Monounsaturated Fat:
1
g
Sodium:
778
mg
(34%)
Potassium:
402
mg
(11%)
Fiber:
10
g
(42%)
Sugar:
9
g
(10%)
Vitamin A:
9540
IU
(191%)
Vitamin C:
3
mg
(4%)
Calcium:
389
mg
(39%)
Iron:
4
mg
(22%)
More Vegan Pumpkin Recipes
Do these vegan pumpkin pancakes have you craving all things fall? Here's a great list of more vegan pumpkin recipes:
I'd love for you to try this vegan recipe and let me know what you think. Leave a comment with your review of this recipe, and also some of your other fall favs.