Most people celebrate Taco Tuesday, but if I had the option, I'd have Taco Wednesday and Taco Thursday, too! I have a thing for tacos, especially if they're vegan tacos! While visiting Austin a few years ago, I got hooked on taco + BBQ fusions found in many restaurants there.
Those flavor-exploding tacos in Austin inspired this recipe; in name and flavor! I used cauliflower and garbanzo beans smothered in bbq sauce to create a solid base. Here's everything you need to know about making a tasty vegan taco recipe.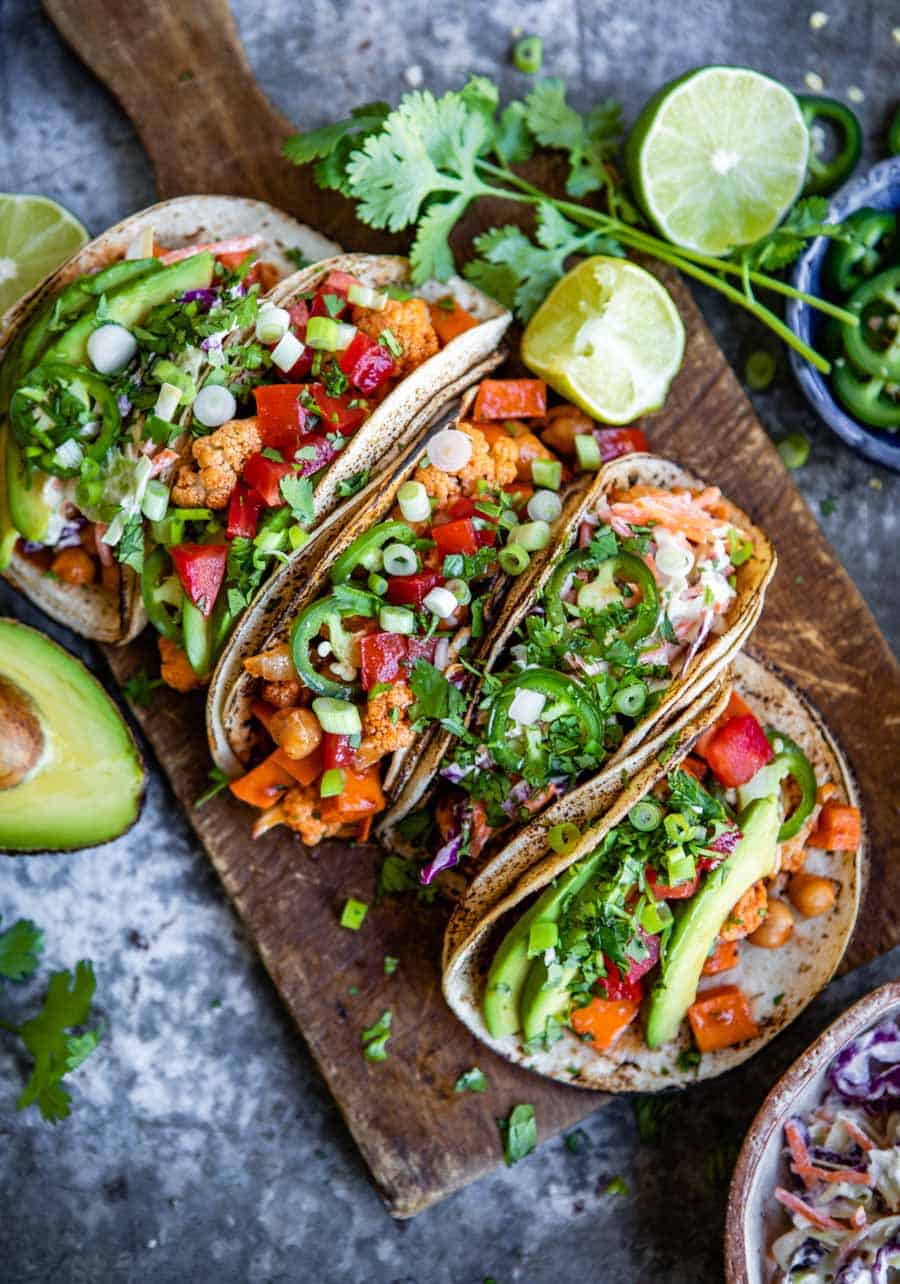 I'm not gonna lie, every year since we've been dating, Ryan and I have gone to Taco Bell for Valentine's Day. Romantic, huh?!
It's really because when you're young and naive, you don't realize every restaurant is booked on Valentine's Day… well… every restaurant except Taco Bell! It's tradition for us now, but if I'm being honest, Austinite Vegan Tacos are where it's at! Taco Bell's got nothin' on these!
You can find find this recipe and 100+ recipes in my new book, Simple Green Meals.
Table of Contents
How to Make Vegan Tacos
My recipe combines Tasty Texas BBQ ingredients into shells for a great flavor fusion. Here's how:
Preheat oven to 375 degrees F. Line a baking sheet with parchment paper.
Spread the chopped cauliflower, sweet potato and onion on the baking sheet. Drizzle with coconut oil (or olive or avocado oil) and toss to coat. If you want crispy taco filling then be sure the oil well coats the veggies. Season with salt and pepper then roast for 15-20 minutes.
Remove the pan from the oven and add the chickpeas. Drizzle your fav BBQ sauce over everything then toss again to coat well. Bake an additional 5-8 minutes, or until the vegetables are tender.
Serve on corn tortillas with 1 spoonful of the BBQ filling along with a spoonful of coleslaw. I also top with cilantro, avocado slices, scallions and tomatoes.
If you're looking for a 'pulled pork' option, then try my BBQ jackfruit tacos. They are shockingly good too. The sweet potatoes add a complex sweetness to this dish, yet you can use regular white potatoes as well (you do you!).
FAQs for Plant Based Tacos
What can I use instead of meat for tacos?
So many ingredients! Cauliflower, jackfruit, black beans, chickpeas, potatoes, nuts… see what I mean? Plants can also be loaded with protein + nutrients, and create an equally filling taco. My vegan taco filling below is a mix of cauliflower and chickpeas with BBQ sauce.
What's in vegan tacos?
Many taco ingredients are naturally vegan. Swap sour cream with avocados or guacamole, meat with chickpeas, cauliflower, black beans, jackfruit, potatoes, or nuts, then make sure the rice + other ingredients are cooked in vegetable broth or plant based oil instead of butter.
What fillings are vegetarian friendly for tacos?
Other than the obviously veggie + bean toppings for tacos, I love using cashew cream (vegan sour cream), avocado crema, dairy free coleslaw, and rice made with vegetable broth. It's not hard to swap out meat based products with vegan ones, just make sure you read your labels if you go for store-bought options over homemade ones.
Storing Options for Filling
This filling can be made ahead of time, cooled completely, then stored in a freezer-safe container. When you're ready to enjoy it, just thaw a bit in the fridge then bake at 375 degrees F for 15 minutes, or until crispy. The toaster oven is a great way to reheat this filling, as it can get it a bit crispier than an oven.
You can even freeze toppings like jalapeños, green onions, and avocado slices. Dice and put into separate freezer bags. Thaw out when ready to use.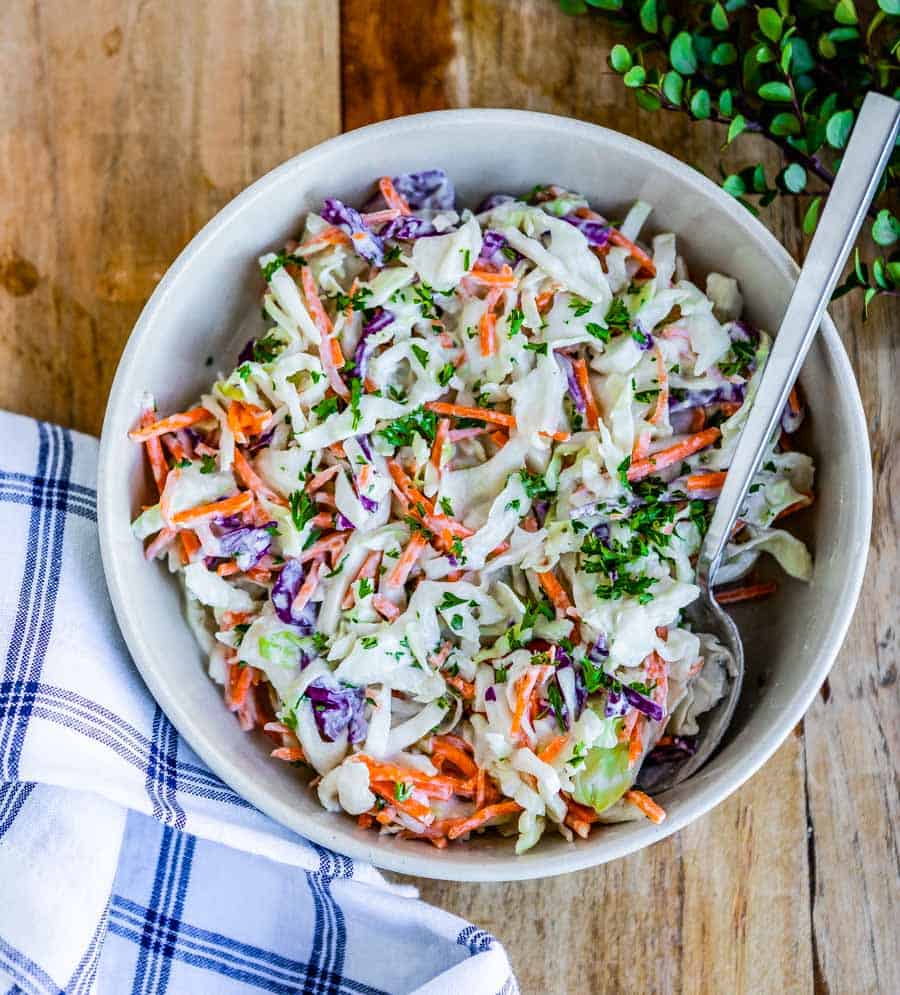 Protein Options
I love protein filled foods as much as the next person, yet I choose to get a lot of my protein from plants. Here are some great protein options for tacos, both produce and nuts + all plant-based:
Tofu– 15 grams per 1/2 cup
Soybeans– 8.5 grams per 1/2 cup
Lentils– 8.84 grams per 1/2 cup
Chickpeas– 7.25 grams per 1/2 cup
Almonds– 16.5 grams per 1/2 cup
Quinoa– 8 grams per 1/2 cup
Beans + Rice– 8 grams per 1/2 cup
Potatoes– 8 grams per 1 baked potato
Walnuts– 9 grams per 1/2 cup
Cashews– 10 grams per 1/2 cup
There are so many unique ways to cook these options too, whether you have smashed potatoes or nut based 'meat.' What's your fav protein option?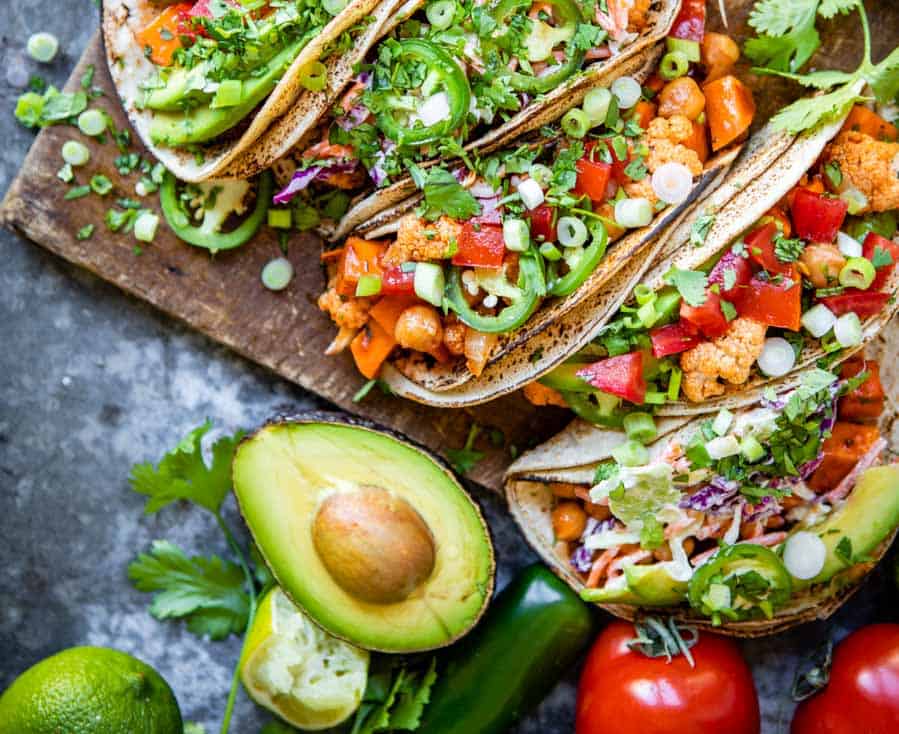 6 More Delicious Taco Recipes
I have a serious love for tacos as well as a joy in finding new ways to incorporate plants into meals for my family. These 7 recipes will hopefully give you some new recipe inspo for weeknight dinners:
While you could just omit the meat and fill your next taco with toppings, I wanna taco that's filling. So I've created a wide variety of tacos where you won't miss the meat… and you may just start making these on the regular!
Don't forget to leave a rating + review once you've made this savory taco recipe. I can't wait to get your feedback!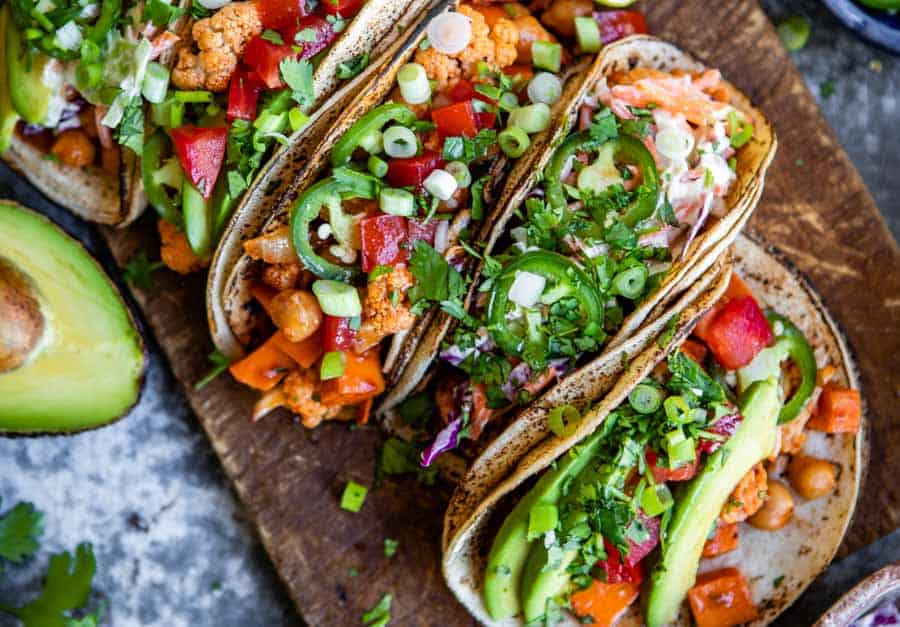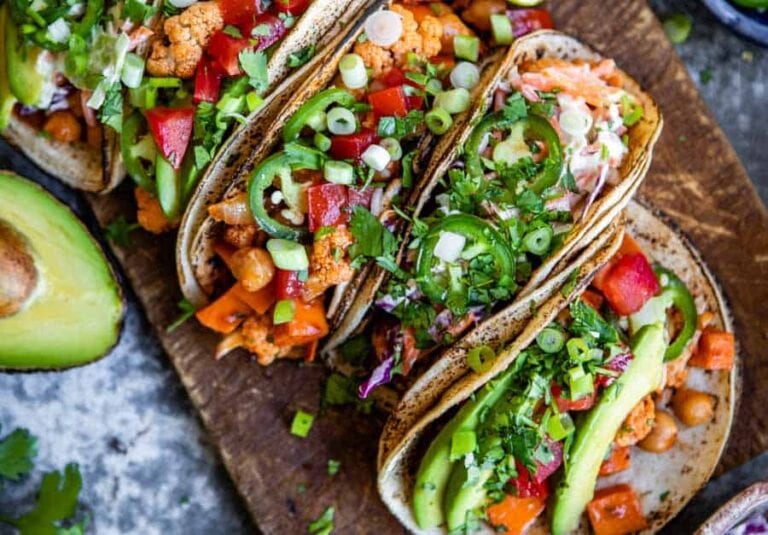 Austinite Vegan Tacos
When I created this vegan taco recipe, it just felt like it had an Austin flair going on, so I named it after that city. This unique taco is loaded with sweet potato, chickpeas, cauliflower and exploding with flavor.
Ingredients
1

head

cauliflower

cut into small florets

1

sweet potato

cut into 1-inch cubes

1

yellow onion

diced

2

tbsp

coconut oil

melted

sea salt

black pepper

1

can

chickpeas

drained and rinsed

½

cup

BBQ sauce

plus more for serving
For Serving
12

corn tortillas

warmed

1

cup

Cashew Coleslaw

½

cup

fresh cilantro

chopped

avocado

sliced

green onions

sliced

tomatoes

diced
Instructions
Preheat the oven to 375°F. Line a baking sheet with parchment paper.

Spread the cauliflower, sweet potato, and onion on the prepared baking sheet. Drizzle with the oil and toss to coat. Season well with salt and pepper. Roast for 15-20 minutes.

Remove the pan from the oven and add the chickpeas. Drizzle the BBQ sauce over everything and toss to coat. Bake for 5 to 8 minutes, or until the veggies are tender.

Serve with one spoon of the BBQ filling into the tortillas and top each with a spoonful of the coleslaw, a sprinkling of cilantro, avocado slices, scallions, tomatoes, and any additional BBQ sauce you'd like. Serve immediately.
Notes
To make this nut free, omit the cashew cream and replace with a nut free vegan option.
This version has BBQ flavoring, yet you can swap with a more traditional taco seasoning.
Replace the corn tortillas with romaine lettuce.
Nutrition
Calories:
439
kcal
,
Carbohydrates:
75
g
,
Protein:
11
g
,
Fat:
13
g
,
Saturated Fat:
7
g
,
Polyunsaturated Fat:
2
g
,
Monounsaturated Fat:
3
g
,
Sodium:
561
mg
,
Potassium:
1028
mg
,
Fiber:
11
g
,
Sugar:
20
g
,
Vitamin A:
8323
IU
,
Vitamin C:
83
mg
,
Calcium:
158
mg
,
Iron:
3
mg