I'm a total soup lover… nothing beats a hot cup of soup on a cool day. I also like quick, easy recipes that not only taste delicious but also do my body some good. This vegetable noodle soup is a winner on multiple fronts.
You only need 1 pot from start to finish, just like with this Wild Rice Soup recipe, it uses easy-to-find veggies that you can even buy pre-chopped, and it is full of nourishing ingredients to help your body fight cold and flu season.
And bonus, this vegan chicken noodle soup tastes legit.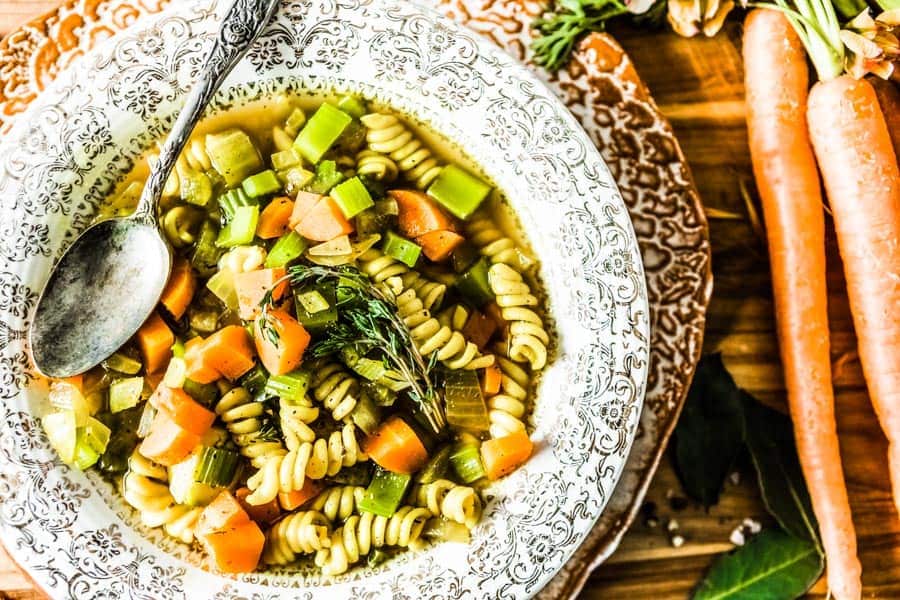 Table of Contents
How to Make a Filling Vegetable Noodle Soup
No need to dirty several pots and pans to make this homemade soup. All you need is a big stock pot (ceramic works great too!), a good knife for chopping, and a cutting board.
You might wonder why you need to sauté your vegetables for this noodle soup. I get it! The sauté helps to release the flavors of your ingredients so unless you want a flavorless soup, don't skip this step.
For even better flavor, make this soup the day before then let sit overnight in the fridge. Resting the soup allows the ingredients to reach new levels of flavor together.
Protein Boost for Vegan Chicken Noodle Soup
There are so many great plant based protein options out there. You can totally have the taste and texture of a chicken noodle soup, without using chicken. If you want to bump up the protein in this vegetable noodle soup, then I have 2 easy options: black beans or chickpeas.
Black beans are easy to add and delicious, yet they will change the taste of this vegetable noodle soup. If you love black beans, then this is a great option! Yet if you want a subtler flavor, then I recommend adding chickpeas.
Chickpeas are a solid plant protein choice for this recipe. Mildly flavored, easy to add, and easy to eat. Make sure you drain and rinse the chickpeas before adding them, and cook until softened in the soup.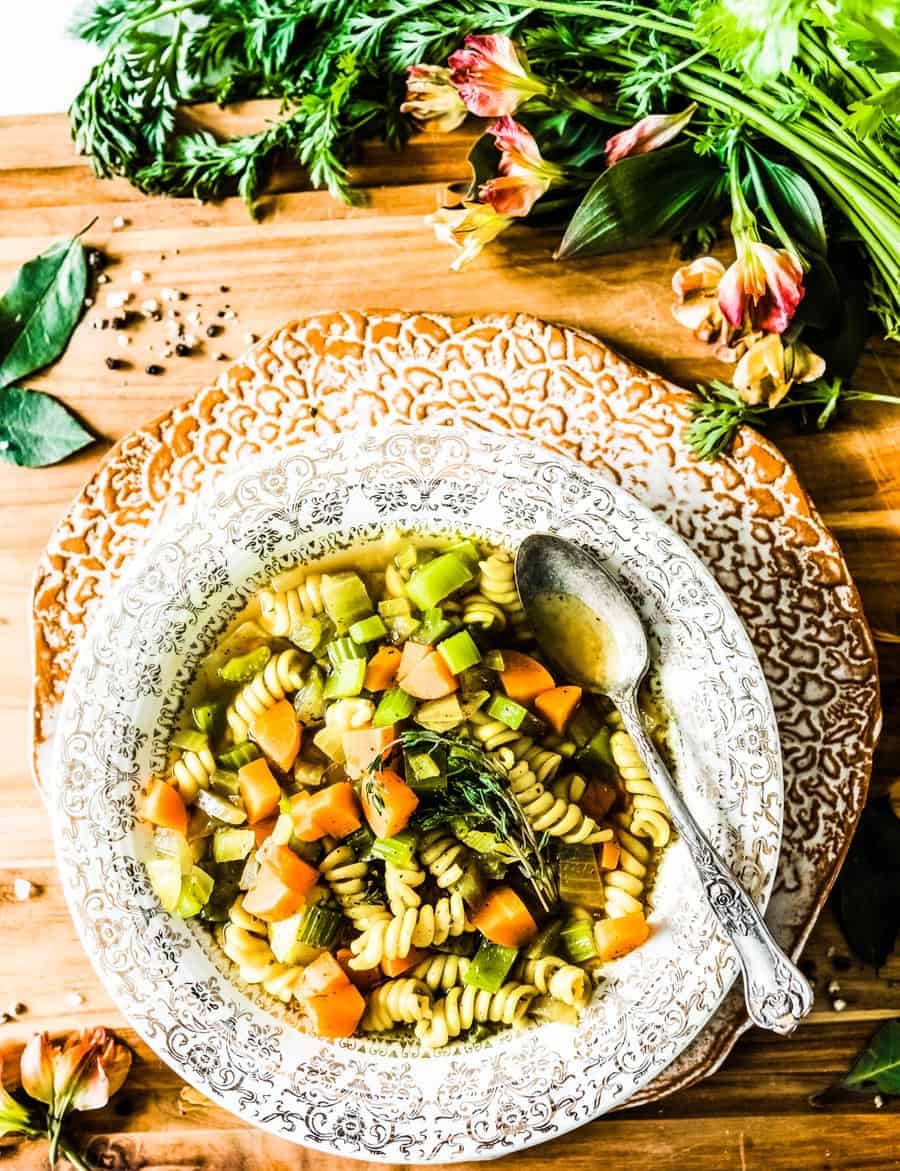 The Healing Power of Soup
Plants naturally provide nutrients to help our bodies fight sickness as well as heal faster when we do fall ill.
I love using food like this vegetable noodle soup to nourish and strengthen my body. I have a whole arsenal of natural remedies that I make at the start of school each fall, and carry into the winter months. I've gotta take care of myself and my family all year round, and that starts with what we put into our bodies.
Freezing Leftover Soup
Most soups (including this vegetable noodle soup) freeze well, and actually taste better after sitting a bit! It's also easy to make a few extra servings of a soup recipe (if you're already making it, why not double?) to have on hand as quick meals in the future.
I like using the 16-oz mason jar… it works great for smoothies as well as soups! Just make sure to follow the freezing guidelines when using glass; if you fill it too full, it will burst in your freezer.
Pro tip: When freezing this vegan chicken noodle soup, I don't cook and freeze the noodles. Instead, freeze the soup before adding the noodles, then add the noodles when you re-heat the soup. That way they cook properly without falling apart from the cook, freeze, thaw, cook journey.
Veggie Noodle Soup Top Questions
What's the best pasta to use in my noodle soup?
I like fusilli pasta because it's the right size for my soup spoon, and I don't have to slurp it like I would with longer noodles. Yet you can use any pasta you want! Orzo, ramen, shells, egg noodles… there are so many great options. Just adjust the cook time once the pasta is added based on the type of pasta you use.
How can I speed up the prep time when making vegetable soup?
You can totally buy pre-chopped veggies. I find them right in the produce aisle, and often in winter, there might be a mix of vegetables that works perfectly with this soup.
How do I increase the protein in a vegan chicken noodle soup?
It's true that chicken provides a great amount of protein. If you need more in my vegetable noodle soup recipe, then add in a can of drained chickpeas! They will soften right up when cooked, add a mild + good protein source, and are delicious. This will easily increase the protein without turning to a meat source.
Stock Up on Soup
I love sipping soup throughout the winter, yet I also like variety. So you'll often find a few different soups in my freezer throughout the cooler months. If you're looking to up your soup game, then check out a few of my fav recipes:
Now that you know exactly how to make this super easy vegetable noodle soup, let's start cooking! Don't forget to rate this recipe and let me know how it turned out for you.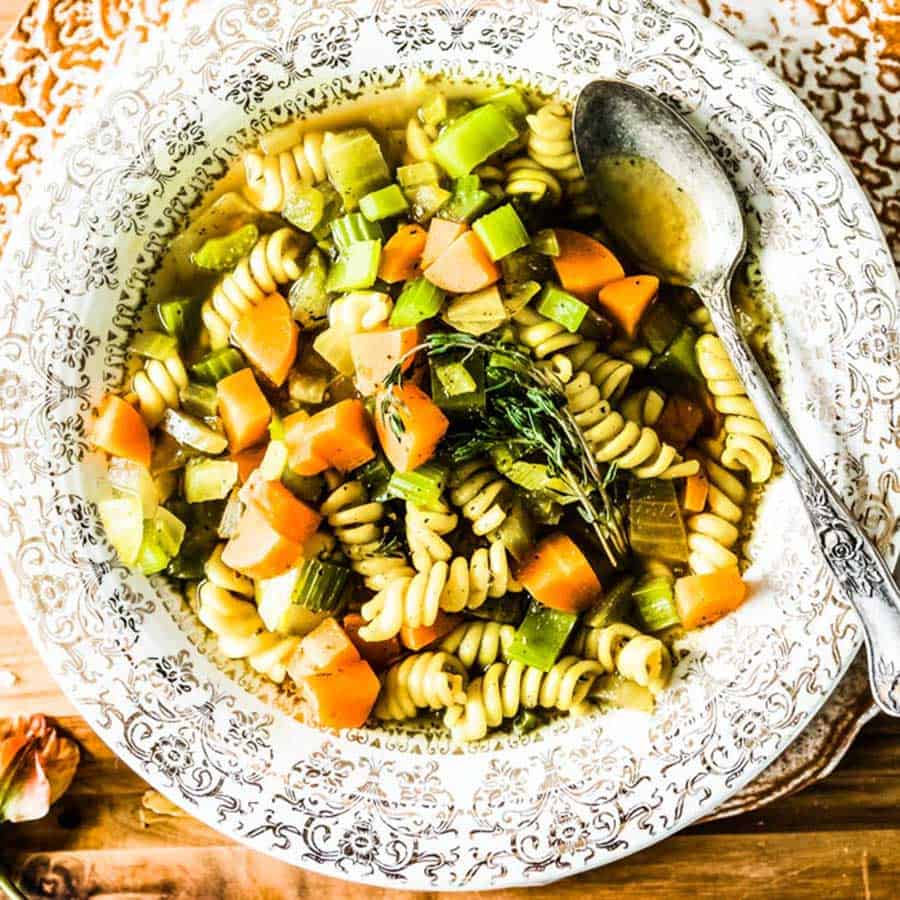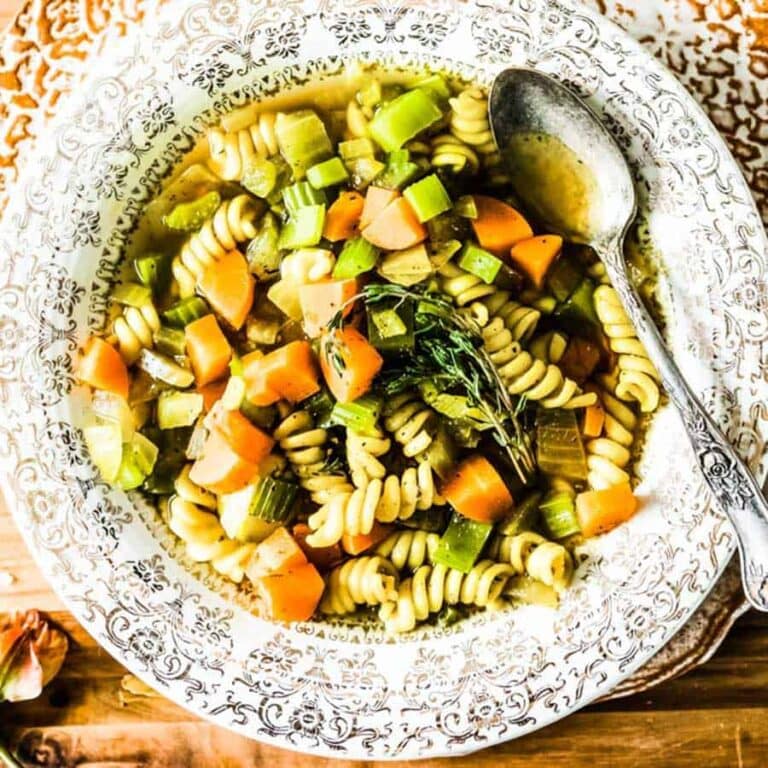 1-Pot Vegetable Noodle Soup
A soothing soup can help your body heal in a variety of ways. This vegetable noodle soup recipe is great to make the moment you feel under the weather, or make at the beginning of cold and flu season, then freeze to have on hand when you need it.
Ingredients
1

yellow onion

chopped

2

celery stalks

chopped

2

carrots

chopped

1

garlic cloves

crushed

2

tbsp

avocado oil

6

cups

vegetable stock

1-2

tsp

tamari

½

tsp

dried marjoram

crushed

½

tsp

dried sage

crushed

¼

tsp

dried thyme

crushed

½

tsp

ground turmeric

⅛

tsp

freshly ground pepper

4

oz

pasta

fusilli
Instructions
Sauté onion and celery in large stock pot over medium high heat until lightly browned. Add garlic and continue to stir for 1 minute.

Add vegetable stock, carrots, tamari and herbs + spices. Bring to a boil over high heat. Reduce heat to medium-low; cover and simmer for 20 minutes.

Stir in the noodles; return to a boil. Cook for 10 minutes more or until noodles are tender.
Notes
You can use whatever kind of noodle you want; spaghetti, egg noodles, orzo, you do you!
You can use an Italian spice mix over adding individual spices, just add to taste.
This soup can be made a day or 2 ahead and refrigerated… I honestly love day old soup!
This recipe uses regular vegetable stock. To lower the sodium amount, use low-sodium stock.
Nutrition
Calories:
223
kcal
,
Carbohydrates:
35
g
,
Protein:
5
g
,
Fat:
8
g
,
Saturated Fat:
1
g
,
Polyunsaturated Fat:
1
g
,
Monounsaturated Fat:
5
g
,
Sodium:
1456
mg
,
Potassium:
308
mg
,
Fiber:
3
g
,
Sugar:
8
g
,
Vitamin A:
6216
IU
,
Vitamin C:
6
mg
,
Calcium:
40
mg
,
Iron:
1
mg