I love sipping this warm almond milk in the evening. It helps regulate my blood sugar through the night and is a perfectly sweet end to the day. Warm milk before bed is a way to soothe your body and prepare it for sleep. Plus, it's super delicious!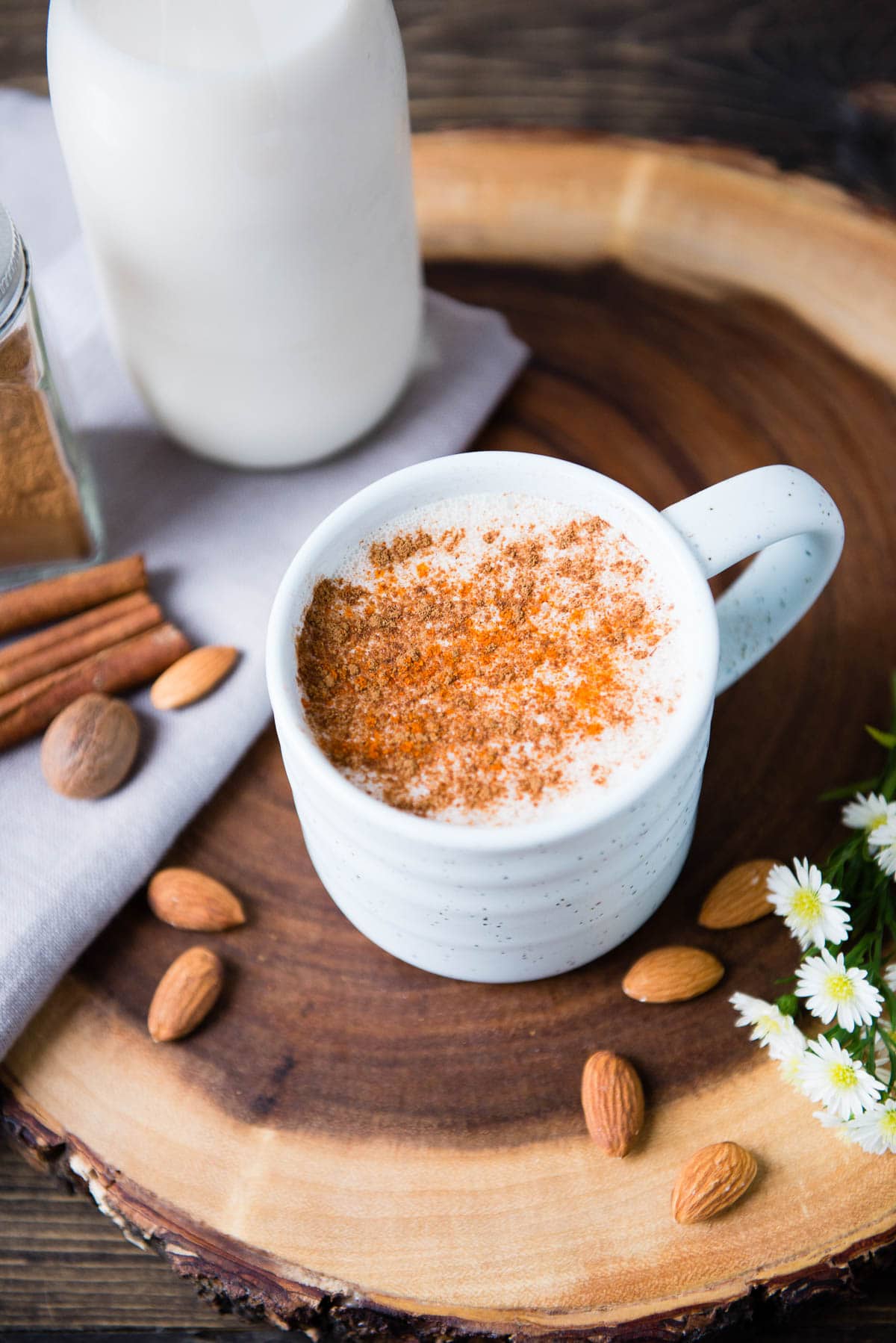 Do you find yourself waking up sore, aching and less than energized for the day? I do! I originally created this warm almond milk recipe for my Autumn Cleanse to help people keep stable blood sugar throughout the night while also calming down inflammation and fighting free radicals.
This warm milk before bed routine quickly caught on as something I can do even when not cleansing. It's a deliciously light nighttime treat and helps me wake up more refreshed and ready for the next day.
Table of Contents
Spiced Warm Almond Milk Ingredients
My warm almond milk is fairly simple to put together, it's milk and spices! You can jazz it up with maple syrup and almond butter; both make it more delicious!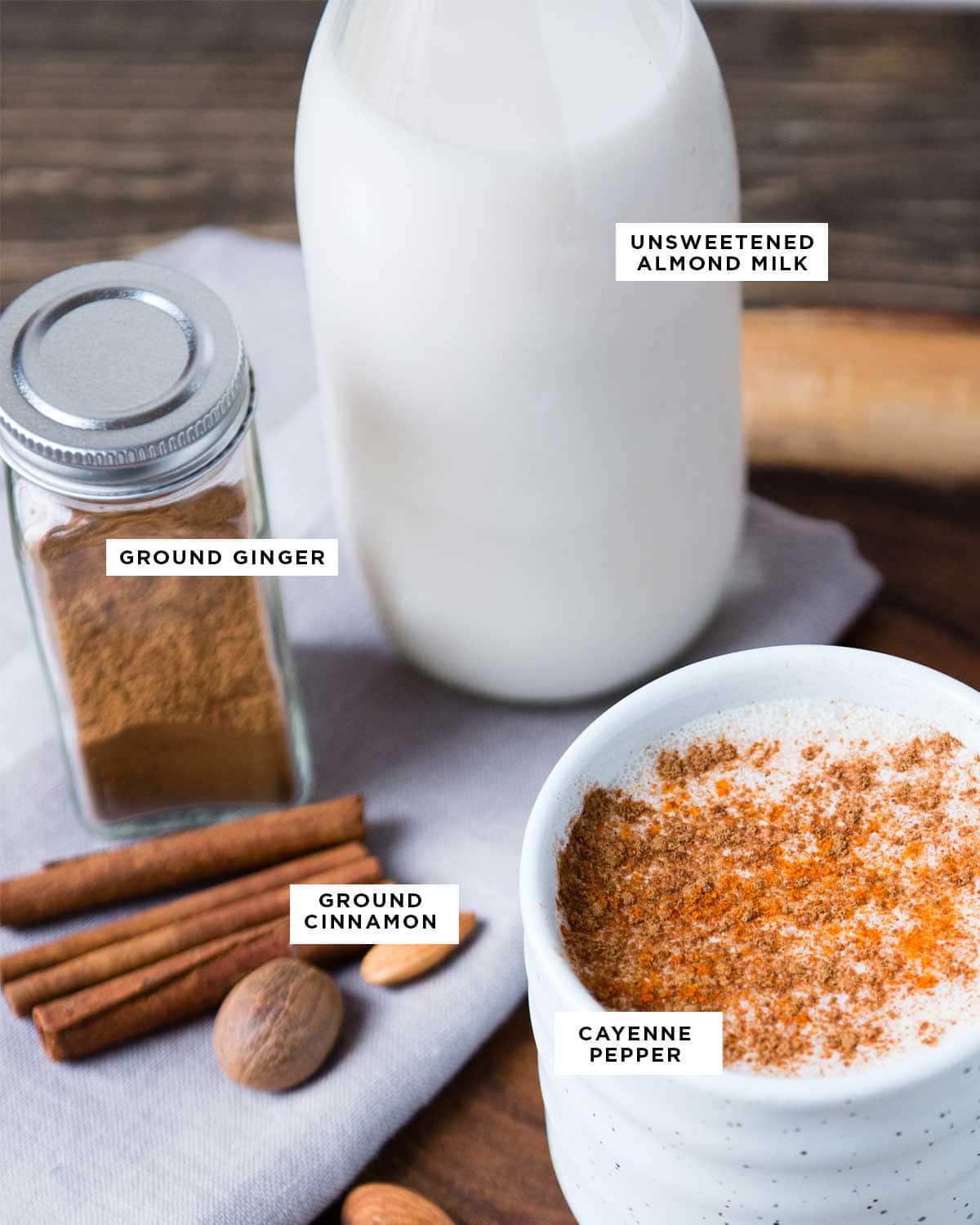 These four ingredients make up the core recipe:
Unsweetened Almond Milk: Whether you choose store-bought or homemade, use unsweetened almond milk for the best result. Add a touch of maple syrup for some sweetness.
Ground Cinnamon: Full of antioxidants, cinnamon is a great spice to help rid your body of free radicals and inflammation. Freshly ground your cinnamon for the most potent results.
Ground Ginger: Ginger also contains antioxidants that are great to add to warm milk before bed. Fresh ginger is a bit too spicy for my bedtime routine, so I stick to ground in this recipe.
Cayenne Pepper: This spicy addition aids in digestion. A tiny amount is all you need in this warm almond milk to help get your body ready for bedtime.
Easy Add-Ins
Many people that drink this lovely bedtime drink like a little sweetness, so feel free to add a half teaspoon of maple syrup to satisfy your sweet tooth without spiking your blood sugar.
I also love to add one tablespoon of almond butter. Pro tip: Look for one where the only ingredient is almonds. This helps add a bit of protein and healthy fat in case I'm drinking this while hungry. It also makes the whole beverage creamy, which is just delicious.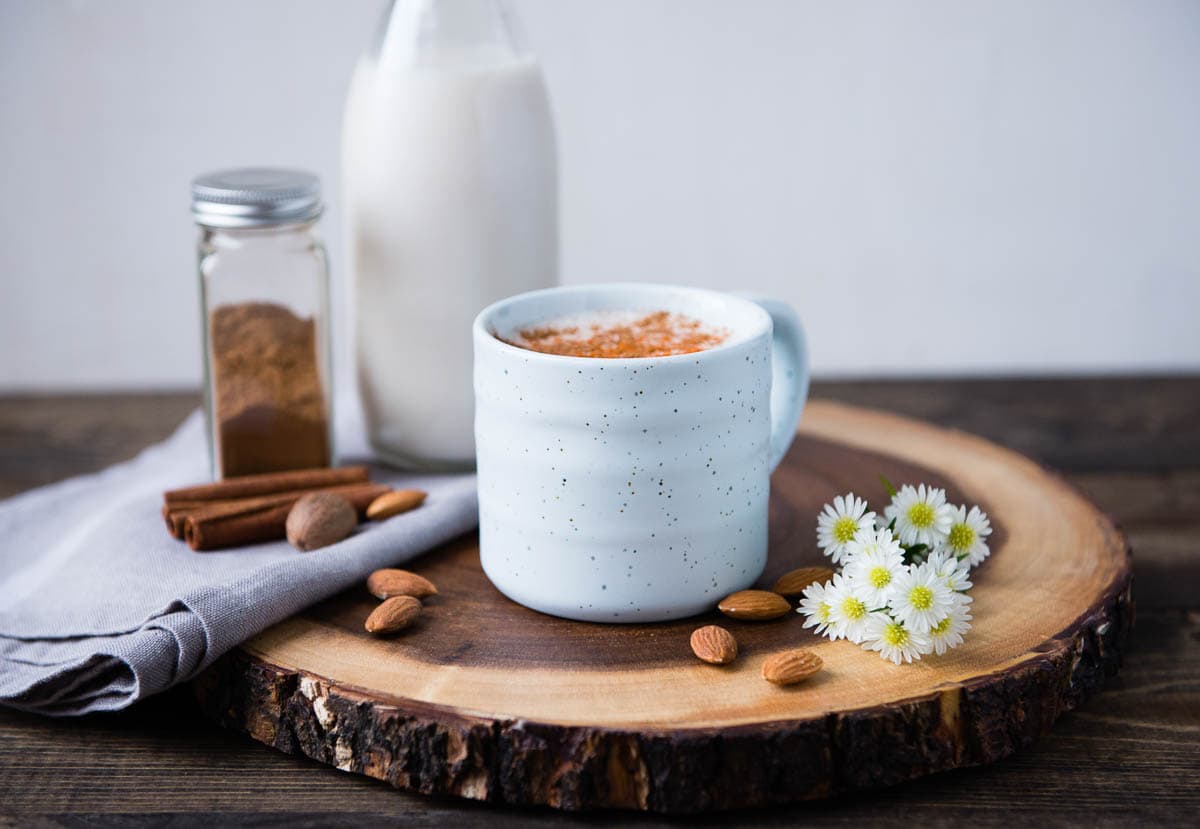 How to Make Warm Almond Milk
This simple nighttime recipe is also super easy to make! Whether you want to use a stovetop, high-powered blender or microwave, you'll whip this drink up in no time.
Saucepan method: Combine all ingredients in a saucepan on medium-low heat and stir until warm. If you are adding in the almond butter and maple syrup, add them at this stage. Pour into your favorite mug and enjoy!
Blender method: If you have a high-powered blender you can heat this recipe up directly in your blender. Simply add all the ingredients to the blender and blend until heated. It will be super frothy when finished, especially if you add in a tablespoon of almond butter.
Microwave method: Combine all ingredients into a heat-safe mug and microwave for up to 30 seconds. Carefully test to ensure it's not too hot before drinking.
Warm Milk Before Bed
Warm milk has been used for generations to help people fall asleep, but does it actually do that? While there isn't a lot of hard evidence linking warm milk to good sleep, my warm almond milk recipe is a mixture of dairy-free milk and spices designed to help fight inflammation, free radicals and keep your digestive system on track before you go to sleep.
All these properties will definitely help you fall asleep faster, stay asleep longer and feel better when you wake up in the morning. I also love the added benefit of how my warm milk before bed helps regulate my blood sugar throughout the night.
Warm Milk FAQs
Can you drink warm almond milk?
Yes! For my warm almond milk recipe, I heat the milk up to a 'warm' temperature, not scalding hot. It's delicious and easy to do.
Can you warm up almond milk in the microwave?
Yes, this is a quick way to get warm milk, especially if you don't have a high-powered blender or don't want to take the time to heat it up on the stove. You only need to heat it for about 30 seconds to get a warm result.
Can you get sick from warm almond milk?
You definitely don't want to heat up almond milk for too long or you may burn your mouth. Warm almond milk shouldn't cause any changes in digestion.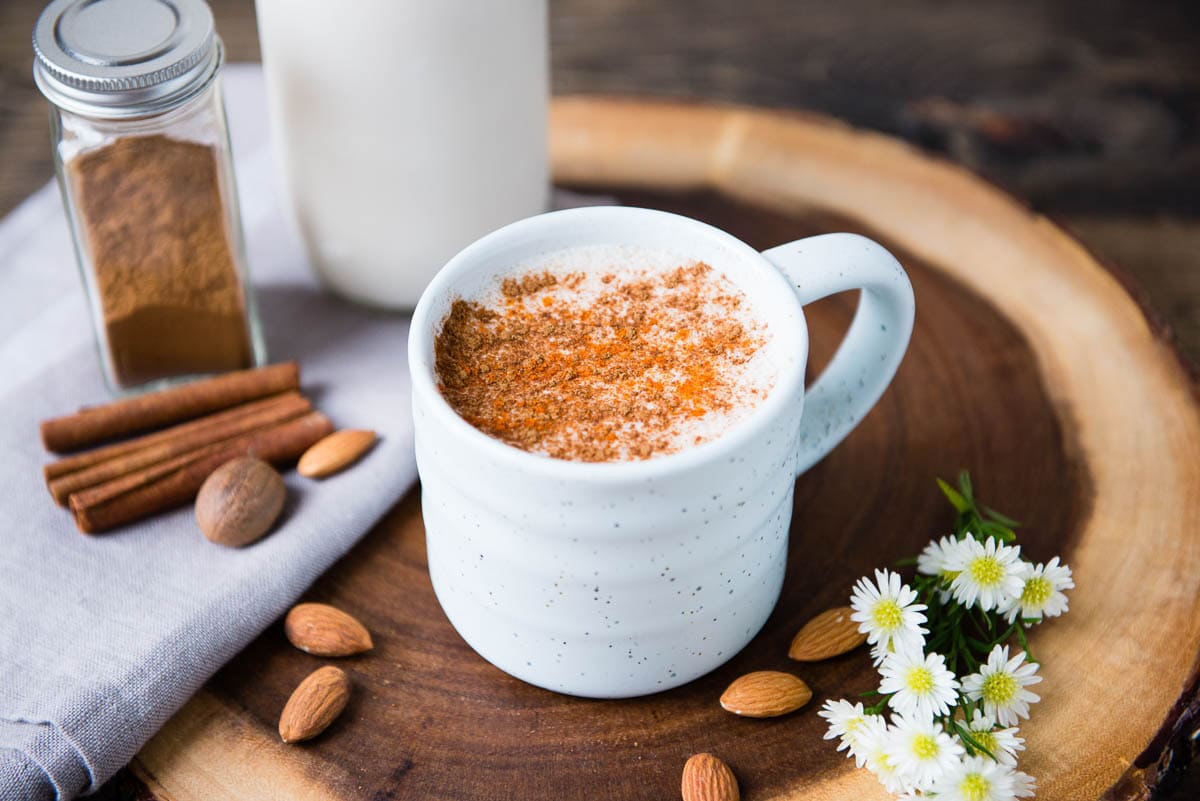 More Bedtime Beverages
I love sleep and need a lot of it to function. I also love coffee, yet I have to cut myself off by 2:00pm if I want to get a good night's sleep. Turning to the non-caffeinated drinks below, as well as the warm almond milk recipe above, helps my body calm down and get ready for a great night of rejuvenating sleep.
Sleep Well Smoothie: A calming smoothie I drink when hungry before bedtime.
Pink Moon Milk: This is a great non-caffeinated drink that helps me naturally calm down before bedtime.
Lavender Sleep Tea: A lovely tea I use to settle my mind when I can't sleep.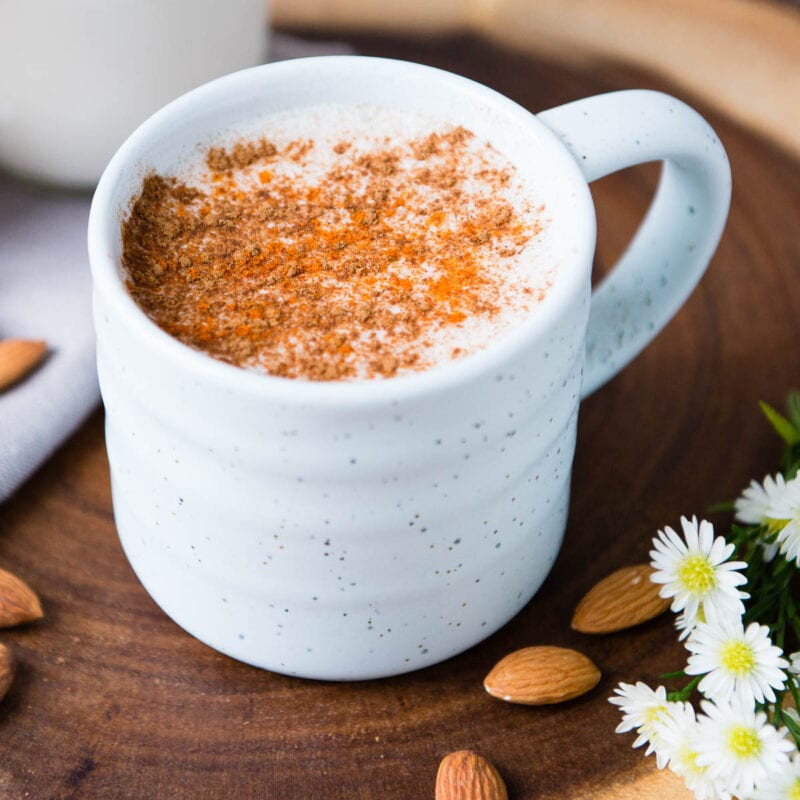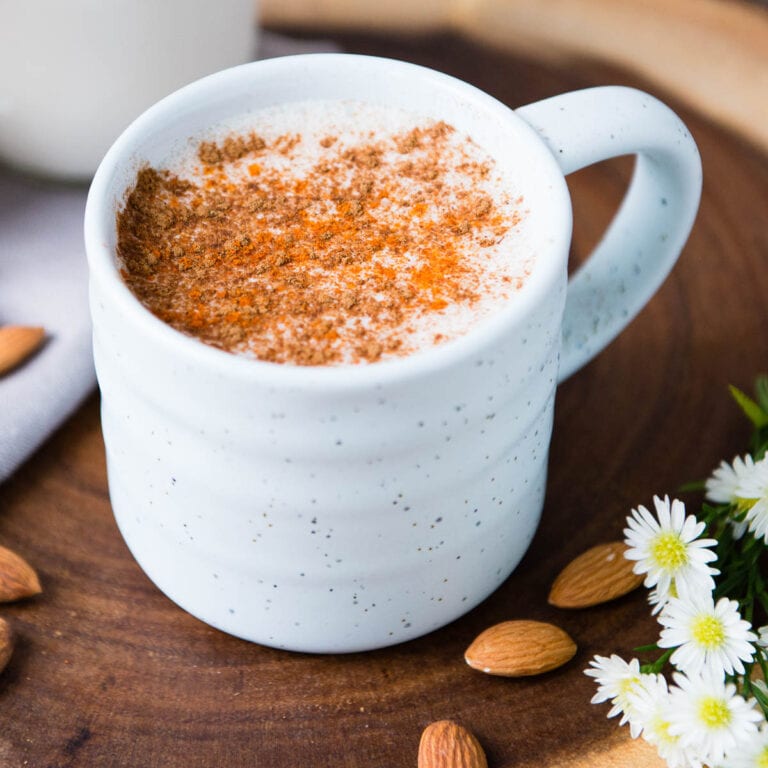 Warm Almond Milk
Try this delicious warm almond milk recipe to end your evening on a sweet note. My non-caffeinated, glucose regulating beverage helps you sleep well and start the next day on an energetic note.
Ingredients
1

cup

almond milk

unsweetened

¼

tsp

cinnamon

⅛

tsp

ginger

ground

⅛

tsp

cayenne pepper

½

tsp

maple syrup

optional

1

tbsp

almond butter

optional
Instructions
Combine all ingredients in a small sauce pan.

Heat on the stove, stirring occasionally over medium heat until warm.

Pour into a mug and enjoy.
Notes
Adding in 1 tbsp of almond butter helps add a bit of healthy fat and protein to curb hunger. 
If you have a high-powered blender then you can add all ingredients to your blender and blend for 30 seconds or until warm.
Feel free to omit the cayenne pepper if you don't do spice.
Nutrition
Calories:
146
kcal
,
Carbohydrates:
7
g
,
Protein:
5
g
,
Fat:
12
g
,
Saturated Fat:
1
g
,
Polyunsaturated Fat:
4
g
,
Monounsaturated Fat:
7
g
,
Sodium:
327
mg
,
Potassium:
138
mg
,
Fiber:
3
g
,
Sugar:
3
g
,
Vitamin A:
106
IU
,
Vitamin C:
0.2
mg
,
Calcium:
365
mg
,
Iron:
1
mg