These two-ingredient, healthy watermelon popsicles are perfect for summer. It doesn't get much more sunshiny, bare feet in the sand, summer barbecue than homemade fruit popsicles.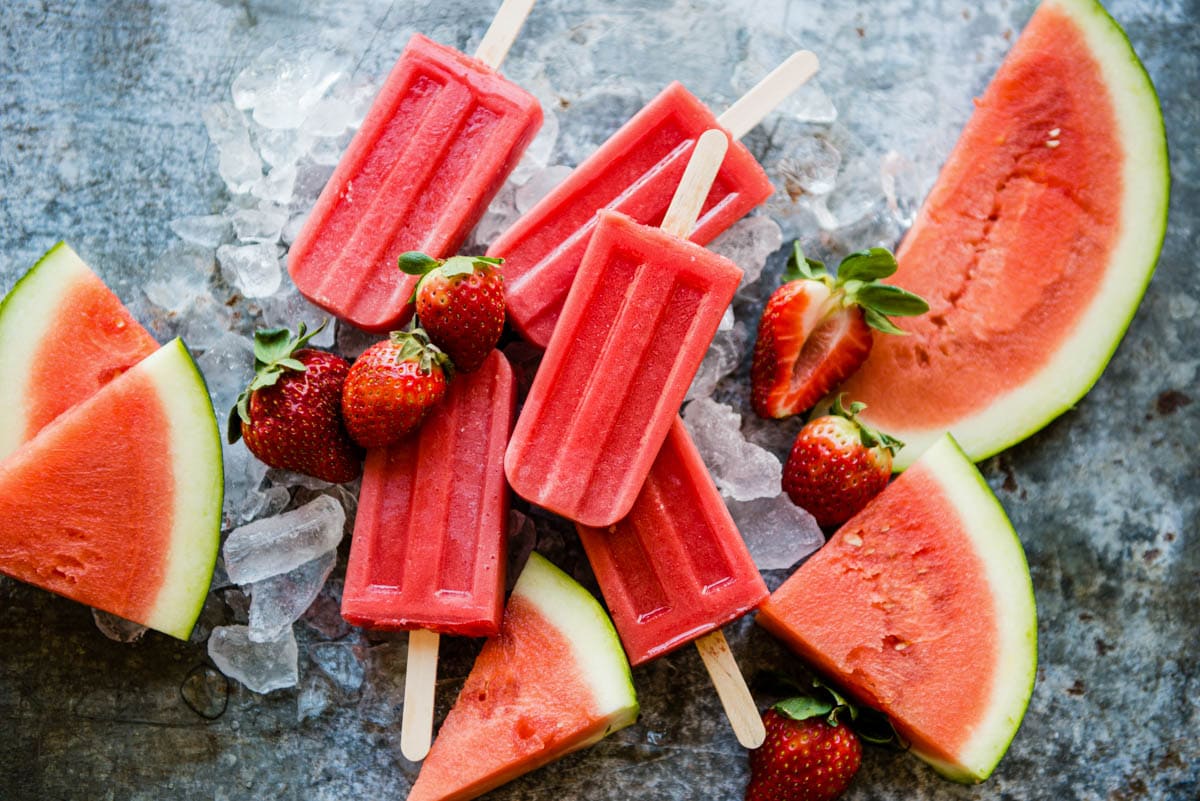 Summertime in Florida is hot, so I don't want to be stuck in the kitchen, but I need foods that keep me hydrated and energized. This two-ingredient popsicle recipe is a summer favorite in my house and I can't wait to share it with you!
This 2-ingredient recipe is a bit icier than something like my Lime Popsicles or Strawberry Popsicles, yet it's so fast to make and def tasty.
Table of Contents
Homemade vs Storebought Popsicles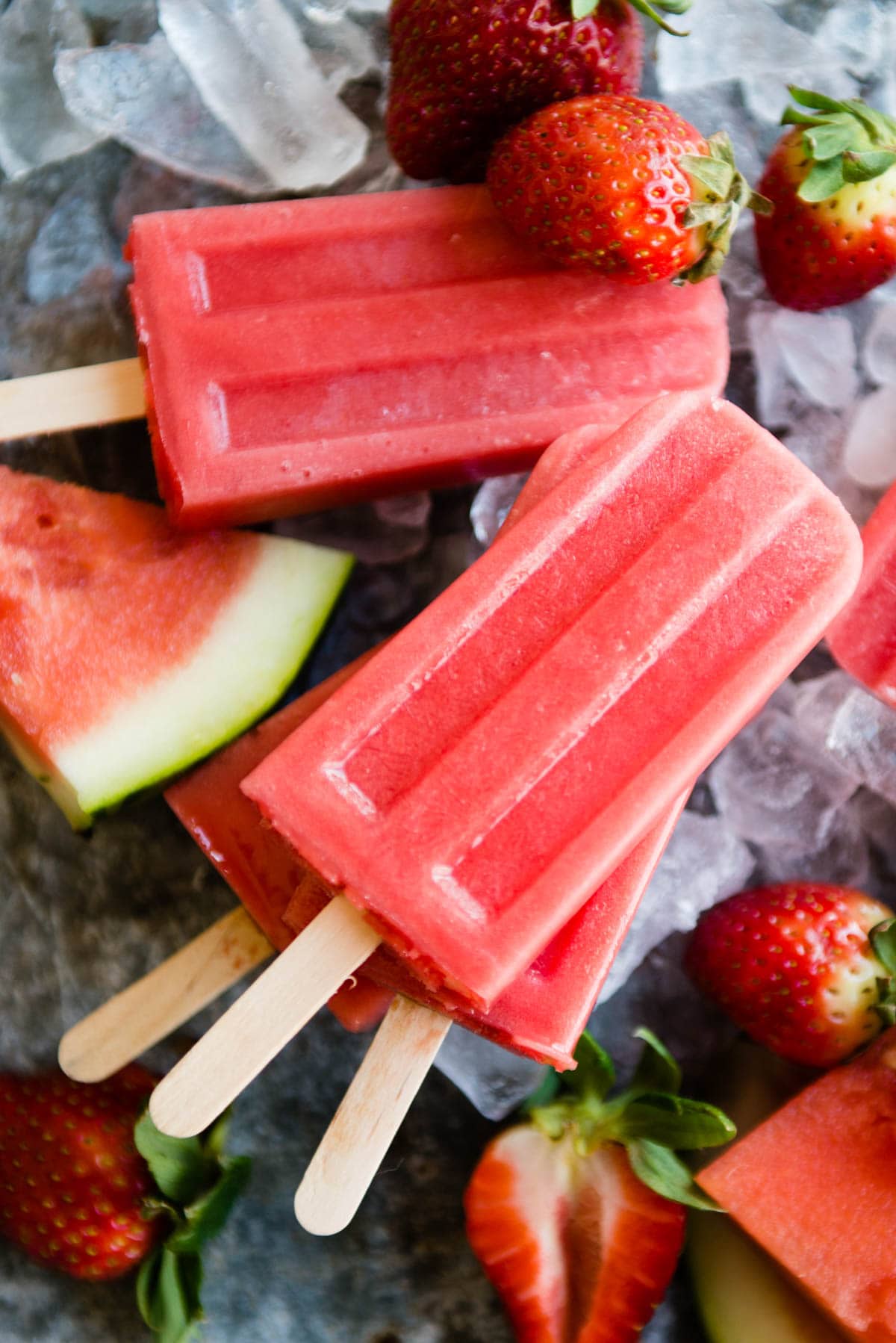 Store brand popsicles have come a long way since my childhood. There are several more real fruit options now., and a lot less food coloring. Yet many popsicles are still made with only fruit juice instead of the whole fruit. You miss out on some awesome nutrients as well as the fiber from the whole fruit to help your body process the natural sugar.
I'll keep making my own when I can, and enjoy these watermelon popsicles even more since I know exactly what's in them!
Watermelon Popsicle Variations
I love how simple this recipe is. You only need two ingredients to make very satisfying treats. Yet this recipe can also be easily changed to fit your taste preferences! Toss in 1/2 cup leafy greens to turn these into smoothie pops. Instead of using strawberries, use frozen mixed berries for a wider variety of fruit.
Toss in some fresh basil leaves for a more complex flavor profile, or add in your favorite summer cocktail mixture for some boozy popsicles (but don't forget to label the bag as 'adult-only'!).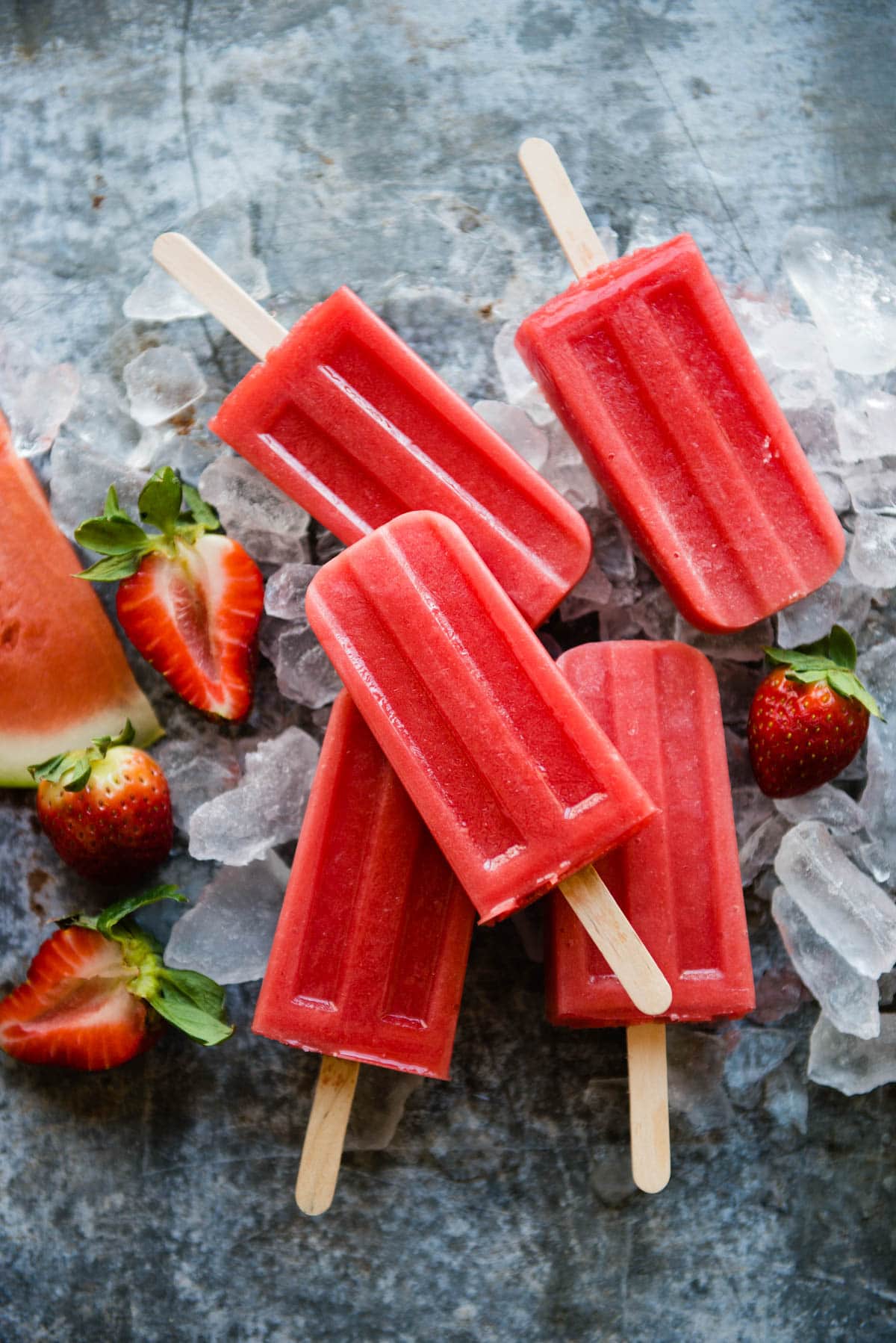 Popsicle Storage Options
You can use a variety of methods to freeze and store your lovely new summertime treats. Here are three great options:
Paper cup and popsicle stick: You can use small paper cups and wooden popsicle sticks to make your own molds. Pour the pureed fruit into the cups then set them in the freezer (flat) and put a wooden stick into each cup. Once frozen, tear away the paper cups and store them in a freezer-safe container or eat immediately.
Popsicle sleeves: I love using popsicle sleeves to freeze smoothies, popsicles and more! They are easy to carry with me or satisfy a crowd. Use plastic sleeves or silicone reusable ones, depending on your preference.
Popsicle molds: This is a fun, sustainable way to mold and store my watermelon popsicles. They are fairly easy to clean and reuse and they don't take up too much freezer space. You can search for super fun shapes too!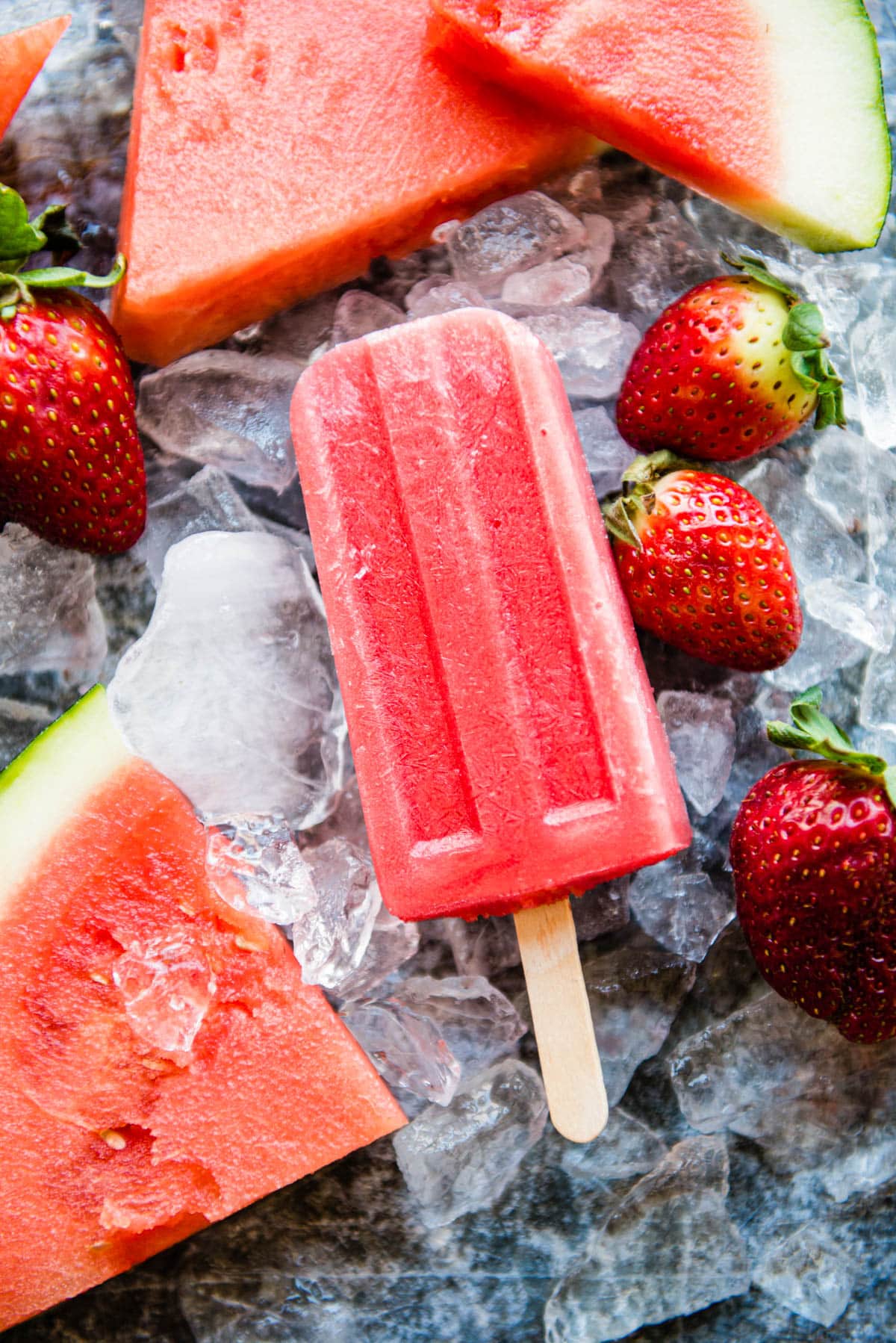 Watermelon Popsicles FAQs
How many calories are in watermelon popsicles?
My two-ingredient popsicles have 23 calories! While I focus more on counting the whole foods I eat instead of calories, I love that this simple snack won't weigh me down for the day.
How do you store homemade popsicles?
I like reusable molds for my popsicles, yet you can also freeze them in paper cups (don't forget to add a popsicle stick before freezing!). Once frozen you can keep those popsicles nice and safe in a silicone freezer bag until you're ready to enjoy them.
How do you make watermelon freezer pops?
Easy! My watermelon popsicle recipe is only two ingredients. All you need to do is blend the strawberries and watermelon until smooth, then pour them into your preferred popsicle molds and freeze. Once frozen, you can store them for up to a few months or enjoy them right away.
More Popsicle Recipes
What better way to prep for those hot summer days and long summer nights than by stocking the freezer with delicious fruit popsicles? I've got some great recipes to get you started:
Which one sounds like a winner? Drop a comment and let me know your fav popsicle combinations; I love getting new ideas!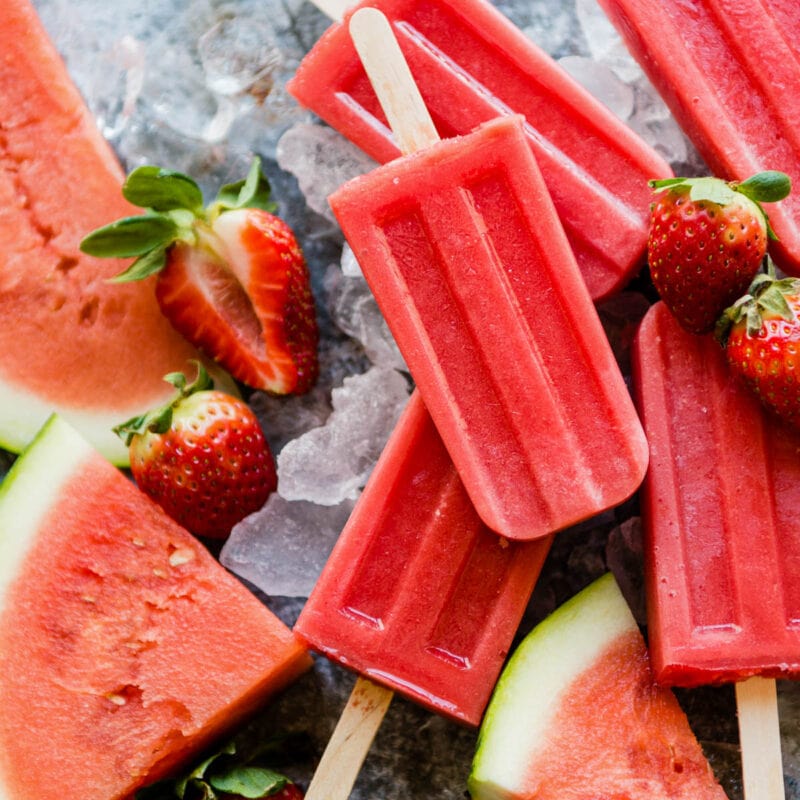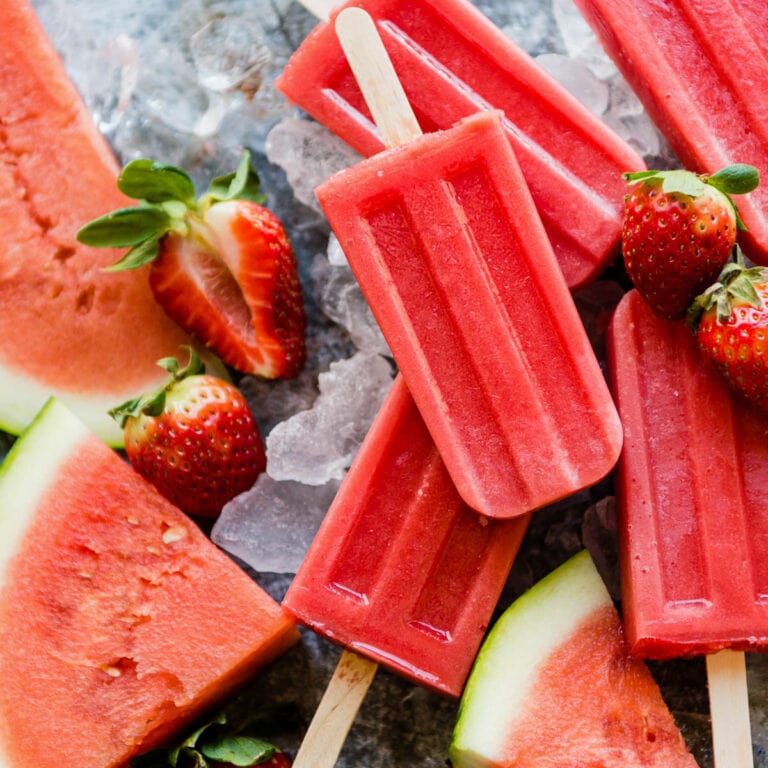 Watermelon Popsicles
Two simple ingredients is all it takes to make watermelon popsicles sweet enough to fall in love. Ask your kids to join in making this refreshing summer treat.
Ingredients
2

cups

watermelon

seeded and cubed

1

cup

strawberries
Instructions
Place watermelon and strawberries in blender or food processor. Puree until smooth.

Pour the mixture into popsicle molds and insert popsicle sticks.

Freeze several hours or preferably overnight before eating.
Notes
Popsicle molds differ in capacity. For this recipe, we used 3/4 cup (6oz) molds. Paper of silicone cups can be used in place of the popsicle molds.
Use the whole fruit instead of fruit juice. That way you keep the fiber that helps breakdown the natural sugar. 
Feel free to toss in some leafy greens to up the healthy benefits of these fruity popsicles! Add 1/2 cup leafy greens (spinach is a great option) and enjoy.
Nutrition
Calories:
23
kcal
,
Carbohydrates:
6
g
,
Protein:
1
g
,
Fat:
1
g
,
Saturated Fat:
1
g
,
Polyunsaturated Fat:
1
g
,
Monounsaturated Fat:
1
g
,
Sodium:
1
mg
,
Potassium:
93
mg
,
Fiber:
1
g
,
Sugar:
4
g
,
Vitamin A:
291
IU
,
Vitamin C:
18
mg
,
Calcium:
7
mg
,
Iron:
1
mg