MCT oil is a great healthy fat that can be used in both food and non-food ways to benefit your health and home. Let's learn about MCT oil benefits, the best MCT oil as well as what even is MCT oil and how to use it.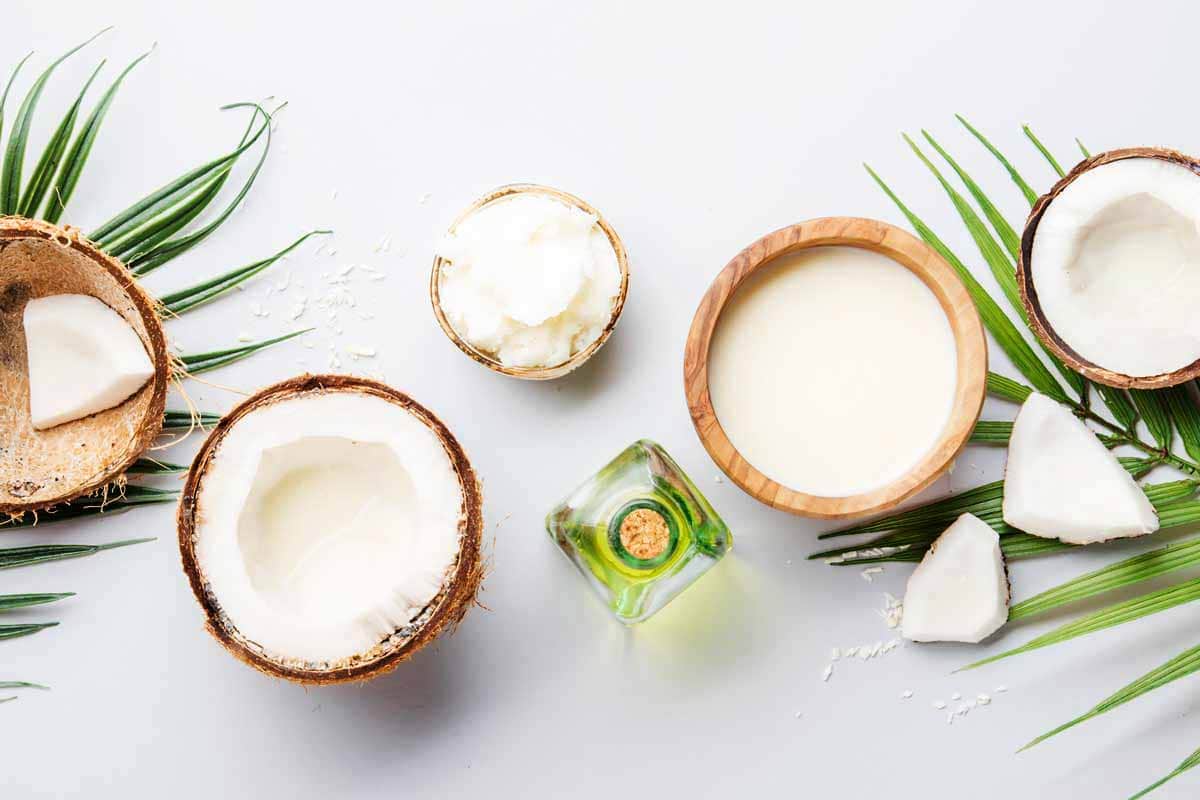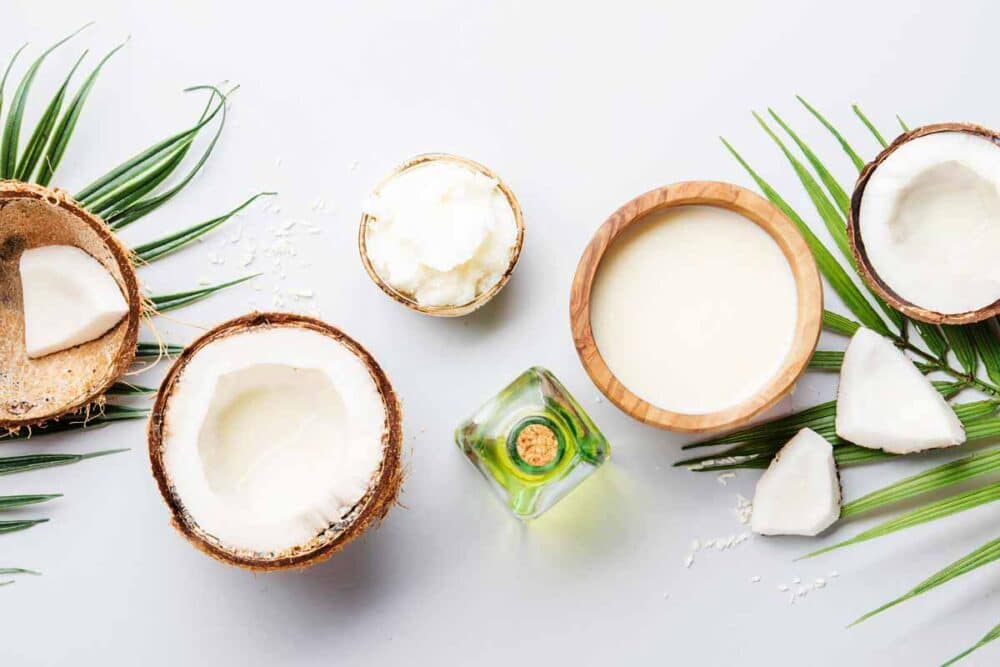 If you stay up-to-date on the latest superfoods to hit the market (or even if you don't!), you've probably been hearing the buzz about MCT oil. Yet, even with all this buzz, you may be wondering—what is MCT oil? And how would I benefit from adding it to my diet? I'm here to give you the skinny on this healthy fat.
What is MCT oil?
MCT stands for Medium Chain Triglycerides—a type of saturated fatty acids commonly found in coconuts. Now, if you read 'fat' and a little alarm in your brain starts going off, hold on a second! Fats are one of the body's primary sources of energy. They're also important for healthy skin + hair, boosting brain function, digestion, and absorbing nutrients from food. #exhale
MCTs are different than LCTs (long chain triglycerides) in that they are processed in the liver. Therefore, they can be used as an immediate source of energy. Coconut oil—a staple in my pantry—claims to be a good source of MCTs (about 62-65 percent of the fatty acids in coconut oil), however most of these are lauric acid. Even though lauric acid is said to be an MCT, it's not digested in the same way as caproic, caprylic, or capric acid and doesn't provide the same energy boost for the body.
Don't get me wrong—lauric acid has it's own benefits and is part of why coconut oil is amazing.
When it comes to MCT oil, to get the most bang for your buck in terms of energy for your brain and body, you want to purchase a product with a small amount of lauric acid.
Top 3 MCT oil benefits
So now that you know what MCT oil is, you may be wondering—is it for me? To help you decide, here are some of the reasons I personally use it…
You want to support your metabolism, and maybe even drop a few pounds.
The body digests MCTs quickly, then uses them as fuel, instead of storing them as body fat. Keep in mind, MCT oil is not a "magic weight loss serum." For healthy weight loss, a healthy diet as well as good exercise, sleep, and stress management are all equally important.
You want more energy.
MCTs are unique in that they do not require energy to be absorbed or stored in the body. Since they don't undergo a complicated digestive process, the body uses this oil as a great source of fast and sustained natural energy (waaaay better than sugary energy drinks!).
You're vegan, paleo, or follow a plant-based diet.
Animal-based products such as grass-fed butter, cheese, and full-fat dairy products also contain MCTs. If you're paleo, vegan or just don't consume much dairy, then MCT oil benefits your body in a 100% plant-based way.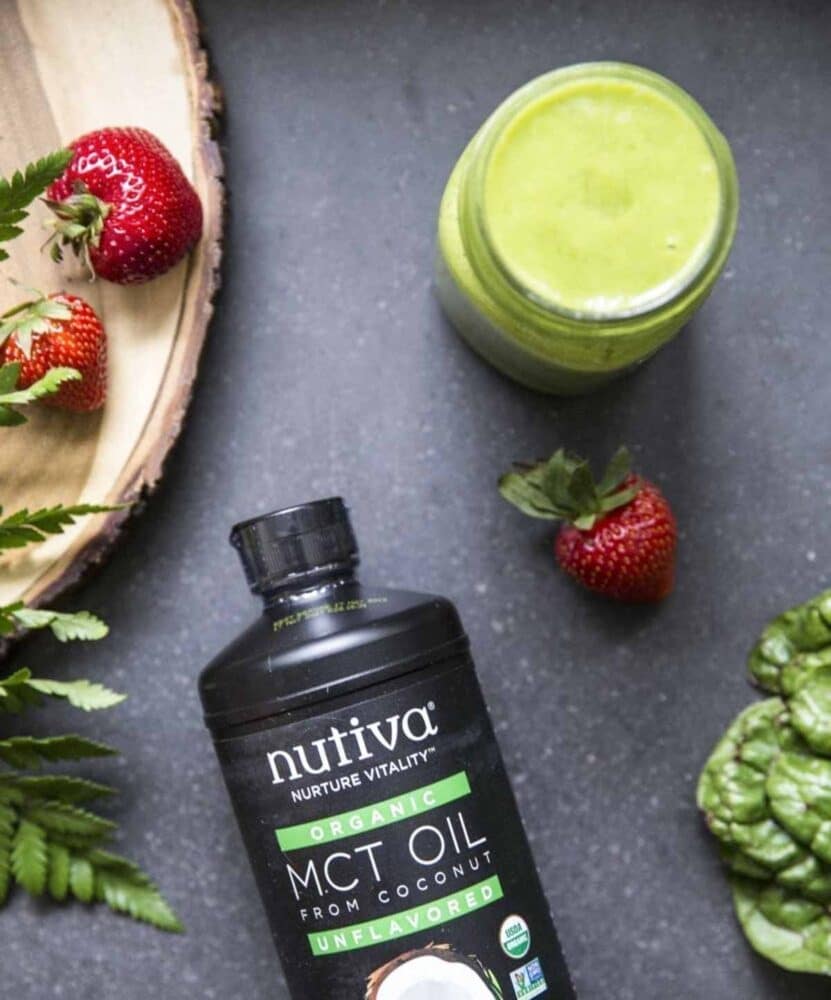 Research before you buy
Just like every superfood on the market, not all MCT oils are created equally. Here are few things I look for before buying a bottle:
Sustainably sourced is the best MCT oil
Many MCT oils come from a mixture of palm and coconut oils, and are not always environmentally friendly. If your MCT oil contains palm oil, then make sure it's sustainably sourced, as well as fair trade. I buy my MCT oil from Nutiva—not only 100% derived from organic coconuts, but this company also supports and invests in their coconut farming communities. They give a portion of their sales away to programs that support sustainable agriculture.
Minimal chemicals in processing
Some MCT oils will use harsh chemicals (like hexane) during the extraction process. I don't need a side of chemical residue in my smoothie! So definitely research how your oil is derived—you don't want any harsh chemicals, filler oils, or additives involved. Less expensive often= more cheaply made, so quality reigns when buying.
Types of fatty acids MCT oil contains
Look for MCT oil that contains caproic, caprylic, and/or capric acid. If it contains high amounts of lauric acid, skip it. Like I said earlier, lauric acid has its own benefits, but better to get it directly from coconut oil.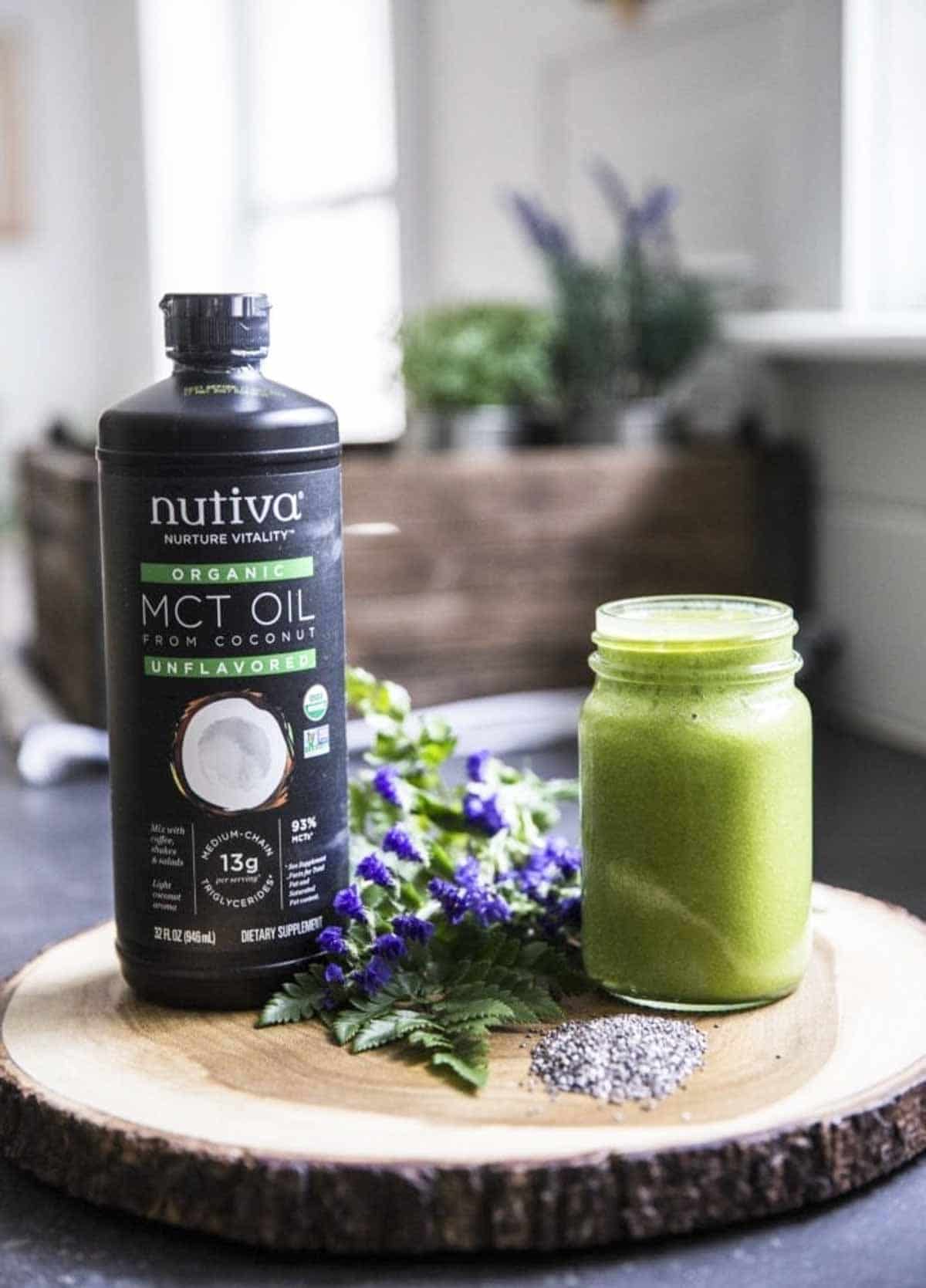 How to use MCT oil
There are so many ways, yet the key is to start with a SUPER small amount! This stuff is potent and can cause some serious diarrhea if you take too much. Yep, I just said that. When it comes to using it, here are my personal favs:
Put it in your coffee: I put 1 teaspoon in my coffee every morning. Combined with 2 tablespoons grass-fed butter, this Rawkstar Coffee (as I like to call it) keeps me full + energized until my mid-morning green smoothie.
Add it to your smoothies: MCT oil benefits that smoothie in SO many ways. Don't like the taste of coconut oil? Then try this out instead!
Add it to salad dressing: When making an olive oil-based salad dressing, swap out some of the olive oil for MCT oil. It also works great in salad dressings that have apple cider vinegar in them (talk about a double health boost!).
Pro tip: If you add in 1 tsp of MCT oil and 2 tbs chia seeds to any of our classic green smoothie recipes, you can instantly transform it into a meal replacement green smoothie. If you're looking for a starter smoothie to soak up those MCT benefits, then try out this digestion boost smoothie below.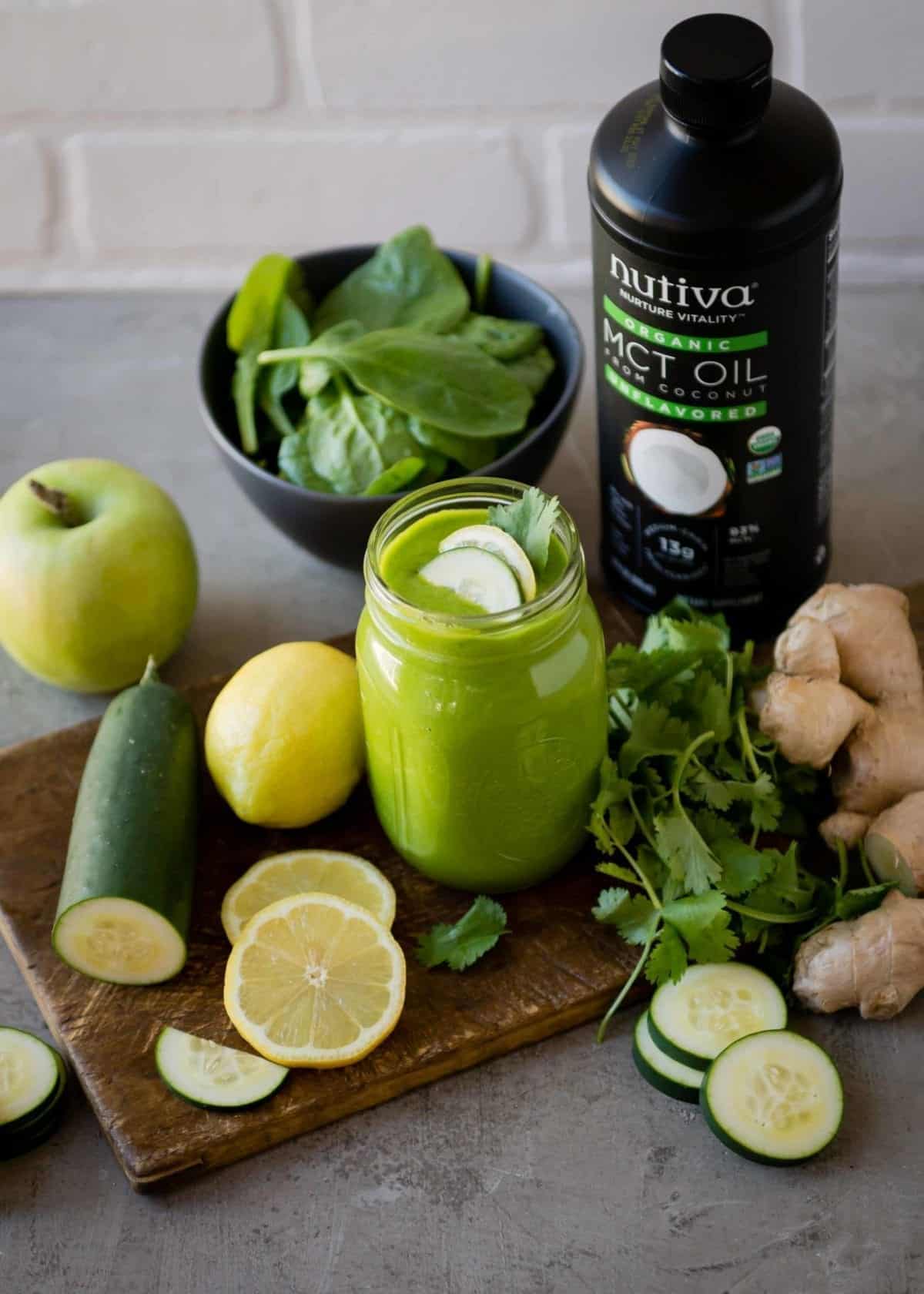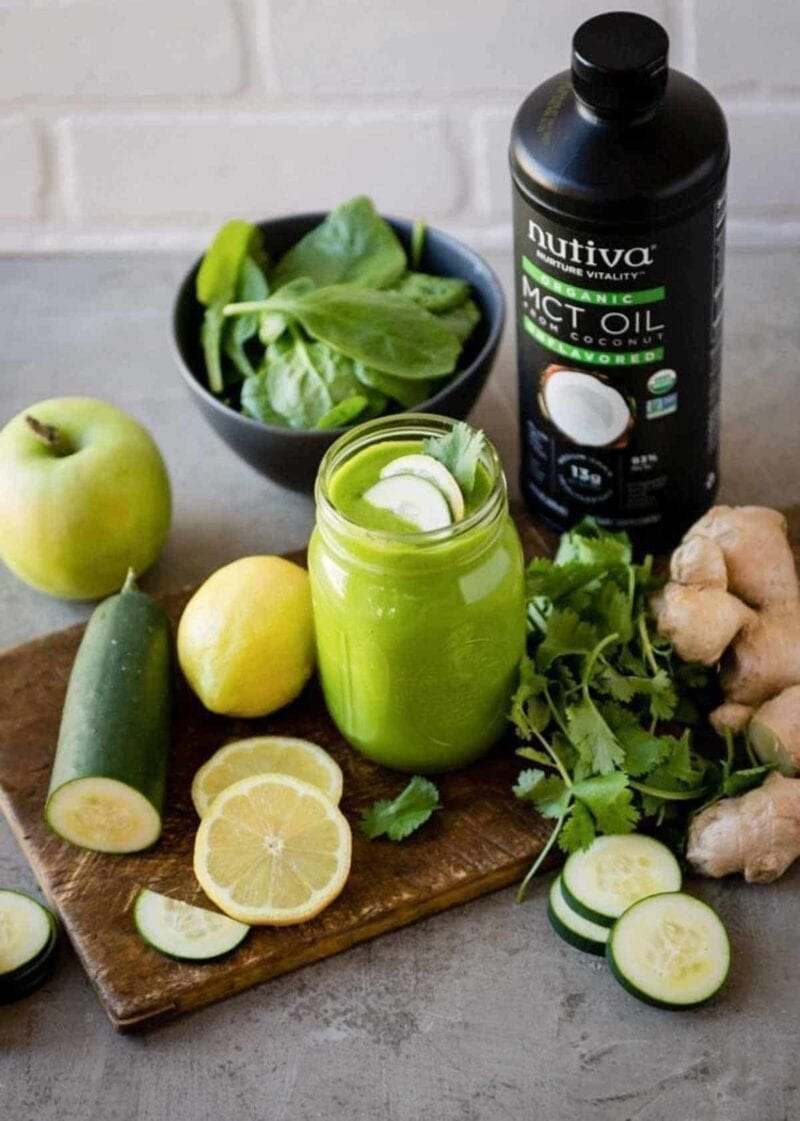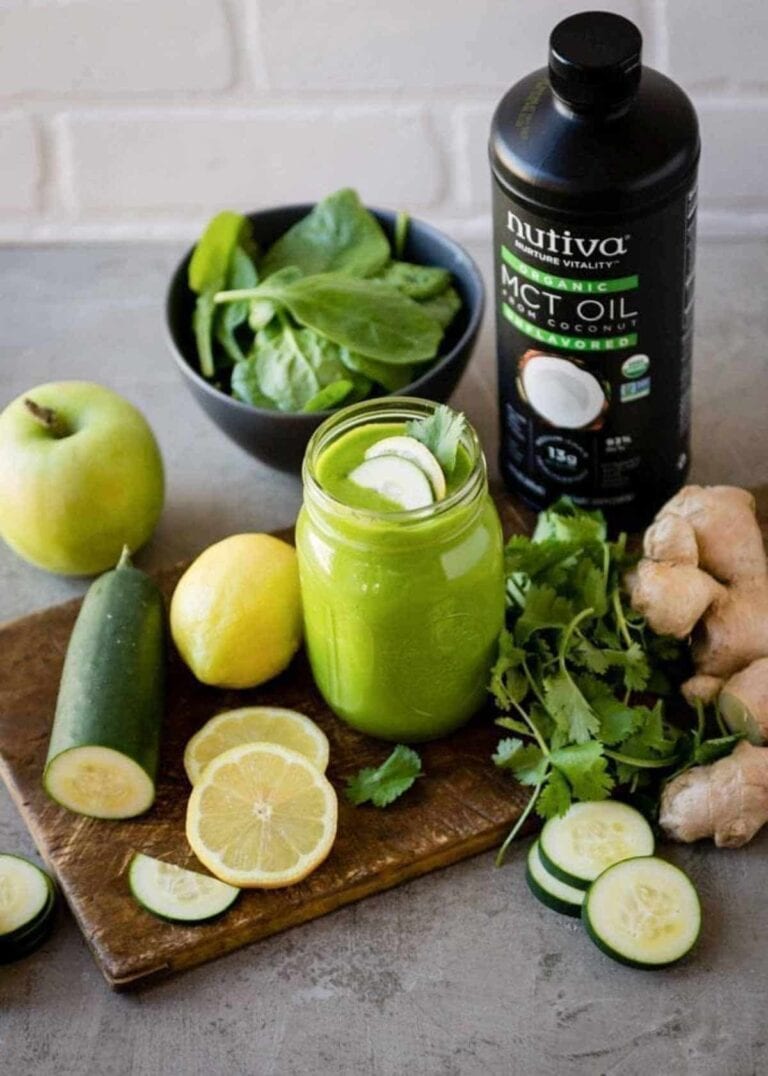 MCT Oil Smoothie
A refreshing mct oil smoothie made with fresh veggies and fruit, with a hint of ginger + cilantro to jump start your morning and activate your digestive system.
Ingredients
1

cup

spinach

2

tbsp

cilantro

fresh

2

inch

ginger root

½

cup

water

1

cup

cucumber

diced + peeled

1

apple

green, cored + peeled

1

tbsp

lemon

juice

1

tsp

MCT oil

1

serving

homemade protein powder

optional
Instructions
Blend spinach, cilantro, ginger, and water, until smooth.

Add cucumber, apple, lemon juice, and MCT oil, blend until smooth.

Pour into glass and enjoy!
Notes
Start with 1 teaspoon MCT oil and work your way up to the full 3 teaspoons. Seriously, this stuff is powerful!
To make this smoothie cold, serve over ice.
Nutrition
Calories:
175
kcal
,
Carbohydrates:
33
g
,
Protein:
2
g
,
Fat:
5
g
,
Saturated Fat:
5
g
,
Polyunsaturated Fat:
1
g
,
Monounsaturated Fat:
1
g
,
Sodium:
36
mg
,
Potassium:
621
mg
,
Fiber:
6
g
,
Sugar:
22
g
,
Vitamin A:
3062
IU
,
Vitamin C:
28
mg
,
Calcium:
66
mg
,
Iron:
1
mg