Now, before you get your happy hour on, this 'cocktail' is more of a mocktail, yet is still a fun blended beverage! An adrenal cocktail contains three simple ingredients and can provide natural support for those of us carrying around a little or a lot of stress.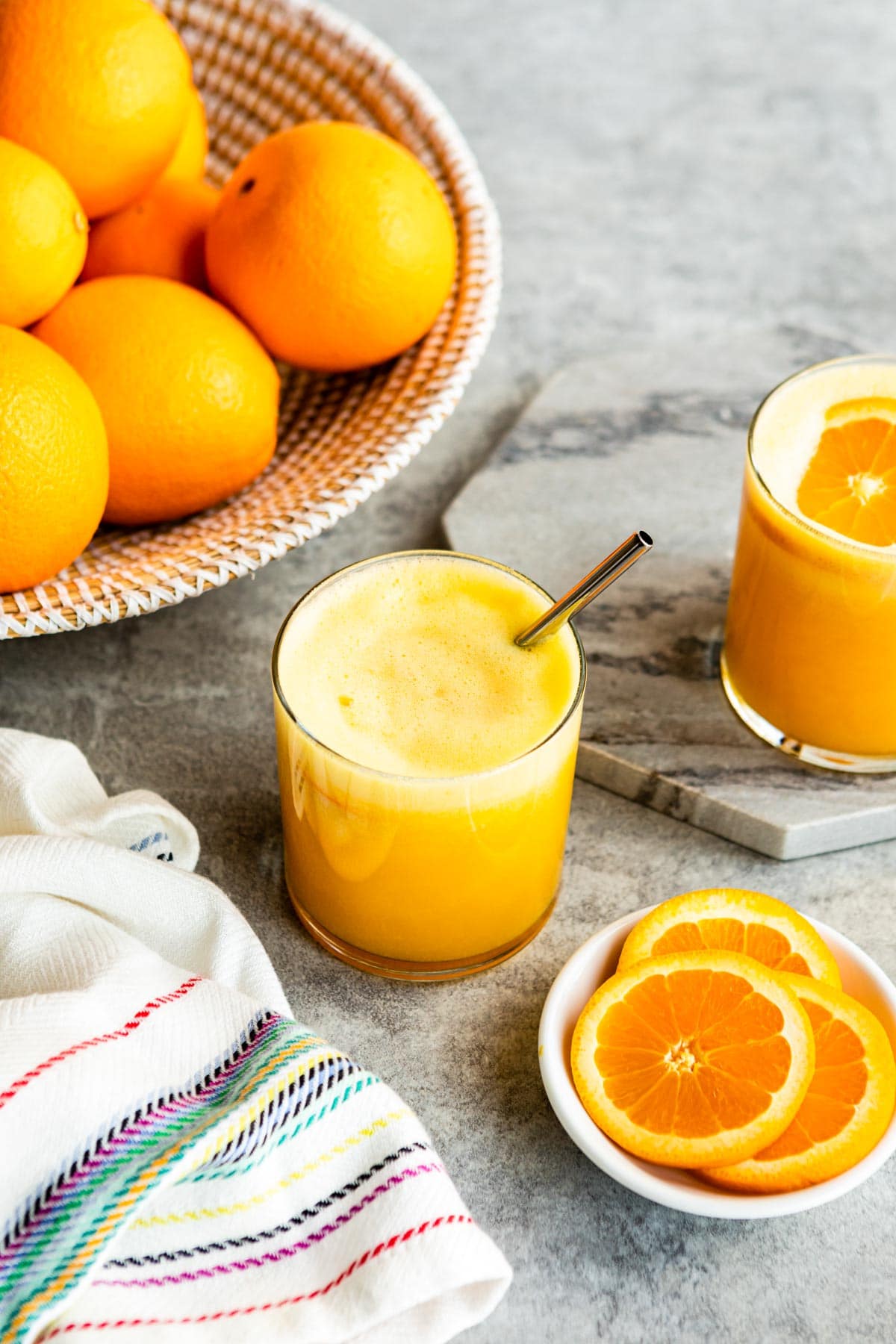 As a young mom juggling family, a job and a cross country move, I de-stressed with caffeine, carbs and sugar. No wonder I never actually felt better!
The more I learned about the power of real, whole food, the more I started reaching for more natural remedies like this unique orange beverage.
Table of Contents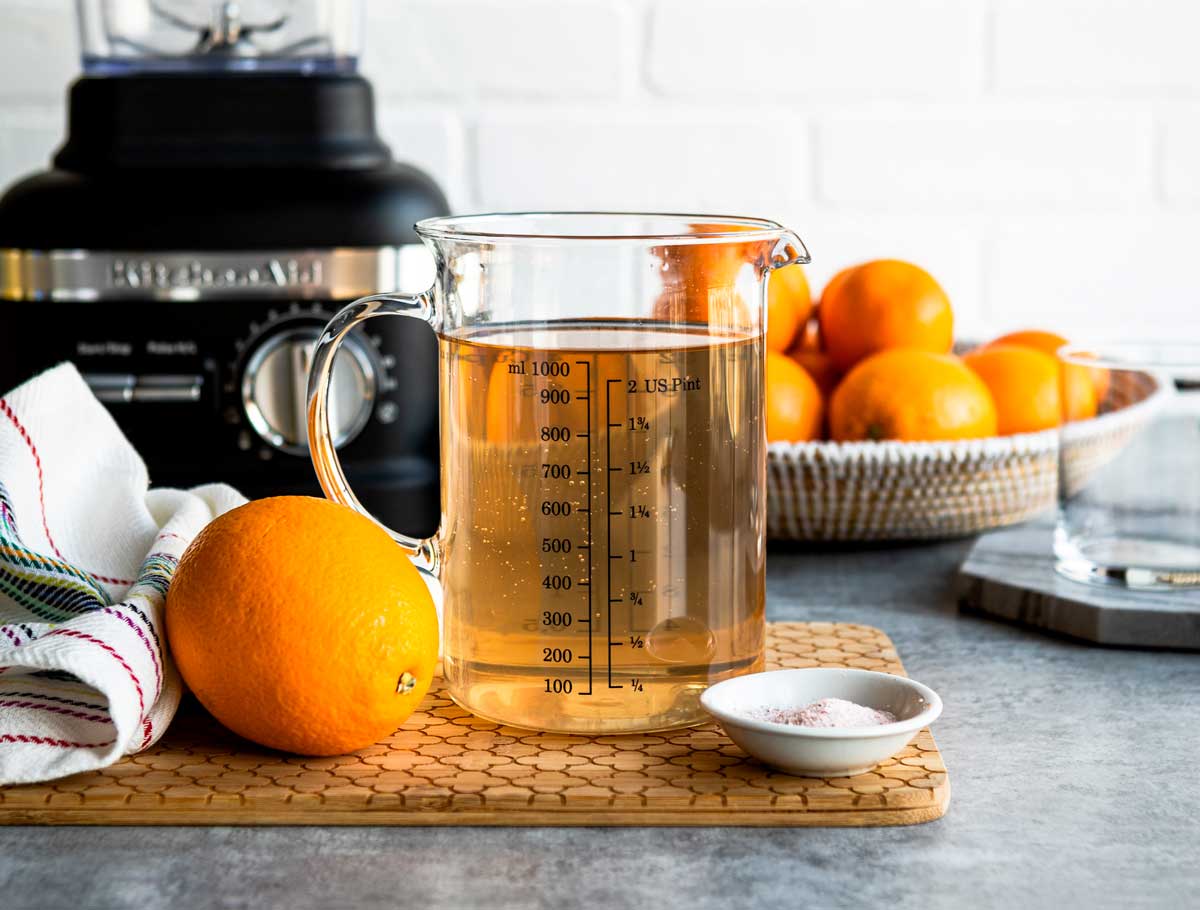 What is an Adrenal Cocktail?
The adrenal glands sit on top of your kidneys and are super important! This simple orange beverage uses nutrient-dense ingredients to provide the vitamins and minerals our bodies burn through when we are in a constant state of stress: potassium, sodium and vitamin C.

I'm not here to tout magical claims about this elixir, yet I do believe in the power of plants, and I'm 100% on board with helping my body destress naturally.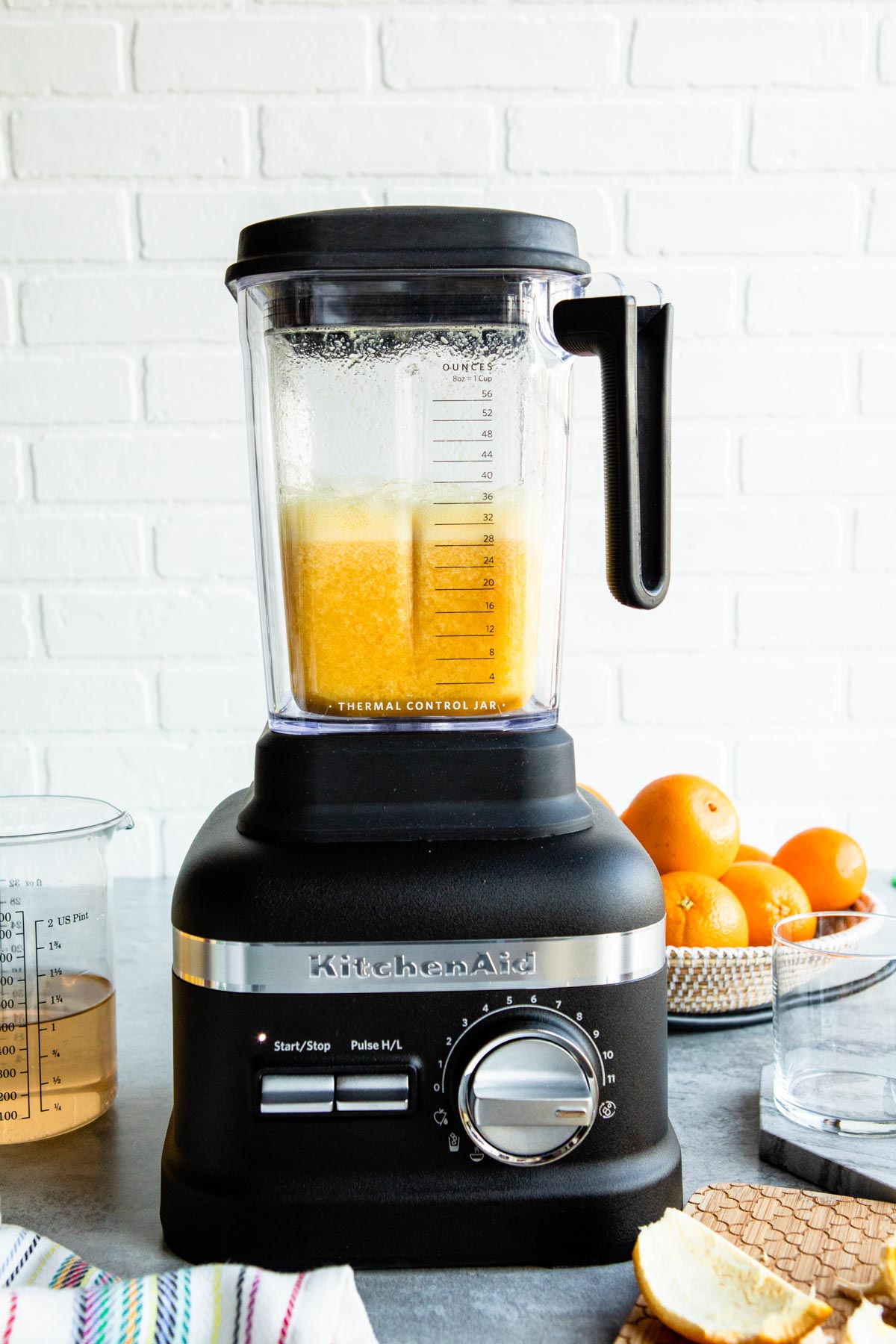 When to Make an Adrenal Mocktail
If you experience a moderate to large amount of stress in your day to day life, then this adrenal cocktail, or my adrenal smoothie, can replenish the nutrients your body is using at a fast rate. You can gain natural energize for the day by drinking this simple beverage.
View it as a morning or mid-afternoon drink that won't cause the crash or anxiety from caffeinated beverages.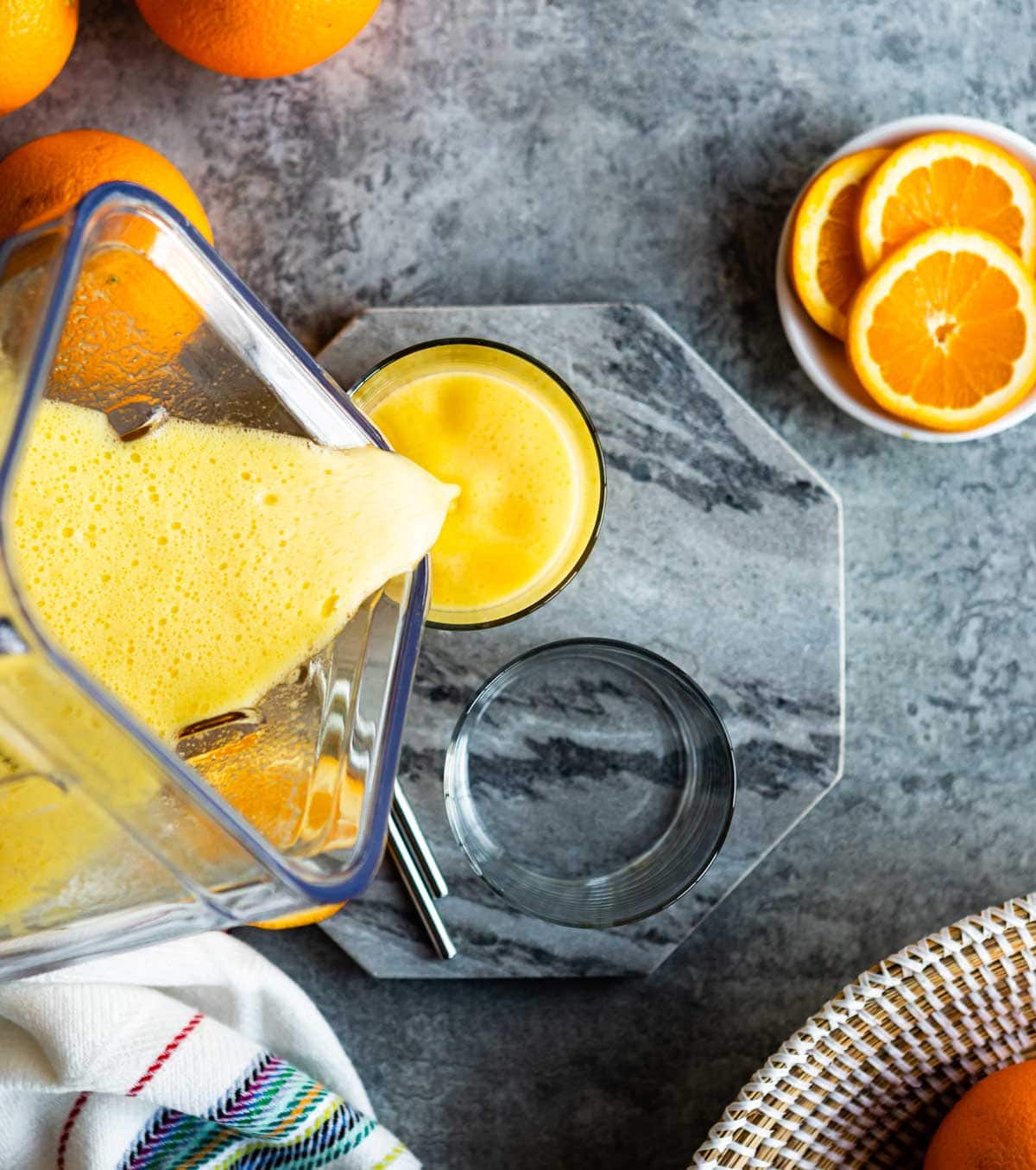 Recipe Variations
Since this 'cocktail' focuses on boosting your potassium, vitamin C and sodium levels, then you can swap in any of the following to make this drink your own:
Vitamin C- 100% orange juice or any other citrus fruit you desire to fresh squeeze, tart cherry juice also works
Potassium- aloe vera juice, water with a pinch of cream of tartar
Sodium- Regular sea salt, Celtic salt
Protein- If a blood sugar spike concerns you, then be sure to add a homemade protein powder when blending.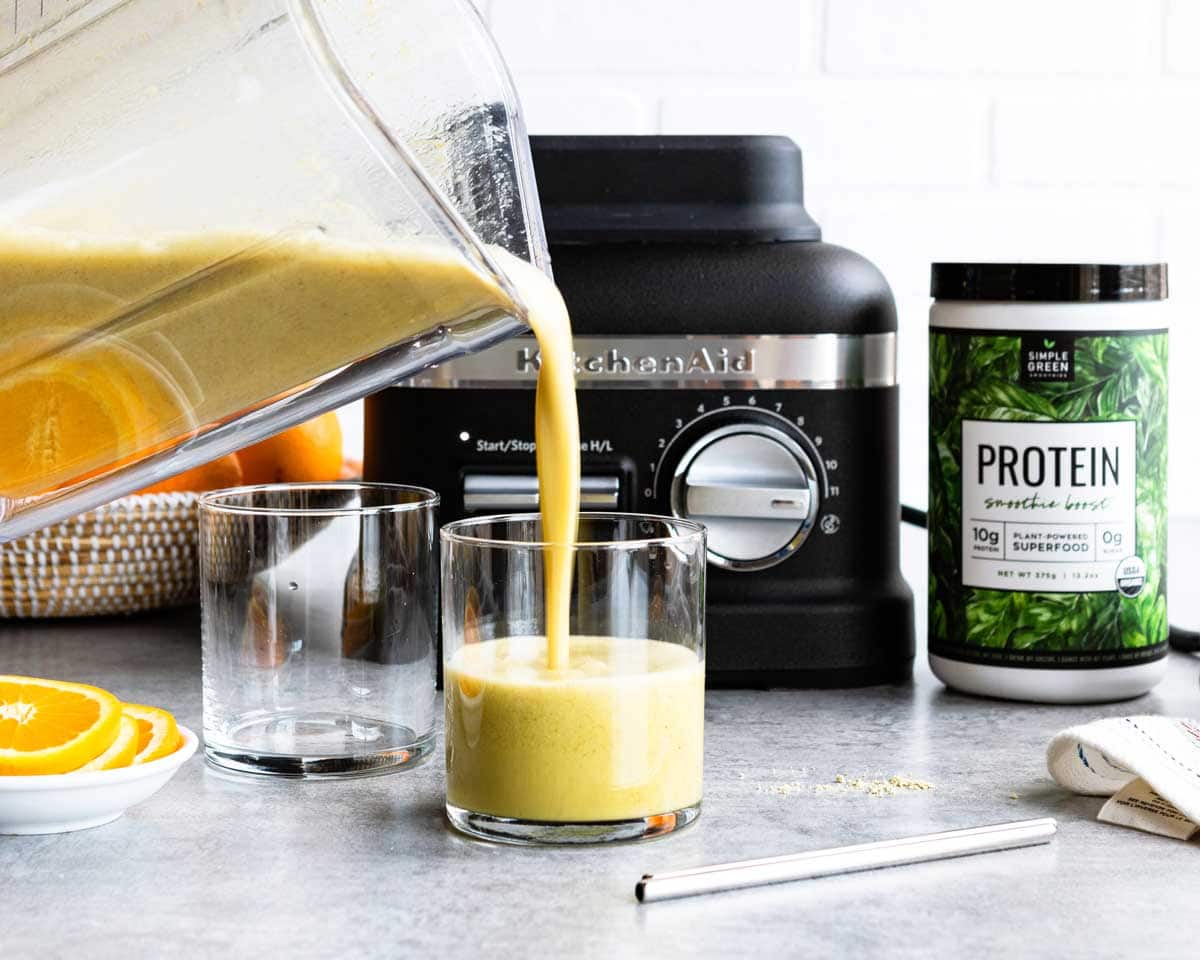 Adrenal Cocktail FAQs
What is an adrenal cocktail?
This is a three-ingredient drink that you blend together for a boost of potassium, sodium and vitamin C. These are three nutrients that the adrenal gland processes in high doses when the body experiences stress.
When should you drink an adrenal cocktail?
This beverage can feel energizing without caffeine, so drink this in the morning or afternoon for a good, clean rush of energy.
How often should you drink an adrenal cocktail?
Be sure to drink this with a balanced meal or snack so that you don't have a sugar crash (if that's a concern for you). Feel free to consume on a regular basis if you find it brings you energy! You can also add in a protein like hemp protein to your adrenal cocktail to help balance the natural sugar.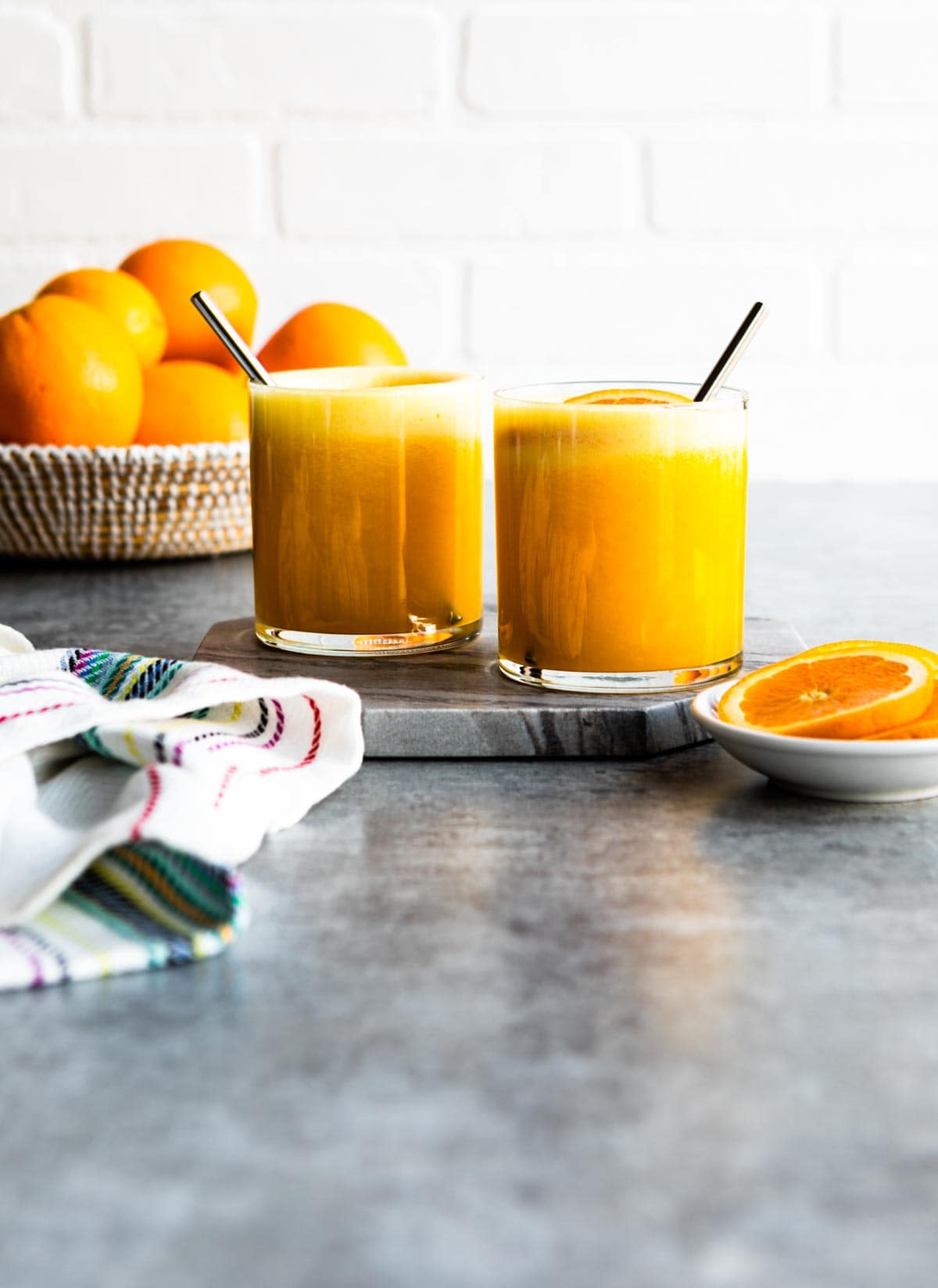 More Natural Remedy Drinks
I love 'taking supplements' in the form of nourishing drinks made from real plants. I'm not much for synthetic versions of vitamins and minerals when I can get the real stuff, yet I def believe in the healing power of plants. Here are a few remedies I keep on hand to give my body what it needs, when it needs it:
Would you review and rate this recipe once you make it? I'd love to hear how it turns out for you.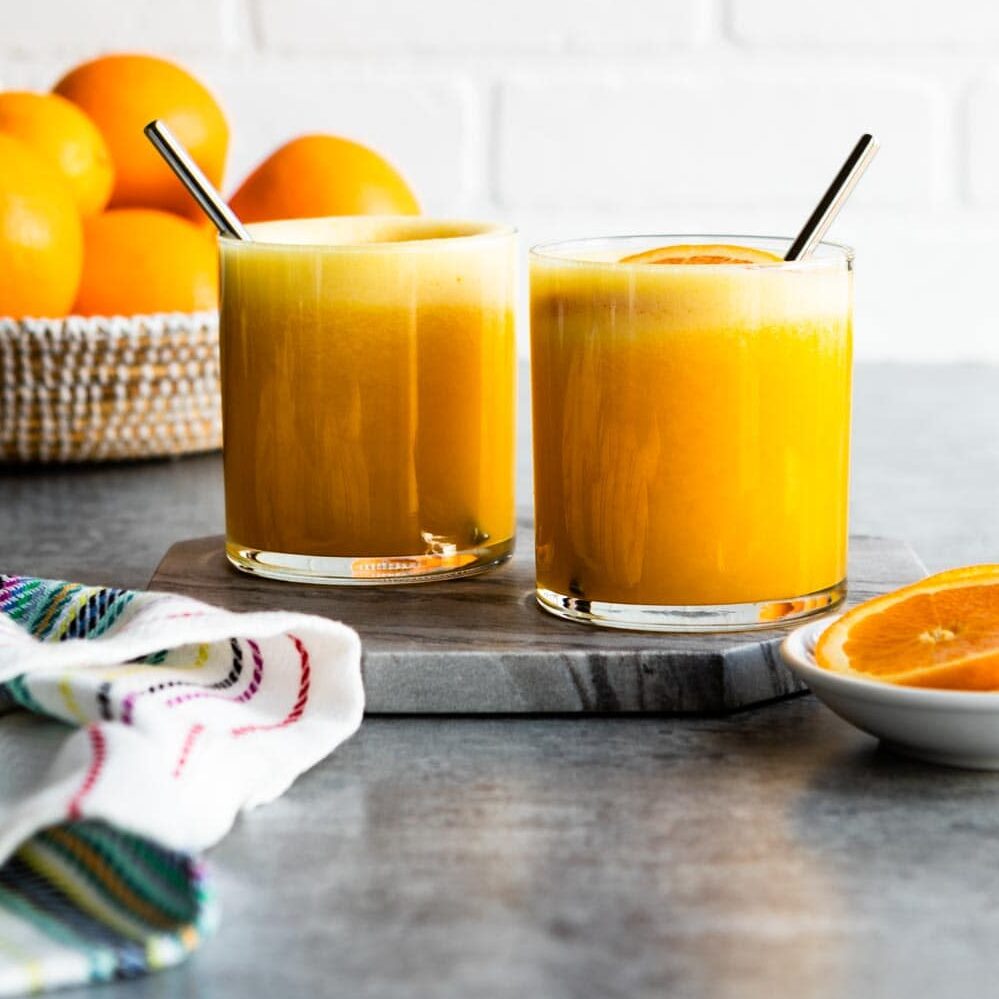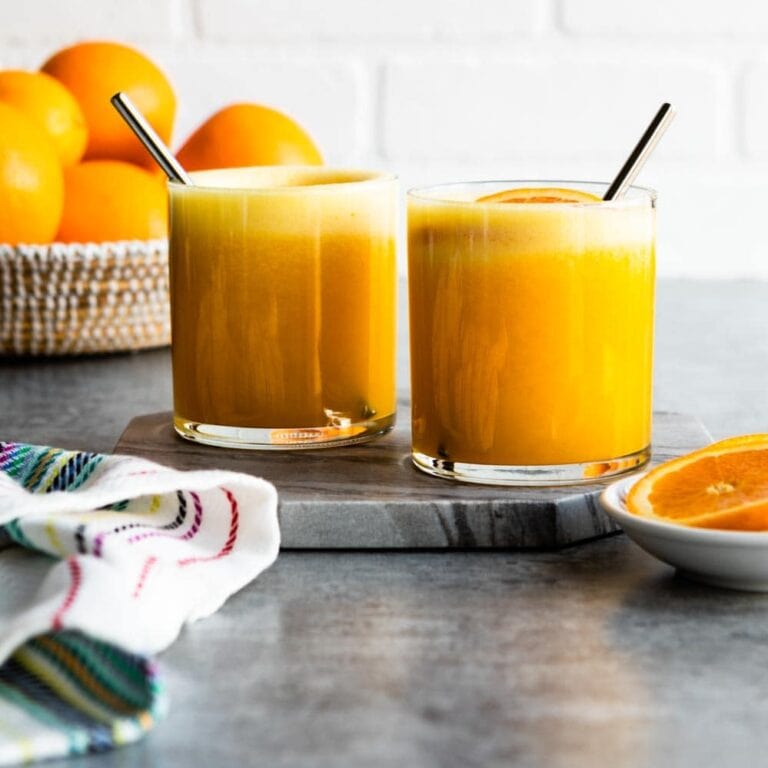 Adrenal Cocktail
When you find your adrenal system working in over drive (rising blood pressure, increased heart rate, feelings of anxiety) drink my adrenal cocktail to naturally reset. This calming beverage uses plants to provide a vitamin C, potassium and sodium boost.
Ingredients
2

cups

coconut water

unsweetened and chilled

2

oranges

peeled

¼

tsp

pink Himalayan sea salt

½

serving

homemade protein powder

optional
Instructions
Place all ingredients into a blender. Puree until smooth.

Pour into glasses and serve immediately. If desired, serve over ice.
Notes
If you've got a high-powered blender, you can leave some of the white pith on the oranges. If using a standard blender, then remove that for the smoothest result.
You can swap the pink Himalayan sea salt for the sea salt of your choice.
The 2nd serving can be refrigerated overnight, just give it a good shake before drinking. 
Adding a plant-based protein powder to this beverage will help balance out the natural sugar from the orange.
Nutrition
Calories:
107
kcal
,
Carbohydrates:
24
g
,
Protein:
3
g
,
Fat:
1
g
,
Saturated Fat:
1
g
,
Polyunsaturated Fat:
1
g
,
Monounsaturated Fat:
1
g
,
Sodium:
543
mg
,
Potassium:
837
mg
,
Fiber:
6
g
,
Sugar:
19
g
,
Vitamin A:
295
IU
,
Vitamin C:
75
mg
,
Calcium:
110
mg
,
Iron:
1
mg