I love oatmeal for breakfast yet sometimes I don't have to to wait for it to cook. So I'm taking everyone's staple breakfast and turning it into a filling banana oatmeal smoothie loaded with all the flavors you love in the morning as well as natural energy to get you through your day.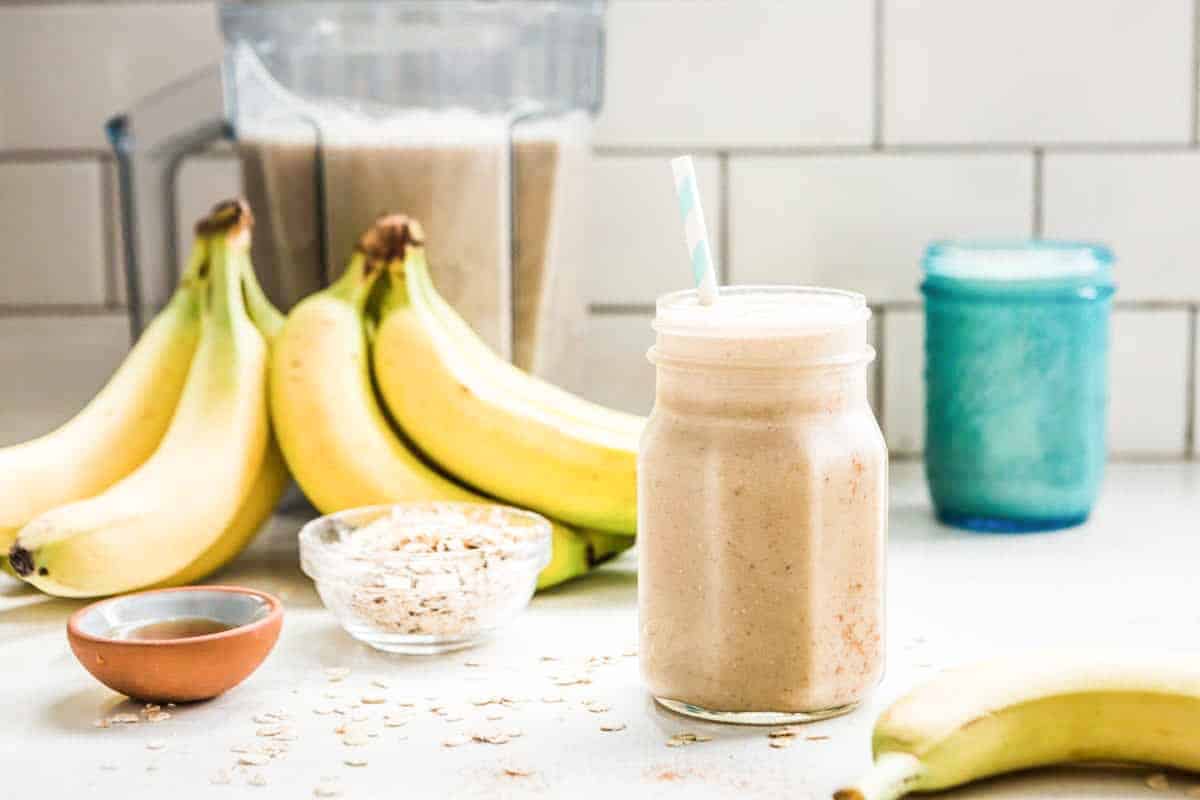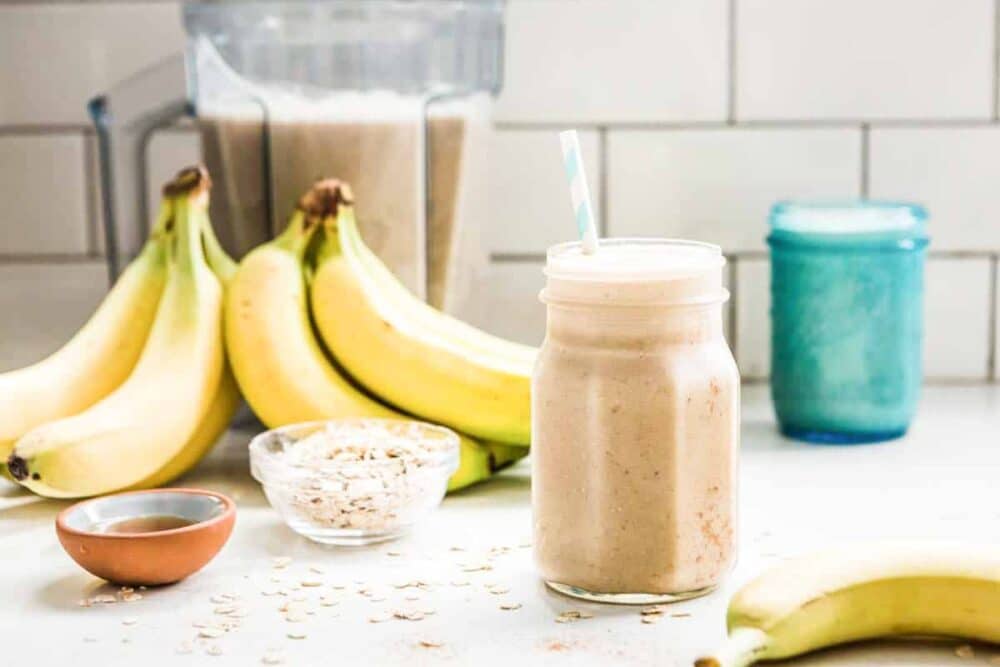 Start your morning off nourished with a thick and creamy banana oatmeal smoothie. It tastes like a cozy, delicious oatmeal cookie! Using plant-based wholesome ingredients like oatmeal, bananas, cinnamon and coconut milk, this smoothie is the ultimate 'fast food' breakfast.
Table of Contents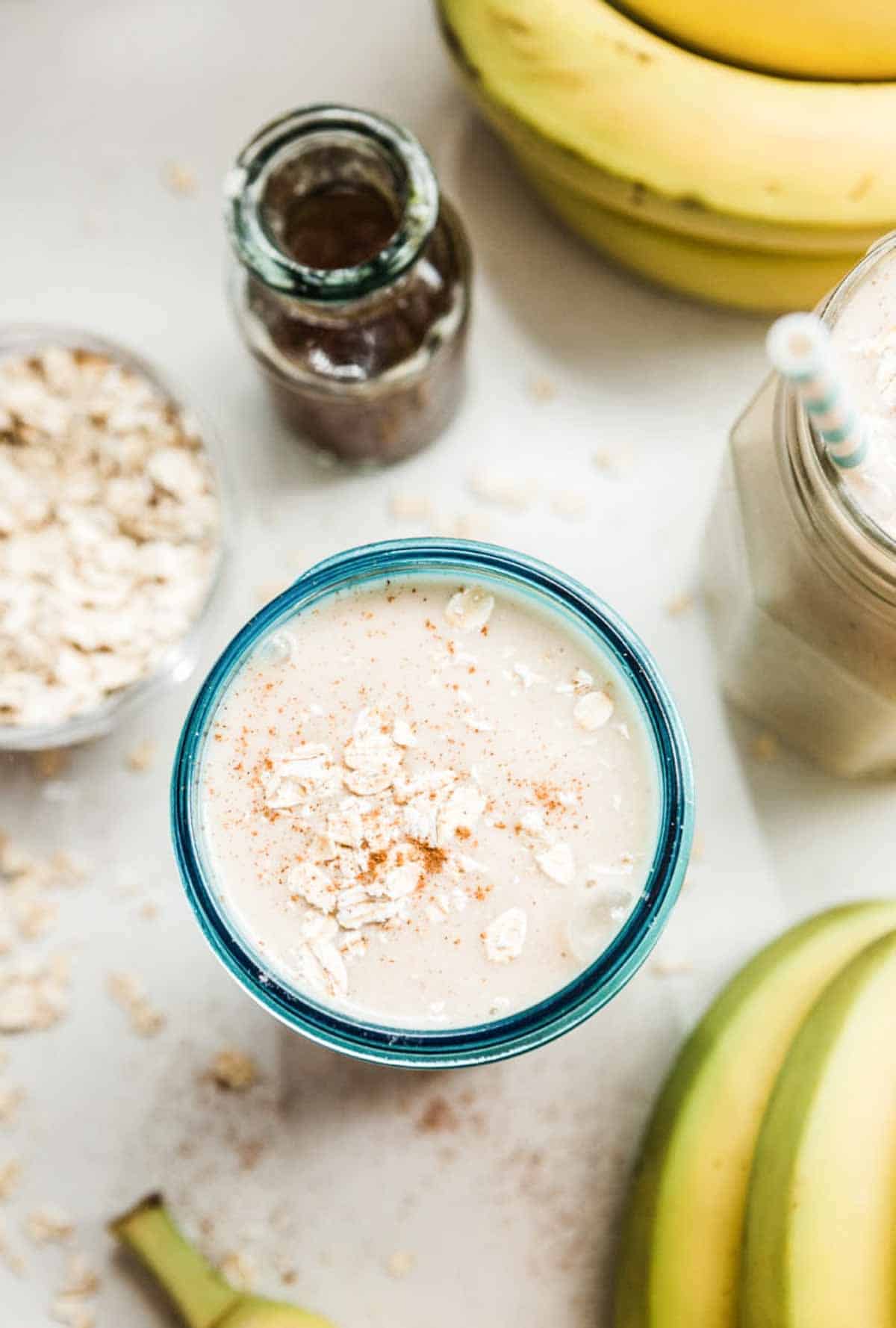 Is it Good to Have a Smoothie for Breakfast?
A smoothie loaded with wholesome and nutritious ingredients is perfect for breakfast. That's the key—you need fiber, protein and healthy fats to satisfy, as well as fill you up for hours.
Starting your day off with a smoothie helps get your digestive system moving, provides your body with clean, usable energy, and when that smoothie is balanced, helps you avoid the mid-morning sugar crash that comes with a carb-heavy breakfast option.
This banana oatmeal smoothie contains banana (shocker!), though the natural sugar from the banana is nicely balanced by the oatmeal and coconut milk to help the body slowly and evenly burn the carbs. #nosugarcrash
Can You Put Oatmeal in a Smoothie?
Yes, you can put oatmeal in a smoothie! You get all the benefits of a bowl of oatmeal, yet in a smoothie form. Oatmeal is loaded with fiber, which boosts the good bacteria in your gut. Whether you need an on-the-go breakfast or you crave a refreshing sippable morning meal, this delicious banana oatmeal smoothie is a great option.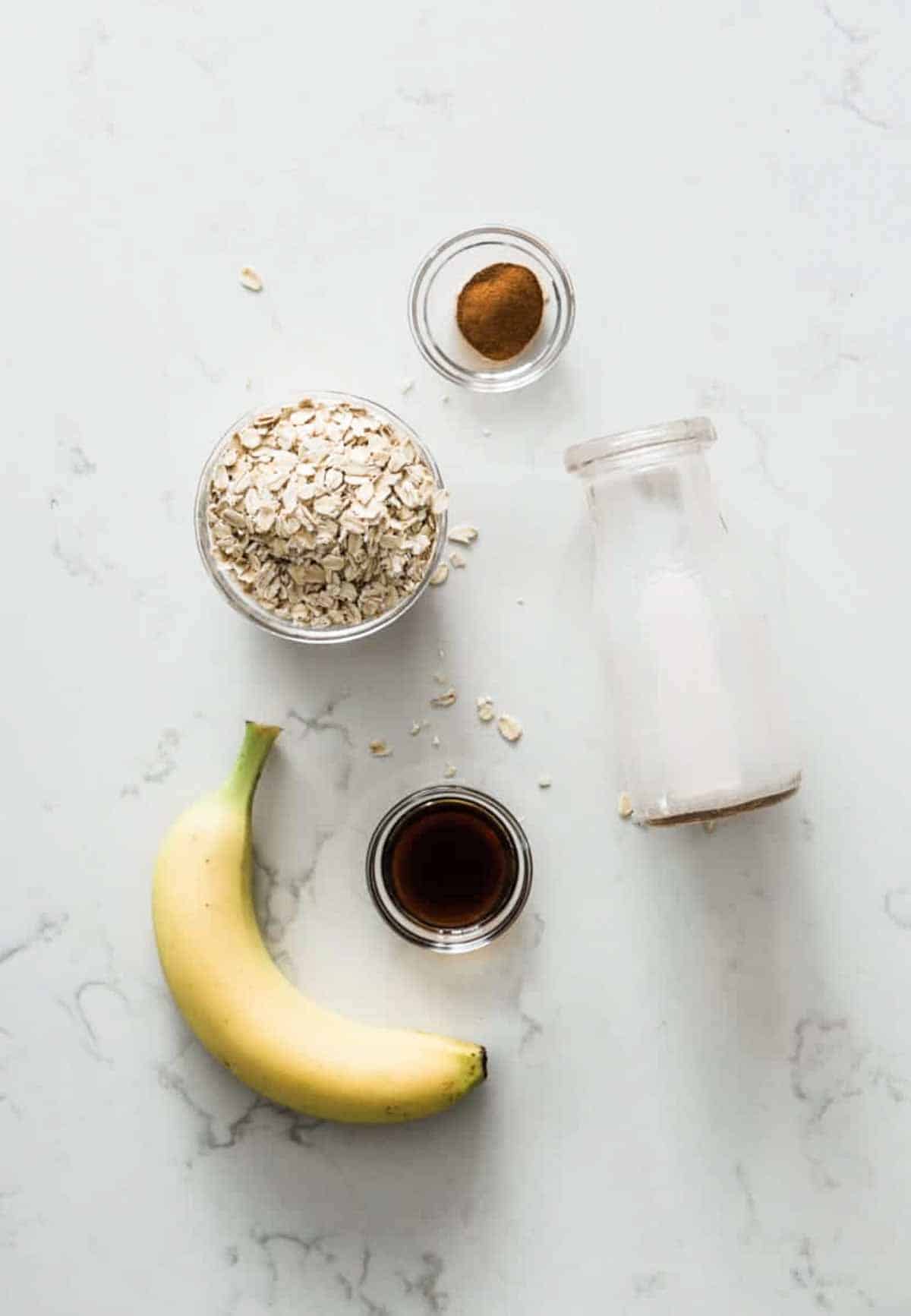 Health Benefits of a Banana Oatmeal Smoothie
All of the wholesome ingredients in this oatmeal smoothie come together for a healthy and nutritious drink that both benefits your digestive system and boosts your heart health. Aside from the irresistible oatmeal cookie flavors, this banana oatmeal smoothie provides 3 key benefits:
Rich in fiber
While we all know fiber is a good thing, do we know if we're getting enough fiber each day? According to the US Library of Medicine, only 5% of Americans are getting enough fiber each day. That's why smoothies are such an important addition to your diet! Blended fruits and veggies give you a great fiber boost to aid in digestion, as well as help keep you regular.
One serving of my banana oatmeal smoothie gives you almost 20% of the recommended daily intake of fiber. So blend up and drink up–your body will thank you later.
A banana oatmeal smoothie with healthy fat
I know, fat isn't always seen as a good thing. Yet hear me out; your body actually needs healthy fat in order to process your food properly. Without fat, the body does a poor job digesting food, converting carbs into energy, absorbing fat soluble nutrients like vitamins A, D, E, and K… which are vitally important. For a creamier smoothie use full-fat coconut milk. For a less creamy smoothie, use a homemade coconut milk, or one you can find in the refrigerated section of your local grocery store.
A naturally low sugar breakfast option
Many quick breakfast options are loaded with extra sugar. While that might make you feel a rush of morning energy, it's just not sustainable for a busy day. Instead, this banana oatmeal sweet talker with a straw has less than 20 grams of sugar per serving, and balances out that sugar with healthy fat from the coconut milk + fiber from the oatmeal. These ingredients help the body break down the natural sugar, then turn it into usable energy.
Want to help your blood sugar even more? Use a plant-based protein powder, like my homemade protein powder, to give this smoothie an extra 10 grams of protein + 4 grams of healthy fat. This superfood blend helps keep you full longer, as well as provides more energy.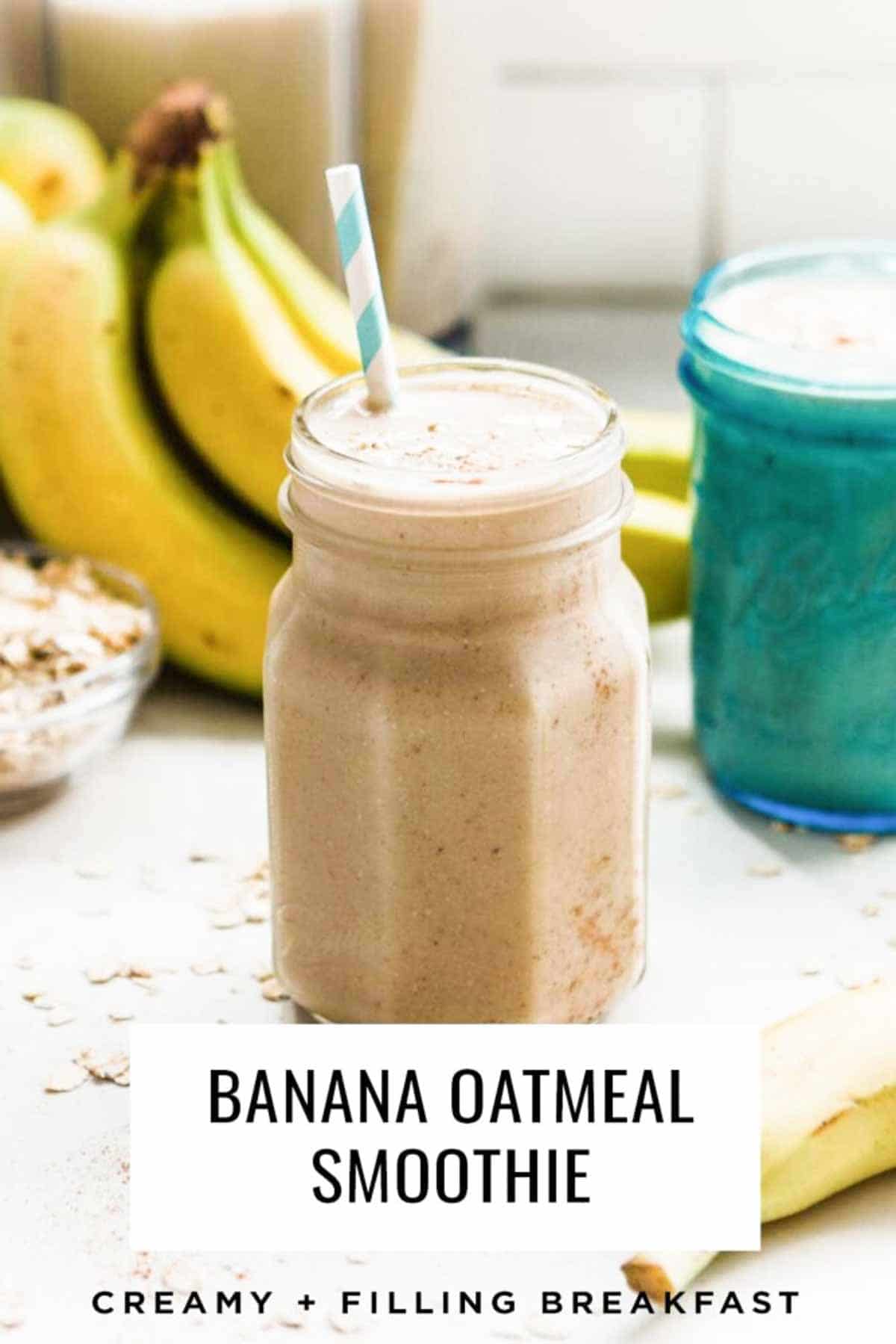 More Plant-Based Oatmeal Recipes
Will you rate + review this smoothie once you've made it? Your feedback is so valuable!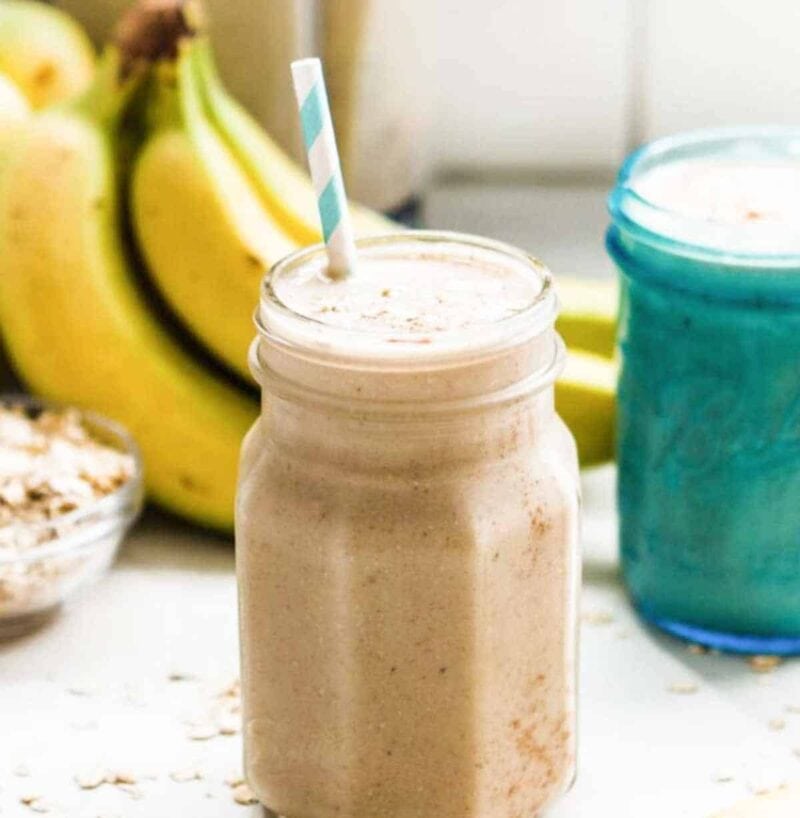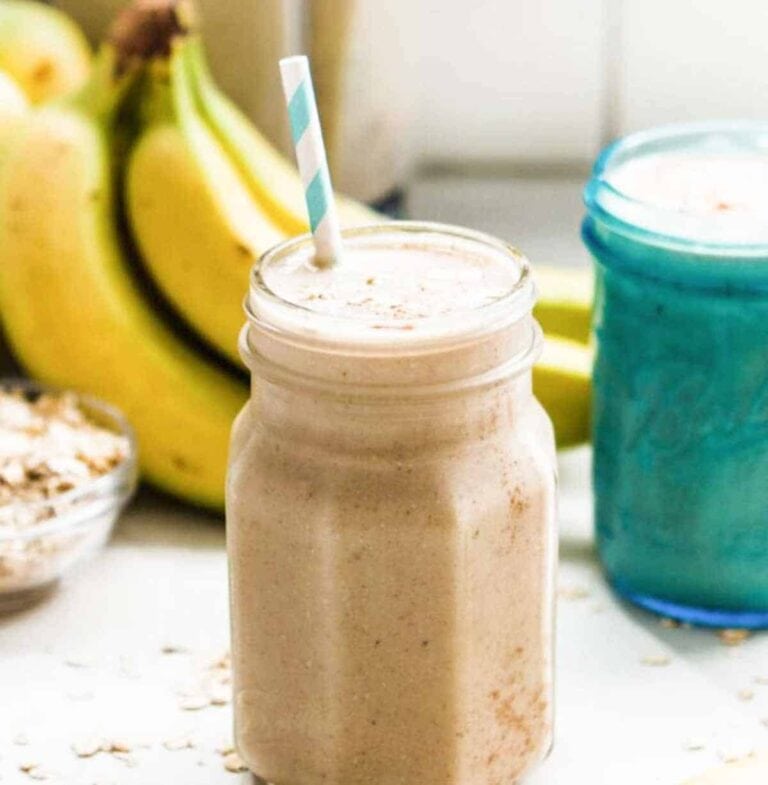 Banana Oatmeal Smoothie
Deliciously creamy, with hints of vanilla and cinnamon. This simple oatmeal smoothie is a delicious plant-based breakfast. Naturally sweet, it makes a great dessert, too!
Instructions
Place all ingredients in blender.

Blend until smooth and creamy.

Pour into a glass and enjoy immediately.
Notes
If smoothie is too thick, add a little extra coconut milk and blend again.  For a thicker smoothie, add another 1/2 frozen banana.
With coconut milk, you can choose canned or refrigerated. Look for light versions if you're watching your calories. Or make your own coconut milk right here.
Use at least 1 frozen fruit for a refreshingly cool smoothie.
Nutrition
Calories:
449
kcal
,
Carbohydrates:
65
g
,
Protein:
7
g
,
Fat:
16
g
,
Saturated Fat:
14
g
,
Polyunsaturated Fat:
1
g
,
Monounsaturated Fat:
1
g
,
Sodium:
171
mg
,
Potassium:
587
mg
,
Fiber:
8
g
,
Sugar:
17
g
,
Vitamin A:
78
IU
,
Vitamin C:
10
mg
,
Calcium:
41
mg
,
Iron:
2
mg