This blackberry smoothie recipe is the perfect way to start your day. Low in sugar, so you won't feel any sugar crash, and yet also perfectly light + sweet.
One of my favorite memories with my kids is picking blackberries along Spring Lake Highway. A handmade sign scrawled "Blackberries" called to us and we immediately pulled in. Todd Blackberry gave us a tour and buckets then we got to work.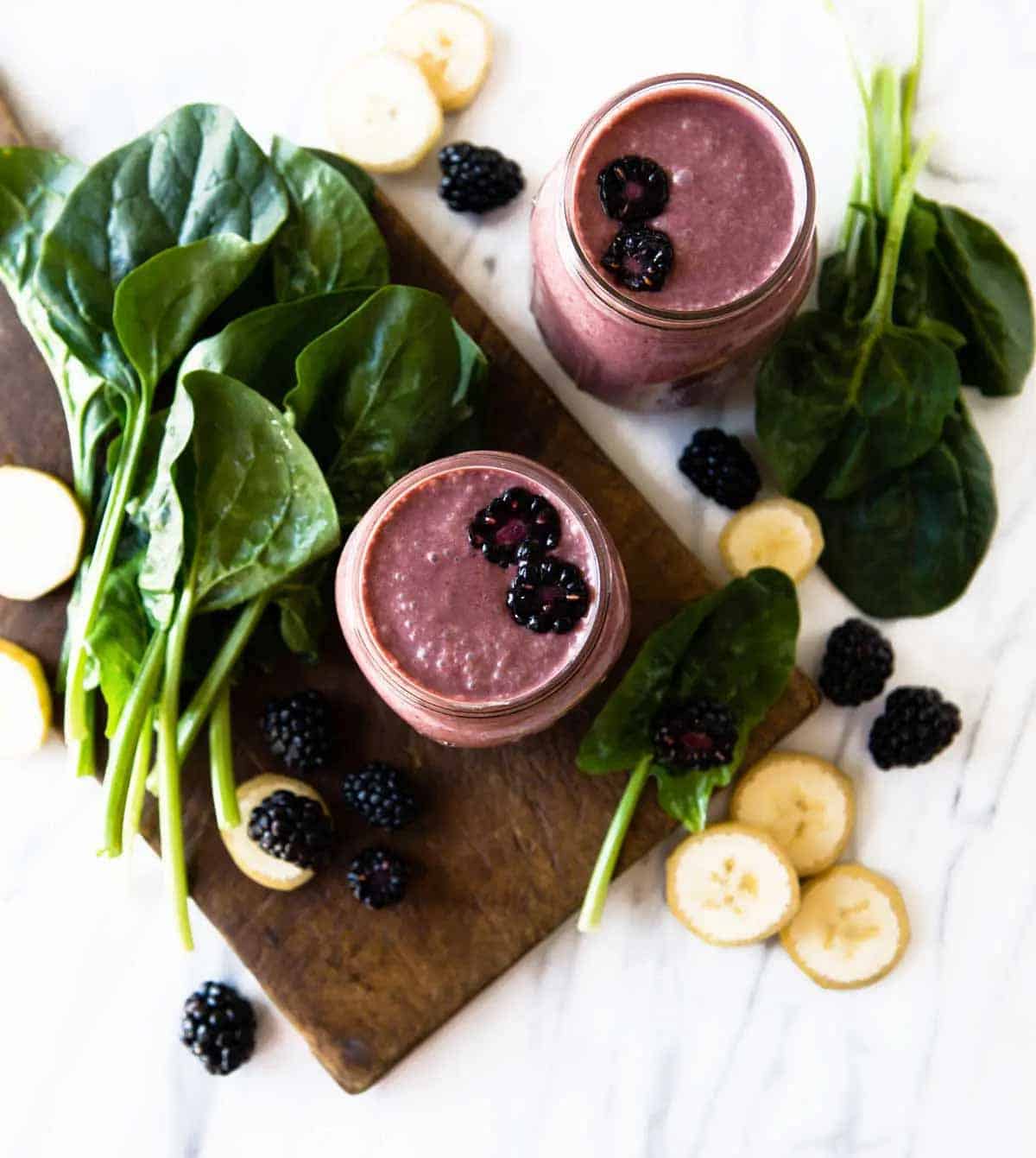 The large, juicy berries were calling to us and we did our best to avoid the thorns. I had no clue that blackberries grew on thorny bushes until I picked them that day.
Table of Contents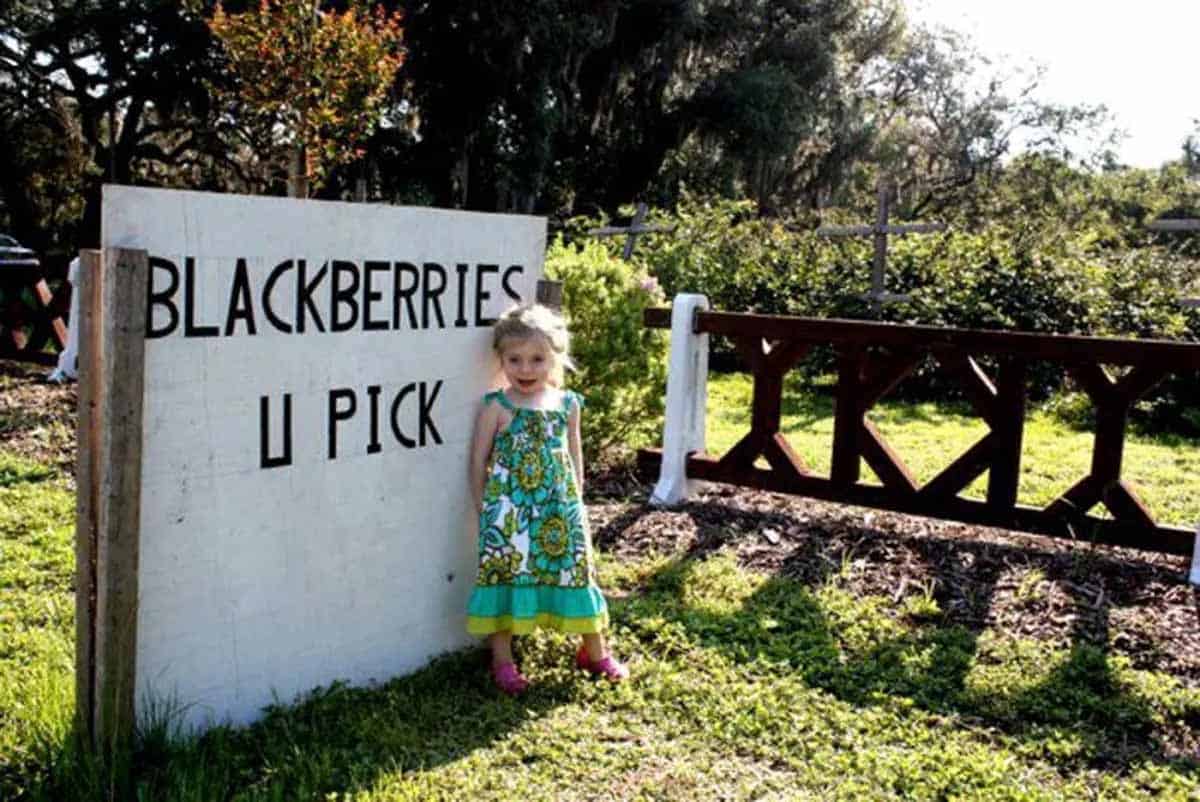 We definitely ate more than we took home that day! I still think of our blackberry picking day whenever I eat these beautiful summer berries.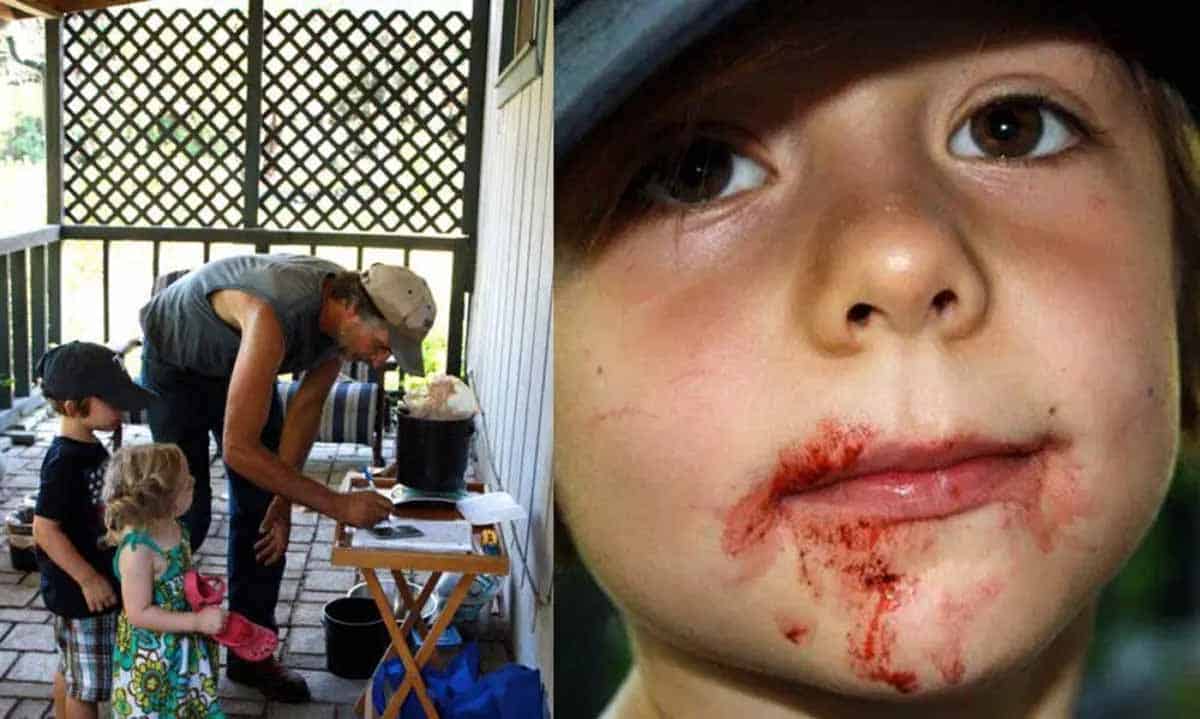 How to Make a Blackberry Smoothie
I'm keepin' it simple with this smoothie recipe. Only 4 ingredients to a super creamy and delicious creation. If you want a refreshingly cold smoothie, then either the blackberries or the bananas should be frozen.
To boost the protein and turn your blackberry smoothie into a filling breakfast, add in a scoop of plant based protein powder like homemade protein powder. This adds in 10 grams of protein as well as 4 grams of healthy fat which will help your body break down the natural sugar + fiber.
How to Pick the Right Coconut Milk for Smoothies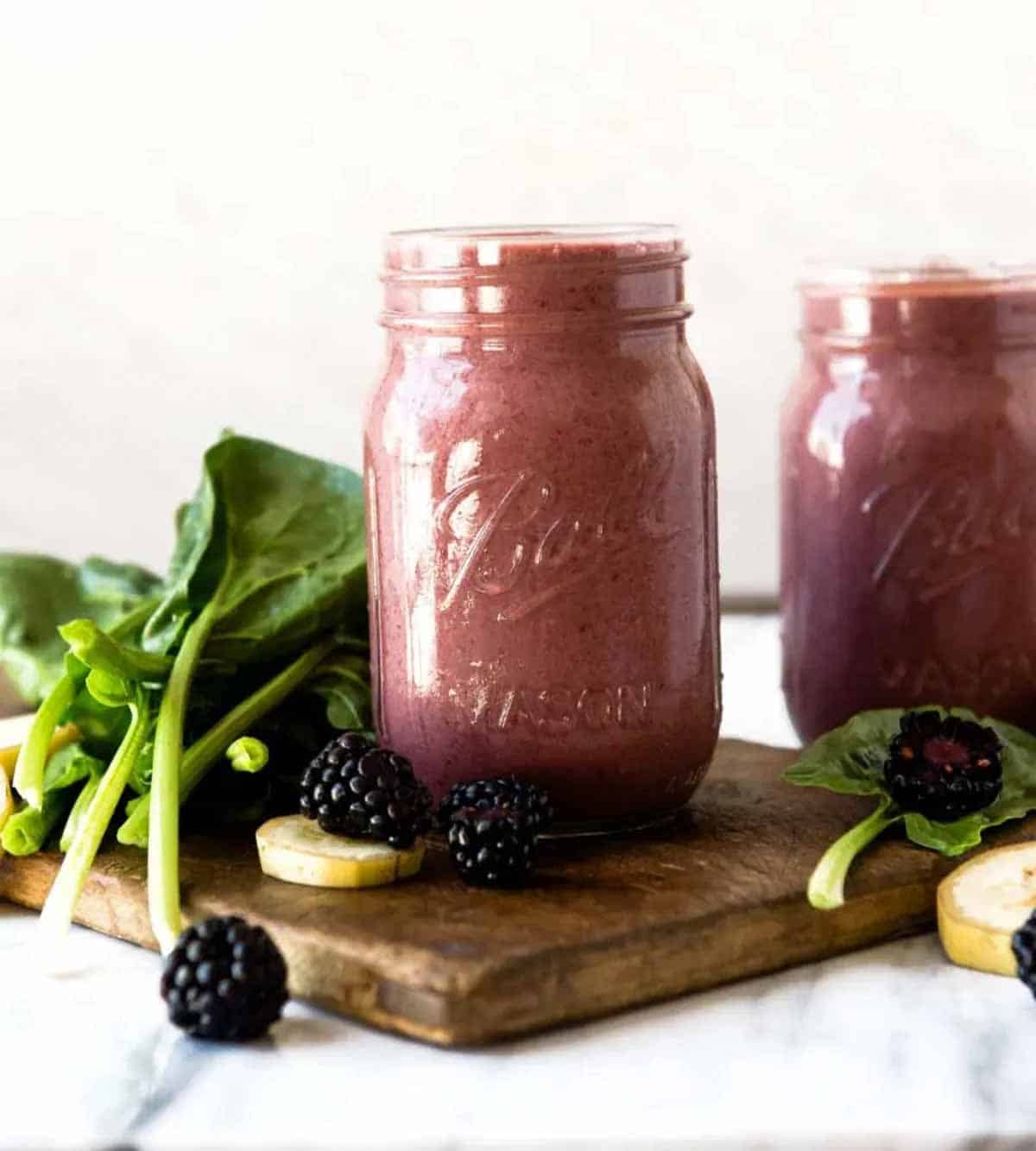 Did you know there are a few different kinds of coconut milk AND they all can be used in different ways? Let's break them down:
Canned coconut milk: comes in full fat and low fat versions that usually have the least amount of additives.
Shelf stable coconut milk: these typically have the most amount of additives, yet are super convenient.
Refrigerated coconut milk: The newest player in the world of coconut milk, also may contain a lot of additives and sweeteners to be wary of. Just make sure to read the labels and pick an option that doesn't have added sugars or a bunch of strange ingredients.
No matter what option you go with for this blackberry smoothie, you'll be okay. Don't stress out about messing up — the fact that you're giving this a shot is a great step! If you want a new challenge, then try making your own coconut milk! It would be a delicious addition to this blackberry smoothie.
Fresh vs Frozen Blackberries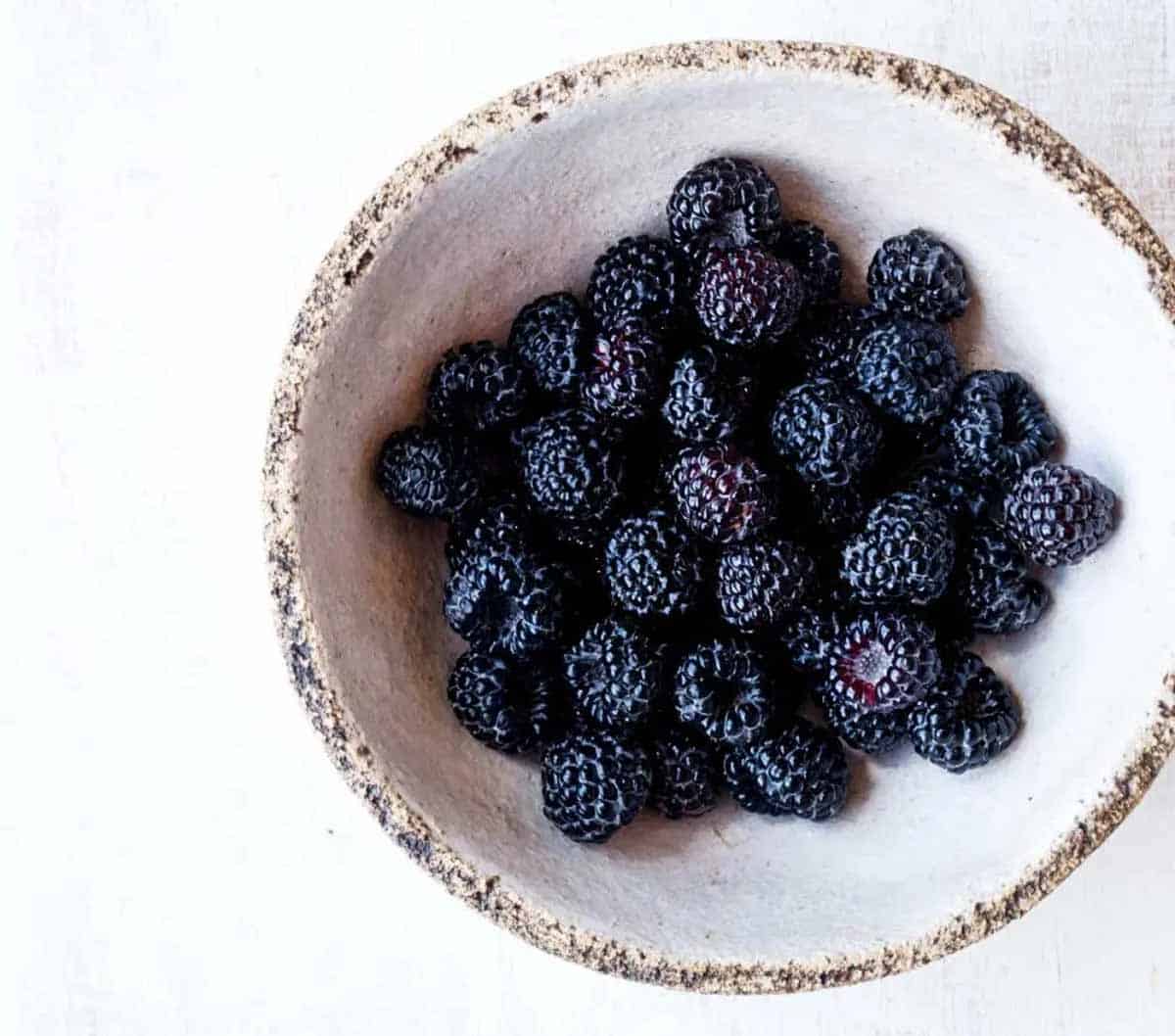 I like using fresh blackberries in smoothies. Since they have seeds and can be a little gritty, they do seem to blend better when fresh. It's also pretty hard to find frozen blackberries!
You can always freeze them yourself to make sure your smoothie will be cold when blended. To freeze your own berries, start by picking them at the peak of their growing season. Then flash freeze on a cookie sheet lined with parchment. Once frozen, toss the berries in a freezer safe bag until you're ready to blend a blackberry smoothie.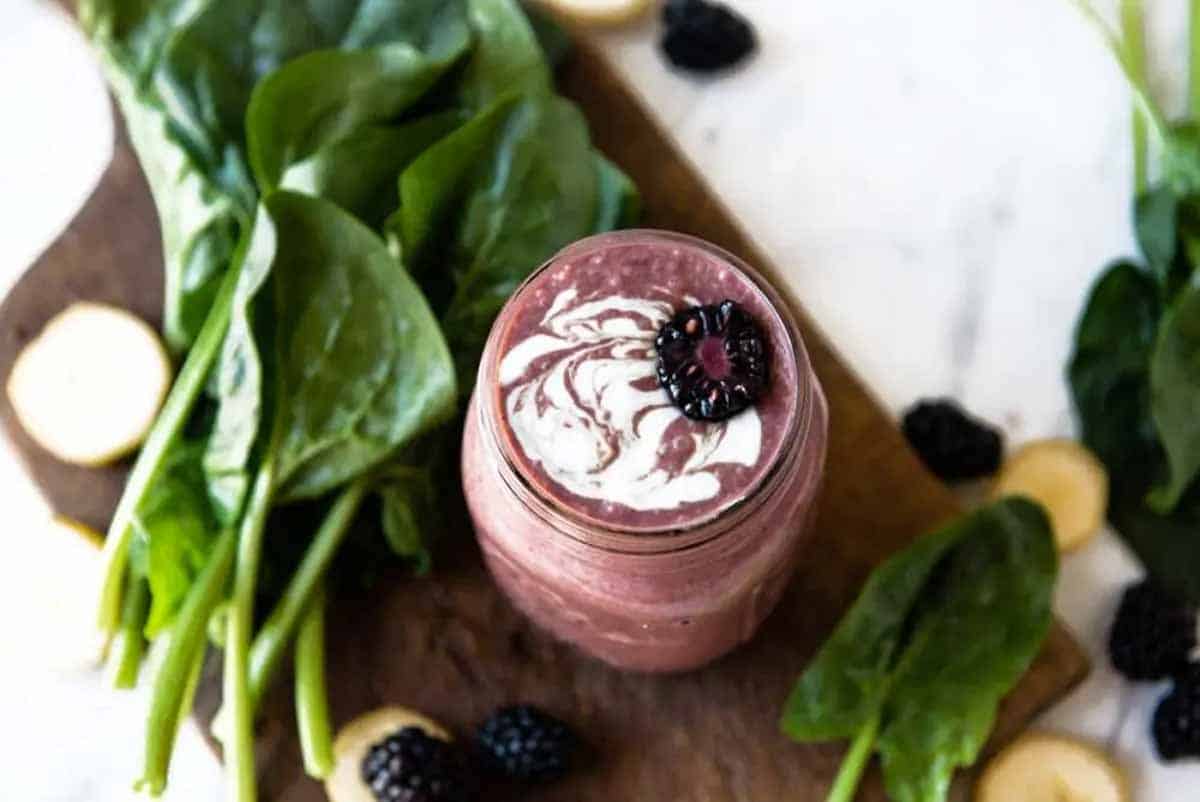 FAQs
Are berry smoothies healthy?
Yes! Berry smoothies are a great low sugar smoothie ingredient. Just make sure you use whole foods and real ingredients in your smoothies. Fruit can naturally sweeten + cream and thicken smoothies without any extras needed.
How do you get the seeds out of blackberry smoothies?
If you've got a high powered blender like a Vitamix, then just blend away. Still have seeds? Then you probably need to blend a bit longer. If you're blending this smoothie in a non high powered blender, then you might not get all the seeds, yet blending in stages like the recipe below helps more of your ingredients blend smoothly.
What should you not mix in a smoothie?
Avoid added sugar, as fruit is sweet enough on its own! Also avoid 'smoothie packs' with additives, thickeners, etc as these are not 100% whole foods. Stick to fruits, veggies, and leafy greens and you're smoothie will be great.
Low Sugar Smoothie Recipes
If you're looking for more low sugar smoothie options like this blackberry smoothie recipe, then I've got you covered:
Please let me know how this blackberry smoothie recipe turns out for you, in the comments. I love hearing from you, and hope this smoothie becomes one of your new favorites.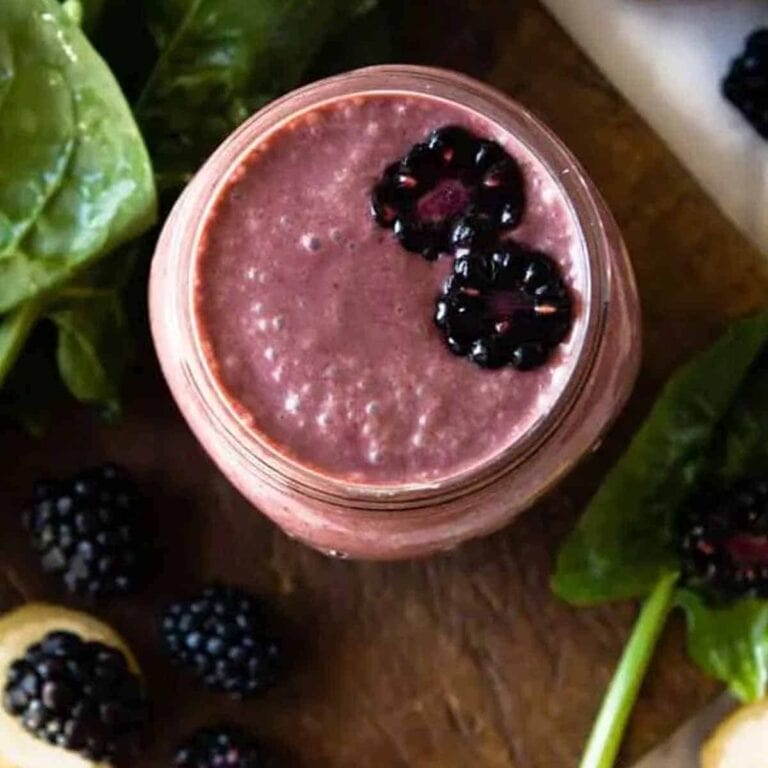 Creamy Blackberry Smoothie
This Creamy Blackberry Smoothie is hearty enough to enjoy as breakfast and keep you full for hours. Made with coconut milk and banana to create an incredibly rich and satisfying smoothie.
Instructions
Add the spinach and coconut milk to blender and blend until smooth.

Add remaining ingredients and blend again.
Notes
Use frozen blackberries or banana to chill the smoothie down.
Swap spinach with the leafy green of your choice.
For a thicker smoothie use canned coconut milk. For a thinner smoothie use carton coconut milk.
Nutrition
Calories:
288
kcal
,
Carbohydrates:
35
g
,
Protein:
4
g
,
Fat:
14
g
,
Saturated Fat:
13
g
,
Polyunsaturated Fat:
1
g
,
Monounsaturated Fat:
1
g
,
Sodium:
192
mg
,
Potassium:
612
mg
,
Fiber:
10
g
,
Sugar:
14
g
,
Vitamin A:
3159
IU
,
Vitamin C:
44
mg
,
Calcium:
74
mg
,
Iron:
2
mg