Breakfast can make or break your day. Instead of starting it with empty calories that leave you hangry and sluggish by 10am, blend healthy breakfast smoothies for a filling and satisfying meal to support your weight loss goals.
One of my favorite breakfast smoothies is my Vanilla Bean Yogurt Smoothie— it keeps me feeling full all morning. The key to a healthy breakfast smoothie is making sure it combines protein, healthy fats and carbs to create you a well-rounded meal that leaves you nourished and full.
Table of Contents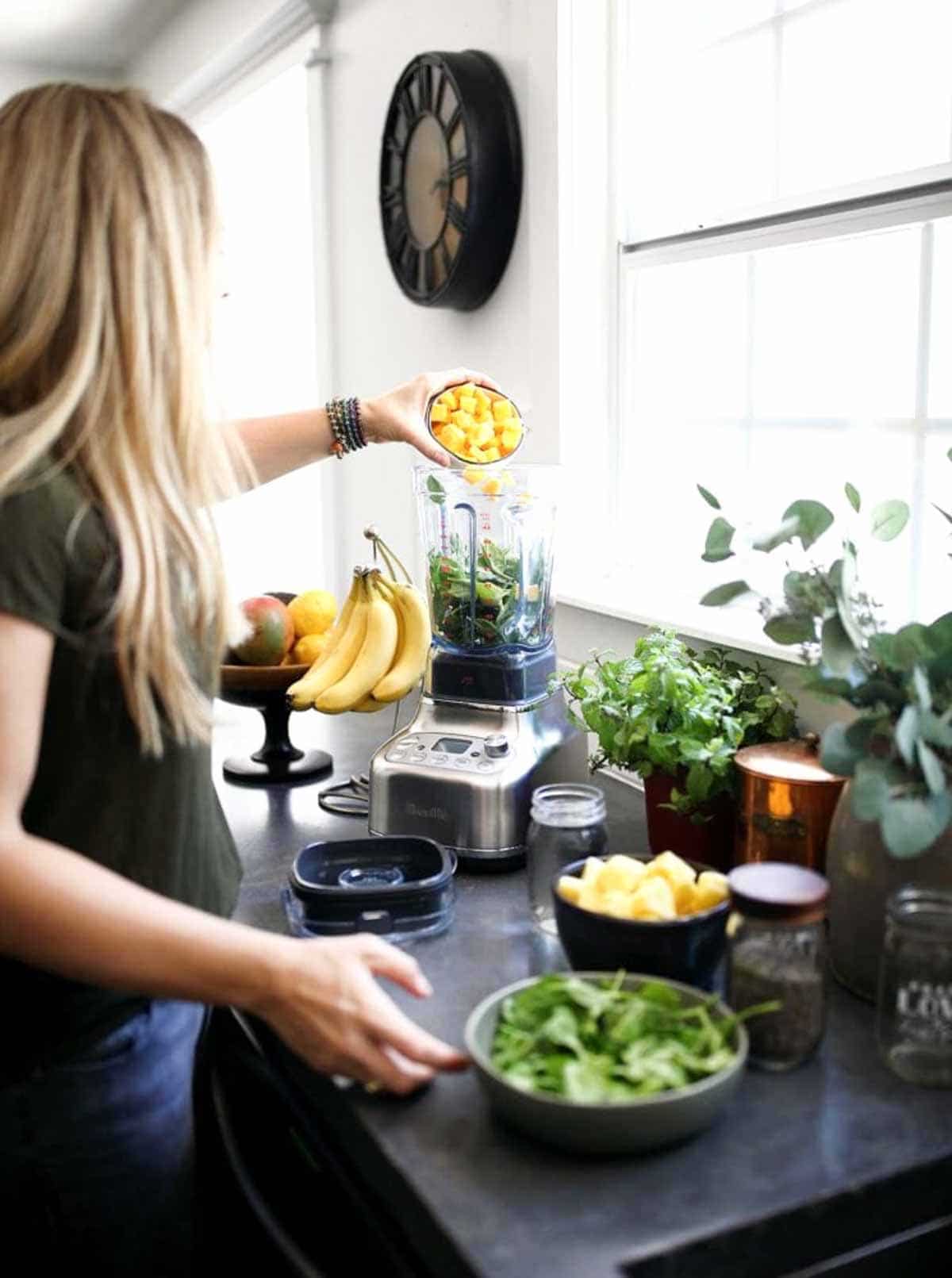 Starting my day with a breakfast smoothie is a no-brainer. Yet not all smoothies offer the same types of nutrients, protein or natural sugars you need in the morning.
Before I have a smoothie, I like to make a quick detox tea or metabolism-boosting tea to get the digestive system moving (if you know what I mean). After that, I get out the blender, toss some fruits and vegetables in to to nourish my body and keep me full all morning long. Fiber is our friend.
Best Healthy Breakfast Smoothies
When I start my day with a good, filling breakfast smoothie, I tend to make better food choices throughout the day. Which is why I really try to drink a healthy breakfast smoothie every single day. Here's some of my favorite recipes to blend for breakfast:
Ingredients in Breakfast Smoothie Recipes
Sweet or savory, green or purple, you get to pick! Any of these recipes will help you easily check off that healthy breakfast goal each day, in just about five minutes. Why? Well, they're loaded with all the good stuff and taste amazing. You won't have to force yourself to down any of these. Here's how I like to build my breakfast smoothies:
Protein: Whether it's my homemade protein powder, chia seeds, hemp seeds/hearts, peanut butter or almond butter (or any seed/nut butter), greek yogurt (or vegan yogurt), I've got protein covered. You can boost any smoothie with these options if they aren't already included in the recipe.
Fiber: I choose to blend smoothies over juicing in the morning to start the day off right with fiber. Your blender doesn't get rid of the fiber in whole fruits and vegetables, and your body will benefit!
Leafy greens: Not every smoothie has leafy greens (yet feel free to add them any time you want!), though I often try to add in a handful or two of spinach or kale since they act as fiber, protein, vegetable and more.
Natural sweeteners: Instead of turning to refined sugar right after I wake up, I stick to natural sugar from fruit like mango, pineapple, strawberries, blueberries and more to flavor my smoothies. They can be super sweet and natural.
Unsweetened liquid bases: I love fresh juice and do enjoy it every now and again, yet my smoothies are fueled with unsweetened almond milk, coconut milk, coconut water or just plain water to ensure I'm not adding extra sugar that my body does just fine without. I choose dairy-free options as that makes my body feel better yet feel free to use dairy milk if that works for you.
Helpful Tips for Smothies
You can just as easily prep ahead smoothies as you can baked oatmeal, overnight oats or chia pudding. Grab your favorite smoothie recipes. I try to stick to ones with some similar ingredients so I can buy them in bulk, then measure out all the ingredients except for the boosters and liquid into freezer-safe bags or mason jars.
I often prep smoothies when I know a busy month is ahead. Whatever one I want to blend in the morning I switch from the freezer to the fridge so it's slightly thawed and easy to blend the next morning. This cuts down on the decisions I have to make first thing and ensures I've got a good breakfast.
Which one of these breakfast smoothies will you try? Drop a comment and let me know!