Today I'm sharing the secret sauce, er… liquid, that is dairy free smoothies. Your smoothie doesn't need dairy to be creamy, delicious, smooth, or drinkable. Don't believe me? Give one of the below dairy free smoothie recipes a blend n' sip, then try to tell me I'm wrong!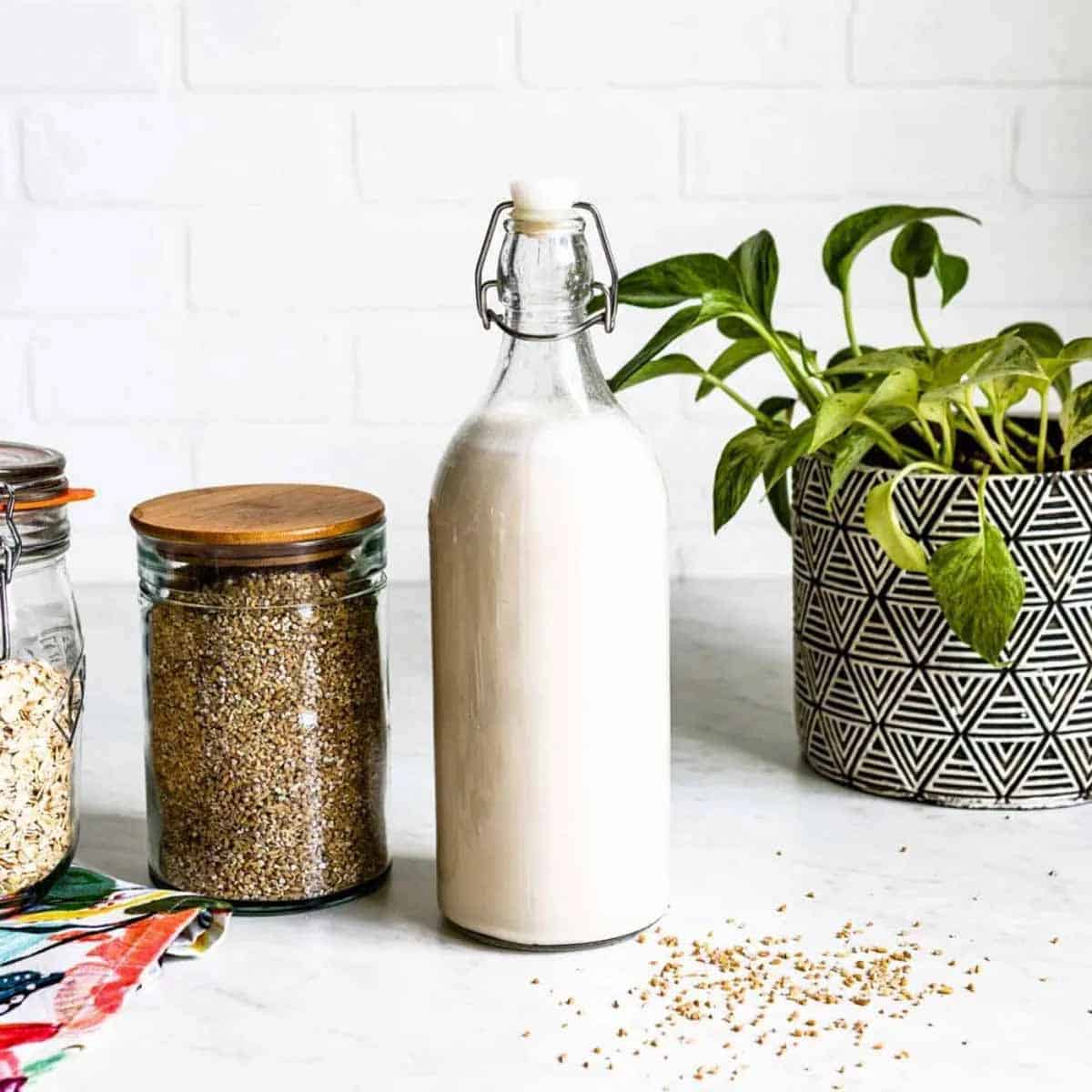 What's Wrong with Dairy?
Nothing… if you're one of the 30% of the world's population that doesn't have a dairy intolerance. Yet if you're like me, then dairy often gives you issues with digestion. Instead of suffering through the painful side effects of consuming dairy, I started searching for non-dairy options.
Discover the incredible world of plant based milk and dairy free smoothies along with me!
Table of Contents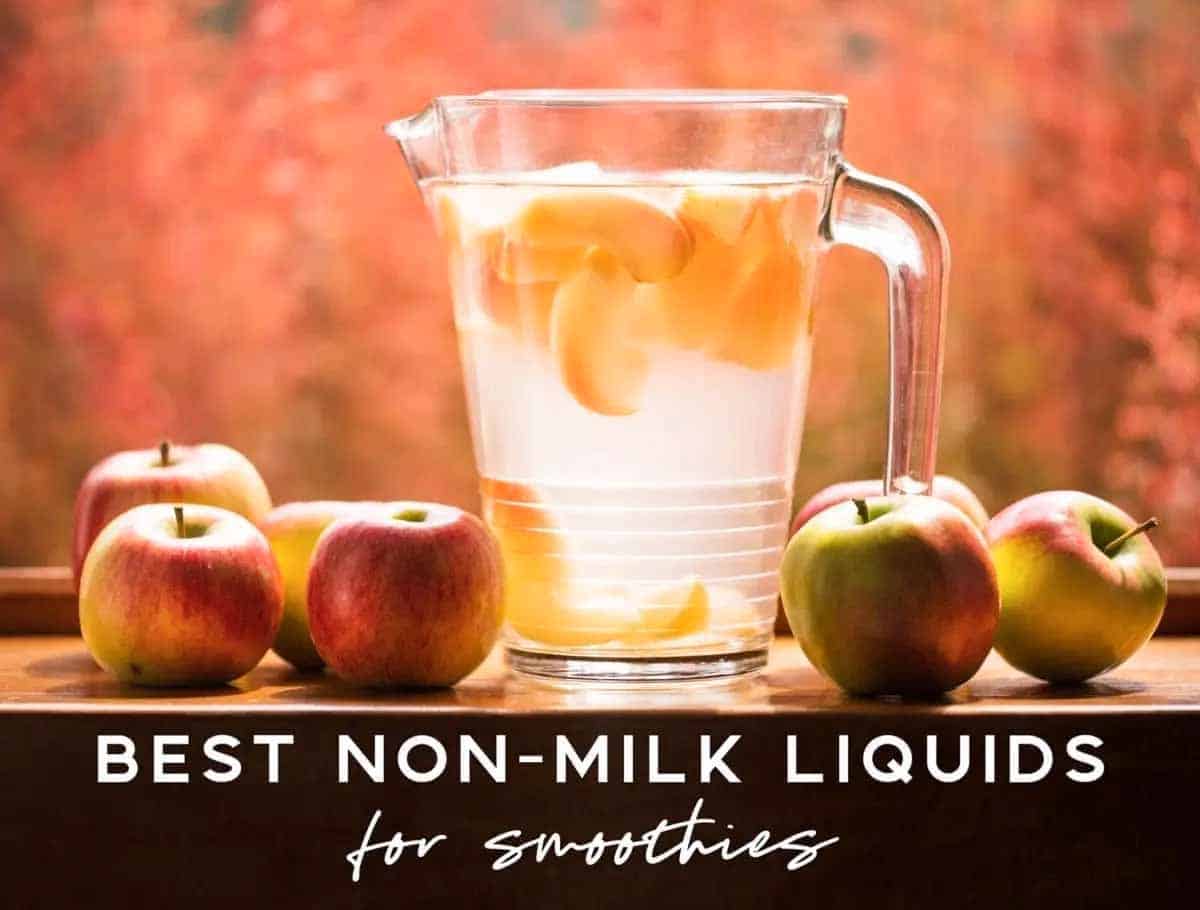 What Can You Use Instead of Milk in a Smoothie?
SO. MANY. THINGS. I'm not kidding; once you start exploring the world of dairy free smoothies, you'll find a vast amount of liquid bases. A smoothie with dairy milk no longer sounds appetizing to me; I'd much rather reach for a lighter nut milk or coconut water.
Nut milk in smoothies
With the explosion of non-dairy milk brands on the market, it's no surprise that nut milk is a popular base for dairy free smoothies. Almond milk, cashew milk, coconut milk, pecan milk, walnut milk, macadamia milk and more can all be used in smoothies.
Nut-free, dairy-free milk bases
If nut milk isn't an option for you, then no sweat. Check out oat milk, hemp milk, flax milk, rice milk, soy milk… the possibilities are seemingly endless.
I tend to choose my dairy free smoothie recipes based on what my body needs that day. If I'm looking for a fiber + healthy fat boost, I'll make some hemp or flax milk. Rice milk is super thin and great for a tasteless option so that the other smoothie ingredients can shine.
Tea
This unique liquid base totally takes that smoothie to the next level. Choose a caffeinated tea like green tea for a natural energy boost as well as metabolism mover. Herbal teas work great to soothe the stomach and calm the body.
Use tea to your advantage by incorporating the one that will help you most. I believe ingredients should work for us instead of against us, so I typically gauge what my body needs before deciding on the right liquid base for my smoothie.
If using matcha powder, then combine it with water or cashew milk for smoothies. Matcha typically comes in powder form instead of in a tea bag, so I view it more as a supplement instead of a true liquid base. It creates a creamy, light base for dairy free smoothies.
Water or coconut water
The number one, best green smoothie in the whole wide world uses *gasp* WATER. It's 100% dairy free and proud to be… and people can't get enough of it. I know a lot of you hesitate to use water in a smoothie, but trust me, when you've got the right formula, water is a great smoothie base.
Coconut water is a unique beverage that has been touted as nature's gatorade. It's loaded with electrolytes, and is a must in workout recovery. It can be an acquired taste, so if you're new to coconut water, try doing half coconut water and half regular water in your next smoothie, then increase your ratio as you fall in love.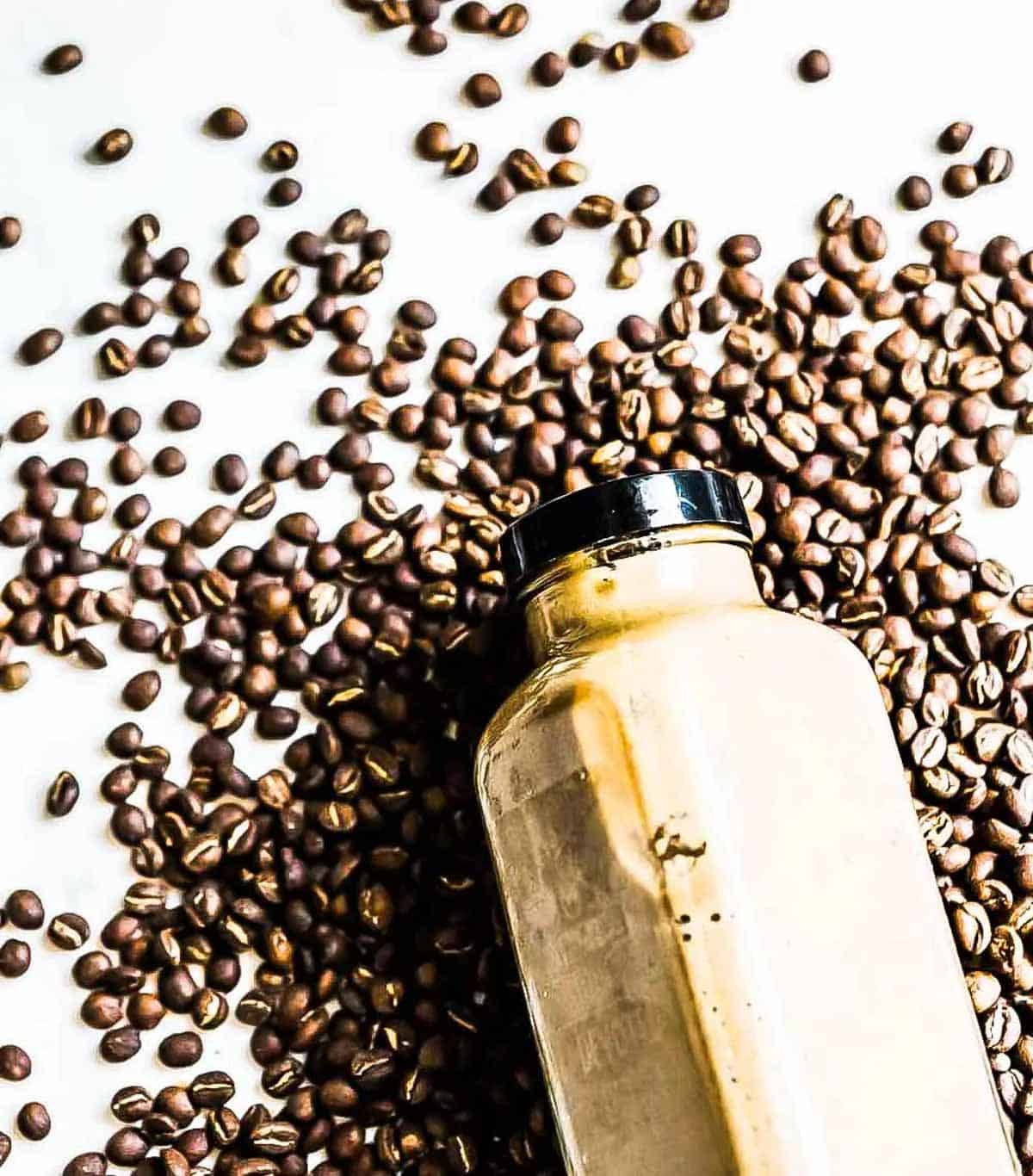 More dairy-free liquids
While the above liquids are more popular, I like to get creative with my liquid bases. Here are a few more super fun + delicious options:
Kombucha- I'm not kidding! This is a great probiotic option, and the sky's the limit on flavors.
Fresh squeezed juice- While 100% juice has natural sugar, it is still a higher sugar option. So remember that when adding it to your smoothie.
Coffee- This base works great in smoothies including cocoa or cacao, nut butter, vanilla, you name it. Need a caffeine free option? Just use strongly brewed decaf coffee to enjoy the flavor without the buzz.
As you can see, dairy milk is far from the only liquid base for smoothies. Don't be afraid to get creative; mix + match any of these bases until you find your fav.
20 Dairy Free Smoothie Recipes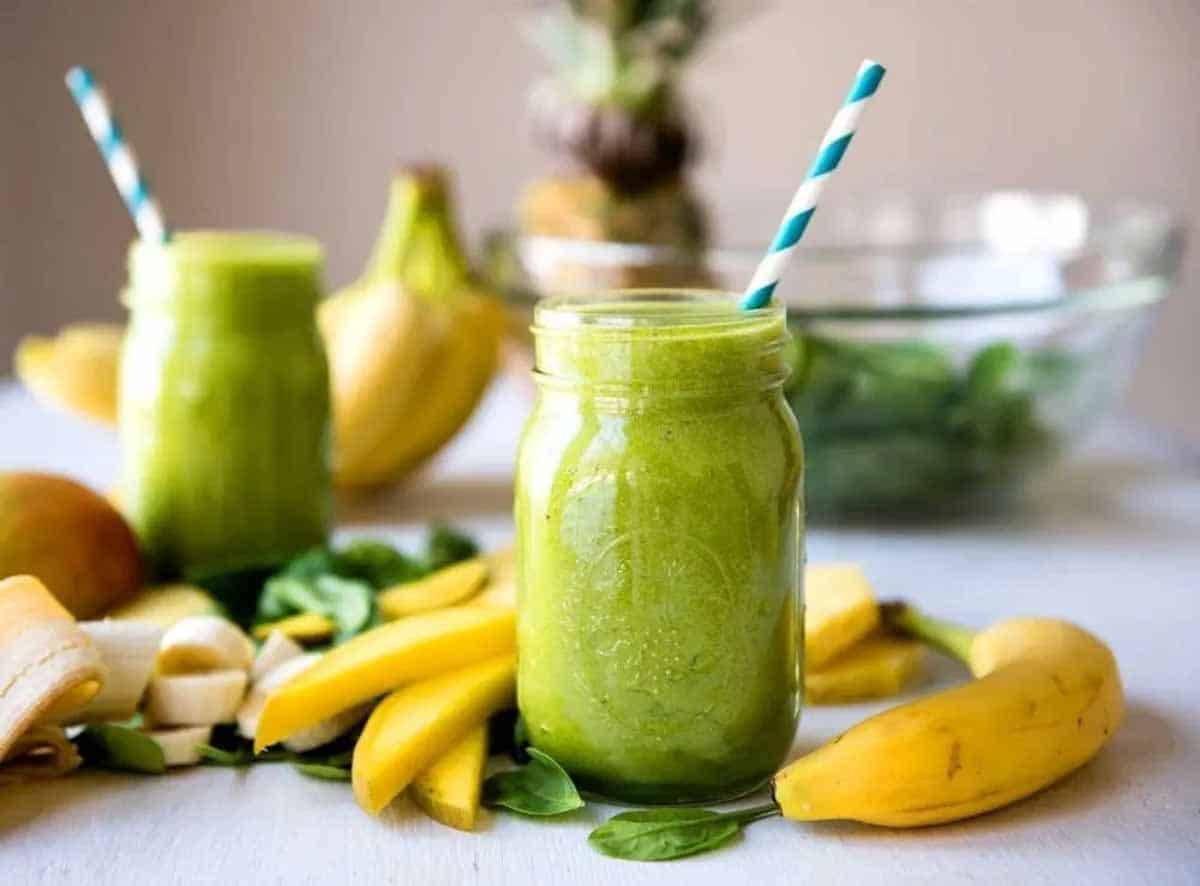 The best green smoothie ever– New to smoothies? Then def give this one a blend first! Tropical + perfectly sweet.
Fat burning smoothie– Deliciously designed to kick that metabolism into high gear.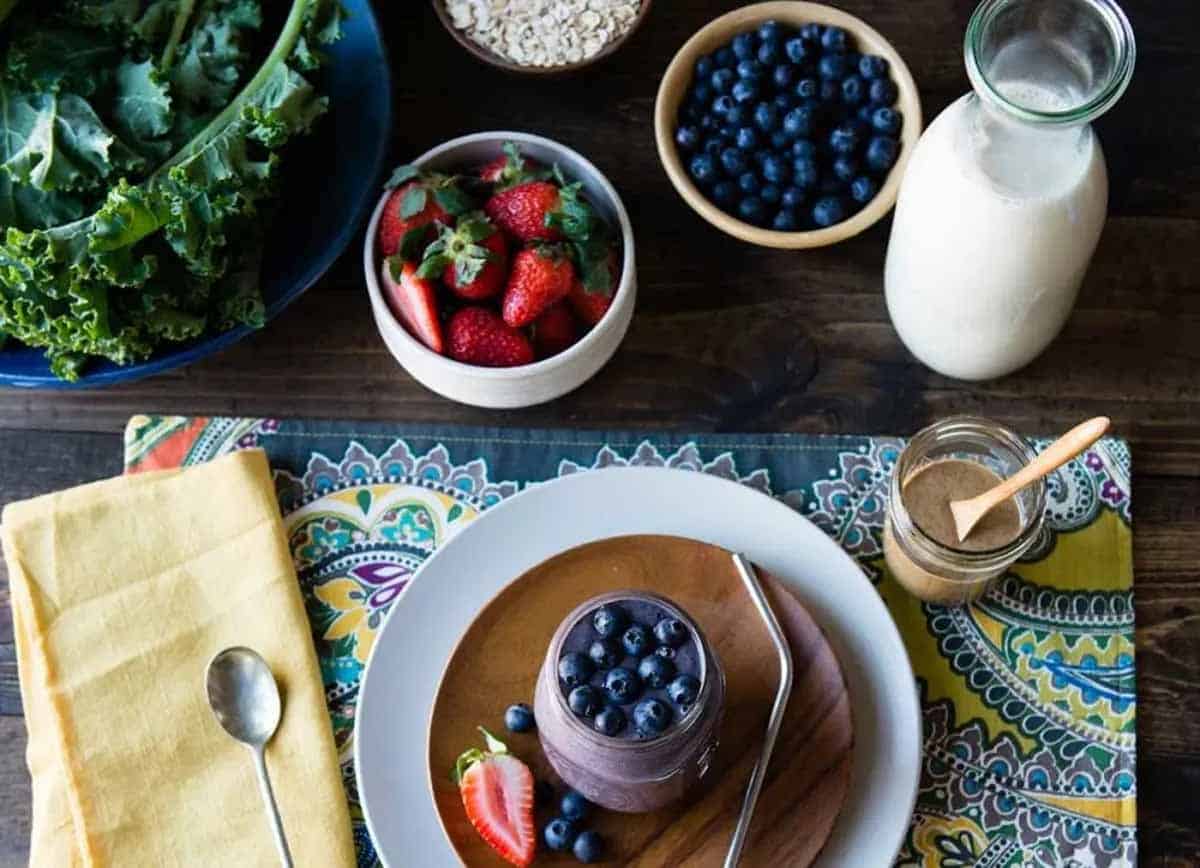 Meal replacement smoothie– Dairy free smoothies are the healthiest fast food, and this fun creation is no exception!
Weight gain smoothie– Tastes like Dole Whip, yet uses 100% whole food, plant based ingredients.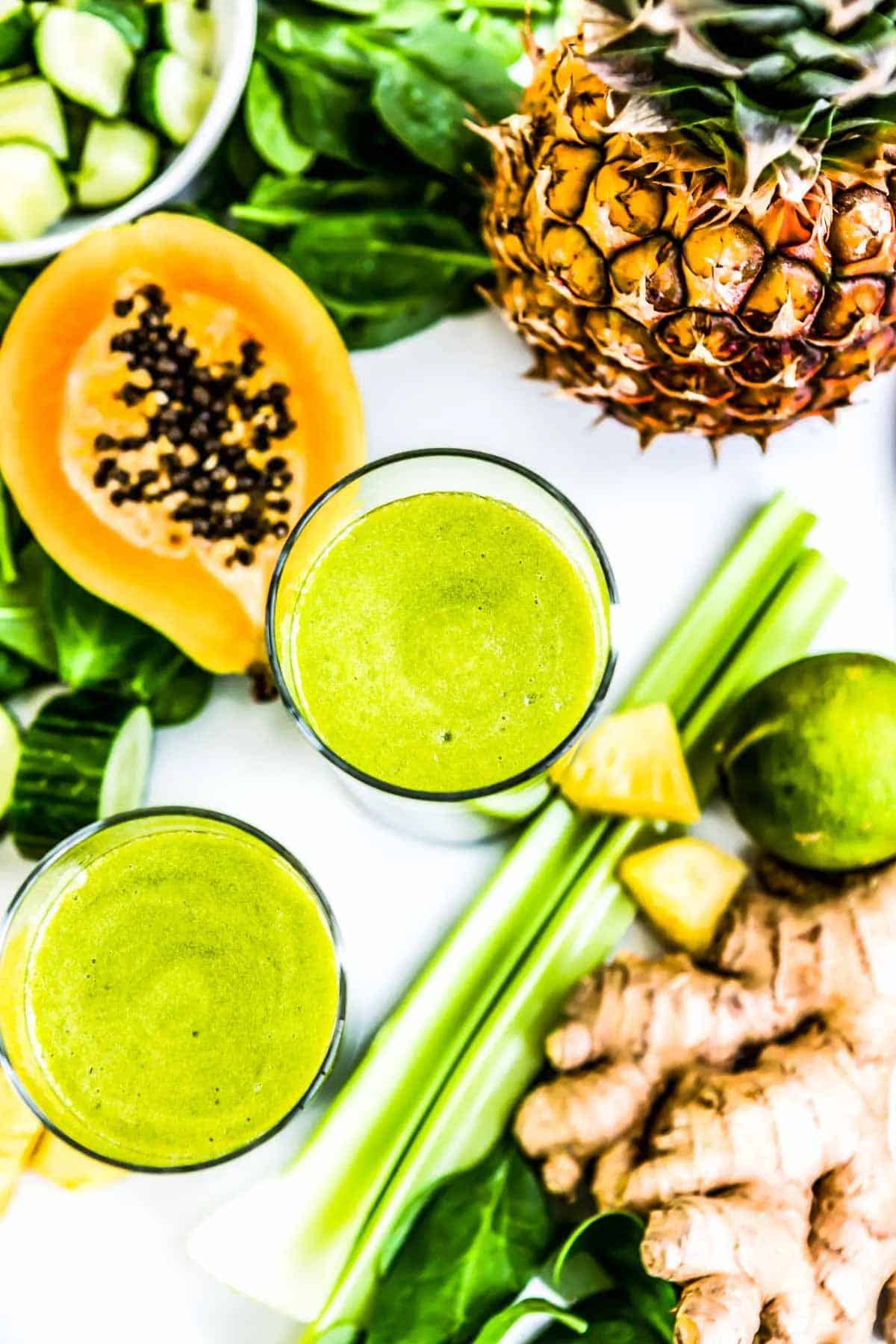 Smoothie for bloating– Cut down on belly bloat, gas, and cramping with natural ingredients.
Smoothie for clear skin– Fuel your body with foods that leave you glowing.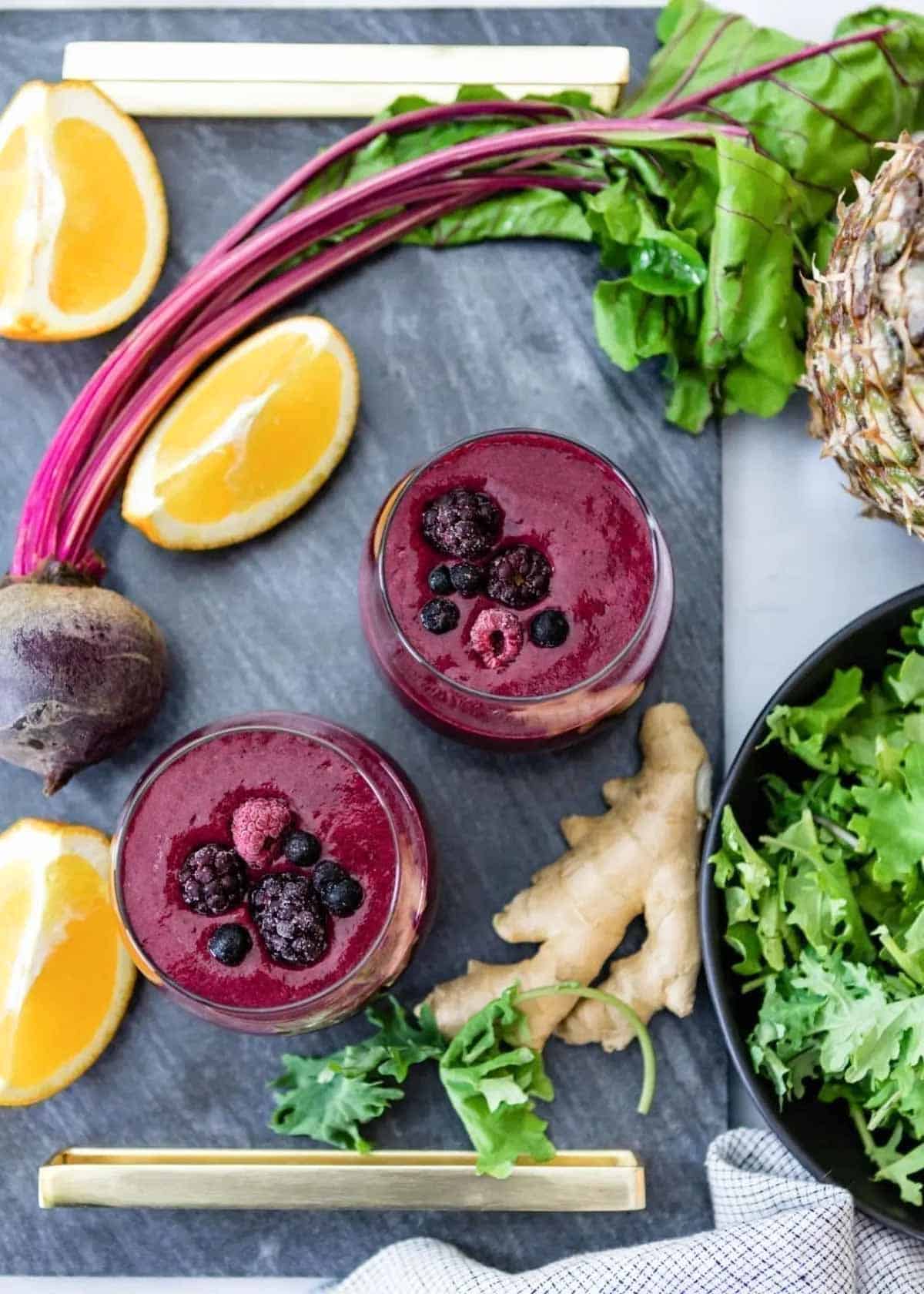 Anti-inflammatory smoothie– Calm inflammation quickly with this great smoothie.
Pre-workout smoothie– If you're looking to make the most of your workout, then start it with this dairy free smoothie.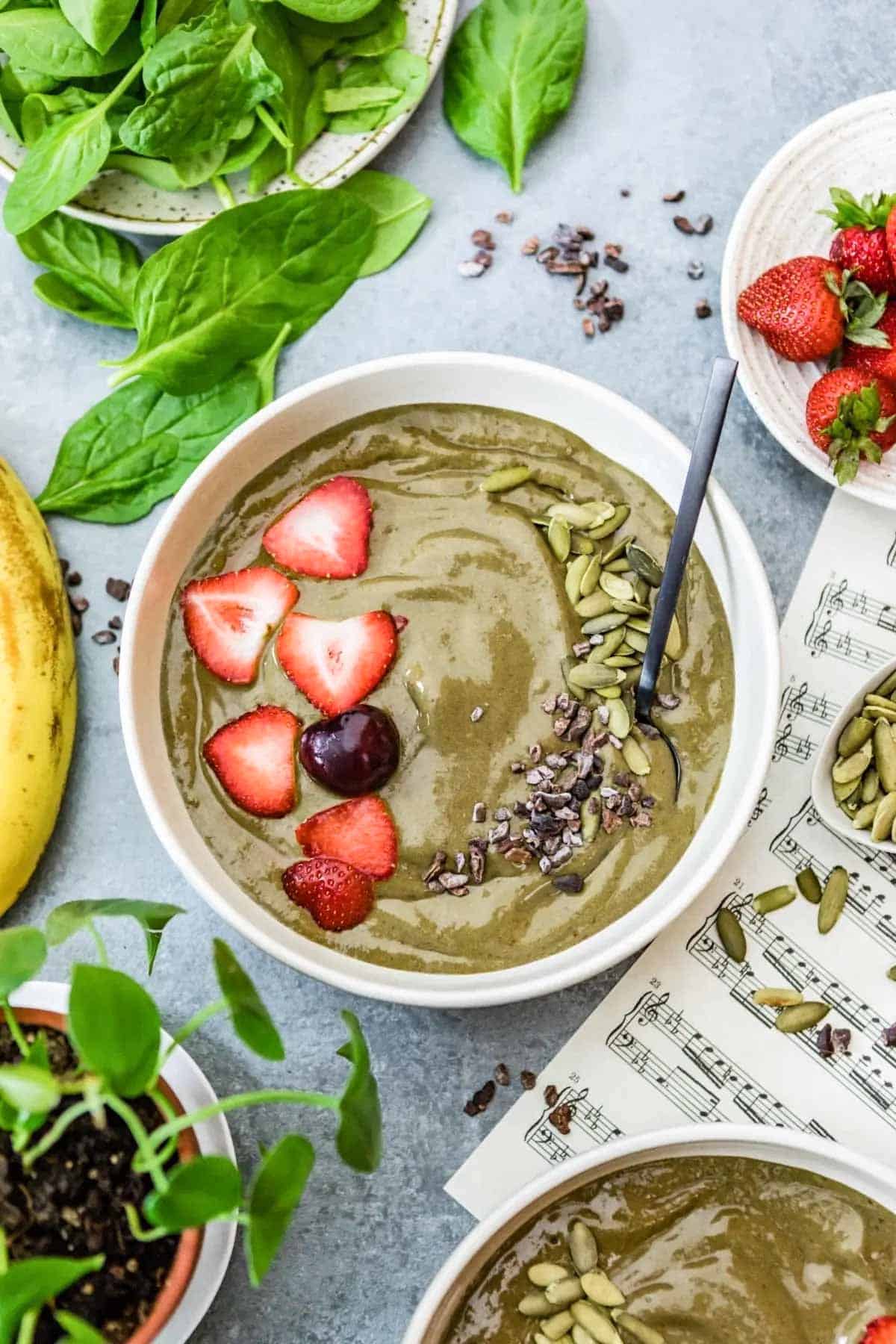 Iron-rich smoothie bowl– I've struggled with iron deficiency for years, until I discovered foods that help boost it naturally.
Coconut water smoothie– hydrate naturally with this tropical creation.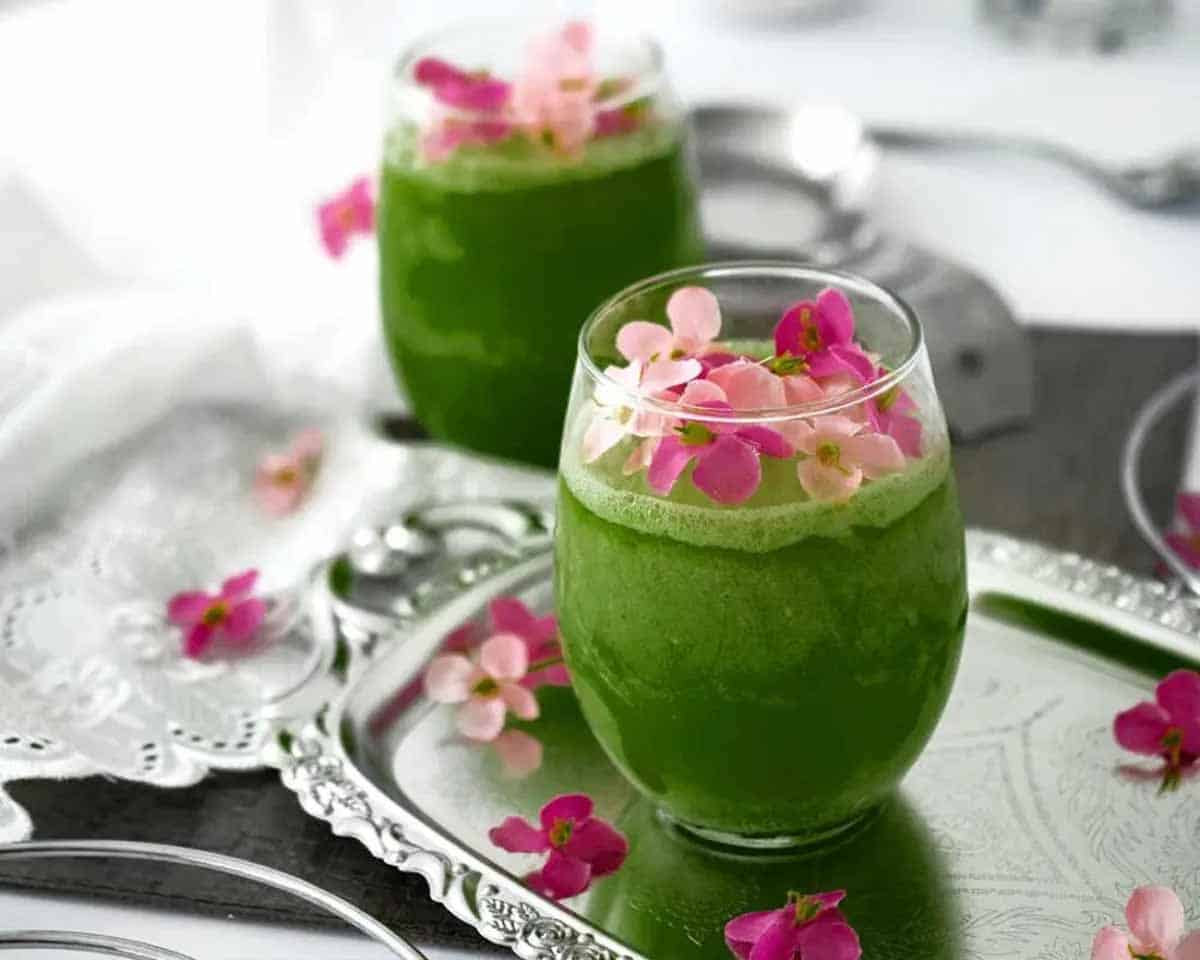 Pregnancy smoothie– fuel your body and your baby with the best foods for both of you.
Spinach berry smoothie– This delightful smoothie is loaded with antioxidants as well as flavor.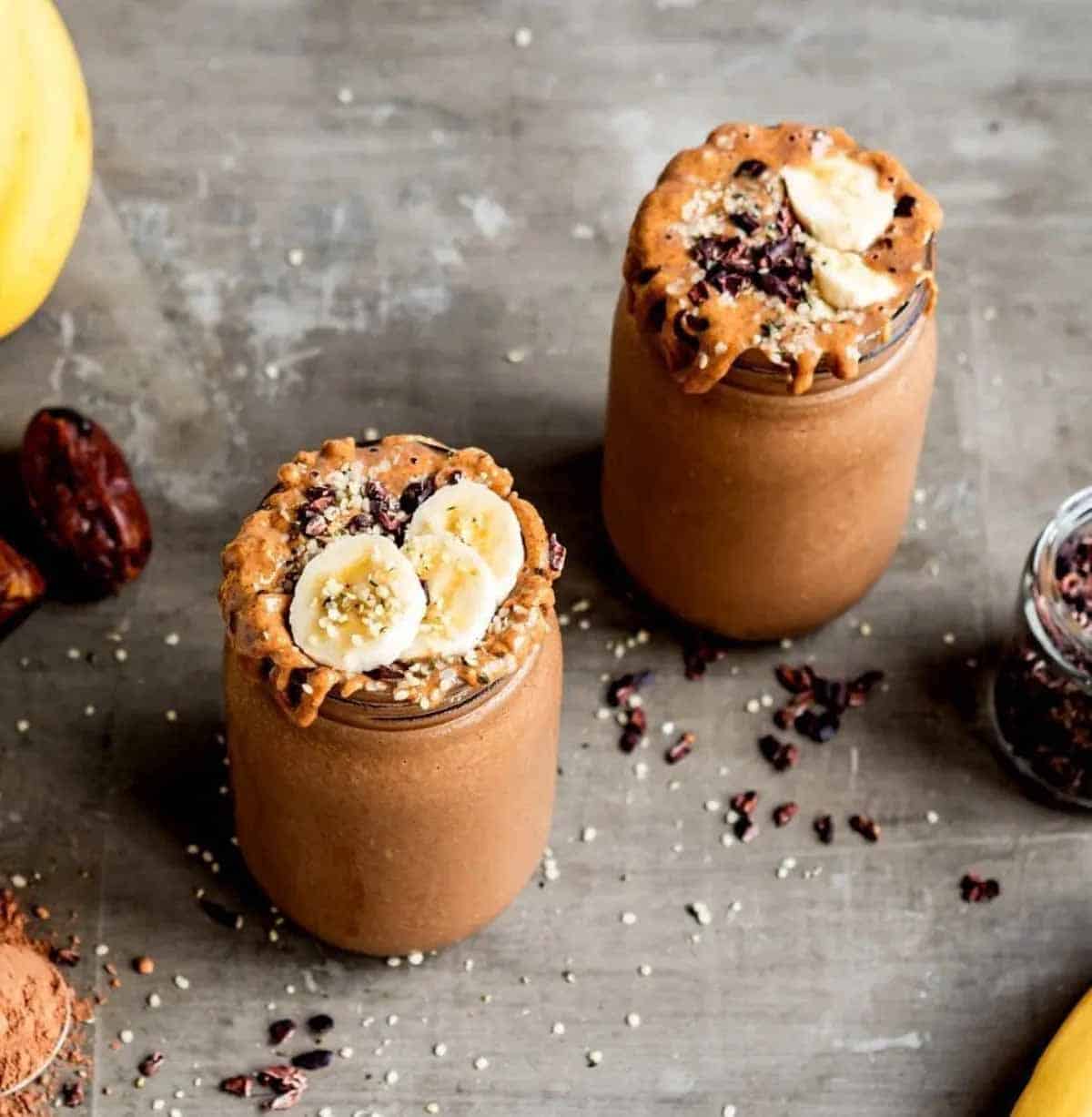 Chocolate protein shake– You'll never guess this smoothie is dairy free as well as loaded with protein + flavor.
MCT oil smoothie– Boost healthy fat intake, as well as help ease digestion with this superfood smoothie.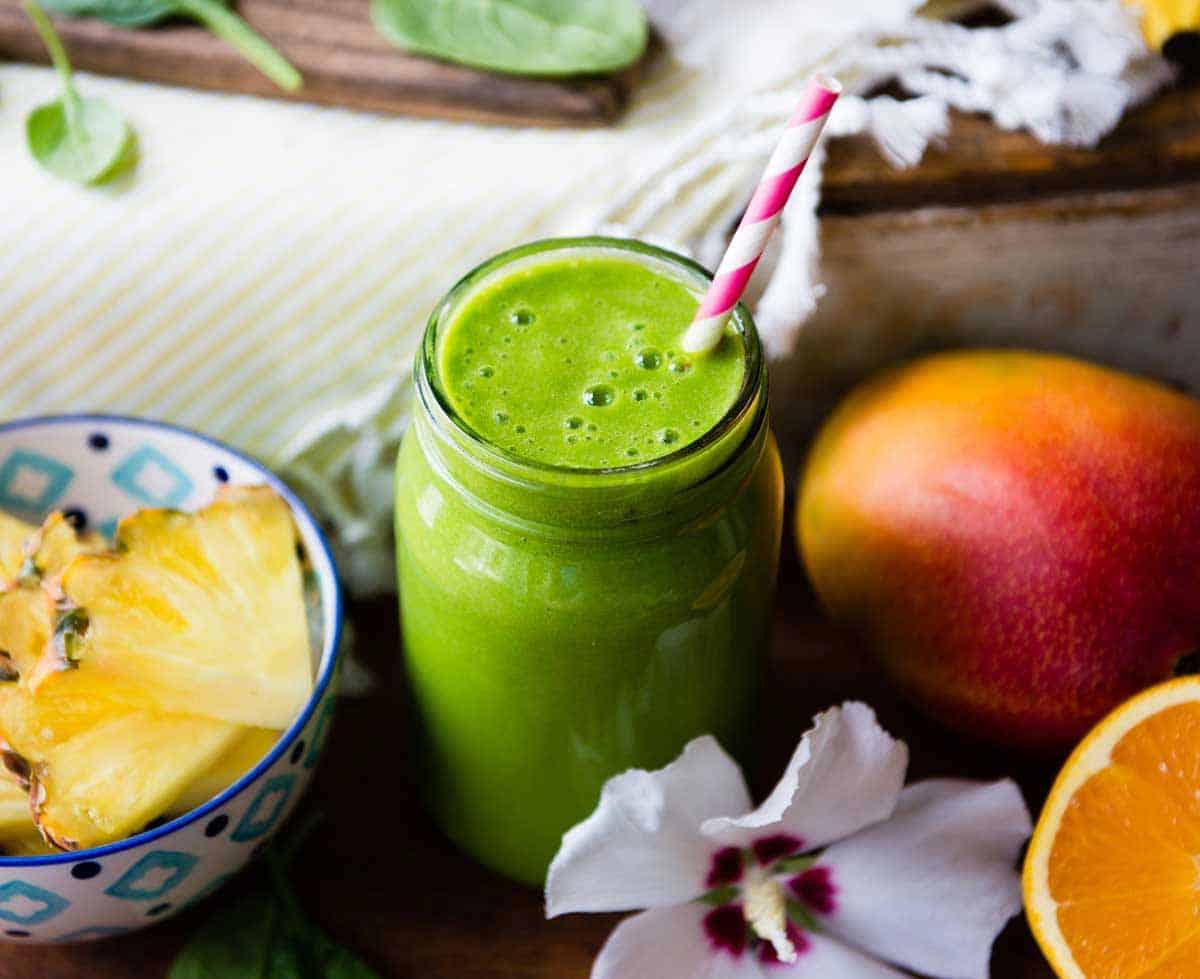 Island green smoothie– Take one sip of this smoothie with your eyes closed, and you'll be immediately transported to a beach paradise.
Kale banana smoothie– Add banana to turn dairy free smoothies into cream machines.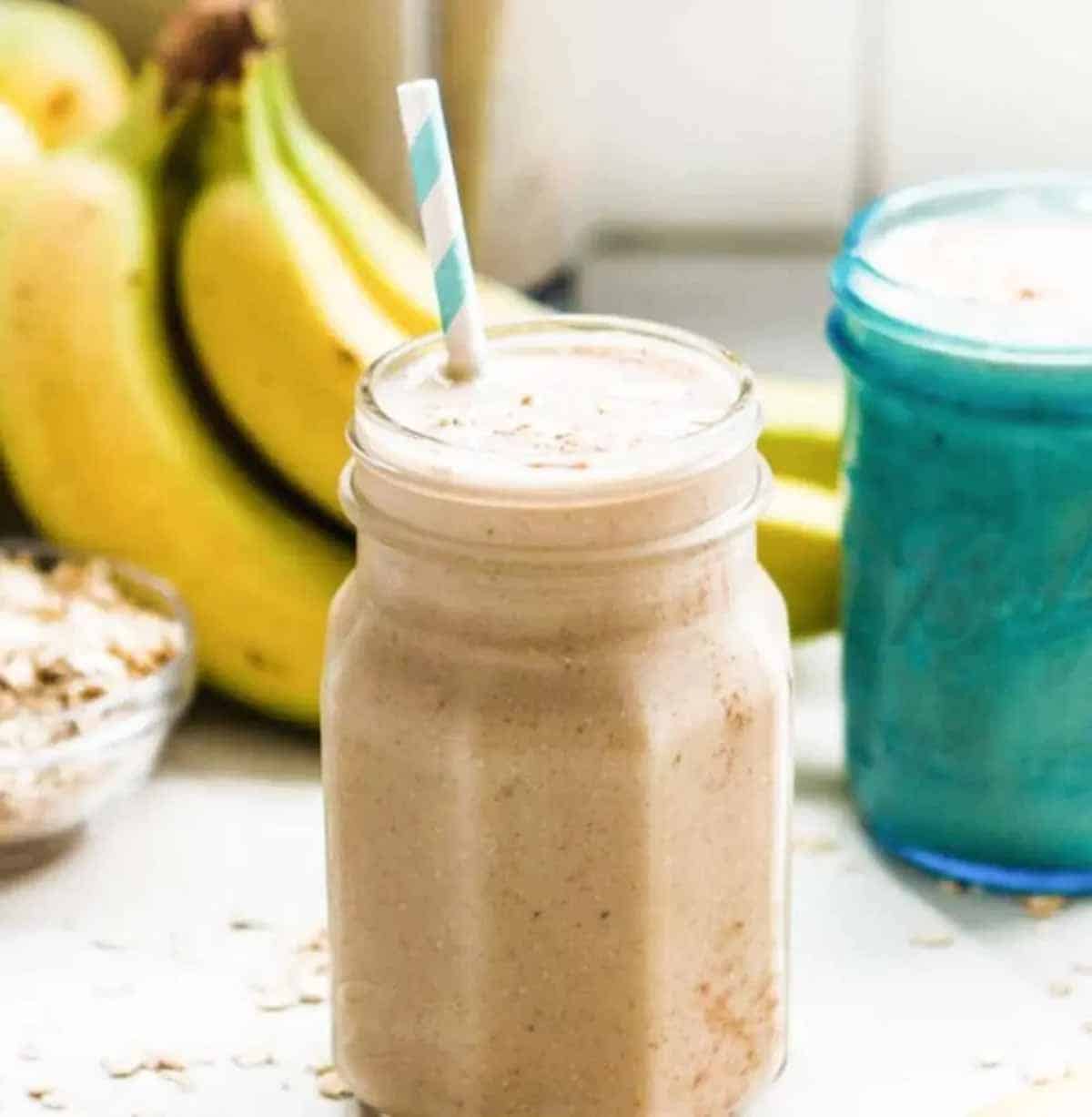 Banana oatmeal smoothie– Take breakfast on the go with this scrumptious beverage.
Cherry açaí smoothie– The perfect afternoon pick-me-up smoothie.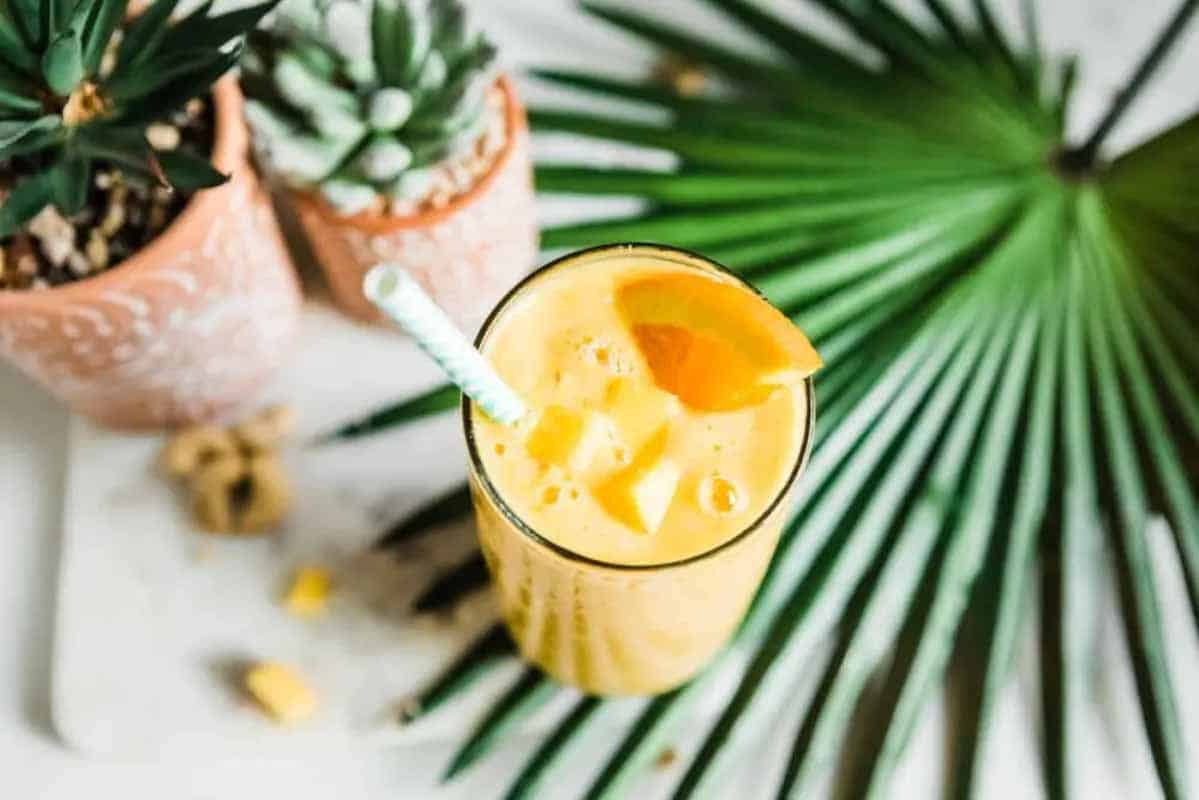 Mango smoothie– Refreshingly simple (and pretty!), sip this smoothie poolside and soak in the goodness.
Cinnamon date smoothie– Breakfast time, dessert time, or anytime with this decadent dairy free smoothie recipe.
The ultimate dairy free smoothie- Try this fruit fusion smoothie recipe below for a smoothie so creamy you'll swear there's dairy in it!
All the Smoothies
This post has a huge list of dairy free smoothies. Would it blow your mind to know we have more? Hop on over to our Rawkstar Shop and check out Simple Green Smoothies, our smoothie-filled recipe book. It's packed with tons of green (and other color!) smoothie creations.
Which one will be your next fav? Which dairy free liquid base will you use? Will you add a homemade protein powder to make your smoothie a meal? The possibilities are endless and I can't wait to see what you blend and love best!
Dairy-Free Smoothies FAQs
How do you thicken a smoothie without milk?
Dairy is often used to make beverages creamy, yet it's just not necessary in a smoothie. If I'm looking for an extra creamy base that's dairy free, then cashew milk, oat milk, or full fat coconut milk are all great options. Avocado, coconut cream, banana and dairy free yogurt as well as hemp hearts and chia seeds are also great smoothie thickeners.
Which dairy-free milk is best for smoothies?
My go-to milk option is currently cashew. It is virtually tasteless, yet adds protein, healthy fat, and a creamy texture to smoothies. Although, as you can see from the list above, you can use any dairy free milk you want!
Are smoothies better with milk or water?
Honestly, it depends on the smoothie. I like water better in green smoothies, and milk better in protein shakes. Everyone's preferences are different, so there's no right or wrong answer. Just get in that daily smoothie!
So, which one of the above dairy free smoothies are you ready to make? Drop a comment and let me know your fav!
---