I can't wait to share this fun smoothie recipe with you. Who says no to a hot pink smoothie containing a food with the word 'dragon' it in?! This dragon fruit smoothie recipe is a super delicious way to ring in warmer weather.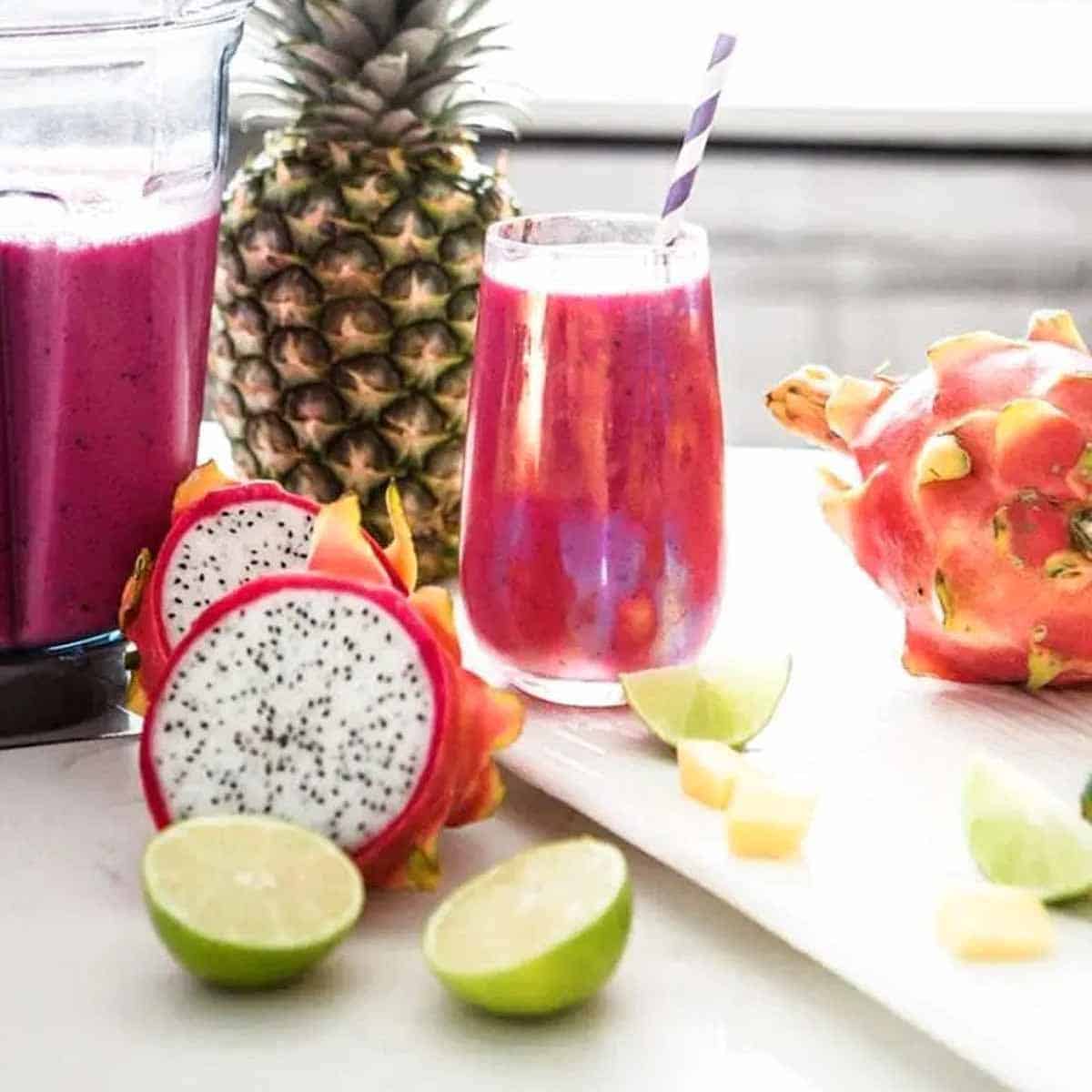 Table of Contents
Where Do I Find Dragon Fruit?
Have you ever seen a fresh dragon fruit? It's pretty weird lookin'. Yet it can be found in the produce section of most grocery stores. Depending on the variety, your fruit might have white or pink flesh… white flesh works just fine in this recipe. If you want the wow factor, then make sure to use a pink-fleshed dragon fruit. There's even a yellow-fleshed variety!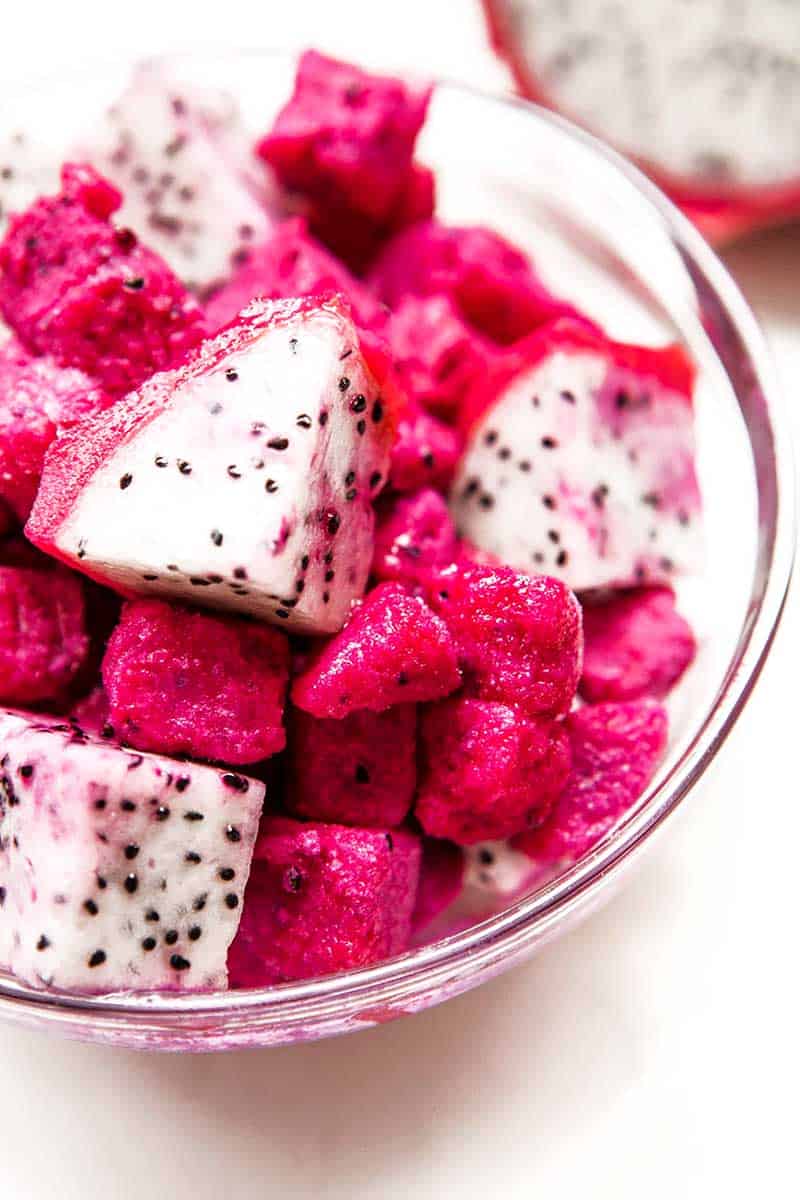 I actually found a whole box of dragon fruit at Costco last summer, which is their typical growing season. You can also purchase this fruit already peeled and diced in the freezer section. It tastes similar to kiwi or pear, and is a great fruit in many different recipes.
Trader Joe's even sells freeze-dried dragon fruit pieces that are great toppings for any kind of smoothie bowl. They're incredibly crunchy and bright; I just can't resist adding them in to my afternoon snack!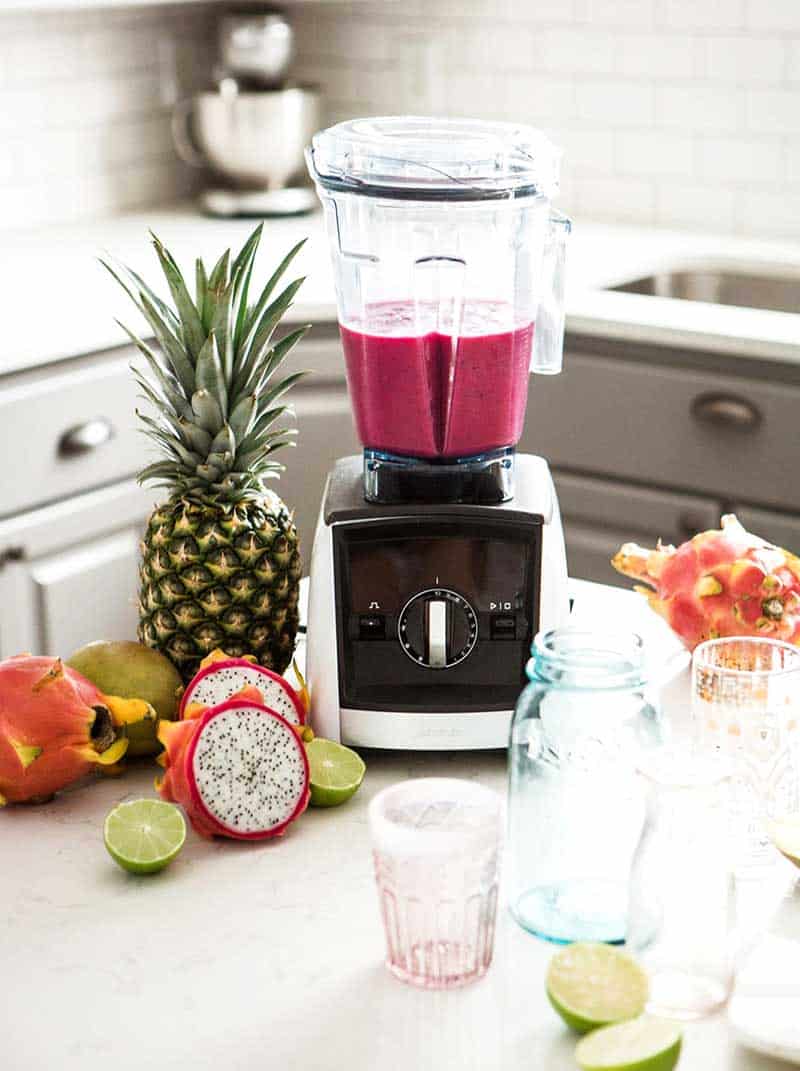 Why Use Dragon Fruit in a Smoothie?
Dragon fruit, also known as Pitaya, comes from a fruit-bearing cactus. It's high in fiber as well as magnesium, making it perfect for smoothies. It is fairly mild in flavor and sweet, therefore you can swap easily swap it in for mango or pineapple in your fav green smoothie.
More tropical recipes
If this dragon fruit smoothie recipe put you in a tropical mood, then check out some of these delicious creations:
And if you just can't get enough of these tropical vibes (can't stop! won't stop!), check out Rawk the Year for more! Rawk the Year is my plant based, whole food meal planner that contains all of these recipes and then some. With a library of 400+ meals, snacks, smoothies and desserts, there's something for every hungry belly in your household. It's honestly what I use to plan my week's meals and shopping trips for my own family. Give it a spin and see why I love it so much!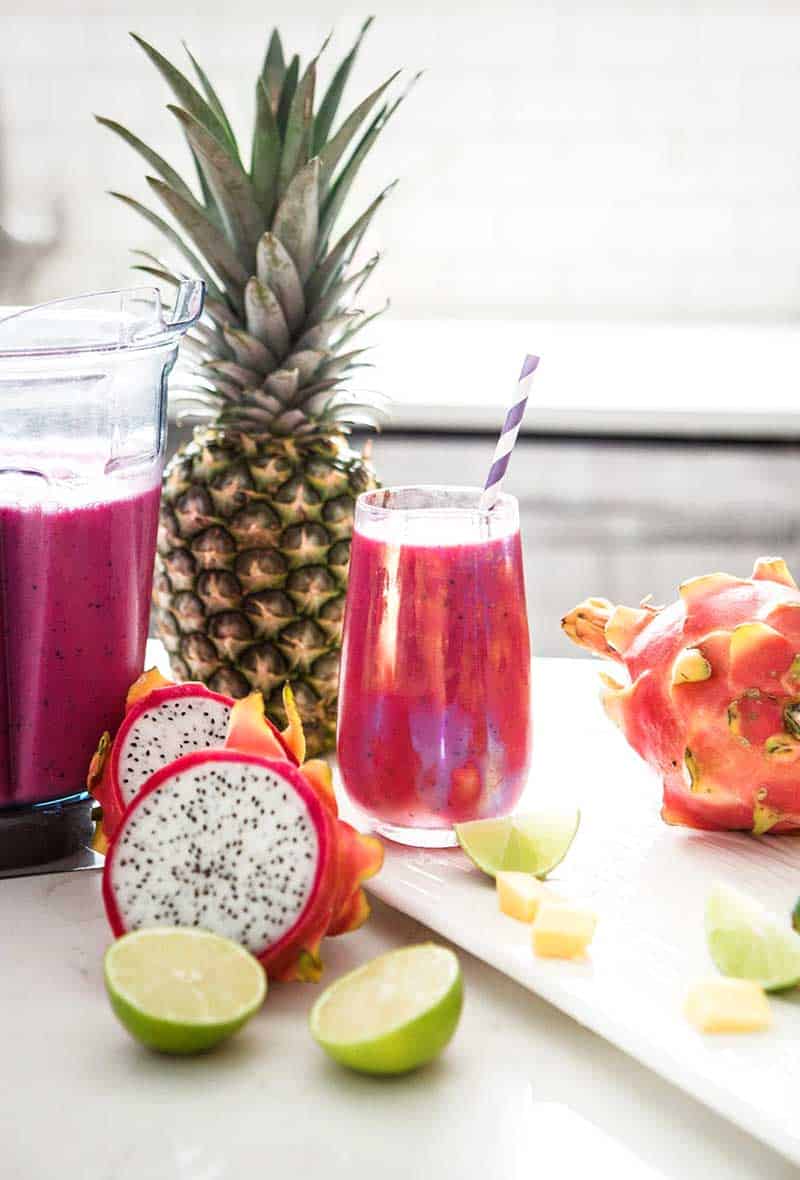 How do you cut this fruit?
I was def intimidated the first time I bought a fresh dragon fruit. Do I slice it down the middle, side to side, or peel it? Does it have a core like mango does? I conquered my fear, and now I'm here to help!
The easiest way to cut a fresh dragon fruit is right through the middle. I'm talking about the thick belly part. Then just scoop out the flesh with a spoon. It's seriously that easy! Now you just need to not scoop it directly into your mouth, and instead scoop it into your blender for this dragon fruit smoothie recipe.
More FAQs
Now on to the questions!
What fruits go well with dragon fruit? In this dragon fruit smoothie recipe, I paired it with mango and pineapple, as well as lime. Pretty much any tropical fruits pair well together. If you really want to jazz up this smoothie, then swap out the almond milk for coconut milk. #beachvibes
What are the side effects of dragon fruit? Unless you are allergic to this tropical fruit, you shouldn't experience any weird or unpleasant side effects from consuming it.
How can I make dragon fruit taste better? If dragon fruit doesn't make your taste buds dance, then you can still reap the benefits but mask the taste. Coconut, lemon and lime as well as banana are all powerhouse smoothie ingredients taste-wise.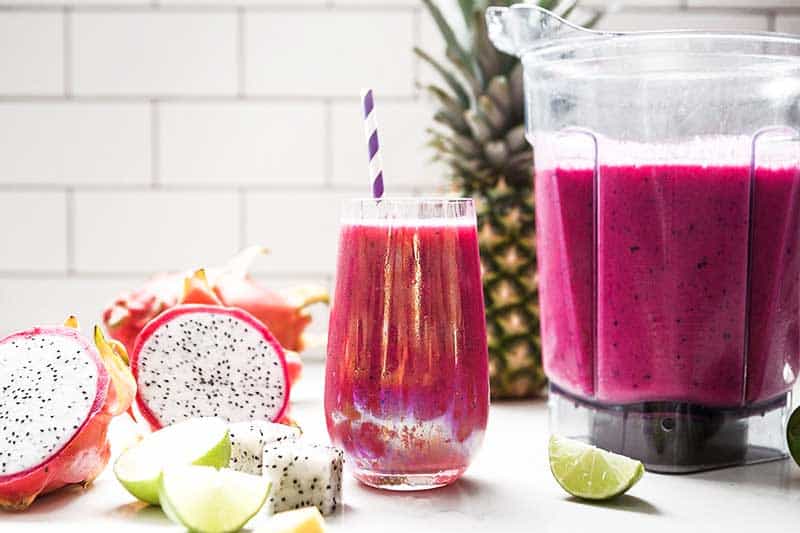 Don't forget to try out this smoothie recipe, then leave a rating + review below!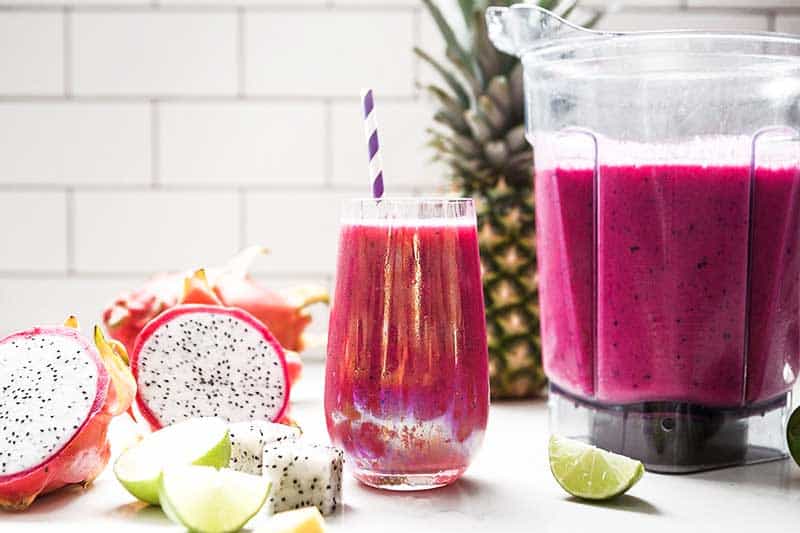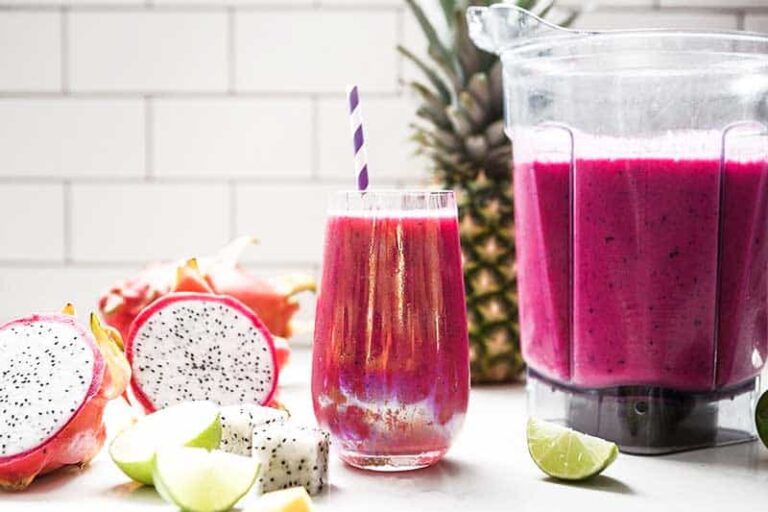 Dragon Fruit Smoothie
Simple and sweet with a vibrant pink color, this Dragon Fruit Smoothie can be topped with your favorite sliced fruit, granola, chia seeds or hemp seeds for a splendid breakfast or plant-based snack.
Instructions
Blend all ingredients in blender until smooth and creamy.

Pour into a glass and enjoy!
Notes
Swap in 3/4 cup carton coconut milk for almond milk
Any variety of dragon fruit can be used for this recipe, just know if it's yellow or white flesh, the color will change
Use at least 1 frozen fruit for a refreshingly cool smoothie
Nutrition
Calories:
146
kcal
,
Carbohydrates:
24
g
,
Protein:
2
g
,
Fat:
4
g
,
Saturated Fat:
1
g
,
Polyunsaturated Fat:
1
g
,
Monounsaturated Fat:
1
g
,
Sodium:
316
mg
,
Potassium:
132
mg
,
Fiber:
3
g
,
Sugar:
20
g
,
Vitamin A:
478
IU
,
Vitamin C:
39
mg
,
Calcium:
237
mg
,
Iron:
2
mg