While this smoothie tastes like the holidays, you really can enjoy it any time of year! I'm using unique ingredients to perfect my gingerbread smoothie and I can't wait for you to give it a blend.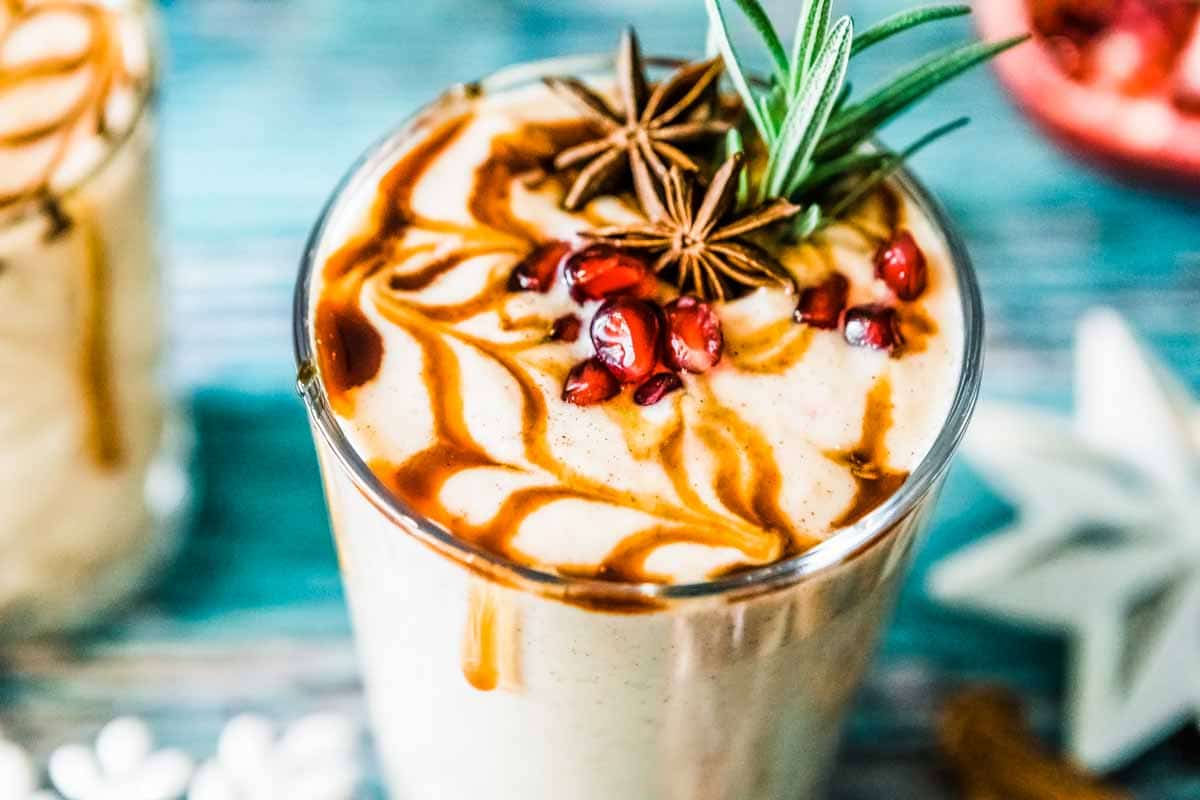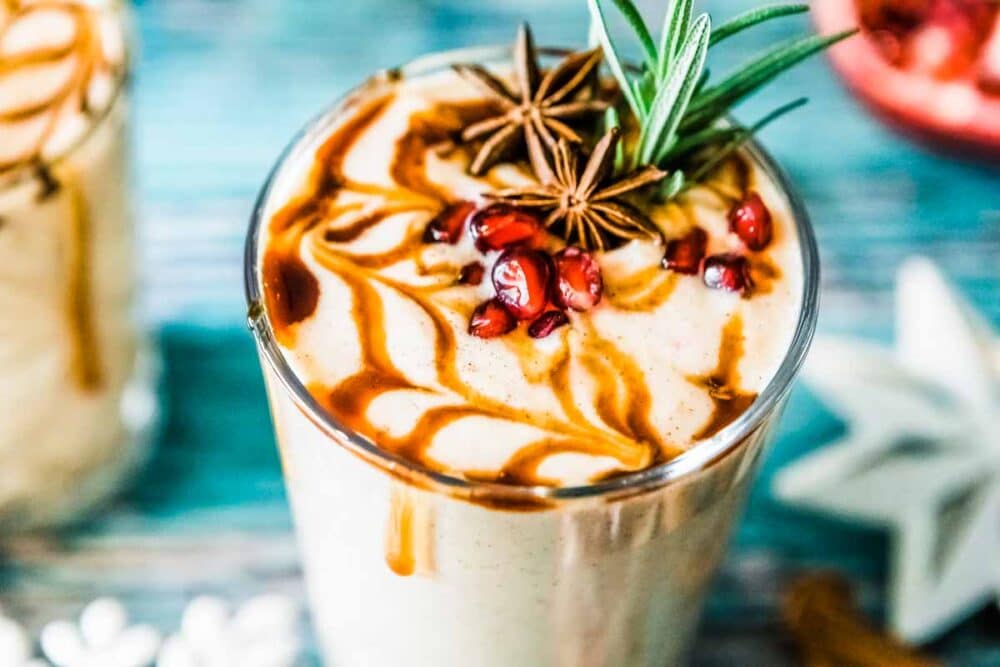 Cozy gingerbread spice pairs with nutrient-packed veggies in this tasty gingerbread spice smoothie. Blend up a thick and creamy holiday-inspired smoothie with plant powered ingredients to fuel you through your morning. Everything you love about a classic gingerbread recipe is in this flavorful, nutrient-packed smoothie, adding it to my rawkstar list of holiday drinks.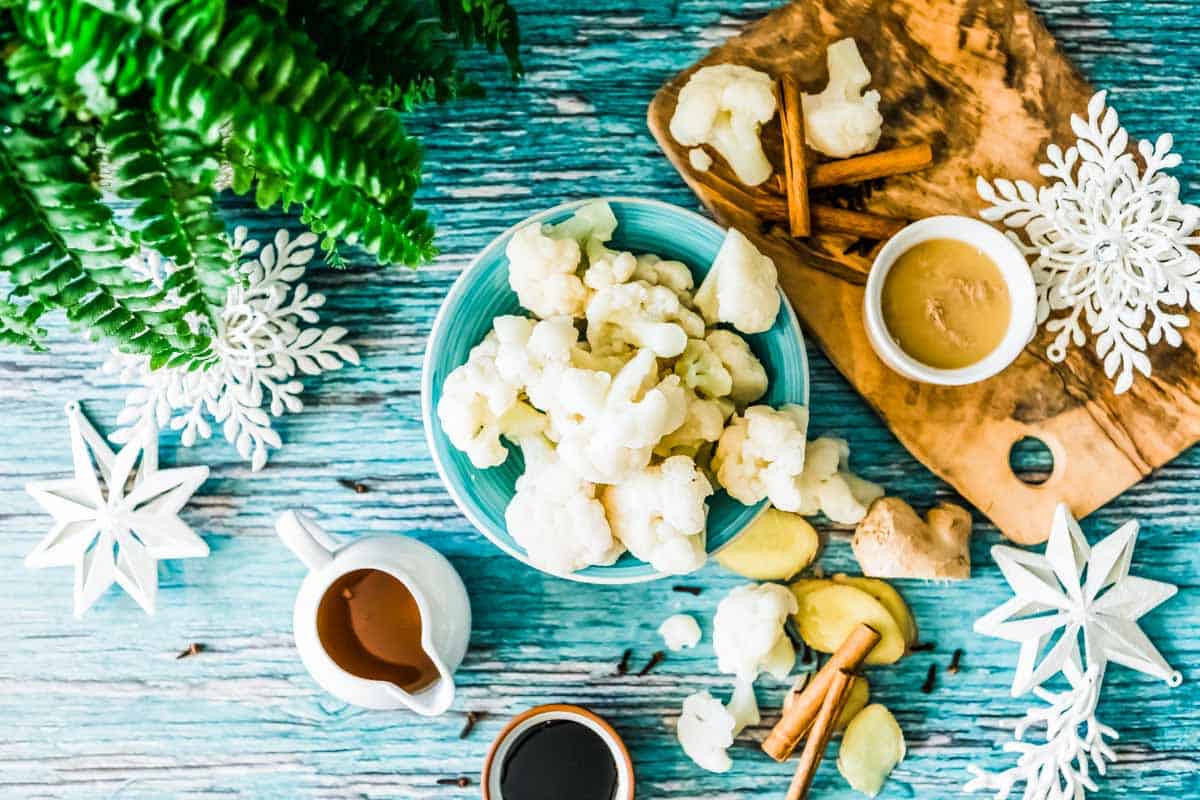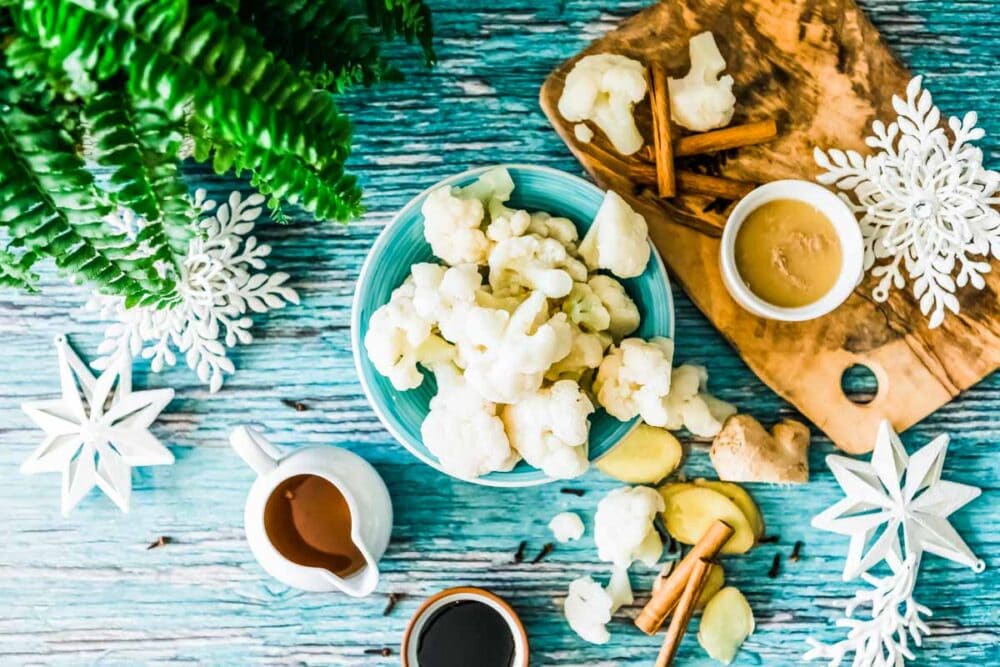 Gingerbread Spice
The first recorded recipe of homemade gingerbread traces back to 2400 BC Greece (that's a LONG time ago!). Modern versions of gingerbread can be found in England, France, Holland, and Germany. The classic gingerbread spice contains ground cinnamon, cloves, as well as nutmeg. Molasses is also almost always found in a gingerbread recipe, so I count that in the flavor profile as well!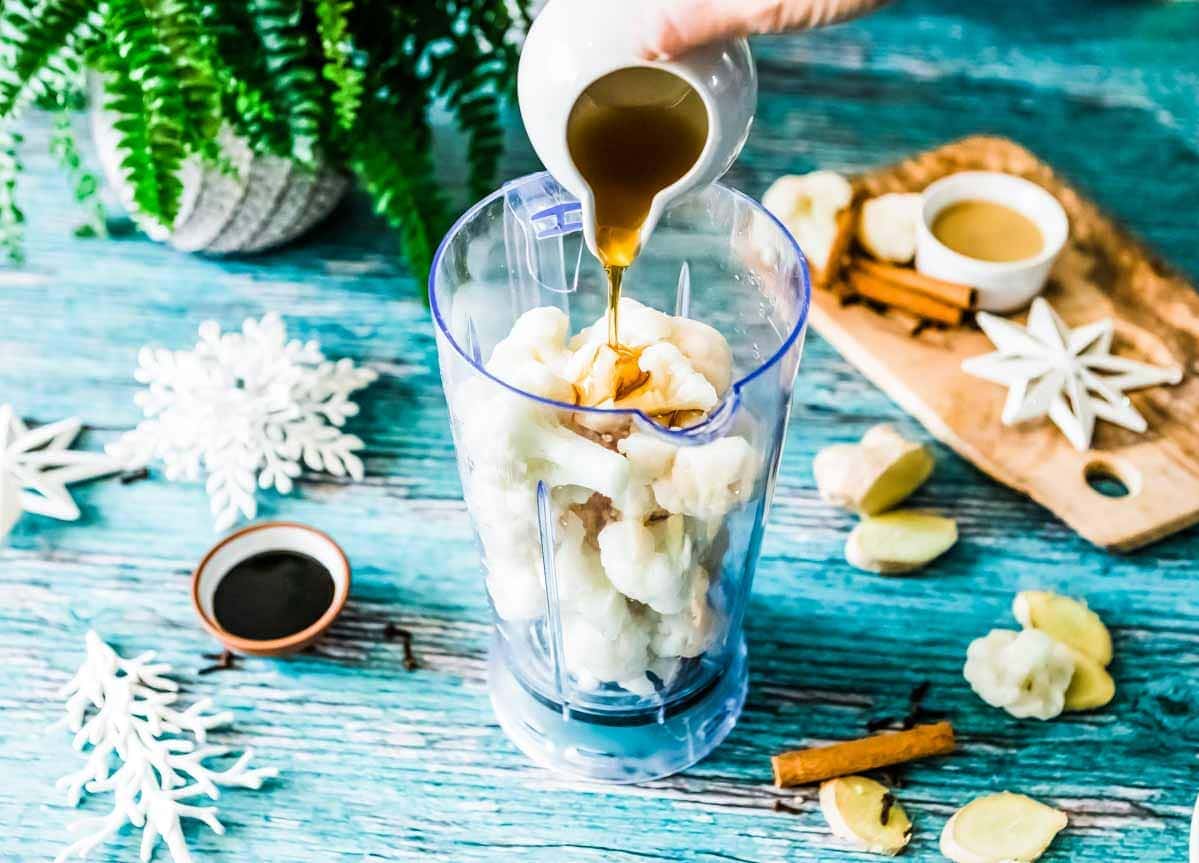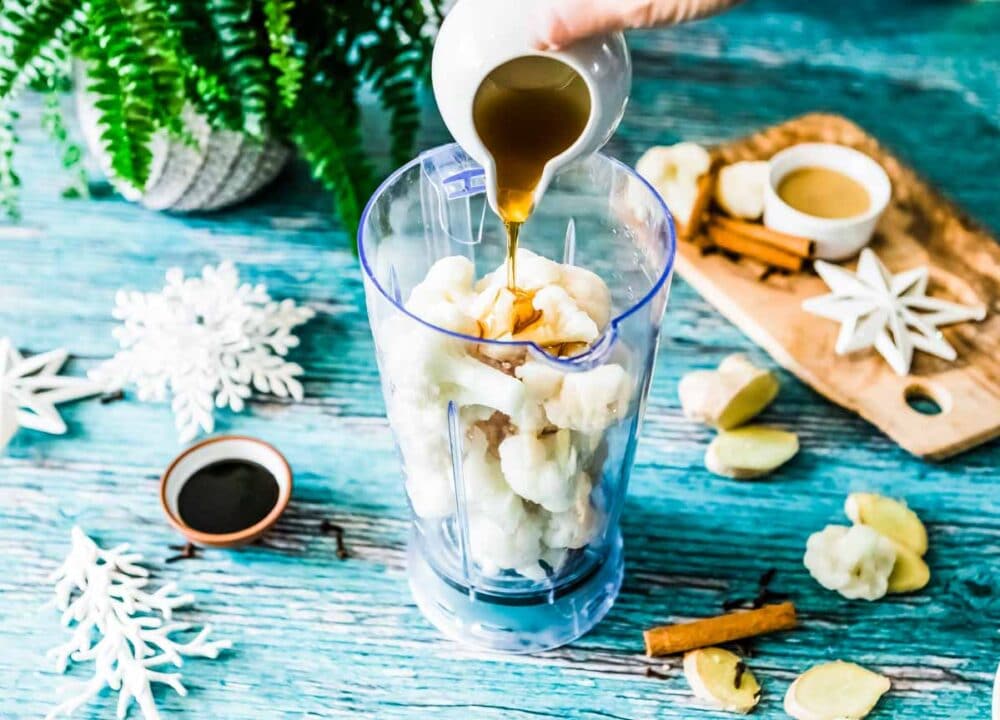 Ingredients in my gingerbread spice smoothie
When adapting a cookie recipe into a smoothie, I have to get creative sometimes. This fun + festive smoothie delivers on flavor and texture with some unique (but perfect) ingredients:
Tahini- This sesame seed paste is commonly found in savory dishes, yet has a mild, nutty taste that makes it perfect for a smoothie. You can also use regular sesame butter for this smoothie, if that's easier to find.
Molasses- While molasses is a normal gingerbread ingredient, it is not found in many of my smoothie recipes. Yet it's a great addition! It helps tie in the gingerbread spice, as well as offering a good iron boost.
Frozen cauliflower- This unique ingredient is a hidden gem in the smoothie world. It's a veggie (win!) and when frozen, it has almost no taste (win, win!). It provides a creamy base to this gingerbread spice smoothie without overpowering it. I usually buy frozen, riced cauliflower from Costco, yet you can buy fresh and freeze it yourself.
How to freeze cauliflower
Freezing your own cauliflower is super simple. Rinse a fresh cauliflower head well, then chop into 4 sections. Cut each section into small florets, then place on a baking sheet and freeze for 1 hour (or until frozen). Once frozen, place florets in a freezer-safe container until ready to blend. Flash freezing them on a baking sheet first allows each floret to freeze individually, so that they don't clump together. Smoothies blend best with at least 1 frozen ingredient.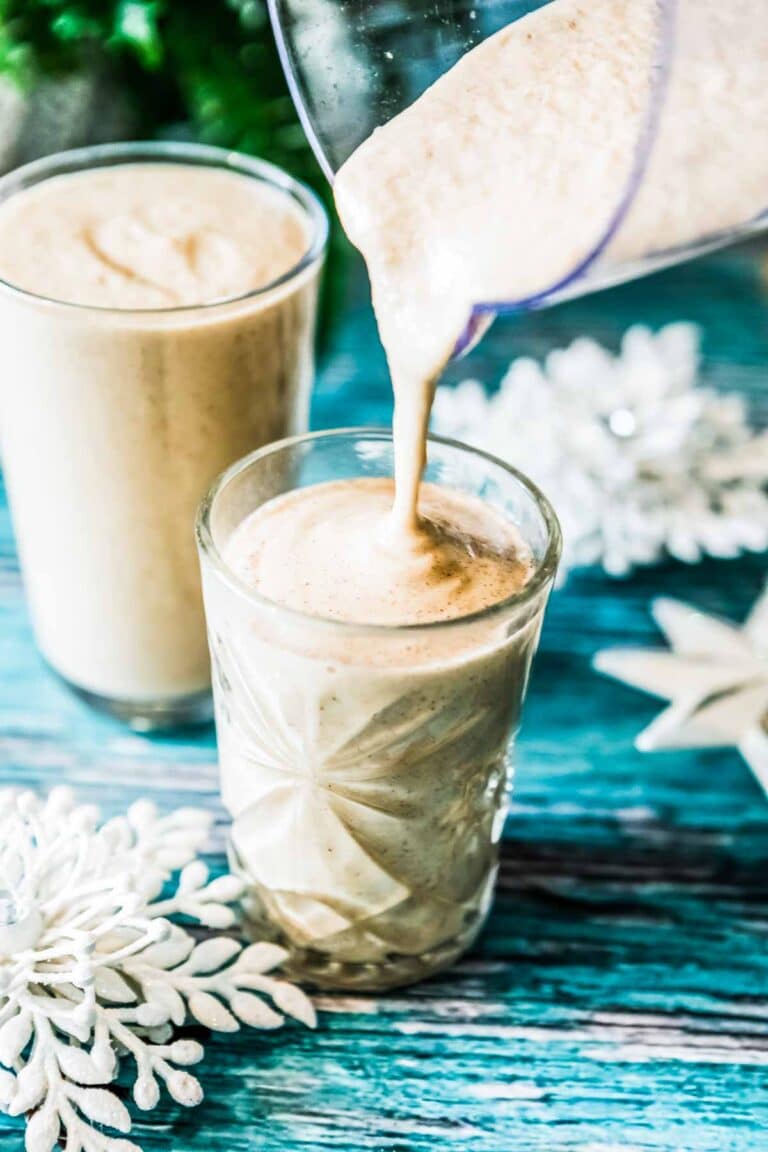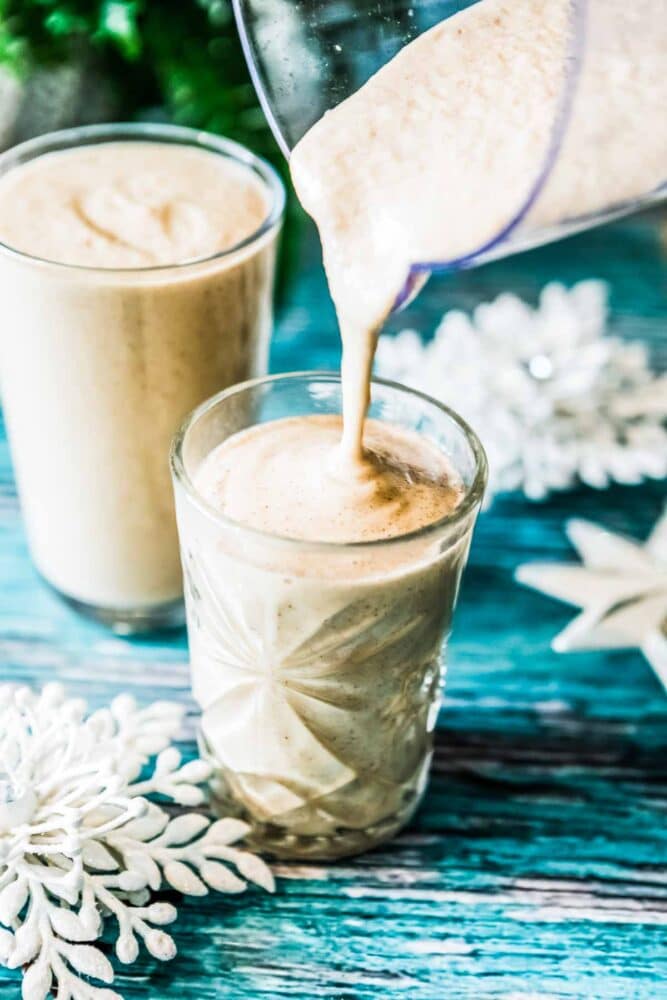 Boosting your smoothie with protein
Between the cauliflower, tahini, and cashew milk this holiday drink is well on its way to becoming a protein powerhouse. Yet if you're looking to make it a meal replacement without compromising on the gingerbread spice flavor, then adding homemade protein powder is the way to go. It is a plant based protein that is 100% organic, and made with only 3 ingredients. It will give you 10 extra grams of protein, turning this smoothie into a 19.5g protein shake! A classic gingerbread recipe's got nothing on this plant based smoothie!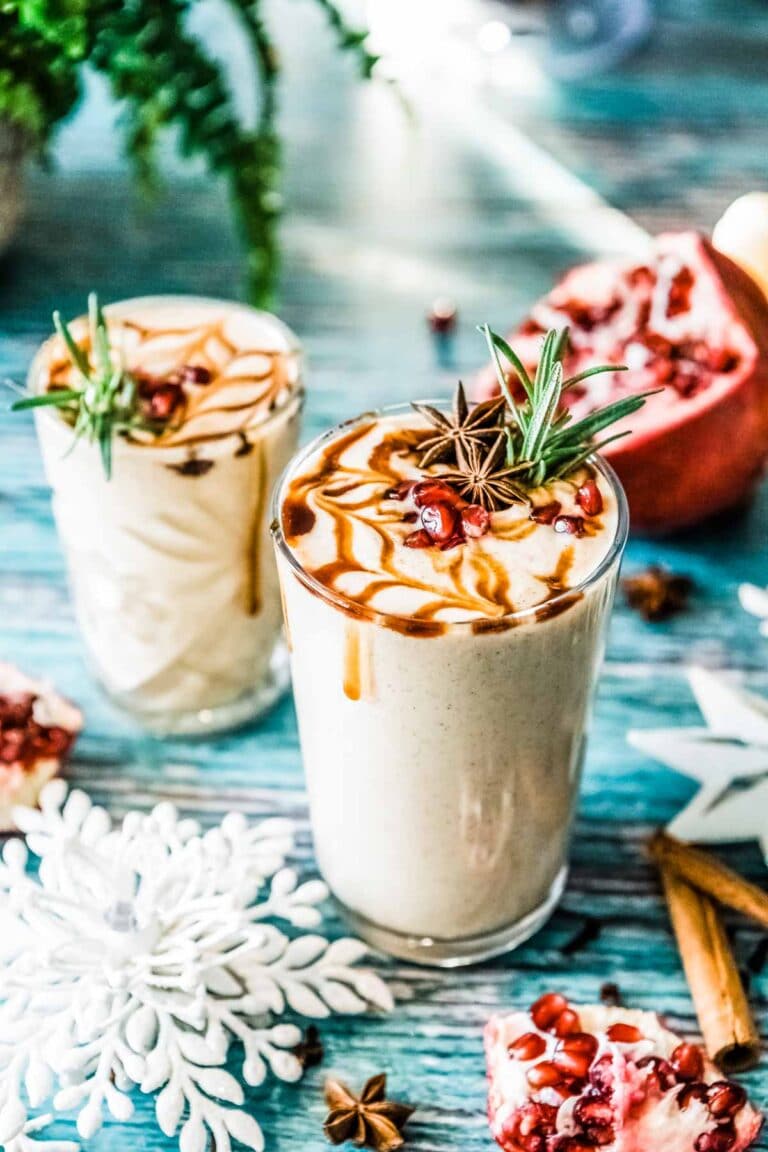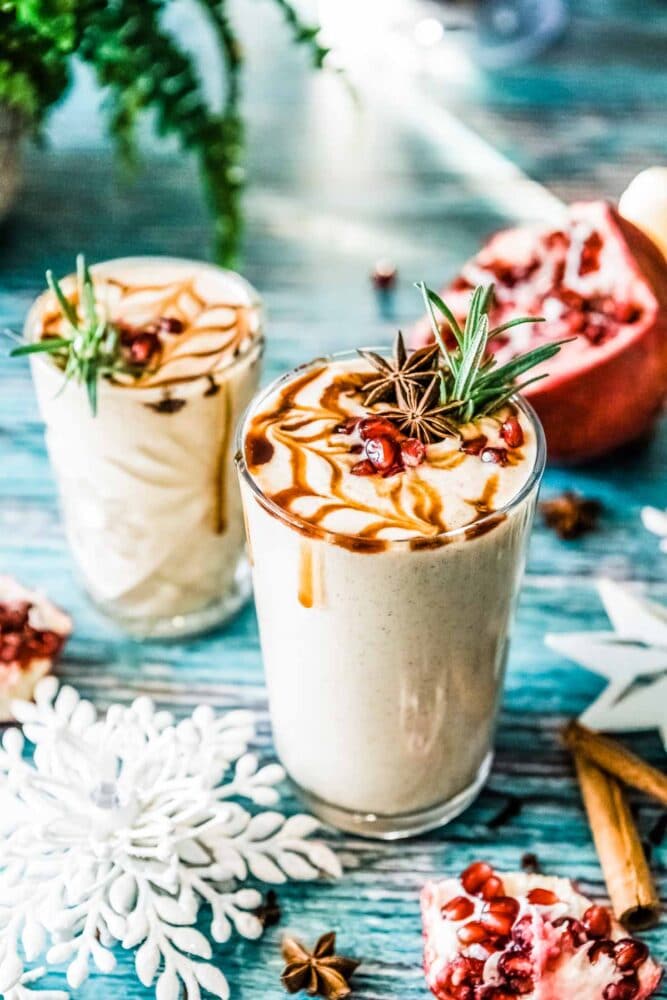 More holiday drinks
If this gingerbread spice smoothie is giving you some major holiday vibes, then you should check out some of my other plant based holiday drinks! I just love embracing the season through food, flavors, and fun combinations.
If you've got a fun holiday drink to add to this list, leave a comment below and let me know!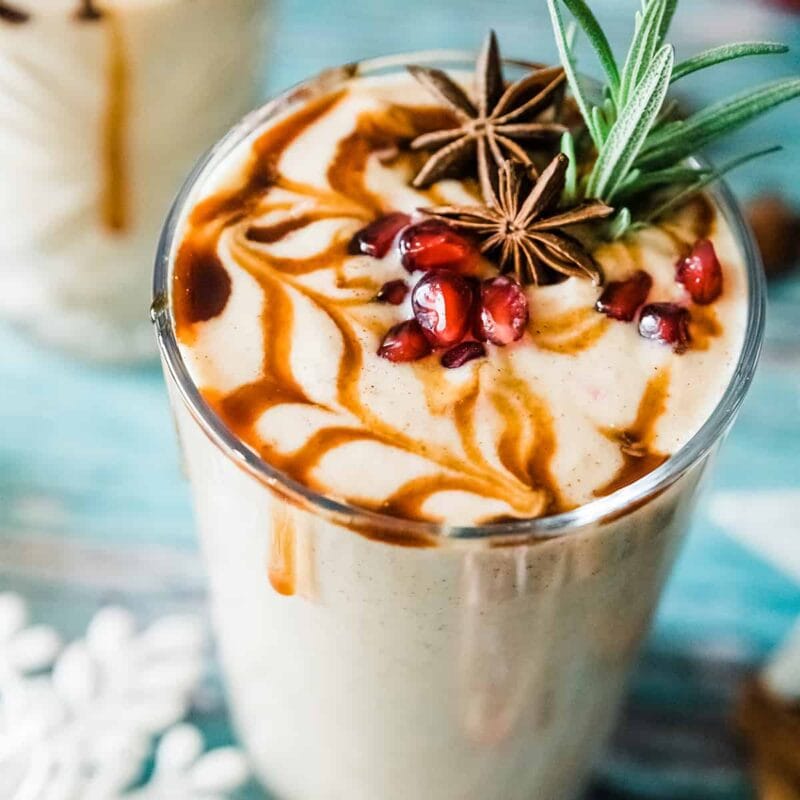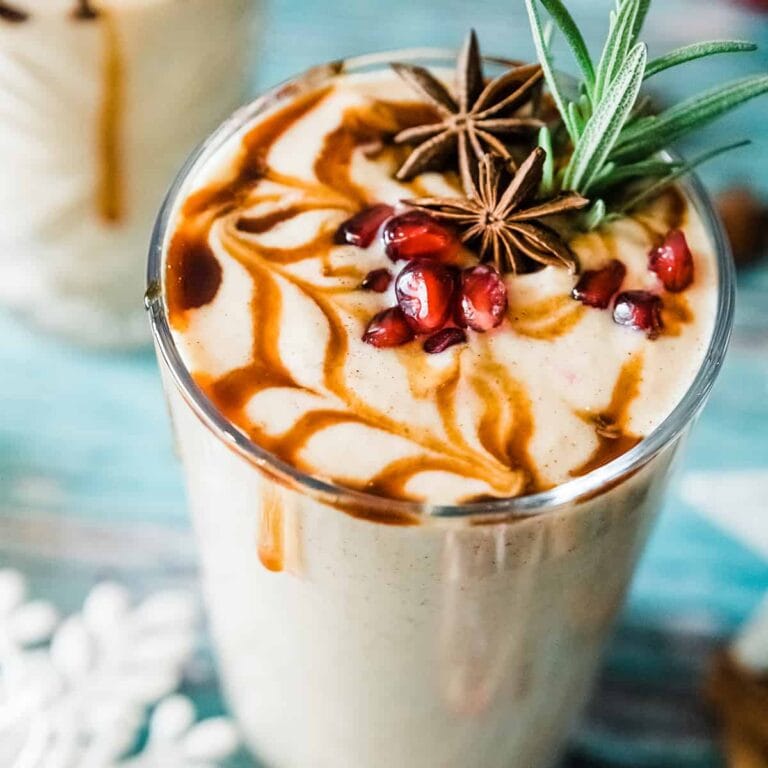 Gingerbread Spice Smoothie
A delicious holiday drink loaded with classic gingerbread recipe flavors, this gingerbread spice smoothie will put you in a jolly mood at first sip.
Ingredients
1

cup

cauliflower

frozen

1

tbsp

tahini

1

tbsp

molasses

1-3

teaspoon

maple syrup

⅛

teaspoon

ground nutmeg

⅛

teaspoon

ground cloves

1

inch

ginger root

1

cup

cashew milk
Instructions
Blend cauliflower, tahini, molasses, maple syrup, nutmeg, cloves, ginger, and cashew milk until creamy and smoothie.

Pour transfer blended smoothie to your fav holiday jar and enjoy!
Notes
For a thinner consistency, add more cashew milk.
If you want a creamy smoothie without nuts, opt for oat milk or coconut milk instead of cashew milk.
Nutrition
Calories:
223
kcal
,
Carbohydrates:
30
g
,
Protein:
5
g
,
Fat:
10
g
,
Saturated Fat:
1
g
,
Polyunsaturated Fat:
4
g
,
Monounsaturated Fat:
4
g
,
Sodium:
205
mg
,
Potassium:
709
mg
,
Fiber:
3
g
,
Sugar:
21
g
,
Vitamin A:
11
IU
,
Vitamin C:
49
mg
,
Calcium:
95
mg
,
Iron:
2
mg