I love the idea of using those almost too-ripe bananas for muffins, but then I think of the dishes and clean up and I decide it's too much. Not the case with these gluten-free banana muffins! I toss all the ingredients into my blender for super easy prep.
My almond-flour banana muffins are actually easy to make with minimal clean-up.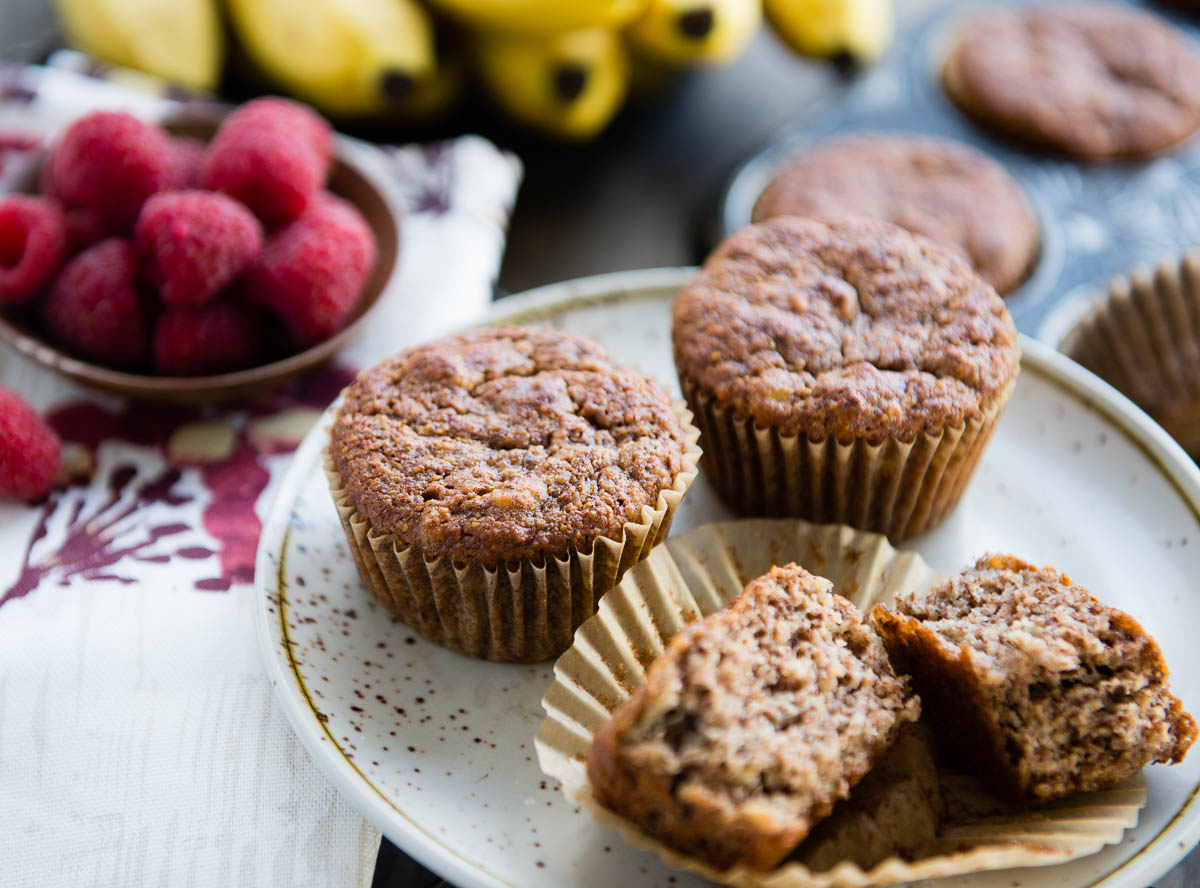 Bookmark this recipe to be your go-to the next time you find bananas that are past enjoying. They are perfect for muffins! I'm not into big messy baking sessions so this is a great way to get the benefits of homemade muffins without all the dishes.
Table of Contents
Recipe Ingredients for Almond Flour Banana Muffins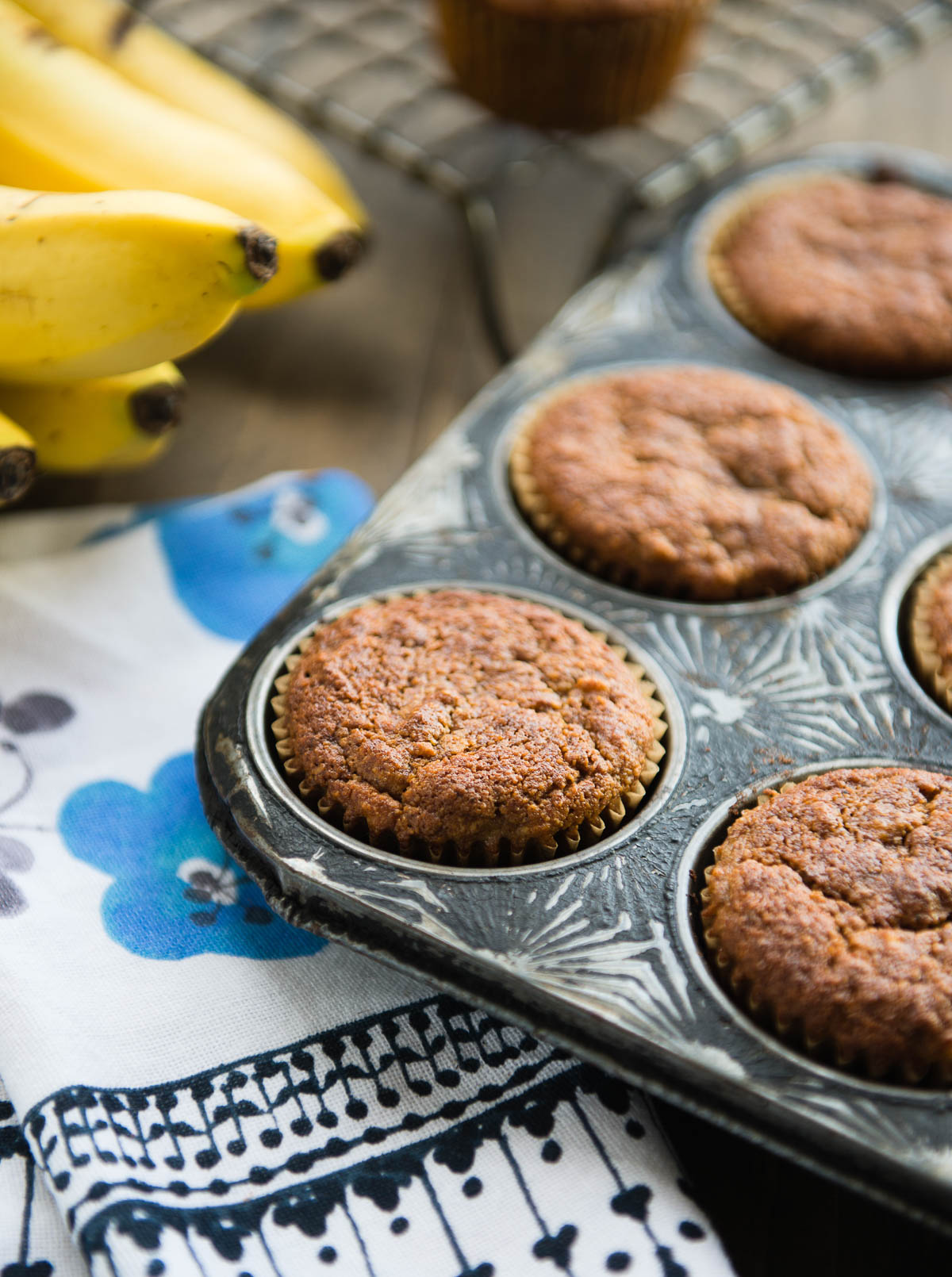 Before starting this recipe, let's make sure you've got all the ingredients on hand. I'm also sharing some easy swaps so don't fear if you aren't ready with the almond flour… I've got you covered.
Gluten-free baking uses almost all the same ingredients are regular baking, so don't let the title stop you from trying these delicious muffins.
Wet Ingredients:
Bananas: On the banana spectrum, you want ones with some good spots on them for this recipe. Completely brown? I won't judge.
Eggs: I'm using real eggs here, yet you can make this recipe vegan by swapping in two flax eggs.
Pure Maple syrup: I just love the deep, rich sweetness this provides. Use the natural sweetener of your choice.
Coconut oil: I prefer coconut oil over olive or avocado in my baked goods because it provides a slight sweetness and isn't too heavy.
Vanilla extract: Another way to add warmth is with a good quality vanilla extract. Homemade is even better!
Dry Ingredients:
Almond meal: You can use either almond meal or flour here, the flour is typically a bit finer. Since I'm using a blender, my meal will be ground a bit more during the blending process. You can also swap this with all-purpose gluten-free flour or do an almond and oat flour blend.
Spices: I love a bit of cinnamon and nutmeg in this recipe, yet feel free to spice them how you want.
Baking soda + baking powder: These are both especially important in a recipe that isn't using regular flour as they will help the muffins rise and have a lightness to them.
Sea salt: Please salt your baked goods. Always.
This recipe just so happens to be dairy-free as well. That wasn't intentional yet it is a bonus!
Easy Add-Ins
To really make these a breakfast of champions kind of thing, add in a serving of homemade protein powder or the powder of your choice (just replace 1/4 cup of almond flour with the protein powder) to make them even more filling.
I love tossing in walnuts or pecans (really any chopped nuts work), whatever I've got available, for a bit of a crunch. And there's no harm in mixing some chocolate chips in either!
How to Make Banana Muffins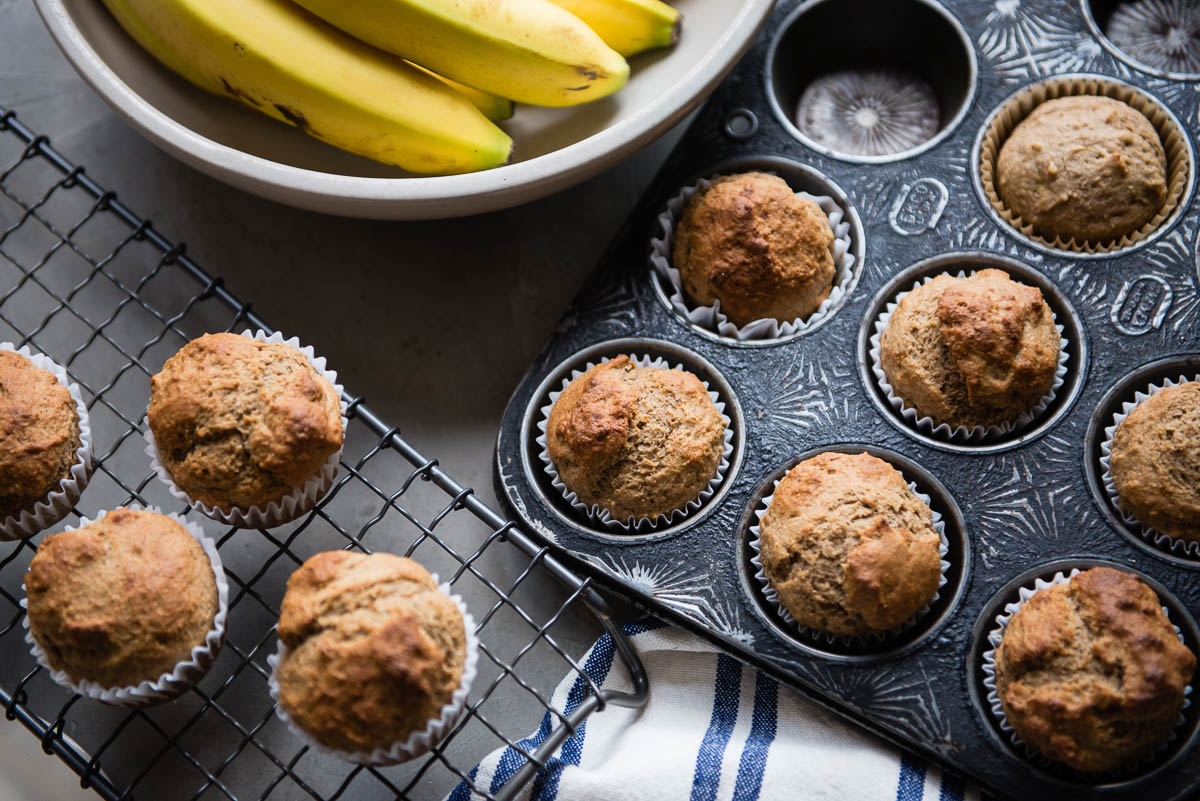 This is probably my favorite muffin recipe because it is so easy to mix together! Grab your blender, yes blender, and a muffin tin to get started:
Preheat the oven to 350°F and line a standard muffin pan with paper muffin liners.
In a blender puree the wet ingredients first: banana, eggs, maple syrup, coconut oil and vanilla. Stop and scrape down the sides as needed.
Add the dry ingredients: almond meal, cinnamon, nutmeg, baking soda, baking powder and salt and blend on medium until combined.
Pour out the batter evenly between the 12 muffin cups and bake for 25 minutes or until golden. A toothpick stuck in the center of the biggest muffin will come out clean if baked through.
Let cool slightly before enjoying.
Since you're using a blender to mix ingredients, no need to have mashed bananas or extra mixing bowls. Just toss it all in, blend and then bake!
Storage Options
If you know these gluten-free banana muffins will be gone quickly then store them on the counter in an air-tight container with a paper towel inside to help keep in the moisture.
I like to double this recipe and freeze half the batch. My future self is never mad about that decision. So to freeze them, grab a silicone freezer bag and store the leftovers in the freezer for several months.
When you're ready to enjoy them, thaw them on the counter overnight, then either reheat them in the microwave or eat at room temp.
Avoid storing these in the fridge as that will dry them out. No one needs dry muffins in their life. Life is just too short for that.
FAQs
How do you make muffins moist and not dry?
Banana muffins are easily moist right off the bat as long as you don't overbake them. Once they are out of the oven, you can do a few things to keep them moist for the next few days while you enjoy them. Store them in an air-tight container with a paper towel over them. This will help keep the moisture in the muffins. Do not refrigerate as this dries them out. If you want to freeze yours to enjoy later, then when you pull them out, heat them up then add a bit of butter or coconut oil to the muffin right away to help it soak in that moisture and become fluffy again.
Do you have to use ripe bananas for muffins?
I recommend using ripe bananas for a few reasons. First, taste! You want your banana muffins to taste, well, like bananas. If you use green ones, you won't get that sweet flavor coming through. Second, ripe bananas are softer and easier to mash/blend into batter than unripe ones. Third, flavor again. Seriously though, your muffins won't taste right if the bananas aren't ripe.
How many calories are in a homemade banana muffin?
My gluten-free banana muffins have 182 calories, 5 grams of protein, 3 grams of fiber and 8 grams of sugar. This makes them a great snack option or a quick breakfast on the go.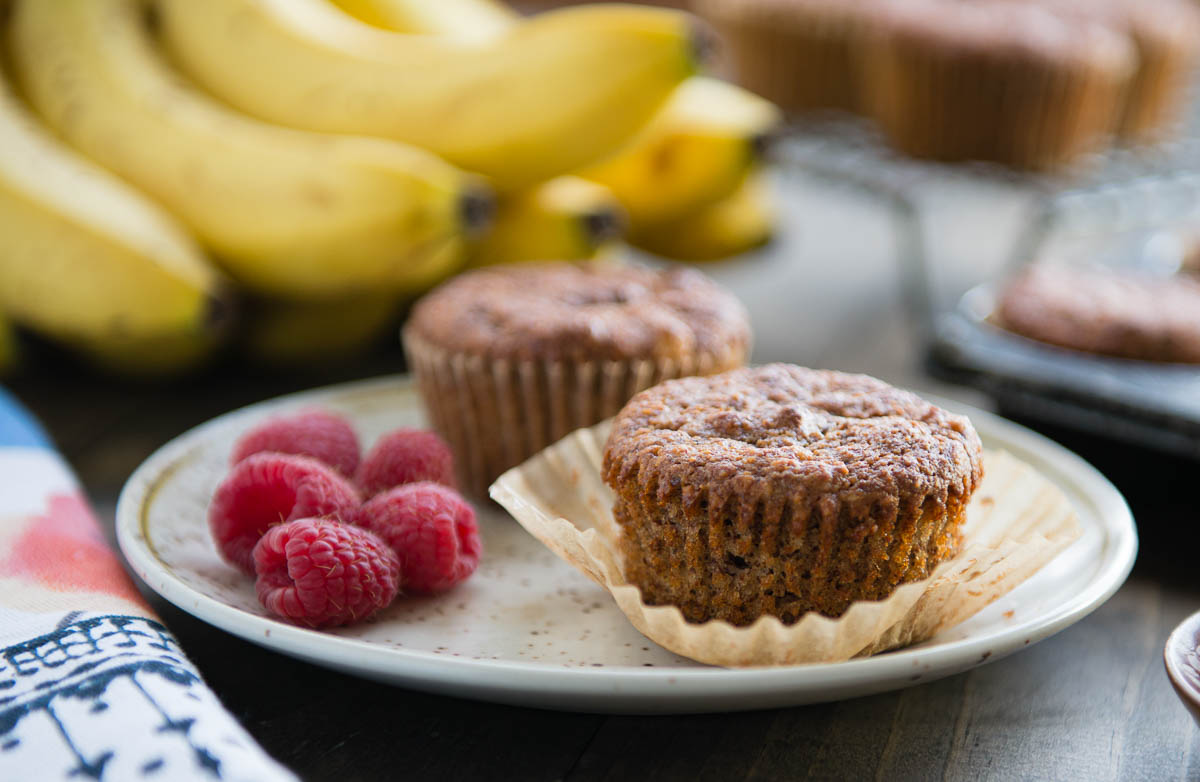 More Gluten-Free Breakfast Options
Prepping some easy breakfasts ahead of time is fairly easy since most recipes can be doubled or tripled without much extra work, then frozen for the future.
I like to make a few items at once so my kids have options on busy mornings; they are great at working that toaster oven to reheat waffles, gluten-free banana muffins and more! I am loving this stage of having teenagers, does anyone else feel the same?
Here are a few of my go-to options:
Do you like muffins for breakfast, snacks or dessert? Let me know in the comments below!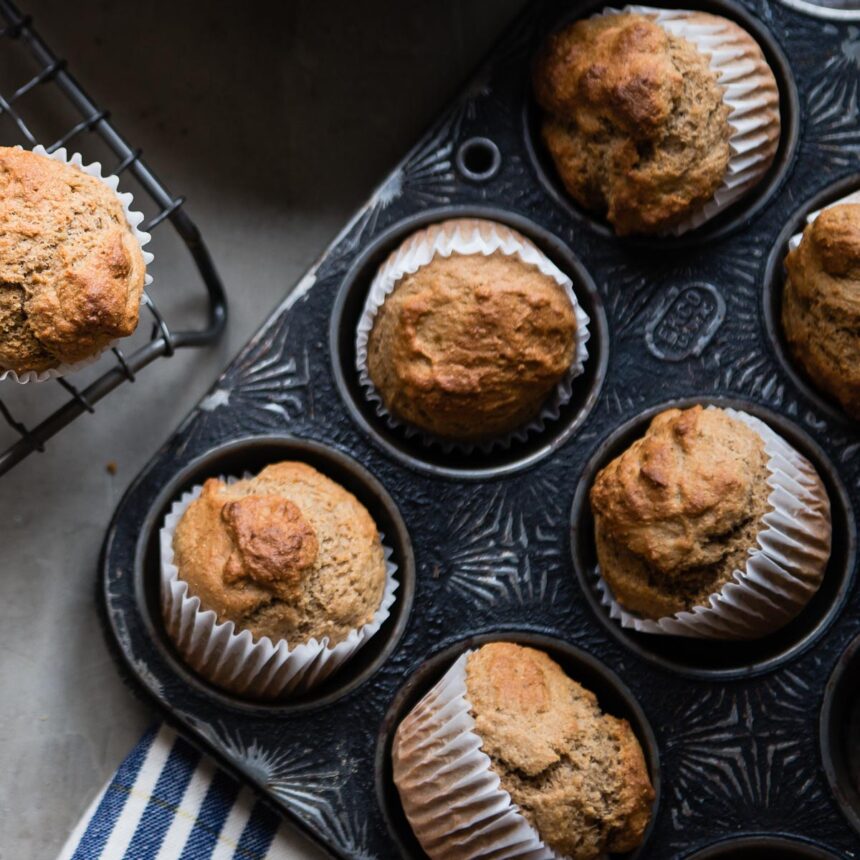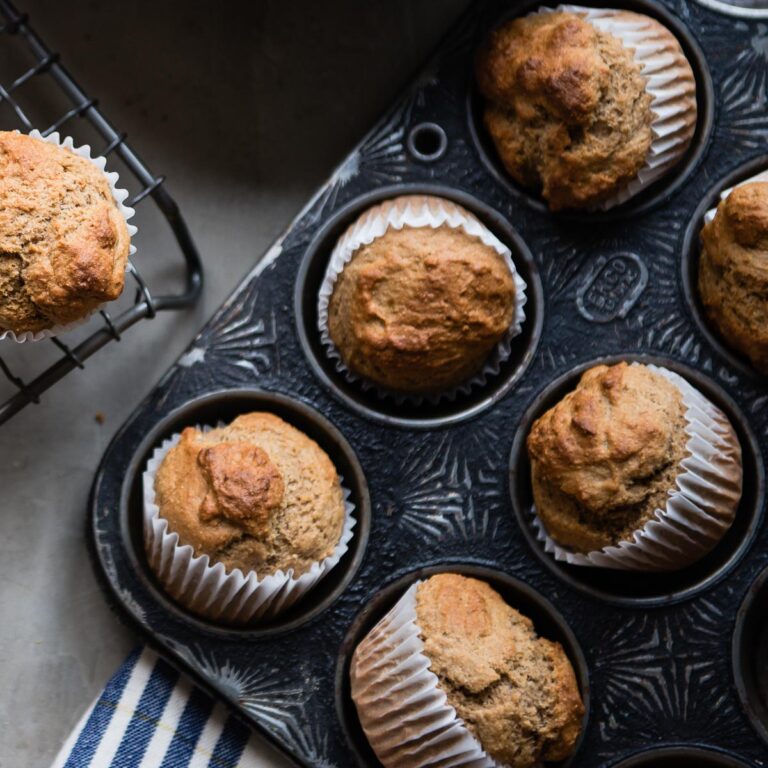 Gluten-Free Banana Muffins
We've lost count of the number of times we've baked up a batch of these tasty, flavor-packed Gluten-Free Banana Muffins. They're naturally sweetened while being high in protein, fiber, potassium, vitamin E and healthy fats. What's not to love?
Equipment
blender

oven

standard 12 cup muffin tin
Ingredients
3

bananas

ripe

2

eggs

¼

cup

maple syrup

2

tbsp

coconut oil

1

tsp

vanilla extract

2

cups

almond meal

1

tsp

cinnamon

ground

½

tsp

nutmeg

ground

½

tsp

baking soda

½

tsp

baking powder

½

tsp

sea salt
Instructions
Preheat oven to 350°F. Line a standard muffin tin with paper liners or coat with coconut oil.

In a blender, puree bananas, eggs, maple syrup, coconut oil and vanilla extract until smooth.

Add almond meal, cinnamon, nutmeg, baking soda, baking powder and salt to blender and blend on medium until combined.

Evenly distribute batter between 12 muffin cups and bake 25 minutes or until golden. Test for doneness by pressing on the center; it should spring back.

Let cool slightly before eating.
Notes
Vegan? Swap eggs for flax eggs.
Swap maple syrup for the natural sweetener of your choice.
Swap coconut oil for avocado or olive oil.
Store in an air-tight container for up to 5 days, or freeze in a freezer-safe container for up to 6 months.
Use the gluten-free flour blend of your choice in place of the almond meal.
Nutrition
Calories:
182
kcal
,
Carbohydrates:
16
g
,
Protein:
5
g
,
Fat:
12
g
,
Saturated Fat:
3
g
,
Polyunsaturated Fat:
0.2
g
,
Monounsaturated Fat:
0.4
g
,
Trans Fat:
0.003
g
,
Cholesterol:
27
mg
,
Sodium:
172
mg
,
Potassium:
132
mg
,
Fiber:
3
g
,
Sugar:
8
g
,
Vitamin A:
59
IU
,
Vitamin C:
3
mg
,
Calcium:
64
mg
,
Iron:
1
mg