If you're considering a grain-free diet, this free meal plan has everything you need to RAWK it for one week. I've included breakfast smoothies, plant-based snacks and dinners that are tasty and nourishing grain-free recipes.
This grain-free meal plan is possible with Rawk the Year Meal Planner, an amazing tool to create custom healthy meal plans in less than ten minutes a week.
Table of Contents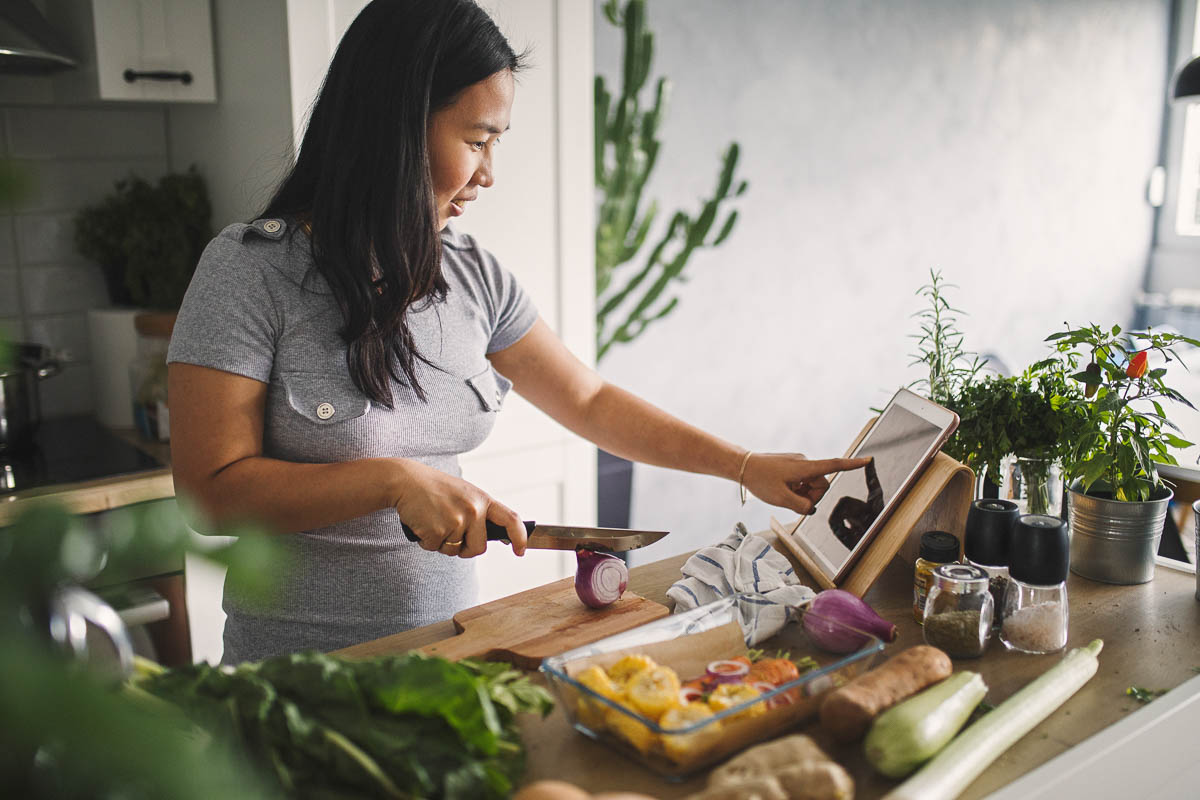 Why Follow a Grain-Free Diet?
Whether you suffer from Celiac disease, a wheat allergy, experience symptoms like inflammation, high blood sugar or have a gluten intolerance (like me), avoiding grains can help you feel a whole lot better.
Talk to your health practitioner before deciding to cut out an entire food group. I go grain-free when I need a break, my joints are too achy or I can't sleep well. It's just like when I go through my Vegan Meal Plan to give my body a reset from all animal products.
What do I mean when I say "grains"? Whole grains are the edible seeds of certain grasses and include:
barley
rye
spelt
wheat
millet
oats
rice
sorghum
dried corn (fresh corn is a veggie, dried corn is a grain)
Buckwheat, amaranth, and quinoa are called "pseudocereals", foods that resemble grains but aren't members of the grass family (they are seeds).
They have similar cooking and baking properties of grain (and can cause similar discomfort in sensitive people). Because of this, we're not using these three ingredients in this meal plan.
Note: A grain-free diet is not the same as a gluten-free diet. Those who want to cut out gluten only can still eat grains like gluten-free oats, rice and more. Notice that products in the grocery store aren't necessarily grain-free when they say gluten-free on them, that just means they are gluten-free.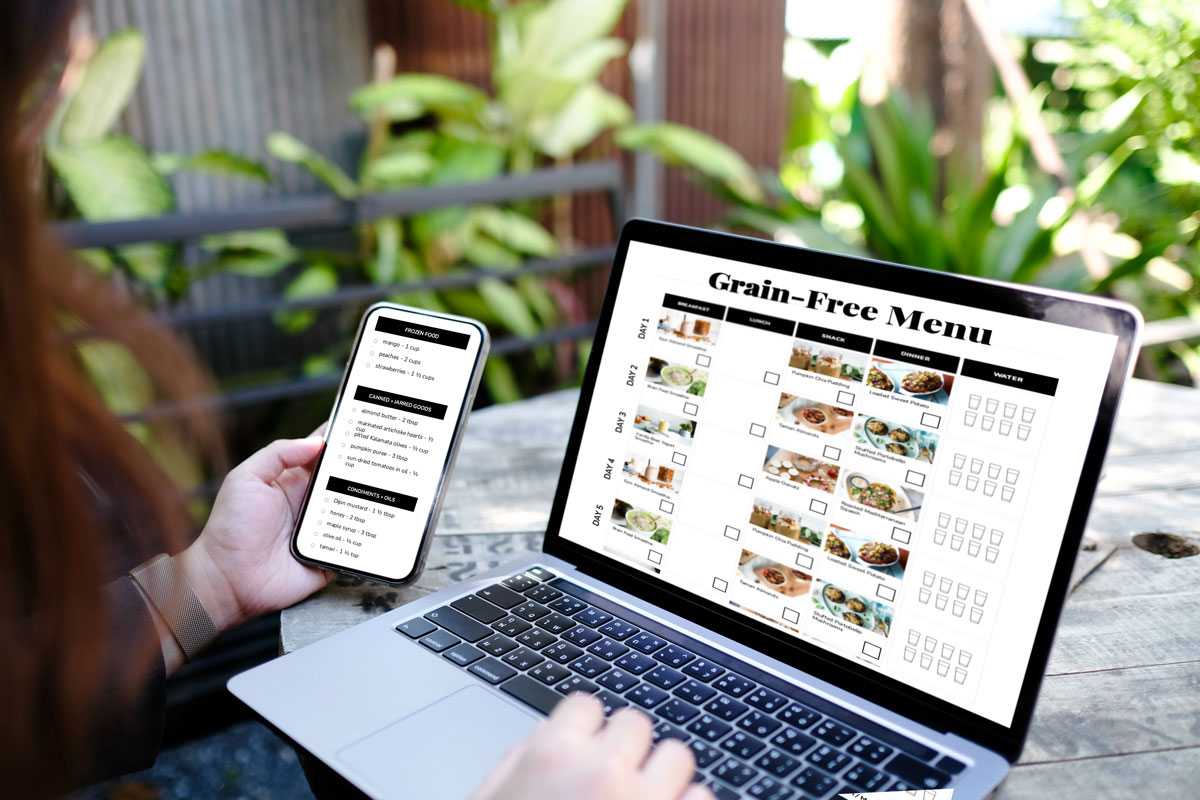 7-Day Grain-Free Meal Plan
Following the success of my Mediterranean Diet Meal Plan, this grain-free plan includes a grocery list and daily menu to help you succeed in removing grains from your diet. There's a variety of recipes in this meal plan from zucchini noodles (instead of pasta) and crunchy cabbage wraps (instead of tortilla shells), giving you innovative ways to swap grains with nutrient-rich alternatives.
Grain-Free Menu
My menu includes nine recipes to use throughout the week. You'll be repeating meals to keep it simple. Everything can be made ahead and easily reheated as leftovers if you want. This interactive menu allows you to check off each item as you make it and also click on the recipe image to access to entire recipe. Lunch is left open for you to have leftovers, blend an extra smoothie or have a salad. It's up to you!
Your Grocery List
The grocery list has everything you'll need to make the recipes for the week for one person. Double it if doing it with a loved one. Make sure to read labels on items you buy in case they try and sneak in some grains (you'd be surprised how often wheat sneaks into items).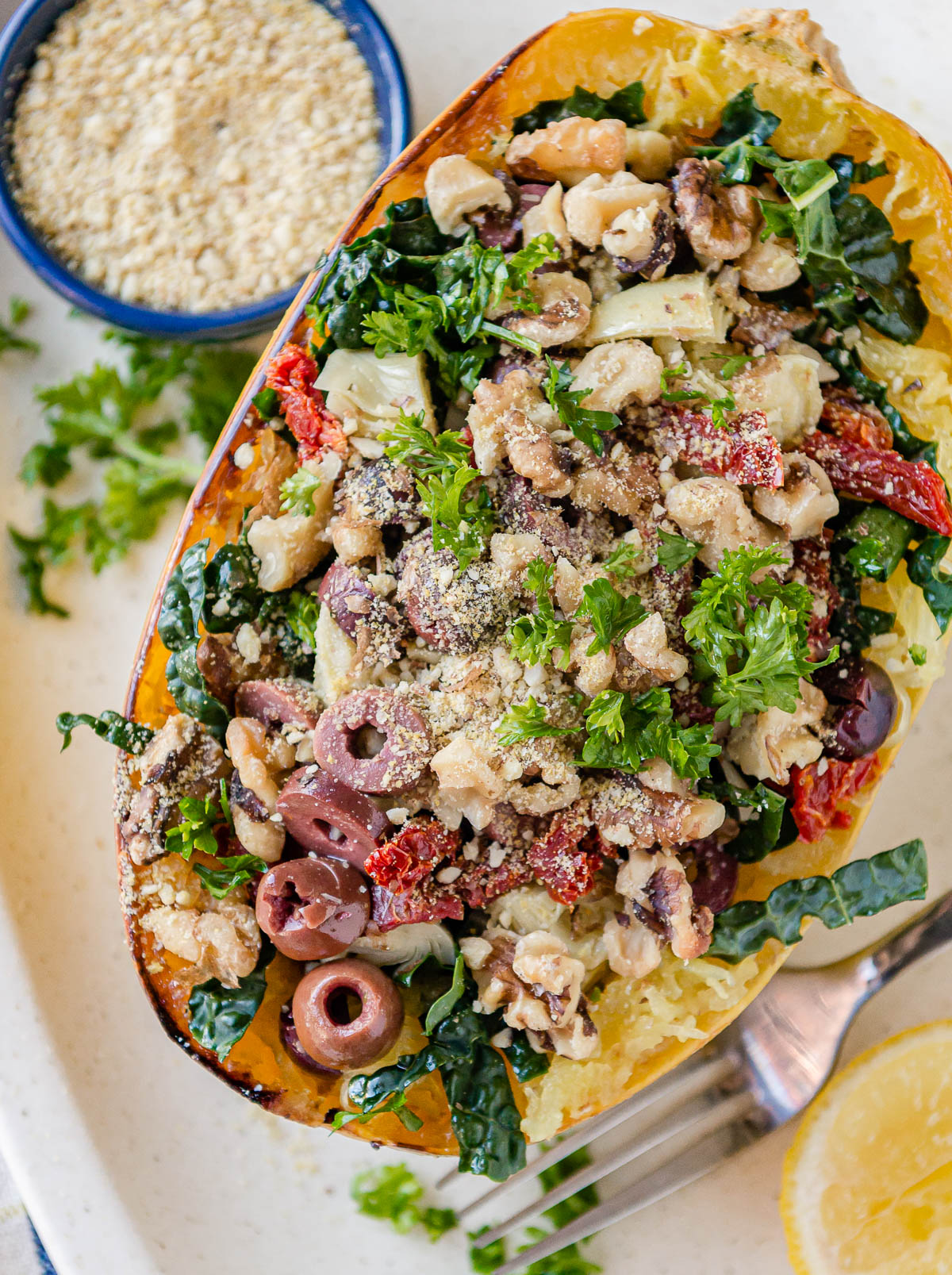 Grain-Free Diet Recipes
Now let's get to the recipes! Following a grain-free diet can be flavorful, nutrient-rich and truly enjoyable. The nine recipes below include the smoothies, snacks and meals you'll make this week.
Browse through the recipes below or click on the full-color recipe image included in the Grain-Free Menu.
Breakfast Smoothie Recipes
Smoothies are my favorite way to start the day, after my cup of healthy coffee. They're fast to make, easy to take with me or enjoy at home and are light yet filling. All the smoothie recipes have protein and healthy fats to make them a wonderful meal replacement to fuel you throughout the morning.
The Yogurt Smoothie is like comfort food in a cup while my Almond Smoothie is super filling. If you want to start your morning with a refreshing option, blend up the Brain Food Smoothie to get an energy rush without any caffeine!
I notice that when I avoid flour, cereal and dairy at breakfast I feel more energetic, crave healthier foods all day and skip that awful sugar crash.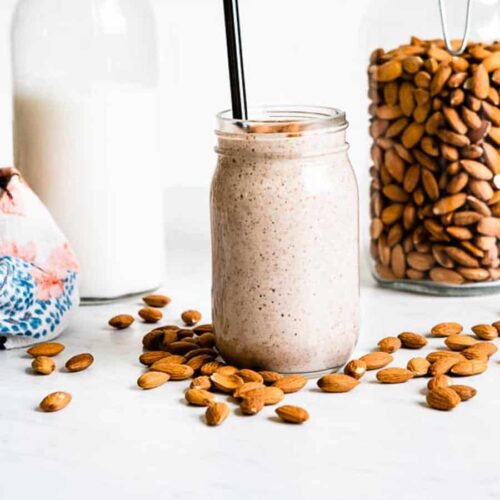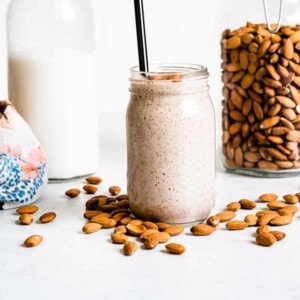 Epic Almond Smoothie
Start your morning with a protein fueled breakfast all wrapped up in a perfectly sweet smoothie. This almond smoothie is delicious and an easy on-the-go beverage for a busy day.
Make Recipe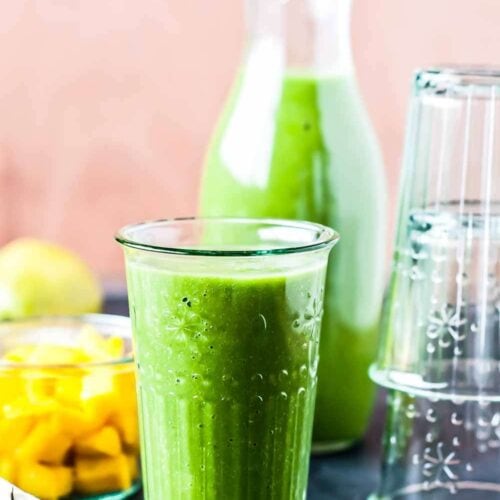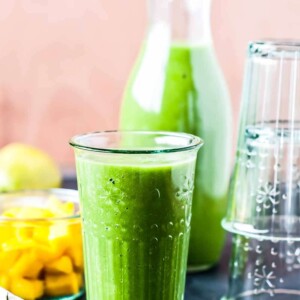 Brain Food Smoothie
This brain food smoothie has everything you need to get you going in the morning— protein, healthy fats, and replenishing electrolytes. Adding avocado to smoothies gives you a lovely dose of omega-3 essential fatty acids, which are vital for brain development and nerve function. Not only that, but the avocado also assists the body in absorbing nutrients from the greens.
Make Recipe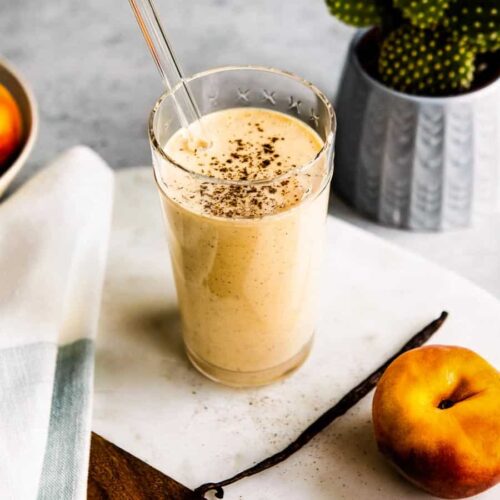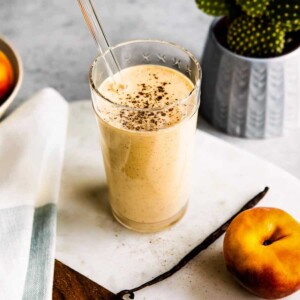 Vanilla Bean Yogurt Smoothie
Whip up this super simple, super delicious vanilla bean yogurt smoothie made with just five ingredients. Switch up the type of fruit according to what's in season for endless possibilities!
Make Recipe
---
Filling Snacks Without Grain
Snack time is often when I reach for grains the most. It can be daunting to find a snack that tastes good and is grain-free, yet I've got some options that fit both criteria!
The Pumpkin Chia Pudding and Oven Roasted Almonds can be made all at once and enjoyed all week (they're super quick to prep). The Apple Donuts are best made right before you eat them, yet don't take a lot of prep either.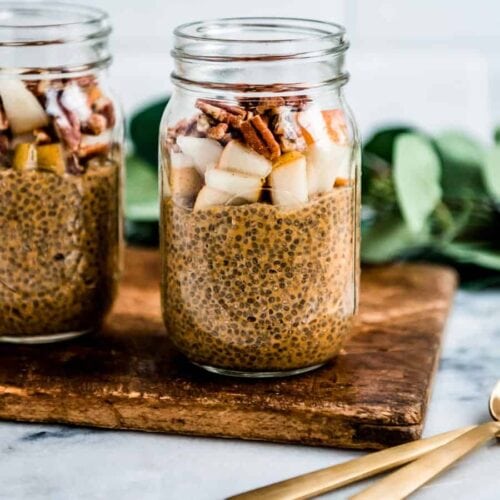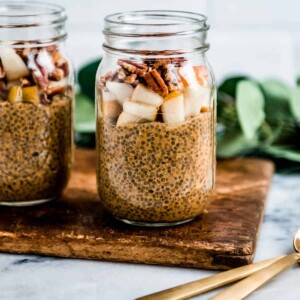 Pumpkin Chia Pudding
Celebrate fall with this quick n' easy protein-packed snack. Pumpkin Chia Pudding tastes great and is the perfect amount of sweet. Treat it like a dessert, a snack, or a light breakfast.
Make Recipe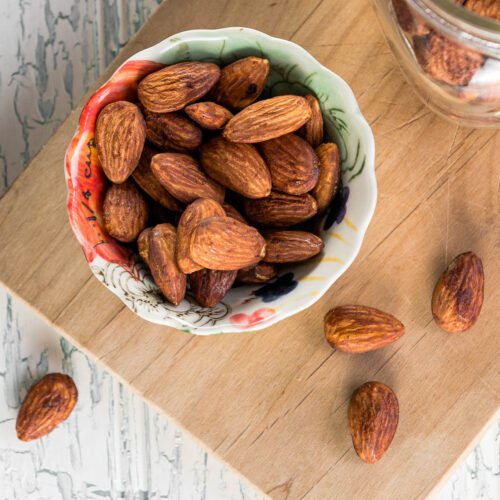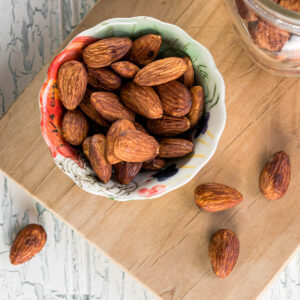 Tamari Oven Roasted Almonds
Tamari, the deeper flavored cousin of soy sauce, goes splendidly with toasted almonds. Eat as is for a quick, filling snack or roughly chop and use as a savory salad topping.
Make Recipe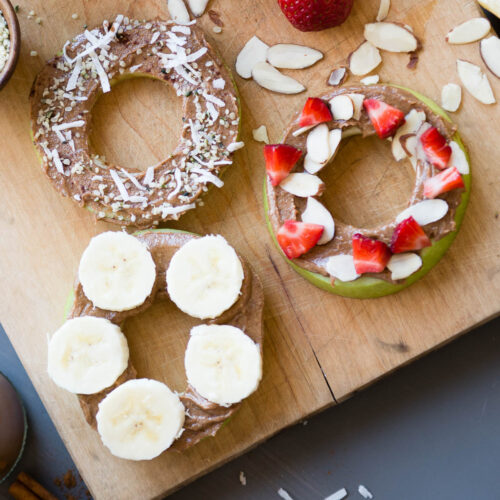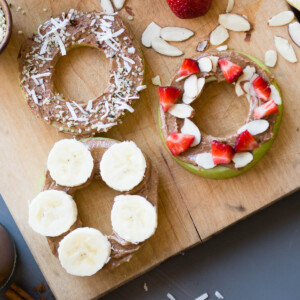 Apple Donuts
These apple donuts have become a go-to snack thanks to how quick and easy they are to make. Get creative and have fun topping the apple rings with your favorite toppings.
Make Recipe
I know it might sound odd to add snacks to your day, especially if you aren't typically a snacker. Yet snacks aren't just for kids; they can help give us an energy boost in between meals, as well as provide a wider variety of vitamins and minerals throughout the day.
When following a new diet like this one, you need all the variety you can get! Snacks are a great way to get in more vegetables. When you choose ones with protein and fiber, they can tide you over until dinner and help avoid the hangry.
---
Grain-Free Dinner Recipes
Dinner is one of the most common times to find grains in meals, yet there are plenty of creative and delicious options that don't use grains. These recipes will help you add more variety and creativity to your weekly menu.
The Loaded Sweet Potato is an OG Simple Green Smoothies recipe and a fan favorite. If you aren't quite sure about that one just yet, then start with the Stuffed Portobello Mushrooms. The flavors in these are incredibly well-balanced.
Finally, we've got the Oven Roasted Spaghetti Squash, a recipe that's actually on regular rotation for my family dinners. It's easy to put together and just delicious without any gluten-y pasta weighing you down.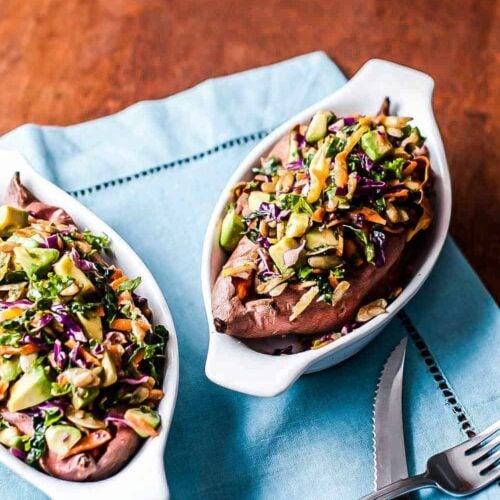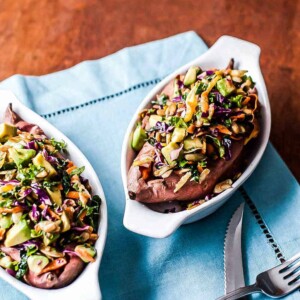 Loaded Sweet Potato with Kale Slaw
Enjoy this Loaded Sweet Potato recipe that is filling and helps balance your blood sugar. It's also packed with vitamin A, B vitamins, potassium and fiber. They provide the perfect base for this delicious kale slaw, which is teeming with nutrients that help stimulate digestion and absorption.
Make Recipe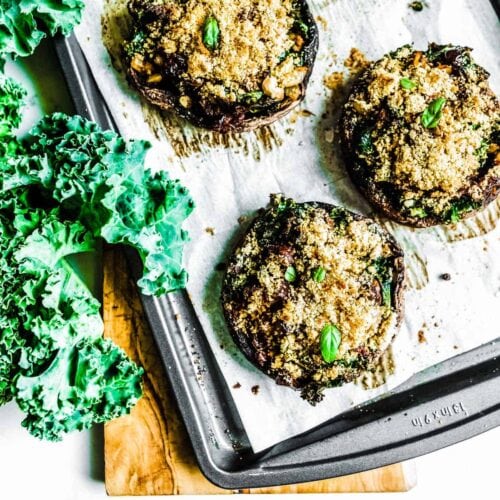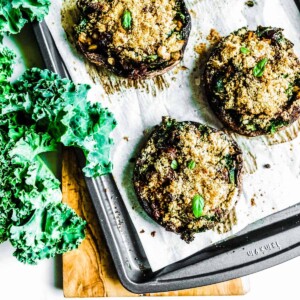 Stuffed Portobello Mushrooms
This stuffed portobello mushroom recipe is easy enough for a delicious weeknight dinner and unique enough for your next dinner party. Mediterranean-inspired flavors pop in these beautiful mushroom caps.
Make Recipe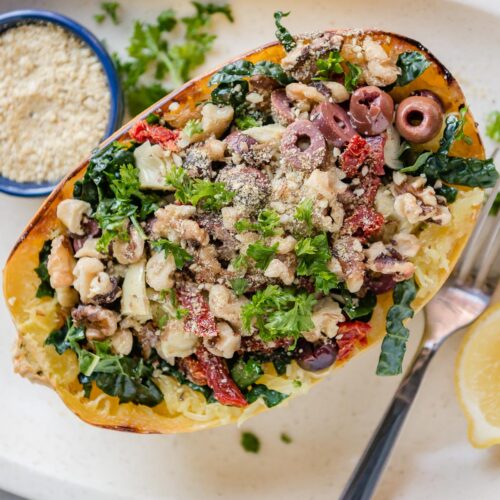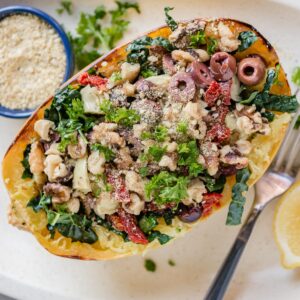 Oven Roasted Spaghetti Squash
I'm a huge fan of swapping traditional pasta for veggie noodles in this Mediterranean-inspired recipe. Spaghetti squash is very mild and has a great texture that can hold up to sauces and toppings like a champ. Enjoy it to the fullest wrapped in olive oil, artichoke hearts, olives and sun-dried tomatoes topped with crunchy walnuts and perfectly seasoned.
Make Recipe
A grain-free diet can be tasty, nourishing and healing— the key is sticking with it long enough to start seeing the awesome results.
Have a question or wanna share your results from doing the Grain-Free Diet Plan? Leave a comment below. I'd be happy to reply and celebrate your wins!
Common Questions
What can you eat on a no-grain diet?
There are so many options even when choosing to start a no-grain diet. Fill your plate with fruits, vegetables, nuts and seeds, even dairy if you want. Get your carbohydrates from fruits and veggies and use legumes like lentils and black beans as a stand-in for rice. Zucchini or sweet potato noodles, or even spaghetti squash can give you that "pasta" feel.
What happens when you stop eating grains?
When you stop eating grains, the results may vary. For me, I notice a lot less bloat and a positive reset for my gut. My mood feels lighter and I often get an energy spike. It's different for everyone, so if you are trying a grain-free diet short term then don't just track your weight or clothing size, track your mood, sleep, energy levels, inflammation and clarity to determine how this affects you.
Is a no-grain diet good for you?
Determining whether a no-grain diet is good for you should be left up to you and a certified dietician. If you struggle with celiac disease, diabetes or gluten intolerance then exploring this kind of diet could be beneficial. Work with your certified practitioner to ensure you are still getting all the nutrition you need for your body to thrive.