I realize the older I get, the longer it takes for my body to bounce back after a night out. I used to be able to hold my alcohol well, with just a mild headache or so the next day. Yet now, it can sometimes take two full days to recover from drinks with friends! That's where this hangover smoothie comes in. My hangover cure drink can ease the severity of those pesky symptoms and get you back on your feet faster.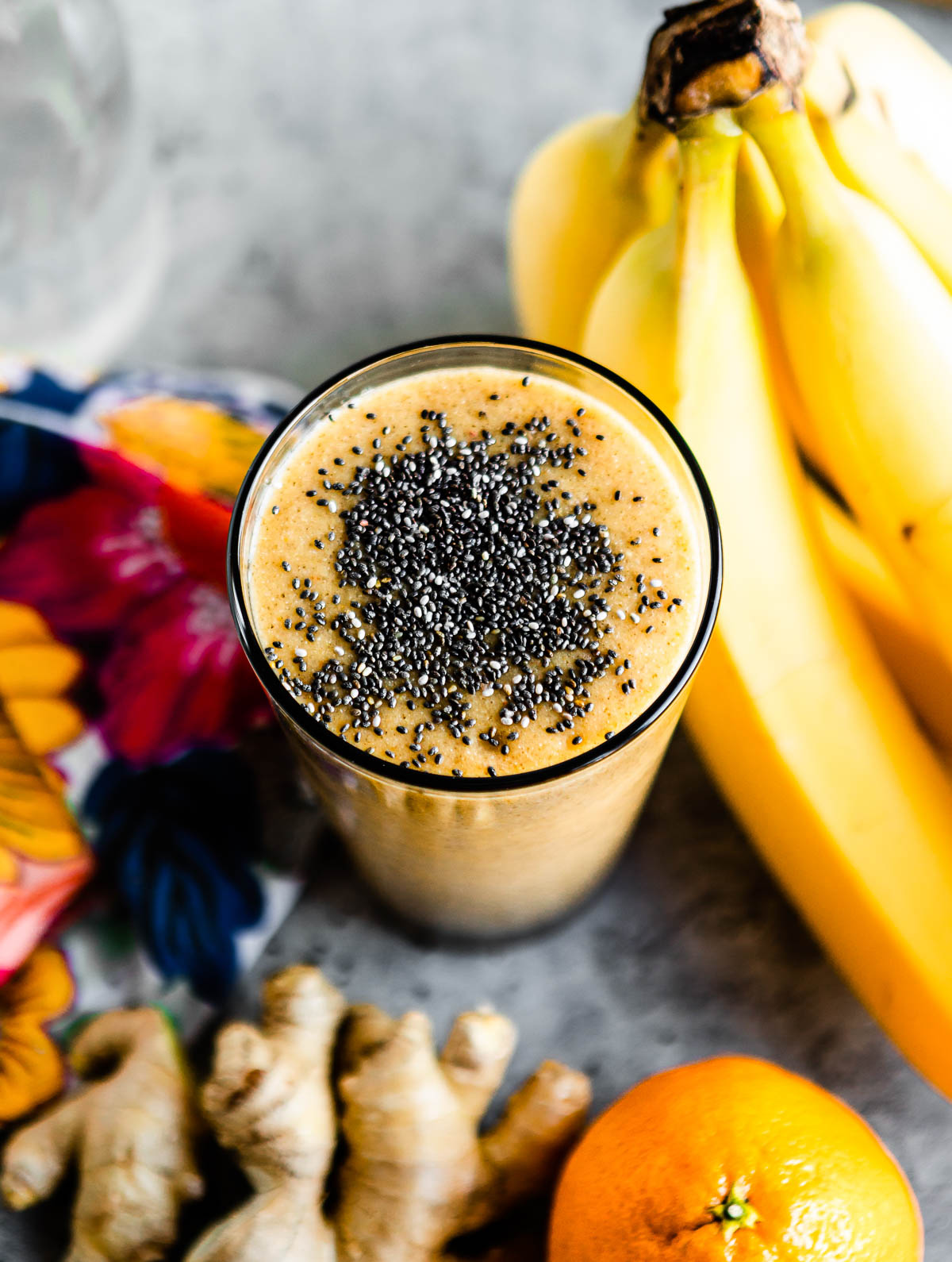 Before you head out on the town, or have a friend's night in, consider how you are going to help your body recover from the drinking. Being prepared for the hangover can ease your mind and make the evening that much more enjoyable.
Table of Contents
Recipe Ingredients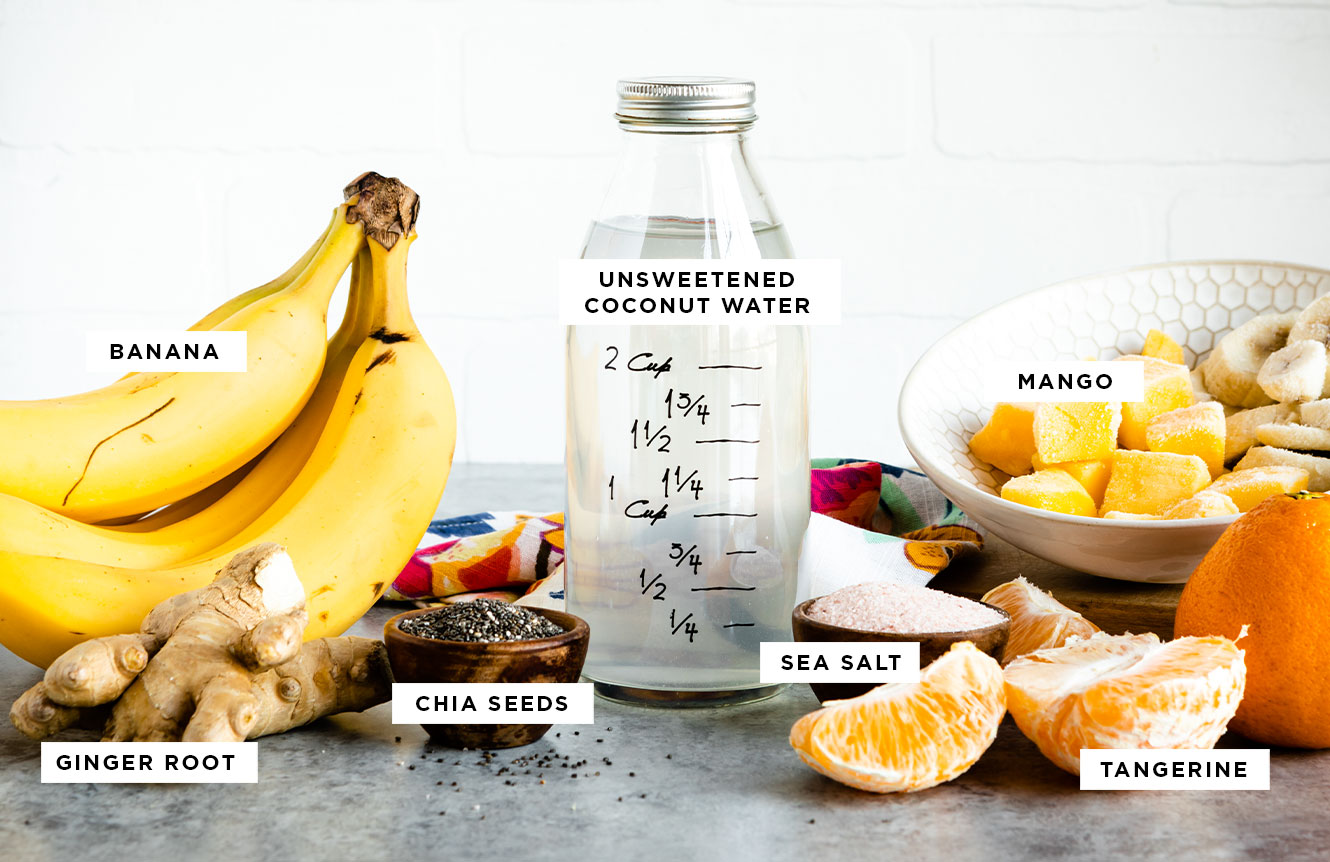 Honestly, there is no miracle "cure" for a hangover. There are definitely foods that can make the symptoms worse or better, and I'm filling my hangover smoothie with beneficial ingredients to help you rehydrate, reenergize and hopefully take the aches and pains away.
How to Make a Hangover Smoothie
I love how easy it is to blend this beverage. Here's how I blend it, as well as a few tips to make it easy on you no matter what kind of blender you're using.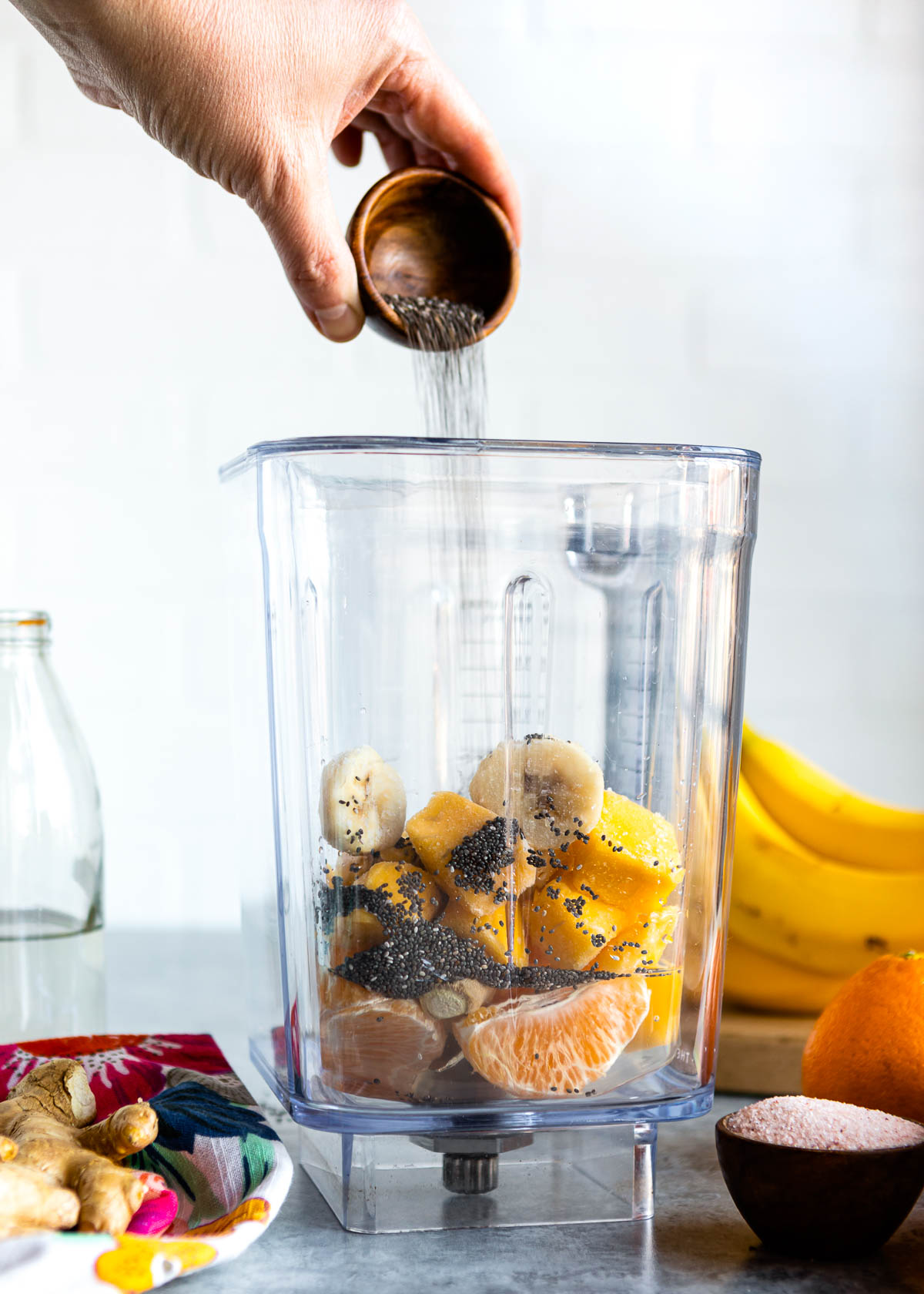 Step 1: Add all ingredients to a blender container then blend on high until there are no chunks left.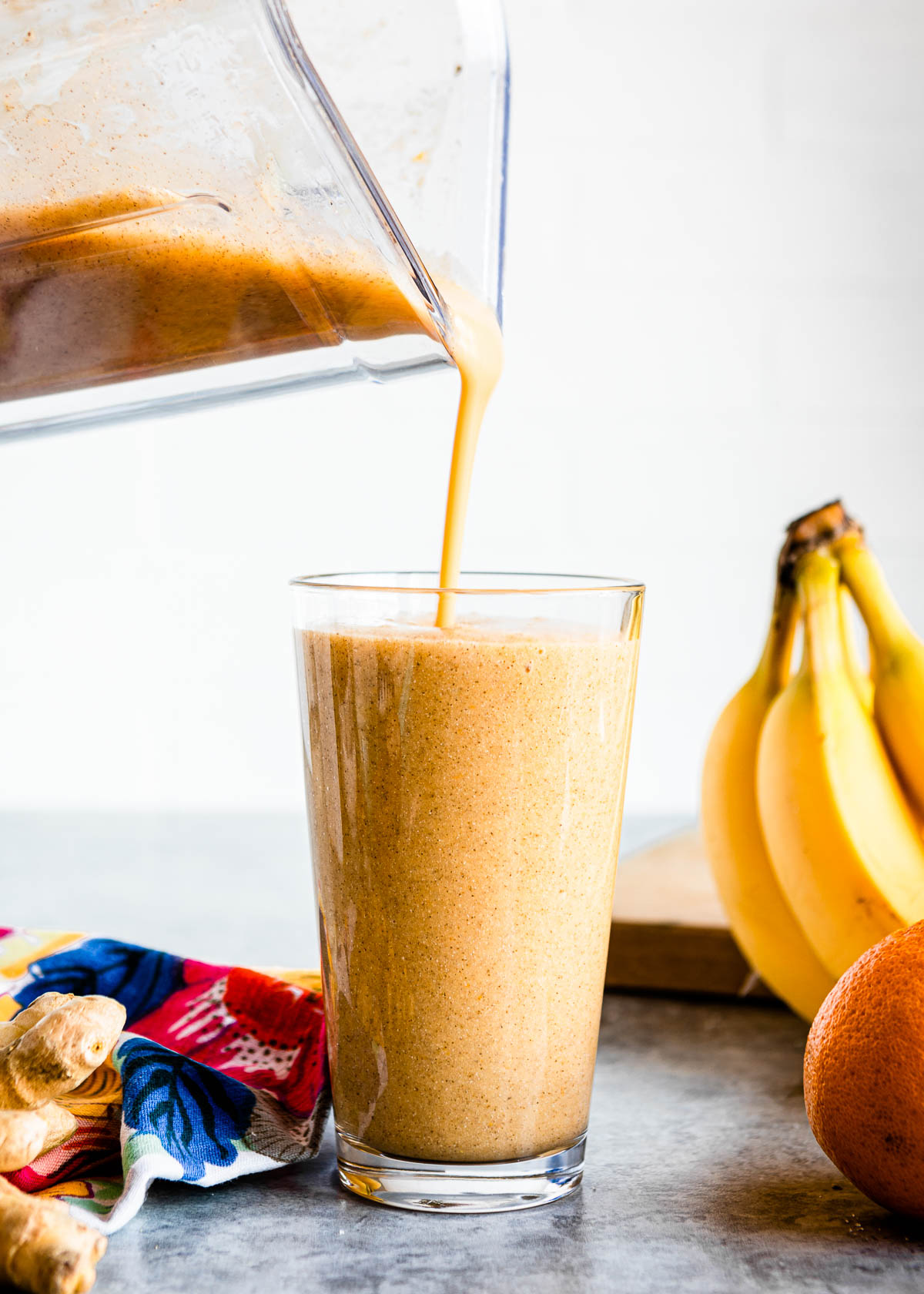 Step 2: Pour into a glass and drink immediately.
Pro Tips:
For a refreshingly cool beverage (which might be soothing in and of itself), learn how to freeze bananas and how to cut mangoes so they can be frozen as well.
If you aren't using a high-powered blender then allow your frozen ingredients to thaw 15 minutes or so before blending. This will help your blender not work as hard, resulting in a creamier beverage.
Swap chia seeds with hemp hearts or a plant-based protein powder with protein and healthy fats.
Hangover Tips
The easiest hangover remedy is this: don't drink too much. I also know that sharing drinks with friends and loved ones can be enjoyable on many levels and that even a few drinks can leave me with a headache the next day. So while you sip this hangover cure drink, read through some other ways to get you back to yourself.
Sleep: I know fun nights usually turn into late nights, yet try to rest as much as you can the next day.
Eat a healthy breakfast. I know this doesn't sound fun, so you can use my recipe below as a light breakfast option that shouldn't be too harsh on your stomach.
Hydrate! You may usually start your morning with coffee, yet I encourage you not to if you are struggling with a hangover. Instead, sip water or coconut water first then turn to caffeine later on in the day.
Hangover Cure Drink FAQs
Is a smoothie good for a hangover?
Yes, a smoothie with electrolytes and fruit sugar can help with the dehydration and low energy levels that come from a hangover. Since alcohol causes dehydration, you need to replenish your body not just with water but other nutrients as well to help bounce back.
What is the best drink for a hangover?
My hangover drink cure is a smoothie with coconut water, tangerine, banana, mango, fresh ginger, chia seeds and Himalayan sea salt to not only rehydrate but also provide electrolytes, energy and other nutrients to help you bounce back faster than ever.
What fruit is best for a hangover?
I use tangerines, bananas and mango in my hangover smoothie. They are high in fructose and nutrients so that your body can help flush out your liver, rehydrate and gain back some energy lost from last night's activities.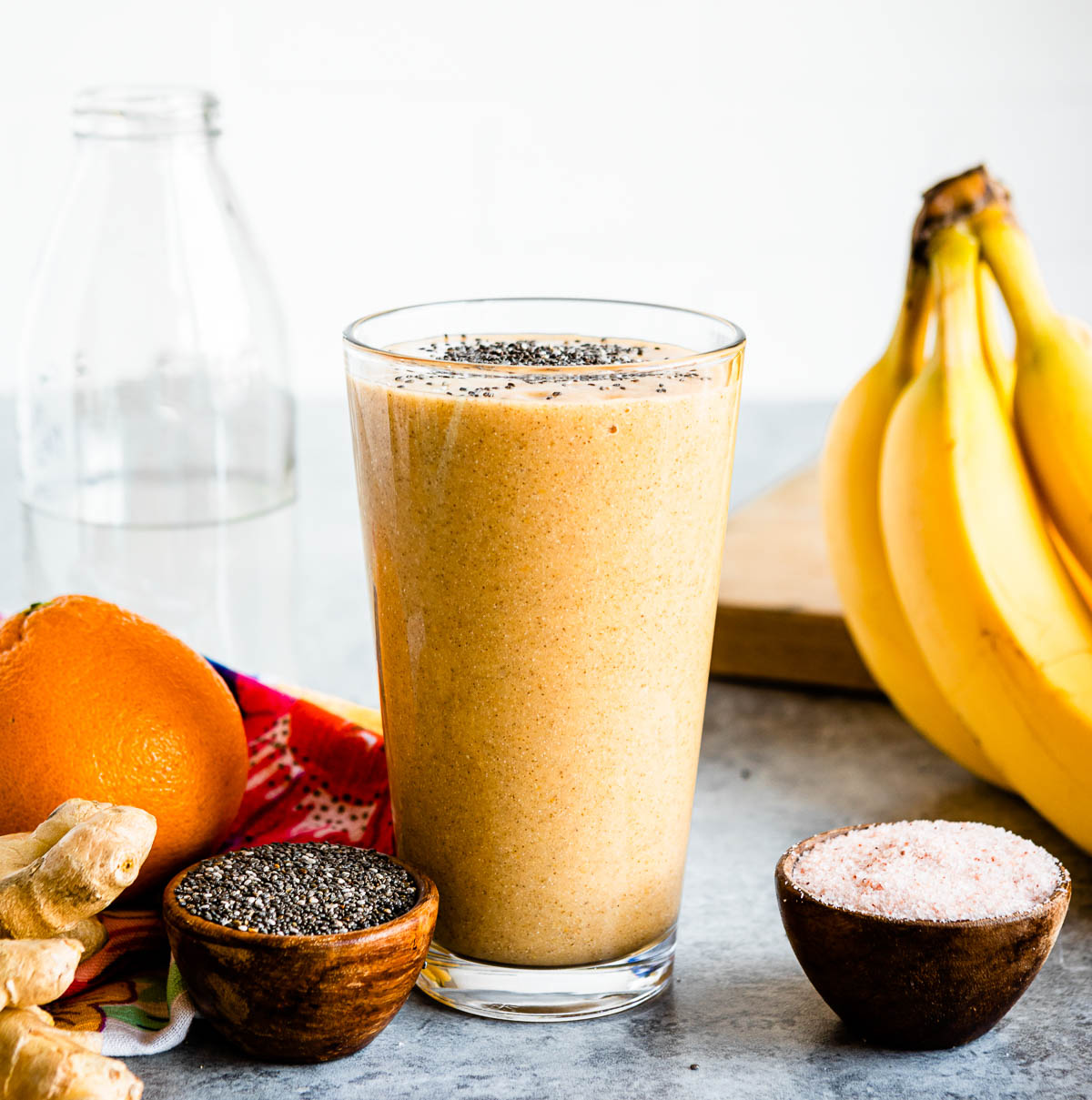 More Natural Remedies
It really is incredible how much real, whole food can help the body heal in a variety of ways. Here are a few more of my go-to remedies to help cure what ails you.
I'd love to hear if this cure worked for you; please rate + review once you've tried it!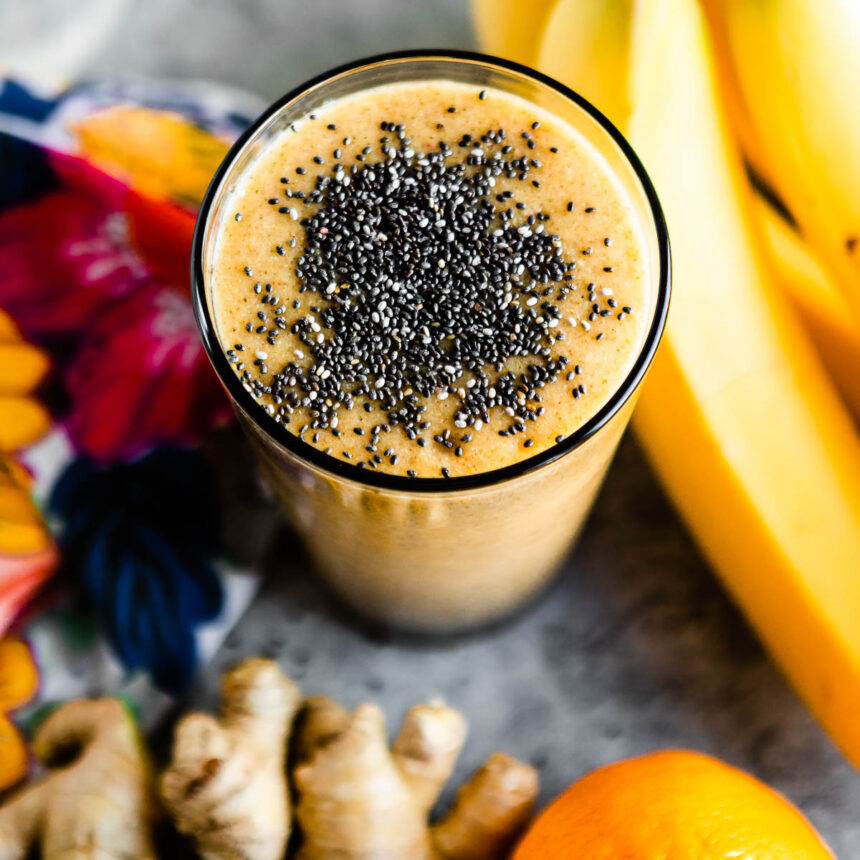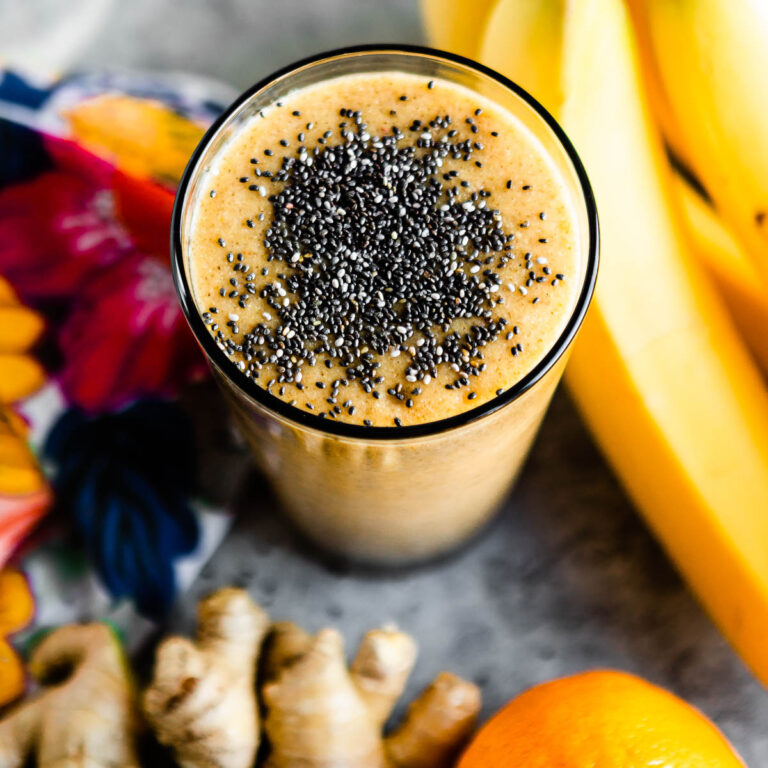 Hangover Smoothie
Prep this hangover-cure drink ahead of your next night out. Your future self will thank you! My hangover smoothie is simple and effective. It takes just minutes to blend and may save you days of recovery.
Ingredients
1

cup

coconut water

unsweetened

1

tangerine

peeled

½

banana

frozen

½

cup

mango

frozen

½

tbsp

ginger root

peeled and grated

2

tbsp

chia seeds

⅛

tsp

Himalayan sea salt
Instructions
Blend all ingredients in a blender until smooth.

Pour into a glass and drink immediately.
Notes
Swap chia seeds with Homemade Protein Powder.
When buying ginger root 1 tsp is equal to 1/3 an inch. You don't need a lot!
Swap tangerine with clementine if needed.
Nutrition
Calories:
314
kcal
,
Carbohydrates:
57
g
,
Protein:
8
g
,
Fat:
9
g
,
Saturated Fat:
1
g
,
Polyunsaturated Fat:
6
g
,
Monounsaturated Fat:
1
g
,
Trans Fat:
0.03
g
,
Sodium:
550
mg
,
Potassium:
1208
mg
,
Fiber:
15
g
,
Sugar:
34
g
,
Vitamin A:
1543
IU
,
Vitamin C:
65
mg
,
Calcium:
254
mg
,
Iron:
3
mg