Grab one of these homemade granola bars for a healthy snack for work and avoid a hangry moment in your day. My healthy granola bar recipe creates a pan of perfectly flavored oatmeal raisin bars that are perfect for kids and adults alike.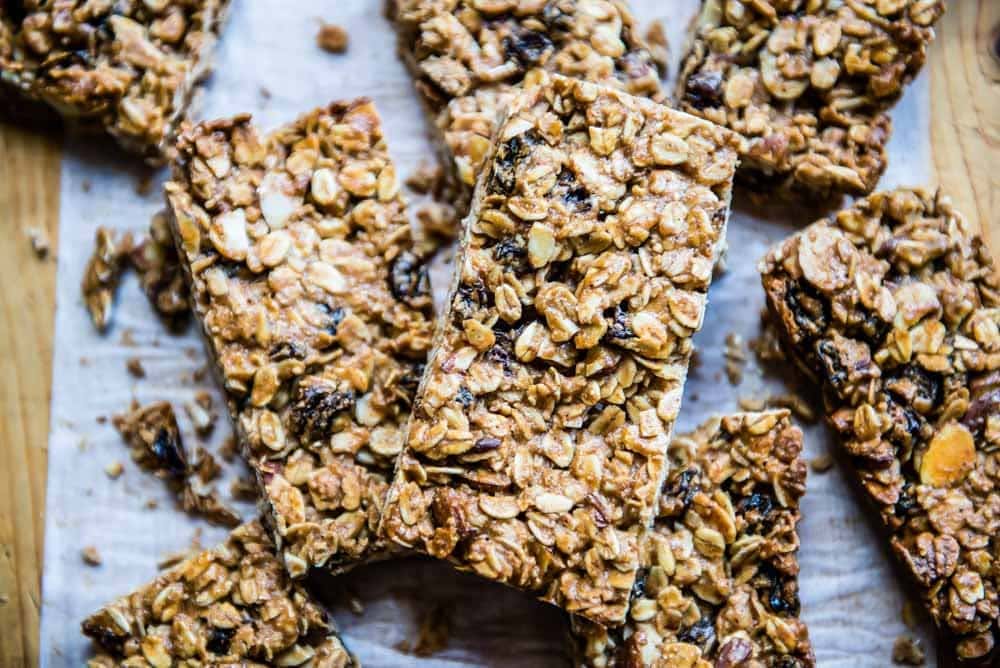 If you're looking for a snack that will give you sustained energy + leave you feeling full, then these homemade granola bars are for you!
I grew up on Nature's Valley bars thanks to my dad, but I wanted to make my own version using my fav plant-based ingredients. Now this, my friend, is a "rawkstar" healthy granola bar recipe.
Table of Contents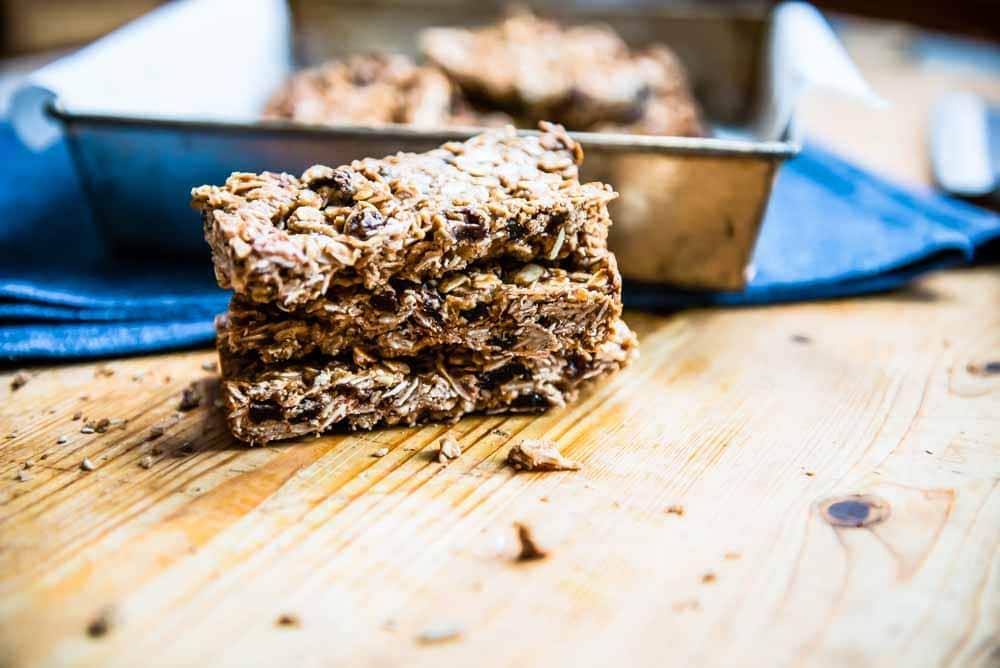 Homemade vs Store Bought
The reason I love these homemade granola bars so much is because I get to choose the ingredients. It is TOUGH to walk through the aisles of grocery stores while on the hunt for a granola bar filled with protein and healthy fats… that still tastes good… and doesn't included added sweeteners, corn syrup, super processed fat, as well as chemicals I'm not interested in consuming.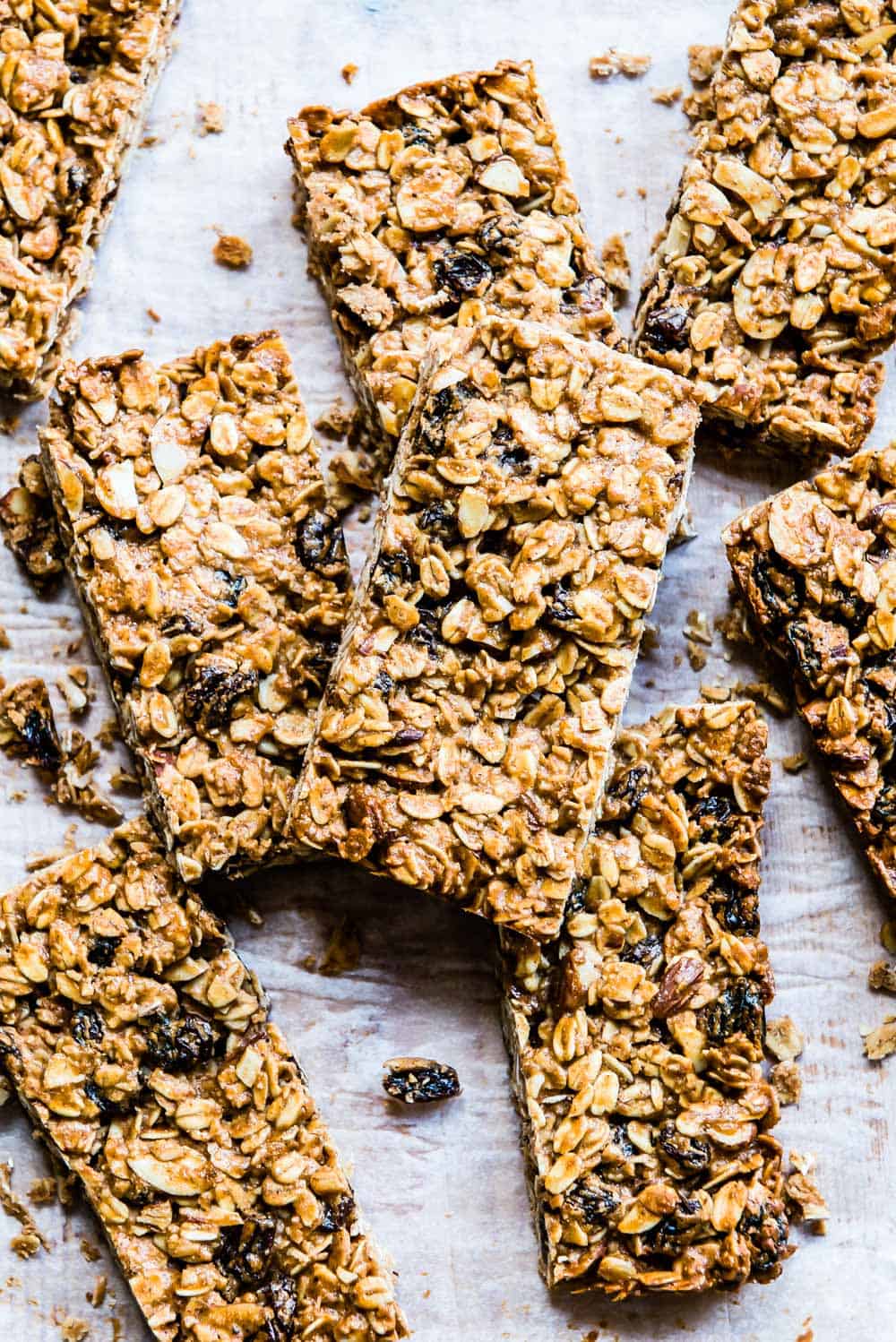 Healthy Granola Bar Recipe
The combination of chia seeds, almonds, and gluten-free rolled oats packs a protein punch for your body—whether it's making it to the next hour at work or making it to the next vista on hike. Just check out this rawkstar ingredient list.
Plant-powered, protein packed granola bars
People often ask how I get enough protein through plant based eating. I love getting this question, because then I share all the incredible protein packed plants out there. Here's what you can expect from protein in these homemade granola bars:
While plant protein may look different from other forms of protein, it is just as effective. It often provides more than just a protein boost when you look at the vitamin and mineral content of these awesome ingredients as well. I want these homemade protein bars to taste good, while also fueling my day.
Healthy, necessary fat
Many people shy away from recipes with fat in them because we've been trained to see fat as bad. Yet the truth is, fat is a vital necessity to break down the protein and carbs in foods, and helps turn that food into usable energy. Here are the ingredients bringing healthy fat to this homemade granola bar recipe:
gluten-free rolled oats contain 6.9 grams of fat per 3.5 oz
almond flour contains 14.2 grams of fat per serving
sliced almonds contain 14 grams of fat per 1 oz
almond butter contains 9.5 grams of fat per 1 tbsp
chia seeds contain 9 grams of fat per 1 oz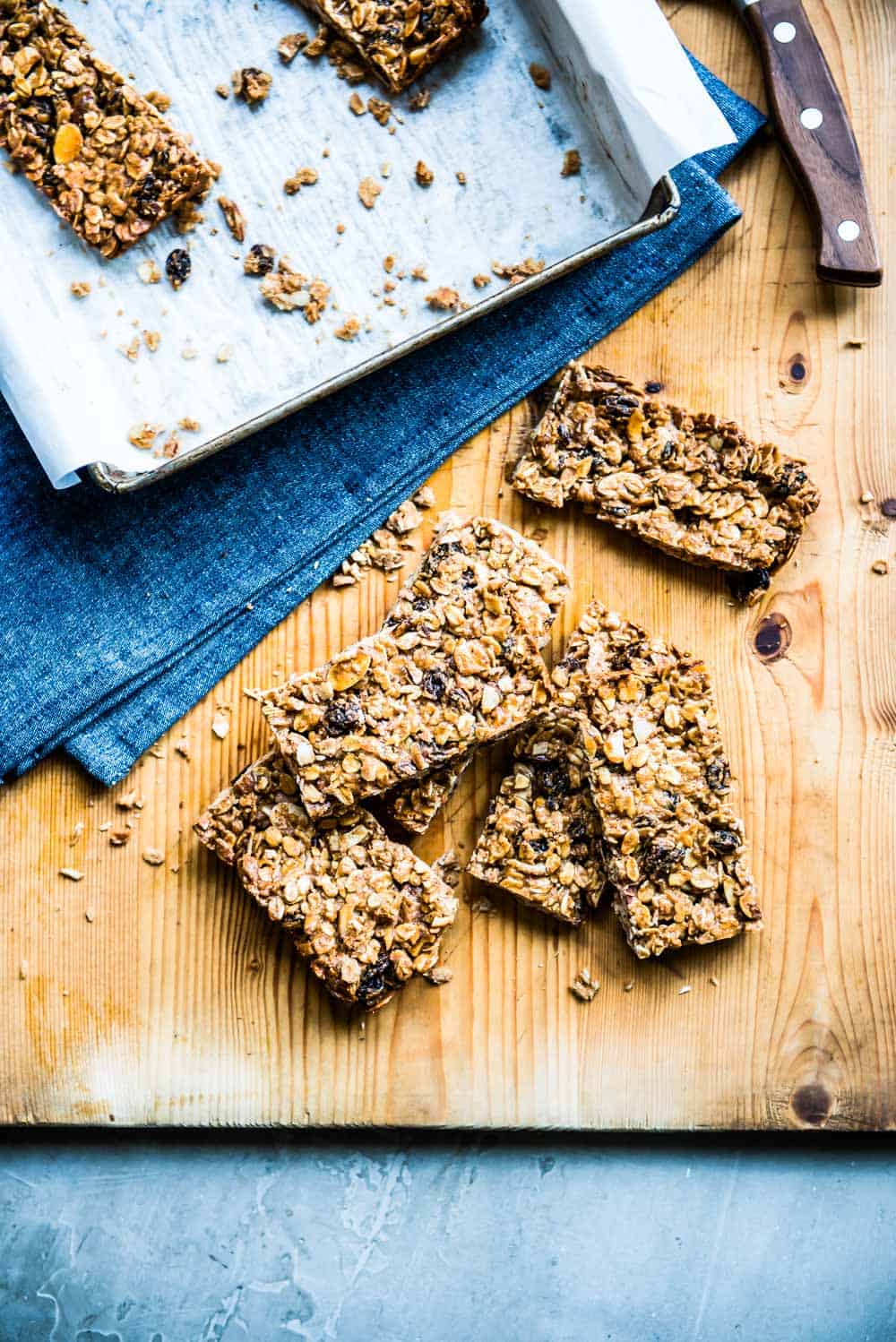 Plant-Powered Ingredient Swaps
While this recipe is for oatmeal raisin bars, feel free to swap the raisins for a dried fruit of your choice. Don't you love how versatile these homemade granola bars are?! I also like to use dried apricots, blueberries, or cherries, depending on what's in my pantry.
If almond butter isn't your thing, swap for cashew butter, or even sunflower seed butter, to avoid nuts altogether. The nut butter acts as a binder + healthy fat in this homemade granola bar recipe, so feel free to swap with your preferred choice.
If you'd like an extra protein boost in these homemade granola bars, I recommend using just 1/4 cup of almond flour, then using a homemade protein powder for the other 1/4 cup (which is one serving).
This plant-based protein powder offers 10 extra grams of protein. That boost brings the total per serving to 17.3 grams of protein! It also adds an extra dose of healthy fat. This helps burn turn the carbs into energy that will fuel you all day long.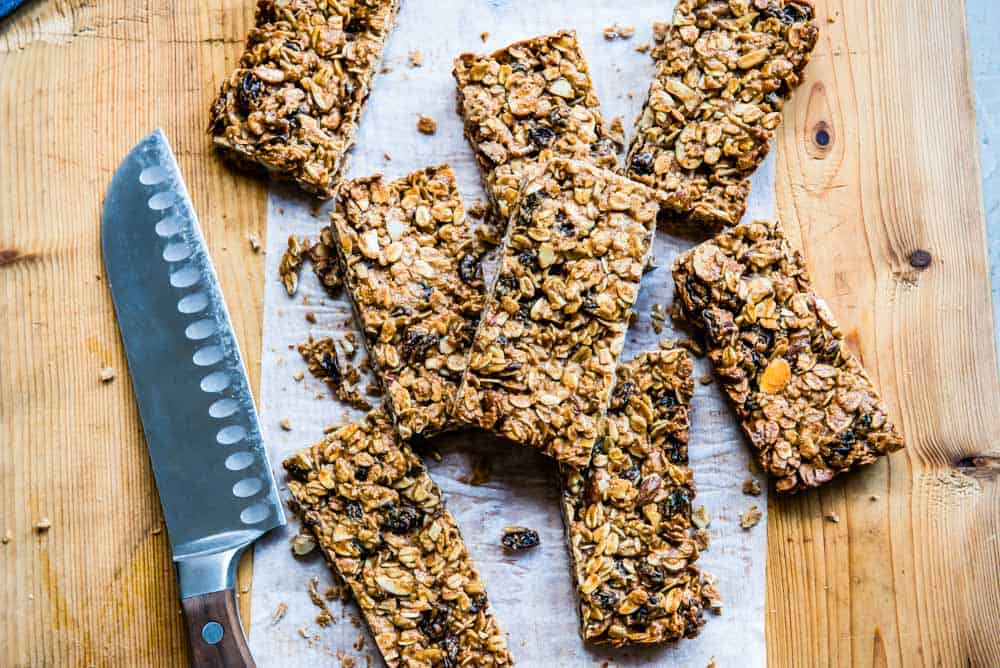 Don't forget to rate + review this recipe once you've made it. I'd love to hear how you customized your oatmeal raisin bars!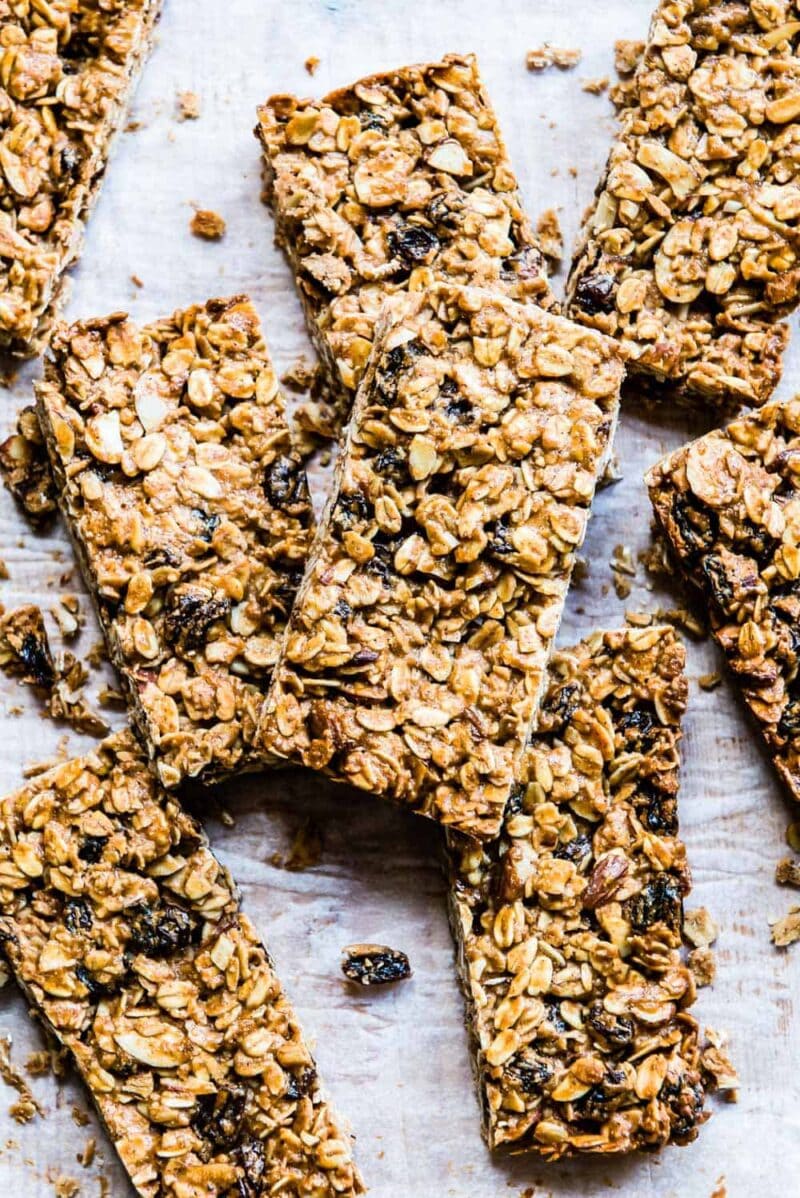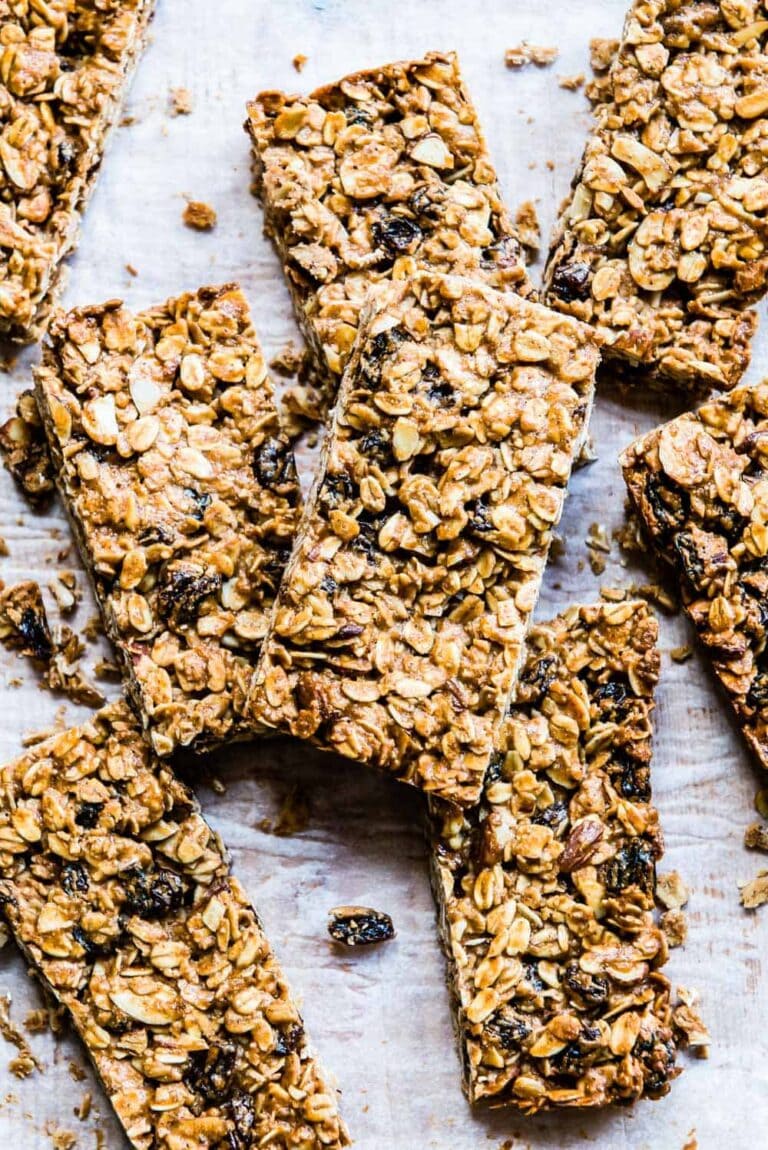 Homemade Granola Bars
When you need to go the extra mile, homemade granola bars are your BFF. I grew up on Nature's Valley bars thanks to my dad, but I wanted to make my own version using my favorite plant-based ingredients.
Ingredients
1 ½

cups

rolled oats

½

cup

almond flour

½

cup

sliced almonds

½

cup

maple syrup

½

cup

raisins

¼

cup

almond butter

2

tbsp

chia seeds

1

tbsp

coconut oil

melted

1

tsp

vanilla extract

½

tsp

ground cinnamon

¼

tsp

sea salt

pinch

ground nutmeg
Instructions
Preheat the oven to 325°F. Grease an 8 × 8-inch baking pan and line the bottom with parchment paper.

In a large bowl, combine the oats, almond flour, almonds, maple syrup, raisins, almond butter, chia seeds, oil, vanilla, cinnamon, salt, and nutmeg.

Press the mixture into the prepared pan. Bake for 25 to 30 minutes, or until lightly golden on the edges. Let cool completely in the pan.

Cut into 8 rectangles.
Notes
Gluten-free if using gluten free oats.
Nut-free: Remove almonds, increase oats to 2 cups, and replace almond butter with sunflower butter).
They will keep for about 1 week if wrapped well and stored in a cool place.
Nutrition
Calories:
343
kcal
,
Carbohydrates:
39
g
,
Protein:
9
g
,
Fat:
19
g
,
Saturated Fat:
3
g
,
Polyunsaturated Fat:
4
g
,
Monounsaturated Fat:
8
g
,
Trans Fat:
1
g
,
Sodium:
79
mg
,
Potassium:
351
mg
,
Fiber:
7
g
,
Sugar:
13
g
,
Vitamin A:
2
IU
,
Vitamin C:
1
mg
,
Calcium:
134
mg
,
Iron:
2
mg